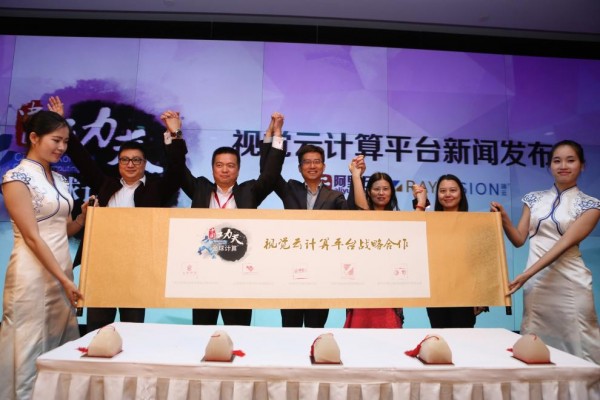 Aliyun® Partners With RAYVISION Inc.® to Provide Global Visualization Cloud Computing Services
April 28th, 2015, Simon Hu, president of Aliyun Computing Co., LTD and Michael Liang, president of Rayvision Inc., held a press conference in Alibaba's Hangzhou headquarter announcing Aliyun officially teamed up with Rayvision to form a global strategic partnership to provide global visual cloud computing services.
Many honorable guests attended the press conference and gave praised speeches such as Michael Liang, the president of Rayvision Inc., Zhang Qiang, the CEO of Alibaba Pictures Group Limited, Mr. Laurent Witz, the director of "Mr. Hublot" who won the Academy Award for Best Animated Short Film at the 86th Academy Awards, Nickson Fong, the winner of life time Academy Award for Scientific and Technical Awards in 2013 as well as representatives from famous VFX and animation studios.
Over the past year, many technology giants have entered the visual cloud computing field around the world either via acquiring, merging, investing or adopting visual cloud companies. As starter, Microsoft acquired GreenButton which is a cloud rendering and high performance computing provider based in New Zealand. Google acquired Zync, a VFX rendering studio in the US. Amazon acquired Twitch, a live gaming broadcasting platform. Russian tech investor Yuri Milner, Google former president Eric Schmidt, IBM former CEO Sam Palmisano and Morgan Stanley former CEO John Mack all announced to invest in OTOY, a VFX and VR cloud rendering studio. Autodesk acquired Shotgun Software, a VFX and animation production and collaboration platform. Facebook also joined the trend purchasing Oculus along with Samsung and Sony.
Michael Liang, the president of Rayvision Inc., indicated the computing ability for a single processing unit would increase at least 1000 folds in the coming 20 years and the needs for cloud computing will be more than ever. Visual application will be the major drive for these huge computing demands.
Zhang Qiang, the CEO of Alibaba Pictures Group Limited, said that currently Alibaba Pictures are utilizing the big data methodology to make films, but in the near future they will be developing more big budget VFX films using visual cloud. The visual cloud rendering platform can shorten the post-production period and save production costs dramatically.
Simon Hu, the president of Aliyun Computing Co., LTD, said that with more than 1.4 million clients from China and internationally, Aliyun will be more aggressive in Southeast Asia and the Middle-east area after setting up data centers in USA and Germany. As a matter of fact, this strategic alliance with Rayvision is the result of the internal resource adjustment from Alibaba Group to extend its global reach.
The first stage for the strategic partnership is to advance Rayvision's rendering capability and technology. Integrating with the advanced and resourceful Aliyun infrastructure, Rayvision will further improve its abilities for high availability, high performance computing and storage, global data transfer capacity, data privacy and security, usability, and flexibility for global reach.
At the second stage, Rayvision will team up with more industry partners all over the world in R&D and market development to provide cloud solutions to visual entertainment ecosystems including film, television, on demand media as well as other industries needs visual computing.
Rayvision is the pioneer in the cloud rendering and visual computation application with rich professional experienced crews, while Aliyun is the most powerful cloud computing provider in China. The strategic partnership between the two is easily "a marriage made in heaven".
Founded in 2009 with R&D and data centers in Hangzhou, Beijing and Silicon Valley, Aliyun Computing Co., LTD is the cloud computing brand affiliated under Alibaba Group. It is one of the most powerful cloud computing providers and the leader in massive flexible computation, high performance storage, information security and CDN in China with one of the most advanced cloud infrastructure.
As a global technology company,Rayvision Inc.specializes in distributed, parallel computing and provides cloud computing services for rendering in various industries such as computer generated animated films/televisions, visual effects for live action films/televisions, architectural and interior animation, game cinematics, stereoscopic ride films and commercials. Pioneering the world's premier self-service render farm, its subsidiary Renderbus.com and FoxRenderFarm.com are one of the largest commercial render farms in the world with hundreds of thousands of users worldwide.
Clients gave high praise to work with the team from Rayvision, projects include: Best Animated Short film at the 86th Academy Awards–"Mr. Hublot", "Blood Vengeance", 2013 India top box office hit "Krrish 3", "Dragon Nest · Warriors'dawn", "The Legend of Qin and 10000 Years Later", first Dubai animation feature "Bilal", etc.
---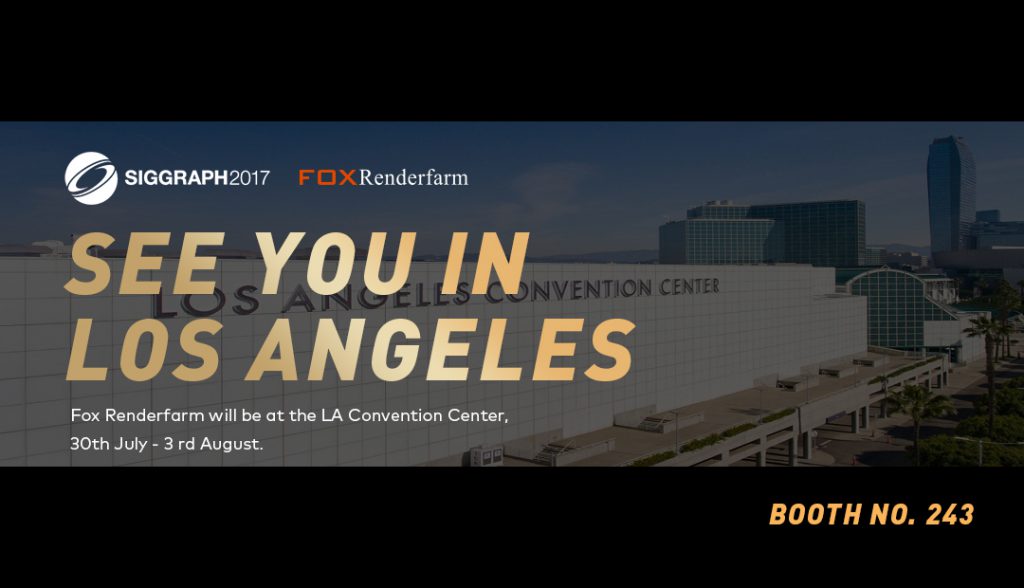 See You in Los Angeles
The 44th International Conference & Exhibition on Computer Graphics and Interactive Techniques will be held from 30th July 30 to 3rd August at the Los Angeles Convention Center. By then, CG industry's established leaders and emerging challengers will attend the conference as exhibitor. As one of the world's largest cloud render farm, Rayvision's Fox Renderfarm will be shown at booth No. 243.
SIGGRAPH is the world's largest, most influential annual conference and exhibition in computer graphics and interactive techniques: Five days of research results, demos, educational sessions, art, screenings, and hands-on interactivity featuring the community's latest technical achievements, and three days of commercial exhibits displaying the industry's current hardware, software, and services.
Benjamin Cheung, the VP of Rayvision, was invited by SIGGRAPH International Resources Committee to be a speaker of International center. He will share the development of CG industry with speakers from Digital Idea in Korea, SQUARE ENIX, CG-ARTS Society and OLM Digital in Japan. Themed as "CG in Asia: Inside the Asian CG Industry", the session will be hold at ACM SIGGRAPH THEATER on 10am, 31st July. If you want to know about the development of CG industry in Asia, the session is absolutely not to be missed!
Another one not to be missed is, Fox Renderfarm as a symbol of cloud render farm from China, we will prepare some wonderful gifts to give away, please make sure to find us. See You in Los Angeles!
---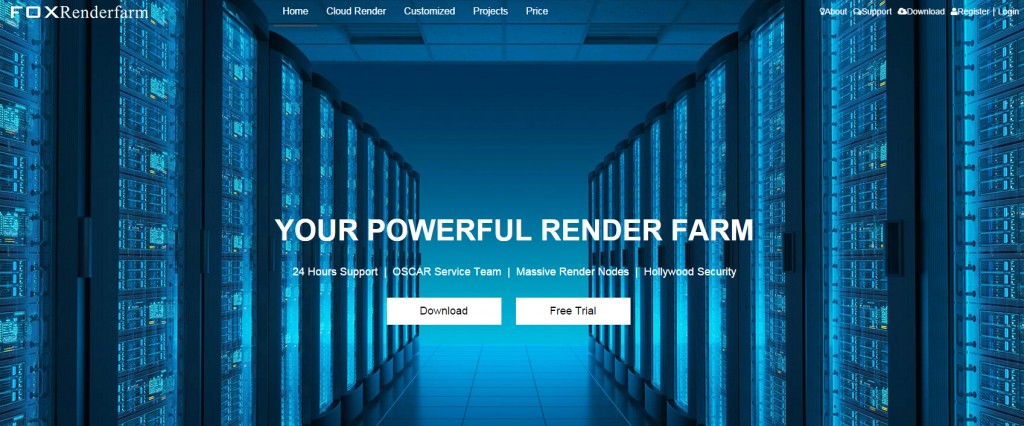 FoxRenderfarm Website Layout is Upgraded Now!
FoxRenderfarm website layout is upgraded now! As RAYVISION's overseas subsidiary cloud rendering platform, Fox Renderfarm is one of the leading online render farm in the world. Since the foundation in 2009, Fox Renderfarm has earned a good reputation for its quality performance, great customer service and flexible pricing scheme.
In order to provide the customers with great visual experience and humanized service, we have modified the design and unified the style of Fox Renderfarm website layout according to RAYVISION's website.
3 main features of Fox Renderfarm new website layout:
Cloud Render App
You can freely download the Fox Renderfarm Cloud Render App on the home page. Instructed by the specific tutorial video, you can easily drag and drop your file on the app. The app will upload and submit the task to the render farm automatically. Once you see the task is being rendered. You can go and have a coffee. After that, your projects are done successfully.
Customized Rendering Solution
We can provide you customized rendering solution according to your requirement. You can enjoy dedicated private network, dedicated reseved servers, dedicated render storage, customized render environments and so on, in which you will enjoy VIP's sovereign experience.
Calculate Render Farm Costs
Render Farm Costs Calculator is the most humanized design on the Fox Renderfarm new webpage. You can fill the form according to your workstation and project task load. Render farm costs will be calculated automatically into 5 kinds of price of different level customers. It is very convenient for you to make a budget.
Come to Fox Renderfarm new website (www.foxrenderfarm.com) to experience now!
---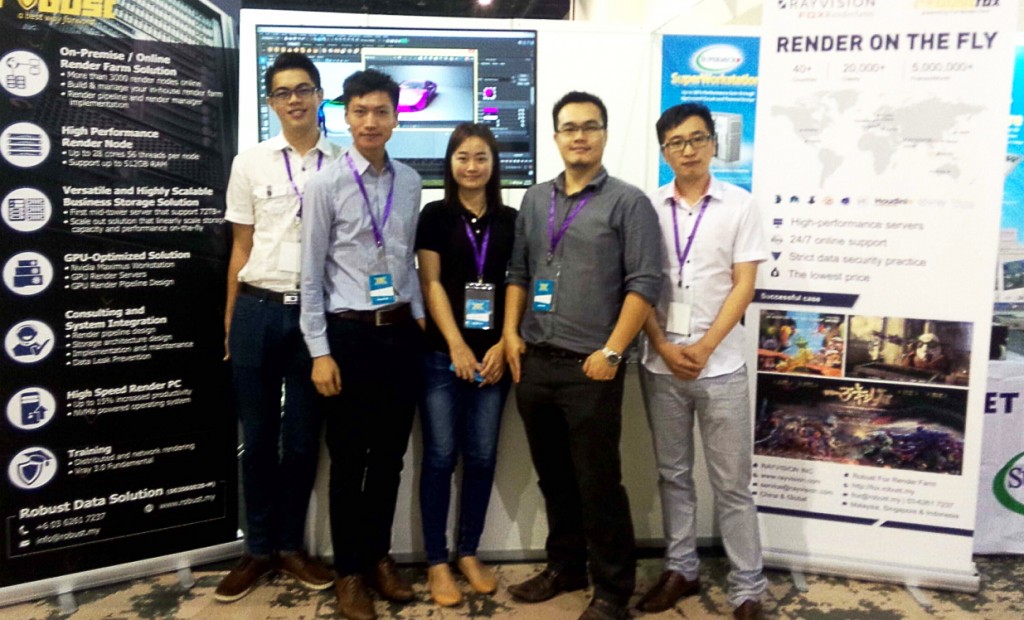 RAYVISION's Attendance on First Malaysia VAX with Local Agent
Visual Arts Expo 2015 happened on the 21st-23rd August at the Mines International Exhibition and Convention Centre inKuala Lumpur, Malaysia. Rayvision participated in this exhibition with their Malaysian Agent.
Local animators such as Les Copaque, Glue Studio and Xevetor participated in the exhibition, as well as international animation studios such as Gainax and Satelight! Most of them collaborate with Rayvision on render farm service for a long time.
Visual Arts Expo 2015 lasts for 3 days, 1 day for Business and Media Event (B2B Networking Event) and 2 days for Public Access and Stage Activities (B2C exhibition). Exhibitors include animation and game studios from Malaysia, Japan and USA, broadcasters and content owners, technology companies, financial institutions and government agencies.
Visual Arts Expo (VAX) showcased to the public the best and the cutting-edge in visual arts, which encompasses animation, comics, film, music and video games. On top of the expo, there will be a closed-door business-matching session, where exhibitors, vendors, and sponsors may interact with each other.
VAX served as an exhibition for local creatives to showcase their work, and giving them to platform and opportunity to expand their services and market their products to markets outside Malaysia.
By participating in VAX, Rayvision get a chance to exchage their experience with local creatives and industry players from Japan, America and Europe, which can establish new cooperative relationships and spark more growth for visual arts industry.
---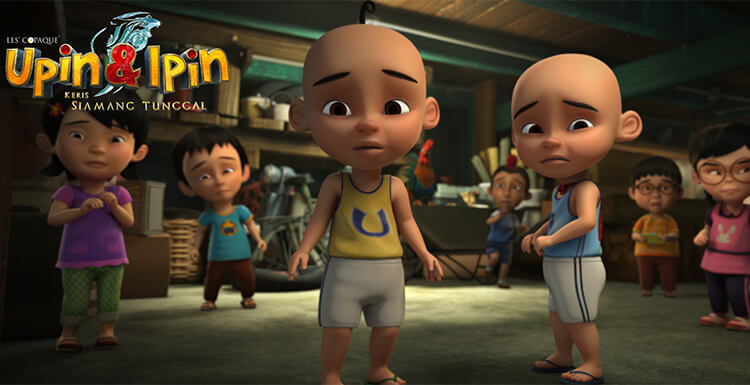 "Upin & Ipin: Keris Siamang Tunggal" Rendered With Fox Renderfarm
"Upin & Ipin: Keris Siamang Tunggal", produced by Les' Copaque Production Sdn. Bhd. has been on screen in  Malaysia on 21st March 2019. This film was rendered by Fox Renderfarm.
This is a 100-minute feature film of adventure, family and fantasy genre, with a very interesting story. The details of the movie are as follows.
"Upin & Ipin: Keris Siamang Tunggal" is Les' Copaque Production Sdn. Bhd.'s third feature film.
Les' Copaque Production Sdn. Bhd. was established in December 2005 to spearhead Malaysia's animation industry and specialize in producing high-quality 3D animation and IP production.
Les' Copaque Production has spent five years producing their second full-length 3D animated movie "Upin & Ipin: Keris Siamang Tunggal".
Before this feature film, "Upin & Ipin" is the longest-running Malaysian animated series and the most popular IP in South Asia with over 12 million audience on Facebook. The series is currently on its 13th season in production.
This new adventure film tells of the adorable twin brothers Upin and Ipin together with their friends Ehsan, Fizi, Mail, Jarjit, Mei Mei, and Susanti, and their quest to save a fantastical kingdom of Inderaloka from the evil Raja Bersiong. It all begins when Upin, Ipin, and their friends stumble upon a mystical kris that leads them straight into the kingdom. While trying to find their way back home, they are suddenly burdened with the task of restoring the kingdom back to its former glory. With help from Mat Jenin and Belalang, Upin, Ipin and their friends must overcome a series of challenging obstacles in this action-packed, magical and humorous adventure film produced by Les' Copaque Production Sdn. Bhd.
"Upin & Ipin: Keris Siamang Tunggal" is the most expensive movie in Malaysia, costing an estimate of 20 million ringgit (around US$4.92 million). The movie is 100 minutes in duration and took a production team of 140, including 12 lighting and rendering artists, and 5 years to complete.
Over 50 different species of animals were created. It is also the first time Les' Copaque Production has had hair groomed for over 70 rigged characters. There were a lot of technical challenges that the production team has to overcome. For example, one dancing shot has a crowd of 120 characters at once, with some heavy shots that have more than 180 rendered layers, etc.
During 5-year long production, the team has had three major upgrades in regards to their hardware and software in order to deliver the complexity of the film. The longest shot in this film has 722 frames and it took 100 rendering nodes and 2 months.
As a leading service provider, Fox Renderfarm's reliable and high-efficient service helps Les' Copaque Production in its support of the 3D feature film "Upin & Ipin: Keris Siamang Tunggal".
The technical team of Les' Copaque Production greatly praises the high-quality rendering service. They said: "We are very satisfied with Fox Renderfarm's 24/7 real-time technical support, reliable download and upload speed, the user friendly webpage interface, and very simple desktop client app for our alternative option. For example, we have some frames that took 3 days to render locally, and after we submitted to Fox Renderfarm's platform, it was completed in 2 hours, which greatly saved our time and budget. More importantly, the reliable and quality rendering also guarantees the quality of this film."
"We use this mentality to the way we do our work, in giving our best in creating our own Intellectual Property (IP) with the highest quality possible." This is the Mission of Les' Copaque Production Sdn. Bhd.
Personally, I really like this mission statement. We look forward to the release of "Upin & Ipin: Keris Siamang Tunggal" in China and more countries in the world. It is our hope that the "Upin & Ipin" series will bring joy to more and more people, they will understand and enjoy the culture of Malaysia, and we expect nothing less than excellent work coming from Les' Copaque Production Sdn. Bhd. in the future.
---
CG Tech Summit Franchise-India: Animation Outsourcing or Global IP?
With the aim to facilitate the communications between CG professionals all over the world and the successfully kicking off of CG Tech Summit franchise in Malaysia, Fox Renderfarm extent its enthusiasm to Mumbai, India. On Sep.20th, 2018, the "Technology Inspires Art"- CG Tech Summit (Animation Technology Sharing and Sino-India Cooperation Signing Ceremony) organized and hosted by Fox Renderfarm was successfully held at the Ramada Plaza Palm Grove in Mumbai. The event brought technical knowledge to the CG expert from both China and India, It also helped to boost the depth of cooperation between the two countries.
With the present rapid development of the CG production industry and the intensification of globalized labor division, international cooperation has been encouraged gradually. We all have witnessed the boosting of India film industry since 2005: tons of widely recognized films created, over 3 billion dollars annual production value in 2010, gradually improved production quality, and the diversified storyline. All of the above have set a mind-blowing example for film industry all over the world.
As one of the largest farms in the world, Fox Renderfarm serves the world's leading film and television companies' animation production, especially with companies in India. Fox Renderfarm's powerful cloud computing skills have provided high-quality rendering support for many well-known films, reducing costs and increasing output. In the past quarter, Fox Renderfarm's home-made movie box office accounted for one-third of the box office of domestic cinemas in the same period, and together with SIGGRAPH CAF and its Shenzhen branch, successfully hosted the first SIGGRAPH animation tour exhibition in China.
For the starters of the summit, Fox Renderfam's Marketing Director- Mike Zheng, and Sales Director- Gordon Xiao emphasized the original intention and significance of launching the CG Tech Summit.
At the summit, Fox Renderfarm teamed up with the leading Chinese animation production company, Original Force, Bang Bang Pictures, and BaseFX, and specially invited our beloved client in India-Assemblage Entertainment and Gloden Robot Animation to bring together a series of technical expertise sharing for India industry elites. They also conducted on-site interactions, to exchange and discuss in-depth animation production techniques and experiences.
Suyi-VFX Producer of Bang Bang Pictures / Topic: VFX Production Management in China
BangBang is an entertainment company that brings breakthrough technology to Chinese filmmakers. BangBang enables filmmakers to make VFX films in China by supplying the planning, organization, and management needed to produce Hollywood Quality entertainment.  Bang bang, this pronunciation has a meaning of excellence in Chinese, the VFX Producer- Suyi Liu has demonstrated how Bang Bang Pictures has dedicated in filmmaking technology and project management for years, and extend its excellence to a Hollywood standard in a lower budget and more organized workflow.
Zihua-Compositing Manager of Original Force /Topic: Showcase of Troll Hunters  Founded in 1999, Original Force has established itself as one of the preeminent animation houses in the video game arena, providing top-quality content services to global clients including Microsoft, Activision, Electronic Arts, Sony, Disney, Rockstar Games, and Tencent. Zihua told that in the process of turning the script into the vivid animation performance, Original Force always adopts the iterative production method which is start from the big direction to the small details. Specifically, they go from script refinement to hand-drawn storyboard, by doing so, convert script into shot language, and then from 2D storyboard to three-dimensional layout in which they determine the camera and the position of the characters, as well as general actions and special effects, to provide a clear direction for later production; animators will create keyframe animations based on the layout to deliver the director an overall sense of what's happening in the specific shots, and we call this stage as "the blocking stage". After the director greenlights the blocking, the animator will continue to sculpture the acting to give life to the characters and complete the animation.
Carlos Conceicao-Global Head of DPR in BaseFX/Topic: Tech vs Art: Efficient balance in VFX 
Base FX is a three-time Emmy Award-winning visual effects and animation company with production studios in China and Los Angeles, they specialize in high-end creature and character animation, fluid and dynamic effects, and photo-real 3D matte painting and set extensions, providing services to Hollywood film companies, producers and top directors in China. Carlos Conceicao elaborated on the team's pursuit of art in the production process and how to grasp the balance of technology and art.
R.K Chand-CoFounder and Business Head/Taking Indian Animation IP Global - The Chhota Bheem Story
The Indian Animation Industry has been predominantly known as an established Work For Services Hub for global Animation Production for TV, Direct to Home and Feature Projects. Over the last 20 Years, Indian Animation Studios of various Size and strengths have been formidable Production partners in numerous Animated and VFX Heavy Projects which includes some of the biggest Box Office Hits as well as award-winning TV Series globally. But over the last decade, the Original Content Development and IP Creation for both Domestic as well as global storytelling has seen steady growth. The last 5 years have seen exponential growth in the demand for Indian Stories with Original Local Characters in the domestic Broadcasters.
R.K Chand said that with the advent of Local and Global Digital Platforms like Netflix, Amazon Prime, VOOT, ALT Balaji etc, the geographical boundaries of the audience is slowly getting blurred which opens a door for Indian Studios to blend the expertise in the Craft of Animated Productions and Original Storytelling to taking Indian Animation IPs going Global. The speed at which Content is consumed driven by rapid penetration of Internet, Low Data Tariffs and Usage of Smartphones clubbed with the youngest Kids-Teen Population in the World, has resulted in India being at the Center of Attention for numerous Content Platforms. "The story is Indian-based, but global-minded.">" Max Madhavan-Founder of Assemblage Entertainment/Topic: The Animation Landscape in India: Past, Present, and Future 
Max Madhavan leads the strategic and business development efforts at Assemblage Entertainment, a premium CGI animation studio working on a global slate of world-class feature films and television content. Max focuses on implementing financing, strategic and organizational best practices to develop the studio to a high international repute and also plays a key role in navigating Assemblage towards content ownership and IP development, in addition to focusing on high-end production services with global partners. Max has successfully turned his speech into a fan meetup, his inspiring speech obtained round and round of applause. The sitting audiences expressed their worship of  Max and concerns on their CG journey to this "God of Animation" in India. Key points of the Question&Answer session are as below:
How do you differentiate your competitiveness in the industry
Choose a partner is a long-term decision with numerous elements to consider
How do I sustain myself in the industry-passion NOT just money,
Quality level pushing and the price increasing is the tendency of the industry
Keep struggling: I'm 60 years old and still get energy and space to improve
About Fox Renderfarm and CG Tech Summit
As the host of the CG Tech Summit, Fox Renderfarm has always been part of sparking the imagination of CG researchers, artists and professionals who are passionately involving in creating a new generation of computer graphics and interactive techniques. The successful event holding has proved us the right decision we made. After the exploring of India-the big animation outsourcing country who gradually creating their own inspiring IP, WHO is our next stop to explore? With the close speech of our host-Junqi Li, let's expecting our next beautiful rendezvous.
---
Involving the difference between offline and instant rendering
Involving the difference between offline and instant/ real time rendering.
The rendering of animated movies is very inspecting the hardware level. Generally, it is cost a long time in the industrial-grade cluster workstations, always several hours to several weeks. Then, the final works to the audience is ok. The quality of an animated movies is high. There are a lot of 2K and 4K works. It is not a problem to show on IMAX. It is depend on hardware devices and the long time rendering.
The rendering of the video game is different. When the player is sitting next to the game, it must complete one frame in tens of milliseconds. Game rendering, including mobile and PC games, the screen is no bigger than the screen of the theater, so the requirements are much lower, generally will not exceed the mainstream TV level, so we describe a high-definition game will often admire "Smell the aroma of the graphics card", mobile games and PC games are the same, playing games is actually playing a graphics processing unit (GPU).
The difference of engine Animated movies rendering pursues reality, using global light source, real-time calculation of particle effects and fluid effects.
Video game rendering generally uses pre-optimized models and material compression techniques, simple local light sources. However, the excellent story video game is another thing, it needs to be downloaded separately, just like watching in the video.
The above is the difference between animated movies rendering and video games rendering. Let's talk about the difficulty of film and television rendering.
Usually 2K movies use an rendering time of about one hour per frame, while Hollywood mainstream movies have resolutions of 2K, 4K, 6K, and 8K, and each quality time will increase by four times. If the scene involves complex calculations such as particles and fluids, a frame may take more than 10 hours of rendering time. The huge cluster of solves this problem well. Its mode is similar to that of conventional cloud computing, where 3D programs are rendered in remote servers, and user terminals access resources through high-speed internet access via the web or clients. The instruction is sent from the user terminal, and the server executes the corresponding rendering task according to the instruction (allocating multi-node multi-frame simultaneous rendering, which will greatly shorten the rendering period), and the rendering result picture is transmitted back to the user terminal for display. The can be understood as a high-performance cloud computing cluster system (thousands to tens of thousands of high-performance rendering nodes).
---
The Behind Scene Story of the 10 Billion Legend of Fuyao


 10 Billion Clicking Breakthrough   Chinese domestic TV drama Legend of Fu Yao was broadcast both in Chinese and English on major video websites of Western countries such as YouTube. Notably, it was viewed over 1 million times on YouTube within 48 hours of its debut. The drama is currently one of the top popular Chinese shows on viki.com, an online platform where Asian TV shows with multi-language subtitles are available. It is the fastest-ever Chinese TV series to hit 1 million views on YouTube. Until now, Legend of Fu Yao has exceeded 10 billion clicks on a single video platform-v.qq.com, major video streaming platform in China.      Plot and Production   Legend of Fuyao is a martial arts fantasy saga tracing the fantastic rise of a lowly-ranked servant girl, Fuyao, to the queen of an empire in an ancient continent where five kingdoms compete for power. Along the way, she keeps running into a handsome prince who has a hidden agenda. There are plenty of secrets, intrigue, and actions in the stunning romantic drama.   The story takes place in the universe of five kingdoms that is led by the Imperial City of Tianquan. Fuyao was formed from a lotus borne by the Ancient firmament. Adopted as an orphan, she served as a slave for the Xuanyuan sect from the Taiyuan Kingdom. A series of tragedies resulted in a journey across the land to gather the magical artifacts that could lift the curse that blighted her life. Along the way, she met the Crown Prince of Tianquan who was under secret missions to quell the unrest in the Five Kingdoms. The pair fell in love as they battled the complicated politics and power play between the different forces. With the help of her loyal companions, she sets out to unravel the heinous plot of the ancient firmament. She would discover her real identity of being the "Lotus princess". Fuyao would ultimately succeed in destroying the evils forces and bringing peace to the land of the Five Kingdoms.      Cloud Rendering Boosting Your Production Process    ILLUMINA(聚光绘影) is responsible for the comprehensive supervision of the whole film and the production of full-length visual effects. Fox Renderfarm provides the inspirational TV series Legend of Fuyao of the  provider that promotes special effects rendering, Fox Renderfarm interviewed its special effects production team, ILLUMINA(聚光绘影) (Fox Renderfarm Strategic Partner), to elaborate on the difficulties and difficulties in special effects production.       Q1. How is the visual effect setting of Legend of Fuyao? As the visual effect manager of this drama, what do you think of the results?   ILLUMINA is fortunate to be responsible for the production and supervision of the visual effects of this summer's hot-selling dramas Legend of Fuyao. I mainly supervise the visual production plan and effect of the project Legend of Fuyao. Presenting a more textured picture experience, the producers set Legend of Fuyao as the benchmark for the realistic style, while adhering to the principle of respecting the original script. I believe the audience can also feel the same as seen in previous TV series. The CG characters and effects in the Legend of Fuyao are realistic, making the effects more physical and practical.      Q2. What are difficulties to make shots in the production of the whole drama?   There are many biological characters in the drama Legend of Fuyao, Many of these creatures do not exist in real life, so we and the producers In the preliminary preparation stage, a lot of research and development work was done in combination with the description of the original and the script.   The hardest part is to give the real existence of the created CG creatures. When creating assets, they are carefully created according to the anatomical structure, from bones to muscles to skin to hair. The relationship between the fur of the character and the bones and muscles is in accordance with the movement principle of real animals. Special protagonists such as ingots, The male and female actors have a lot of movement interactions and emotional interactions, and we will give them more emotional and soulful performances in production.          "CG+Real Person" Interaction   There are a lot of CG characters in Legend of Fuyao that need to interact with the actors, which means that we have to solve the cumbersome problems of real shooting and CG in the whole process of making the whole drama. Before the shooting, the precise setting of the character, including the image, the size of the body, and the special effects props that are ready to interact with the actors can make the actors have the sight-seeing auxiliary performance during the shooting period, and the direction is clearer and more emotional when performing. The on-site special effects staff will collect the necessary information such as lights and camera data to ensure that the CG characters in the follow-up production are exactly the same as the light and shadow on the real person so that they can be more realistically integrated into the real shot.   In order to use the production time more effectively and achieve better results, the producer will help us to send us the relevant main scene shooting clips in advance, and we will internally test the CG creatures in the actual picture.      The Sacred Creature   The sacred creature of the drama is a completely fictional mouse creature. In order to create this character more realistically, we used the time of the preparatory period to first make the production of the real hamster digital character and photographed the material on the producer's workstation, which opened up the previous research and development work. With this research and development, for the latter The real performance of the ingot shows the practical experience, so that the ingot's fur, bones, and muscles are closer to the real animals in the movement, achieving better animation effects.         Q3.  ILLUMINA has participated in the production of many excellent movies and TV series. What do you think is the difference between movie visual effects and TV drama visual effects?    The special effects of the series are relatively large in production. With Legend of Fuyao, the overall effect of the swaying is nearly 1,700 minutes, and the total number of shots is nearly 30,000 shots. A visual effect accounted for 50% of the film in the whole film. Take the movie Suprise(万万没想到) that we have done in 15 years. The whole film is 90 minutes, the special effect time is 45 minutes, and the special effect lens has more than 1000. Look, the amount of special effects of the drama is 36 times that of the movie, and the volume of production is very large. This is just the production volume of a project. Companies often face project parallelism, so scientific and efficient project management in visual effects management is particularly important.   At the beginning of the establishment of ILLUMINA, it attached great importance to process management and technology research and development. It completed many film projects that were important in the early stage and was familiar with the film industry process. Based on the actual situation of domestic projects, it independently developed high-efficiency and scientific process management. Software to improve coordination efficiency and schedule management.   Scientific process management can improve coordination rate, and the development of visual effects technology helps us to improve production efficiency. For example, in the project of  Young Detective Dee: Rise of the Sea Dragon, a real fluid simulation system was developed for marine fluids; In the "War Warriors" project, the CGI animal hair system and real dynamics solve the development of the muscle system and skeletal system for the biological animals and the open feather system of birds. Many complex technologies like this are generally developed by the product group, and then converted into specific application plug-ins by the software group, and finally put into mass production.      Q4. It is understood that a large number of special effects shots in the play use cloud rendering. Can you talk about the advantages of cloud rendering?   As the volume of the project grows larger, the amount of rendering required will be larger and larger. After all, our internal rendering farm can carry a limited amount of rendering. When the internal rendering farm cannot meet a large number of rendering requirements,  that's when Fox Renderfarm step in. The throughput and unique rendering environment to the film industry is the best choice for us to solve the huge rendering needs, reducing the investment in rendering assets, helping us save costs and improve efficiency.   At the same time, the virtual assets in film and television production are relatively large, the production environment is complex, and the technical requirements for network transmission, security and confidentiality, rendering environment and fault tolerance are also extremely high. It is difficult to find a good cloud rendering service platform that is well connected with the film and television industry in China. In order to make cloud rendering technology better applied to the film and television industry, this year's strategic cooperation between ILLUMINA and Fox Renderfarm will jointly build a visual cloud rendering platform.   Cloud rendering cannot only charge on-demand according to the number of frames, duration, storage space, etc., so that small-production, low-cost movies can also get better special effects rendering, and real-time, online data transmission. And schedule management, and even achieve automatic management of budget, time and other aspects to maximize efficiency.   The future is right upon us. Today's cloud computing and cloud storage are just the beginning of cloud services. I hope that the cloud computing industry will truly penetrate the film and television industry in the future and provide more technical support for the film and television industry.    https://v.qq.com/x/page/v0749s5qmb2.html
---
Tsui Hark And His Detective Dee: The For Heavenly Kings Coming Back
---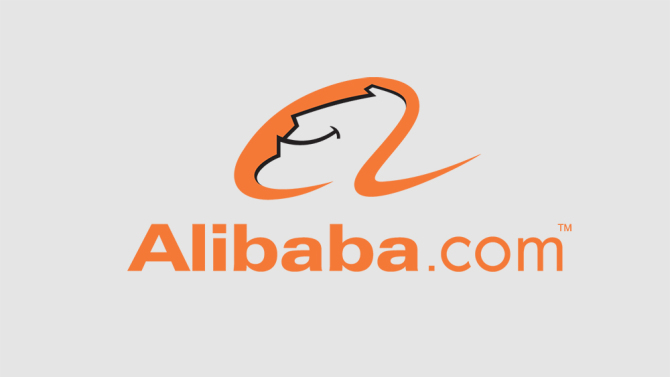 Alibaba Group Holding Ltd (BABA), RAYVISION Partner To Provide Digital Effects Services
Alibaba Group Holding Ltd (BABA), Rayvision Partner To Provide Digital Effects Services Alibaba strengthens its influence in China's entertainment business with the Aliyun-Rayvision pact
BABA By: TROY KUHN Published: Apr 29, 2015 at 8:24 am EST E-commerce giant, Alibaba Group Holding Ltd (NYSE:BABA) announced today that it is deepening its foray in the cloud computing and entertainment business through a partnership with Rayvision. The pact will introduce a cloud computing built digital effects platform, and widen the company's influence in the film industry.
The newly launched service will be given the title of Rendering Cloud, a bi-product of Alibaba's Aliyun and Rayvision. Rayvision, currently commands about 70% of the respective market share. Alibaba's cloud computing service, Aliyun was first introduced in China in 2009, and commands a customer base of around 1.4 million customers to date. Alibaba's entertainment arm, Alibaba Pictures, will not have much direct involvement in the Rendering Cloud Partnership. However, the company has plans of using the service in its film endeavors. Moreover, Alibaba Pictures also announced today that the company might execute a strategic partnership with Aliyun and Rayvision in the future.
President of Aliyun, Simon Hu stated today: "By providing computing capacity, we hope to help Chinese filmmakers produce Hollywood hits like 'Kung Fu Panda'. We hope to integrate cloud computing with the film and animation industry, and serve global studios, enabling small studios worldwide, to produce high-definition blockbusters with great visual effects."
The Rendering Cloud Service is projected towards the country's independent producers. The Aliyun-Rayvision partnership will inject a cloud-based platform providing 100,000 cores of computing power. Moreover, the e-commerce giant also ensured that the partnership is built on introducing efficiency to the structure, as it plans on slashing rendering costs by roughly 40% and rendering duration to weeks.
More importantly, Alibaba Group Holding Ltd, recently announced that it intends to make its cloud computing platform, Aliyun relatively "cost competitive." presently, Alibaba's cloud computing platform amounts for 1% of the company's total revenue. The partnership also navigates Alibaba Group Holding to deeper penetration in the film industry. Alibaba realizes the significance of further enriching its entertainment arm, as the Chinese film industry quickly escalates towards premier quality animation and digital effects. Furthermore, research analyst at Gutoi Junan International, Ricky Lai; recently displayed considerable optimism for Alibaba's entertainment arm: "We expect that assert injection to be completed this year and further transform Alibaba Pictures into a bigger, one-stop operation for movie production, financing, and ticketing sales."
Out of the 44 analysts polled by Bloomberg, 37 recommend a Buy; five suggest a Hold, and two advocate a Sell on it. The 12-month consensus target price is $108.13, centralizing an upside of almost 27% compared to the current share price of $85.08.
---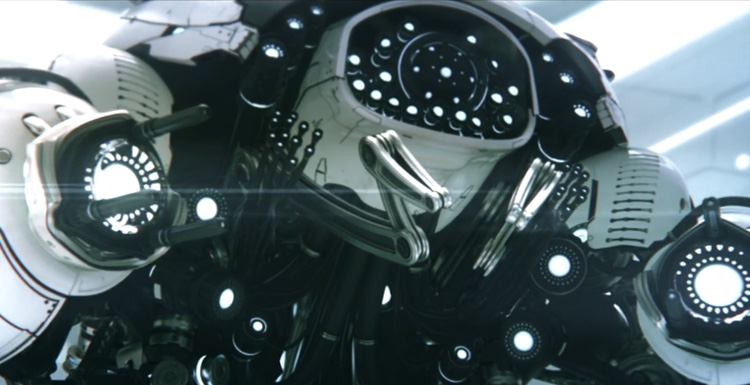 Taiwan Excellence IDENT 2014 : \WORLD LAB\
''The World Lab'' Series shows the evolutionary process of industries through visualization of elements unique to each specific industry. The laboratory concept symbolizes the power of Taiwan's research and innovation.
Safety & Security The visual design of this video draws upon ideas of surveillance, control and safety, which are standards that Taiwan's security industry consistently achieves. The main character of the video, the robot of the future, well symbolizes the concept of intelligent security surveillance.
The main character of the video, the robot of the future, well symbolizes the concept of intelligent security surveillance. The extensive appearance of lenses throughout the video as a visual element reinforces the concept of surveillance.
The robot's design is inspired by shell creatures to help create an image of safety and protection.
CREDIT
Client Taiwan External Trade Development Council ( TAITRA )
Director Sawoozer Wang
Production
+AKITIPE STUDIOS
Co-Director : Lance Ni Producer : John Ou Concept Artist : Camille Kuo /  Neven Hsu / Sylvia Chen / Tom Yi Graphics Design : Niven mo / Walt Wang CG Team Supervisor : Juin Chang  / Ralph Waniek CG Artist : Juin Chang / Lance Ni / Neven Hsu / Tom Yi / Sylvia Chen / Andrew Augustyniak / Andy Zimirski / CG Assistant : Ric Hung / Jyouanmi Chen
>Music & sound design Zelig Sound >Rendering FOX Renderfarm Special thanks 13 Studio / Artery Vision / Evermotion
---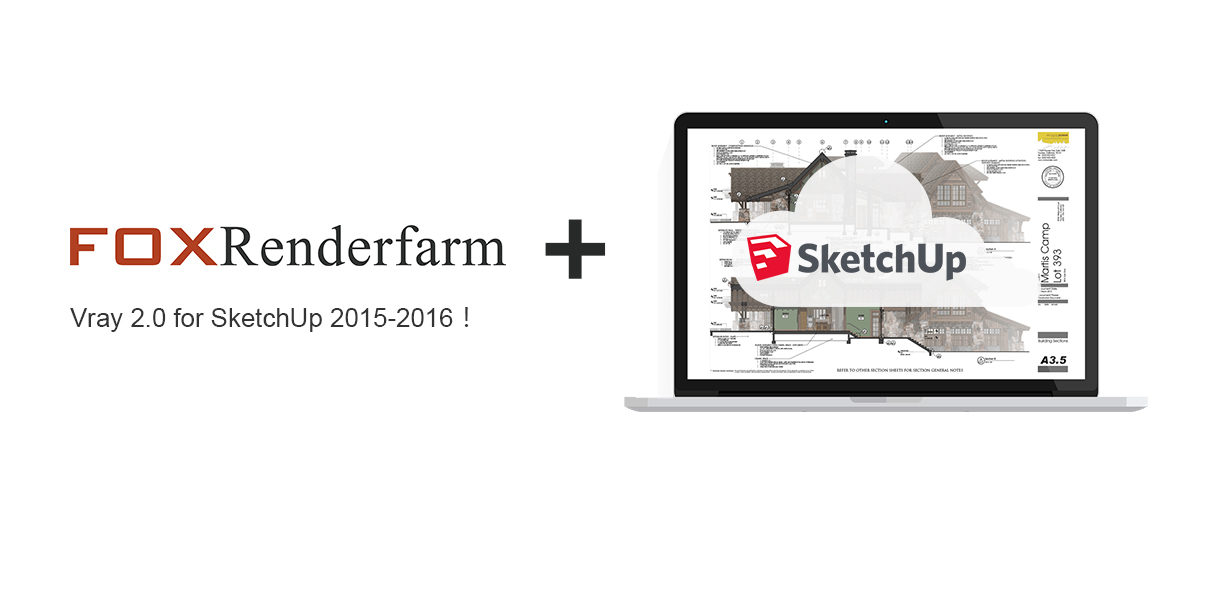 The FoxRenderfarm Cloud Rendering for SketchUp Launched
As we all know, SketchUp is a popular and outstanding software for 3D architectural designing, it is called the "pencil" in CG designing industry for the reason of its extremely easy using feature. With Sketchup, the designers can easily and quickly visualize their conceptions.
And now, we are proud of declaring that FoxRenderfarm has supported Vray 2.0 for SketchUp 2015-2016. You can freely choose multi machine sequence for rendering to save more time, so that you can devote yourself to the unlimited creative designing with limited energy and time. Besides that, you can also freely choose the needed scenes to render with just a few simple clicks when submitting jobs.
Well, here are the features supported by FoxRenderfarm cloud rendering as below:
1.Support multisequencing rendering 2.Support freely choosing scenes 3.Support enabling pipeline settings by force 4.Support full path rendering 5.Support Vray renderer 6.Support SketchUp 2015 and SketchUp 2016 7.Support non-ABCD driver path 8.Support loading photon rendered task 9.Support choosing the resolution, input and format
At last, here are some artwork created with Vray for SketchUp as below, enjoy yourself!
---
Key Words
CG
|
Florian Renner
|
CG Tech Summit Malaysia
|
event
|
Zhang Yimou
|
CSFF 9th
|
film works
|
cloud rendering
|
Golden Horse Award
|
Shadow
|
SIGGRAPH Asia 2018
|
Morrigan Flebotte
|
VWArtclub Annual *Contest
|
Asswad Mouhamad
|
animation works
|
IMax Studio
|
Interview
|
Boonie Bears
|
Renderosity
|
Renderosity 2018 Holiday Contest
|
Renderosity 2018 Animation Holiday Contest
|
Gary S. Kennedy
|
Upin & Ipin
|
Evermotion Challenge 2018
|
Brian Beaudry
|
VFX
|
Alita: Battle Angel
|
Bobby Bala
|
Mohit Sanchaniya
|
Katapix Media
|
Flying Car Productions
|
Razer
|
The Shipment
|
FoxRenderfarm
|
CG Tech Summit
|
Alpacalypse Productions
|
halloween
|
Hum3d Survial Car Challenge
|
Federico Ciuffolini
|
sc
|
Ralf Sczepan
|
Iavor Trifonov
|
Clarisse
|
CGTS Malaysia
|
Isotropix
|
C4D
|
Tomasz Bednarz
|
V-Ray
|
Cinema 4D
|
MAXON
|
siggraph caf
|
Evermotion challenge 2017
|
CGTrader Space Competition
|
Henrik Lein
|
film of the year
|
Le Anh Nhan
|
Planet Unknown
|
Fox Renderfarm 2017 Achievements
|
CSFF
|
Julio Soto
|
boar 2017
|
Deep
|
SIGGRAPH Asia 2017
|
Chris Sun
|
Glass Cage
|
Fox Renderfarm
|
Making Life of Bri' n Chris
|
fox renderfarm interview
|
anthem studios
|
The Rookies
|
Peter Draper
|
Makuta VFX
|
The Rookies 2017
|
Baahubali 2
|
CG Competition
|
hard drive
|
hum3d contest
|
enchantedmob
|
CG Studios
|
Rookies
|
Academy Awards
|
RAYVISION MILESTONES
|
CGTS
|
CGVray
|
weeklycgchallenge
|
SketchUp
|
siggraph 2017
|
Chris Buchal
|
SIGGRAPH Asia
|
LightWave
|
Indigo Renderer
|
Rafael Chies
|
V-Ray RT
|
CPU Rendering
|
NVIDIA Iray
|
Chaos Group
|
OctaneRender
|
Redshift
|
Vray
|
STAR CORE
|
CICAF
|
VR
|
Mr. Hublot
|
Ribbit
|
Blender Cycles
|
GPU Rendering
|
Linux
|
Monkey Island
|
LuxRender
|
HPC
|
Render Farm
|
RAYVISION
|
Life of Bri
|
WORLD LAB
|
Michael Wakelam
|
3D Rendering
|
Online Render Farm
|
Alibaba
|
Baahubali
|
阿里雲
|
VAX
|
Malaysia
|
Aliyun
|
2015 Hangzhou Computing Conference
|
Oscar
|
SIGGRAPH
|
CGTrader
|
Kunming Asia Animation Exhibition
|
Evermotion
|
RenderMan
|
Categories
---
RAYVISION News
---
RAYVISION Projects
---
RAYVISION Lectures
---
CG Challenges
---
Top News
---
Blog
---
Fox News
---
Fox Talk
---
Hot Spots
---
Recent News List
---
Cloud Render Farm Company's Introduction Video
2019-07-18
---
An Amazing Dragon Ball 3D Animation Project Supported By Fox Renderfarm
2019-07-12
---
Cuteness Overload! Interview With The Champion Of The CG Boost Cute Warrior Challenge
2019-07-11
---
SIGGRAPH 2019, Fox Renderfarm Will See You In Los Angeles!
2019-07-03
---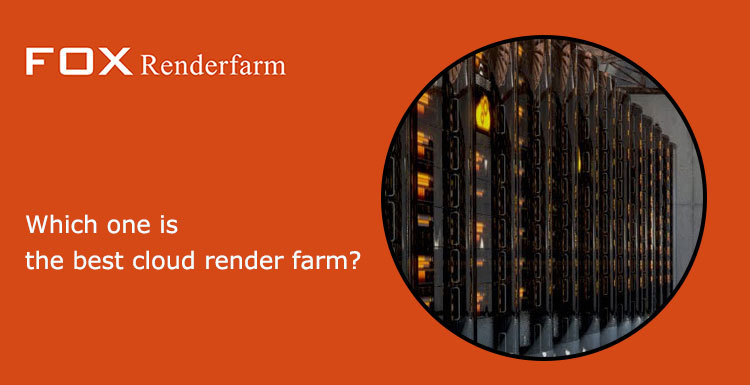 Which One Is The Best Cloud Render Farm?
2019-06-26
---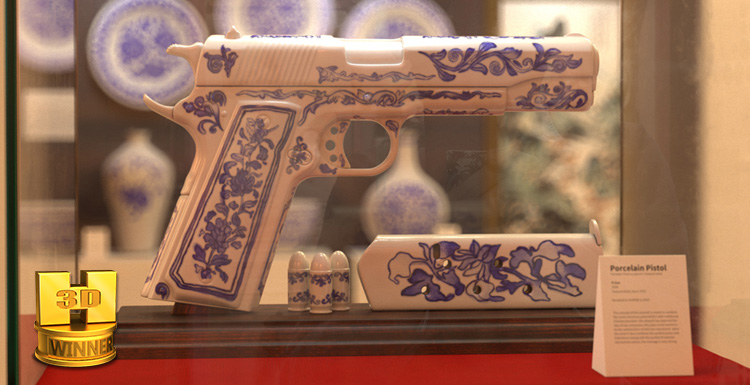 Interview With Yi Sun, The 1st Winner In Hum3D's Three D Gun 2 Competitio
2019-06-17
---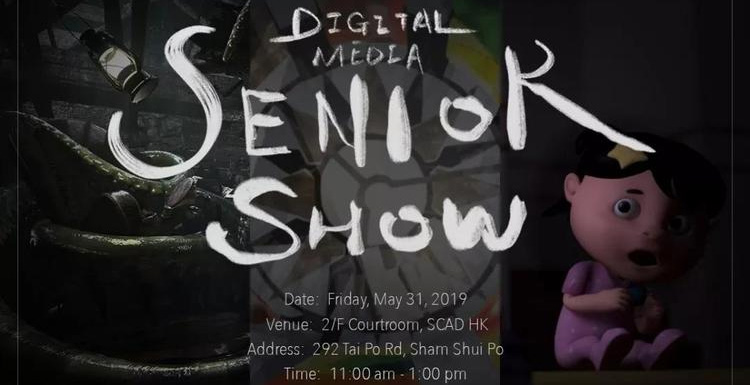 SCAD Hong Kong's Digital Media Senior Show 2019 Supported by Fox Renderfarm
2019-06-14
---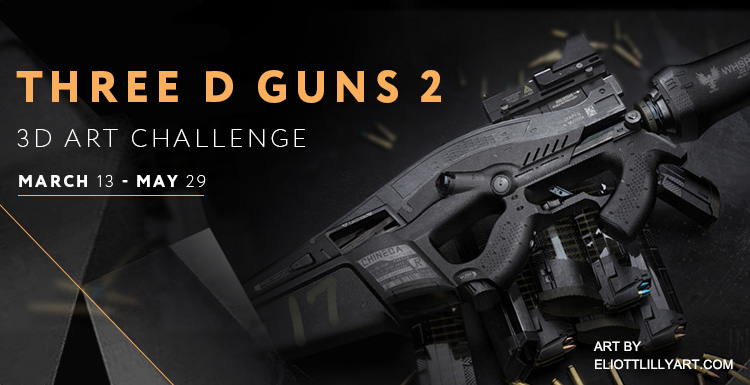 Three D Guns 2 Competition Winners Announcement!
2019-06-13
---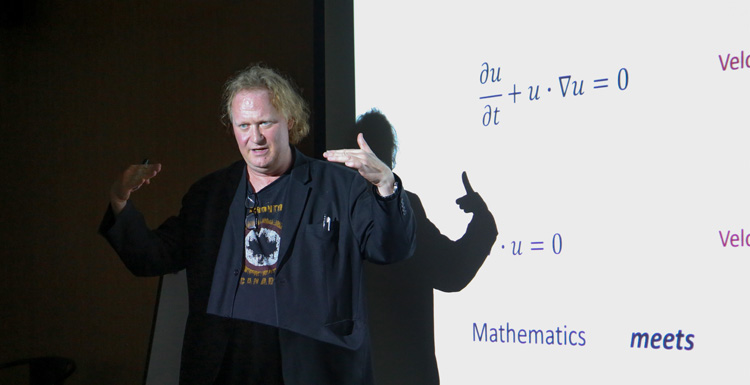 Three Academy Awards Winning Scientist Dr. Jos Stam's Exclusive Interview with Fox Renderfarm
2019-05-28
---
Partners
Medias