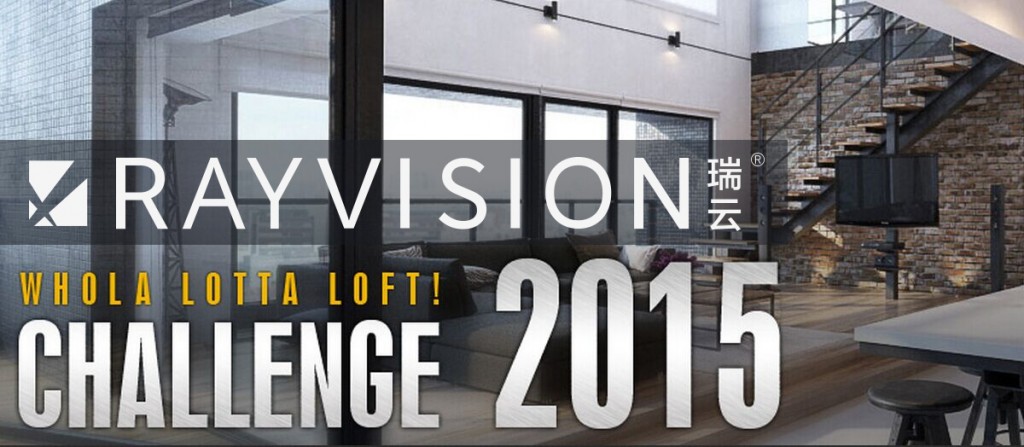 RAYVISION Sponsors Evermotion Challenge 2015
Evermotion launched a remarkable architectural renderings challenge "Evermotion Challenge 2015" . Fox Renderfarm is the only one domestic render farm to sponsor this challenge.
Evermotion was founded in 1998 and now its portal is one of the biggest over the CG world. Since the beginning Evermotion has earned a stable position in the global CG market and thousands of customers. Evermotion concentrates CG fans from all over the world. It provides a platform for CG fans to share experience and plenty of 3D models and texturing to download. Evermotion creates and develops products that help CG artists with their 3D visualizations by speeding up their workflow and increasing their quality of output.
This challenge lasts from November 17th to January 26th. The participants should submit at least 5 WIP (Work In Progress) renders in their forum thread before the deadline, including concept sketch or reference photo, modeling, texturing, lighting and rendering, post effects and composting. The jury is composed of authorities in CG industry. They are Spanish super realism CG artist Alex Roman, Official V-Ray Instructor Ciro Sannino, Evermotion founder PENdzel – Krzysztof M. Kundzicz, and Evermotion CG artists Jakub Dabrowski, Barbara Witkowska, Michal Horba.
The theme of this challenge is about "LOFT". First adopters of LOFT style were usually poor artists occupying abandoned factories in industrial quarters. Now LOFT tends to be a new trend over the world. Evermotion seizes this opportunity to launch the challenge, encourages the participants to unleash their imagination and design their own perfect loft!
Join Evermotion Challenge 2015 now!
Key Words
Cloud Rendering Farm
|
Annecy Festival
|
MILESTONES
|
Fox Renderfarm
|
Desktop Client
|
Blender
|
Bollywood films
|
Hum3D Contest
|
NVIDIA
|
Silkroad Digital Vision
|
Malaysian Animated Films
|
Indiajoy
|
Art Competitions
|
Architectural Visualization
|
CGarchitect Architectural 3Dawards
|
Best cloud rendering services
|
Render cloud
|
VFX
|
Upin & Ipin
|
Green Book
|
Fox Renderfarm Interview
|
Mission Mangal
|
Kre8tif!
|
Fox Renderfarm Mini Program
|
CG
|
CG Tech Summit Malaysia
|
film works
|
cloud rendering
|
Golden Horse Award
|
Shadow
|
SIGGRAPH Asia 2018
|
Morrigan Flebotte
|
VWArtclub Annual *Contest
|
animation works
|
Asswad Mouhamad
|
IMax Studio
|
Boonie Bears
|
Renderosity
|
Gary S. Kennedy
|
Evermotion Challenge 2018
|
Brian Beaudry
|
Alita: Battle Angel
|
Bobby Bala
|
Mohit Sanchaniya
|
Katapix Media
|
Flying Car Productions
|
Razer
|
The Shipment
|
FoxRenderfarm
|
CG Tech Summit
|
Alpacalypse Productions
|
halloween
|
Hum3d Survial Car Challenge
|
Federico Ciuffolini
|
Ralf Sczepan
|
Iavor Trifonov
|
Clarisse
|
CGTS Malaysia
|
Isotropix
|
C4D
|
Tomasz Bednarz
|
V-Ray
|
Cinema 4D
|
MAXON
|
siggraph caf
|
Evermotion challenge 2017
|
CGTrader Space Competition
|
film of the year
|
Le Anh Nhan
|
Planet Unknown
|
Fox Renderfarm 2017 Achievements
|
CSFF
|
Julio Soto
|
boar 2017
|
Deep
|
SIGGRAPH Asia 2017
|
Chris Sun
|
Glass Cage
|
Making Life of Bri' n Chris
|
anthem studios
|
The Rookies
|
Peter Draper
|
Makuta VFX
|
Baahubali 2
|
CG Competition
|
enchantedmob
|
CG Studios
|
Academy Awards
|
CGVray
|
weeklycgchallenge
|
SketchUp
|
siggraph 2017
|
Chris Buchal
|
SIGGRAPH Asia
|
LightWave
|
Indigo Renderer
|
Rafael Chies
|
V-Ray RT
|
CPU Rendering
|
NVIDIA Iray
|
Chaos Group
|
OctaneRender
|
Redshift
|
STAR CORE
|
CICAF
|
VR
|
Mr. Hublot
|
Ribbit
|
GPU Rendering
|
Linux
|
Monkey Island
|
LuxRender
|
HPC
|
Render Farm
|
Life of Bri
|
WORLD LAB
|
Michael Wakelam
|
3D Rendering
|
Online Render Farm
|
Alibaba
|
Baahubali
|
阿里雲
|
VAX
|
Malaysia
|
Aliyun
|
2015 Hangzhou Computing Conference
|
Oscar
|
SIGGRAPH
|
CGTrader
|
Kunming Asia Animation Exhibition
|
Evermotion
|
RenderMan
|
Categories
---
Fox Renderfarm News
---
Fox Renderfarm Projects
---
Fox Renderfarm Lectures
---
CG Challenges
---
Top News
---
Blog
---
Fox News
---
Fox Talk
---
Trending
---
Recent News List
---
Fox Renderfarm Evergreen Program in 2022
2022-04-29
---
Revealing Mitosis Process with Cinema 4D
2022-04-15
---
MayaとZBrushでEpic Leviathan Roverの作成方法
2022-03-22
---
Interview with Squids Visual Arts, VFX Creator of the Vodafone x Salah Campaign
2022-03-11
---
Creating a Angry Snowman With Blender
2022-03-02
---
How to Render Realistic Snow With Blender
2022-02-28
---
SIGGRAPH Asiaは2021、東京で初のハイブリッド版が無事開催
2022-02-25
---
Interview With Andrey Oliver, Who Won First Place in the Student Category of FGT3D Snowman Challenge
2022-02-24
---
Interview with Massimiliano Napoli, COO of Diorama: Diorama's Aesthetic and Their Secrets behind the Post-pandemic Success
2022-02-23
---
Partners