RAYVISION Attended SIGGRAPH Asia 2015 in Kobe, Japan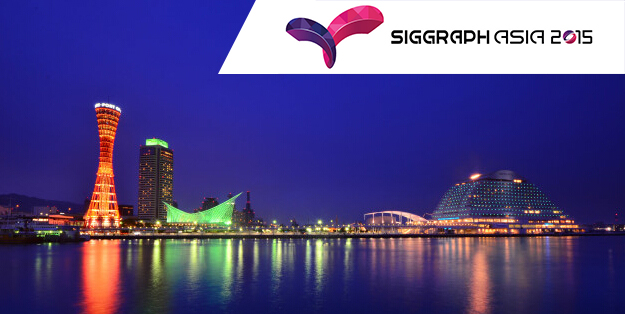 SIGGRAPH Asia 2015, the 8th ACM SIGGRAPH Conference and Exhibition on Computer Graphics and Interactive Techniques in Asia, is back for the 2nd time in Japan. It attracts many professionals, exhibition visitors, and exhibitors from all over the world. Rayvision attended this grand conference to exchange their experience with the professionals and seek more business opportunities in CG industry.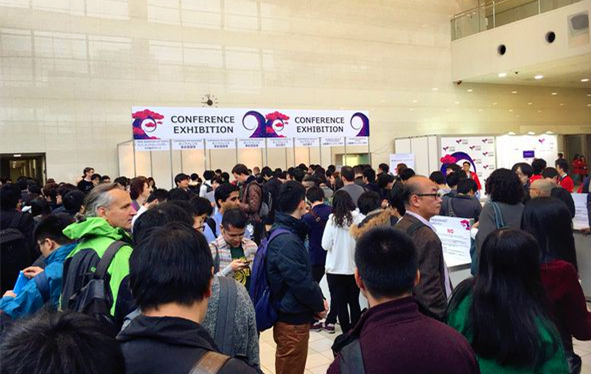 SIGGRAPH Asia 2015 continues its tradition of being the premier platform for the advancement of computer graphics, research, gaming, science and technology, animation, art, education, interactivity, and the web. Exhibitors display their products and services from different kinds of sectors related to the computer graphics. As the pioneer of the world's premier self-service cloud render farm, Rayvision provides cloud computing services for rendering in various industries. The exhibition provides a great opportunity for Rayvision to promote their brand, share the rendering knowledge, communicate with customers even potential customers in CG industry.
Started since 2007, Rayvision and its subsidiary Renderbus and Fox RenderFarm have won unanimous praise from the entertainment industry. With professional services and industry-leading innovations, they serve leading special effects companies and animation studios from over 40 countries, including two Oscar winners. In 2015, Rayvision formed a global strategic partnership with Aliyun (Alibaba Cloud Computing) to provide global visual cloud computing services.
Rayvision provides users with web-based platform. As long as users can get accessed to Internet, no matter where they are, they can enjoy 24/7 non-stop cloud rendering service with easy-to-use rendering steps and high-quality outputs within a relative short period. Besides, Rayvision also have dedicated project managers for specific customized projects.
Previous: CG Game Characters Challenge Winners Announced!
Next: RAYVISION Attended "2015 Hangzhou Computing Conference" on Invitation
Interested
Fox Renderfarm Coupons for SIGGRAPH 2019 Student Volunteers!
Congratulations! Special Gift from Fox Renderfarm Dear, As the sponsor and official partner of SIGGRAPH 2019, Fox Renderfarm will offer render coupon to all student volunteers in SIGGRAPH 2019. Receive the email sent from Fox Renderfarm and check your prize! Coupon code: (Please check your email sent from Fox Renderfarm) 1. Login / Register on 2. Click the Recharge button and choose the Coupon Recharge tab to input the coupon code Fox Renderfarm reserves all rights for the final explanation. The moments you can't miss Fox Renderfarm @ SIGGRAPH 2019 Fox Renderfarm is honored to be one of the sponsors and would continually support the world's biggest computer graphics conference. In SIGGRAPH 2019, we had great conversations with visitors from the United States, Canada, Japan, France, Brazil, China and more. Fox Renderfarm has interviewed so many cool people, from honored guest in SIGGRAPH to R&D Postdoctoral Associate in Disney Research Los Angeles, from environment artist devoted to his original project to visual effects supervisor of Green Book and so forth. Here's the trailer! Wanna see more? Please stay tuned with Fox Renderfarm, and more exclusive interviews will be released soon...read more→ About FoxRenderfarm Fox Renderfarm is one of the leading
Blender, Keyshot And Modo Will All Support RTX-based Rendering
Last week, SIGGRAPH 2019 was successfully finished. At this SIGGRAPH, the high-tech displays are still amazing. As the leading , and one of Nvidia's partners, we are happy to know that several DCC applications, like Modo, Keyshot, and Blender, are announced to support Nvidia's new RTX GPUs on hardware-accelerated ray tracing. What is RTX and is it supported by other applications? First announced last March, RTX is Nvidia's implementation of DXR, and a new ray tracing extension for DirectX 12. Current RTX GPUs—GeForce RTX consumer graphics, Quadro RTX workstation graphics, and Titan RTX all have dedicated RT hardware cores for ray tracing calculations. These core software accesses were implemented through the ray tracing architecture provided by Nvidia Optix and announced for free commercial use in 2017. The rendering engine that now supports RTX includes Clarisse iFX, which is mainly for window preview. For final quality output, Arnold GPU, OctaneRender, Redshift, and Unreal Engine have alpha or beta implementations, the latter being primarily hybrid rasterization/ray tracing renderers. In Substance Painter and Substance Designer, RTX ray tracing is also used for texture baking. Keyshot The Keyshot program will support RTX in the 9th version released this fall. The general function is that if the software detects a compatible GPU in the user system, a new button will appear on the Keyshot ribbon interface to enable GPU rendering. Otherwise, The scene will be rendered normally on the CPU. Modo In modo, the situation is more complicated, because Foundry's 3D software already has a GPU rendering engine, which is similar to AMD's Radeon Prorender. In the current form, the prorender is primarily used as an interactive preview during asset development, while modo's original CPU renderer is used for the final quality output. Foundry's new RTX-based path tracking renderer seems to be a replacement for Reyes-based CPU renderers. Currently Foundry has not specified which version of modo will be available in the new RTX rendering engine, although "in the coming months" plans to release access versions to subscribers in advance. Blender There are also two rendering engines for Blender, although they have all been accelerated by the GPU. This time, the RTX integration is for the old Cycles engine, which has used Nvidia's CUDA API for GPU rendering - users without Nvidia cards use OpenCL and CPU rendering instead of the new OpenGL-based Eeve engine introduced in Blender 2.80. Like Keyshot, RTX support is switchable, users can select optix, cuda or opencl or pure CPU rendering via the checkbox in Blender's preferences. In the benchmarks posted on the Blender Developers blog, when running under OptiX, Cycles renders about twice as fast as the same Nvidia GPU when running under CUDA on the Nvidia GPU. The source code for the new implementation is public, but considering that Blender 2.80 has just been released, it may take some time for the RTX to be officially built.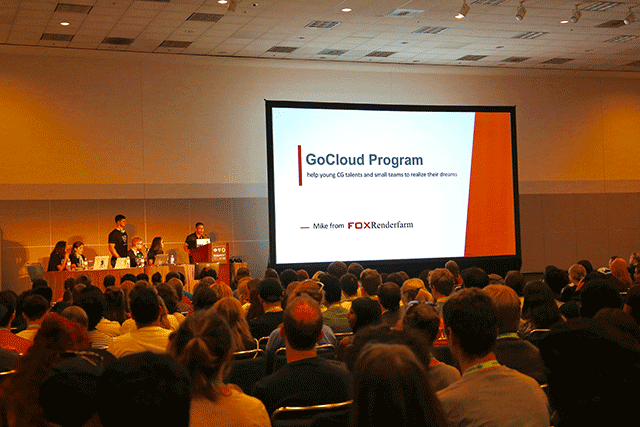 Fox Renderfarm in SIGGRAPH 2017, We Are More Than An Exhibitor
As the largest and most influential annual conference and exhibition in computer graphics and interactive techniques, SIGGRAPH 2017 is popularly ongoing (30th July – 3rd August). As one of the most popular render farms in the exhibition, and honorably invited as the speaker of SIGGRAPH 2017 conference, is holding hands with SIGGRAPH and having several deep cooperations this time. "CG in Asia"Speech Benjamin Cheung, the VP of Fox Renderfarm, was invited by SIGGRAPH International Resources Committee to be a speaker for the subject of "CG in Asia". Ben shared the development of CG industry with speakers from Digital Idea in Korea, SQUARE ENIX, CG-ARTS Society and OLM Digital in Japan. Ben focused on the topic of current situation and development of Chinese film industry, and made a point that China has huge potentials in film industry. "SIGGRAPH Student Volunteer Program"Conference Mike, the marketing director of Fox Renderfarm, was also invited to present in the conference of "SIGGRAPH 2017 Student Volunteer Program", Mike introduced Fox Renderfarm and explained how powerful the rendering ability is, as well as the which aims to help potential CG students, creative small teams and charity groups to realize their dreams. At the end of the speech, Mike even revealed an amazing news, it is about a self-developed online platform ( Vivue: http://www.vivue.io ) which is designed to help directors, producers, artists, designers, managers and media groups to save huge time on video collaboration. The Vivue is currently available on webpage and iOS App. Officially Authorized to Distribute SIGGRAPH Collectible Pixel Toys Fox Renderfarm is officially authorized by SIGGRAPH to distribute the limited number of collectible bobble head Pixel toys at the SIGGRAPH 2017 conference and exhibition. These keepsakes will not be available for sale, but will be given away in a variety of ways throughout the conference and exhibition, including at Fox Renderfarm booth 243. Besides, there are a lot of other gifts available for visitors by playing the dart game on Fox Renderfarm's booth. The confidence of SIGGRAPH for Fox Renderfarm's leading position in render farm industry along with the outstanding contribution, is the most important reason that SIGGRAPH decides to start such deep cooperations with Fox Renderfarm. And Fox Renderfarm really appreciated the awesome opportunity to present themselves in front of so many international 3d animation and VFX production companies. Let's take hand by hand to help enhance the development of CG industry.