RAYVISION Sponsors 3D CG Sci-Fi Challenge for Aspiring Graphic Designers
2015-03-11
CGTrader | cloud rendering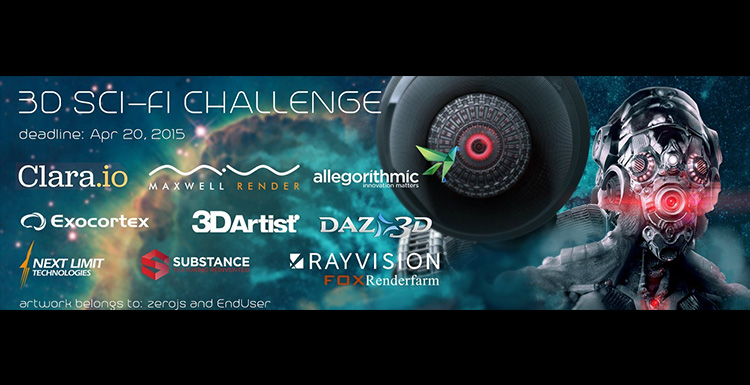 Shenzhen, China – When it comes to cloud rendering services, Rayvision has made a marked impact in the IT  industry. In addition to being a pioneer of self-service cloud rendering, Rayvision became one of the pivotal sponsors, in the exciting 3D CG Sci-Fi Challenge for talented graphic designers. At a recent conference, a spokesperson for Rayvision said, "We believe that the best way to grow and develop is to help instill fresh new talent and ideas in a positive direction. We have always been adamant supporters of promoting new talent. As sponsors for the 3D CG Sci-Fi Challenge this year, we are proud to help talented graphic designers exhibit their futuristic visions and dreams on a greater and more realistic scale."
The best, visionary proposals of the competition will receive some notable prizes. These include a $250 render fee for the first place winners, $150 for the first runner up and finally, a render fee of $100 for the second runner up. Along with sponsors DreamWorks, American Industrial Light and Magic, SKG and various other animation companies from all over the world, Rayvision provides talented individuals the chance to explore and grow in CG.
The 3D Sci-Fi Challenge focuses on honing and testing the skills of talented individuals who have the capabilities to envision an "alternative" universe with respect to a dystopian or utopian future. This challenge will run from February 20th to April 17th, 2015 and is open to everyone, including teams, and talented graphic designers from all over the world. Each participant has the freedom to upload more than one entry model and stand a chance of qualifying for the portfolio category if they upload more than eight models.
"We suggest that everyone try their skills by participating in this grand event!" added the spokesperson. The CGTrader Staff, will judge each entry on quality, innovation and presentation.
About the Company Shenzhen Rayvision Inc. is an internet technology company that specializes in research into cluster rendering and parallel computing technology, providing computing services for cloud rendering. It is the pioneer of 'self service could rendering'. Renderbus, its brand, was the first company in China to offer a cloud-rendering platform.
For the purpose of providing consistent service for CG studios in the world, RAYVISION Inc. launched a family brand, "RAYVISION", globally, based on Renderbus (its domestic brand) and Fox RenderFarm (its overseas brand), in 2014. Rayvision promises to provide global users with more excellent, stable and consistent cloud rendering service.
Recommended reading
---
How to Render High-quality Images in Blender
2020-03-09
---
Top 9 Best And Free Blender Render Farms of 2023
2022-05-09
---
Revealing the Techniques Behind the Production of Jibaro "Love, Death & Robots", Which Took Two Years to Draw the Storyboard
2022-06-10
---
How to Render Large Scenes with Redshift in Cinema 4D
2019-10-15
---
Top 10 Free And Best Cloud Rendering Services in 2023
2022-06-24
---
Top 8 After Effects Render Farm Recommended of 2023
2022-07-07
---
How to Reduce Noise in Corona Renderer - Corona Denoising
2019-05-15
---
Why V-Ray Render is Black in SketchUp And How To Fix it?
2019-05-07
---
Partners
Previous: The Top Benefits of Online Render Farms
Next: The Evolution of 3D Rendering and Why You Need to Consider It
Interested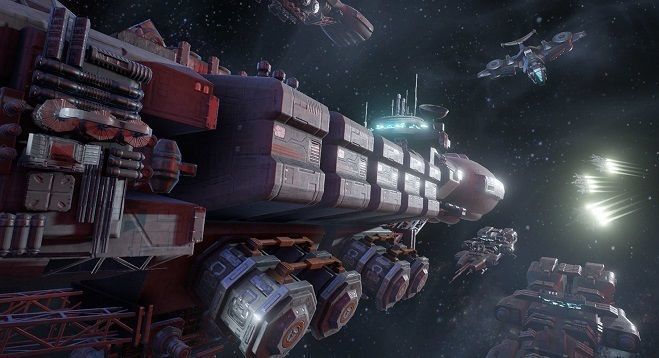 Winners of 3D Challenge: SPACE by CGTrader | Sponsored by Fox Renderfarm
Another challenge has come to an end. This time, the 3D Challenge with the theme of Space organized by CGTrader ran from the 9th October 2017 till 10th December 2017 and has attracted artists from all over the world to submit original space-themed designs in low (models up to 50,000 polygons) and high (models with more than 50,000 polygons) poly categories. The end of the challenge means the start of the extremely difficult models' evaluation process due to huge participation from the artists. A total of 240 high-quality models were submitted ranging from planets, asteroids, aliens, rockets, satellites to space stations have been evaluated and dozens of discussion were made! Most models in this challenge are ready for Virtual Reality (VR), Augmented Reality (AR), games and other real-time apps.Judging panels from Fox Renderfarm, CGTrader, 3D-Coat, Cebas Visual Technology, Quixel, and Exlevel worked together to decide the Challenge winners. The judging criteria for both categories were quality of the model (the most IMPORTANT criteria), as well as uniqueness, innovation, and general achievement in design of the model.Well, there are only just six places for the winners. So, fasten your seatbelts and let's look at the winner's list!Low Poly CategoryWinner: "4 Spaceship Set" by triplebrickDescription: A set of 4 highly detailed spaceships for interstellar fleet with PBR metal/smoothness workflow, 4k textures, small ships have one material, large ships two materials and details can be removed on the larger ships.Prize: $250 rendering credits by Fox Renderfarm1st Runner Up: "Scout Space-ship RS-1" by Antonio112661Description: High quality Scout space-ship RS-1 model which could be used in any game. This asset is optimized and hand tweaked. The textures tuned for Physically-Based Rendering. 16688 polygon count.Prize: $150 rendering credits by Fox Renderfarm2nd Runner Up: "Lambro Robot" by furqaanDescription: The model is based on transformers look due to the robot is made of lamborghini parts and engine.Prize: $100 rendering credits by Fox RenderfarmHigh Poly CategoryWinner: "Space Pursuit MFP Disc Driver" 3D model by eccemaniaDescription: The artist's own vision from a spaceship pursuit with one back tyre and hover engine. Works without driver, the MFP Disc Driver has a programmable memory. Drive with rechargeable power cell and hover system, VROOOM!!!Prize: $250 rendering credits by Fox Renderfarm1st Runner Up: "PBR Detailed Robot" by jackfurneri1984Description: The model has been created with Autodesk Maya (version 2016) - Textured and polypainted in Substance Painter 2 and rendered with different render engines (Arnold by Solid Angle and Marmoset Toolbag 3 package). There are 20557 faces, 21467 vertices, all pieces can be separated from each other (legs, gears, hands, etc..) with unwrapped UVs with no overlapping.Prize: $150 rendering credits by Fox Renderfarm2nd Runner Up: "Icarus Orbital – Space Station" 3D model by shaunDescription: The Icarus space station model is a huge and detailed orbital station which is packed full of details and character. This space station is Intricately designed by Shaun T. Williams BA for practical usage and design within its role as an orbital space station for habitat and re-supply. The station boasts a variety of details such as antennas and radio equipment, docking bays, airlocks and many other features which make it perfect for detailed close-up shots with well-optimized model and is 2,255,400 Tris / 1,112,114 Polys.Prize: $100 rendering credits by Fox RenderfarmFox Renderfarm is proud to be the official render farm sponsor for this 3D Challenge: SPACE. The challenge is co-jointly sponsored by Fox Renderfarm, 3D-Coat, Quixel, Exlevel and Cebas Visual Technology.p/s: Shhh! Fox Renderfarm will be launching Fox's Got Talent in the near future with lots of attractive prizes waiting for everyone to grab! So, stay tuned!

3D CG Flora and Fauna Challenge Winners Announced!
Inspired by summer, CGTrader launched Flora and Fauna challenge. It was their second challenge about 3D model and render. Now, the result of the much-anticipated challenge finally came out! Surprisingly, not only the challenge theme became a tradition, but also the 1st place winner! That only shows us how loyal, dedicated and concentrated on the specific topics the designers are!CG Flora and Fauna challenge run from May 29th, 2015, to July 29th, 2015. In these 8 week, CGTrader got 141 entries to the challenge. Designers combined their imagination and creativity with their professional skills of CG. They shows us the amazing work!Designers' motivation is incredible prizes sponsored by Rayvision, Happy Digital, Laubwerk, Greyscalegorilla, CG Cookie and Exlevel! Isn't it? Let's see the attractive prizes:$1000 render fee by RayvisionAutograss licenses by Happy DigitalPlants Kits by LaubwerkTransform tools by GreyscalegorillaMemberships by CG CookieGrowFX licenses from Exlevel Let's move to the most interesting part and find out who are the best ones! Best Model Category Winner: cgmobileWinning model: Brown Bear 1st Runner-up: Dennish2010Winning model: Wolf 2nd Runner-up: jhanziwestWinning model: Flora assets bundle trees and rocks Best Portfolio Winner: 3DRTcomWinning Portfolio: Dinosaur 1st Runner-up: Modern-mynkWinning model: Portfolio For more information: `http://www.cgtrader.com/blog/3d-cg-flora-and-fauna-challenge-winners-announced`
CGTrader CG Wildlife Challenge's Blockbuster Launch
As the pioneer of world's cloud render farm, Fox Renderfarm sponsors so many world-class CG challenges.After 3D SciFi Challenge, CG Flora & Fauna Challenge, CG Game Characters Challenge and First Model Challenge, Fox Renderfarm sponsors the Fifth CGTrader CG challenge - CG Wildlife Challenge.Nature is our home that all the things can't live without. We are familiar with nature. Inspired by nature, CGTrader launched a new CG challenge themed "wildlife". You can find the inspiration from animals, plants and environment. Choose the one that fits you best, put your ideas to the 3D, render them and create a memorable and worthy winner!There will be 3 winner categories for CG Wildlife Challenge: Best Animal Category, Best Plant Category, Best Nature Environment Category. Awards will be given for the best 3D CG Model or the visualization uploaded during the challenge period. CGTrader are teaming up with Fox Renderfarm (Rendering fees), Exlevel (GrowFX Licenses), 3DCoat (Professional Licenses), Video Copilot (3D Shader Bundles), Dosch Design (Tree Libraries) and CGCookie (Memberships) to bring you the prizes worth fighting for!For more information: `https://www.cgtrader.com/challenges/cg-wildlife-challenge`