The V-Ray Next for Maya 2019 Has Been Updated
2019-05-16 14:04:04
V-Ray for Maya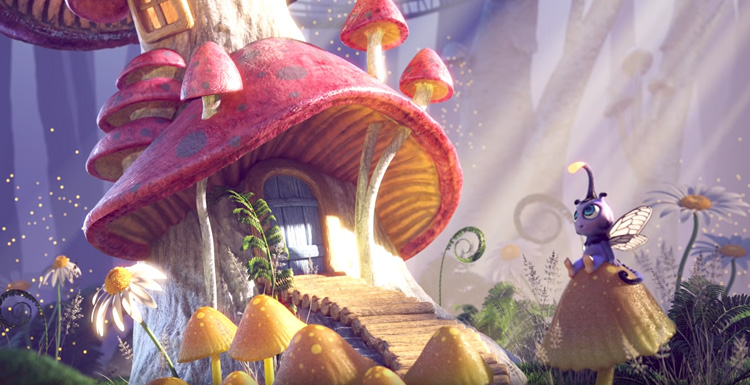 Recently, Chaos Group released the Maya version of the V-Ray Next update, which is the latest version of the renderer, adding a new system for tracking and reporting scene memory usage, compatible with Maya 2019.
Also added support for curvature maps, gloss Fresnel effects and V-Ray AlSurface skin textures in the V-Ray GPU rendering engine, and Cryptomatte support for V-Ray proxy sub-objects.
A new memory tracking system for troubleshooting scenarios. This version is the first non-patch version of the Maya version. The main addition is the new memory tracking feature, which provides detailed reports on the peak memory consumption of the scene, broken down by asset type and individual assets. New features should help users identify rendering performance bottlenecks in complex scenes.
Update GPU rendering. The V-Ray GPU is the new GPU rendering architecture introduced in V-Ray Next, and this time it has also been updated to support curvature maps and gloss Fresnel effects.
It now also supports V-Ray AlSurface, which implements the original Arnold alSurface skin shader.
Users can also pause and resume rendering using the GPU sampler. In addition, the update adds support for the popular ID mask generation system Cryptomatte on V-Ray Proxy sub-objects.
New lighting features and performance updates. Other changes include a new "Lighting Analysis" render element that can be used to generate a false color map that shows the value of the illumination intensity in the render.
There are three new indirect lighting modes in the Light Select rendering element. As usual, there are many performance improvements, and the Chaos Group picks out light samples in many light sources and IPR performance scenarios in complex scenes.
Previous: Corona Renderer Learning - Denoising
Next: Marvel Has Released A New Poster For Spider-Man: Far From Home
Interested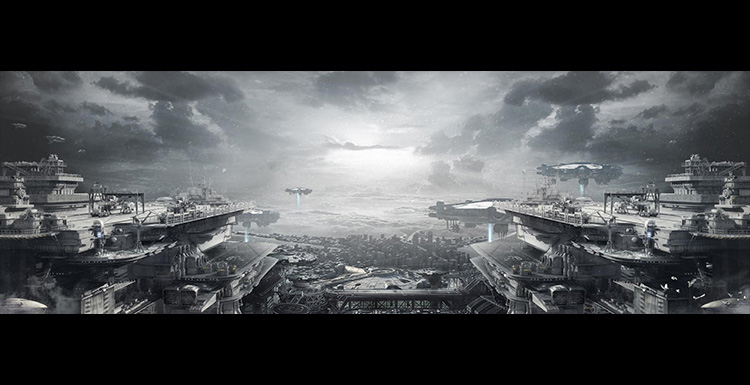 The Creation Analysis of A Sci-Fi Scene
Share the creative process of this piece of "Airport". The general idea is that the idea - modeling - lighting - material - rendering - synthesis, this is the production process that everyone is used to. Softwre used: 3ds Max, Zbrush, V-ray. Scene points: First of all, these are very important, scene work, especially for large scenes. Several key points are very important. Space, light and shadow, scale, composition, and color are all issues to be considered in large-scale operations. Difficult place. The "space" relationship can be roughly understood as the far and near reality. "Light and shadow" is the most important part of the big scene operation. The reason why the scene is true or not depends on the light and shadow. The "proportion" and "composition" are the framework of the scene. . "Color" is only the color. 1. The idea The formal process of doing things should be the first-in-the-concept design, and then the production of different precision models in front, middle and far according to the composition. The idea of this work comes from a CG animation of science fiction. The original idea was to build on the ground and make a block, as shown below: A large number of abandoned cities and vehicles, the architecture is more traditional, are contemporary architecture, adding some science fiction spaceships, but later found that this atmosphere is not enough. It's a disaster scene to get rid of the spaceship. So I made changes. The building still retains the contemporary taste, adding more military feelings and some iron shelves, as shown below: But this work doesn't look like science fiction, so it's all pushed off and new. (However, these pictures are kept as other types of works) 2. Modeling That is to want a retro, sci-fi feeling, then collect a lot of reference pictures, Transformers, war machines and so on. Later I thought about it. The building does not have to be built on the ground. It can be created directly in the sky with a ship. The aircraft carrier fits the vintage taste you want. Because this scenario is large, but the total number of models is high, the optimization of the model is crucial. The model is divided into far, medium, near, and three levels in the scene composition. When doing the model, the different levels of the model have different precision and number of faces. The aircraft carrier deck is here. It belongs to the level of the medium and long-distance. The model details are relatively simple. Only the accurate proportion and shape can be used. In order to make the smooth flow, it is best not to have too many model objects and perform the same material. The model material is the same as the model. All the models are attached together, and then converted to Eesh, so the smoothness of the operation will be greatly improved. The aircraft carrier model is finished, because it is not the aircraft carrier to do the sci-fi scene, so only the reference element of the aircraft carrier is used. The lower part of the ship does not need to be done. The deck is ready to start the initial composition, as shown below: The original composition of the building is too high, there will be a feeling of looking up, in order to highlight the scene, the vision can be expressed, raise the camera, and make it into a slightly overlooked composition. After the composition is completed, the model begins to expand to the surrounding model based on the aerospace building, and the model of the different levels is also based on the near three scenes. The aircraft carrier deck is very empty when it is not on the plane, adding rails, train guns, and some racks to make the model richer and fuller. In addition to enriching the model of the current main building of the aircraft carrier, the distant model and the phase sequence of the sub-deck model are used to enhance the sense of space and highlight the level. Figure: As seen in the above figure, the basic main body model architecture has come out, mainly divided into three layers, the number of models near the camera is slightly higher, the farther the model is, the lower the model, and so on. The final main model is completed, and the most common mistake in large-scenario operations is the random heap model. The model is too dense and has too many details. Therefore, the combination of "whole" and "tight" is especially important, including the character design. Try to use a large overall design to make a piecemeal and intensive design, so that the scene has emotions and will be breathable. (Now many big scenes are all full of details covering the whole picture, or all of them are big details without any details) as shown below: The main building is completed, the number of faces is already high, and the computer is running very slowly. This is inevitable. The big scene is very demanding on the machine. Therefore, it can only be selected by sub-project files. The works are mainly divided into two project documents. After the main building is finished, it is rendered into a PNG image, or as a proxy object. Create a new software window, directly render the PNG image, or add it to the new software window by proxy. It is recommended to use the method of rendering the PNG image for reference. Because the number of faces is too high, the proxy mode is easy to report. Figure: This not only saves the number of faces, but also is very stable, and can also be a good reference for composition. Then we started making the model of the second project file. The following is intended to be made into a mountain, the building above and below the mountain, the mountain model because it belongs to a far-reaching scene, the requirements are not so high, directly in the PS made a black and white displacement map to replace the general mountain structure, and then enter ZBrush for some subtle Debugging. The lower-rise buildings are relatively dense and cumbersome. The work of one building and one building is very large, and the number of faces is not well controlled. Some small plug-ins can be used to achieve the desired effect. The plugins are the same, here are some of the previous tutorials, haha, the same effect. Intensive building with a building cluster plugin, Gerrble. CUT cut command to cut the new line. Go to the face object set and select Squeeze. Complete the above operation and add the building group plugin command. The building group plug-in can only do some simple building effects and some layouts. It is basically enough in the long-distance scene. After the urban building layout is completed, some whole-piece models are added, and the pavement elements break up the structure. The substructure is basically completed, you can make some adjustments and add some elements according to your needs, but you must pay attention to the composition, so that the picture is full and not too tight. Once the model is complete, start testing the lights. 3. Lighting Because the scene is very large and there are too many models, I have omitted the material step directly. I intend to directly render it into a white mode through channel synthesis and post-overlay. The material representation in this scene is not so important. In the first place. The sci-fi scene is relatively tough, and the light selects the VRay sun light plus the Vrayligh's curved top mode. The main light source selects VRay sun light, and VRayligh's curved top mode light is used as sky light. 4. The material After the lighting is debugged, the material is given a material ball. The material is VRaymtl (VR standard material), the color is gray by default, and the inverse color channel is added to the Falloff program. The inverse color is set to 0.6. The attenuation black and white RGB is set to 0.0.0 57.57.57. As shown below: 5. Rendering The rendering test is shown below, the first is the main building rendering test, and the second is the foreground building rendering test. Light and shadow projection information effects are quite satisfactory, and relatively realistic. Rendering testing is a cumbersome process, repeatedly adjusting the position of the light until it is satisfactory (mainly because the rendering speed is too slow, and each test has to wait a long time). The following is the rendering of some channels, this scene mainly uses reflection, AO, color, Z, these channels. As shown below: 6. Synthesis Enter the PS for primary synthesis. Stack the AO and color channels in a superimposed manner, then collapse the layer to enhance contrast. Find a texture as a whole and add it to the texture. This way the whole scene has some graininess and basic texture. Then there is the long work of painting textures. In fact, the method is very simple. Just use this image as a UV expansion, and add corresponding textures, pull, match, overlay, and paint on it. Then add snow, dirty, light and other elements. Adding the background in the process of adjustment makes the picture more complete. Of course, this is the initial background. Just for a simple look, the final effect still needs to be repeated and the material is finished. So after the material is finished, enter the final stage of synthesis. Layer one Layer two The third layer is more full of the picture, the story is stronger, and some models of the spacecraft are made. The spacecraft model refers to the spacecraft in the ninth district. The fourth layer joins the pigeons, the smoke, and the snow fluttering in the sky highlights the atmosphere of the scene. The final overall color, enhance the light effect, and finish. Of course, in the process of synthesis, I also tried a combination of various versions, watch the following picture: Final renderings: Author: Zhang Huanhuan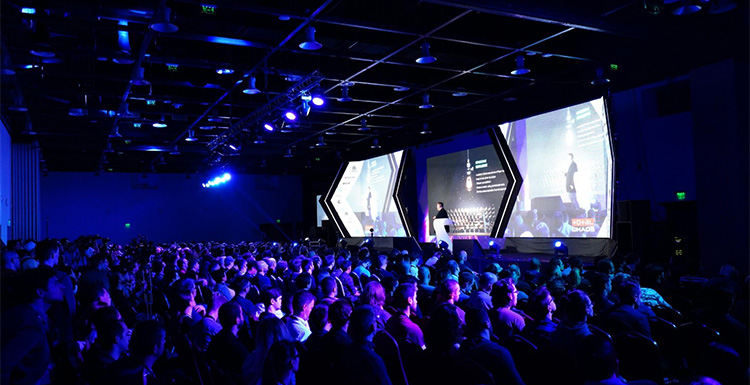 TOTAL CHAOS: Chaos Group Launched Its Second Annual Computer Graphics Conference
On May 17, Chaos Group launched its Total Chaos conference in Sofia, Bulgaria with a keynote from the minds behind V-Ray and Corona. The company reinforced its dedication to research and innovation, its commitment to bringing V-Ray to diverse creative industries and its continuing support for the creative community. After an energetic performance from Rio Dance Crew 360 and singers Torlashki Napevi, CCO Lon Grohs welcomed the 1,000-strong audience of Total Chaos attendees to the Sofia Tech Park. Next, Peter Mitev, Chaos Group's co-founder and CEO, presented the highlights of a busy year for V-Ray and Corona including the launch of V-Ray Next for all major platforms, V-Ray for Unreal, Corona 2 and 3 for 3ds Max and Corona for Cinema 4D. The teams behind V-Ray and Corona have been collaborating closely on new technology. At Total Chaos, Corona's Research and Development Partner Jaroslav Křivánek officially launched Chaos Research, a laboratory which will combine resources, experiment with new ideas and create the rendering technology of the future. Jaroslav handed over to Corona's Founding Partner and Main Developer Ondřej Karlík, who celebrated the innovative renderer's 10th birthday with a demonstration of recently introduced features of Corona, including its caustic effects, and gave a glimpse at how they'll be refined in the future. No Total Chaos Keynote would be complete without a few words from Vlado Koylazov, Chaos Group's co-founder and CTO. He introduced some of the exciting features users can expect in V-Ray Next updates for Maya, 3ds Max and Unreal, as well as the official release of V-Ray for Houdini. VP of Product Management Phil Miller joined Vlado on stage to wrap things up. Together, they introduced a brand new demo of Project Lavina, the incredible real-time iteration of the V-Ray engine. DAY ONE The day started with an incredible keynote from the most important people behind V-Ray and Corona. Then, the 1,000-strong crowd dispersed to check out a diverse array of presentations from professionals in the CG industry. ·Art track Arch viz and interior design was the focus of the first two talks on Total Chaos' biggest stage, with WeWork's Gregory Rogers and Kengo Kuma Architect's Tomohiro Matsunaga deconstructing workflows and delving into the role V-Ray plays in their visuals. Then, we switched lanes to a presentation from Sonja Christoph. Her inspirational and moving talk looked back on a varied career which has taken her from work on movies, including Tomorrowland and Doctor Strange, to her current role as an environment artist at Massive Entertainment for games such as The Division 2. There are many ways of representing the human form, and a trio of presenters showed their approaches to digital characters. Victor Hugo charmed the crowd with his uniquely stylized characters, Ian Spriggs showed how he's using traditional techniques with cutting-edge technology and anatomy expert Scott Eaton blew the audience's minds with his research in AI and human figures. In a hugely exciting announcement, Ian even debuted a new portrait of THU event founder Andre Luis. ·Women in tech panel Total Chaos was host to a packed discussion on how women can forge successful careers in the worlds of tech and CG. Juice's Natalia Lasota, Chaos Group's Albena Ivanova, Avengers: Endgame's Production Technology Manager Piya Wadia, Massive Entertainment's Sonja Christoph and INK's Ioanna Ivanova talked about their unique career paths and switching between industries, personal and workplace challenges, advice on time and stress management and communication in the workplace, and — above all — how to follow your heart and stay true to yourself. The Code track area is all about delving into the nuts and bolts of the technology behind powerful CG software. The lineup included software developers Javor Kalojanov (Weta Digital), Steven Parker (NVIDIA), Adrian Graham (Google), Prof. Dr.‐Ing. Philipp Slusallek (German Research Center for Artificial Intelligence), Attila Áfra and Jim Jeffers (Intel), and Asen Atanasov (Chaos Group). This is where Chaos Group's CTO and Co-founder Vlado Koylazov unveiled some supersmart new features coming to V-Ray Next for 3ds Max, including memory tracking, shader debugging, GPU advances and bump shadow improvements. He also shed light on a new Light Cache algorithm which even works with Project Lavina, Chaos Group's real-time ray tracing technology. ·Craft track Volvo revved up the Craft Track with a presentation on how it has developed a fully integrated pipeline for real-time and offline rendering and the knock-on effect this has had on the way its cars are built. Porsche's Andre Matos was in swift pursuit with a look at how V-Ray GPU and VRscans have supercharged his workflow, and he was followed by fascinated and varied talks from Tobias Nientiedt (OTTO), Tarran Kundi (Woods Bagot), Adam Tunikowski and Natalia Lasota (Juice), and Anthony Christov (IDEA Academy). London's INK Studio has made a name for itself in creating clean-but-playful images, animation and VR experiences for the likes of Honda and Audi, and in Ioanna Ivanova's presentation she showed off some of the tricks of the trade. She demonstrated how Cinema 4D can be used for quick and easy previews, showed a head-spinning Escher ad — and revealed why you should never, ever try to work with cats. The Craft track finished with a journey into the (occasionally horrific) heart of Hellboy from Bulgarian VFX studios Nu Boyana and WorldWide FX. DAY TWO Total Chaos's second and final day was every bit as good as the first. The line-up of 34 presentations and discussions across four stages demonstrated the incredible diversity of the CG industry. The crowds were astonished by AI-powered world builder Promethean AI, inspired to create a mobile game with Gameloft Sofia, learning how Blur Studio coordinates artists around the world or discovering the inner workings of Chaos Cloud. Architecture and design was the theme of the Art track's morning session. Gensler's Scott de Woody was the first to grace the Total Chaos podium with his overview of the multinational architecture firm's approach to creating buildings people want to work in — including an appropriately triangle-based HQ for chip firm NVIDIA. Continuing the architecture theme was KPF's Cobus Bothma, who detailed how the company built its cutting-edge pipeline with new V-Ray tools such as V-Ray for Unreal for creating Hololens scale models and easy, beautiful real-time walkthroughs in Project Lavina. The trip down the VR rabbit hole continued with Marko Margeta and Jose Pareja Gomez of Zaha Hadid Architects, and Factory Fifteen's exhilarating Nissan Formula E experience. Madrid-based creative studio Beauty and The Bit has brought big-screen sensibilities to the arch viz movie with "Landmark." In his presentation, art director Victor Bonafonte Morales explained his initial intentions and demonstrated how his sketches and previz fed into the final movie. Meanwhile, in the Craft track, Ingenuity's Grant Miller went procedural with a guide to how the company uses Houdini and V-Ray for Houdini to create environments populated with dense fauna, crowds of thousands for a Kelly Clarkson music video and piles of bodies for The Walking Dead. There are sure to be some audience members who will make use of Grant's techniques to cut out the fiddly bits of their VFX pipelines. Quickfire round! Back in the Art track, ILM's David Wortley and Falk Boje showed how V-Ray for 3ds Max has been used seamlessly to create environments in big movies including Black Panther's Wakanda, A Wrinkle in Time'sfloating mountains, Jurassic World: Fallen Kingdom's Isla Nublar, Star Wars: The Last Jedi's Skellig Island (with Phoenix FD for the sea) and Rogue One's tropical battleground. Despite covering so many films, there was no shortage of tips and tricks here. The Assassin's Creed series takes pride in its accurate historical recreations — albeit with a dash of 21st-century parkour. In Yavor Yakovliev's presentation, he showed how Ubisoft Sofia used procedural techniques to recreate Ancient Egypt for Assassin's Creed: Origins. Next door, in the Craft track, Slashcube's Thomas Vournazos flew us to "Moon Village." Developed in conjunction with architect SOM, the European Space Agency and the Massachusetts Institute of Technology, this short film used Corona for Cinema 4D to visualize a human colony on Earth's natural satellite. How can VR help the architecture industry? And what happens when we create spaces in VR without the constraints of the real world? These are the questions Agile Lens's Alex Coulombe answered with his dynamic and charming presentation. He looked at how VR has changed the way we plan and explore prospective theaters, and how it inspires new forms of architectural, artistic and theatrical expression. The day came to an epic end with two major players in the visual effects industry. Digital Domain's Deke Kincaid showed the evolution of the company's digital humans and characters, culminating in a thorough breakdown of its spellbinding V-Ray rendered work on Avengers supervillain, Thanos. After DD's analysis of the 750,000-year-old big bad, Method Studios showed the techniques it used to create a photorealistic baby with an adult voice for a commercial project. The wheels are already turning on Total Chaos 2020. Stay tuned, and we'll see you in Sofia next year! Cr.Chaos Group website https://www.chaosgroup.com/news/total-chaos-the-keynote https://www.chaosgroup.com/blog/total-chaos-day-one-recap https://www.chaosgroup.com/blog/total-chaos-day-two-recap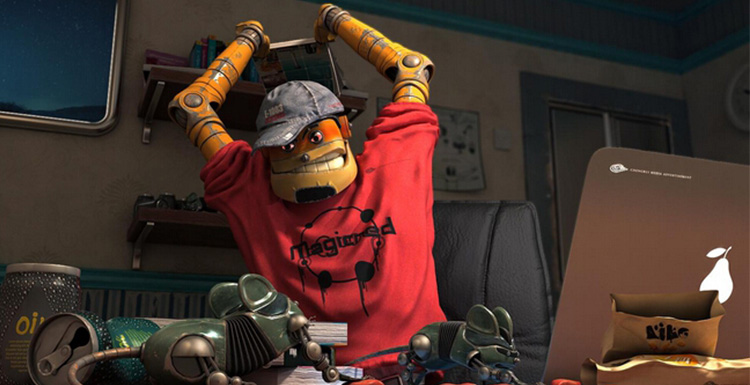 3D Works \Mouse! Mouse!\ Production Analysis
This work is the result of whim. The mouse is a relatively common animal at home. When you see it, you want to shoot it on the bricks. The mechanical characters of science fiction and the ordinary environment can have a certain association. From the visual performance, through the stop of the instantaneous action, the viewer has a kind of front and back association effect, let's share the production process with you. Software used: 3ds Max, V-Ray, PS First, the composition Firstly, you only need to set up a simple scene. The object is just a basic form instead. The focus is on the choice of the position and the layout of the object. Since the CG single frame rendering is performed, the object layout can be performed according to the camera view after the camera is positioned, and the layout and positioning map are as follows: Second, modeling and UV 1. The production of the hand Modeling begins after the composition and general object layout are completed. This is a time-consuming basic work, but it is also the key to determining the final quality of the work. It requires basic modeling ability and patience. First select the opponent model, followed by the arm, because the movement of the whole hand determines the "pose" of the work, so I chose to make the first. Then carry out UV deployment and splitting. Specifically as shown below: 2. The production of clothing Because the character has a large movement, the clothes must be matched to have a real dynamic performance. The clothing was first modeled in 3ds Max and then imported into Mudbox for engraving. After engraving, it was imported into 3ds Max. Again, the model finishes splitting the UV for the next mapping. Figure: 3. The production of the head and expression With the correct posture and the appropriate expression, the character of the work can be more vivid and interesting. In the head of the character, I made some settings in advance, and the hat of the character was also carved in Mudbox, and the number of faces was reduced after completion. Level import 3ds Max to split the UV. 4. The production of mouse The mouse must conform to the appearance of the mouse and mechanize it. It is necessary to make some set-ups in advance. Here, only the modeling process and the UV split map are shared. Since the mouse is a mechanical model, there is no need to rig the bones, and only the "father-child association" can be used to put POSE. The links are as follows: 5. Model production of small objects The model of small objects is relatively simple to make, and some of them can be completed by referring to the network search image. Here, I only share the partially completed production pictures. Third, the material and texture Some of the main models of this work were UV-split and mapped in Mudbox. The rest of the small objects are just attached to the map in 3ds Max and a UV Maping modifier is added. It only takes some time to split the UV, which saves a lot of time. 1. Arm texture After splitting the UV in 3ds Max, you can import the model into Mudbox for texture mapping. Mudbox is very powerful in drawing textures. What I use here is the "projection" function in Mudbox. Map rust or dirt directly onto the imported model and map the model in real time. Character clothing and head can be drawn in this way. What is needed is the splicing of texture. 2. Clothing and head texture It is similar to the method of making an arm. 3. Mouse texture and chair back texture performance 4. Complete the texture of all objects After the texture is drawn in Mudbox, the texture is exported to the PS, and the adjustment in the PS can be added to the corresponding object channel in 3ds Max. Fourth, lighting and rendering 1. Lighting layout Once you've finished making all the textures, you can start designing and laying out the lights. This is indoors, and at night, the light from the computer is dark. The main light source comes from: A. The dimly lit front wall lamp (the wall lamp is not visible here, so only the light is used to express his presence). B. The computer screen light. C. The weak light outside the window. The specific layout is as follows: 2. Rendering settings After the lighting layout, the rendering parameters can be adjusted and tested. The screenshots of the V-Ray rendering settings are shown in the figure: 3.Output the rendering When outputting, in addition to the output of the rendered image itself, only the output of the Z channel is made. Fifth, the adjustment of post-production I chose to add depth-of-field effects with DFusion and color correction in post-production, and imported the file into DFusion to add depth-of-field effects with Depth Blur. The final rendering is as below: Author: Liang Xi