Interview with Seth Belanger from EnchantedMob
2017-06-15
hard drive | enchantedmob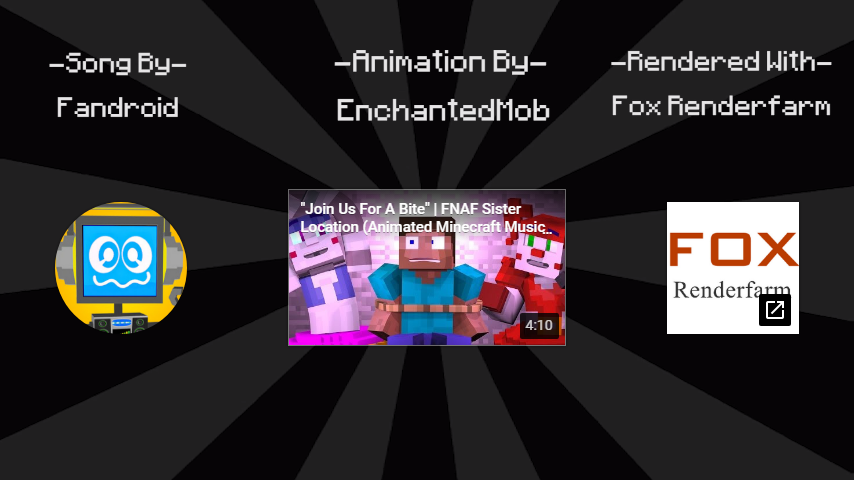 We are so thrilled to announce that Fox
Renderfarm
just help finished rendering the 3D animation music video named
Hard Drive
which was animated by
EnchantedMob
. EnchantedMob is a popular YouTube channel that owns 500,000+ subscribers and mainly focus on Minecraft style 3D animation music videos. The new video
Hard Drive
has earned more than 1 million views within one week, how popular it is! It has become an ear worm and stuck in my head for days. Let's have a look about this awesome video firstly.
And we did a short interview with Seth about himself and EnchantedMob as below.
FoxRenderfarm: Hi Seth, would you please give a brief introduction about yourself and EnchantedMob?
Seth: My name is Seth. Sometime in 2010, my older brothers downloaded a 2D animation program called Pivot. With the program, you could create stick figure animations very easily. We all would create whatever funny animation we could think of. It was all for fun and laughter. I was 11 at this time. Since then, I became very interested in pursuing animation. I eventually branched into clay animation and eventually Minecraft animation.
Fox Renderfarm: That's really a good start, so when and how did you get into the CG industry?
Seth: Skipping over to December 8th of 2013, I discovered Blender. With Blender, I could create 3D animations. Shortly after, in 2014 I created a brand new channel for 3D animation specifically for Minecraft. My main motive for Minecraft animation was from the music videos produced by CaptainSparklez. Those videos still inspire me today. From December 2013 to February 2015, creating Minecraft animations on EnchantedMob was just for fun and entertainment.
Fox Renderfarm: Blender did a great job for a lot of 3D beginners. And what other 3D software, renderers and plugins you used? Any preferred one and why?
Seth: It wasn't until the summer of 2016 when I switched to Autodesk Maya. It took some time to learn, and I found the Redshift rendering engine which was referred by a fellow animator. Redshift is great and I still use it today because of how fast it renders. This year, I have been increasing the quality of each video, which has been bringing larger render times.
Fox Renderfarm: Great, so how did the idea of creating Minecraft style 3d animation music video comes out?
Seth: Like I mentioned previously, the idea of creating Minecraft style 3D animation was developed in 2011 and I began using this style of animation in 2014. This style came about because it is simple to animate box-like characters, and because of Minecraft's popularity.
Fox Renderfarm: I see, while what is the first music video published on EnchantedMob Youtube channel? And what is the most difficult problems you met on creating it at that time?
Seth: In February of 2015, I uploaded my first music video "Survive The Night" to EnchantedMob. It was by far my most difficult video to make because of the 6 minute length of the song and the amount of characters in the video. It payed off; however, as that video is my most popular video to date, with almost 50 million views. When this video skyrocketed, I started to focus on creating more Minecraft music videos and taking my YouTube career a bit more seriously, while still enjoying animation.
Fox Renderfarm: That's really brilliant work. Would you please share some details about your just finished work: Hard Drive? Got some new problems on it?
Seth: Recently, I discovered Fox RenderFarm. Fox allowed my channel to reach a higher level of render quality, while also keeping render times reasonable. This can be seen in how well the renders turned out in my newest Minecraft music video "Hard Drive." This video is unique in that it has already gotten over 1,000,000 views less than a week after its release, which is surprising given that I've never made an animation based on the game Undertale before.
Fox Renderfarm: Since you mentioned us about the GPU rendering service, what you think about us? Happy with it?
Seth: Fox Renderfarm's GPU rendering service is very good and much cheaper than lots of other render farms out there. Personally, my favorite quality of Fox Renderfarm is their willingness to help their customers. Any question I've had about Fox Renderfarm were quickly answered, and their support team took great good care of my account and render tasks.
Fox Renderfarm: Thanks for your kindly compliment. Do you have any idea about your next work? Is that OK to have a sneak peek : )
Seth: While I normally try to keep projects secret at first, I'll go ahead and spill the beans on my next music video. This next video is returning to the ever-popular FNAF Sister Location game, and it will be animated to a song by the Content Creator "Chaotic Canine Culture." And heck, while we're at it, I may as well say that I think the video can be finished before the end of June. So, to anyone reading, stay tuned! :)
Fox Renderfarm: That's a big news, we are so glad that we can know it here in advance. OK, so is there anything else you would like to add or say?
Seth: I recommend using Fox Renderfarm. Their support team alone is a great reason to use their company. :)
Fox Renderfarm: Haha, thanks again for your recommendation. Nice to talk with you, and we are quite look forward to your next work.
Recommended reading
---
How to Render High-quality Images in Blender
2020-03-09
---
Top 9 Best And Free Blender Render Farms of 2023
2022-05-09
---
Revealing the Techniques Behind the Production of Jibaro "Love, Death & Robots", Which Took Two Years to Draw the Storyboard
2022-06-10
---
How to Render Large Scenes with Redshift in Cinema 4D
2019-10-15
---
Top 10 Free And Best Cloud Rendering Services in 2023
2022-06-24
---
Top 8 After Effects Render Farm Recommended of 2023
2022-07-07
---
How to Reduce Noise in Corona Renderer - Corona Denoising
2019-05-15
---
Why V-Ray Render is Black in SketchUp And How To Fix it?
2019-05-07
---
Partners
Previous: Interview with Makuta VFX Regarding the Production of Baahubali 2: The Conclusion
Next: Hum3D Video Game Superstar Contest Winners Announced