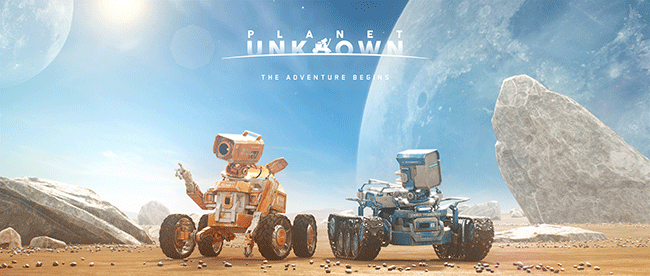 Interview with Shawn Wang: the Winner of Film of the Year - Animation in The Rookies 2017
Fox Renderfarm is here inviting the winner of Film of the Year - Animation in The Rookies 2017 competition for a short interview about his work "Planet Unknown", please check the details as below.Fox Renderfarm: Hi Shawn, would you please give a short self-introduction?Shawn Wang: My name is Shawn Wang and I'm currently working as a CG generalist in advertising industry. I majored in Digital Media Arts back in universityand started with motion graphics when I first stepped into 3D, then slowly moved on to animation.Fox Renderfarm: OK, so why choose as an animation student?Shawn Wang: I was fascinated by story-telling in both live-action and animation. We did a lot of live-action training and student projects in school. But I personally loved the medium of CG and learned how animation was created. I was inspired by so many amazing animation by both individuals from online and studios like Pixar. I couldn't wait to create my own animation.Fox Renderfarm: You are really a good example for quick action! Then what's your favorite 3d software and renderer? Why?Shawn Wang: I started with Cinema 4D and then Octane became popular. Octane was also the renderer I used for Planet Unknown. Now I also use Maya and Redshift on a daily basis. It's hard to tell which one is better than the other. They are all amazing tools. It's better to choose tools based on tasks.Fox Renderfarm: Yeah, sounds reasonable : ) So how did you come out the idea of making "Planet Unknow" as your graduation thesis film?Shawn Wang: The idea started back in 2014 when Interstellar was released. I was deeply impressed by the movie and was inspired by the two robots TARS and CASE. So I came up with the idea of intellectual robots exploring space without human. It could be quite interesting to develop the friendship between them.Other inspirations include Pixar movies like WALL-E and Toy Story, as well as CHAPPiE, NASA documentaries about Mars Rover Curiosity, and short films by individuals like Alex Roman's The Third and The Seventh, Richard Mans' Abiogenesis, Erik Wernquist's Wanderers, Alf Lovvold's Dawn of the Stuff, Wes Ball's Ruin and so many more.Fox Renderfarm: Wow, so many great works inspired you for your own great work, so impressive! But what challenges you encountered when making this film with your partners?Shawn Wang: The most difficult part was jumping out of my comfort zone. I had to do this all the time through the process because I constantly found new stuff I never knew before. I had to spend extra time learning the new techniques or knowledge while working on the project. That was tiring but definitely rewarding. Learning has become a part of this project since then.Fox Renderfarm: We could definitely imagine your hard times bace then, but finally you succeed. As for Planet Unknown, how many frames there and how long does this film takes to finish rendering?Shawn Wang: In total it was around 12000 frames. I used two GTX980 for all the rendering. The render time for each frame varied from 4 minutes to 20 minutes. I left the machine rendering while I was sleeping. So in total it was around 4 months of rendering.Fox Renderfarm: That's really huge time to finish rendering Planet Unknown, you should come to us at that time, we could help save you tons of time and electricity : ) Haha, would you please share your thoughts for winning so many prizes besides The Rookies competition?Shawn Wang: It was a great experience. But the most amazing part is go to those festivals and see the works from other people. It's way more valuable than winning anything. These were great opportunities for me to learn and get inspired. Awards become less important since I finished the project, the fun part is always sharing and learning.Fox Renderfarm: Yes, the most important thing is enjoying the process. Good for you. So is this your most satisfied film? If not, which one is?Shawn Wang: Absolutely not. Because this is only the first short film I've created. I don't think I'll be satisfied with my future films either. There is always room for change if I look back.Fox Renderfarm: Haha, that sounds awesome, we are quite expecting your future works. Since you said that you learnt and get inspried a lot from other work, so how do you think about the other entries in the animation category?Shawn Wang: They are all great and high quality. I'm a big fan of story-telling. I love these entries with a good story. It does't matter it's 3D or 2D.Fox Renderfarm: Emm, did you used our Fox Renderfarm service?Shawn Wang: Not yet. But I'm looking forward to it. I've noticed the GPU render power of Fox Renderfarm has increased so much. I can't wait to try it for my next project.Fox Renderfarm: Great, feel free to try our render farm service and share your experiences with others. Do you have any other ideas or thoughts to share with us?Shawn Wang: I learned quite a lot skills and techniques through the process. But the most important lesson learned was the Dunning-Kruger effect. It was funny that I even thought everything would be under control in the very beginning though I was an absolute beginner to the entire process. Even now I still can't figure out solutions to some problems I had. So it was good to have this learning opportunity and know my limitations. It will push me to keep learning through any future projects.  Finally, thanks to Simon and Fox Renderfarm for the interview.Fox Renderfarm: Thanks your precious time for sharing your ideas with us, and we hope you can have more awesome artwork come out. Congratulations to you again, and hope we can have some cooperations in the near future.Please enjoy the short animation film Planet Unknown here.
---
Hi, North America, Australia, New Zealand, Ne Zha is Coming
Ne Zha, China's Biggest-Ever Animated Movie, rendered by Fox Renderfarm, is coming to North America, Australia, and New Zealand. Ne Zha will meet the audience in North America on August 29th with its IMAX 3D version, and will fully release on September 6th. And he will also be showing on screens in Australia and New Zealand from August 23rd and 29th respectively. Ne Zha says: If the destiny is unfair, then I am the destiny. Let's see what his 'destiny' will be like in North America, Australia, and New Zealand! !Ne Zha 3 !Ne Zha 2 !Ne Zha 4Ne Zha(2019), is about a young boy, Ne Zha, is birthed from a heavenly pearl by the Primeval Lord of Heaven. Born with unique powers, Ne Zha finds himself as an outcast who is hated and feared. Destined by prophecy to bring destruction to the world, the young boy must choose between good and evil in order to break the shackles of fate and become the hero.Here is the official trailer,On August 22, 2019, Ne Zha ranked as the NO. 3 at the China box office, 27days after release in China, the film has reached more than 4.24 billion yuan at the box office (over US $601 million), surpassing Avengers: Endgame, listed NO.3 at China box office, and the NO.1 animated film! The current top 3 box office smashes in China: Wolf Warriors 2, The Wandering Earth and Ne Zha, are all rendered by Fox Renderfarm. !NE ZHA's China Box Office We are delighted and honored to provide effective and quality cloud rendering service to help studios around the world to concentrate on the creativity to create beautiful visuals for the world to embrace!
---
Joker Wins The Golden Lion Of 2019, To Be The Pinnacle Of DC Movie
On September 7th, 2019, the 76th Venice International Film Festival awards were finally announced. The DC movie 'Joker' wins the Golden Lion Award for best film, the highest prize awarded at the festival. This is also the first time that the DC movie wins the award.Joaquin Phoenix, who played the Arthur Fleck / Joker in the film, was not named the best actor and lost to Luca Marinelli, who starred in Martin Eden. In 2012, Joaquin Phoenix won the Best Actor Award at the 69th Venice International Film Festival with the film The Master. !The JokerSince the box office of Justice League in 2017 did not meet expectations, the DC movie universe has adjusted the future film plan, and many of the films originally planned to be produced have been cut.New works that are independent of the DC movie universe have been put on the production schedule to seek new breakthroughs. 'Joker' started shooting in September 2018, and it was finished in December. It was unveiled at the Venice Film International Festival in August this year. It earned a great reputation at the premiere.!The Joker Official poster for Warner's "The Joker" SOURCE: WARNER BROS. On the IMDb platform, the score of 'Joker' is as high as 9.6 points, and the word-of-mouth is so good that the number of people is over 10,000. The rotten tomato freshness is 86%, which is also highly praised.From the point of view, 'Joker' is the pinnacle of DC movies in the past ten years. After the 'Batman v Superman: Dawn of Justice', 'Suicide Squad', 'Justice League' and other DC movie's lower box office, they finally on a word of mouth explosions.!The Joker PosterOfficial poster for Warner's "The Joker" SOURCE: WARNER BROS. 'Joker' is directed by Todd Phillips, he is best known for writing and directing the comedy film 'Road Trip(2000)', 'Old School(2003)', 'Starsky & Hutch(2004)', 'The Hangover Trilogy(2009, 2011, and 2013)' and 'Due Date(2010)'. The starring roles include Joaquin Phoenix, Robert De Niro, Zazie Beetz, Frances Conroy, Brett Cullen, Marc Maron, Bill Camp, Shea Whigham, Glenn Fleshler, Douglas Hodge, and Brian Tyree Henry, etc.This new work tells the story of the origin of the Joker. It is called the darkness movie of DC movies. Compared with the previous superhero movies, its style is different and bold, bringing a completely different look and feel.Arthur Fleck was originally a clown actor who has been plagued by mental illness. He is a laughing stock in life. He is often bullied and even beaten. Life is step by step to push him to the brink of collapse. Batman's mortal clown was finally born in the dark Gotham city.The reason why 'Joker' will be popular, the most important thing is the profound story connotation, the content is thought-provoking, and the other is the performance of Joaquin Phoenix, which gives the film its unique charm.Winning the Golden Lion for Best Film is just the first battle of 'Joker' to impact the major film awards. Next, with the arrival of the award season, DC's new work 'Joker' is bound to continue to shine.The full list of winners is below. Venice 76 Awards- Golden Lion: Joker, directed by Todd Phillips- Silver Lion Grand Jury Prize: An Officer and a Spy, directed by Roman Polanski- Silver Lion Best Director: Roy Andersson, About Endlessness- Volpi Cup for Best Actress: Ariane Ascaride in Gloria Mundi- Volpi Cup for Best Actor: Luca Marinelli in Martin Eden- Best Screenplay Award: No. 7 Cherry Lane, written and directed by Yonfan- Special Jury Prize: The Mafia Is No Longer What It Used to Be, directed by Franco Maresco- Marcello Mastroianni Award for Young Actor: Toby Wallace in Babyteeth, directed by Shannon MurphyHorizons Awards- Best Film: Atlantis, directed by Valentyn Vasyanovych- Best Director: Theo Court, Blanco en Blanco- Special Jury Prize: Verdict, directed by Raymund Ribay Gutierrez- Best Actress: Marta Nieto in Madre- Best Actor: Sami Bouajila in A Son- Best Screenplay: Revenir, written by Jessica Palud, Philippe Lioret, Diasteme and directed by Jessica PaludLion of the FutureLion of the Future Luigi De Laurentiis Award for a Debut Film: You Will Die at 20, directed by Amjad Abu AlalaVenice VR- Best VR Film: The Key, directed by Celine Tricart- Best VR Experience Award: A Linha, directed by Ricardo Laganaro- Best VR Story Award: Daughters of Chibok, directed by Joel Kachi BensonVenice Classics- Best Documentary on Cinema: Babenco: Tell Me When I Die, directed by Barbara Paz- Best Restored Film: Ectasy, directed by Gustav Machaty
---
Recommended reading
---
How to Render High-quality Images in Blender
2020-03-09
---
Top 9 Best And Free Blender Render Farms of 2023
2022-05-09
---
Revealing the Techniques Behind the Production of Jibaro "Love, Death & Robots", Which Took Two Years to Draw the Storyboard
2022-06-10
---
How to Render Large Scenes with Redshift in Cinema 4D
2019-10-15
---
Top 10 Free And Best Cloud Rendering Services in 2023
2022-06-24
---
Top 8 After Effects Render Farm Recommended of 2023
2022-07-07
---
How to Reduce Noise in Corona Renderer - Corona Denoising
2019-05-15
---
Why V-Ray Render is Black in SketchUp And How To Fix it?
2019-05-07
---
Partners