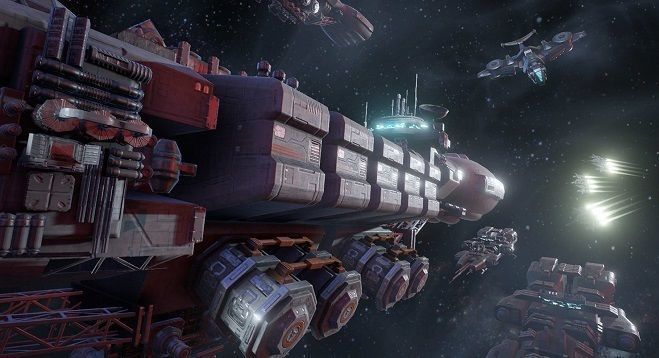 Interview with Ralf Sczepan: The Winner of CGTrader Space Competition
2018-04-03
CGTrader Space Competition
As one of the sponsors of CGTrader's Space competition, Fox Renderfarm is so honored to have the opportunity to interview the winner of low-poly category in this competition (check the interview with the high-poly winner here ), here are the questions and answers with Ralf Sczepan as below:Fox Renderfarm: Hi Ralf, would you please give a short self-introduction?Ralf Sczepan: My name is Ralf Sczepan. I create Environments and Props for games since about 5 years under the name Triplebrick. I also released the game Vernon's Legacy on steam.Fox Renderfarm: So how did you step into the CG industry?Ralf Sczepan: I worked 10 years as programmer mostly for databases and Apps. In my free time I started to create games. I knew about the programming but had to learn building environments and props. I really liked that part of game creation and digged deeper into it.Fox Renderfarm: Good for you! What's your favorite 3d software and renderer? Why?Ralf Sczepan: There is a lot of good software out there and its hard to name a favorite. First I would like to mention Blender. Its an complete 3D creation package and its free. A big thanks to the Blender guys who are making this possible. I also use the Substance Package especially Substance Designer.Since I am mostly create for real time rendering my favorite renderer are Unity and Unreal Engine.Fox Renderfarm: Did you participated in any other CG competition besides the CGTrader Space competition?Ralf Sczepan: No, I did not.Fox Renderfarm: Would you please share your thoughts for winning the 1st prize in the low-poly category?Ralf Sczepan: I wasn't expecting that and I am very happy about it.Fox Renderfarm: Is this work your own most favorite one? If not, which one is?Ralf Sczepan: The most favorit is always the one I am working on. This is currently a Scifi environment.I also love to create historic environments. Therefore Victorian Alleys are another one of my favorites.https://assetstore.unity.com/packages/3d/environments/historic/victorian-alleys-98282Fox Renderfarm: How do you think about the other entries?Ralf Sczepan: There were a lot of great entries for this competition. The more I am happy I won the first price.Fox Renderfarm: Great. Anything you would like to share in the last?Ralf Sczepan: Just want to say thanks to all out there who voted for my spaceships. And thanks for the awesome prize your and the other companies provided.
---
Recommended reading
---
How to Render High-quality Images in Blender
2020-03-09
---
Top 9 Best And Free Blender Render Farms of 2023
2022-05-09
---
Revealing the Techniques Behind the Production of Jibaro "Love, Death & Robots", Which Took Two Years to Draw the Storyboard
2022-06-10
---
How to Render Large Scenes with Redshift in Cinema 4D
2019-10-15
---
Top 10 Free And Best Cloud Rendering Services in 2023
2022-06-24
---
Top 8 After Effects Render Farm Recommended of 2023
2022-07-07
---
How to Reduce Noise in Corona Renderer - Corona Denoising
2019-05-15
---
Arnold\ V-Ray\ Octane\ Conora\ RedShift, Which Is The Best 3D Renderer?
2019-04-15
---
Partners