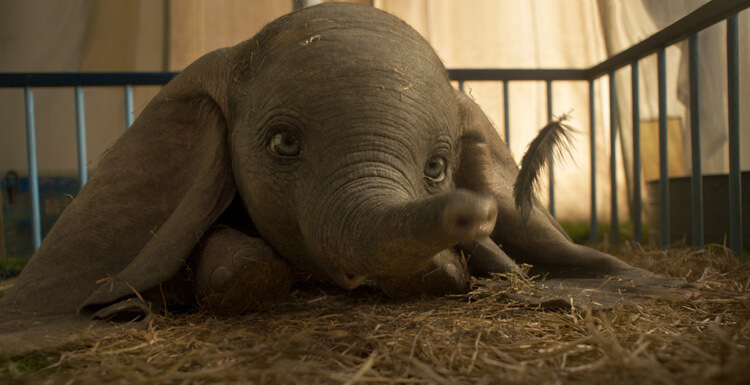 Live-Action Movie Dumbo, All-Star Lineup To Help Out
This year's upcoming Disney movie will include Captain Marvel, Avengers: Endgame, Frozen 2, Toy Story 4, and The Lion King, Dumbo and Aladdin, both of them are live-action movies based on animation.The Dumbo animated version premiered in the United States in 1941 and is one of Disney's first classic animations. In the story, the circus' newborn elephant Dumbo is regarded as a laughing stock by everyone because of its oversized ears. But with the help of friends, Dumbo gradually embraced his own uniqueness and became a well-deserved superstar. Dumbo poster, 1941The Disney live-action movie Dumbo, which will be released this year, will be directed by Tim Burton.Unlike the original version, in the live-action Dumbo movie, Dumbo found his "flight" potential and the friend who always accompanied, encouraged him, to become human characters, and of course the All-Star lineup. There are former circus stars Holt Farrier(Colin Farrell), and a French trapeze artist, Colette Marchant(Eva Green).There is also a bad-hearted circus owner, Max Medici (Danny DeVito), and V. A. Vandemere (Michael Keaton), who looks sultry but equally disgusting. What Tim Burton is best at is creating a fantastic, weird atmosphere. In the Dumbo trailer, the design and atmosphere of the original circus in the 1940s truly presented Burton's style - a mysterious sense of darkness. Dumbo magically found himself flying when he was playing with two children. The trailer also saw mouse friends who had been encouraging the help in the original animation. Tim in Dumbo, 1941Of course, if there is no tears, it is not disney's style, and the trailer has not let everyone's tears. There's something particularly depressing about seeing the Momma Elephant' trunk stick out of the bars to wrap around poor little Dumbo, as the chilling tones of Norwegian singer Aurora's "Baby Mine" waft over them. There is also a illusion of Dumbo's drunkenness in the trailer. Compared with the old illusion of childhood shadows, the new version is both psychedelic and beautiful. At the end of the original story, Dumbo became the super star in the circus and rescued the imprisoned mother. This time, netizens expressed the hope that in the new edition, Dumbo will have a better ending. In an interview a few years ago, Tim Burton also revealed that he really wanted to give the newborn elephant a true "happy ending" - no need to perform for humans, but to leave the circus and return to the nature life they should belong to. However, if the outcome is as satisfactory as expected, we will not know until the end of March.
---
Recommended reading
---
How to Render High-quality Images in Blender
2020-03-09
---
How to render large scenes with Redshift in Cinema 4D
2019-10-15
---
Arnold\ V-Ray\ Octane\ Conora\ RedShift, Which Is The Best 3D Renderer?
2019-04-15
---
Why V-Ray Render is Black in SketchUp And How To Fix it?
2019-05-07
---
How to Reduce Noise in Corona Renderer - Corona Denoising (2022 Updated)
2019-05-15
---
How the Redshift Proxy Renders the Subdivision
2018-12-28
---
What is the difference between pre-rendering and real-time rendering?
2020-09-08
---
Blender vs Maya vs Cinema 4D, Which One Is The Best 3D Software?
2020-01-16
---
Partners