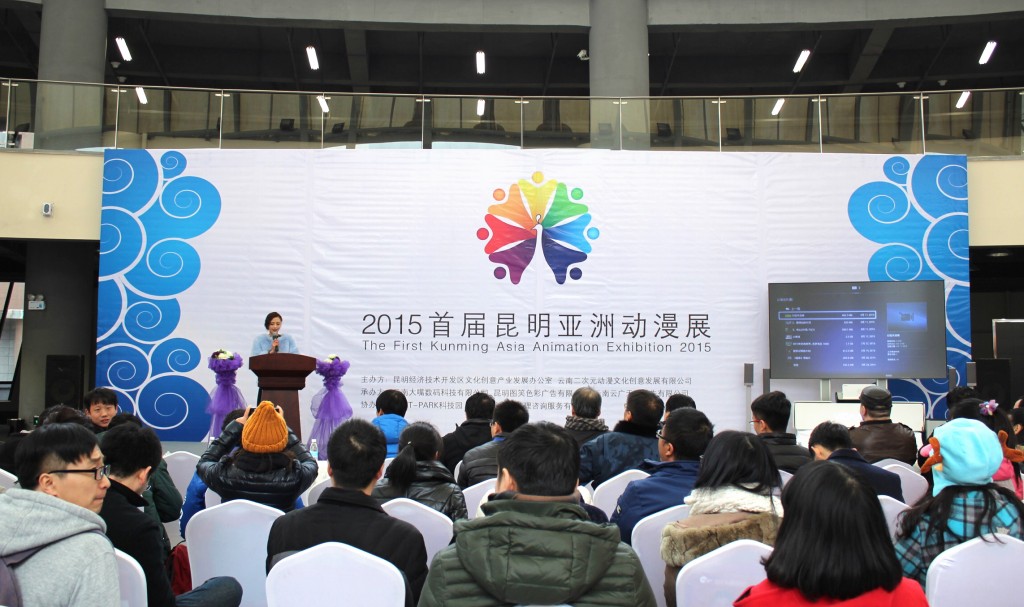 First Kunming Asia Animation Exhibition, Enjoy ACGN World With RAYVISION!
2015-12-25
Kunming Asia Animation Exhibition
First Kunming Asia Animation Exhibition 2015 was held on Yunnan Ziyun Qingniao Culture & Creativity Exhibition Park from December 17th to 20th. Despite its reputation for "Spring City", Kunming was attacked by cold rain and snow, but which didn't affect ACGN (Animation, Comic, Game, Novel) fans' enthusiasm for participating this grand animation exhibition.Themed by "Animation + Tourism", this exhibition was divided into two areas: Professional Exhibition Area and Animation Exhibition Area.Professional Exhibition Area attracted many famous animation, game and Internet companies in Asia to join the exibition. As an outstanding representative of "Internet Plus" Movie, Rayvision participated in this exihibition with several Korea's top film companies, and attended summit forum and enterprise roadshow with local companies, which aimed at promoting the exchange and cooperation with domestic and overseas companies.As a backstage hero of Oscar Best Animated Short Film, Rayvision introduced the cloud rendering knowledge and the production procedures of filmes and animations to the exhibitors and animation fans. Their typical rendering projects on the big screen attracted lots of visitors, including Mr. Hublot , the winner of 86th Academy Award for Best Animated Short Film; Baahubali , an Indian top-grossing movie of 2015; Dragon Nest and The Three Pigs and the Lamp , the cartoons produced by Mili Pictures; 10,000 Years Later , a cartoon work of Yili Animation Studio; Ribbit , an animation of Kartun Studios from Malaysia; Krrish 3 , effects by Indian famous company Red Chillies VFX, etc. Mr. Hublot 's mystery, Baahubal i 's gorgeous scenery, Dragon Nest 's magic adventures, Robb Rabbit 's superb pingpong skill...these well-made high level animations and movies with extremely cool special effects drawed the attention of all the visitors at Rayvision exihibition area. At Animation Exhibition, Cosers from different places gathered together to provide a fantastic Cosplay show. Regardless of the cold weather, they dressed in light clothes of different splendid comic characters. At that moment, the exihibition area turned into a wonderful ACGN World.
---
Recommended reading
---
How to Render High-quality Images in Blender
2020-03-09
---
Top 9 Best And Free Blender Render Farms of 2023
2022-05-09
---
Revealing the Techniques Behind the Production of Jibaro "Love, Death & Robots", Which Took Two Years to Draw the Storyboard
2022-06-10
---
How to Render Large Scenes with Redshift in Cinema 4D
2019-10-15
---
Top 10 Free And Best Cloud Rendering Services in 2023
2022-06-24
---
Top 8 After Effects Render Farm Recommended of 2023
2022-07-07
---
How to Reduce Noise in Corona Renderer - Corona Denoising
2019-05-15
---
Arnold\ V-Ray\ Octane\ Conora\ RedShift, Which Is The Best 3D Renderer?
2019-04-15
---
Partners