Interview with Le Anh Nhan: The 2nd Winner of Evermotion Challenge 2017
2018-03-07
Evermotion challenge 2017 | Evermotion | Le Anh Nhan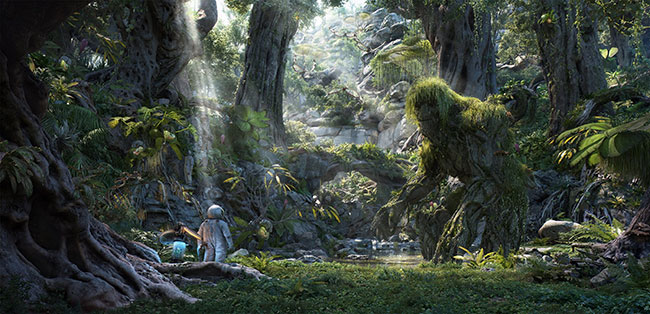 As one of the sponsors of Evermotion challenge 2017, we are so glad to have the honor and opportunity to have an interview with Le Anh Nhan, the 2nd winner of last year's competition. His work Hello_MD-2027 is highly praised by the three judges. Here are the detail interview as below:
Fox Renderfarm: Hi Le Anh Nhan, would you please give a brief introduction about yourself?
Le Anh Nhan: Hello Fox Renderfarm! My name is Le Anh Nhan, I am Vietnamese. I am studied 5 years in the university of architectural design,, but I do not want to become an architect, currently I am an architectural painting artist.
Fox Renderfarm: You definitely chose the right career for yourself : ) So how did you get into the CG industry?
Le Anh Nhan: When I was attending college, I used 3dsmax software for the project, and until the 4th year of college I learned V-Ray, I was attracted to the world of CG since then. And when I graduated with a degree in architecture I decided to become a 3d artist instead of being an architect.
Fox Renderfarm: Good for you, are there any artists that inspire you? Who inspires you the most?
Le Anh Nhan: Oh! When thinking about who inspires me, I remember the days I first came to CG. There are two major influences on my inspiration: Marek Denko and Alex Roman. I like the full 3D scene and these two artists make me happy to see their work, from the mood and technique. At this point, I like to watch matte paint, some of the artists I often watch every day are Allen Wei, JC Park, Mark Li ... They really have a myriad of color ideas and stories. It's hard to say who inspired me the most, because I was so adventurous and wanted to learn a lot of talented artists.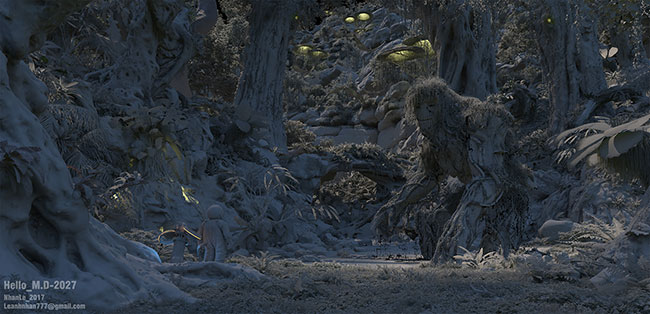 Fox Renderfarm: So glad that you had so many teachers lead you to move forward. How did you know the Evermotion 2017 challenge and why joined it?
Le Anh Nhan: A friend of mine texted me when he saw the Evermotion 2017 challenge on Facebook, He is an old colleague of mine.
Fox Renderfarm: Haha, good friend alway do help us. OK, so how did you get the idea to make this work? Anything inspired you?
Le Anh Nhan: At the time I received a message from that friend, which coincided with the time when I was struggling to find ideas to make a artwork for his son, and the theme of the challenge gave me an idea, which is The Perfect Getaway. But my friend's message was quite late compared to the competition, around the end of November, I was racing with time, because I had to work, I only had 2 hours of free time a day for the contest, while the workload is quite large. Luckily I finished it in 2 months, earlier than expected
Fox Renderfarm: That's definitely an encouraging story. You are awesome! Would you please share your feeling and idea for winning the 2nd prize in this challenge
Le Anh Nhan: Knowing the outcome of the challenge, I was very excited and happy. In the process of making artwork, I always followed the theme of the competition, but with comfortable psychology, I did not put much emphasis on examinations, I just painted with emotion and the main purpose was to give my son.
Fox Renderfarm: Your hardworking is finally rewarded! Emmm, Did you ever used Fox Renderfarm? If yes, could you share your ideas about us
Le Anh Nhan: I do not have the opportunity to use Fox Renderfarm, but in the near future, with the big scenes I will use : )
Fox Renderfarm: Great, hope we can help you achieve greater awards. Anything else you would like to say or add?
Le Anh Nhan: Thank you Fox Renderfarm for giving me the opportunity to share the information around my work, hopefully that information will help something for everyone, thank you for reading this interview and good luck!
Fox Renderfarm: Thanks so much for sharing your time for this interview, hope we can have more cooperations in the near future.
Recommended reading
---
How to Render High-quality Images in Blender
2020-03-09
---
Top 9 Best And Free Blender Render Farms of 2023
2022-05-09
---
Revealing the Techniques Behind the Production of Jibaro "Love, Death & Robots", Which Took Two Years to Draw the Storyboard
2022-06-10
---
How to Render Large Scenes with Redshift in Cinema 4D
2019-10-15
---
Top 10 Free And Best Cloud Rendering Services in 2023
2022-06-24
---
Top 8 After Effects Render Farm Recommended of 2023
2022-07-07
---
How to Reduce Noise in Corona Renderer - Corona Denoising
2019-05-15
---
Why V-Ray Render is Black in SketchUp And How To Fix it?
2019-05-07
---
Partners
Previous: SIGGRAPH Computer Animation Festival (CAF) Traveling Show Held for the First Time in China!
Next: Interview with Henrik Lein: The Winner of CGTrader Space Competition