Top 10 Free And Best Cloud Rendering Services in 2022
Fox Renderfarm is the industry's leading provider of cloud rendering services and an excellent render farm. In operation since 2011, Fox Renderfarm has earned a reputation for quality performance, great customer service and flexible pricing plans. With over 20 years of experience, Pioneer's core team serves over 200,000 users and top leading visual effects companies and animation studios from over 50 countries or regions, with clients including multiple award and Oscar winners. It supports both CPU and GPU cloud rendering. Fox Renderfarm supports many 3D software such as C4D, Maya, Arnold, Blender, Redshift and more. Fox Renderfarm now offers a free $25 trial for new registrants. 2. GridMarkets - Redshift Cloud Rendering Services!GridMarketsGridMarkets is a partner of Redshift 3D and provides Redshift cloud rendering service. CPU and GPU rendering are supported. His price is from $0.80/machine-hour all inclusive. 3. RebusFarm - Arnold Cloud Rendering Services!RebusFarm - Excellent Render Farm for BlenderRebusFarm was founded in 2006 in Cologne, Germany. RebusFarm is designed to meet the growing demand for rendering capabilities in the 3D animation field. The render farm is designed to meet the growing demand for rendering capabilities in the 3D animation field. RebusFarm supports all common 3D applications, including host applications, as well as secondary rendering applications. In addition, RebusFarm's goal is to provide the greatest possible rendering power at the most affordable price, while maintaining a service-oriented connection with its customers. RebusFarm offers Arnold cloud rendering services. Each new user automatically receives a free trial of 25 RenderPoints when they register. 4. Chaos Cloud - Houdini Cloud Rendering!Chaos CloudChaos is a world leader in the field of visualization and computer graphics. Chaos creates technology that enables artists and designers to visualize anything they can imagine. Chaos offers the Houdini cloud rendering service, which allows you to easily submit render jobs to the Chaos Cloud directly from the V-Ray for Houdini interface. 5. Garagefarm - Sketchup Cloud Rendering!GarageFarm - Cloud Rendering Blender Render FarmGarageFarm is a small team of technical and 3D enthusiasts who, after years of painful and horrible rendering experiences, decided one day to create their own render farm. GarageFarm allows you to easily upload and manage your projects. He offers Sketchup cloud rendering service and offers a free trial for $25. 6. iRender - After Effects Cloud Rendering Services!iRender - Great Blender Render FarmiRender is a software company based in Vietnam where people, happiness and creativity are at the core of all activities that inspire the company's mission. As a PaaS and IaaS provider, they offer global cloud computing solutions with GPU rental server services for 3D rendering (CPU and GPU remote rendering farms), processing big data or any other GPU intensive tasks. iRender has different prices depending on the GPU and CPU servers. iRender also offers after effects cloud rendering services.Related text: The best After Effects cloud rendering 7. VFXFarm - CPU & GPU Cloud Rendering Services!VFXFarmThe VFXFarm story started when traditional cloud rendering companies couldn't meet their needs. VFXFarm offers an awesome user experience, a user-friendly interface, beautiful positioning, color management, applications from websites to Windows and Mac, automatic synchronization of cloud rendering project output, and much more. He offers both CPU and GPU cloud rendering services. 8. RenderShot - KeyShot Cloud Rendering Service!RenderShotRenderShot is a KeyShot render farm based in Vancouver. It is an authorized KeyShot cloud rendering service provider, powered by a team and community of KeyShot enthusiasts and top industry developers, providing step-by-step solutions for all your KeyShot rendering needs. It is built with powerful GPU and CPU servers that are professionally optimized to enable KeyShot CG artists to render multiple jobs at once without sacrificing quality or time. 9. Conductor Cloud Rendering - Good Cloud Rendering Services !Conductor Cloud RenderingConductor was developed by entertainment industry veterans and SaaS web development experts who share a love of discovering and using the best of cloud technology. At the heart of Conductor is the idea that cloud computing will replace the traditional "render farm". Conductor's platform was developed to achieve the scalability, security, flexibility and affordability required for A-list feature production. They offer a very good cloud rendering services. 10. SheeIpt - Free Blender Cloud Rendering Services !SheepIt - Free Blender Render FarmSheepIt is a free Blender cloud rendering service. It differs from other render farms by the word distributed, as the service does not own the machines that render, but relies on people sharing their computers. As a result, there is almost no limit to the capabilities of a render farm. As project owners add their scenes to the job queue, the service splits the animation into single frames for rendering, sends each frame to a connected computer, and optimizes its selection based on available memory and CPU/GPU capacity. This free cloud rendering service is free of charge. You can earn points by sharing your computer, and these points will give you access to free renders at SheepIt. SummaryFox Renderfarm hopes it will be of some help to you. It is well known that Fox Renderfarm is an excellent cloud rendering services provider in the CG world, so if you need to find a render farm, why not try Fox Renderfarm, which is offering a free $25 trial for new users? Thanks for reading!
---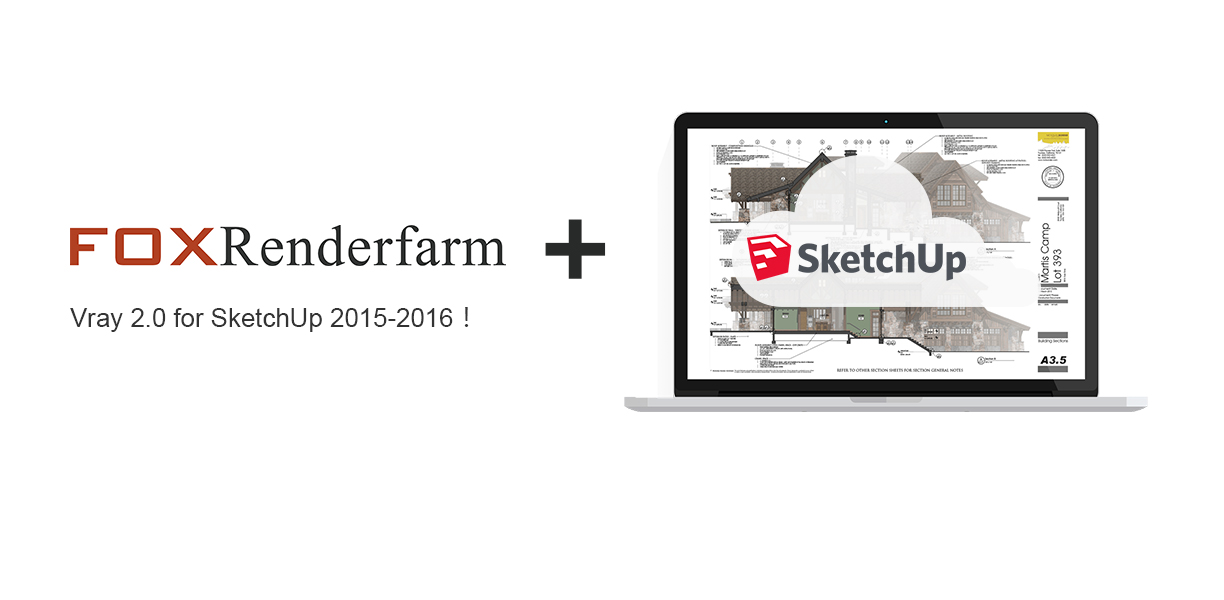 The FoxRenderfarm Cloud Rendering for SketchUp Launched
As we all know, SketchUp is a popular and outstanding software for 3D architectural designing, it is called the "pencil" in CG designing industry for the reason of its extremely easy using feature. With Sketchup, the designers can easily and quickly visualize their conceptions.And now, we are proud of declaring that Fox Renderfarm has supported Vray 2.0 for SketchUp 2015-2016. You can freely choose multi machine sequence for rendering to save more time, so that you can devote yourself to the unlimited creative designing with limited energy and time. Besides that, you can also freely choose the needed scenes to render with just a few simple clicks when submitting jobs.Well, here are the features supported by Fox Renderfarm cloud rendering as below: 1.Support multisequencing rendering 2.Support freely choosing scenes 3.Support enabling pipeline settings by force 4.Support full path rendering 5.Support Vray renderer 6.Support SketchUp 2015 and SketchUp 2016 7.Support non-ABCD driver path 8.Support loading photon rendered task 9.Support choosing the resolution, input and formatAt last, here are some artwork created with Vray for SketchUp as below, enjoy yourself!
---
Fox Renderfarm Supports SketchUp Pro 19.0.685 Cloud Rendering Services Now
SketchUp, a 3D modeling program for architects, producers, game developers, and 3D artists. Now, Fox Renderfarm supports SkechUp Pro 19.0.0685 cloud rendering services. About SketchUp, unlike 3ds Max, it is a flat model, users don't have to type coordinates when they operate. They only need to guide the system through a simple and detailed text prompt to track the position and complete the related modeling. Although SketchUp has a small number of tools, it is very practical, and it can do a variety of work, and it is easy for users to learn and remember. The creative process not only fully expresses the designer's ideas but also fully meets the needs of real-time communication with customers, enabling designers to directly and intuitively design on the computer. It is an excellent tool for 3D architectural design. Creating a 3D model in SketchUp just as we use a pencil to plot on a drawing, SketchUp can automatically recognizes the line and captures it. Drawing the line into a face and then forming it, the modeling process is straightforward, which is the most common method of building modeling. There are many versions of SketchUp. Since SketchUp 5.0, it has been acquired by Google and developed versions of Google SketchUp 6.0 and 7.0. It can be used with Google 3D Warehouse and Google Earth, cooperate with fans and users all over the world, and also connect with various drawing software such as Auto CAD and 3ds Max to achieve collaborative work. On April 27, 2012, SketchUp was acquired by Trimble. On February 5, 2019, the latest version of SketchUp 19.0.685 (Win 64-bit) optimized the functions of default toolbar changes, SketchUp tape measure, Windows 10 compatibility mode, LayOut file lock and more. On April 3, 2019, Fox Renderfarm provided the SketchUp cloud rendering service (supported version: V-Ray 3.0). In SketchUp you can: 1. Create 3D models of buildings, furniture, interior design, landscapes, etc. 2. Customize the SketchUp interface to reflect how the user works; 3. Use the 3D model as a roaming animation, scene or printout sharing, with realistic lighting and shadows, and print the model on a 3D printer; 4. Import files from other 3D modeling programs or tools, or export SketchUp files for use with other popular modeling and image editing software.V-Ray for SketchUp scene before and after rendering, the picture as below. Before rendering, the picture is rough: After rendering, the picture become more textured: SketchUp product features 1. Unique and simple interface, which allows designers to master in a short time. 2. The scope of application is broad, can be applied in the fields of architecture, planning, gardening, landscape, interior design and industrial design. 3. Convenient push-pull function, the designer can easily generate 3D geometry through a graph, without the need for complex SketchUp logo 3D modeling. 4. Quickly generate profiles at any position, so that the designer can clearly understand the internal structure of the building, and can randomly generate 2D profiles and quickly import them into AutoCAD for processing. 5. Combined with AutoCAD, Revit, 3d Max, Piranesi and other software, quickly import and export 3ds format files like dwg, dxf, jpg, to achieve the concept, the perfect combination of renderings and construction drawings, while providing AutoCAD and ArchiCAD Plug-ins for design tools. 6. with a large number of doors, windows, columns, furniture and other component libraries and building material edge required material library. 7. Easily create a program to demonstrate video animation and express the designer's creative ideas in all aspects. 8.With draft, line draft, perspective, rendering and other different display modes. 9. Accurately locate shadows and sunshine, designers can perform shadow and sunshine analysis in real time according to the area and time of the building. 10. Easy to carry out the space size and text labeling, and the labeling part is always facing the designer. As the leading cloud rendering service providers, Fox Renderfarm's current users have reached more than 15w. Currently, Fox Renderfarm supports V-Ray version 3.0 of the SketchUp rendering service, hoping to bring users a more convenient and efficient experience.
---
Recommended reading
---
How to Render High-quality Images in Blender
2020-03-09
---
How to Render Large Scenes with Redshift in Cinema 4D
2019-10-15
---
Arnold\ V-Ray\ Octane\ Conora\ RedShift, Which Is The Best 3D Renderer?
2019-04-15
---
Why V-Ray Render is Black in SketchUp And How To Fix it?
2019-05-07
---
How to Reduce Noise in Corona Renderer - Corona Denoising (2022 Updated)
2019-05-15
---
What is the difference between pre-rendering and real-time rendering?
2020-09-08
---
How the Redshift Proxy Renders the Subdivision
2018-12-28
---
Blender vs Maya vs Cinema 4D, Which One Is The Best 3D Software?
2020-01-16
---
Partners