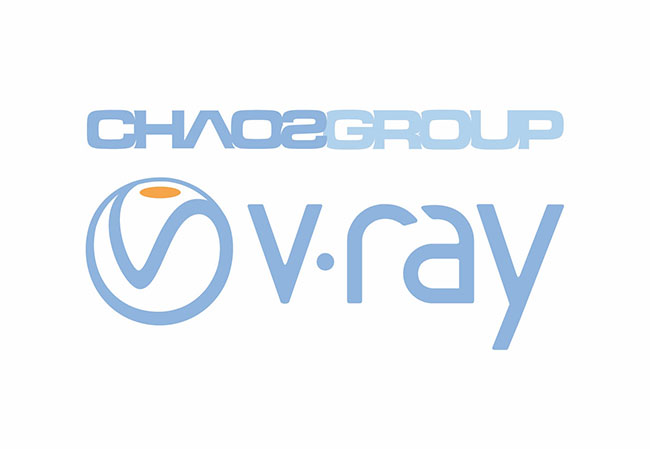 Interview with Iavor Trifonov from Chaosgroup for the Future Cooperation
2018 must be a big year for Fox Renderfarm, we sincerely hope to cooperate with more 3d software and renderer companines as much as we can, that's why we communicate with them so positively and discuss about the future cooperations and benefits for both parties. Here is the detail interview with Iavor Trifonov from Chaos Group as below:
Iavor Trifonov,
Vice-President Cloud & Integrations
Chaos Group
Fox Renderfarm:  Since the establishment of V-Ray in 1997, the growth and global presence of V-Ray has gained attention from various industries, especially CG industry. Tell us more about V-Ray's global influence and users usage worldwide.
Chaos Group: From the very beginning, our goal has been to help people visualize anything and everything. And this means more than just pushing the technology. V-Ray is a result of listening to and working with artists and designers directly. It's important to really understand the daily challenges creatives face and see what we can do with our development to help, and move rendering forward. Today, V-Ray is prominent in multiple industries worldwide. V-Ray's Academy Award-winning rendering technology is still developed with the same goal of helping artists and designers.
Fox Renderfarm: Share with us about V-Ray's current brand awareness and situation in China.
Chaos Group: V-Ray is very popular in the architectural visualization industry in China, but people probably aren't as familiar with our company name — Chaos Group. There are many resources online for learning V-Ray, and the V-Ray community is very supportive. Our main developers are also very involved online since we take feedback very seriously. The new V-Ray Next for 3ds Max beta is the latest example of how we listen to our customers, and work to provide features that save time and hopefully make your life a little easier.
Fox Renderfarm:  Share with us regarding the product development strategy and promotion in the near future?
Chaos Group: At the moment, our key development revolves around the completely upgraded and optimized rendering inside of V-Ray Next. We've already got a few blog posts actually that highlight some of the new features of V-Ray Next and there are more articles in the works. You'll also see us at events worldwide and this year we're excited to host our very own special event dedicated to artists and developers - Total Chaos.
Fox Renderfarm:  How about your thoughts on cloud rendering service and how it can benefit CG artists?
Chaos Group: Cloud rendering is something that gives the smallest studios the same firepower that big studios have enjoyed for some time now. Anyone's computer can be a supercomputer, thanks to the ease and power of cloud computing. Deadlines are inescapable in a studio environment, and having access to rendering in the cloud can take a lot of pressure off. Plus you don't have to worry about large hardware expenses, not to mention maintenance. This also frees up computers for design work, and costs related to cloud rendering are easily tracked and can be billed by the job.
Fox Renderfarm:  How can Chaos Group work with Fox Renderfarm and what are the benefits that Chaos Group can offer to Fox Renderfarm's customers?
Chaos**group: Fox Renderfarm is one of Chaos** Group's main render farm partners in China as well as in Asia. As an authorized partner, Fox Renderfarm receives dedicated support from Chaos Group both in terms of account management and technical optimization expertise. This allows Fox to react quickly when helping customers and resolve even the most complex workflow issues with the help of Chaos Group's developers. Moreover, Chaos Group and Fox are also looking to partner on initiatives related to the educational institutions in China which will lead to opening excellent opportunities to thousands of Chinese students interested in becoming V-Ray professionals. Boosting the awareness of V-Ray among Chinese users from as early stage in their professional careers as possible together with expanding the availability of Chaos Group's products across China is at the very core of the partnership between both companies. We're excited to have such a strong partner in China and we look forward to helping the CG industry in China with Fox Renderfarm.
Fox Renderfarm:  Originally started as Atmos Blender, then the first release of V-Ray for 3ds Max in 2002. Up to date, various mainstream 3D software is well-supported by V-Ray. V-Ray has been around with us for almost 21 years! Tell us about the new features and highlights of V-Ray that we can look forward to in 2018?
Chaos**group**: We don't want to reveal too much yet, but we're very excited about the V-Ray for Unreal beta which just recently started. We'll have more big news in regards to other V-Ray Next products in the near future to share with you as well!
(Check our interview with MAXON and Isotropix if you are interested.)
---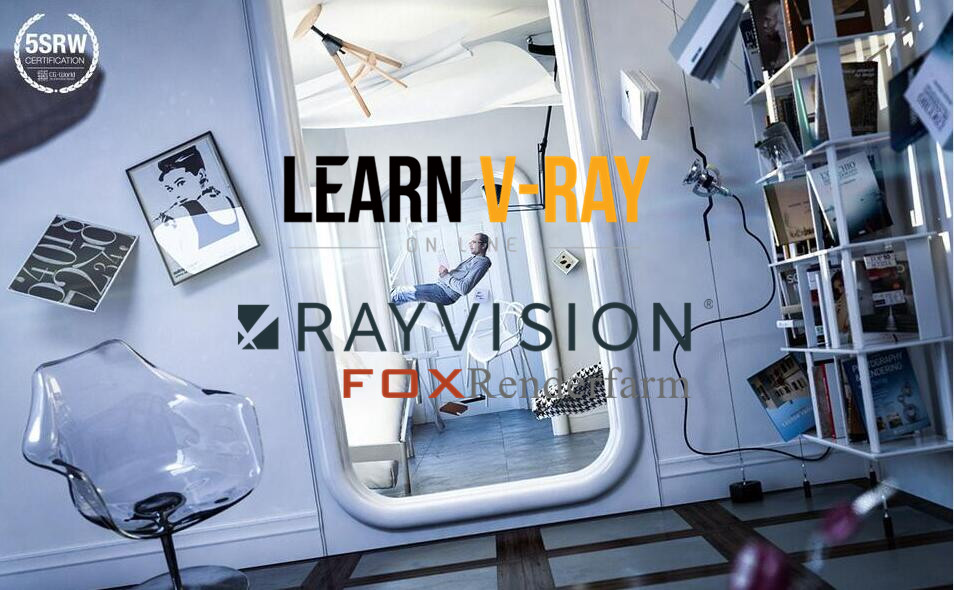 Learn V-Ray Partners with FoxRenderfarm to Creat More Amazing Works
"Simplicity is the ultimate sophistication." Leonardo da Vinci once said. Then, Steve Jobs took it as Apple's product concept. Now, it shows on Learn V-Ray's video rendered by FoxRenderfarm.
Learnvray.com is an authorized training center certified by Chaos Group. In the online area you can find the 5SRW Course for V-Ray, including V-Ray tutorials and lessons, material to download and all you need to get the 5SRW Certification for V-Ray. 5SRW stands for 5-Step Render Workflow: framing, light balance, materials, final render, post production and it is a method to learn the photographic approach:
More info here: V-RAY COURSE (online) As Learnvray.com official partner, Fox Renderfarm rendered countless works for Learn V-Ray's trainers and students. Now let's enjoy the following outstanding works rendered by FoxRenderfarm, included in the short movie:
Industrial Open Space, by Tony Antoun
Prize: Best of March 2016
Gravity, by Ciro Sannino
Prize: Installation V-Ray 3 splash Screen
Church on the Water by Aldo Garcia Finalist at 3D Awards 2014
Sofa Room, by Rabih Chehab Short movie 1
CiroSannino (profile), author and main trainer at Learn V-Ray, said: "honestly I recently got different proposals from different render farms around the world. I finally decided for FoxRenderfarm becasue I appreciated a quality that is not so common - availability. FoxRenderfarm guys are always ready to listen suggestions coming from partners and users, and customer service team are always online on Skype to help and support in any situation! And no waiting to start the render due to the size of FoxRenderfarm."
Simplicity is more difficult than sophistication. You must pay more efforts to make sophistication simple. The philosophy that RAYVISION (FoxRenderfarm) always sticks to is that technology inspires arts. With the most professional technical team, the best customer service team and the most powerful computing center, RAYVISION (FoxRenderfarm) can save more time for users to do more creation.
---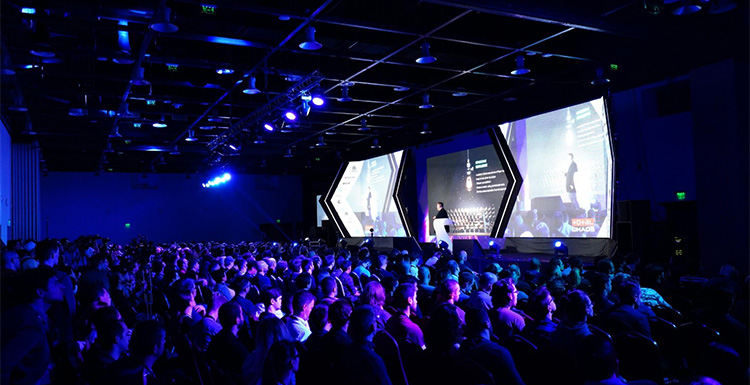 TOTAL CHAOS: Chaos Group Launched Its Second Annual Computer Graphics Conference



On May 17, **Chaos** **Group** launched its Total **Chaos** conference in Sofia, Bulgaria with a keynote from the minds behind V-Ray and Corona. The company reinforced its dedication to research and innovation, its commitment to bringing V-Ray to diverse creative industries and its continuing support for the creative community. 
After an energetic performance from Rio Dance Crew 360 and singers Torlashki Napevi, CCO Lon Grohs welcomed the 1,000-strong audience of Total Chaos attendees to the Sofia Tech Park. Next, Peter Mitev, Chaos Group's co-founder and CEO, presented the highlights of a busy year for V-Ray and Corona including the launch of V-Ray Next for all major platforms, V-Ray for Unreal, Corona 2 and 3 for 3ds Max and Corona for Cinema 4D. The teams behind V-Ray and Corona have been collaborating closely on new technology. At Total Chaos, Corona's Research and Development Partner Jaroslav Křivánek officially launched Chaos Research, a laboratory which will combine resources, experiment with new ideas and create the rendering technology of the future. Jaroslav handed over to Corona's Founding Partner and Main Developer Ondřej Karlík, who celebrated the innovative renderer's 10th birthday with a demonstration of recently introduced features of Corona, including its caustic effects, and gave a glimpse at how they'll be refined in the future. No Total Chaos Keynote would be complete without a few words from Vlado Koylazov, Chaos Group's co-founder and CTO. He introduced some of the exciting features users can expect in V-Ray Next updates for Maya, 3ds Max and Unreal, as well as the official release of V-Ray for Houdini. VP of Product Management Phil Miller joined Vlado on stage to wrap things up. Together, they introduced a brand new demo of Project Lavina, the incredible real-time iteration of the V-Ray engine. DAY ONE The day started with an incredible keynote from the most important people behind V-Ray and Corona. Then, the 1,000-strong crowd dispersed to check out a diverse array of presentations from professionals in the CG industry.
·Art track Arch viz and interior design was the focus of the first two talks on Total Chaos' biggest stage, with WeWork's Gregory Rogers and Kengo Kuma Architect's Tomohiro Matsunaga deconstructing workflows and delving into the role V-Ray plays in their visuals. Then, we switched lanes to a presentation from Sonja Christoph. Her inspirational and moving talk looked back on a varied career which has taken her from work on movies, including Tomorrowland and Doctor Strange, to her current role as an environment artist at Massive Entertainment for games such as The Division 2.
There are many ways of representing the human form, and a trio of presenters showed their approaches to digital characters. Victor Hugo charmed the crowd with his uniquely stylized characters, Ian Spriggs showed how he's using traditional techniques with cutting-edge technology and anatomy expert Scott Eaton blew the audience's minds with his research in AI and human figures. In a hugely exciting announcement, Ian even debuted a new portrait of THU event founder Andre Luis. ·Women in tech panel
Total Chaos was host to a packed discussion on how women can forge successful careers in the worlds of tech and CG. Juice's Natalia Lasota, Chaos Group's Albena Ivanova, Avengers: Endgame's Production Technology Manager Piya Wadia, Massive Entertainment's Sonja Christoph and INK's Ioanna Ivanova talked about their unique career paths and switching between industries, personal and workplace challenges, advice on time and stress management and communication in the workplace, and — above all — how to follow your heart and stay true to yourself.
The Code track area is all about delving into the nuts and bolts of the technology behind powerful CG software. The lineup included software developers Javor Kalojanov (Weta Digital), Steven Parker (NVIDIA), Adrian Graham (Google), Prof. Dr.‐Ing. Philipp Slusallek (German Research Center for Artificial Intelligence), Attila Áfra and Jim Jeffers (Intel), and Asen Atanasov (Chaos Group).
This is where Chaos Group's CTO and Co-founder Vlado Koylazov unveiled some supersmart new features coming to V-Ray Next for 3ds Max, including memory tracking, shader debugging, GPU advances and bump shadow improvements. He also shed light on a new Light Cache algorithm which even works with Project Lavina, Chaos Group's real-time ray tracing technology.
·Craft track Volvo revved up the Craft Track with a presentation on how it has developed a fully integrated pipeline for real-time and offline rendering and the knock-on effect this has had on the way its cars are built. Porsche's Andre Matos was in swift pursuit with a look at how V-Ray GPU and VRscans have supercharged his workflow, and he was followed by fascinated and varied talks from Tobias Nientiedt (OTTO), Tarran Kundi (Woods Bagot), Adam Tunikowski and Natalia Lasota (Juice), and Anthony Christov (IDEA Academy).
London's INK Studio has made a name for itself in creating clean-but-playful images, animation and VR experiences for the likes of Honda and Audi, and in Ioanna Ivanova's presentation she showed off some of the tricks of the trade. She demonstrated how Cinema 4D can be used for quick and easy previews, showed a head-spinning Escher ad — and revealed why you should never, ever try to work with cats. The Craft track finished with a journey into the (occasionally horrific) heart of Hellboy from Bulgarian VFX studios Nu Boyana and WorldWide FX. DAY TWO Total Chaos's second and final day was every bit as good as the first. The line-up of 34 presentations and discussions across four stages demonstrated the incredible diversity of the CG industry. The crowds were astonished by AI-powered world builder Promethean AI, inspired to create a mobile game with Gameloft Sofia, learning how Blur Studio coordinates artists around the world or discovering the inner workings of Chaos Cloud. Architecture and design was the theme of the Art track's morning session. Gensler's Scott de Woody was the first to grace the Total Chaos podium with his overview of the multinational architecture firm's approach to creating buildings people want to work in — including an appropriately triangle-based HQ for chip firm NVIDIA.
Continuing the architecture theme was KPF's Cobus Bothma, who detailed how the company built its cutting-edge pipeline with new V-Ray tools such as V-Ray for Unreal for creating Hololens scale models and easy, beautiful real-time walkthroughs in Project Lavina. The trip down the VR rabbit hole continued with Marko Margeta and Jose Pareja Gomez of Zaha Hadid Architects, and Factory Fifteen's exhilarating Nissan Formula E experience. Madrid-based creative studio Beauty and The Bit has brought big-screen sensibilities to the arch viz movie with "Landmark." In his presentation, art director Victor Bonafonte Morales explained his initial intentions and demonstrated how his sketches and previz fed into the final movie.
Meanwhile, in the Craft track, Ingenuity's Grant Miller went procedural with a guide to how the company uses Houdini and V-Ray for Houdini to create environments populated with dense fauna, crowds of thousands for a Kelly Clarkson music video and piles of bodies for The Walking Dead. There are sure to be some audience members who will make use of Grant's techniques to cut out the fiddly bits of their VFX pipelines.
Quickfire round! Back in the Art track, ILM's David Wortley and Falk Boje showed how V-Ray for 3ds Max has been used seamlessly to create environments in big movies including Black Panther's Wakanda, A Wrinkle in Time'sfloating mountains, Jurassic World: Fallen Kingdom's Isla Nublar, Star Wars: The Last Jedi's Skellig Island (with Phoenix FD for the sea) and Rogue One's tropical battleground. Despite covering so many films, there was no shortage of tips and tricks here.
The Assassin's Creed series takes pride in its accurate historical recreations — albeit with a dash of 21st-century parkour. In Yavor Yakovliev's presentation, he showed how Ubisoft Sofia used procedural techniques to recreate Ancient Egypt for Assassin's Creed: Origins. Next door, in the Craft track, Slashcube's Thomas Vournazos flew us to "Moon Village." Developed in conjunction with architect SOM, the European Space Agency and the Massachusetts Institute of Technology, this short film used Corona for Cinema 4D to visualize a human colony on Earth's natural satellite.
How can VR help the architecture industry? And what happens when we create spaces in VR without the constraints of the real world? These are the questions Agile Lens's Alex Coulombe answered with his dynamic and charming presentation. He looked at how VR has changed the way we plan and explore prospective theaters, and how it inspires new forms of architectural, artistic and theatrical expression.
The day came to an epic end with two major players in the visual effects industry. Digital Domain's Deke Kincaid showed the evolution of the company's digital humans and characters, culminating in a thorough breakdown of its spellbinding V-Ray rendered work on Avengers supervillain, Thanos. After DD's analysis of the 750,000-year-old big bad, Method Studios showed the techniques it used to create a photorealistic baby with an adult voice for a commercial project. The wheels are already turning on Total Chaos 2020. Stay tuned, and we'll see you in Sofia next year! Cr.Chaos Group website
---
Recommended reading
---
How to render large scenes with Redshift in Cinema 4D
2019-10-15
---
Arnold\ V-Ray\ Octane\ Conora\ RedShift, Which Renderer Is The Best?
2019-04-15
---
How to Render High-quality Images in Blender
2020-03-09
---
How the Redshift Proxy Renders the Subdivision
2018-12-28
---
China Film Administration Release New License Logo
2019-01-09
---
Maya 2018 Arnold's Method of Making Motion Vector Blur in AOV Channel
2018-12-26
---
Corona Renderer Learning - Denoising
2019-05-15
---
Redshift for Cinema 4D Tutorial: Interior Design Rendering
2019-10-12
---
Partners