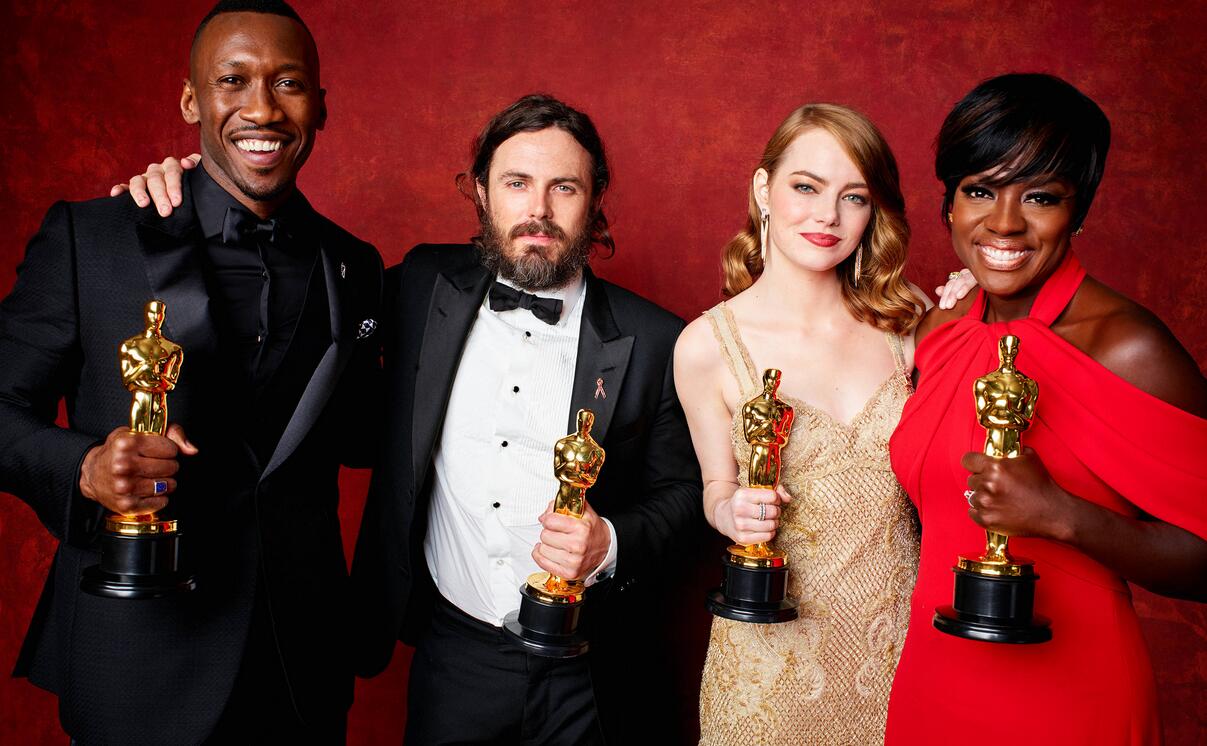 Oscars 2017, 'La La Land' Mistakenly Named Best Picture, But 'Moonlight' Wins!
The 89th Academy Awards took place on Sunday night, 26th February, 2017 (PST). 'La La Land', the recently popular film, got 6 awards for Best Actress in Leading Role, Best Directing, Best Cinematography, Best Production Design, Best Original Song and Best Original Score.But...Life is full of ups and downs...The presenter at the Oscars took the wrong envelope and mistakenly announced 'La La Land' as the Best Picture, but actually 'Moonlight' wins!It must be the most embarrassing moment in Oscars history!BEST PICTUREWINNER: MOONLIGHTNOMINEES:ARRIVALFENCESHACKSAW RIDGEHELL OR HIGH WATERHIDDEN FIGURESLA LA LANDLIONMANCHESTER BY THE SEAVISUAL EFFECTSWINNER: THE JUNGLE BOOKNOMINEES:DEEPWATER HORIZONDOCTOR STRANGEKUBO AND THE TWO STRINGSROGUE ONE: A STAR WARS STORYANIMATED FEATURE FILMWINNER: ZOOTOPIANOMINEES:KUBO AND THE TWO STRINGSMOANAMY LIFE AS A ZUCCHINITHE RED TURTLESHORT FILM (ANIMATED)WINNER: PIPERNOMINEES:BLIND VAYSHABORROWED TIMEPEAR CIDER AND CIGARETTESPEARLACTOR IN A LEADING ROLEWINNER: CASEY AFFLECK - Manchester by the SeaNOMINEES:ANDREW GARFIELD - Hacksaw RidgeRYAN GOSLING - La La LandVIGGO MORTENSEN - Captain FantasticDENZEL WASHINGTON - FencesACTRESS IN A LEADING ROLEWINNER: EMMA STONE - La La LandNOMINEES:ISABELLE HUPPERT - ElleRUTH NEGGA - LovingNATALIE PORTMAN - JackieMERYL STREEP - Florence Foster JenkinsACTOR IN A SUPPORTING ROLEWINNER: MAHERSHALA ALI - MoonlightNOMINEES:JEFF BRIDGES - Hell or High WaterLUCAS HEDGES - Manchester by the SeaDEV PATEL - LionMICHAEL SHANNON - Nocturnal AnimalsACTRESS IN A SUPPORTING ROLEWINNER: VIOLA DAVIS - FencesNOMINEES:NAOMIE HARRIS - MoonlightNICOLE KIDMAN - LionOCTAVIA SPENCER - Hidden FiguresMICHELLE WILLIAMS - Manchester by the SeaDIRECTINGWINNER: LA LA LAND - Damien ChazelleNOMINEES:ARRIVAL - Denis VilleneuveHACKSAW RIDGE - Mel GibsonMANCHESTER BY THE SEA - Kenneth LonerganMOONLIGHT - Barry JenkinsCOSTUME DESIGNWINNER: FANTASTIC BEASTS AND WHERE TO FIND THEMNOMINEES:ALLIEDFLORENCE FOSTER JENKINSJACKIELA LA LANDDOCUMENTARY (FEATURE)WINNER: O.J.: MADE IN AMERICANOMINEES:FIRE AT SEAI AM NOT YOUR NEGROLIFE, ANIMATED13THMAKEUP AND HAIRSTYLINGWINNER: SUICIDE SQUADNOMINEES:A MAN CALLED OVESTAR TREK BEYONDSOUND EDITINGWINNER: ARRIVALNOMINEES:DEEPWATER HORIZONHACKSAW RIDGELA LA LANDSULLYSOUND MIXINGWINNER: HACKSAW RIDGENOMINEES:ARRIVALLA LA LANDROGUE ONE: A STAR WARS STORY13 HOURS: THE SECRET SOLDIERS OF BENGHAZIMUSIC (ORIGINAL SCORE)WINNER: LA LA LANDNOMINEES:JACKIELIONMOONLIGHTPASSENGERSMUSIC (ORIGINAL SONG)WINNER: CITY OF STARS - La La LandNOMINEES:AUDITION (THE FOOLS WHO DREAM) - La La LandCAN'T STOP THE FEELING - TrollsTHE EMPTY CHAIR - from JimHOW FAR I'LL GO - MoanaCINEMATOGRAPHYWINNER: LA LA LAND - Linus SandgrenNOMINEES:ARRIVAL - Bradford YoungLION - Greig FraserMOONLIGHT - James LaxtonSILENCE - Rodrigo PrietoFILM EDITINGWINNER: HACKSAW RIDGENOMINEES:ARRIVALHELL OR HIGH WATERLA LA LANDMOONLIGHTFOREIGN LANGUAGE FILMWINNER: THE SALESMAN - IranNOMINEES:LAND OF MINE - DenmarkA MAN CALLED OVE - SwedenTANNA - AustraliaTONI ERDMANN - GermanyPRODUCTION DESIGNWINNER: LA LA LANDNOMINEES:ARRIVALFANTASTIC BEASTS AND WHERE TO FIND THEMHAIL, CAESAR!PASSENGERSSHORT FILM (LIVE ACTION)WINNER: SINGNOMINEES:ENNEMIS INTÉRIEURSLA FEMME ET LE TGVSILENT NIGHTSTIMECODEWRITING (ADAPTED SCREENPLAY)WINNER: MOONLIGHTNOMINEES:ARRIVALFENCESHIDDEN FIGURESLIONWRITING (ORIGINAL SCREENPLAY)WINNER: MANCHESTER BY THE SEANOMINEES:HELL OR HIGH WATERLA LA LANDTHE LOBSTER20TH CENTURY WOMEN
---
Recommended reading
---
How to Render High-quality Images in Blender
2020-03-09
---
Top 9 Best And Free Blender Render Farms of 2023
2022-05-09
---
Revealing the Techniques Behind the Production of Jibaro "Love, Death & Robots", Which Took Two Years to Draw the Storyboard
2022-06-10
---
How to Render Large Scenes with Redshift in Cinema 4D
2019-10-15
---
Top 10 Free And Best Cloud Rendering Services in 2023
2022-06-24
---
Top 8 After Effects Render Farm Recommended of 2023
2022-07-07
---
How to Reduce Noise in Corona Renderer - Corona Denoising
2019-05-15
---
Arnold\ V-Ray\ Octane\ Conora\ RedShift, Which Is The Best 3D Renderer?
2019-04-15
---
Partners