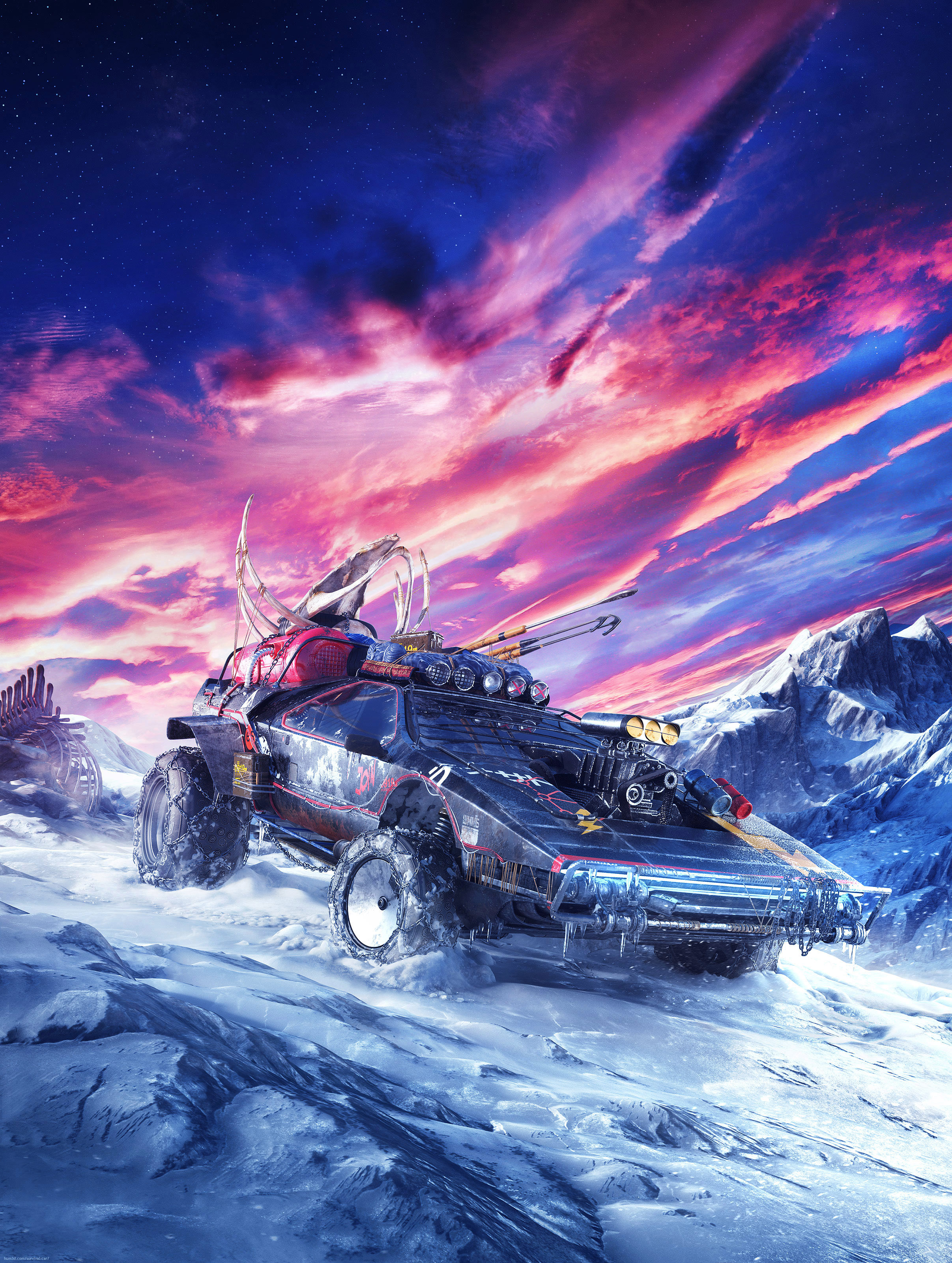 Interview with Florian Renner, the 3rd Winner of Hum3d Survial Car Challenge
Hum3d Survial Car Challenge
The Hum3d Car Challenge just finished recently, and we did found a lot of awesome works there. Fox Renderfarm is so honored to be one of the sponsors and has the opportutnity to be part of it. And we are so glad to have the chance to talk with Florian Renner, the 3rd winner of this competition. Here are the details as below:
Fox Renderfarm: Hi Florian, would you please give a brief introduction about yourself?
Florian Renner: I started to work 2003 after my education as graphic designer . I always loved to create images.. doesn't matter how..digital or analog with pencils. About in 2007 I started with digital painting for contests and combined my work with cinema4d. In 2011, I started as a freelancer in the field of graphic design, 3D visualization, and later 3d animation too.
Fox Renderfarm: Are you currently working as a CG artist?
Florian Renner: Yes, about 70% of my projects are 3d designs(key visuals). style guides, 3d visuals, product visualizations etc. not all projects are shown on my website. Some have secrecy or may not be shown, the other 30% is typical graphic design, logos, flyer, brochures.
Fox Renderfarm: How did you made the decision to step into the CG industry?
Florian Renner: I wanted to become a freelancer and working on projects I like. I was in a permanent position for 8 years before. In addition to my work, I have illustrated a lot and taught myself in cinema 4d to expand my offer. To become a freelancer was my best decision, but without my 3d experiences it would be hard, most of my clients come to me because of the 3d animations and visualizations.
Fox Renderfarm: Good for you! Did you still remember your first CG work, how does it look like?
Florian Renner: Yes, my first 100% digital created image with my wacom was for a game contest about in 2006. I won a trip to Hamburg and had an insight how they work on the pc game. The first images were a bit too rough but some months later the images had a better quality. On my website are still some early illustrations from 2007 (https://www.florian-renner.com/illustrations-part-ii). My "Tank" image is from 2008 and one of the first I combined cinema 4d and digital art.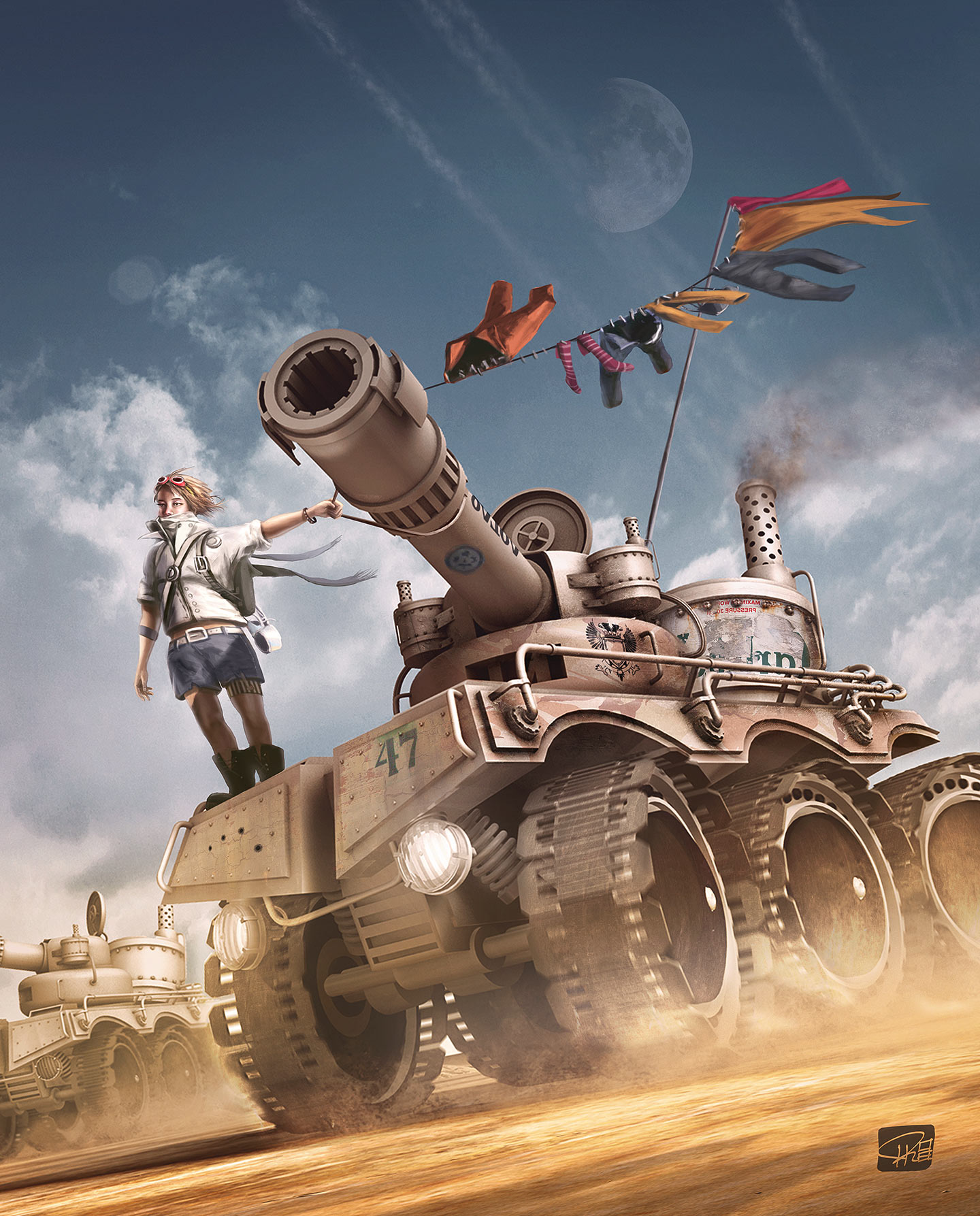 Fox Renderfarm: The "Tank" looks pretty awesome. While how did you know the Hum3d Survival Car competition?
Florian Renner: I always download my car models on this site for my projects. I don't remember exactly but I think I was searching for a new model and saw the post.
Fox Renderfarm: Haha, that means you are regular customers of Hum3d. So what inspires you most to come out the idea of making the work "Lightage"?
Florian Renner: I like Fantasy Sci Fi settings but I am a bit bored of the zombie and their gore/violence in general...maybe I watched "the walking dead" too often. So I was trying to find something new outside of the mad max universe, the movie was great but most of the apocalyptic cars are in mad max style, so my sketches then went more in the direction of snow and ice and the weapons on my car are for hunting not for killing :-) later I liked the idea of whale bones on a car... This raises a few questions and tells a story I don't know for myself too :-) Maybe an inspiration was the very cool series "the terror" I was looking some weeks before.
Fox Renderfarm: Fantastic idea. OK, what software, renderers, plugins you used in this work?
Florian Renner: I used cinema 4d with the octane renderer. 3D Coat for modelling some parts. World creator for the ground and the background. substance painter for the car textures etc. The car model is a customized Alfa Romeo Carabo.
Fox Renderfarm: Haha, so many software used in it. Did you met any difficulties when creating this work? If yes, how did you solved it?
Florian Renner: The snow shader in octane was a bit complex. First it looked like styropor at the beginning, a bit trial and error. Later I doubled the refraction channel layer in photoshop,  after that the surface looked more like ice. And I used substance painter the first time, it was fun to learn but takes some time.
Fox Renderfarm: Difficulties always help move you forward : ) Did you used Fox Renderfarm cloud rendering service previously? If yes, would you share your ideas about us?
Florian Renner: No yet, sorry :-) But maybe in the future if I have an 3d animation project.
Fox Renderfarm: Great, feel free to enjoy yourself. Anything else you would like to add or say?
Florian Renner: Keep on learning 3d software and techniques and try new styles and workflows.  The prizes of the competition is great for me, some software I don't know and now I am curious about trying out them.
Fox Renderfarm: Good for you! We are looking forward to your more works in the near future. And thanks so much for your time for this interview.
Key Words
Cloud Rendering Farm
|
Annecy Festival
|
MILESTONES
|
Fox Renderfarm
|
Desktop Client
|
Blender
|
Bollywood films
|
Hum3D Contest
|
NVIDIA
|
Silkroad Digital Vision
|
Malaysian Animated Films
|
Indiajoy
|
Art Competitions
|
Architectural Visualization
|
CGarchitect Architectural 3Dawards
|
Best cloud rendering services
|
Render cloud
|
VFX
|
Upin & Ipin
|
Green Book
|
Fox Renderfarm Interview
|
Mission Mangal
|
Kre8tif!
|
Fox Renderfarm Mini Program
|
CG
|
CG Tech Summit Malaysia
|
film works
|
cloud rendering
|
Golden Horse Award
|
Shadow
|
SIGGRAPH Asia 2018
|
Morrigan Flebotte
|
VWArtclub Annual *Contest
|
Asswad Mouhamad
|
animation works
|
IMax Studio
|
Boonie Bears
|
Renderosity
|
Gary S. Kennedy
|
Evermotion Challenge 2018
|
Brian Beaudry
|
Alita: Battle Angel
|
Bobby Bala
|
Mohit Sanchaniya
|
Katapix Media
|
Flying Car Productions
|
Razer
|
The Shipment
|
FoxRenderfarm
|
CG Tech Summit
|
Alpacalypse Productions
|
halloween
|
Hum3d Survial Car Challenge
|
Federico Ciuffolini
|
Ralf Sczepan
|
Iavor Trifonov
|
Clarisse
|
CGTS Malaysia
|
Isotropix
|
C4D
|
Tomasz Bednarz
|
V-Ray
|
Cinema 4D
|
MAXON
|
siggraph caf
|
Evermotion challenge 2017
|
CGTrader Space Competition
|
film of the year
|
Le Anh Nhan
|
Planet Unknown
|
Fox Renderfarm 2017 Achievements
|
CSFF
|
Julio Soto
|
boar 2017
|
Deep
|
SIGGRAPH Asia 2017
|
Chris Sun
|
Glass Cage
|
Making Life of Bri' n Chris
|
anthem studios
|
The Rookies
|
Peter Draper
|
Makuta VFX
|
Baahubali 2
|
CG Competition
|
enchantedmob
|
CG Studios
|
Academy Awards
|
CGVray
|
weeklycgchallenge
|
SketchUp
|
siggraph 2017
|
Chris Buchal
|
SIGGRAPH Asia
|
LightWave
|
Indigo Renderer
|
Rafael Chies
|
V-Ray RT
|
CPU Rendering
|
NVIDIA Iray
|
Chaos Group
|
OctaneRender
|
Redshift
|
STAR CORE
|
CICAF
|
VR
|
Mr. Hublot
|
Ribbit
|
GPU Rendering
|
Linux
|
Monkey Island
|
LuxRender
|
HPC
|
Render Farm
|
Life of Bri
|
WORLD LAB
|
Michael Wakelam
|
3D Rendering
|
Online Render Farm
|
Alibaba
|
Baahubali
|
阿里雲
|
Malaysia
|
VAX
|
Aliyun
|
2015 Hangzhou Computing Conference
|
Oscar
|
SIGGRAPH
|
CGTrader
|
Kunming Asia Animation Exhibition
|
Evermotion
|
RenderMan
|
Categories
---
Fox Renderfarm News
---
Fox Renderfarm Projects
---
Fox Renderfarm Lectures
---
CG Challenges
---
Top News
---
Blog
---
Fox News
---
Fox Talk
---
Trending
---
Recent News List
---
Fox Renderfarm, 2022년 연간 TPN 평가 프로세스 완료
2022-06-21
---
Ballerina: A CGI Fantasy Created by Kay John Yim
2022-06-15
---
시그라프 아시아 2022 컴튜터 아니매이션 페스티벌, 출품작 등록 시작
2022-06-08
---
ウィッシュ・ドラゴンから最大のウィッシュを見出す
2022-06-02
---
Zync Render 사용자가 알아두어야 두 가지 중요한 사항
2022-05-30
---
Call for Submissions: SIGGRAPH Asia 2022 Computer Animation Festival
2022-05-25
---
Zync Renderユーザーが知っておきたい2つの重要なこと
2022-05-17
---
Fox Renderfarm Evergreen Program in 2022
2022-04-29
---
Revealing Mitosis Process with Cinema 4D
2022-04-15
---
Partners