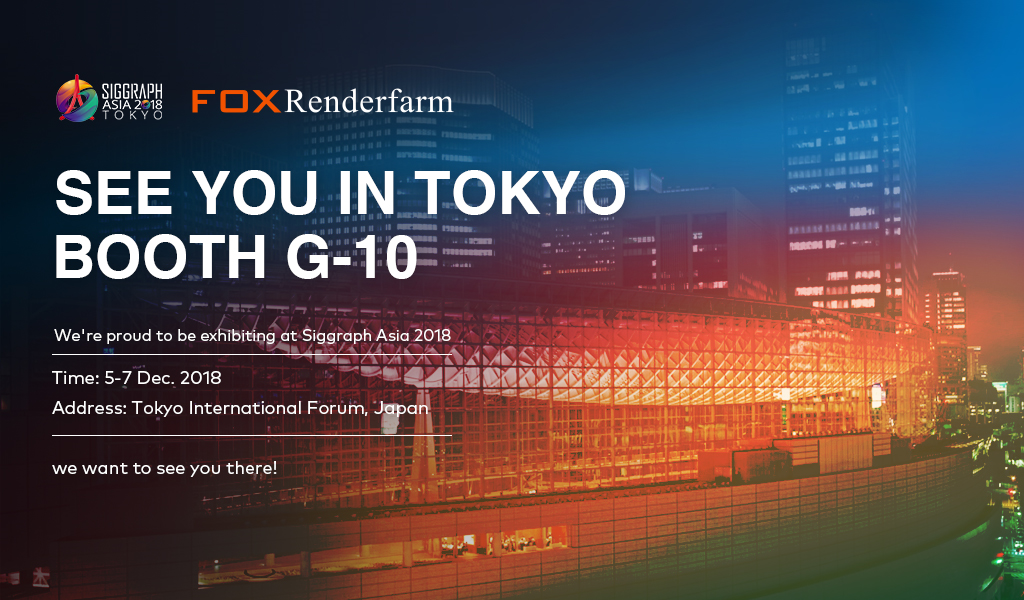 SIGGRAPH ASIA 2018 | Fox Renderfarm, Not Only A Render Farm
Fox Renderfarm News | Fox News
SIGGRAPH | Cloud Rendering Farm | cloud rendering
On 4-7 December 2018, SIGGRAPH Asia 2018 are helding in Tokyo, Japan. The annual SIGGRAPH Computer Graphics and Interactive Technology Conference and Exhibition is the premier event for academia, industry and the arts. Companies from all over the world will showcase cutting-edge technologies related to the computer graphics industry.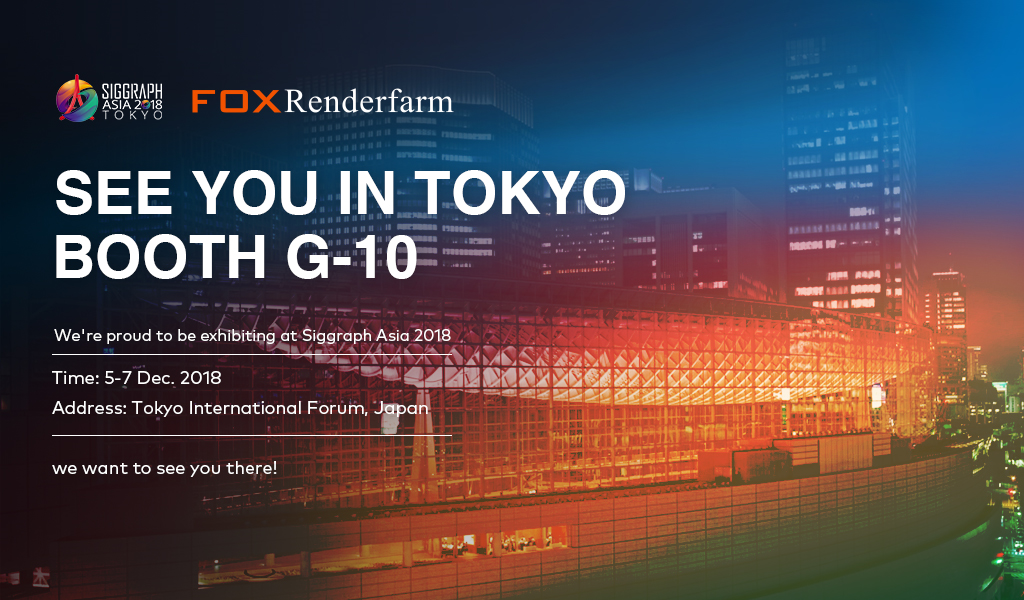 This year's SIGGRAPH Asia will feature "Crossover" as a theme to showcase the intersection of technology, art, culture and digital industries. In addition to traditional items such as technical papers, emerging technologies, art shows, computer animation festivals, courses, papers, technical posters and conferences, new content will be launched, like Real-time Live, VR Cinema and Product Gallery for viewers. Come to a fresh experience.
As the world's leading visual cloud rendering service platform, Fox Renderfarm has participated in SIGGRAPH Asia for three consecutive years. In the same period last year, Fox Renderfarm received many film and animation studio professionals from all over the world in Bangkok, to answer about cloud rendering technology and achieve cooperation. At the same time, Mr. Zheng Haibin, marketing director of Fox Renderfarm , was also invited to attend the SIGGRAPH ASIA sub-forum CG in China and the Student Volunteer Conference and delivered a speech.


In 2018, Fox Renderfarm participated in the rendering of the film including the movie "Detective Chinatown 2", "Monster Hunt 2", Tsui Hark's ten-year best work "Detective Dee: The Four Heavenly Kings", Zhang Yimou's ink painting movie "Shadow". The Chinese summer blockbusting TV plays "Legend of Fu Yao". The animated films including the "Boonie Bears: The Big Shrink", "Monkey Magic", "The Wind Guardians", "Duck Duck Goose", and more.
Now, Fox Renderfarm has a computing power up to 500,000 cores per hour, ranking among the top five in the world. One million artists from more than 50 countries and regions are using cloud rendering by Fox Renderfarm. In this exhibition, Fox Renderfarm, no only as a render farm! Fox Renderfarm will not only show the powerful cloud computing capabilities for the participants, but also launch the Raysync, the file transfer acceleration service, with 100 times transmission speed in one second, to improve efficiency for enterprise transmission.
SIGGRAPH Asia 2018 is just around the corner, let us look forward to it! At the same time, everyone is welcome to exchange and consult at the Fox Renderfarm booth (G-10).
Key Words
Cloud Rendering Farm
|
Annecy Festival
|
MILESTONES
|
Fox Renderfarm
|
Desktop Client
|
Blender
|
Bollywood films
|
Hum3D Contest
|
NVIDIA
|
Silkroad Digital Vision
|
Malaysian Animated Films
|
Indiajoy
|
Art Competitions
|
Architectural Visualization
|
CGarchitect Architectural 3Dawards
|
Best cloud rendering services
|
Render cloud
|
VFX
|
Upin & Ipin
|
Green Book
|
Fox Renderfarm Interview
|
Mission Mangal
|
Kre8tif!
|
Fox Renderfarm Mini Program
|
CG
|
CG Tech Summit Malaysia
|
film works
|
cloud rendering
|
Golden Horse Award
|
Shadow
|
SIGGRAPH Asia 2018
|
Morrigan Flebotte
|
VWArtclub Annual *Contest
|
animation works
|
Asswad Mouhamad
|
IMax Studio
|
Boonie Bears
|
Renderosity
|
Gary S. Kennedy
|
Evermotion Challenge 2018
|
Brian Beaudry
|
Alita: Battle Angel
|
Bobby Bala
|
Mohit Sanchaniya
|
Katapix Media
|
Flying Car Productions
|
Razer
|
The Shipment
|
FoxRenderfarm
|
CG Tech Summit
|
Alpacalypse Productions
|
halloween
|
Hum3d Survial Car Challenge
|
Federico Ciuffolini
|
Ralf Sczepan
|
Iavor Trifonov
|
Clarisse
|
CGTS Malaysia
|
Isotropix
|
C4D
|
Tomasz Bednarz
|
V-Ray
|
Cinema 4D
|
MAXON
|
siggraph caf
|
Evermotion challenge 2017
|
CGTrader Space Competition
|
film of the year
|
Le Anh Nhan
|
Planet Unknown
|
Fox Renderfarm 2017 Achievements
|
CSFF
|
Julio Soto
|
boar 2017
|
Deep
|
SIGGRAPH Asia 2017
|
Chris Sun
|
Glass Cage
|
Making Life of Bri' n Chris
|
anthem studios
|
The Rookies
|
Peter Draper
|
Makuta VFX
|
Baahubali 2
|
CG Competition
|
enchantedmob
|
CG Studios
|
Academy Awards
|
CGVray
|
weeklycgchallenge
|
SketchUp
|
siggraph 2017
|
Chris Buchal
|
SIGGRAPH Asia
|
LightWave
|
Indigo Renderer
|
Rafael Chies
|
V-Ray RT
|
CPU Rendering
|
NVIDIA Iray
|
Chaos Group
|
OctaneRender
|
Redshift
|
STAR CORE
|
CICAF
|
VR
|
Mr. Hublot
|
Ribbit
|
GPU Rendering
|
Linux
|
Monkey Island
|
LuxRender
|
HPC
|
Render Farm
|
Life of Bri
|
WORLD LAB
|
Michael Wakelam
|
3D Rendering
|
Online Render Farm
|
Alibaba
|
Baahubali
|
阿里雲
|
Malaysia
|
VAX
|
Aliyun
|
2015 Hangzhou Computing Conference
|
Oscar
|
SIGGRAPH
|
CGTrader
|
Kunming Asia Animation Exhibition
|
Evermotion
|
RenderMan
|
Categories
---
Fox Renderfarm News
---
Fox Renderfarm Projects
---
Fox Renderfarm Lectures
---
CG Challenges
---
Top News
---
Blog
---
Fox News
---
Fox Talk
---
Trending
---
Recent News List
---
Zync Renderユーザーが知っておきたい2つの重要なこと
2022-05-17
---
Fox Renderfarm Evergreen Program in 2022
2022-04-29
---
Revealing Mitosis Process with Cinema 4D
2022-04-15
---
MayaとZBrushでEpic Leviathan Roverの作成方法
2022-03-22
---
Interview with Squids Visual Arts, VFX Creator of the Vodafone x Salah Campaign
2022-03-11
---
Creating a Angry Snowman With Blender
2022-03-02
---
How to Render Realistic Snow With Blender
2022-02-28
---
SIGGRAPH Asiaは2021、東京で初のハイブリッド版が無事開催
2022-02-25
---
Interview With Andrey Oliver, Who Won First Place in the Student Category of FGT3D Snowman Challenge
2022-02-24
---
Partners