Fox Renderfarm Coupons for SIGGRAPH 2019 Student Volunteers!
Congratulations!
Special Gift from Fox Renderfarm
Dear,
As the sponsor and official partner of SIGGRAPH 2019, Fox Renderfarm will offer render coupon to all student volunteers in SIGGRAPH 2019. Receive the email sent from Fox Renderfarm and check your prize!
Coupon code: (Please check your email sent from Fox Renderfarm)
Login / Register on Fox Renderfarm

Click the Recharge button and choose the Coupon Recharge tab to input the coupon code
Fox Renderfarm reserves all rights for the final explanation.
The moments you can't miss
Fox Renderfarm @ SIGGRAPH 2019
Fox Renderfarm is honored to be one of the sponsors and would continually support the world's biggest computer graphics conference. In SIGGRAPH 2019, we had great conversations with visitors from the United States, Canada, Japan, France, Brazil, China and more.
Fox Renderfarm has interviewed so many cool people, from honored guest in SIGGRAPH to R&D Postdoctoral Associate in Disney Research Los Angeles, from environment artist devoted to his original project to visual effects supervisor of Green Book and so forth. Here's the trailer! Wanna see more? Please stay tuned with Fox Renderfarm, and more exclusive interviews will be released soon...read more→ Big Shots Here!Fox Renderfarm @ SIGGRAPH 2019
About
FoxRenderfarm
Fox Renderfarm is one of the leading cloud render farms in the industry. Fox Renderfarm's world-class professional cloud rendering solutions and tailor-made elastic large scale render pipeline with our professional services and industry-leading innovations, serving leading special effects, animation, architectural and entertainment industry around the world...read more→ Cloud Render Farm Company's Introduction Video
Recommended reading
---
How to Render High-quality Images in Blender
2020-03-09
---
Top 9 Best And Free Blender Render Farms of 2023
2022-05-09
---
Revealing the Techniques Behind the Production of Jibaro "Love, Death & Robots", Which Took Two Years to Draw the Storyboard
2022-06-10
---
How to Render Large Scenes with Redshift in Cinema 4D
2019-10-15
---
Top 10 Free And Best Cloud Rendering Services in 2023
2022-06-24
---
Top 8 After Effects Render Farm Recommended of 2023
2022-07-07
---
How to Reduce Noise in Corona Renderer - Corona Denoising
2019-05-15
---
Arnold for Maya Tutorial: How to Render Wireframe
2021-03-29
---
Partners
Previous: Using Arnold For Maya To Make A Work "Empress"
Next: V-Ray For Sketchup To Make A Rendering Imitate The Penda Style
Interested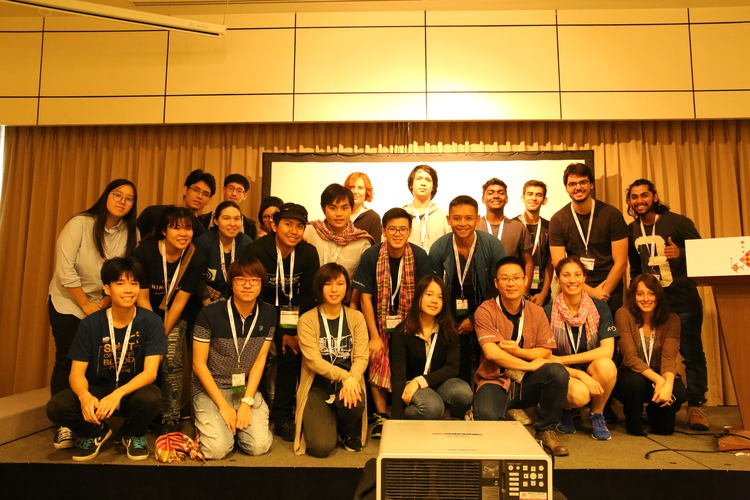 Fox Renderfarm Shines Like A Star at SIGGRAPH ASIA 2017
The 10th ACM SIGGRAPH Conference and Exhibition on Computer Graphics & Interactive Techniques in Asia was successfully held on 27-30th November 2017 at Bangkok International Trade & Exhibition Centre, Thailand. The 4 days SIGGRAPH Asia 2017 has attracted more than 7,000 CG industry experts, outstanding enterprises, practitioners and enthusiasts. There are a large number of professionals from CG field in Asia, more and more people wish to know more about the development of computer graphics and interactive technologies as well as their future trends. The SIGGRAPH Asia comprised of a total of 4 major exhibitions: Trade Exhibition (showcasing the latest innovative products and services), VR Showcase (a variety of fun virtual reality scenes), Art Gallery (mainly AR/VR/MR technology in the field), Emerging Technologies Exhibits (various emerging ideas and technologies). It also covers animation & visual effects, AR, cloud-based systems, computer graphics, gaming technologies, imaging, interactive & innovative technologies, virtual reality & simulation, visualization and other exhibitions.As one of the largest cloud render farm in the world, Fox Renderfarm is highly praised by both new and existing customers at the SIGGRAPH Asia 2017 in Bangkok. So far, Fox Renderfarm has provided rendering solutions for the 86th Academy Award the best animated short film "Mr. Hublot", the best-selling Indian film in the history "Baahubali: The Beginning" and "Baahubali 2: The Conclusion", another top grossing film in the Chinese box office record " Wolf Warrior 2 " and other amazing films such as "Bilal", "Kingsglaive: Final Fantasy XV", "L.O.R.D (Legend of Ravaging Dynasties)", "Throne of Elves" and many more.Fox Renderfarm booth has been so popular and received many visitors during the exhibition. We are truly overwhelmed by the support from the organizers as well as the attendees. This exhibition not only strengthened the cooperation between Fox Renderfarm and its existing customers but also helped new customers to understand the cloud rendering technology, patiently answered the cloud rendering process and promoted further cooperation.At the same time, Fox Renderfarm's parent company Rayvision has launched a new platform, VIVUE.io — Better efficient review platform for video content collaboration. VIVUE.io has attracted the attention of numerous film directors and producers. VIVUE.io is suitable for content creators and teams such as directors, producers, artists, designers, managers and media to solve common problems such as video upload, review and team collaboration anytime and anywhere in order to allow content creation becomes more efficient and convenient.As of now, VIVUE.io acts as the International Selection Jury Online Review Platform for the 8th China International New Media Short Film Festival.  VIVUE.io has tailored the virtual off-site online review platform for the juries and has received good appreciation from directors such as Paul Brown, Jiang Wenli, Ding Liang, Zhuo Botang and other well-known directors.Mr. Mike Zheng, Marketing Director of Fox Renderfarm and Head of VIVUE.io, was invited to attend SIGGRAPH Asia CG in China Summit and delivered a speech entitled "Rapid Development of the China's Film Industry". Also present at the CG in China summit were president of SIGGRAPH Hong Kong, Rick Xu; president of SIGGRAPH Shenzhen, Felix Yip; president of SIGGRAPH Shanghai, Dr. Simon Shum; vice president of SIGGRAPH Hong Kong; and Jos Stam, senior research scientist of Autodesk and two Academy Awards for Technical Achievement winner. Other guest speakers also included Mr. Chris Murphy from Shanghai and Mr. Quentin from Chengdu.The CG in China Summit guest speakers mainly shared the development status and trends of CG industry in China, including animation, VR industry, real-time rendering, and animation technology, which provided a face-to-face exchange between experts and scholars from Asia.Mr. Mike Zheng described on the three stages of CG film industry in China. Through data comparison and case analysis, Mr. Mike Zheng demonstrated the current situation and trend of the development of film industry in China. He explained the whole process of BAT composition to all attendees and also mentioned about the China's film market guaranteed box office issue and box office film distribution characteristics.At this year's Student Volunteer Session Closing Conference, Mr. Mike Zheng was also invited to attend and delivered a speech about Fox Renderfarm GoCloud program. In recent years, students creative works have gained many appreciations from film and television industry. Fox Renderfarm as the industry leader, in order to unleash CG students' unlimited potential, Fox Renderfarm has launched a unique GoCloud program to provide support for students who have ideas and creativities without financial ability and technical expertise to realize their dreams. The program includes educational discounts, rendering offers, creative and outstanding project support, technical support, professional guidance, as well as review & collaboration platform and more.This year's SIGGRAPH Asia, Fox Renderfarm also provides student volunteers with rendering and VIVUE.io review collaboration platform technical support in order to help them to realize their CG creation dreams!During the exhibition, Mr. Mike Zheng also received media interviews by giving a comprehensive introduction to Fox Renderfarm, VIVUE.io review & collaboration platform, as well as RaySync enterprise data transfer solution with the aim to further promote our brands reputation.Fox Renderfarm can be described as very productive at SIGGRAPH Asia 2017, Fox Renderfarm managed to develop and maintain the relationships with the new and existing customers; VIVUE.io started to gain attention from the industry; CG in China Summit and Student Volunteer Session ended with a unanimous welcome by the attendees and volunteers. The confidence of SIGGRAPH Asia for Fox Renderfarm's leading position in render farm industry along with the outstanding contribution is the most important reason that SIGGRAPH Asia decides to start such deep cooperations with Fox Renderfarm. And Fox Renderfarm really appreciated the awesome opportunity to present themselves in front of so many international 3D animation and VFX production companies. Let's take hand in hand to help enhance the development of CG industry.See You Next Year, SIGGRAPH Asia 2018 Tokyo!
Blender, Keyshot And Modo Will All Support RTX-based Rendering
Last week, SIGGRAPH 2019 was successfully finished. At this SIGGRAPH, the high-tech displays are still amazing. As the leading cloud rendering services provider, Fox Renderfarm supports both GPU and CPU, as one of the well-known GPU render farms, and one of Nvidia's partners, we are happy to know that several DCC applications, like Modo, Keyshot, and Blender, are announced to support Nvidia's new RTX GPUs on hardware-accelerated ray tracing. What is RTX? Is it Supported by Other Applications?First announced last March, RTX is Nvidia's implementation of DXR, and a new ray tracing extension for DirectX 12. Current RTX GPUs—GeForce RTX consumer graphics, Quadro RTX workstation graphics, and Titan RTX all have dedicated RT hardware cores for ray tracing calculations.These core software accesses were implemented through the ray tracing architecture provided by Nvidia Optix and announced for free commercial use in 2017. The rendering engine that now supports RTX includes Clarisse iFX, which is mainly for window preview.For final quality output, Arnold GPU, OctaneRender, Redshift, and Unreal Engine have alpha or beta implementations, the latter being primarily hybrid rasterization/ray tracing renderers.In Substance Painter and Substance Designer, RTX ray tracing is also used for texture baking. KeyshotThe Keyshot program will support RTX in the 9th version released this fall. The general function is that if the software detects a compatible GPU in the user system, a new button will appear on the Keyshot ribbon interface to enable GPU rendering. Otherwise, The scene will be rendered normally on the CPU. ModoIn modo, the situation is more complicated, because Foundry's 3D software already has a GPU rendering engine, which is similar to AMD's Radeon Prorender. In the current form, the prorender is primarily used as an interactive preview during asset development, while modo's original CPU renderer is used for the final quality output.Foundry's new RTX-based path tracking renderer seems to be a replacement for Reyes-based CPU renderers. Currently Foundry has not specified which version of modo will be available in the new RTX rendering engine, although "in the coming months" plans to release access versions to subscribers in advance. BlenderThere are also two rendering engines for Blender, although they have all been accelerated by the GPU.This time, the RTX integration is for the old Cycles engine, which has used Nvidia's CUDA API for GPU rendering - users without Nvidia cards use OpenCL and CPU rendering instead of the new OpenGL-based Eeve engine introduced in Blender 2.80.Like Keyshot, RTX support is switchable, users can select optix, cuda or opencl or pure CPU rendering via the checkbox in Blender's preferences.In the benchmarks posted on the Blender Developers blog, when running under OptiX, Cycles renders about twice as fast as the same Nvidia GPU when running under CUDA on the Nvidia GPU. The source code for the new implementation is public, but considering that Blender 2.80 has just been released, it may take some time for the RTX to be officially built. ConclusionWe hope you can learn something from this article. If you need a rendering service, why not try us at Fox Renderfarm, we have been the leading cloud rendering services provider in the industry for many years. Don't understand why you need a render farm? Then why not learn about what is a render farm? Fox Renderfarm continues to bring news of modelling with various 3D software, so feel free to follow us!
Siggraph2019, Fox Renderfarm Will See You In Los Angeles - Newsletter
To visit us at booth 1049 and see more from our company, get a complimentary Exhibits pass with this code: SHENZHEN19. We're proud to be exhibiting at SIGGRAPH 2019 28 July-1 August, in Los Angeles Looking forward to meeting you! Please contact us for appointments: Marketing Director: Rachel Chen +86 137 2863 1716 rachel@foxrenderfarm.com Recharge and reboot at SIGGRAPH 2019, as multifaceted as you are — featuring global innovators who are changing what 's possible in computer graphics, animation, VR, Gaming, and Emerging Technologies. know more → https://s2019.siggraph.org/A Unique Cultural Collision When M1911 Pistol Meets Blue-And-White Porcelain It is our honor to have an interview with Yi Sun, the first place winner in Hum3D ' s Three D Gun 2 Competition, which is sponsored by Fox Renderfarm. Here 's the interview between Fox Renderfarm and Yi Sun. Let's take a look at his creative process and behind-the-scenes story. Fox Renderfarm: What inspired you to come up with the idea of making the work Porcelain 1911? Yi Sun: The idea is very simple, combining two completely different objects together....read more → Fox's Got Talent! Your artwork is precious to Fox Renderfarm Show off your impressive 3D artwork which was rendered at Fox Renderfarm by entering Fox's Got Talent! You can also share your images with us by mentioning us on Twitter(@foxrenderfarm) OR on Facebook(Fox Renderfarm) with the hashtagFoxsGotTalent to get free $20 credits from us. Award-winning animation: Ice Box Physics Simulation by Sachin Verma watch more → Submit here! Visit Fox's Got Talent for more information.