Fox Renderfarm Shines Like A Star at SIGGRAPH ASIA 2017
2017-12-05
Fox Renderfarm | SIGGRAPH Asia 2017 | SIGGRAPH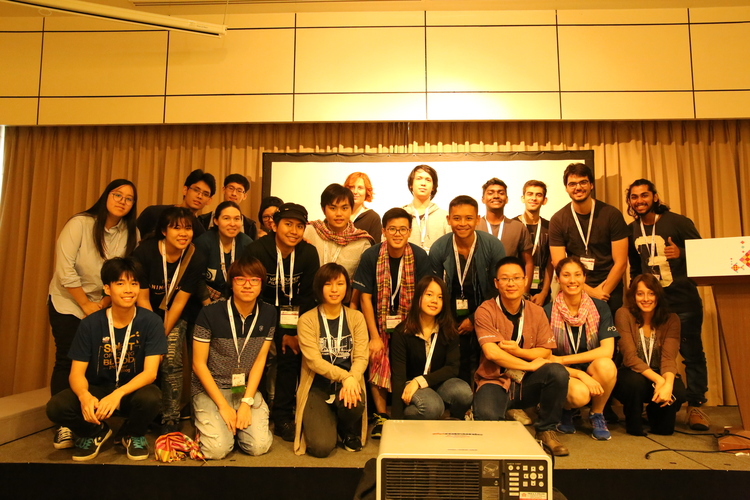 The 10th ACM SIGGRAPH Conference and Exhibition on Computer Graphics & Interactive Techniques in Asia was successfully held on 27-30th November 2017 at Bangkok International Trade & Exhibition Centre, Thailand. The 4 days SIGGRAPH Asia 2017 has attracted more than 7,000 CG industry experts, outstanding enterprises, practitioners and enthusiasts. There are a large number of professionals from CG field in Asia, more and more people wish to know more about the development of computer graphics and interactive technologies as well as their future trends. The SIGGRAPH Asia comprised of a total of 4 major exhibitions: Trade Exhibition (showcasing the latest innovative products and services), VR Showcase (a variety of fun virtual reality scenes), Art Gallery (mainly AR/VR/MR technology in the field), Emerging Technologies Exhibits (various emerging ideas and technologies). It also covers animation & visual effects, AR, cloud-based systems, computer graphics, gaming technologies, imaging, interactive & innovative technologies, virtual reality & simulation, visualization and other exhibitions.
As one of the largest cloud render farm in the world, Fox Renderfarm is highly praised by both new and existing customers at the SIGGRAPH Asia 2017 in Bangkok. So far, Fox Renderfarm has provided rendering solutions for the 86th Academy Award the best animated short film "Mr. Hublot", the best-selling Indian film in the history "Baahubali: The Beginning" and "Baahubali 2: The Conclusion", another top grossing film in the Chinese box office record " Wolf Warrior 2 " and other amazing films such as "Bilal", "Kingsglaive: Final Fantasy XV", "L.O.R.D (Legend of Ravaging Dynasties)", "Throne of Elves" and many more.
Fox Renderfarm booth has been so popular and received many visitors during the exhibition. We are truly overwhelmed by the support from the organizers as well as the attendees. This exhibition not only strengthened the cooperation between Fox Renderfarm and its existing customers but also helped new customers to understand the cloud rendering technology, patiently answered the cloud rendering process and promoted further cooperation.
At the same time, Fox Renderfarm's parent company Rayvision has launched a new platform, VIVUE.io — Better efficient review platform for video content collaboration. VIVUE.io has attracted the attention of numerous film directors and producers. VIVUE.io is suitable for content creators and teams such as directors, producers, artists, designers, managers and media to solve common problems such as video upload, review and team collaboration anytime and anywhere in order to allow content creation becomes more efficient and convenient.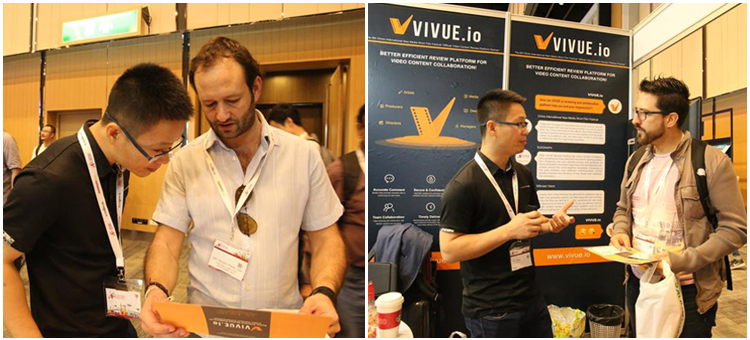 As of now, VIVUE.io acts as the International Selection Jury Online Review Platform for the 8th China International New Media Short Film Festival.  VIVUE.io has tailored the virtual off-site online review platform for the juries and has received good appreciation from directors such as Paul Brown, Jiang Wenli, Ding Liang, Zhuo Botang and other well-known directors.
Mr. Mike Zheng, Marketing Director of Fox Renderfarm and Head of VIVUE.io, was invited to attend SIGGRAPH Asia CG in China Summit and delivered a speech entitled "Rapid Development of the China's Film Industry". Also present at the CG in China summit were president of SIGGRAPH Hong Kong, Rick Xu; president of SIGGRAPH Shenzhen, Felix Yip; president of SIGGRAPH Shanghai, Dr. Simon Shum; vice president of SIGGRAPH Hong Kong; and Jos Stam, senior research scientist of Autodesk and two Academy Awards for Technical Achievement winner. Other guest speakers also included Mr. Chris Murphy from Shanghai and Mr. Quentin from Chengdu.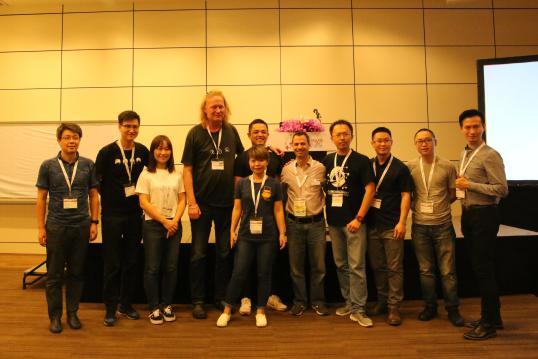 The CG in China Summit guest speakers mainly shared the development status and trends of CG industry in China, including animation, VR industry, real-time rendering, and animation technology, which provided a face-to-face exchange between experts and scholars from Asia.
Mr. Mike Zheng described on the three stages of CG film industry in China. Through data comparison and case analysis, Mr. Mike Zheng demonstrated the current situation and trend of the development of film industry in China. He explained the whole process of BAT composition to all attendees and also mentioned about the China's film market guaranteed box office issue and box office film distribution characteristics.
At this year's Student Volunteer Session Closing Conference, Mr. Mike Zheng was also invited to attend and delivered a speech about Fox Renderfarm GoCloud program. In recent years, students creative works have gained many appreciations from film and television industry. Fox Renderfarm as the industry leader, in order to unleash CG students' unlimited potential, Fox Renderfarm has launched a unique GoCloud program to provide support for students who have ideas and creativities without financial ability and technical expertise to realize their dreams. The program includes educational discounts, rendering offers, creative and outstanding project support, technical support, professional guidance, as well as review & collaboration platform and more.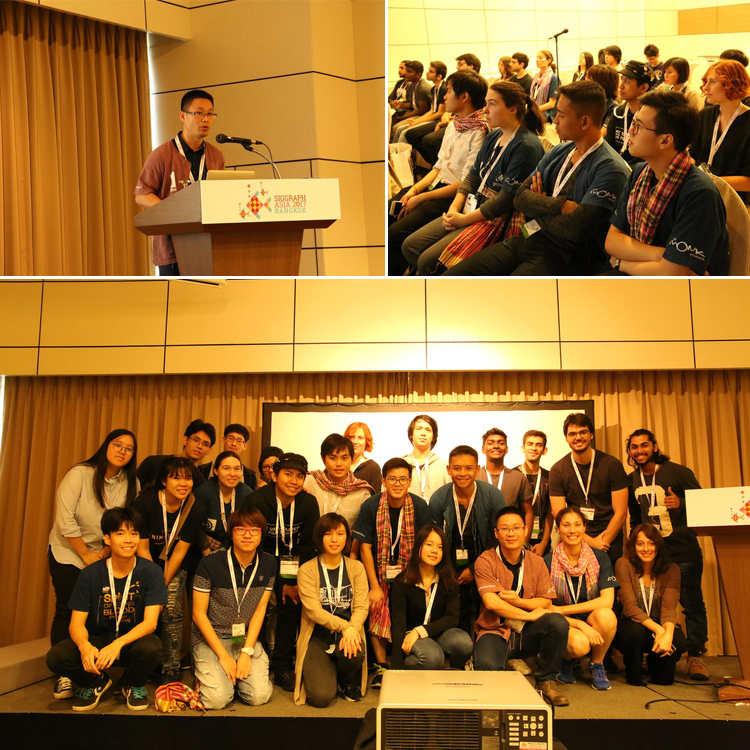 This year's SIGGRAPH Asia, Fox Renderfarm also provides student volunteers with rendering and VIVUE.io review collaboration platform technical support in order to help them to realize their CG creation dreams!
During the exhibition, Mr. Mike Zheng also received media interviews by giving a comprehensive introduction to Fox Renderfarm, VIVUE.io review & collaboration platform, as well as RaySync enterprise data transfer solution with the aim to further promote our brands reputation.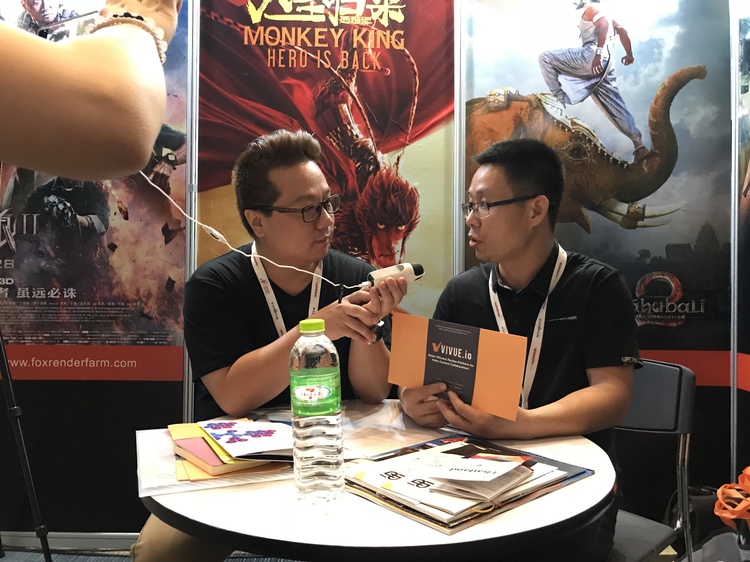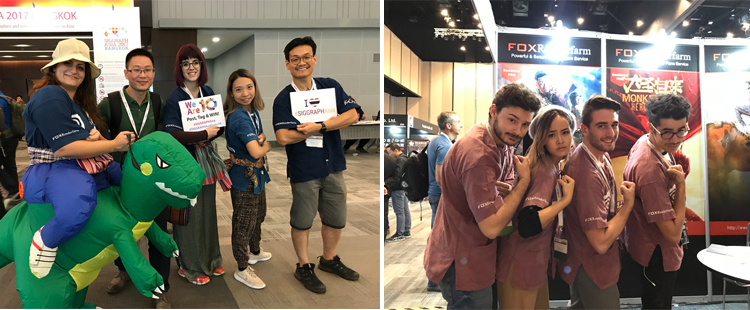 Fox Renderfarm can be described as very productive at SIGGRAPH Asia 2017, Fox Renderfarm managed to develop and maintain the relationships with the new and existing customers; VIVUE.io started to gain attention from the industry; CG in China Summit and Student Volunteer Session ended with a unanimous welcome by the attendees and volunteers. The confidence of SIGGRAPH Asia for Fox Renderfarm's leading position in render farm industry along with the outstanding contribution is the most important reason that SIGGRAPH Asia decides to start such deep cooperations with Fox Renderfarm. And Fox Renderfarm really appreciated the awesome opportunity to present themselves in front of so many international 3D animation and VFX production companies. Let's take hand in hand to help enhance the development of CG industry.
See You Next Year, SIGGRAPH Asia 2018 Tokyo!
Recommended reading
---
How to Render High-quality Images in Blender
2020-03-09
---
How to render large scenes with Redshift in Cinema 4D
2019-10-15
---
Arnold\ V-Ray\ Octane\ Conora\ RedShift, Which Is The Best 3D Renderer?
2019-04-15
---
Why V-Ray Render is Black in SketchUp And How To Fix it?
2019-05-07
---
How to Reduce Noise in Corona Renderer - Corona Denoising (2022 Updated)
2019-05-15
---
How the Redshift Proxy Renders the Subdivision
2018-12-28
---
What is the difference between pre-rendering and real-time rendering?
2020-09-08
---
Blender vs Maya vs Cinema 4D, Which One Is The Best 3D Software?
2020-01-16
---
Partners
Previous: A Perfect Ending for the 8th China International New Media Short Film Festival
Next: The 8th China International New Media Short Film Festival is Coming Soon!
Interested
FGT3D Explorer Challenge Winners Announced
As 2020 is a difficult year, we will all be explorers to seek hope in 2021. The explorer can be a traveller looking for a mysterious place, a spacecraft roaming through the Milky Way, or a doctor researching the vaccine. Please create your 3D render, show the explorer in your mind and explore your possibilities.3 Professional artworks and 3 Student artworks will be selected and awarded! Professional Category 1st Place!Main - Deepak Jain- Title: Hard Time- Created by Deepak JainWhat Deepak says*In this hard time where people are finding it hard to breathe and oxygen is costlier than life this was the only positive i never wanted. In a country of colors and love we are seeing helplessness and deaths but we have been a fighter and this too shall pass. In this picture I have portrayed the helplessness people are facing, sorrow and a little hope that we can fight this too.*What our jury says- Ben Cheung: Highly detailed scene, goose bumpy mood setting, great lighting and color temperature, deserted hospital equipment versus body and seems new dress makes this excellent art work very creepy.- Frank WANG Yefeng: A mesmerizing image! It makes one feel like being in the same room with this character. The photo-realistic rendering proliferates a sense of empathy. Simply moving!- Kariem Saleh: This indeed is looking like a hard time for the girl in the center of the frame. Lighting and color contrasts play nicely in this very atmospherically dense frame. The setting is visually rich, though very effective in using and reusing a limited amount of assets and geometry. You feel like you want to step into the screen and get her out of this misery.- Cenay Oekmen: Powerful storytelling.- Xcenselabs Team: The details are exquisite, Mottled walls, Rusty instruments....strong skills. The reverie space of the theme is very large. The atmosphere of sadness appeared on the paper. 2nd Place!Kay John Yim Explorer - John Yim- Title: Explorer Stumbling upon Heavenly Gates- Created by Kay John YimWhat John says*Children are often believed to have memories before they were born - for some believe fairy tales are young boys and girls' recollections of the pre-existence world, fractals of flashbacks that give us a glimpse into "Heaven".**What's lesser-known is that since one's worldview only settles when they reach 11 years old, children perceive the world through a pair of unbiased lens, and are able to see what adults would subconsciously discard as fiction or fantasy.**For this reason, they are also seen as Explorers living in their own worlds of fantasy, exploring their own memories of pre-existence - except that their tales of Heavenly Gates and Angel Stories are not memories before they were born, but rather unbiased perceptions of our reality visible only to the sinless minds.*What our jury says- Miho Aoki: I think many of us had childhood experiences where we wandered in bushes and suddenly realized we have come very far from home. We turned around and went home, but this image made me think what'd if we keep going a bit farther. Maybe we got totally lost or maybe walked into something magical like this scene. The lighting and the flying flower petals show a suspended moment of wonderment of the child encountering the angel and the gate.- Corona Renderer Team: There is a genuine sense of wonder captured in the image, and I think a sense of wonder is what drives all explorers. Also, with the child being the explorer here, it takes me back to being a kid when every day was an adventure, and I would head out over the beach or down a disused railway line never knowing what magic I would find (or at least conjure in my imagination as to what might be around the next corner or over the next hill!) 3rd Place!leaving-the-colony-- Title: Leaving the colony- Created by David AgueroWhat David says*The colony settlement was a failure, I'm the last colonist to leave, don't come back, everything is falling apart - end of message.*What our jury says- Frank WANG Yefeng: Very rich colors and visual elements in a single frame. The composition suggests a very successful sense of depth. I can't stop imagining what it will look like if it's converted to a VR environment.- Miho Aoki: A spaceship is leaving a town on the bottom of a cliff. The town appears to be some sort of a mining operation or settlement. The artist used colors and surface materials very effectively. The color of the town is like the rocks and doesn't look like a very good place to live. The spaceship is painted green and looks very different from the town. It makes me wonder if the spaceship is escaping from the dying town or on a mission to save it, but it looks like a great adventure is waiting for the people aboard.- Corona Renderer Team: I like the sense of motion in this one, the spaceship setting out on a journey to who-knows-where. Whether that is their home behind them and they are setting out for new places, or whether they discovered the colony behind them and are returning home to report their findings, there is a definite sense of exploration in this one.- Xcenselabs Team: The details are exquisite, the pattern on the rock, Reflections in the water....strong skills. Visual sense is like film. Student Category 1st Place!Render 01Tim- Title: Subway 2041- Created by Tim JagodkaWhat Tim says*A post apocalyptic Subway entrance that is being discovered after a civil war.*What our jury says- Frank WANG Yefeng: The graffiti sign states "no future," which resonates really well with the scene outside of the subway exit. It makes one wonder what has happened outside. This is a very inspirational approach to depict a post-apocalyptic world.- Miho Aoki: Are we looking through the eyes of someone who just came out from a safe space underground after a catastrophic event on Earth? It looks as if the person is venturing out to the outside world after years of staying underground. The grown plants indicate it's been a long time since they evacuated from the outside world. Bright light is blinding and masking the view of the outside. We can just imagine how the world looks like and what the person will encounter out there. The graffiti suggests that people once lost hope, but this person dares to go out to the world and explore. The lighting is excellent, and the artist used the contrast between light and dark very effectively.- Cenay Oekmen: Nice light setup and very good texture work.- Xcenselabs Team: Very lifelike characters. The light at the exit is hopeful. 2nd Place!Under the Sea - Rafael García del Valle- Title: Underwater- Created by Rafael Garcia del ValleWhat Rafael says*Explorers finding weird creatures deep in the ocean.*What our jury says- Miho Aoki: The artist created the mysterious underwater feel and sense of depth and scale successfully with the lighting and colors. The color scheme with blue contrasting with red and yellow is beautiful. It looks like the underwater explorers are doing some research and just realized giant marine organisms appeared. The contrast between the dark and rigid-feeling silhouettes of the submarine and rocks and the round forms and bright colors of the creatures enhance the organic feel of the creatures. It makes us wonder what is going to happen next.- Kariem Saleh: The picture sucks you right in and deeply under the sea's surface. You want to join the explorers of this image on their journey into the unknown. This could be right out of a Jules Verne sci-fi movie. The steampunk design elements play extremely well with the organic nature of the creatures and rock scape. Awesome work!- Corona Renderer Team: I love how this reminds us that there is so much exploration still to be done right here at home - the depths of the oceans are still such a mystery! And I like how the creatures are both fantastic, yet very plausible. To wrap it up, the dynamic poses of the characters in the scene give a sense of drama and action, it looks like they were exploring some rocks or other structures when suddenly a never-seen-before behemoth comes into view. 3rd Place!Explorers-from-the-future AndreyOliver FGT3DAndrey-Oliver- Title: Explorers from the future- Created by Andrey OliverWhat Andrey says*Imagine if we humans, in the distant future exploring the borders of our dimension, rediscovered ourselves in the past, thinking that it is another species.*What our jury says- Ben Cheung: One of the best student works, believable lighting, mood setting, attention to details, even the No parking sign are rendered nicely, though the background forest looked a bit flat, otherwise excellent work.- Frank WANG Yefeng: The image has a great sense of humor. We don't know who is landing this aircraft, but obviously the pilot doesn't understand the "No-Parking" sign!- Kariem Saleh: Great combination of painterly looks and 3D rendering. who didn't ever park his ship in a no-parking spot? The cartoony and still technical design of the vehicle looks absolutely stylish. The colors of the paint finish pop out greatly surrounded by this rough and hazardous landscape.Want to see the full finalists? More information FGT3D Explorer Challenge
FGT Art December Winner Announced
Let's give it up for the FGT Art December winner!Congrats! The amazing artwork, Nostalgia: Shirakawa-gō(白川郷), is created by our friend Kay John Yim, an excellent Chartered Architect based in London.!kay-john-yim-201110-shirakawa-red!kay-john-yim-201107-shirakawa-og-final!kay-john-yim-201107-shirakawa-og-final-2!kay-john-yim-201110-shirakawa-red-clayWho's our next FGT Art winner? Shine your talent and win great prizes! Hit the link and know more https://www.foxrenderfarm.com/fox-got-talent.html
FGT Art November Winner Announced
Let's give it up for the FGT Art November winner!Congrats! The artwork, Twilight at The Battle Gallery, is created by our friend Kay John Yim, an excellent Chartered Architect based in London. And here is the interview between Fox Renderfarm, the powerful GPU & CPU cloud render farm, and the November winner John regarding the other artwork, The Mirage Castle: a Fantasy War Tale: https://www.foxrenderfarm.com/news/making-a-gothic-castle-with-strong-silhouettes-in-cinema-4d/Who's our next FGT Art winner? Shine your talent and win great prizes! Hit the link and know more about the FGT Art campaign: https://www.foxrenderfarm.com/fox-got-talent.html.