A Redshift Production Breakdown and Experience Sharing from Lighting/Rendering Artist Jiaxuan Wang
2022-02-14
Redshift | Redshift render farm
Final Render
In this article, Fox Renderfarm, the best could rendering service provider, will share with you a Redshift production breakdown and experience sharing from lighting/rendering artist Jiaxuan Wang.
Introduction: Hi, everyone! This is Jiaxuan Wang. I'm so happy to have gained some popularity for my artwork and have seen my progress along the way.
We were given a pretty complex theme, especially on the modeling and lighting. I rendered it with Redshift.
Render without Lighting
We can separate the models into 6 sections: foreground, the bridge, architectures on both sides, the cathedral, background and the crowd. When I started dealing with the rendering, it took a very long time since there were too many polygons. Before I could optimize the models, it took nearly 6 minutes just to read the models. So I decided to separate the models. Coincidentally, I found that after dealing with some unnecessary UVs, and combining some models, the time of the input process and the size of the files both would shrink drastically. This allowed me to manage the lighting and rendering with all the models. Thus, for the second time, I input all the 6 files into one to render with Reference. Speaking of texturing, most of the models are attached with textures. Some silhouettes and simple models, I chose to use simple color texture to save time. And the lighting part, besides the radiating window, there are 240 lights in total. A lot of Area Lights were used. Through adjusting the position, strength and so forth to add more details.
The first render is not that satisfying. Since this is my first time dealing with this kind of fantasy style, I paid too much attention to working on the fog but ignored the importance of basic lights. Additionally, I just simply multiplied the lights without finding the main light source, which turned out to be a lot of shadows and strong contrast without fine details. My teacher recorded a long video to give me some advice, telling me details like the foreground is too bright, it is too hollow under the bridge, there is no visual focus in the image, etc. I was more experienced on my second render. And I began to think like a concept artist, considering the position of the lights and how I want the shadows and contrast to transit in the picture. Then comes the ambient adjustment, about the fog. Most of them were composited in Nuke afterwards according to my teachers' advice.
Nodes Tree
Recommended reading
---
How to Render High-quality Images in Blender
2020-03-09
---
How to render large scenes with Redshift in Cinema 4D
2019-10-15
---
Arnold\ V-Ray\ Octane\ Conora\ RedShift, Which Is The Best 3D Renderer?
2019-04-15
---
Why V-Ray Render is Black in SketchUp And How To Fix it?
2019-05-07
---
How the Redshift Proxy Renders the Subdivision
2018-12-28
---
How to Reduce Noise in Corona Renderer - Corona Denoising (2022 Updated)
2019-05-15
---
Blender vs Maya vs Cinema 4D, Which One Is The Best 3D Software?
2020-01-16
---
What is the difference between pre-rendering and real-time rendering?
2020-09-08
---
Partners
Previous: 3D Modeling Tutorial: Handheld Fan
Next: 3ds Max Tutorial: How to Make a Cyberpunk Environment
Interested
Using redshift to render a work Zen Bamboo
This time, the cheapest cloud render farm for VFX, animation, CGI projects in the world, Fox Renderfarm wants to use a case to show the powerful rendering features of Redshift.In this case, C4D and Redshift are used to render a photo-level picture of fresh bamboo. The main elements in this picture are composed of several parts, bamboo and glass bottles, which are the most prominent places in the picture. The difficulty lies in the part of the bamboo, especially the part of the bamboo texture. Scene constructionThe elements of the scene are simple, including tables, books, clocks, bottles and plants in the foreground. It is also possible to use some existing models directly, and choose an angle that shows the bamboo. It is still very simple to see the entire project now.The bottle uses an existing model and there is a layer of water inside the model.There is still a problem. The bottle is empty and needs to add some stones and bamboo. So, to make a stone first, you can add a launcher under Simulate / Particles / Emitter to make a stone.!Zen Bamboo-1 Transmitter settings,!Zen Bamboo-2 Create a sphere to make a stone, then make a different shape, drag all the stones under the emitter, then play to a suitable height and convert the stone into an object. The floating stones can be hidden.!Zen Bamboo-3 Create a bamboo using a Tube.!Zen Bamboo-4!Zen Bamboo-5Create other items for the scene, the wall and the wooden table.!Zen Bamboo-6Place the camera:!Zen Bamboo-7 MaterialThe material starts from the simplest. All the props do not use the Redshift material, but use the Cinema 4D's own shader.The background wall adds a default material to place the lights.!Zen Bamboo-8Add wood grain to the board. !Zen Bamboo-9 Next, the bottle material uses the default Glass. After adjusting the value, copy a layer of glass material to the water level, modify the preset Water, and continue to adjust the value. !Zen Bamboo-10 The stone material uses a random color that makes the stone look more versatile.!Zen Bamboo-11 The bamboo material uses a gradual overshoot to increase exposure.!Zen Bamboo-12 Make a bamboo node using Vertex Attribute and Ramp.!Zen Bamboo-13 Lighting and adding other itemsIn addition to Dome Light, you need to add an Infinite Light to change the brightness and keep the scene from being too bright. Adding a plant from the own plant library to the foreground of the lens, you can see that the effect of the lens is already very good. But trying to achieve the best results requires constant experimentation.!Zen Bamboo-14 Add other items, clocks, books, milk cartons, and photo frames to the scene, all using existing models and materials. Then output the test results.!Zen Bamboo-15 Post-production adjustmentAdjust brightness, contrast, exposure, and change colors.!Zen Bamboo-16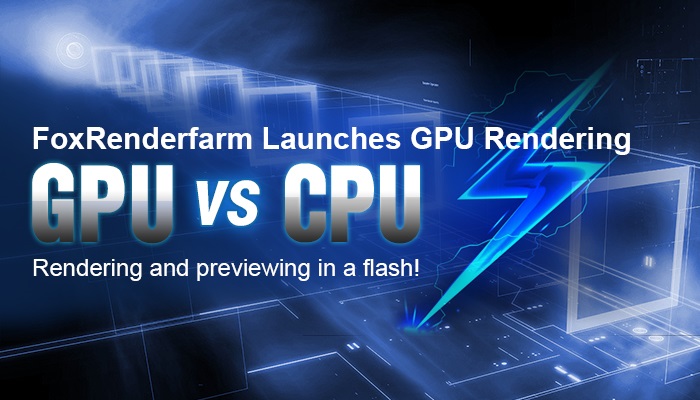 Fox Renderfarm Launches GPU Rendering
Rendering and previewing in a flash! The craze for Marvel's superhero movie Deadpool swept over the world.As the first full CGI realistic human feature film in Asia, Legend of Ravaging Dynasties dominated the headlines once the trailer came out.These two movies were rendered with GPU rendering engines.Obviously, GPU computing card and GPU rendering engines are gradually used in film production. It is a good start!Now, as the leading render farm in the industry, Fox Renderfarm launches GPU rendering. Let's start free trial with Fox Renderfarm's GPU rendering. Let's get it started! What's the differences between GPU and CPU? A simple way to understand the difference between a CPU and GPU is to compare how they process tasks. A CPU consists of a few cores optimized for sequential serial processing, while a GPU has a massively parallel architecture consisting of thousands of smaller, more efficient cores designed for handling multiple tasks simultaneously. Adam Savage and Jamie Hyneman made a painting demonstration to show the difference between CPU and GPU: Mythbusters Demo GPU versus CPU What's the advantage of GPU Rendering ?In the field of graphics rendering, not only films and animations, but also CG art, GPU with its computing ability and architecture specially designed for graphics acceleration provides the users with a more efficient rendering solution, namely the GPU rendering solution. GPU rendering has great advantage of fast speed and low cost. Moreover, GPU rendering becomes more and more available now, lots of works with high quality rendered with GPU has come out. GPU rendering tends to be popular with users at home and abroad.Thinking of the CPU as the manager of a factory, thoughtfully making tough decisions. GPU, on the other hand, is more like an entire group of workers at the factory. While they can't do the same type of computing, they can handle many, many more tasks at once without becoming overwhelmed. Many rendering tasks are the kind of repetitive, brute-force functions GPUs are good at. Plus, you can stack several GPUs into one computer. This all means GPU systems can often render much, much faster!There is also a huge advantage that comes along in CG production. GPU rendering is so fast it can often provide real-time feedback while working. No more going to get a cup of coffee while your preview render chugs away. You can see material and lighting changes happen before your eyes.GPU Renderer 1.Redshift is the world's first fully GPU-accelerated, biased renderer and it is also the most popular GPU renderer. Redshift uses approximation and interpolation techniques to achieve noise-free results with relatively few samples, making it much faster than unbiased rendering. From rendering effects, Redshift can reach the highest level of GPU rendering, and render high quality movie-level images.2.Blender Cycles is Blender's ray-trace based and unbiased rendering engine that offers stunning ultra-realistic rendering. Cycles can be used as part of Blender and as stand-alone, making it a perfect solution for massive rendering on clusters or at cloud providers.3.NVIDIA Iray is a highly interactive and intuitive, physically based rendering solution. NVIDIA Iray rendering simulates real world lighting and practical material definitions so that anyone can interactively design and create the most complex of scenes. Iray provides multiple rendering modes addressing a spectrum of use cases requiring realtime and interactive feedback to physically based, photorealistic visualizations.4.OctaneRender is the world's first and fastest GPU-accelerated, unbiased, physically correct renderer. It means that Octane uses the graphics card in your computer to render photo-realistic images super fast. With Octane's parallel compute capabilities, you can create stunning works in a fraction of the time.5.V-Ray RT (Real-Time) is Chaos Group's interactive rendering engine that can utilize both CPU and GPU hardware acceleration to see updates to rendered images in real time as objects, lights, and materials are edited within the scene.6.Indigo Renderer is an unbiased, physically based and photorealistic renderer which simulates the physics of light to achieve near-perfect image realism. With an advanced physical camera model, a super-realistic materials system and the ability to simulate complex lighting situations through Metropolis Light Transport, Indigo Renderer is capable of producing the highest levels of realism demanded by architectural and product visualization.7.LuxRender is a physically based and unbiased rendering engine. Based on state of the art algorithms, LuxRender simulates the flow of light according to physical equations, thus producing realistic images of photographic quality. GPU Computing Card Parameter Table Now Fox Renderfarm is applicable to Redshift for Maya and Blender Cycles. There are more than 100 pieces of NVIDIA Tesla M40 cards in Fox Renderfarm cluster, each server has 128G system memory with two M40 computing cards. Welcome to Fox Renderfarm to experience the super fast GPU cloud rendering!
How to render large scenes with Redshift in Cinema 4D
How to manage large scenes in Cinema 4D's Redshift renderer, how to optimize things in the scene, and how to optimize rendering settings in the Redshift renderer. These are relatively far-reasonable things. How to optimize them is very helpful for scene management.- Proxy fileFor the Redshift renderer, you can generate proxy files from the scene and export them before rendering. For trees, the scenes with a lot of flowers and grasses are very suitable for the Redshift renderer. This is the theme that the leading cloud render farm in the CG industry, Fox Renderfarm, brings to you in this article.!How to render large scenes with Redshift in Cinema 4D How to generate a proxy file? Now you need to generate the proxy file and export the Redshift Proxy (*.rs) to where it is needed. Proxy settings: after the 'Add', 'Proxy to Scene' are checked, the generated proxy file will generate a proxy file in the location where you want to export the file. If the exported file is animated, then 'Range' must be changed to 'All Frames'. Then the generated proxy file will not occupy too many scene resources, and the production software operation will be smooth. And if you use a proxy file for replication, it will also reduce the resources of the system. !How to render large scenes with Redshift in Cinema 4D !How to render large scenes with Redshift in Cinema 4D Like the scenario below, most of the models are proxyed, so the rendering resources needed are even more economical. Take the following scenario as an example. Its number of faces is very large, and it will be stuck when it is operated. And all the models in the scene do not use proxy files, so you must optimize the rendering settings.!How to render large scenes with Redshift in Cinema 4D - SamplingBefore optimization, you must have a certain understanding of the working principle of Redshift. In the default case of Redshift, it does not emit light to the object through the light to show the light and dark effect. Redshift is the light emitted by the camera, hit on the object, and then the object will look for the source of the light to present the light and shade, which is somewhat different from other renderers.!How to render large scenes with Redshift in Cinema 4DThe two values in the picture below are generally used to reduce noise. Samples Min means that the minimum amount of light emitted from the camera is four, and the value below Samples Min can adjust the secondary reflection of the object.!How to render large scenes with Redshift in Cinema 4D Sampling principle !How to render large scenes with Redshift in Cinema 4D Noise The Samples MAX value, if adjusted too high, the camera calculations consume more resources, rendering time will increase a lot. In general, the values are around 64. However, if the motion blur is turned on, then the value should be at least 256 or so.!How to render large scenes with Redshift in Cinema 4D Samples Min=4, Samples MAX=256!How to render large scenes with Redshift in Cinema 4D Samples Min=4, Samples MAX=16If the noise is obvious, try to adjust the 'Brute Force GI/Number of Rays' under GI.!How to render large scenes with Redshift in Cinema 4DGI adjustmentThe 'General/Primary GI Engine' under GI is a primary feature, and the Secondary GI Engine controls the number of bounces.!How to render large scenes with Redshift in Cinema 4DCalculating the GI information of the scene under /Primary GI Engine/Irradiance Caching will be faster. The number of light carried by Num Rays, Adaptive Amount represents the attenuation ratio of divergent rays. If Num Rays is 200, then Adaptive Amount 0.8 will decay by 80%. !How to render large scenes with Redshift in Cinema 4D The above are several ways to optimize large scenes and rendering. By optimizing the scene and rendering settings, you can save more time and resources during rendering, and better complete the scene production.