FGT Art 2021 January Winner Announced
Let us introduce you to the first FGT Art of the Month 2021: Eternity (一笑一尘缘,一念一清静。)!
This amazing artwork, Eternity (一笑一尘缘,一念一清静。), is created by our friend Kay John Yim, an excellent Chartered Architect based in London. The artwork also has a beautiful caption:
To see a World in a Grain of Sand
And a Heaven in a Wild Flower,
Hold Infinity in the palm of your hand
And Eternity in an hour.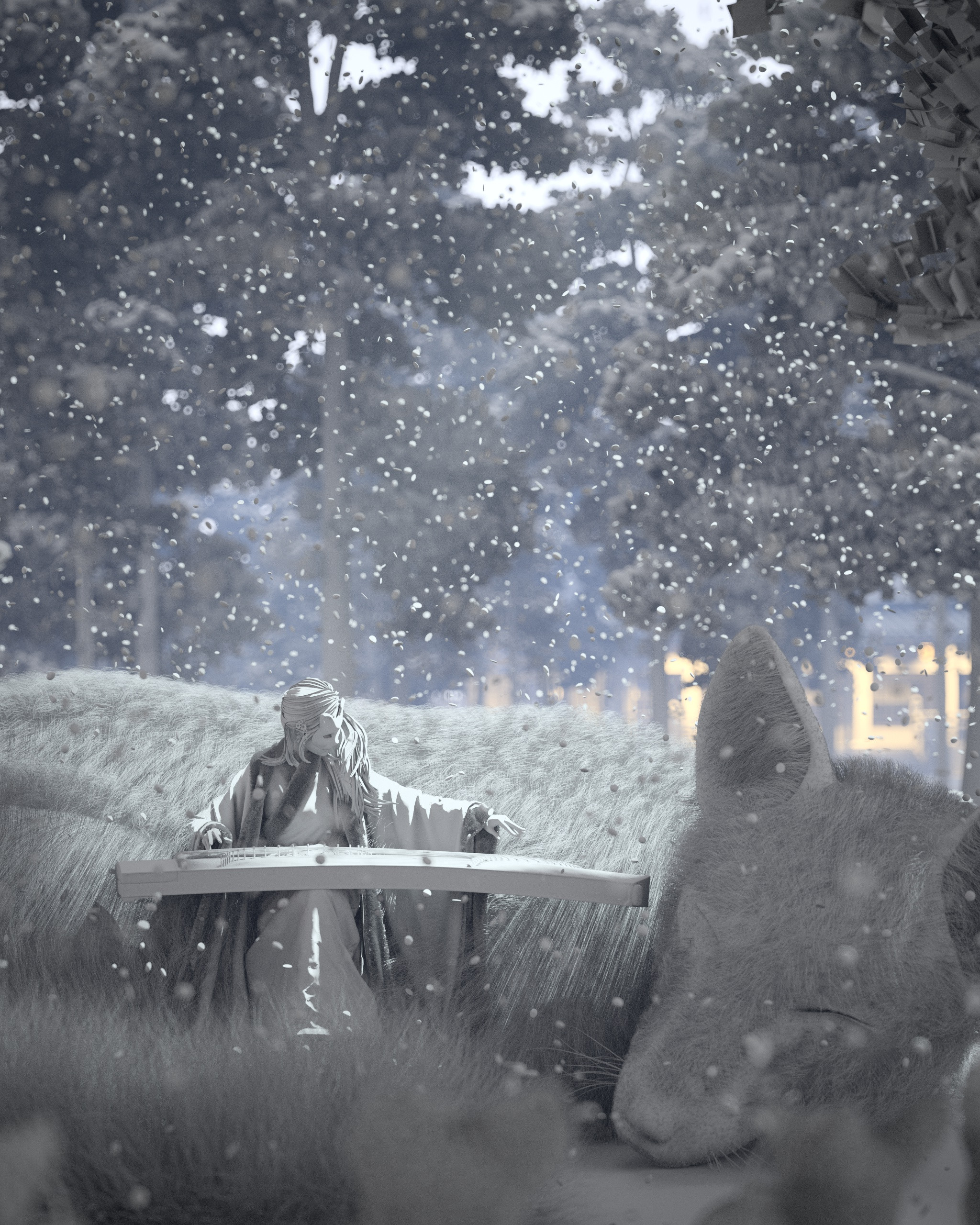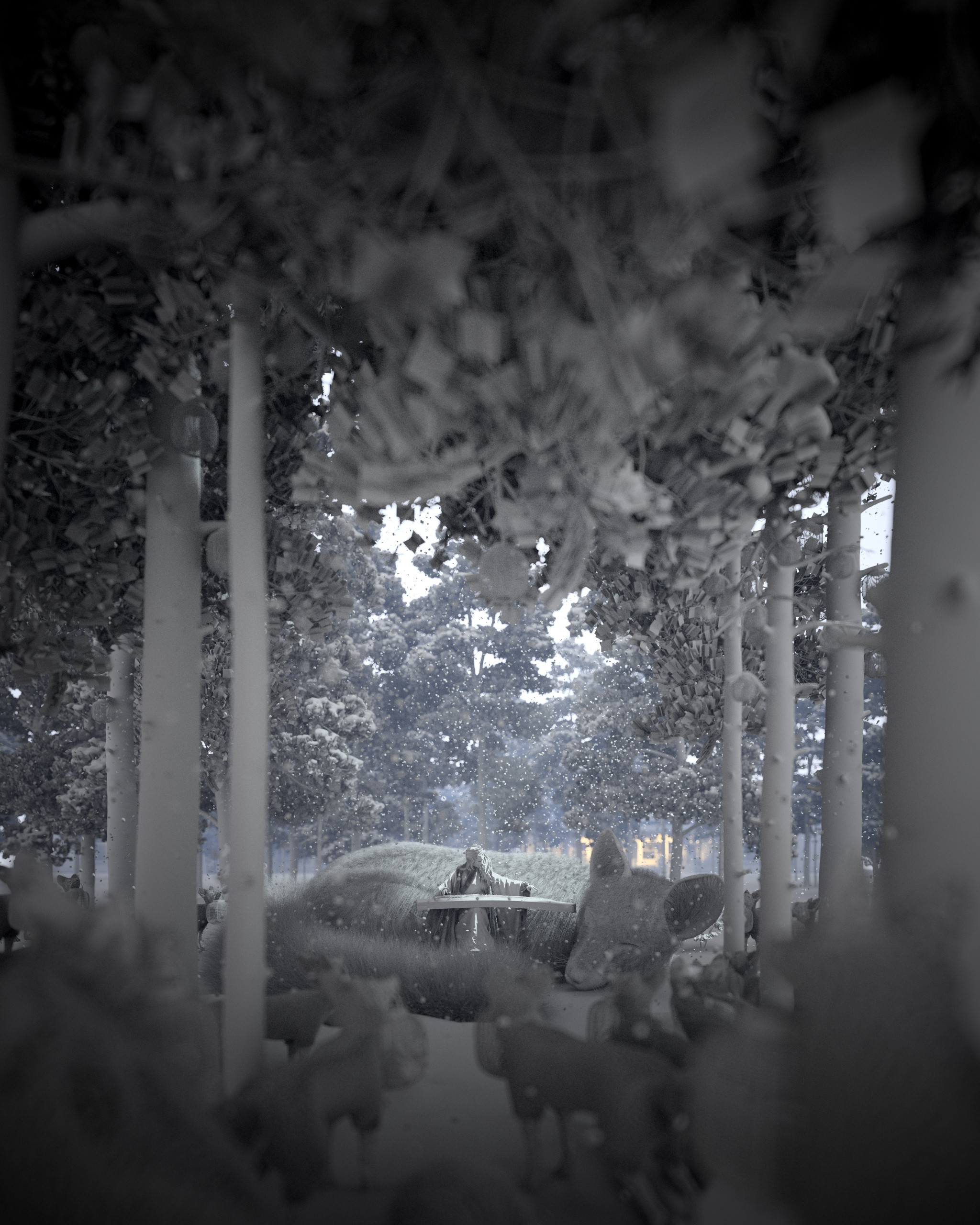 Who's our next FGT Art winner? Shine your talent and win great prizes! Hit the link and know more https://www.foxrenderfarm.com/fox-got-talent.html
Recommended reading
---
How to Render High-quality Images in Blender
2020-03-09
---
How to render large scenes with Redshift in Cinema 4D
2019-10-15
---
Arnold\ V-Ray\ Octane\ Conora\ RedShift, Which Renderer Is The Best?
2019-04-15
---
How the Redshift Proxy Renders the Subdivision
2018-12-28
---
Maya 2018 Arnold's Method of Making Motion Vector Blur in AOV Channel
2018-12-26
---
Blender vs Maya vs Cinema 4D, Which One Is The Best 3D Software?
2020-01-16
---
China Film Administration Release New License Logo
2019-01-09
---
Corona Renderer Learning - Denoising
2019-05-15
---
Partners
Previous: Blender Tutorials: The Process of Making the Guyver 3 Dark Gigantic(1)
Next: New Trailer for Raya and the Last Dragon
Interested
2021 FGT Art May Winner Anahad Kashyap
How to create a cute story about a little bulb by Blender? Introducing FGT Art May Winner, Anahad Kashyap, a young freelance artist who is proficient in Blender regarding modelling, animating, and rendering. As a platform to show CG talent, FGT Art welcomes CG artists all over the world to show off their impressive 3D artworks which were rendered with the best render farm, Fox Renderfarm. Learn more: How to Create a Cute Story About a Little Bulb by Blender: Introducing FGT Art May Winner, Anahad Kashyap!Ignore-Anahad-Kashyap!anahx-kashyap-123456789123456798
Let's Give It Up For The FGT Art June Winner, 2021!
Let's give it up for the FGT Art June winner, 2021!Congrats to our FGT Art June Winner, 2021! The amazing artwork, Ottoman Legacy - Dolmabahce Palace, is created by Kay John Yim, an excellent Chartered Architect based in London.Caption:Sitting at the continental boundary between Europe and Asia - Dolmabahace Palace is touted as the most extravagant palace in the world - Scholars have even claimed that the huge construction expenditure has contributed to the downfall of the Ottoman Empire. It is constructed almost entirely in marble, crystal and gold, and houses some of the most outrageously expensive furnishings, artefacts and decor beyond compare.Home to six Turkish Sultans and the first President of the Republic of Turkey, the design of the palace was a synthesis of Baroque, Rococo, Neoclassical and traditional Ottoman architecture - a unique aesthetic and architectural language yet to found elsewhere.Every angle, every detail of Dolmabahace Palace screams excellence in design, craftmanship and materiality - of which are all encompassed within its water-front facade spanning along the Bosporous Strait shoreline - a grandiose icon of the Ottoman legacy.!kay-john-yim-210515-dolmabahce-palace-day-clayClay Render!kay-john-yim-210416-dolmabahce-palace-2-0001Final Render - Straighton Elevation
How to Make a Viking Warrior in Maya and ZBrush(2)
Fox Renderfarm, the best CPU and GPU render farm, will still bring you the tutorial about how to make a Viking Warrior in Maya and ZBrush from 3D Character Artist Yuyong Jie. Production of low-polygon modelsAfter the high-poly model was completed, I made a topology on it. The character's face and limbs are reduced to the low-polygon model obtained by subdividing the original model, and then enter TopoGun3 for appropriate modification and matching. If the requirements are not very high, we can also directly use the plug-in to delete the model to get the final model. If some places are very different, we may need to re-topology. The topology needs to pay attention to the position of the line, the joints need to be more, and the invisible faces are deleted. If you encounter large undulating folds, we need to increase the line appropriately.!How to Make a Viking Warrior in Maya and ZBrush Baking and material makingAfter all the objects are topological, I split the low polygon model again by UV, and consider how many textures to make according to the expected requirements. PS: The structure that can be straightened by UV should be straightened as much as possible so that the UV space utilization rate will be higher when placed. After setting up the UV, the model can be baked. I usually use MAYA for baking, but this time I want to try Marmoset Toolbag3. It is said that his operation is also very convenient. Next, import the low poly model into Substance Painter for material production. By the way, pour the previously baked textures into Substance Painter, and then bake the remaining unbaked textures to complete the texture creation.!How to Make a Viking Warrior in Maya and ZBrushFirst, the skin texture is performed. Here I use the Specular Glossiness workflow for texture production. I paste the previous XYZ colour map on the colour channel and then create a new filling layer to adjust the facial colour and makeup according to the original painting. After the makeup is determined, the gloss of the picture will be engraved. The gloss of different parts will be different. For example, the T area of the face will have more oil, which will be more shiny, and the gloss around the eyes and lips will not be the same. To the same, adjust according to the specific situation.!How to Make a Viking Warrior in Maya and ZBrushAfter finishing the face material, make the character's hair. Here I first use Maya's XGEN to make the hair texture, and then paste the texture on the patch, and then combine the patches into different densities. The hair group is then placed on the head one by one, and the shape is adjusted through the lattice or bending life, soft selection, etc. There is no technical content in the hair placement, mainly because of the styling and patience of the hair, and it also takes a lot of time to adjust.!How to Make a Viking Warrior in Maya and ZBrushAfter finishing the face and other skin parts, the next step is to make the materials for the remaining equipment. Here I use the workflow of Metallic Roughness to make. First, distinguish the colours and textures for different materials, and then make them separately For meticulous adjustments, a generator that calculates dark and bright colours is combined with some grayscale textures to portray the surface texture of the object.For example, the colour and roughness of the dirty and worn surface will change. After the surface of the object is dirty, the metallicity and roughness will become different. Pay attention to the original painting. We can also learn from the reference picture to bring more inspiration to ourselves. When the object is used, make it old accordingly.!How to Make a Viking Warrior in Maya and ZBrush Lighting and renderingAfter finishing the materials of all the objects, export the textures and perform lighting and rendering on the model. I used Marmoset Toolbag 3 for rendering. First, I imported all the low polygon models into Marmoset Toolbag 3, and then mapped the corresponding models. According to the situation, I can adjust the properties of the shader to make the material effect better. For example, I used the 3S effect on the skin here to make the skin look more transparent. Before lighting, we choose the ambient light we want and then turn on the light. The atmosphere created by the light can be based on the effect we want. To do this, we can refer to the lighting in some movie screens.I tried the main light, and added a slightly darker light on the other side as auxiliary light, and added a contour light on the back so that a simple three-point light source was formed. Next, I can adjust the shadow of the light. The edges are soft and excessive, and then adjust some of the camera's effect attributes to make the picture softer or sharper. After everything is set, the output is rendered, and the work is complete!!How to Make a Viking Warrior in Maya and ZBrushIf we want to pose the character, we can use Maya to bind the bones first, then import the model into ZBrush, just separate the adjacent objects separately, import them into ZBrush to group them, and then select the corresponding group or object to adjust it. !How to Make a Viking Warrior in Maya and ZBrush!How to Make a Viking Warrior in Maya and ZBrush