Three Aspects to See the Differences Between GPU and CPU Rendering(1)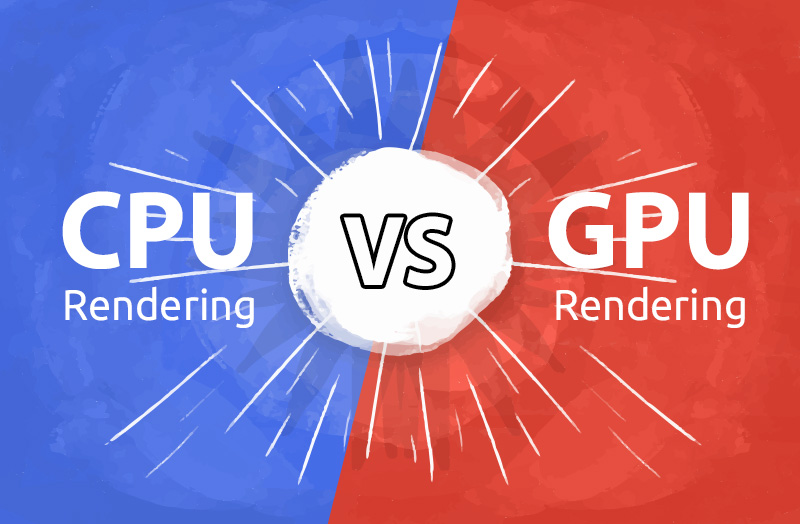 The Background of Graphics Card
Probably around the year of 2000, the graphics card was still referred as the graphics accelerator. If something is referred as "accelerator", it is usually not a core component, just think about Apple's M7 coprocessor. As long as there is a basic graphics output function you are perfectly fine to access the monitor. By then, only a few high-end workstations and home use consoles could see separate graphics processors. Later, followed by the increasing popularity of PC, and the development of games and monopoly software like Windows, hardware manufacturers started to simplify their work process, which subsequently leads to the fact that graphics processors, or we can say graphics, gradually became popular.
The GPU manufactures exist as much amount as CPU manufactures, but only three of them(AMD, NVIDIA, and Intel) are familiarized and recognized by people.

To see the difference between GPU and CPU rendering, let's start with the following three aspects.
1. The Functions of GPU and CPU
To understand the differences between GPU and CPU, we also need to first understand what GPU and CPU are signed up for. Modern GPU's functionality covers all aspects of the graphics display. You might have seen the below picture before, that is a trial test of the old version Direct X - a rotating cube. Displaying such cube takes several steps. Let's think fromabout a simple start.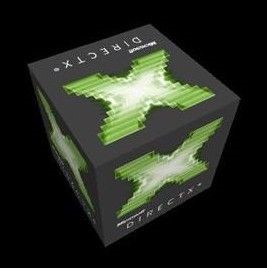 Imagine the cube is unfolded to an "X" image excluded line shape. Then imagine the line shape to eight points without the connecting lines (The eight points of the cube). Then we can go ahead to figure out how to rotate the eight points so as to rotate the cube. When you first create this cube, you must have created the coordinates of the eight points, which are usually represented by vectors, three-dimensional vectors, at least. Then rotate these vectors, which are represented by one matrix if it's in linear algebra. And vector rotation is to multiply the matrix and vectors. Rotating these eight points equals to multiply the vectors and matrix by eight times. It is not complicated. It is nothing more than calculation, with a large calculating amount. Eight points represent eight times calculations, so does 2000 points means 2,000 times calculation. This is part of the GPU's work — the transformation of vertex, is also the simplest step. But there is so much more than that.
In conclusion, CPU and GPU are signed up for different tasks and are applied for different scenarios. CPU is designed with strong commonality and logical analysis functionality to deal with a variety of data types, to categorize a large workload of data and to handle process interruption. All of the above leads to an extremely complicated CPU internal infrastructure. But GPU is specialized in a highly-consistent, independent large-scale data and concentrated computing external environment that can not be interrupted. So CPU and GPU show a very different infrastructure (schematic diagram).
Previous: Three Aspects to See the Differences Between GPU and CPU Rendering(2)
Next: Interview with Federico Ciuffolini, the 1st Winner of Hum3d Survial Car Challenge
Interested
Firstly, welcome to visit Fox Renderfarm and thanks for choosing our tutorial can help you, now, let's begin the trip. 1.Account registration Registration via the official website or registration via the Fox Renderfarm Desktop Client. Input the registration information on the registration page. After completing the form, submit it and then, you will received a letter about the validation code in your mailbox. Enter the validation code, click "Confirm", after this step, you will get $20 coupon, you can choose your rendering software and you can get another $5 coupon. 2.Account recharge Click the user icon at the top right corner for Balance (Recharge) thereunder to enter the recharge page. In the case of cash recharge, input the amount to be recharged and then click "Recharge now". In the case of coupon recharge, input the coupon code and then click "Recharge now". 3.Fox Render farm tutorial We support two methods for you choosing to submit your projects, one is Web submit and another is using our Desktop Client. It is worth to notice that, our web platform supports most popular 3D software, renderers, and plugins, but our Desktop Client only supports Maya in Win 10/ Win8 /Win7, and CentOS7.0 and above, 3ds Max in Win 10/ Win8 /Win7, further software will follow soon. Using 3ds Max for example, here are two videos to show you how to use fox on Web and Desktop client. Web submission video tutorial at 3ds Max web, Desktop client video tutorial at 3ds Max client, For more software video tutorial, please click the , not only many submission tutorials you can find in this page, but there are also many solutions can help you, like client error solutions, the solution to analysis error or warning, the solution to abnormal rendering effects and more. If you need any instant help from us, kindly to contact our dedicated customer service, there are always online. Thanks for choosing Fox Renderfarm again.
Malaysian Flick 'Ribbit' to Premiere at Niagara Fest
"Malaysian Flick 'Ribbit' to Premiere at Niagara Fest. The rendering part of this cartoon movie has been done by which belongs to Rayvision Inc." Ontario, Canada's Niagara Integrated Film Festival (NIFF) is taking place June 19-22, showcasing a hand-picked selection of films from around the world. One of the premieres that will be featured at the event is the global debut of Malaysian animated film Ribbit from KRU International's Kartun Studios. The film stars Sean Astin, Russell Peters and Tim Curry and will be screened in 3D on June 21. Ribbit centers on its titular frog hero who is a bit of a dreamer who doesn't fit in with the other frogs. To escape from reality he hangs out in his "clubhouse," a downed, dilapidated plane in the jungle, and reads about animals who have no trouble finding their purpose in life in old copies of National Geographic. Written and directed by Kartun's chief creative officer Chuck Powers, the CG film is "a beautiful heart-warming adventure" aimed at the whole family. Ribbit is the first feature length project from the studio and has already been sold to over 80 countries worldwide, including the U.K., Germany, Australia, Japan, China and Brazil, which will likely see releases in the fall. KRU currently has five 3D animated films and three animated television series in development. The post from `http://www.animationmagazine.net/features/malaysian-flick-ribbit-to-premiere-at-niagara-fest/`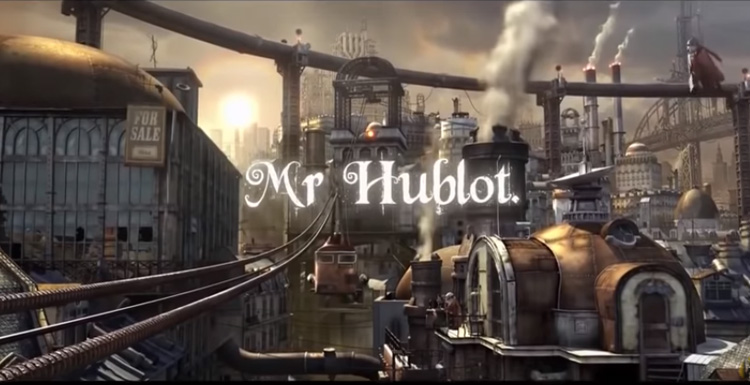 Oscar winning Mr. Hublot: Small step for Fox Renderfarm, giant step for China
Mr. Hublot is a Luxembourg/France co-produced 11 min sifi animated film won the 2014 Oscar for Best Animated Short Film. Produced, written and directed by Mr. Laurent Witz and co-directed by Alexandre Espigares. Designed by sculptor Stephane Halleux, the story is set in a realistically world that is a combination of steam punk and a bizarre futuristic world. The silent film is about Mr. Hublot, an agoraphobia and obsessive compulsive mechanical man with clockwork counters running in his forehead. He's scared of change and scared of the outside world. His entire world starts to change when he saved a lonely and abandoned terrified robot dog from a cardboard box and turns his life upside down in the sweetest and heartwarming way. This visually and emotionally beautiful film uses full CGI (computer graphics imagery) to give us a futuristic steampunk environment for its title protagonist, the realistic and super detailed world realized with artful and breathtaking detail is easily another character in the film. The gorgeous mechanical and cluttered metropolis with magnificent details requires the use of massive computing power. While everyone is in the Oscar parties congratulates the winning directors and producers. No one knows that the super computing power supported this beautifully created Luxembourg/French production came from China. As (child division of the Rayvision Shenzhen) silently supported the feature to its success. Located in the software park in Shenzhen 1st, the area where over 200 public traded tech companies are head quartered, is the highest concentration of tech companies in China. Rayvision has been in the rendering business for years. The sister division renderbus is currently the largest available, also the largest in the world. With more than 30000 cores and expanding rapidly, host of rendering experts and research team, RayVision's advanced technical ability and high level support enables any production company be able to produce the highest quality master pieces without worrying not getting the power they needed. With clients and projects over 30 countries, hundreds of thousands studios and projects are being computed here in both Rayvision's China and International divisions `renderbus.com` and `foxrenderfarm.com`. RayVision's client industries expanding from 3D animated features, live action special effects, advertisement, architectural renderings, game cinematic, theme park ride films, large scale displays. With RayVision's computing power, only sky is the limit for your creativity. Rayvision's advance of super computing technology envisions progression of China's foreseeable expanding film and entertainment market and is the first small step coming out of long way into the international entertainment. A small step for RayVision, a giant step for China. 1st Shenzhen is the first development city in China, right next to the border of Hong Kong.