Let's Take A Look At Blender's Growth In 25 Years!
Blender, an open-source 3D animation software, is 25 years old. Fox Renderfarm is the world's leading visual cloud rendering, supporting a variety of CG software and plug-ins, including Blender. Fox Renderfarm is here to present a birthday greeting to Blender. At the same time, it is also hard to talk to all CG artists and TD's who have spent time and energy on this open source software!
Let's take a look at Blender's growth in 25 years!
1993
On the Christmas holiday of 1993, Ton Roosendaal began researching Blender software based on his original design.

1994
On January 2, 1994, the first Blender version based on the subdivision window system was officially launched. The system was restored from an old backup of Ton's SGI Indigo2 workstation and is now marked as Blender's official birthday. It took them 15 months to use the software as an internal authoring tool for the NeoGeo animation studio in the Netherlands. Until January 1, 1998, Blender was released online as SGI free software.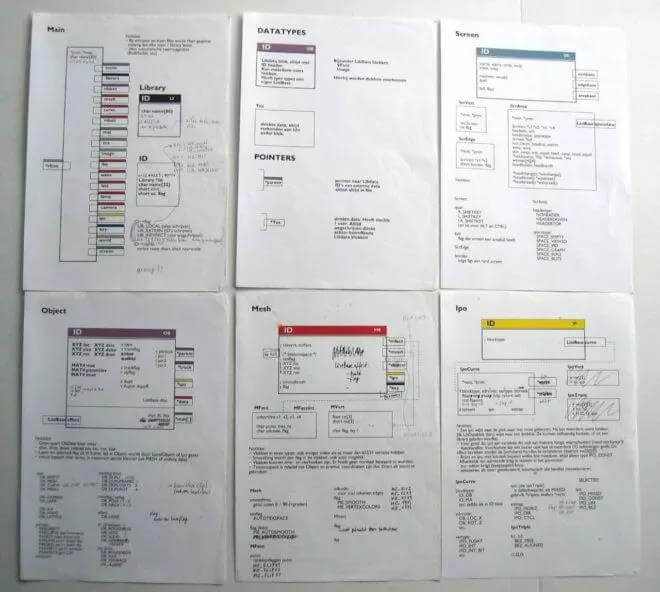 2002
In the early 21st century after the Internet bubble burst, Blender released versions of Linux and Windows under the GNU General Public License (GPL), which was free for the industry from October 13, 2002, to the present.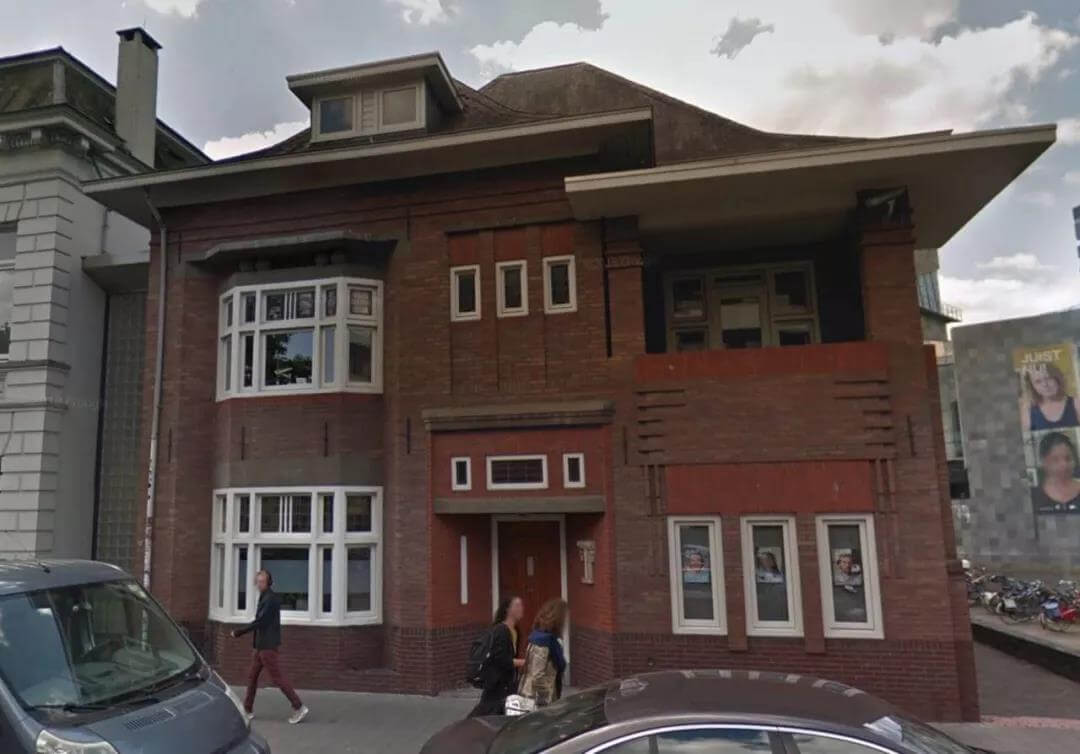 Now
Blender is run by the Blender Foundation, a Dutch charity that supports and promotes projects on Blender.org. Its mission is to build a free, completely open source 3D creation pipeline for artists and small teams.
Although Blender is already a very good open source software, hundreds of technicians from all over the world are constantly developing and enriching its features. Currently, Blender supports the entire 3D animated short film production solution, which provides modelling, rigging, animation, simulation, rendering, compositing and motion tracking, as well as video editing and game creation.
The power of Blender 2.7
Blender supports cross-platform work and works well on Linux, Windows, and Macintosh computers. Blender is an open source project licensed under the GNU GPL. All code is written in C, C++ and Python, and its interface uses OpenGL to provide a consistent experience. Blender is well-suited to the needs of individuals and small studios that benefit from the unified pipeline and responsive development.
1. Cycles rendering engine
Cycles are Blender's built-in unbiased path tracker engine that delivers realistic rendering.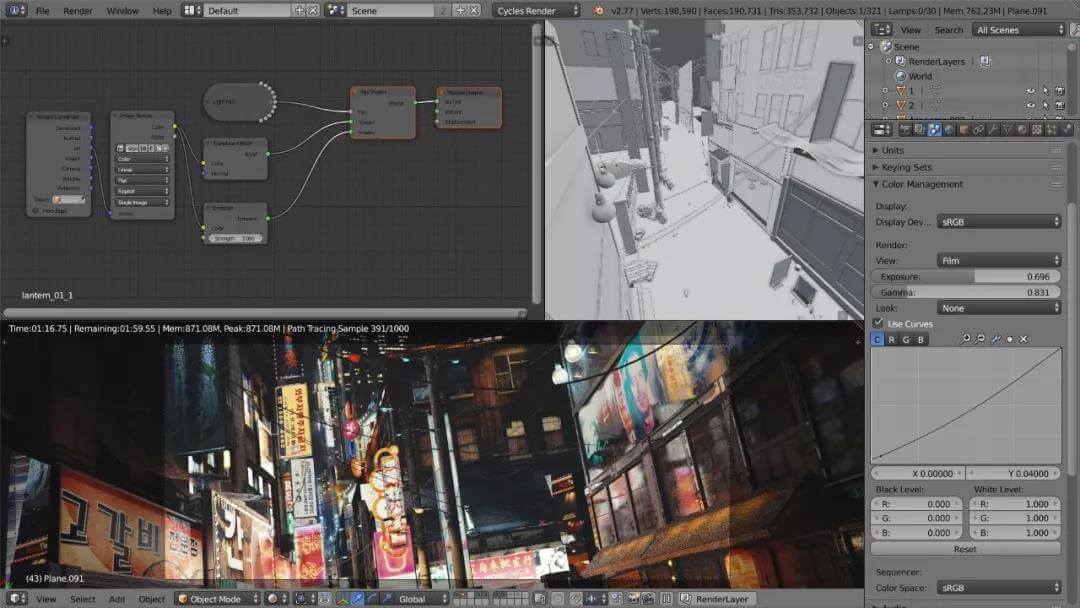 Live viewport preview
CPU and GPU rendering
PBR shader and HDR lighting support
VR rendering support
2. Animation and rigging
Blender has high-quality rigging and animation tools. Currently, Blender is used in numerous short films, commercials, TV series and feature films.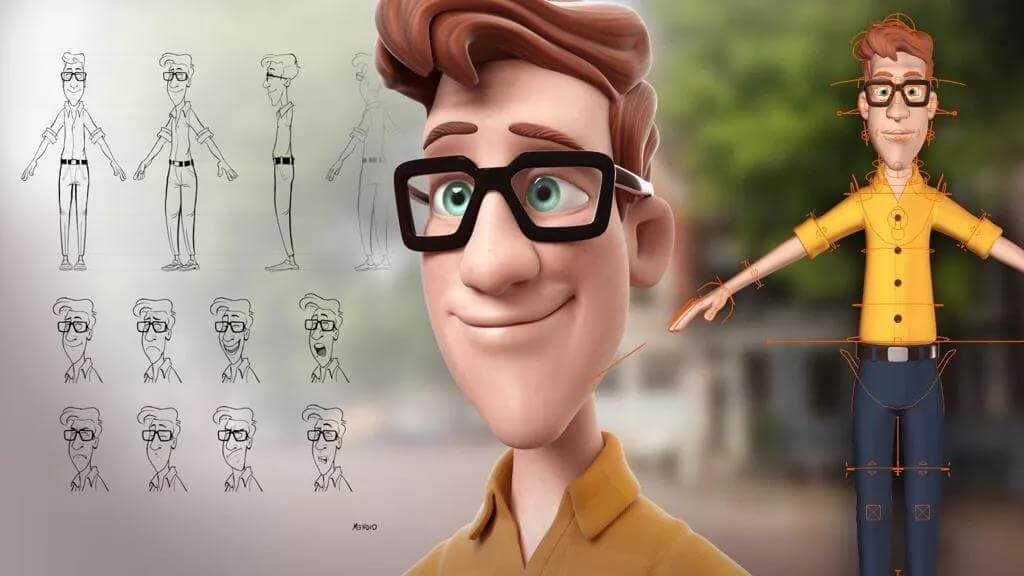 Envelope, character bone rigging and automatic skinning
B-spline interpolation bone
Curve editor and animated photo table
Customize bone shapes for quick input
Sound synchronization
3. Story Art (Drawing 2D)
Drawing directly in the 3D viewport makes sense, providing a free workflow for storyboarders and 2D artists.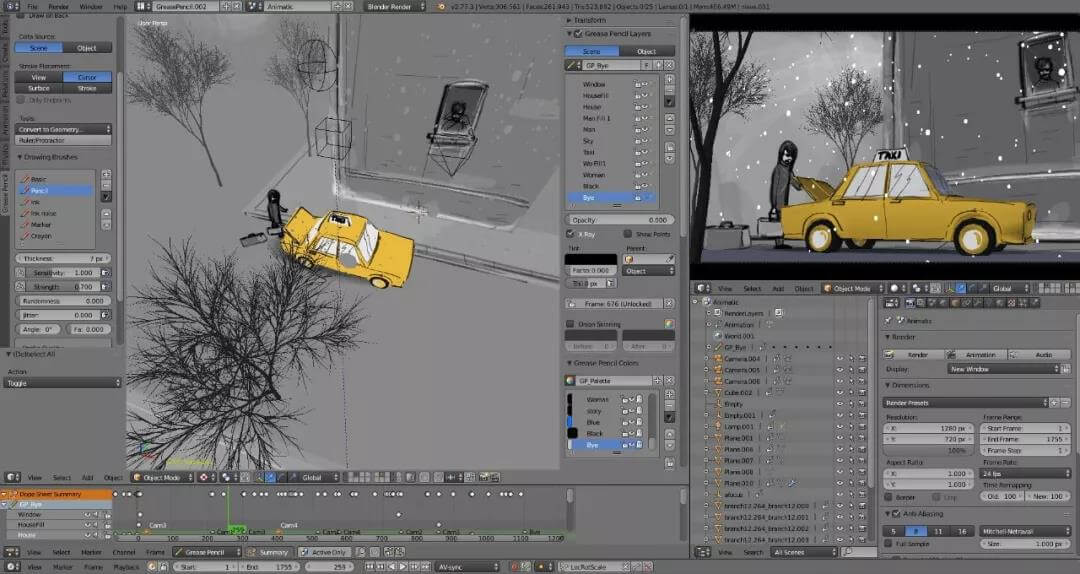 Combine 2D and 3D in the viewport
Onion skin full animation support
Strokes and filled layers and colours
Engraving brush strokes and parent pens into 3D objects
4. Tracker
Blender includes production-ready cameras and object tracking, allowing artists to import raw material, track footage, mask areas and watch camera movements in 3D scenes.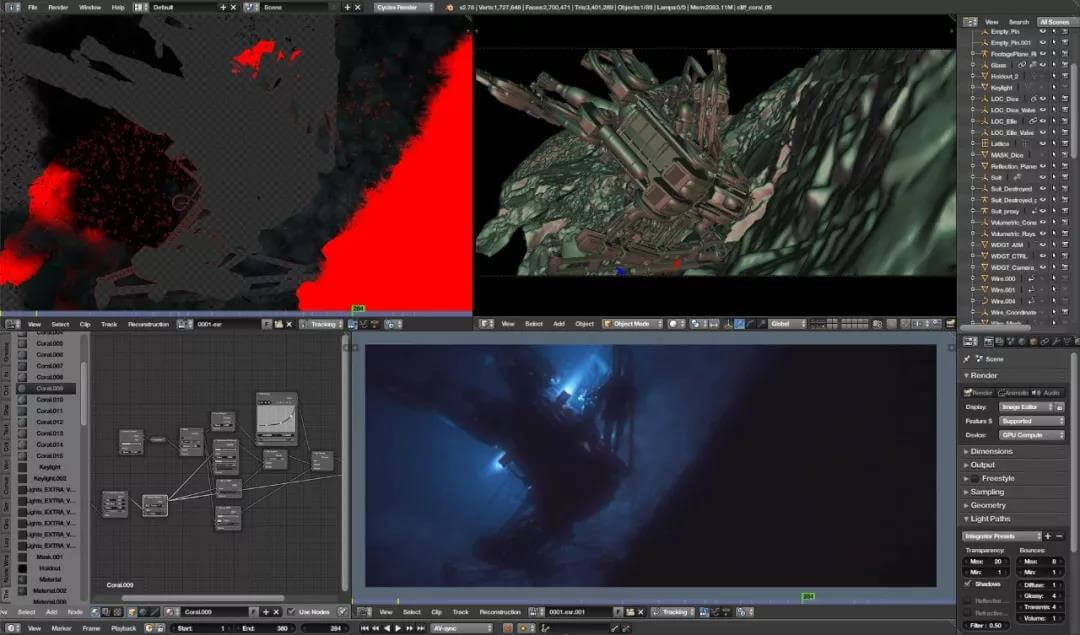 Automatic and manual tracking
Powerful camera reconstruction
Preview your tracking footage and 3D scenes in real time
Support for plane tracking and tripod solver
5. Python
Blender has a flexible Python control interface that can adjust layout, colour, size and even fonts. The community uses hundreds of add-ons.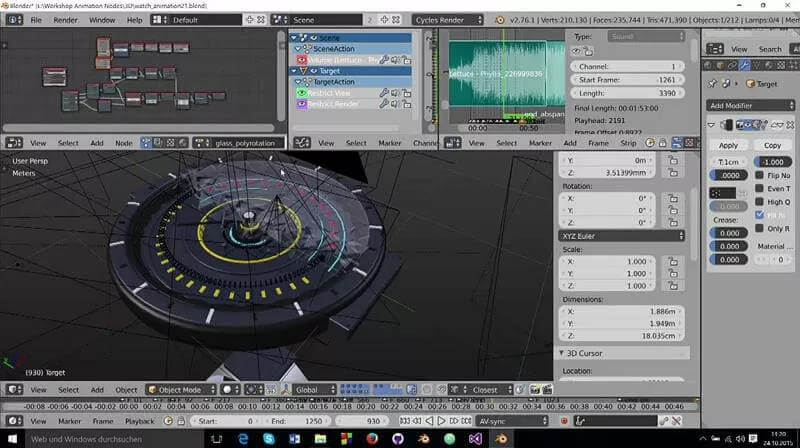 Custom interface layout and colour
Hi-res / Retina screen support
Create your own tools and add-ons
Draw an OpenGL viewport
Connect using Blender's Render API
In addition to the key rendering denoising tools, the Blender 2.7 version includes many tools for full pipelines. For example, a strong simulation foundation, including industry standard libraries such as Bullet and MagnaFlow, and even basic video editing tools.
Blender 2.8 Beta five highlights
Version 2.80 is now in beta and may be released in February or March. The new beta also includes a new 2D animation mode that can be drawn directly into a 3D animation environment and is more consistent and easy to use.
1.User interface
Blender 2.8 version of the user interface and user experience will be more smooth and fit than the previous version, through the workspace, you can quickly start using sculpting, texture drawing or motion tracking tasks. Can be customized according to their own needs, improve work efficiency.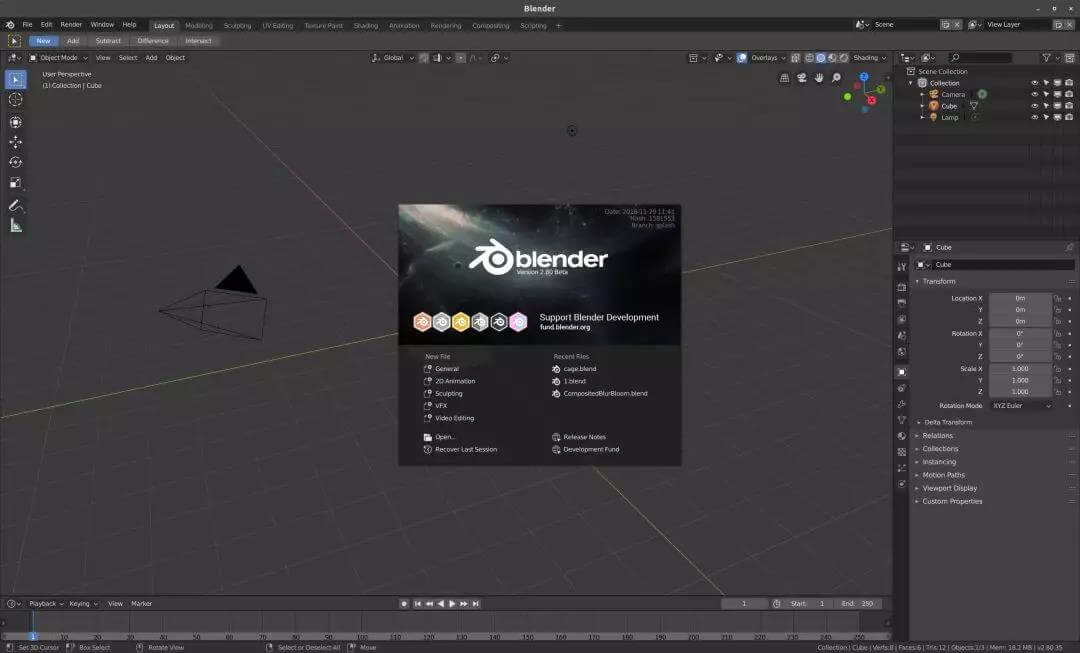 2. EEVEE
A new physics-based real-time renderer that acts as both a final frame renderer and a real-time viewport engine that drives Blender to create assets with advanced features such as volume, screen space reflection and refraction, and subsurfaces. Scatter, soft and touch shadows, depth of field, camera motion blur and bloom.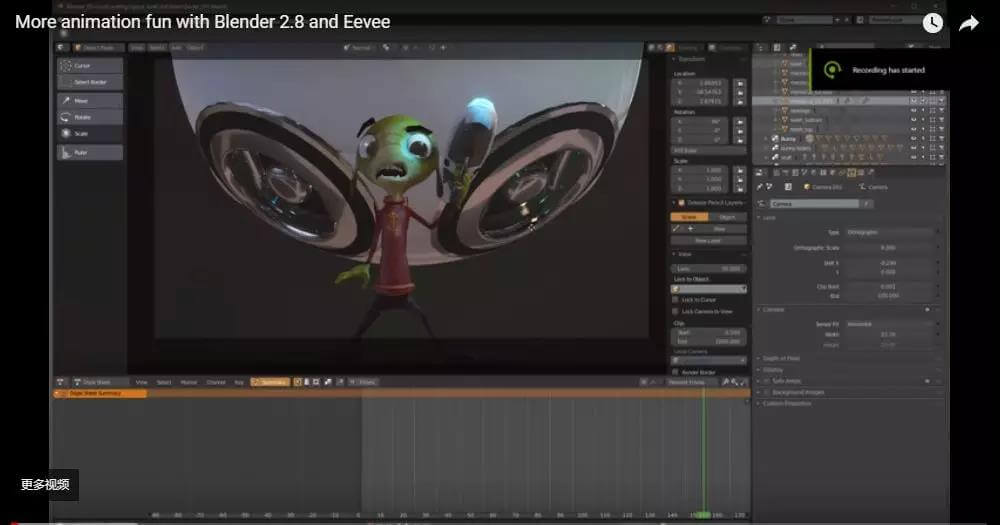 3. Viewport
The new modern 3D viewport, the workbench engine provides flexible display of work scenes. EEVEE powers the viewport for interactive modelling and painting using PBR materials. (Blender's minimum graphics requirements have been added to OpenGL Core 3.3)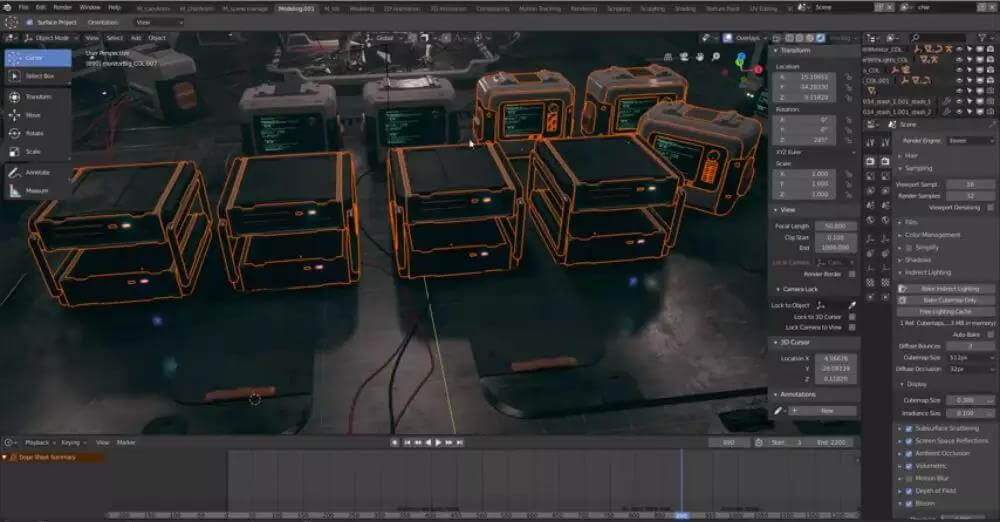 4. 2D animation
The 2.8 version of the 2D drawing function has been greatly improved. The new Grease Pencil creates a more user-friendly interface for 2D artists while maintaining the benefits of a complete 3D suite. The grease pencil has changed from a stroke to a real Blender object, and the brushes and tools have been greatly improved.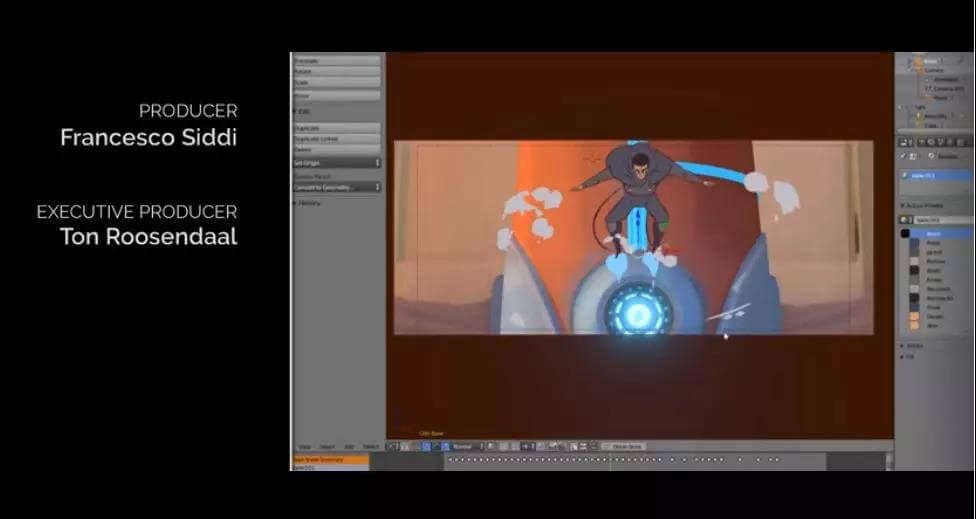 5. Cycle
The new principle volume and hair shader, bevel and ambient occlusion shaders now fully support the industry standard Cryptomatte, which combines CPU and GPU for rendering, random walk subsurface scattering and more.
The 2.8 version is still in the testing phase, and more complete features are coming online, let's looking forward to it! Render Farm give the best wishes to Blender again.
Recommended reading
---
How to render large scenes with Redshift in Cinema 4D
2019-10-15
---
Arnold\ V-Ray\ Octane\ Conora\ RedShift, Which Renderer Is The Best?
2019-04-15
---
How to Render High-quality Images in Blender
2020-03-09
---
How the Redshift Proxy Renders the Subdivision
2018-12-28
---
China Film Administration Release New License Logo
2019-01-09
---
Maya 2018 Arnold's Method of Making Motion Vector Blur in AOV Channel
2018-12-26
---
Corona Renderer Learning - Denoising
2019-05-15
---
Redshift for Cinema 4D Tutorial: Interior Design Rendering
2019-10-12
---
Partners
Previous: How To Submit Maya In Using Vray Plugin Task On Cloud Rendering
Next: Three Kinds of Paintings Get Together, Animated Films Explosions Come?
Interested
Blender 2.90 is out now! Building on the success of the 2.8x series, Blender 2.90 continues to polish the user experience, introducing improvements to EEVEE, Cycles, sculpt, VR, animation, modeling, UV editing and so much more. Watch the video and tell us how you like the new features. More: ?fbclid=IwAR0xXP7iBgou01jc1PjA_aWFAaLnAG3GCdD4P_UXg2oXgd8Rae77I_1m_28
Inspired by Animal Crossing: New Horizons, Korean artist use Blender to create exclusive cabins
As soon as Nintendo Switch launches Animal Crossing: New Horizons, it has been loved by game fans all over the world. Due to the epidemic, many people can enjoy traveling abroad through games during quarantine, which makes the Switch a hit again. And many CG artists eager to create many fan art or amazing creations. Korean designer Seungho Jeong (Neon3D) was invited to talk about his latest work "Miniature style cute character 3d artwork" (Soondol) and talk about the toy model made for the animation of "Molang". Seungho Jeong (Neon3D) Seungho Jeong, from South Korea, is good at product design and 3D printing. Most of them are created in Fusion360 and Blender. He is currently designing toy models for "Molang". He also runs a YouTube channel to share the process behind the scenes. Miniature style cute character 3d artwork (Soondol) Year of completion: 2020 Software: Blender Tell us about the artwork. Seungho Jeong: Recently I was playing Animal Crossing: New Horizons, and I was attracted by the cute graphic style in the game, so I proposed a series of creative projects, with my original character "Soon-dol" as the main character, and designed a series of The miniature style house in Mori. I use Cycle render in Blender to create. It is worth mentioning that instead of using texture mapping, I changed the color of the object or made some images using Illustrator, and used Blender's Shrinkwrap modifier to place the image on the character's face. The most difficult part of this work is the lighting effect. After all, to create "emits natural light from the outside of the window" is a test of the creator's Lighting skills. At first, I put a glass on the window, but then I found that no glass looks more natural, so I had to take it away. What is your usual job? Seungho Jeong: Mainly making character toy models. For example, the "Molang" series is currently on sale. I designed many different sets of costumes for the character, including Halloween, New Year, Hanbok and other styles. The main creative process is the use of product design software Fusion 360. It has a free-form modeling function, similar to Blender's modeling method. I also made an introduction video for the company's YouTube channel "Behind Molang". First, I redesigned all 2D characters into 3D. Since our company is not an animation studio but a character commodity company, most of the 3D creation process of characters is the process of making plastic models, such as Fusion 360 (some are designed directly in Blender). When creating images in 3D, as mentioned above, instead of using texture mapping, we change the color of the object or use Illustrator to create the image, which is created in accordance with the process of making dolls and doll models. Is animation different from product design? Seungho Jeong: Making animation is very difficult, after all, that is not my major. Although product production and animation look very similar, there are still some system differences. Therefore, I have to learn by myself and complete the animation creation, so I simplified the character movement as much as possible. Can you share your creative tips? Seungho Jeong: If you want to create on a hard surface, Fusion 360 is recommended, which can be modeled for the accuracy of the size, which is very convenient. In addition, the ShrinkWrap modifier is used to attach the image to Blender without any texture drawing. Who is your Favorite artist? Seungho Jeong: Absolutely my boss Hye-Ji Yoon, he is the character designer of "Molang". And Molang's animation is currently being played on Netflix, which is receiving the attention of the global audience! I respect my boss very much and want to be a well-known creator like him. Seungho Jeong's Artstion: ``
How to Render High-quality Images in Blender
With the development of computer technology, it has been widely used in the field of graphic design, so that ordinary people also have the opportunity to come into contact with Computer Graphics technology referred to as "CG technology". Computer Graphic Image is also computer 3D animation technology, referred to as "CGI". Whether it is "Toy Story", "The Lion King" or "1917", the success of these world-class blockbusters can not be separated from the establishment of models in 3D software, and then to visual effects, post-production software composition, Editing, and more. Image via blendercn.org As a new star in 3D software, blender integrates modeling, sculpting, binding, particles, animation, etc., and is a software that supports commercial creation for free forever. So how do we use blender to output high-quality images? Blender has 2 renderers that can convert a 3D scene into a 2D image. - Eevee is a physics-based real-time renderer. - Cycles is a physically-based ray-tracing renderer. Use plugins to add more third-party rendering engines. Each renderer has its own rendering settings to control rendering quality and performance. And the rendering effect is determined by the camera, lighting,and materials, which also determine the quality of the output images. Image via blendercn.org Here is the Cycles renderer that comes with Blender as an example. As a GPU-based rendering engine, rendering effects have become more and more mature, and its speed is much faster than the CPU renderer. So where does it affect the output image quality? Sampling The sampling method determines how the light is calculated. The light is emitted from the camera into the scene and bounces back and forth until they find a light source, such as a light object, a glowing object, or the ambient background light. Number of light path traces for a single pixel in the final render. The more samples there are, the less noise there will be in the result and the more accurate it will be. Path tracking The rendering attribute is the amount of light emitted from the camera to each pixel. The view attribute is used for scene rendering in the view. A value of 32 means that each pixel will be tracked by 32 rays.) Noise Noise in the image will greatly affect the image quality because 32 beams of light per pixel are not enough to produce a high-quality image (To reduce the noise by 50%, double the number of lights, so the rendering time will also double, depending on the computer configuration to set the value, at least 1024 if you want a better effect. Rendering properties The rendering properties greatly affect the rendering quality, try to adjust to the maximum value that the view can reach, and adjust the view back to 32 to maximize the quality. Optical Path Length It refers to the value of the number of bounces to track the path of each beam. The difference between 0 and the maximum will be very large. Camera Properties Camera size: It needs a proper ratio and size, and the focal length needs to be adjusted according to the content of the image. The appropriate size can display the details of the Depth of field. Depth of field: The choice of lens will affect the depth of field details. The depth of field determines how far away the object will be displayed clearly. Aperture radius: determines how far the object in the radius is clear, and it will become blurred Focus: Focus needs to be adjusted. Set important objects in the image as axes and adjust the appropriate aperture radius to show the correct object to the viewer. If you want to improve the quality of the images, you can try some of the suggestions above. Improving the quality of images is not something that can be improved by reading an article. Continuous learning and practice is the best way. Cycles is undoubtedly a young renderer. Blender is also constantly improving some of the features of Cycles, and it has a lot of room for development in the future. As your TPN-accredited cloud render farm, Fox Renderfarm supports most mainstream 3D software, renderers, and plugins, including Blender, 3ds Max, Maya, Cinema 4D, Clarisse, and more. We always provide fast, secure and affordable cloud rendering services to reduce your rendering time. Welcome to the blender render farm get a $ 25 free trial.