The Creation Analysis And Sharing of Work 'Lotus Flower Is Immortal'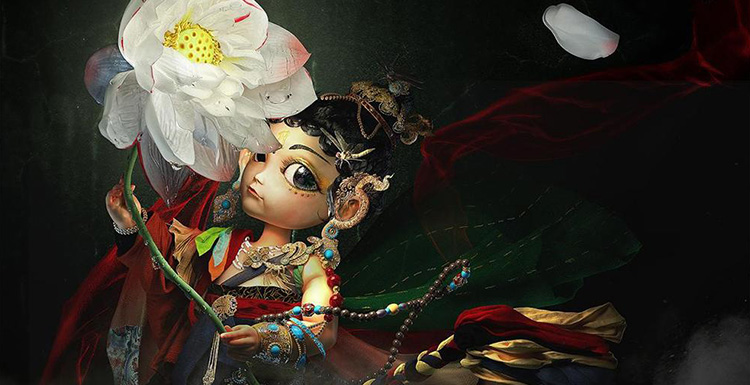 Introduction: In February 2017, 3D Artist Liu Jingjing participated in the V-Ray Rendering Competition organized by HXSD and Chaos Group. She won the competition and shared the process of creating this work. She also analyzed the success and insufficient of the work. Software: 3ds Max, ZBrush, V-Ray, Photoshop
Final renderings: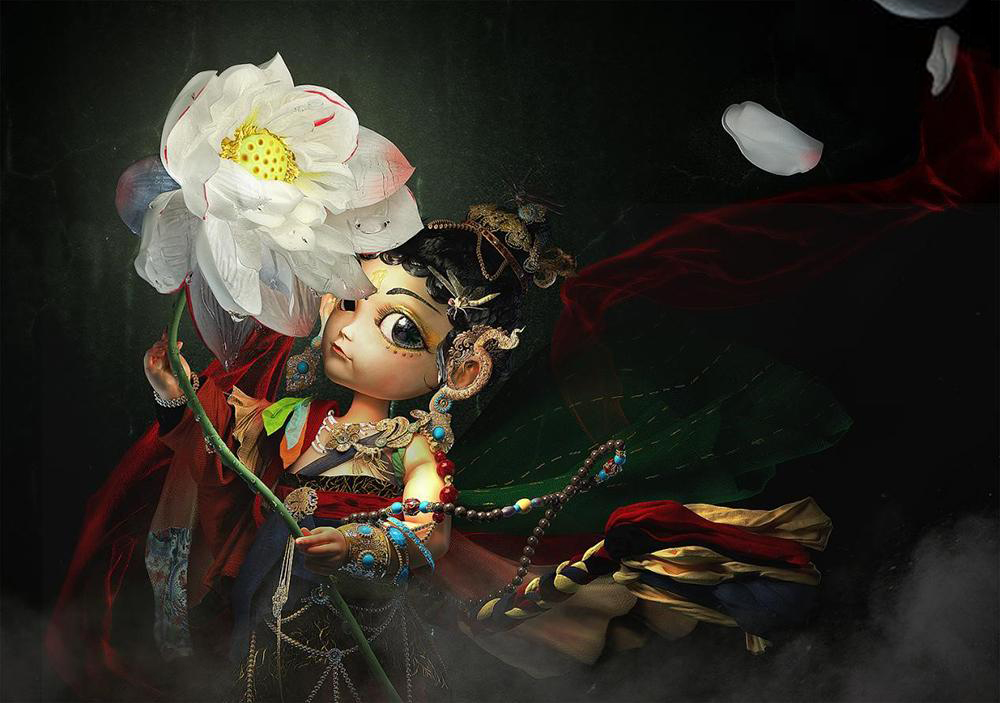 About the topic
This work is based on the Chinese style and uses lotus as the entry point. The 3S material characteristics of the lotus flower are very remarkable, and the light transmission is opaque, which should be a good performance object. With the original intention of creation, the theme of the work is set.
What was originally done in the role was a little monk.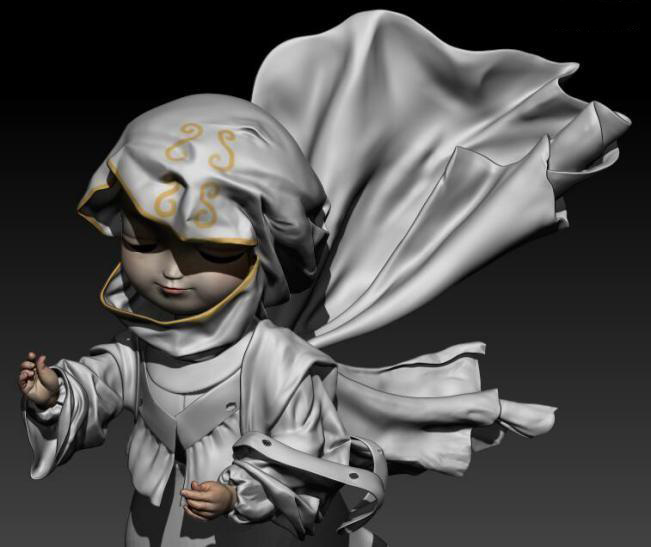 Early little monk...
After the model was built, it was discovered when the material was made in 3ds Max. The dress of the monk was too plain, the lotus flower was white, and the clothes were all the same color. It felt that they could not set off each other very well, so the character model was almost completely re-made.
Modeling
1. Lotus model
A lot of pictures of lotus were collected and one of them was chosen as a reference.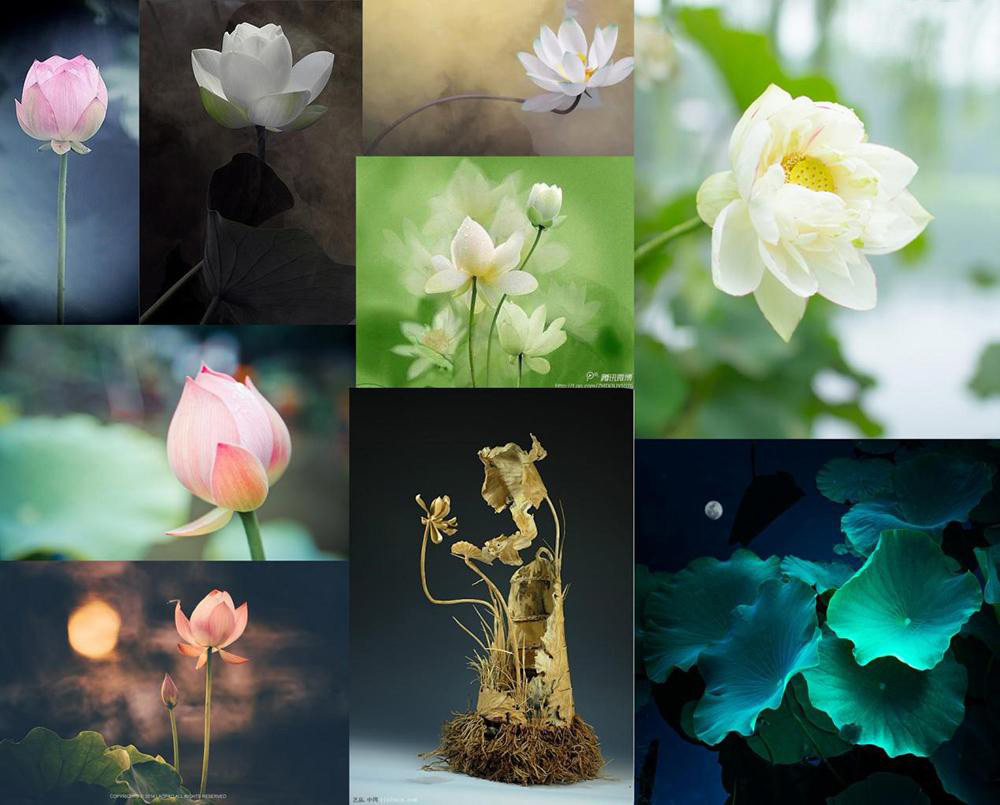 The lotus model is all done in ZB. The work of adding petals is more complicated. The shape of all the petals is almost the same. You can add some faint bump texture on the top to give the lotus some details. These textures can then be converted to bump maps for use.

2. Character Model
The character is to use Dynamesh in ZB to quickly create head, hand and body fabrics. High-mode engraving after the topology. Because it is a child, the hand will be fatter, referring to the baby's hand and arm.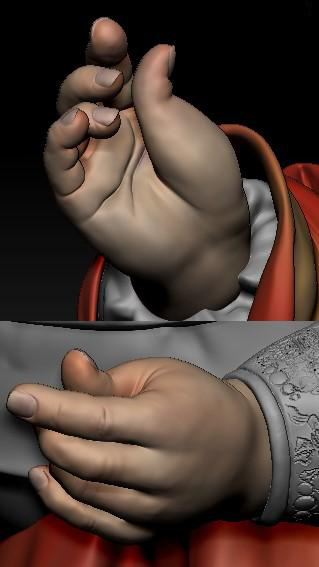 Apsaras costumes are an important reference for me.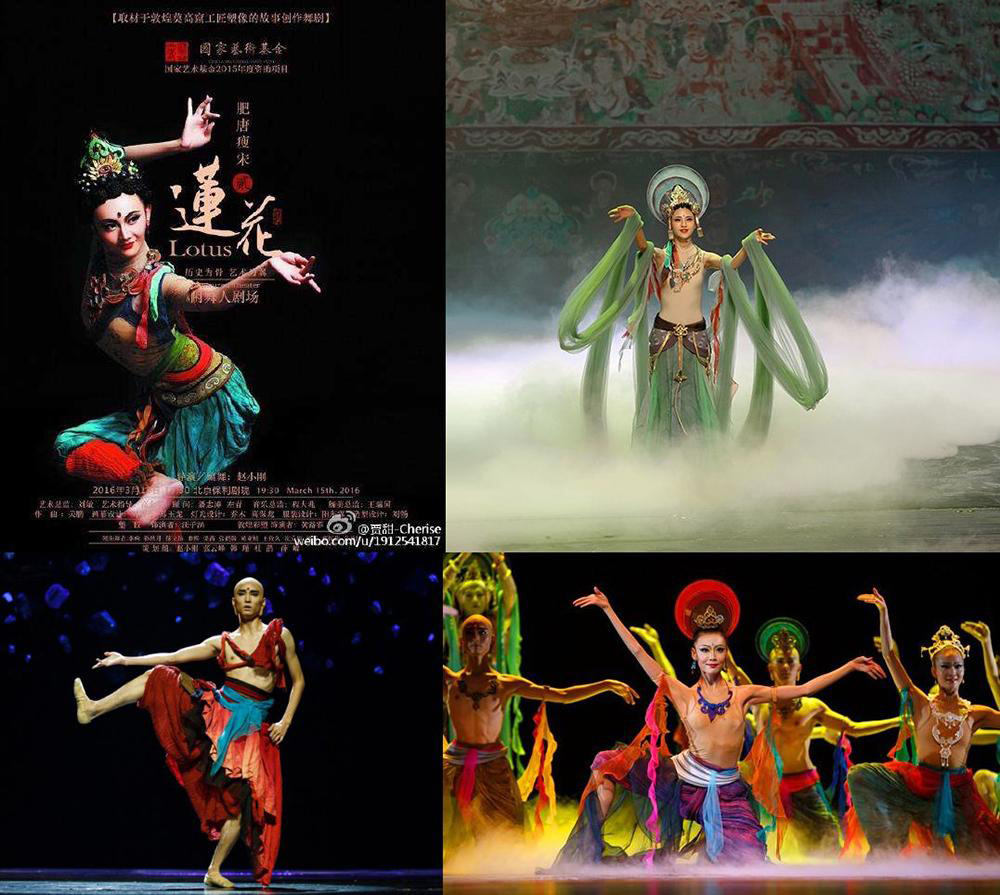 There is no special skill in modeling, patience, just do it one by one, cloak, skirt, belt...
When you are carving a high mold, it is very fast. The piece of cloth is not too much to be scrutinized. There should be improve.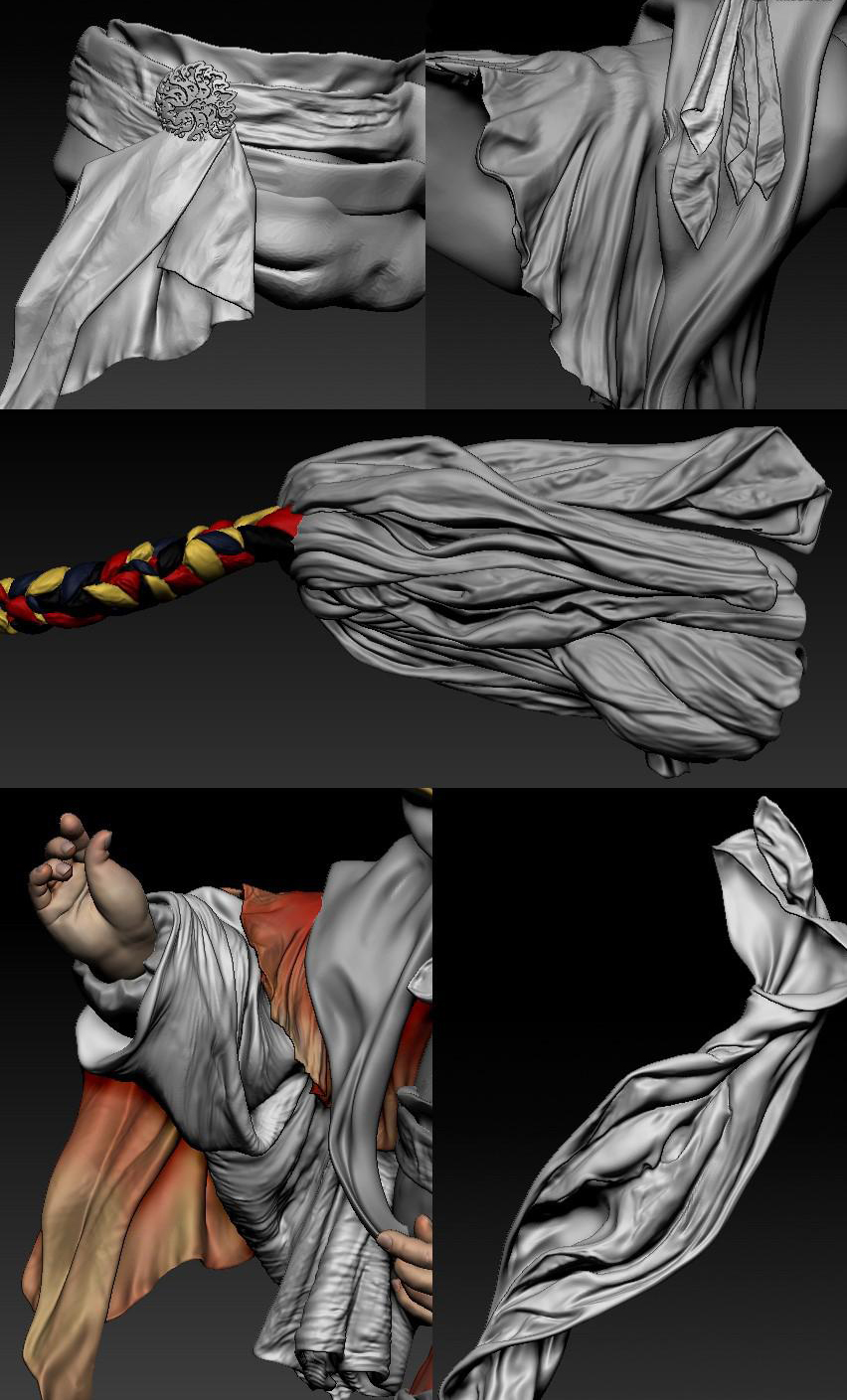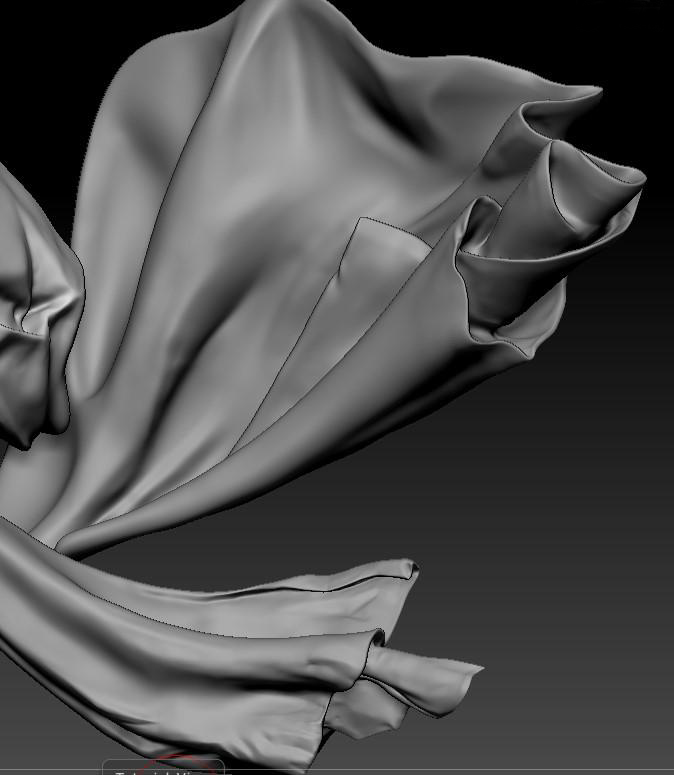 3. Decoration
The shape of the ornament is relatively simple. The beads, earrings, boutonniere and headwear are mostly large in 3D Max, and some are imported into ZB for engraving. The characters' decorations draw on the elements of Tibetan Buddhism, such as red, green and yellow colors, turquoise, and bead earrings.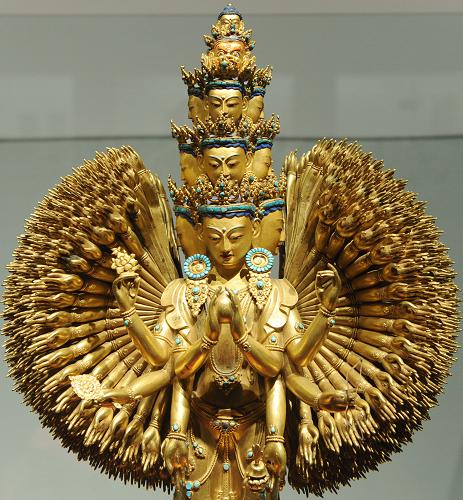 The decorations are added step by step as the work draws to a close, and new decorations are added while making.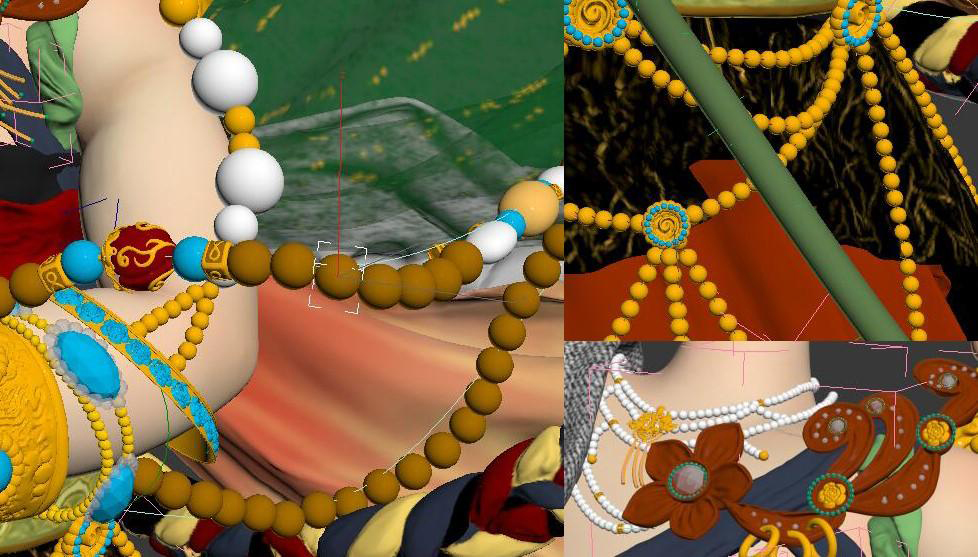 UV expansion and mapping
There are very few textures in this work. Most of the models are solid colors with a little bump, and UV uses ZB's own plug-in UV Master to automatically expand. If you have more textures that need to be carefully mapped, you still need to manually expand them.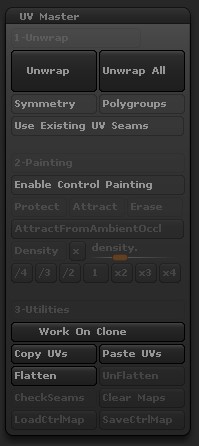 Lotus, face, hand, and a small number of fabrics require a diffuse texture, and the drawing is still in ZB. After all is done, reduce the high modulus, output to Max, prepare the next lighting material and render.
Lighting, materials and rendering
The lighting material rendering is the focus, I hope that there is contrast in the picture, the white and bright lotus vs color is strong (relatively dark) character. So I put the main light source close to the lotus and added a lot of light assistance to the character.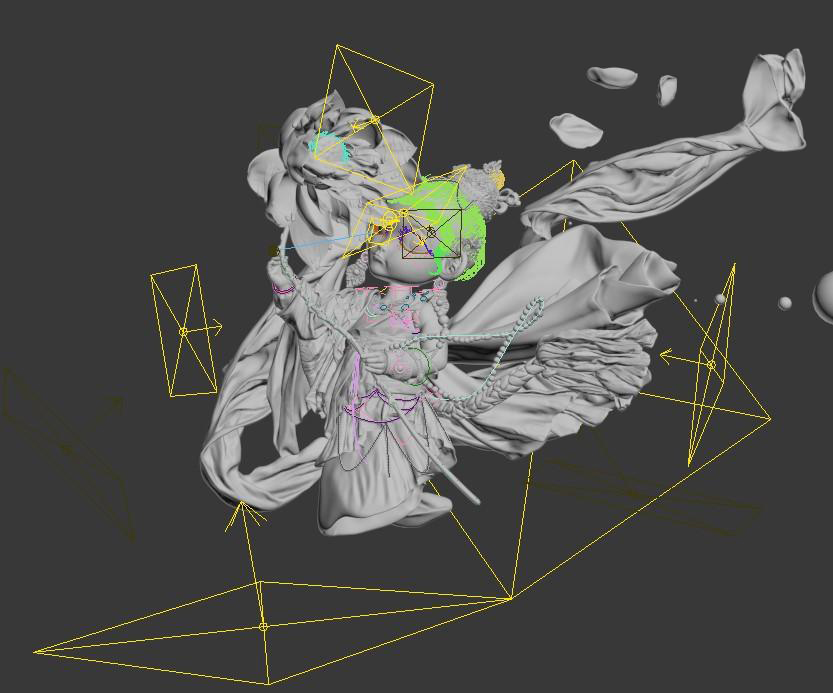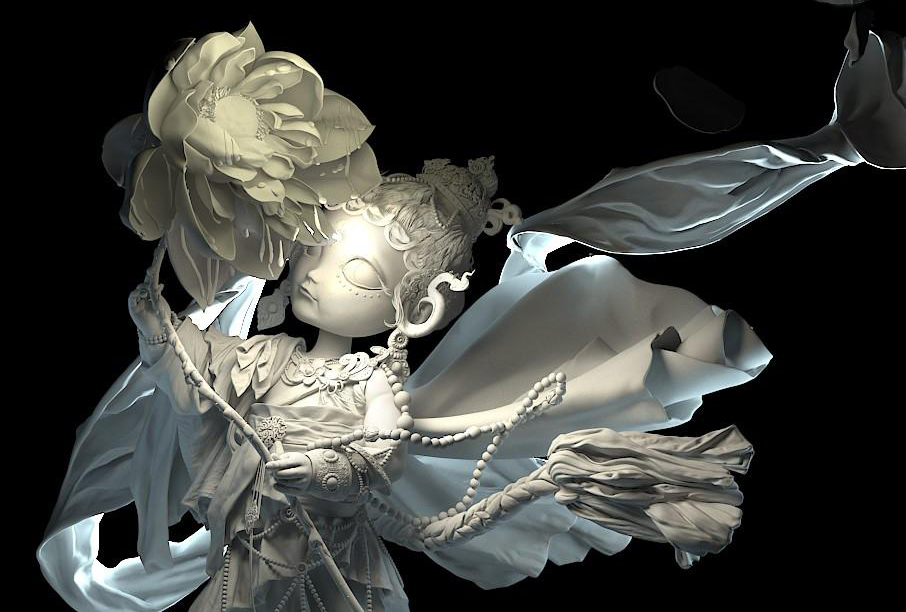 This may seem like the lotus is too dark, the character's head is too bright, this is - repeated test of the light, gi value, and the results of the material and texture.
The material of the lotus flower is made of V-RayFastSSS2 material, which is adjusted with the position and intensity of the light for crystal clear effect.
I hope that the lotus is a little self-illuminating, so I explored adding V-RayMtlWrapper on top of the 3S material to enhance its GI generation value and test an acceptable result.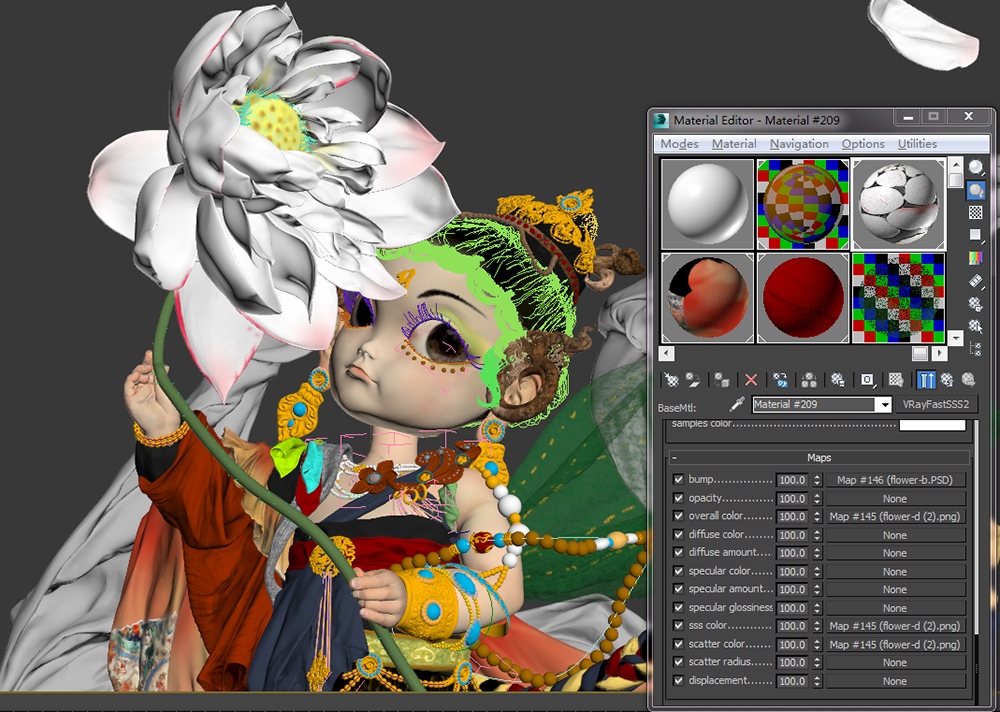 The materials in other parts are easier to add, such as color, texture, bump, reflection, translucency, etc.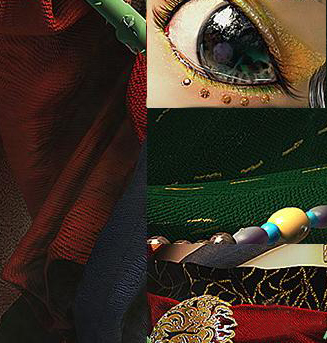 Hair and other
The character's hair is draped, and the hair is not difficult. Here is the use of Ornatrix, the current popular hair plugin.
Finally, add two small dragonflies to play a decorative role.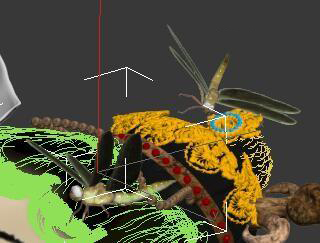 Add water drops to the lotus.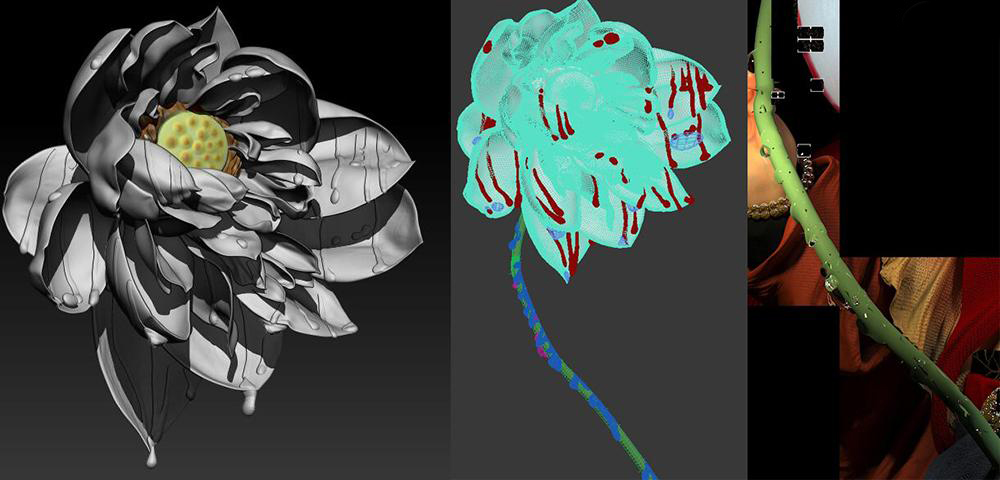 Post-production
Adding a simple background, smoke, and the apsaras should be naturally flying. Finally, the entire image is toned and partially shaded, contrasted, and adjusted to the satisfaction of yourself.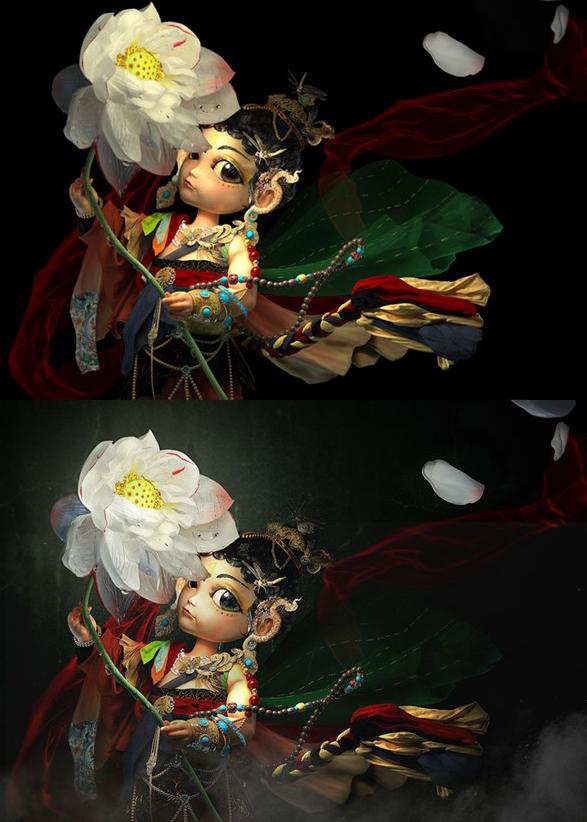 Recommended reading
---
How to Render High-quality Images in Blender
2020-03-09
---
How to render large scenes with Redshift in Cinema 4D
2019-10-15
---
Arnold\ V-Ray\ Octane\ Conora\ RedShift, Which Is The Best 3D Renderer?
2019-04-15
---
Why V-Ray Render is Black in SketchUp And How To Fix it?
2019-05-07
---
How to Reduce Noise in Corona Renderer - Corona Denoising (2022 Updated)
2019-05-15
---
How the Redshift Proxy Renders the Subdivision
2018-12-28
---
What is the difference between pre-rendering and real-time rendering?
2020-09-08
---
Blender vs Maya vs Cinema 4D, Which One Is The Best 3D Software?
2020-01-16
---
Partners
Previous: TOTAL CHAOS: Chaos Group Launched Its Second Annual Computer Graphics Conference
Next: VFX Break Down of 'Game of Thrones' Final Season
Interested
What is the Difference Between 2D and 3D Model Rendering?
2D Model Rendering2D model rendering as a process has evolved considerably in modern history. Before the advent of 3D model rendering, the process was undertaken entirely by 2D artists (technical draftsmen or creative designers) whose job it was to project life, despite the limitations of pencil and paper.!What is the difference between 2D rendering and 3D rendering 2 Restricted ViewsPerhaps the most obvious limitation is that every aspect of the 2D model is limited to the 2D plane. Although creative license can be used here, accuracy is key.Although rendering a model in 2D is not directly related to mathematics, it is completely relevant to it. It applies to symmetry and shape. Perspective and line strength play an important role in generating high quality 2D rendered images, for example when designing architectural illustrations. Understanding basic perspective and line values is the difference between an average rendering and a good one. In addition, there is no opportunity to change perspective, as this requires changing the camera field of view, which is only possible when modeling in 3D. Easy Insertion of 2D AssetsHowever, not every 2D model rendering is hand-drawn. Some assets may actually be cropped or repurposed from real images sent by the client or their photographer, such as high-quality photographs of display furniture or accessories superimposed on a display board. Photoshop often plays an important role in such processes. Fewer Considerations when Making AdjustmentsAnother difference between 2D model rendering and 3D model rendering is that with 2D, the artist is able to create the illusion of perfect perspective while maintaining direct control over the image, without having to change any of the complexities associated with 3D rendering. PriceSo why does a two-dimensional service still exist in the industry? It's cost effective. Not every potential client has the budget required to outsource 3D models. As a result, many design firms have made themselves available to meet the demand for simpler renderings at very affordable prices. 3D Model Rendering!What is the difference between 2D rendering and 3D rendering 3When handled correctly, 3D model rendering can provide a near-perfect photograph of any scene, giving a realistic reproduction of the scene. This helps your clients to better understand every nuance of the space and helps them to understand exactly how to place items in it, or you can use 3D modeling software and make quick changes to suit their whims. Limitations of Pre-built 3D LibrariesIt can be slightly challenging if some of the assets in the pre-built 3D library are not easily accessible or difficult to build independently. This means that the designer may end up having to readjust a 3D model that differs from the client's requirements. That said, there is an advantage in this that 2D cannot offer: the ability to build your own library of furniture, environments and accessories that can be easily reused for future projects. Adjustable ViewpointIn addition to providing accurate and wide viewing angles, aesthetically pleasing camera angles and even software for digital flight, it provides a broader overall appearance of the model for 3D images. There is no problem with the accuracy of the angles when positioning the camera in the desired position. They are positioned mathematically. The rendered image is modeled from the computer and you do not need to be concerned with the framing or any detail in the image. The rendering, based on an iteration or sample of the output, will determine the focus of the detail covering each pixel of the image.Another important feature of 3D model rendering is the resulting high quality depth - 3D provides a clear view anywhere within the camera's field of view. Vivid ResultsWhen making full use of 3D rendering software, the lifelike effects are often indistinguishable from real photographs. The renderings are often convincingly realistic and look very satisfying, as the more realistic shadows and natural light are difficult to emulate with 2D illustrations. Is 2D or 3D Model Rendering Suitable for your Client's Project?!What is the difference between 2D rendering and 3D rendering 4Both have their advantages and disadvantages, but these differences can also make it easy for clients to choose the service they want to pursue. As with any project, there are many factors to consider beyond cost.If your client is more of a traditionalist looking for the visual appeal of a more classic illustration, then drawing 2D images may be the most appropriate option.If your client has a penchant for realism, then you may prefer to use a 3D presentation.2D model rendering is best suited to artists who can effectively convey space and depth. But of course, it is not for everyone. Some artists do not have the ability to visually communicate spatial differences, so mastering 3D model rendering can definitely help any professional to meet the needs of their clients and effectively communicate the vision of their project to all stakeholders.As a designer or illustrator, it is important to gain insight into your client's mind by showing as much diversity as possible in your portfolio to help you understand what they find attractive. If your clients respond more positively to 3D images than 2D, you should do your best to adapt to their sensibilities. Even if your skills lie primarily in one or the other, you should always try to improve your toolkit to meet the changing needs of today's customers. ConclusionIf you are a business looking for 3D model rendering services, or want to explore how some of the world's best companies are pushing the boundaries of 3D rendering, you can follow Fox Renderfarm, the leading cloud rendering service provider, and receive a free $25 rendering voucher to have a try!
3D Tutorial: How to Make a Stylized Character with 3ds Max (2)
Continue part 1 of 3D Tutorial: How to Make a Stylized Character, the smarter and cheaper cloud render farm, Fox Renderfarm still shares with you the tutorial about how to make a stylized character.- 3D Tutorial: How to Make a Stylized Character with 3ds Max (1)") Topology, UV, and bakingThis role requires two parts that need to be topology, the character's head, and the mechanical headset. The topology of the mechanical part mainly uses 3ds Max's Toggle ribbon tool and modeling plug-in. The character head uses Zbrush's own topology tool Zwrap 1.0.!3D Tutorial How to Make a Stylized Character!3D Tutorial How to Make a Stylized CharacterWhile topology, the model alignment mode is selected, adding the corresponding adsorption points according to the structure and the number of the low-poly point corresponds to the number of the high-poly.!3D Tutorial How to Make a Stylized CharacterThen we can calculate the match and complete the topology. All that is left is to adjust the low-poly details in 3ds Max and add models with details such as eyes.!3D Tutorial How to Make a Stylized Character!3D Tutorial How to Make a Stylized Character UVSAfter the topology is completed, it is now the work of the UV part. I use the 3ds Max plug-in Unwrap Pro and PolyUnwrapper v4.3.5 with tools, and the UV work on the face mainly use Unwrap Pro.!3D Tutorial How to Make a Stylized Character!3D Tutorial How to Make a Stylized Character!3D Tutorial How to Make a Stylized Character Texturing1. Draw the vertex color map with Zbrush2. Marmoset Toolbag3. Baking normals and color mapsToolbag supports OBJ or FBX model formats. The following are the low-poly OBJ export settings,!3D Tutorial How to Make a Stylized CharacterA total of 7 textures have been output, as shown in the following figure,!3D Tutorial How to Make a Stylized CharacterRealistic skin texture drawing is done in Substance Painter. First, import the OBJ format model into Substance Painter, and then assign all the baked textures to the model. First, turn on the SSS effect, and then adjust the skin texture to a satisfactory effect. Finally, the PBR texture of the skin is exported.!3D Tutorial How to Make a Stylized Character Marmoset Toolbag 3 real-time rendering There are two types of lighting settings, environment, and lighting settings. First, an HDRI environment map was used, then the main light source and a blue fill light were placed on the side. There is also a fill light on the front, which makes the overall facial lighting softer. lighting effects:!3D Tutorial How to Make a Stylized CharacterFinal render:!3D Tutorial How to Make a Stylized CharacterFox Renderfarm hopes it will be of some help to you. As you know, Fox Renderfarm is an excellent cloud rendering services provider in the CG world, so if you need to find a render farm, why not try Fox Renderfarm, which is offering a free $25 trial for new users? Thanks for reading!
3D Tutorial: How to Make a Stylized Character with 3ds Max (1)
1 Month rendered in 2 hours, the fastest GPU & CPU cloud render farm, Fox Renderfarm still share with you 3D tutorials. This project is made by the 3D character artist, JFD. In this tutorial, he will show you the process of making a realistic character. Zbrush and 3ds Max are used to make models. Toolbag is used for topology. Substance Painter is used for textures, and Photoshop is used for final compositing. !3D Tutorial How to Make a Stylized Character!3D Tutorial How to Make a Stylized Character!3D Tutorial How to Make a Stylized Character!3D Tutorial How to Make a Stylized CharacterSoftware used: Zbrush, 3ds Max, Toolbag, Substance Painter, Photoshop Gathering ReferenceI wanted to make a realistic character to practice what I just learned. In the process of collecting information, I want to add a bit of technology to the character to increase his sense of mystery. So I chose to add a pair of headphones full of science fiction.!3D Tutorial How to Make a Stylized Character BlockingThe whole work is divided into three parts, Blocking, high-poly, and high-poly for mechanical parts. First of all, I started to model the character's head. I used a basic head model in Zbrush to modify it as needed and sculpted a high-poly on this basis. I can organize and save the model from my previous work as a basic model.!3D Tutorial How to Make a Stylized CharacterIn this process, first, use Zbrush to sculpt the head mechanism, and then use the skin brush to sculpt the details of the skin. I used the basic brush that comes with Zbrush in the whole process. And the details of skin pores use XYZ skin and Alpha channel mapping.!3D Tutorial How to Make a Stylized Character!3D Tutorial How to Make a Stylized CharacterAfter the production of the head model is completed, it is the high-poly production of the mechanical part. This part of the model is first made in Zbrush to make the main shape and then placed in 3ds Max for topology and subsequent smoothing.!3D Tutorial How to Make a Stylized Character Hair makingHair making is a challenge. This part includes four parts, hair, beard, eyebrows, and fine hair on the body. I found some good references.!3D Tutorial How to Make a Stylized CharacterThe hair production mainly uses Zbrsuh's own hair system, Fiber Mesh, which can make the hair into a solid model, use the hairbrush to comb the hair, beard, eyebrows, eyelashes, and fine hair. We can see all the brushes I used in the picture below. !3D Tutorial How to Make a Stylized CharacterTo make the hair, we need to group the model first. It is mainly used to select the hair growth area and add a mask to generate the hair so that the hair will be automatically grouped for easy adjustment of the shape. Another benefit of model grouping is that the length of the hair can be better controlled according to the grouping.!3D Tutorial How to Make a Stylized CharacterBefore the beard is made, the models are also grouped and made with the Fiber Mesh brush. The beard is generated first, and then the position, length, and shape are adjusted. The sweat, eyebrows, and eyelashes are also made in the same way.!3D Tutorial How to Make a Stylized Character!3D Tutorial How to Make a Stylized Character!3D Tutorial How to Make a Stylized CharacterThe following is the high-poly rendering effect tested using ZBrush's BPR renderer. We can clearly see the direction of the hair and beard hair, and the rest is the texture.!3D Tutorial How to Make a Stylized Character!3D Tutorial How to Make a Stylized CharacterNow follow the best CPU&GPU render farm, Fox Renderfarm to the next part: 3D Tutorial: How to Make a Stylized Character with 3ds Max (2)").