Will GPU Rendering Dominate the 3D Industry?
Authored by Shaun Swanson
GPUs have been used for displaying on-screen graphics for years, but using them to render final outputs is just now coming of age. Many popular rendering packages have GPU based alternatives to their flagship software. Chaos Group makes a GPU based version of V-Ray called V-Ray RT. NVIDIA has an alternative to Mental Ray called iRay. Standalone GPU renderers like Redshift, Octane and Furryball are becoming popular as well.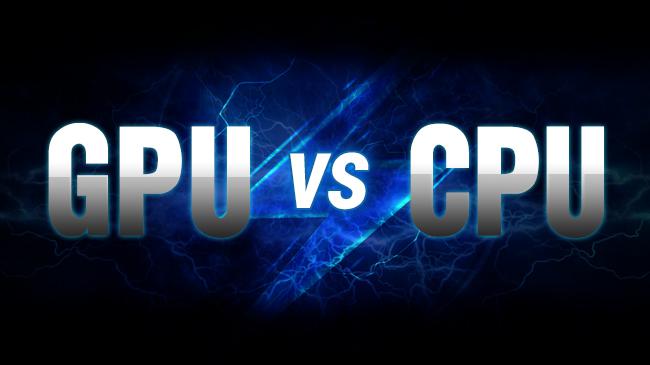 Relying on memory rather than processor speed, GPU rendering can be much faster than normal CPU rendering. The speed increase is due to the way different processors handle jobs. The main processor on a motherboard is good at tackling a few difficult calculations at a time. Think of the CPU as the manager of a factory, thoughtfully making tough decisions.
A GPU, on the other hand, is more like an entire group of workers at the factory. While they can't do the same type of calculations, they can handle many, many more tasks at once without becoming overwhelmed. Many rendering tasks are the kind of repetitive, brute-force functions GPUs are good at. Plus, you can stack several GPUs into one computer. This all means GPU systems can often render much, much faster!
There is also a huge advantage that comes long before you create your final output. GPU rendering is so fast it can often provide real-time feedback while working. No more going to get a cup of coffee while your preview render chugs away. You can see material and lighting changes happen before your eyes. So why don't we all just switch to GPU rendering and go home early? It isn't that easy. GPU based renderers aren't as polished as their older, CPU based cousins. Developers are adding new features all the time, but they still don't support all the tools 3D artists have come to expect from a rendering solution. Things like displacement, hair and volumetrics are often missing from GPU based engines.
The largest problem facing GPU rendering may be the way graphics processors handle a scene. The all-at-once nature of GPU rendering means an entire 3D scene has to be loaded into memory to work. Large scenes with tons of polygons and lots of hi-res textures simply won't work for some GPU based solutions.
There is also a learning curve. Many GPU renderers require their own materials, shaders and lighting. So, scenes set up for CPU based rendering can't simply be switched to a GPU renderer, even if the same company produces the software. 3D artists have to choose which workflow they want to use at the beginning of the project.
Will GPU rendering ever catch up to CPU based software? Will it dominate the 3D industry? Time will tell. In the meantime, the best way to render quickly and still enjoy the advanced features of CPU rendering is by using a cloud rendering solution like Fox Renderfarm.
About:
The author, Shaun Swanson, has fifteen years of experience in 3D rendering and graphic design. He has used several software packages and has a very broad knowledge of digital art ranging from entertainment to product design.
Recommended reading
---
How to Render High-quality Images in Blender
2020-03-09
---
Top 9 Best And Free Blender Render Farms of 2023
2022-05-09
---
Revealing the Techniques Behind the Production of Jibaro "Love, Death & Robots", Which Took Two Years to Draw the Storyboard
2022-06-10
---
How to Render Large Scenes with Redshift in Cinema 4D
2019-10-15
---
Top 10 Free And Best Cloud Rendering Services in 2023
2022-06-24
---
Top 8 After Effects Render Farm Recommended of 2023
2022-07-07
---
How to Reduce Noise in Corona Renderer - Corona Denoising
2019-05-15
---
Why V-Ray Render is Black in SketchUp And How To Fix it?
2019-05-07
---
Partners
Previous: Fox Renderfarm Proudly Becomes a Golden Sponsor of The Evermotion Challenge 2014
Next: NEW BRAND, NEW COMMITMENT. RAYVISION-Our New Branding for Fox Renderfarm
Interested
Top 4 Rendering Engines Used for Multi GPU Rendering
Top 4 Multi-GPU Rendering Engines 1. Redshift!Which Cloud Rendering Services are Used for Multi GPU Rendering 2Redshift Rendering Technologies Inc was founded in California in early 2012 with the goal of developing production-quality, GPU-accelerated renderers that support biased global lighting technologies that have hitherto been entirely within the CPU domain. Redshift is now part of the Maxon family and is rapidly becoming the first choice of rendering engine for the motion design community. The Redshift rendering engine supports a selection of 3D programs: Autodesk Maya, Autodesk 3Ds Max, Maxon Cinema 4D, Houdini and Katana.Recommended hardware requirements:- RAM: 16GB RAM or more- CPU: Core i7 or Xeon equivalent, 3.0GHz or higher- Graphics card: with 7.0 or higher CUDA computing power and NVIDIA GPU with 10GB or higher video memory: NVIDIA Quadro, Titan or GeForce RTX GPU for hardware-accelerated ray tracing.- Multiple GPUs 2. OctaneRender!Which Cloud Rendering Services are Used for Multi GPU Rendering 3OctaneRender® is one of the world's first and fastest bias-free, spectrally correct GPU rendering engines, offering quality and speed unmatched by any production renderer on the market. As a product of Refractive Software, Octane was founded by Terrence Vergauwen, the lead developer of LuxRender, and in March 2012, Refractive Software was acquired by Otoy, who also received investment from Autodesk. Now as part of the Otoy family, Octane supports 3Ds Max, Maya, Cinema 4D, Houdini, Daz Studio, Unreal Engine and many other software.Recommended hardware requirements:- RAM: 16GB RAM or more- Graphics: with CUDA computing power 3.0 or higher; and 10GB video memory of NVIDIA GPU: NVIDIA GeForce RTX GPU, GTX, Quadro, Titan- Multiple GPUs 3. EEVEE VS CYCLES!Which Cloud Rendering Services are Used for Multi GPU Rendering 4Eevee vs Cycles are the two main GPU rendering engines for Blender, the Blender Foundation's open source 3D creation software that enables users to handle all aspects of 3D work. It includes modeling, animation, game creation, visual effects and much more. Blender is easy to download, customize and work on your own terms. The software also offers a large number of plugins for creating various types of models, animations, sculptures and more. Ultimately, comparing Evee with Cycles is more or less just comparing real time with ray tracing.Recommended hardware requirements:- RAM: 16GB RAM or more- CPU: 64-bit quad-core CPU- Graphics card: At least 4GB of video memory- Multiple GPUsOptimal hardware requirements:- RAM: 32GB RAM or more- CPU: 64-bit octa-core CPU- Graphics: 12GB VRAM or more, RTX GPU, Quadro- Multiple GPUs 4. FStormRender!Which Cloud Rendering Services are Used for Multi GPU Rendering 5FStormRender is a new GPU-driven, unbiased renderer with good performance that is quite easy to use. It uses convenient materials and light sources, it is simple, fast and realistic. Currently, FStorm GPU rendering engine is only available for 3Ds Max software. We hope that this amazing renderer will be available for major 3D software in the near future.The FStormRender has many unique features such as improved tone mapping, glossy reflection shaders, glare effects, light sampling, improved ray tracer and optimized QMC sampling. The FStormRender is deeply integrated into the 3Ds Max environment and supports all necessary and critical features. The built-in scene converter allows easy and careful conversion of any scene from Corona, Octane and Vray renders. Fstorm is interactive, allowing the user to change the scene as it is rendered and to view these changes interactively without reloading. Any scene changes (other than geometry) are automatically reflected. Geometry changes require enabling live geometry updates or pressing the Reload Geometry button. Users can move the camera and get live updates in the frame buffer window.Recommended hardware requirements:- RAM: 16GB RAM or more- Graphics: NVIDIA Geforce GPU: RTX and GTX series- Multiple GPUs The Most Recommended Render Farm!Fox Renderfarm cloud renderingRendering on a multi GPU rendering engine can speed up rendering times, however, it requires thousands of dollars to build powerful workstations. In addition to purchasing a License, there is an investment of at least 4/6/8 GPU cards, compatible CPUs, motherboards, and other costs such as electricity and maintenance. In practice, it is possible to use Redshift, Octane or Fstorm on a single GPU, but their performance will not be optimized and rendering times will not be significantly reduced. It is therefore recommended that you spend the money on a trusted cloud rendering service and let its powerful systems render your work in minutes with just a few clicks, rather than waiting for hours on a local computer to do so.Fox Renderfarm has a team of staff experienced in the field of computer graphics. With professional services and industry-leading innovation, they provide cloud rendering services to a wide variety of entertainment studios and animation studios from over 50 countries and territories. Fox Renderfarm offers cloud rendering services - SaaS (Software as a Service) - that allow clients to use their applications to render their projects.To build a more secure cloud render farm that better protects the privacy of our beloved customers, Fox Renderfarm has successfully completed MPA's Content Security Best Practices and officially become a TPN Trusted Partner!Here are some projects that also use Fox Renderfarm cloud rendering services:In terms of supported software, Fox Renderfarm does a good job, roughly speaking, in supporting a wide range of software and renderers. It supports mainstream software such as 3Ds Max, Maya, Cinema4D, Blender. Fox Renderfarm also supports some rendering engines, namely Arnold, Vray, Redshift for GPU rendering. Fox Render Farm is also relatively inexpensive compared to the industry. There is also a free $25 trial voucher available!
Full List of GPU Render Farm For You to Choose
The most significant difference between CPU and GPU rendering is that CPU rendering is more accurate, but GPU rendering is faster. Each of the two renderings has its own points. So are you looking for a GPU render farm for your 3D software?In this article, Fox Renderfarm, the leading cloud rendering service provider and GPU render farm, will introduce to you 8 GPU render farms.- What is GPU rendering? Top 8 Best GPU Render Farms 1. Fox Renderfarm - Best GPU Render Farm!Fox Renderfarm - The Best Blender Render FarmFox Renderfarm, a TPN-Accredited render farm, supports both CPU and GPU rendering. As a GPU render farm, Fox Renderfarm not only supports popular 3D software, but also most GPU renderers, such as Redshift and Blender Cycles.The price of Fox Renderfarm is as low as 0.036/core hour and offers a price estimator. It offers a free $25 trial for all new registrants.In addition, Fox Renderfarm frequently hosts 3D challenges, such as the monthly FGT Art, where anyone who submits an entry can receive a render voucher for at least $20. 2. Rebus Farm - Powerful GPU Render Farm!RebusFarm - Excellent Render Farm for BlenderRebusFarm supports all common 3D applications, as well as CPU and GPU rendering. Its GPU render cloud runs with NVIDIA's Quadro RTX 6000. RebusFarm also offers a free trial for $25.50.RebusFarm offers prices as low as 1.22 cent/GHzh. 3. iRender - Strong GPU Render Farm !iRender - Great Blender Render FarmiRender is an IaaS and PaaS provider as well as a GPU render farm. It supports almost all 3D software such as Cinema 4D, Houdini, Maya, 3ds Max, Blender, etc. and is optimized for (Redshift, Octane, Blender, Vray, Iray, etc.) multi-GPU rendering tasks.iRender charges based on time of use and supports 24/7 live chat. 4. Garagefarm - Cloud-based GPU Render Farm!GarageFarm - Cloud Rendering Blender Render FarmGarageFarm is a fully automated cloud-based CPU and GPU render farm. GarageFarm allows you to easily upload and manage your projects. He supports most 3D software and plugins such as 3ds Max, Maya, Cinema4D, After Effects and Blender. GarageFarm's GPU nodes come with 8x Tesla K80 cards and 128 GB RAM. It offers a $25 free trial and 24/7 customer Live chat. 5. Ranch Computing - CPU and GPU Render Farm!Ranch Computing - Outstanding Blender Render FarmRanch Computing is a render farm that supports both CPU and GPU rendering. Ranch Computing supports 3ds Max, Blender, Cinema 4D, Houdini and other software and displays the corresponding supported versions on its website.Ranch Computing offers a free trial for 30€ and a 50% discount for academic projects. He does not support live chat, but you can chat via email or Skype. 6. SuperRenders Farm - GPU Render Farm!SuperRenders FarmAs a GPU render farm, for GPU rendering, SuperRenders Farm is equipped with NVIDIA GTX 1080Ti for Graphic Card and 48GB - 128GB for RAM.SuperRenders Farm supports all major applications used in the industry, such as 3dsMax, Maya and C4D.Sign up for SuperRenders and you will receive a free $25 credit. 7. Animarender - 24/7 GPU Render Farm!AnimaRenderAnimarender is an online rendering service that offers 24/7 live support. They support CPU and GPU rendering for all popular 3D modeling software such as 3ds Max, Cinema 4D, Maya and Blender.Animarender has its own software, AnimaManager. AnimaManager allows you to install plugins directly into your 3D software and render with one click directly from the software interface. AnimaManager supports both Windows and Mac. 8. RenderStreet - Blender GPU Render Farm!RenderStreet - Best Render Farm for BlenderRenderStreet is primarily a Blender and Modo render farm that supports both CPU and GPU rendering. Its GPU servers are equipped with top-of-the-line NVIDIA® T4 GPU cards, roughly equivalent to one RTX 3080 card per server. RenderStreet's pricing is charged either by the hour or by the month. You can use only $1 for its one-day trial. SummaryThe best GPU render farm is the one that fits your needs. If you're still confused, try Fox Renderfarm, a powerful GPU render farm and leading cloud rendering service provider, offering a $25 free trial!
Where can I get GPU rendering services?
With the development of computer technology, people are increasingly demanding the processing of graphics and images. Especially the emerging 3D technology has enabled graphic image processing and 3D computing to be applied to various video games and movie industries. Rendering is an essential part of 3D production.!V-Ray RT GPU fast rendering display from Dabarti CGI StudioV-Ray RT GPU fast rendering display from Dabarti CGI Studio Rendering mainly refers to the process of generating images through a software model. The program calculates the geometry, vertices, and other information of the graphic to be drawn, and then obtains the image. The first thing to confirm is that both the CPU and the GPU can perform rendering tasks, but GPU-Based Rendering can be rendered using a graphics card. Because the GPU is capable of a large number of operations, GPU rendering accounts for more and more in the fields of graphical interfaces and 3D games.As GPU renderers are increasingly recognized by many CG professionals, GPU-enabled renderers include Redshift, Blender's Cycles, Octane Render, NVIDIA Iray, and more. Therefore, in addition to supporting CPU rendering services, many render farms also begin to support GPU rendering services.!V-Ray RT GPU fast rendering display from Dabarti CGI Studio V-Ray RT GPU fast rendering display from Dabarti CGI Studio Where can I get GPU rendering services? As the world's leading cloud rendering service provider and render farm, Fox Renderfarm, not only supporting CPU rendering services, but also supporting GPU rendering services.Fox Renderfarm offers massive rendering nodes at prices as low as $0.036 per core hour. Boost your 3D production, 1 month rendered in 5 mins, welcome to get $25 free trial now.