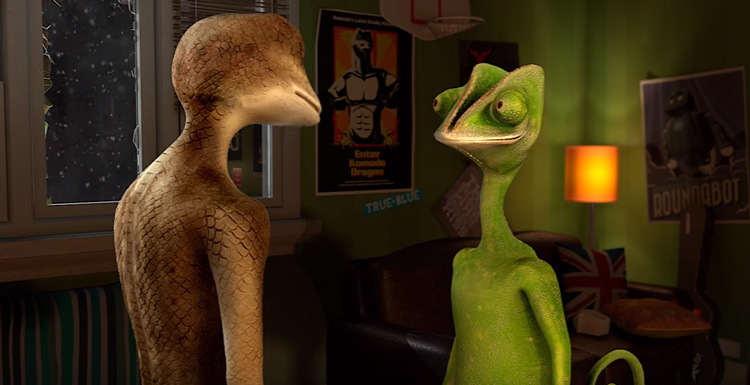 RAYVISION Congratulates Michael Wakelam on Releasing the Successful Trailer for His New Film 'Life of Bri' n Chris'
Life of Bri | Michael Wakelam
In collaboration with Rayvision, Chaos Group and under the banner of Anthem Studios, Michael Wakelam introduces two new animated characters in the upcoming film 'Life of Bri' n Chris'!
'Life of Bri' n Chris' is a comic story of two friends, a lizard and a chameleon. The Scottish common lizard Bri' and the unfortunate Australian Chameleon Chris, end up dealing with a crazy accident due to the excessively competitive attitude of one of the friends. The clash of entirely different personalities and the attempts at outdoing each other in a typical manly style add a unique comedic touch to this new partnership.
Rayvision, the Chinese company that has worked on a huge number of projects with Dreamworks, Disney, Sony and Lucas played a pivotal role in providing the rendering power for this movie. Utilizing its exceptional expertise in CG animation production, Rayvision helped transform Michael Wakelams concept into reality after two and a half years of constant brainstorming and planning.
Rayvision sends out its hearty congratulations to the entire team behind 'Life of Bri' n Chris'. A spokesperson from the company said, "Nothing makes us gladder than completing a project and seeing it being appreciated around the world. We would like to take this opportunity to congratulate Michael Wakelam and the entire team behind the project that worked diligently and displayed the utmost level of teamwork to complete this project successfully."
Specializing in cluster rendering, parallel computing and the pioneer behind 'self-service cloud rendering ', Rayvision has worked on diverse animation projects for the world's top production houses.
Expanding on the challenges faced behind 'Life of Bri' n Chris', the spokesperson explained, "For the entire team, one of the biggest challenges was to present the whole concept in mere 8 minutes. In these 8 minutes, the characters had to be presented in a unique manner, a manner in which the audience would anticipate to see them again. However, when it comes to animated movies, the more the heads the better! Our hard work along with Anthem Studios, Adelphoi Music, and Chaos Group paid off. We would like to congratulate the entire team again on the successful completion and of course, the interstellar success on the trailer! "
Rayvision is quite excited about the release of the short animated production, meanwhile a large number of people are pouring in at the Anthem Studios website to check out the trailer for 'Life of Bri' n Chris'.
About Rayvision
Shenzhen Rayvision Inc. is an internet technology company which specializes in research into cluster rendering and parallel computing technology, providing computing services for cloud rendering . It is the pioneer of "self-service cloud rendering". Renderbus, its brand, was the first company in China to offer a cloud rendering platform and boasts the biggest scale and the greatest number of users.
For the purpose of providing consistent service for CG studios in the world, RAYVISION Inc. launched a family brand, "RAYVISION", globally, based on Renderbus (its domestic brand) and Fox Renderfarm (its overseas brand), in 2014. Rayvision promises to provide global users with more excellent, stable and consistent cloud rendering service
Key Words
Cloud Rendering Farm
|
Annecy Festival
|
MILESTONES
|
Fox Renderfarm
|
Desktop Client
|
Blender
|
Bollywood films
|
Hum3D Contest
|
NVIDIA
|
Silkroad Digital Vision
|
Malaysian Animated Films
|
Indiajoy
|
Art Competitions
|
Architectural Visualization
|
CGarchitect Architectural 3Dawards
|
Best cloud rendering services
|
Render cloud
|
VFX
|
Upin & Ipin
|
Green Book
|
Fox Renderfarm Interview
|
Mission Mangal
|
Kre8tif!
|
Fox Renderfarm Mini Program
|
CG
|
CG Tech Summit Malaysia
|
film works
|
cloud rendering
|
Golden Horse Award
|
Shadow
|
SIGGRAPH Asia 2018
|
Morrigan Flebotte
|
VWArtclub Annual *Contest
|
animation works
|
Asswad Mouhamad
|
IMax Studio
|
Boonie Bears
|
Renderosity
|
Gary S. Kennedy
|
Evermotion Challenge 2018
|
Brian Beaudry
|
Alita: Battle Angel
|
Bobby Bala
|
Mohit Sanchaniya
|
Katapix Media
|
Flying Car Productions
|
Razer
|
The Shipment
|
FoxRenderfarm
|
CG Tech Summit
|
Alpacalypse Productions
|
halloween
|
Hum3d Survial Car Challenge
|
Federico Ciuffolini
|
Ralf Sczepan
|
Iavor Trifonov
|
Clarisse
|
CGTS Malaysia
|
Isotropix
|
C4D
|
Tomasz Bednarz
|
V-Ray
|
Cinema 4D
|
MAXON
|
siggraph caf
|
Evermotion challenge 2017
|
CGTrader Space Competition
|
film of the year
|
Le Anh Nhan
|
Planet Unknown
|
Fox Renderfarm 2017 Achievements
|
CSFF
|
Julio Soto
|
boar 2017
|
Deep
|
SIGGRAPH Asia 2017
|
Chris Sun
|
Glass Cage
|
Making Life of Bri' n Chris
|
anthem studios
|
The Rookies
|
Peter Draper
|
Makuta VFX
|
Baahubali 2
|
CG Competition
|
enchantedmob
|
CG Studios
|
Academy Awards
|
CGVray
|
weeklycgchallenge
|
SketchUp
|
siggraph 2017
|
Chris Buchal
|
SIGGRAPH Asia
|
LightWave
|
Indigo Renderer
|
Rafael Chies
|
V-Ray RT
|
CPU Rendering
|
NVIDIA Iray
|
Chaos Group
|
OctaneRender
|
Redshift
|
STAR CORE
|
CICAF
|
VR
|
Mr. Hublot
|
Ribbit
|
GPU Rendering
|
Linux
|
Monkey Island
|
LuxRender
|
HPC
|
Render Farm
|
Life of Bri
|
WORLD LAB
|
Michael Wakelam
|
3D Rendering
|
Online Render Farm
|
Alibaba
|
Baahubali
|
阿里雲
|
VAX
|
Malaysia
|
Aliyun
|
2015 Hangzhou Computing Conference
|
Oscar
|
SIGGRAPH
|
CGTrader
|
Kunming Asia Animation Exhibition
|
Evermotion
|
RenderMan
|
Categories
---
Fox Renderfarm News
---
Fox Renderfarm Projects
---
Fox Renderfarm Lectures
---
CG Challenges
---
Top News
---
Blog
---
Fox News
---
Fox Talk
---
Trending
---
Recent News List
---
Fox Renderfarm Evergreen Program in 2022
2022-04-29
---
Revealing Mitosis Process with Cinema 4D
2022-04-15
---
MayaとZBrushでEpic Leviathan Roverの作成方法
2022-03-22
---
Interview with Squids Visual Arts, VFX Creator of the Vodafone x Salah Campaign
2022-03-11
---
Creating a Angry Snowman With Blender
2022-03-02
---
How to Render Realistic Snow With Blender
2022-02-28
---
SIGGRAPH Asiaは2021、東京で初のハイブリッド版が無事開催
2022-02-25
---
Interview With Andrey Oliver, Who Won First Place in the Student Category of FGT3D Snowman Challenge
2022-02-24
---
Interview with Massimiliano Napoli, COO of Diorama: Diorama's Aesthetic and Their Secrets behind the Post-pandemic Success
2022-02-23
---
Partners