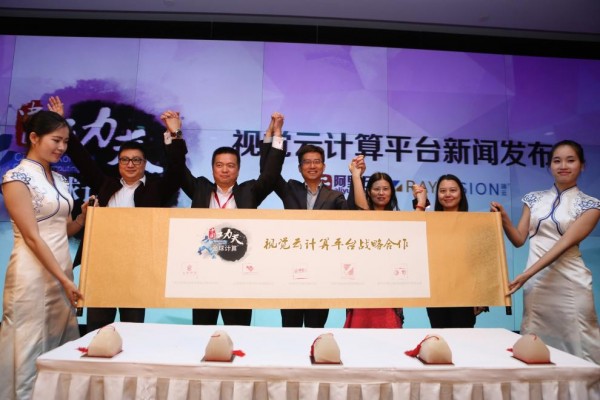 Aliyun® Partners With RAYVISION Inc.® to Provide Global Visualization Cloud Computing Services
April 28th, 2015, Simon Hu, president of Aliyun Computing Co., LTD and Michael Liang, president of Rayvision Inc., held a press conference in Alibaba's Hangzhou headquarter announcing Aliyun officially teamed up with Rayvision to form a global strategic partnership to provide global visual cloud computing services.
Many honorable guests attended the press conference and gave praised speeches such as Michael Liang, the president of Rayvision Inc., Zhang Qiang, the CEO of Alibaba Pictures Group Limited, Mr. Laurent Witz, the director of "Mr. Hublot" who won the Academy Award for Best Animated Short Film at the 86th Academy Awards, Nickson Fong, the winner of life time Academy Award for Scientific and Technical Awards in 2013 as well as representatives from famous VFX and animation studios.
Over the past year, many technology giants have entered the visual cloud computing field around the world either via acquiring, merging, investing or adopting visual cloud companies. As starter, Microsoft acquired GreenButton which is a cloud rendering and high performance computing provider based in New Zealand. Google acquired Zync, a VFX rendering studio in the US. Amazon acquired Twitch, a live gaming broadcasting platform. Russian tech investor Yuri Milner, Google former president Eric Schmidt, IBM former CEO Sam Palmisano and Morgan Stanley former CEO John Mack all announced to invest in OTOY, a VFX and VR cloud rendering studio. Autodesk acquired Shotgun Software, a VFX and animation production and collaboration platform. Facebook also joined the trend purchasing Oculus along with Samsung and Sony.
Michael Liang, the president of Rayvision Inc., indicated the computing ability for a single processing unit would increase at least 1000 folds in the coming 20 years and the needs for cloud computing will be more than ever. Visual application will be the major drive for these huge computing demands.
Zhang Qiang, the CEO of Alibaba Pictures Group Limited, said that currently Alibaba Pictures are utilizing the big data methodology to make films, but in the near future they will be developing more big budget VFX films using visual cloud. The visual cloud rendering platform can shorten the post-production period and save production costs dramatically.
Simon Hu, the president of Aliyun Computing Co., LTD, said that with more than 1.4 million clients from China and internationally, Aliyun will be more aggressive in Southeast Asia and the Middle-east area after setting up data centers in USA and Germany. As a matter of fact, this strategic alliance with Rayvision is the result of the internal resource adjustment from Alibaba Group to extend its global reach.
The first stage for the strategic partnership is to advance Rayvision's rendering capability and technology. Integrating with the advanced and resourceful Aliyun infrastructure, Rayvision will further improve its abilities for high availability, high performance computing and storage, global data transfer capacity, data privacy and security, usability, and flexibility for global reach.
At the second stage, Rayvision will team up with more industry partners all over the world in R&D and market development to provide cloud solutions to visual entertainment ecosystems including film, television, on demand media as well as other industries needs visual computing.
Rayvision is the pioneer in the cloud rendering and visual computation application with rich professional experienced crews, while Aliyun is the most powerful cloud computing provider in China. The strategic partnership between the two is easily "a marriage made in heaven".
Founded in 2009 with R&D and data centers in Hangzhou, Beijing and Silicon Valley, Aliyun Computing Co., LTD is the cloud computing brand affiliated under Alibaba Group. It is one of the most powerful cloud computing providers and the leader in massive flexible computation, high performance storage, information security and CDN in China with one of the most advanced cloud infrastructure.
As a global technology company,Rayvision Inc.specializes in distributed, parallel computing and provides cloud computing services for rendering in various industries such as computer generated animated films/televisions, visual effects for live action films/televisions, architectural and interior animation, game cinematics, stereoscopic ride films and commercials. Pioneering the world's premier self-service render farm , its subsidiary Renderbus.com and FoxRenderFarm.com are one of the largest commercial render farms in the world with hundreds of thousands of users worldwide.
Clients gave high praise to work with the team from Rayvision, projects include: Best Animated Short film at the 86th Academy Awards–"Mr. Hublot", "Blood Vengeance", 2013 India top box office hit "Krrish 3", "Dragon Nest · Warriors'dawn", "The Legend of Qin and 10000 Years Later", first Dubai animation feature "Bilal", etc.
Key Words
MILESTONES
|
Fox Renderfarm
|
Desktop Client
|
Blender
|
Bollywood films
|
Hum3D Contest
|
NVIDIA
|
Silkroad Digital Vision
|
Malaysian Animated Films
|
Indiajoy
|
Art Competitions
|
Architectural Visualization
|
CGarchitect Architectural 3Dawards
|
Best cloud rendering services
|
Render cloud
|
VFX
|
Upin & Ipin
|
Green Book
|
Fox Renderfarm Interview
|
Mission Mangal
|
Kre8tif!
|
Fox Renderfarm Mini Program
|
CG
|
CG Tech Summit Malaysia
|
Zhang Yimou
|
film works
|
cloud rendering
|
Golden Horse Award
|
Shadow
|
SIGGRAPH Asia 2018
|
Morrigan Flebotte
|
VWArtclub Annual *Contest
|
animation works
|
Asswad Mouhamad
|
IMax Studio
|
Boonie Bears
|
Renderosity
|
Gary S. Kennedy
|
Evermotion Challenge 2018
|
Brian Beaudry
|
Alita: Battle Angel
|
Bobby Bala
|
Mohit Sanchaniya
|
Katapix Media
|
Flying Car Productions
|
Razer
|
The Shipment
|
FoxRenderfarm
|
CG Tech Summit
|
Alpacalypse Productions
|
halloween
|
Hum3d Survial Car Challenge
|
Federico Ciuffolini
|
Ralf Sczepan
|
Iavor Trifonov
|
Clarisse
|
CGTS Malaysia
|
Isotropix
|
C4D
|
Tomasz Bednarz
|
V-Ray
|
Cinema 4D
|
MAXON
|
siggraph caf
|
Evermotion challenge 2017
|
CGTrader Space Competition
|
film of the year
|
Le Anh Nhan
|
Planet Unknown
|
Fox Renderfarm 2017 Achievements
|
CSFF
|
Julio Soto
|
boar 2017
|
Deep
|
SIGGRAPH Asia 2017
|
Chris Sun
|
Glass Cage
|
Fox Renderfarm
|
Making Life of Bri' n Chris
|
anthem studios
|
The Rookies
|
Peter Draper
|
Makuta VFX
|
Baahubali 2
|
CG Competition
|
enchantedmob
|
CG Studios
|
Academy Awards
|
CGVray
|
weeklycgchallenge
|
SketchUp
|
siggraph 2017
|
Chris Buchal
|
SIGGRAPH Asia
|
LightWave
|
Indigo Renderer
|
Rafael Chies
|
V-Ray RT
|
CPU Rendering
|
NVIDIA Iray
|
Chaos Group
|
OctaneRender
|
Redshift
|
STAR CORE
|
CICAF
|
VR
|
Mr. Hublot
|
Ribbit
|
GPU Rendering
|
Linux
|
Monkey Island
|
LuxRender
|
HPC
|
Render Farm
|
Life of Bri
|
WORLD LAB
|
Michael Wakelam
|
3D Rendering
|
Online Render Farm
|
Alibaba
|
Baahubali
|
阿里雲
|
VAX
|
Malaysia
|
Aliyun
|
2015 Hangzhou Computing Conference
|
Oscar
|
SIGGRAPH
|
CGTrader
|
Kunming Asia Animation Exhibition
|
Evermotion
|
RenderMan
|
Categories
---
Fox Renderfarm News
---
Fox Renderfarm Projects
---
Fox Renderfarm Lectures
---
CG Challenges
---
Top News
---
Blog
---
Fox News
---
Fox Talk
---
Trending
---
Recent News List
---
Creating A Simple But Powerful Santa in 3ds Max
2021-03-05T06:46:03.710Z
---
Making a Cartoon-style Heavy Metal Santa with ZBrush and Maya
2021-03-04T07:02:12.821Z
---
GPUレンダリング—利点は何ですか?
2021-03-03T10:42:21.046Z
---
CPUレンダリング—利点は何ですか?
2021-03-02T10:31:00.077Z
---
How to Create a Hail Phoenix with Cinema 4D and ZBrush
2021-02-24T10:37:07.225Z
---
How To Create A Nostalgic Alfa Romeo Racing Car With 3ds Max
2021-02-20T03:42:11.587Z
---
How To Create A Realistic Doomsday in 3ds Max
2021-02-18T03:11:54.732Z
---
How to Use 3ds Max to Create A Photorealistic Car Render Giving Fairytale Mood
2021-02-15T07:51:48.077Z
---
Tribute To Bravehearts In My Own 2020: Introducing 3D Artist, Reyaz Alankandy
2021-02-10T08:36:35.315Z
---
Partners