Indian's Top-Grossing Movie "Baahubali - The Beginning" Rendered by RAYVISION
As 2015 India's top budget film, the historical Indian epic blockbuster "Baahubali - The Beginning" has grossed more than $90 million USD worldwide, and has set an all-time domestic box office record for opening day with $7.8 million and opening weekend box office record with $25.6 million, topping the previous record of last year's "Happy New Year". Current statistics shows that "Baahubali - The Beginning" is the third global highest grossing Indian film of all time, and the highest grossing Indian film of all time within India.
This movie was directed by renowned Indian director S.S. Rajamouli, co-starring Prabhas and Rana Daggubati. Baahubali is a story about two brothers vying for the throne of the kingdom of Maahismati in their own ways; one (played by Prabhas) is a noble warrior named Baahubali whose believes in winning the confidence of the masses whereas the other (played by Rana Daggubati) believes in ruthlessness and a somewhat dictatorial approach. The details of which are best left unspoken.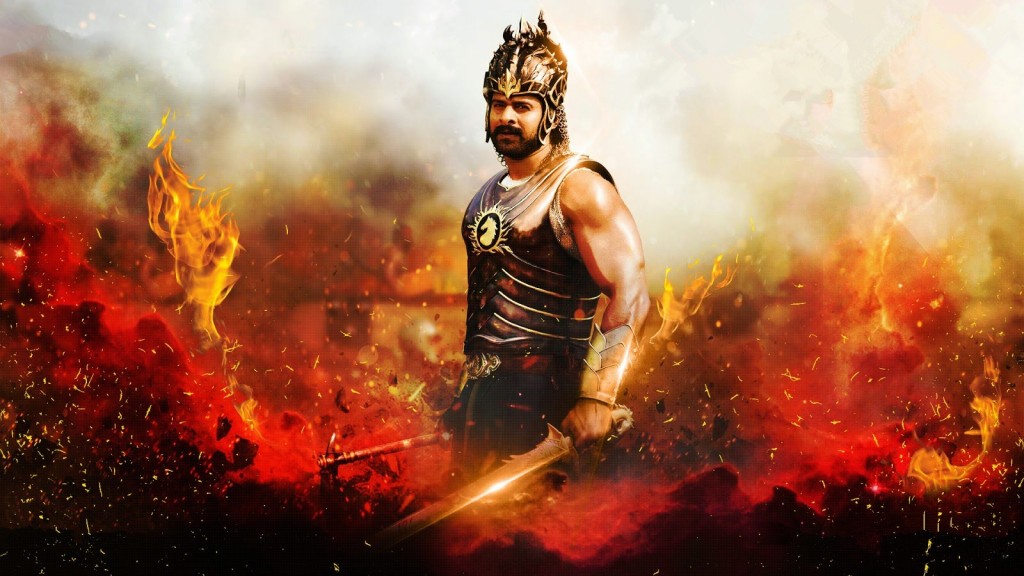 Baahubali's CGI visual effects was collaborated with a local company Makuta VFX. Rayvision was tasked with the responsibility of rendering the movie. Almost entire movie were super imposed with elaborated CGI special effects of lavish landscapes and magnificent war scenes from the movie.
Baahubali deserves a high praise for financing such high budget on an fictional epic. From the breathtaking waterfalls to the extreme complicated rendering of Maahismati, its clear that extreme measures was put into efforts and devoted into rendering highly complicated sets as well as the exclusive environments.
Baahubali is the answer to the world which Hollywood are not the only one can make Epic movies. Reuters gave a high praise of the movie "top-level entertaining movie and visual spectacle." The guardian also commented: "this movie is absolutely worth watching and worth the price of ticket!"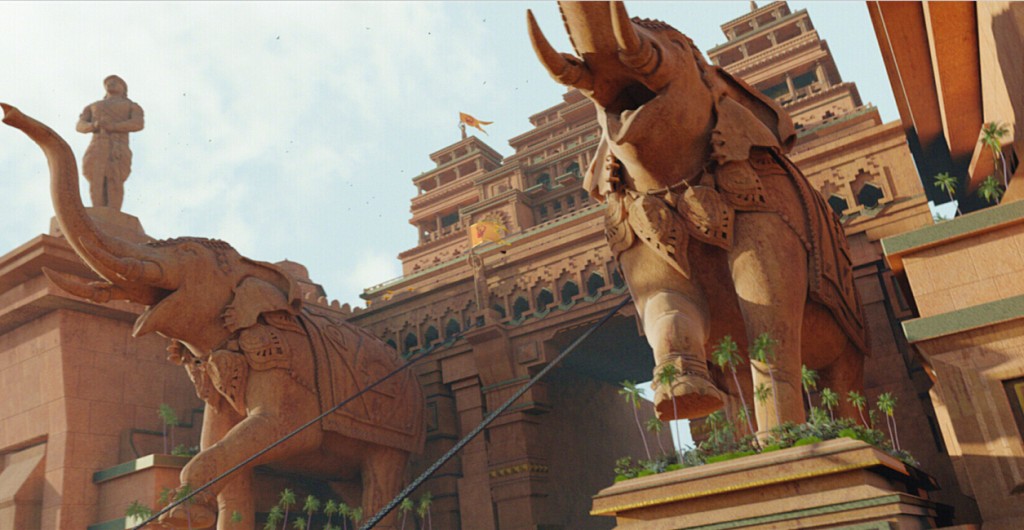 Rayvision as the cloud rendering partner of Makuta VFX, the joint cooperation on the Baahubali project was highly satisfactory. Subhrojyoti Banerjee, the senior VFX artist of Makuta VFX mentioned that, "Rayvision have been very helpful to us during our crunch time on the feature, notably their production coordinator and technical directors. They were available 24/7 to assist in getting our renders out and solve any snags we faced during the complex file setups. The pricing structure offered to us was competitive for the quantity of work we were producing with render nodes being always available to us for use."
Rayvision as cloud rendering expert and probably one of the world's largest render farms are eager to work with any production houses to produce top quality special-effects as well as animations. We will ensure our partner's vision, with our expertise and super computing power on your desktop to help the world understand the stories you want to tell.
Key Words
Cloud Rendering Farm
|
Annecy Festival
|
MILESTONES
|
Fox Renderfarm
|
Desktop Client
|
Blender
|
Bollywood films
|
Hum3D Contest
|
NVIDIA
|
Silkroad Digital Vision
|
Malaysian Animated Films
|
Indiajoy
|
Art Competitions
|
Architectural Visualization
|
CGarchitect Architectural 3Dawards
|
Best cloud rendering services
|
Render cloud
|
VFX
|
Upin & Ipin
|
Green Book
|
Fox Renderfarm Interview
|
Mission Mangal
|
Kre8tif!
|
Fox Renderfarm Mini Program
|
CG
|
CG Tech Summit Malaysia
|
film works
|
cloud rendering
|
Golden Horse Award
|
Shadow
|
SIGGRAPH Asia 2018
|
Morrigan Flebotte
|
VWArtclub Annual *Contest
|
animation works
|
Asswad Mouhamad
|
IMax Studio
|
Boonie Bears
|
Renderosity
|
Gary S. Kennedy
|
Evermotion Challenge 2018
|
Brian Beaudry
|
Alita: Battle Angel
|
Bobby Bala
|
Mohit Sanchaniya
|
Katapix Media
|
Flying Car Productions
|
Razer
|
The Shipment
|
FoxRenderfarm
|
CG Tech Summit
|
Alpacalypse Productions
|
halloween
|
Hum3d Survial Car Challenge
|
Federico Ciuffolini
|
Ralf Sczepan
|
Iavor Trifonov
|
Clarisse
|
CGTS Malaysia
|
Isotropix
|
C4D
|
Tomasz Bednarz
|
V-Ray
|
Cinema 4D
|
MAXON
|
siggraph caf
|
Evermotion challenge 2017
|
CGTrader Space Competition
|
film of the year
|
Le Anh Nhan
|
Planet Unknown
|
Fox Renderfarm 2017 Achievements
|
CSFF
|
Julio Soto
|
boar 2017
|
Deep
|
SIGGRAPH Asia 2017
|
Chris Sun
|
Glass Cage
|
Making Life of Bri' n Chris
|
anthem studios
|
The Rookies
|
Peter Draper
|
Makuta VFX
|
Baahubali 2
|
CG Competition
|
enchantedmob
|
CG Studios
|
Academy Awards
|
CGVray
|
weeklycgchallenge
|
SketchUp
|
siggraph 2017
|
Chris Buchal
|
SIGGRAPH Asia
|
LightWave
|
Indigo Renderer
|
Rafael Chies
|
V-Ray RT
|
CPU Rendering
|
NVIDIA Iray
|
Chaos Group
|
OctaneRender
|
Redshift
|
STAR CORE
|
CICAF
|
VR
|
Mr. Hublot
|
Ribbit
|
GPU Rendering
|
Linux
|
Monkey Island
|
LuxRender
|
HPC
|
Render Farm
|
Life of Bri
|
WORLD LAB
|
Michael Wakelam
|
3D Rendering
|
Online Render Farm
|
Alibaba
|
Baahubali
|
阿里雲
|
VAX
|
Malaysia
|
Aliyun
|
2015 Hangzhou Computing Conference
|
Oscar
|
SIGGRAPH
|
CGTrader
|
Kunming Asia Animation Exhibition
|
Evermotion
|
RenderMan
|
Categories
---
Fox Renderfarm News
---
Fox Renderfarm Projects
---
Fox Renderfarm Lectures
---
CG Challenges
---
Top News
---
Blog
---
Fox News
---
Fox Talk
---
Trending
---
Recent News List
---
Fox Renderfarm Evergreen Program in 2022
2022-04-29
---
Revealing Mitosis Process with Cinema 4D
2022-04-15
---
MayaとZBrushでEpic Leviathan Roverの作成方法
2022-03-22
---
Interview with Squids Visual Arts, VFX Creator of the Vodafone x Salah Campaign
2022-03-11
---
Creating a Angry Snowman With Blender
2022-03-02
---
How to Render Realistic Snow With Blender
2022-02-28
---
SIGGRAPH Asiaは2021、東京で初のハイブリッド版が無事開催
2022-02-25
---
Interview With Andrey Oliver, Who Won First Place in the Student Category of FGT3D Snowman Challenge
2022-02-24
---
Interview with Massimiliano Napoli, COO of Diorama: Diorama's Aesthetic and Their Secrets behind the Post-pandemic Success
2022-02-23
---
Partners