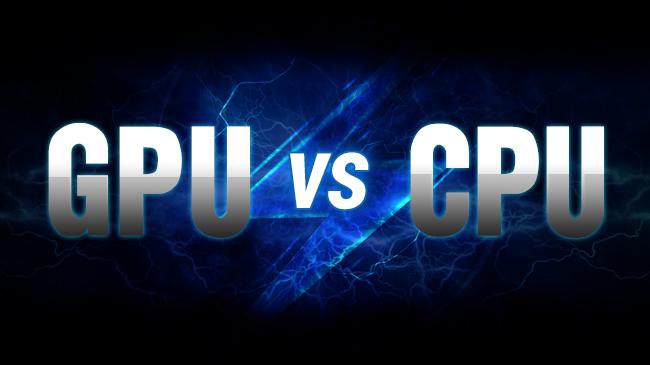 Will GPU Rendering Dominate the 3D Industry?
- Authored by Shaun Swanson GPUs have been used for displaying on-screen graphics for years, but using them to render final outputs is just now coming of age. Many popular rendering packages have GPU based alternatives to their flagship software. Chaos Group makes a GPU based version of V-Ray called V-Ray RT. NVIDIA has an alternative to Mental Ray called iRay. Standalone GPU renderers like Redshift, Octane and Furryball are becoming popular as well.
Relying on memory rather than processor speed, GPU rendering can be much faster than normal CPU rendering. The speed increase is due to the way different processors handle jobs. The main processor on a motherboard is good at tackling a few difficult calculations at a time. Think of the CPU as the manager of a factory, thoughtfully making tough decisions.
A GPU, on the other hand, is more like an entire group of workers at the factory. While they can't do the same type of calculations, they can handle many, many more tasks at once without becoming overwhelmed. Many rendering tasks are the kind of repetitive, brute-force functions GPUs are good at. Plus, you can stack several GPUs into one computer. This all means GPU systems can often render much, much faster!
There is also a huge advantage that comes long before you create your final output. GPU rendering is so fast it can often provide real-time feedback while working. No more going to get a cup of coffee while your preview render chugs away. You can see material and lighting changes happen before your eyes. So why don't we all just switch to GPU rendering and go home early? It isn't that easy. GPU based renderers aren't as polished as their older, CPU based cousins. Developers are adding new features all the time, but they still don't support all the tools 3D artists have come to expect from a rendering solution. Things like displacement, hair and volumetrics are often missing from GPU based engines. The largest problem facing GPU rendering may be the way graphics processors handle a scene.
The all-at-once nature of GPU rendering means an entire 3D scene has to be loaded into memory to work. Large scenes with tons of polygons and lots of hi-res textures simply won't work for some GPU based solutions.
There is also a learning curve. Many GPU renderers require their own materials, shaders and lighting. So, scenes set up for CPU based rendering can't simply be switched to a GPU renderer, even if the same company produces the software. 3D artists have to choose which workflow they want to use at the beginning of the project.
Will GPU rendering ever catch up to CPU based software? Will it dominate the 3D industry? Time will tell. In the meantime, the best way to render quickly and still enjoy the advanced features of CPU rendering is by using a cloud solution like Rayvision.
About:
The author, Shaun Swanson, has fifteen years of experience in 3D rendering and graphic design. He has used several software packages and has a very broad knowledge of digital art ranging from entertainment to product design.
Key Words
MILESTONES
|
Fox Renderfarm
|
Desktop Client
|
Blender
|
Bollywood films
|
Hum3D Contest
|
NVIDIA
|
Silkroad Digital Vision
|
Malaysian Animated Films
|
Indiajoy
|
Art Competitions
|
Architectural Visualization
|
CGarchitect Architectural 3Dawards
|
Best cloud rendering services
|
Render cloud
|
VFX
|
Upin & Ipin
|
Green Book
|
Fox Renderfarm Interview
|
Mission Mangal
|
Kre8tif!
|
Fox Renderfarm Mini Program
|
CG
|
CG Tech Summit Malaysia
|
Zhang Yimou
|
film works
|
cloud rendering
|
Golden Horse Award
|
Shadow
|
SIGGRAPH Asia 2018
|
Morrigan Flebotte
|
VWArtclub Annual *Contest
|
animation works
|
Asswad Mouhamad
|
IMax Studio
|
Boonie Bears
|
Renderosity
|
Gary S. Kennedy
|
Evermotion Challenge 2018
|
Brian Beaudry
|
Alita: Battle Angel
|
Bobby Bala
|
Mohit Sanchaniya
|
Katapix Media
|
Flying Car Productions
|
Razer
|
The Shipment
|
FoxRenderfarm
|
CG Tech Summit
|
Alpacalypse Productions
|
halloween
|
Hum3d Survial Car Challenge
|
Federico Ciuffolini
|
Ralf Sczepan
|
Iavor Trifonov
|
Clarisse
|
CGTS Malaysia
|
Isotropix
|
C4D
|
Tomasz Bednarz
|
V-Ray
|
Cinema 4D
|
MAXON
|
siggraph caf
|
Evermotion challenge 2017
|
CGTrader Space Competition
|
film of the year
|
Le Anh Nhan
|
Planet Unknown
|
Fox Renderfarm 2017 Achievements
|
CSFF
|
Julio Soto
|
boar 2017
|
Deep
|
SIGGRAPH Asia 2017
|
Chris Sun
|
Glass Cage
|
Fox Renderfarm
|
Making Life of Bri' n Chris
|
anthem studios
|
The Rookies
|
Peter Draper
|
Makuta VFX
|
Baahubali 2
|
CG Competition
|
enchantedmob
|
CG Studios
|
Academy Awards
|
CGVray
|
weeklycgchallenge
|
SketchUp
|
siggraph 2017
|
Chris Buchal
|
SIGGRAPH Asia
|
LightWave
|
Indigo Renderer
|
Rafael Chies
|
V-Ray RT
|
CPU Rendering
|
NVIDIA Iray
|
Chaos Group
|
OctaneRender
|
Redshift
|
STAR CORE
|
CICAF
|
VR
|
Mr. Hublot
|
Ribbit
|
GPU Rendering
|
Linux
|
Monkey Island
|
LuxRender
|
HPC
|
Render Farm
|
Life of Bri
|
WORLD LAB
|
Michael Wakelam
|
3D Rendering
|
Online Render Farm
|
Alibaba
|
Baahubali
|
阿里雲
|
VAX
|
Malaysia
|
Aliyun
|
2015 Hangzhou Computing Conference
|
Oscar
|
SIGGRAPH
|
CGTrader
|
Kunming Asia Animation Exhibition
|
Evermotion
|
RenderMan
|
Categories
---
Fox Renderfarm News
---
Fox Renderfarm Projects
---
Fox Renderfarm Lectures
---
CG Challenges
---
Top News
---
Blog
---
Fox News
---
Fox Talk
---
Trending
---
Recent News List
---
Creating A Simple But Powerful Santa in 3ds Max
2021-03-05T06:46:03.710Z
---
Making a Cartoon-style Heavy Metal Santa with ZBrush and Maya
2021-03-04T07:02:12.821Z
---
GPUレンダリング—利点は何ですか?
2021-03-03T10:42:21.046Z
---
CPUレンダリング—利点は何ですか?
2021-03-02T10:31:00.077Z
---
How to Create a Hail Phoenix with Cinema 4D and ZBrush
2021-02-24T10:37:07.225Z
---
How To Create A Nostalgic Alfa Romeo Racing Car With 3ds Max
2021-02-20T03:42:11.587Z
---
How To Create A Realistic Doomsday in 3ds Max
2021-02-18T03:11:54.732Z
---
How to Use 3ds Max to Create A Photorealistic Car Render Giving Fairytale Mood
2021-02-15T07:51:48.077Z
---
Tribute To Bravehearts In My Own 2020: Introducing 3D Artist, Reyaz Alankandy
2021-02-10T08:36:35.315Z
---
Partners