Blender Tutorial: To Create A Wild Jungle(1)
2019-09-11
Blender render farm | Blender
Blender is a powerful and free open-source application, especially in 3D scene construction, rendering, and special effects, compared to similar software has obvious advantages. As the leading cloud rendering service provider and render farm in CG industry, Fox Renderfarm supports both blender rendering, 3ds Max rendering, Maya rendering, C4D rendering, Clarisse rendering, SketchUp rendering, etc.. This article wrote by 3D artist Leo Lee, will show you the potential of Blender to quickly create scenes and texture rendering, and will show some experience and hope to help your production process. Let learn how to create a wild jungle in the blender.
Add a Plane to the view, the size can be larger, switch to Sculpt Mode. It is similar to some familiar engraving software, such as Zbrush, which can choose different brushes to process the model. Check Dyntopo at the menu (no need to manually subdivide the model), and select 'Constant' for the detail mode, and check the smooth shadow.
As shown in the figure below, when the model is engraved, the system automatically subdivides the number of faces.
Here are a few other ways to create terrain. Use Subdivide to subdivide the surface as follows: subdivide into 50-100. Then add a black and white material through the Displacement Modifier in Blender, similar to the Height Map, which can be hand-painted in PS or downloaded. Click Add Material Map to import the material.
The strength of the ground fluctuations can be controlled by adjusting the parameters. Then add Subsurface Modifier to smooth the surface. In addition, if you want to adjust the terrain manual area, you can activate the area control button below, the middle button wheel to adjust the area range, select a point to drag and drop.
Here is a finished terrain. The next step is to add some decorations to the terrain, such as trees, grass, stones, and medium-sized plants, to create a more realistic picture.
The model of several trees is imported into the scene, as shown below. It can be imported via 'append' 'Import'. Append can only add original Blender files. Import can import some commonly used 3D files, such as 3ds, FBX or OBJ.
Previously, the terrain and trees were layered. The layering function in Blender can manage the model very effectively, compared to the layer function in PS. Select the model, 'M' to move the active model to any layer, press the number keys to move to the corresponding layer. Hold down the Shift key to select multiple layers at the same time to display the contents of their layers.
The imported trees are arranged in order according to space and the composition, and then the position is selected to place the camera. As shown below,
Below are the layers of stones and grasses and small and medium plants.
Due to the large size and a limited number of trees, manual placement can be used. But like those small and large objects, you can use the 'Particle' series to let Blender randomly place small objects according to the range we set.
As shown in the figure below, first switch to 'Weight Mode', you can first lower the transparency, then draw the range of the area where you need to place small objects on the terrain, blue is the vacant area, gradually yellow, and the dense area is excessive.
Then switch to "Particle System" in the menu on the right, click the Add button, here is similar to the step of adding material to the object, and the material here is the object that needs to be placed, the first layer I chose the grass, can pass the view The button hides other objects. Activate the data indicated by the arrow in turn.
Each of the previous objects must be Ctrl+G in advance and merged into their respective groups. Then here Dupli Group chooses the grass group. The values in the red box are some random parameters for which various adjustment objects are placed, such as orientation, size, rotation angle, and so on. If you adjust the density and length units more deeply, you can also select the corresponding Group in turn.
In the same way, the stones and other vegetation are also brushed in. As shown below.
After the addition of plants and ground, the contents of the camera lens are richer.
Recommended reading
---
How to Render High-quality Images in Blender
2020-03-09
---
How to Render Large Scenes with Redshift in Cinema 4D
2019-10-15
---
Arnold\ V-Ray\ Octane\ Conora\ RedShift, Which Is The Best 3D Renderer?
2019-04-15
---
Why V-Ray Render is Black in SketchUp And How To Fix it?
2019-05-07
---
How to Reduce Noise in Corona Renderer - Corona Denoising (2022 Updated)
2019-05-15
---
What is the difference between pre-rendering and real-time rendering?
2020-09-08
---
How the Redshift Proxy Renders the Subdivision
2018-12-28
---
Blender vs Maya vs Cinema 4D, Which One Is The Best 3D Software?
2020-01-16
---
Partners
Previous: Interview with Boboiboy Movie 2 and Fox Renderfarm at Kre8tif! 2019
Next: Joker Wins The Golden Lion Of 2019, To Be The Pinnacle Of DC Movie
Interested
Inspired by Animal Crossing: New Horizons, Korean artist use Blender to create exclusive cabins
As soon as Nintendo Switch launches Animal Crossing: New Horizons, it has been loved by game fans all over the world. Due to the epidemic, many people can enjoy traveling abroad through games during quarantine, which makes the Switch a hit again. And many CG artists eager to create many fan art or amazing creations. Korean designer Seungho Jeong (Neon3D) was invited to talk about his latest work "Miniature style cute character 3d artwork" (Soondol) and talk about the toy model made for the animation of "Molang".!Seungho Jeong (Neon3D)Seungho Jeong (Neon3D)Seungho Jeong, from South Korea, is good at product design and 3D printing. Most of them are created in Fusion360 and Blender. He is currently designing toy models for "Molang". He also runs a YouTube channel to share the process behind the scenes.Miniature style cute character 3d artwork (Soondol)Year of completion: 2020Software: Blender!Miniature style cute character 3d artwork (Soondol) (5)Tell us about the artwork. Seungho Jeong: Recently I was playing Animal Crossing: New Horizons, and I was attracted by the cute graphic style in the game, so I proposed a series of creative projects, with my original character "Soon-dol" as the main character, and designed a series of The miniature style house in Mori.I use Cycle render in Blender to create. It is worth mentioning that instead of using texture mapping, I changed the color of the object or made some images using Illustrator, and used Blender's Shrinkwrap modifier to place the image on the character's face. The most difficult part of this work is the lighting effect. After all, to create "emits natural light from the outside of the window" is a test of the creator's Lighting skills. At first, I put a glass on the window, but then I found that no glass looks more natural, so I had to take it away.What is your usual job? Seungho Jeong: Mainly making character toy models. For example, the "Molang" series is currently on sale. I designed many different sets of costumes for the character, including Halloween, New Year, Hanbok and other styles. The main creative process is the use of product design software Fusion 360. It has a free-form modeling function, similar to Blender's modeling method. I also made an introduction video for the company's YouTube channel "Behind Molang". First, I redesigned all 2D characters into 3D. Since our company is not an animation studio but a character commodity company, most of the 3D creation process of characters is the process of making plastic models, such as Fusion 360 (some are designed directly in Blender). When creating images in 3D, as mentioned above, instead of using texture mapping, we change the color of the object or use Illustrator to create the image, which is created in accordance with the process of making dolls and doll models. Is animation different from product design? Seungho Jeong: Making animation is very difficult, after all, that is not my major. Although product production and animation look very similar, there are still some system differences. Therefore, I have to learn by myself and complete the animation creation, so I simplified the character movement as much as possible.!Miniature style cute character 3d artwork (Soondol) (4)!Miniature style cute character 3d artwork (Soondol) (3)Can you share your creative tips? Seungho Jeong: If you want to create on a hard surface, Fusion 360 is recommended, which can be modeled for the accuracy of the size, which is very convenient. In addition, the ShrinkWrap modifier is used to attach the image to Blender without any texture drawing. !Miniature style cute character 3d artwork (Soondol) (7)!Miniature style cute character 3d artwork (Soondol) (5)Who is your Favorite artist?Seungho Jeong: Absolutely my boss Hye-Ji Yoon, he is the character designer of "Molang". And Molang's animation is currently being played on Netflix, which is receiving the attention of the global audience! I respect my boss very much and want to be a well-known creator like him.!Miniature style cute character 3d artwork (Soondol) (2)Tips: Fox Renderfarm is a leading cloud rendering services provider and render farm for 3D animation. We offer a free $25 trial for every new user. Thanks for reading!Seungho Jeong's Artstion: `https://www.artstation.com/neon3d`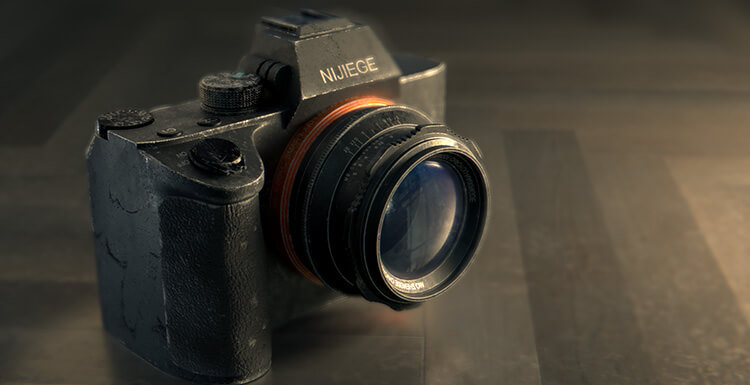 How To Create An Old Camera In Blender?
The best cloud rendering services provider and GPU & CPU render farm, Fox Renderfarm will share with you a Blender tutorial.This article shows you how to create an old camera in blender. The production process refers to an article by a Christian Wachter artist and introduces some new processes and complements the production techniques. 1. ModelingLensThe camera lens is a curved surface, but the arc surface created by the latitude and longitude ball will cause errors after subdivision because of the triangular surface. The more scientific method is to use a box, first add a subdivision modify and re-cast, and then scale an axis to get a lens arc surface with perfect topology. Complex PartsFor parts with complex structures and small parts, they are generally not subdivided, and it is enough to simply chamfer them with high precision. In order to save computer resources and processes, these finely divided parts can only be chamfered with high precision. 2. UVHere are some of the next-generation game production processes, such as multiple objects sharing a set of UVs. In this way, whether you export the model to the third-party software to make the texture, or after the texture is created, import the blender and manage the texture material in the blender. 3. TextureThe texture is selected to use the substance painter. When drawing the edge wear, in addition to using the SP's own program texture, some more serious wear is manually drawn in the sharp part of the model, and the gradient wear of the gear adjustment knob is defined. 4. Material What is worth noting in the material is that because the camera lens has an anti-reflection coating, the reflection of the lens is blue-violet. The top half of the picture as below.In Blender, I tried to simulate a dispersive material using the red, green, and blue color overlays, but the effect was unsatisfactory and the rendering points were extremely large. As shown in the lower part of the figure below.Finally, use a Fresnel as the basis of the gradient, change it to a blue cyan gradient, and mix it on the surface of the gloss to simulate the material of the camera lens. 5. SynthesisAfter De focus rendering is complete, select to blend in Blender, as shown in the two images below, and change the gradient on the Z channel to control the post-defocus effect. One makes the rear part of the camera slightly out of focus, and one makes the floor behind the camera seriously blurred out focus. 6. Deformation and HueFinally, add a little lens distortion to it, and use the color balance node to give it some stylized color. Fox Renderfarm hopes it will be of some help to you. It is well known that Fox Renderfarm is an excellent cloud rendering services provider in the CG world, so if you need to find a Blender render farm, why not try Fox Renderfarm, which is offering a free $25 trial for new users? Thanks for reading!
8 Best And Free Blender Cloud Rendering Services in 2022
Blender is an excellent free 3D modeling software that has a very large number of users. Well, you can choose Blender cloud rendering service if you want to make your Blender work have a better effect after rendering. Here the fast cloud rendering services provider and Blender render farm, will introduce 8 best or free Blender cloud rendering services to you. 1. SheepIt - Blender Cloud Rendering Free!SheepIt - Free Blender Render FarmSheepIt is a free cloud rendering service for Blender. What sets it apart from other render farms is the word distributed, as the service does not own the machines that render, but relies on people sharing their computers. As a result, there are virtually no limits to the capabilities of a render farm. As project owners add their scenes to the job queue, the service splits the animation into single frames for rendering, sends each frame to a connected computer, and optimizes its selection based on available memory and CPU/GPU capacity. This free cloud rendering service is free of charge. You can earn points by sharing your computer, and these points allow you to get free renders at SheepIt. 2. Fox Renderfarm - Best Blender Cloud Rendering Services!Fox Renderfarm - The Best Blender Render FarmFox Renderfarm is the industry's leading provider of cloud rendering services and an excellent render farm for Blender. In operation since 2011, Fox Renderfarm has earned a reputation for quality performance, great customer service and flexible pricing plans(as low as 0.036 per core hour). With over 20 years of experience, the core team of Fox Renderfarm serves over 200,000 users and top leading visual effects companies and animation studios from more than 50 countries and regions, with clients including multiple award and Oscar winners(Mr. Hublot). Fox Renderfarm supports many 3D software such as C4D, Maya, Arnold, Blender, Redshift, etc. And now he is offering a $25 free trial for all new registrants. He also frequently hosts 3D challenges, such as the recent FGT3D FOX Challenge.How to Use Fox Render Farm? 3. AWS Blender Render Farm - Blender Cloud Render Farm!AWS Blender Render FarmAWS (Amazon Web Services) is a platform online that provides cloud computing solutions that are scalable and cost-effective. AWS is a widely used cloud platform that provides a variety of on-demand operations such as computing power, database storage, content delivery, and more to help businesses scale and grow. AWS offers blender cloud rendering services, which has a Rendering Field Deployment Kit RFDK, an open source software development kit for deploying, configuring and managing rendering field infrastructure in the cloud. What is the Render Farm Deployment Kit on AWS?How to make your AWS Blender render farm? 4. RebusFarm - Blender Cloud Rendering Services!RebusFarm - Excellent Render Farm for BlenderRebusFarm was founded in 2006 in Cologne, Germany. RebusFarm was designed to meet the growing demand for rendering power in the 3D animation field. RebusFarm supports all common 3D applications, including host applications, as well as secondary rendering applications. RebusFarm is designed to meet the growing demand for rendering power in the 3D animation field.RebusFarm supports all common 3D applications, including host applications, as well as secondary rendering applications. In addition, RebusFarm's goal is to provide the greatest possible rendering power at the most affordable price, while maintaining a service-oriented connection with its customers. RebusFarm offers the Blender cloud rendering service. Each new user automatically receives a free trial of 25 RenderPoints upon registration. 5. Garagefarm - Cloud Rendering for Blender!GarageFarm - Cloud Rendering Blender Render FarmGarageFarm is a small team of technical and 3D enthusiasts who one day decided to create their own render farm after years of painful and horrible rendering experiences.GarageFarm allows you to easily upload and manage your projects. He offers services of cloud rendering for blender with a $25 free trial. 6. Blendergrid - Blender Cloud Render Farm!Blendergrid - Online Blender Render FarmFounded in 2013, Blendergrid is a grid of thousands of computers running Blender. Blendergrid is a purely online Blender cloud render farm where you can only submit files online. At Blendergrid you can do pre-render price tests. Usually rendering 230 frames at up to 2500 Cycles samples is about $300. 7. RenderStreet - Good Blender Cloud Rendering!RenderStreet - Best Render Farm for BlenderRenderStreet is a global leader in render farms built on a powerful multi-cloud 3D rendering approach. Leveraging its proprietary RenderWheels solution, RenderStreet's resource allocation algorithms are dynamically optimized for speed and running costs to deliver the fastest and most cost-effective rendering solution. As a Blender cloud render farm, it supports APIs in addition to CPU and GPU rendering. 8. GridMarkets - Cloud Rendering for Blender!GridMarkets - Blender Cloud RenderingGridMarkets, in addition to being a partner of Redshift 3D, also offers Blender cloud rendering services. CPU and GPU rendering are supported. His prices start at $0.80/machine hour all-inclusive. SummaryYou can try any of the above Blender cloud rendering services. It is well known that Fox Renderfarm is an excellent cloud rendering services provider in the CG world, so if you need to find a Blender cloud render farm, why not try Fox Renderfarm, which is offering a free $25 trial for all new users? Thanks for reading!