How to Render Large Scenes with Redshift in Cinema 4D
2019-10-15
Redshift render farm | Redshift
How to manage large scenes in Cinema 4D's Redshift renderer, how to optimize things in the scene, and how to optimize rendering settings in the Redshift renderer. These are relatively far-reasonable things. How to optimize them is very helpful for scene management.
For the Redshift renderer, you can generate proxy files from the scene and export them before rendering. For trees, the scenes with a lot of flowers and grasses are very suitable for the Redshift renderer. This is the theme that the leading cloud render farm in the CG industry, Fox Renderfarm, brings to you in this article.
How to generate a proxy file? Now you need to generate the proxy file and export the Redshift Proxy (*.rs) to where it is needed. Proxy settings: after the 'Add', 'Proxy to Scene' are checked, the generated proxy file will generate a proxy file in the location where you want to export the file. If the exported file is animated, then 'Range' must be changed to 'All Frames'. Then the generated proxy file will not occupy too many scene resources, and the production software operation will be smooth. And if you use a proxy file for replication, it will also reduce the resources of the system.
Like the scenario below, most of the models are proxyed, so the rendering resources needed are even more economical. Take the following scenario as an example. Its number of faces is very large, and it will be stuck when it is operated. And all the models in the scene do not use proxy files, so you must optimize the rendering settings.
Before optimization, you must have a certain understanding of the working principle of Redshift. In the default case of Redshift, it does not emit light to the object through the light to show the light and dark effect. Redshift is the light emitted by the camera, hit on the object, and then the object will look for the source of the light to present the light and shade, which is somewhat different from other renderers.
The two values in the picture below are generally used to reduce noise. Samples Min means that the minimum amount of light emitted from the camera is four, and the value below Samples Min can adjust the secondary reflection of the object.
<p class='img-source'>Sampling principle
<p class='img-source'>Noise
The Samples MAX value, if adjusted too high, the camera calculations consume more resources, rendering time will increase a lot. In general, the values are around 64. However, if the motion blur is turned on, then the value should be at least 256 or so.
<p class='img-source'>Samples Min=4, Samples MAX=256
<p class='img-source'>Samples Min=4, Samples MAX=16
If the noise is obvious, try to adjust the 'Brute Force GI/Number of Rays' under GI.
<p class='img-source'>GI adjustment
The 'General/Primary GI Engine' under GI is a primary feature, and the Secondary GI Engine controls the number of bounces.
Calculating the GI information of the scene under /Primary GI Engine/Irradiance Caching will be faster. The number of light carried by Num Rays, Adaptive Amount represents the attenuation ratio of divergent rays. If Num Rays is 200, then Adaptive Amount 0.8 will decay by 80%.
The above are several ways to optimize large scenes and rendering. By optimizing the scene and rendering settings, you can save more time and resources during rendering, and better complete the scene production.
Fox Renderfarm hopes it will be of some help to you. As you know, Fox Renderfarm is an excellent CPU&GPU cloud rendering farm in the CG world, so if you need to find a render farm, why not try Fox Renderfarm, which is offering a free $25 trial for new users? Thanks for reading!
Recommended reading
---
How to Render High-quality Images in Blender
2020-03-09
---
How to Render Large Scenes with Redshift in Cinema 4D
2019-10-15
---
Arnold\ V-Ray\ Octane\ Conora\ RedShift, Which Is The Best 3D Renderer?
2019-04-15
---
Why V-Ray Render is Black in SketchUp And How To Fix it?
2019-05-07
---
How to Reduce Noise in Corona Renderer - Corona Denoising (2022 Updated)
2019-05-15
---
What is the difference between pre-rendering and real-time rendering?
2020-09-08
---
How the Redshift Proxy Renders the Subdivision
2018-12-28
---
Blender vs Maya vs Cinema 4D, Which One Is The Best 3D Software?
2020-01-16
---
Partners
Previous: Can my PC be turned off when using a renderfarm?
Next: 5 Tips To Make Rendering More Realistic
Interested
Top 6 Best Redshift Render Farms
Are you looking for a suitable Redshift render farm? In this article, Fox Renderfarm, the leading Redshift cloud rendering service provider and render farm, will introduce to you 6 best render farms for Redshift. What is Redshift? Redshift is the world's first renderer fully accelerated by GPU. It supports 3D software such as Cinema 4D, Houdini, Maya, 3ds max, Blender, etc. Redshift is a biased renderer that does not pursue physically realistic rendering results, but optimizes rendering as much as possible, it focuses more on speed and quality. Redshift is also faster than other renderers at the same rendering quality.Let's check the Redshift render farms now. 1. Fox Renderfarm - Best Redshift Render Farm!Fox Renderfarm - The Best Blender Render FarmFox Renderfarm has been dedicated to the cloud rendering service for many years and is always a fast and secure Redshift render farm. In addition to Redshift, it also supports other major 3D software such as Blender, Maya, 3ds Max, V-Ray, etc. Fox Renderfarm is available at prices as low as 0.036/core hour and offers a price estimator. Fox Renderfarm supports both GPU and CPU rendering. It offers a $25 free trial to all new registrants. Also, Fox Renderfarm frequently hosts 3D challenges, such as the regular FGT Art in which anyone who submits an entry can get at least a $20 render voucher. 2. Rebusfarm - Redshift Render Farm!RebusFarm - Excellent Render Farm for BlenderRebusFarm supports all common 3D applications, including Redshift, as well as both CPU and GPU rendering.RebusFarm's software, called RebusDrop, supports both Windows and Mac, and it offers a free trial for $25.31.RebusFarm offers many video tutorials for using Redshift.About the version supported of Redshift, you can go to the official website and ask his customer service, they offer 24✖7 hours service. 3. iRender - High-Speed Redshift Render Farm!iRender - Great Blender Render FarmiRender, as an IaaS provider, is also a Redshift render farm. It supports almost all 3D software that uses Redshift such as Cinema 4D, Houdini, Maya, 3ds Max, Blender, etc. iRender is optimized for Redshift multi-GPU rendering tasks.iRender offers a free tool called GPuHub Sync that helps users transfer their files from their local computer to a remote server, even if the server is down and your files can be transferred.iRender charges based on time of use and supports 24/7 live chat. 4. Drop and Render - Redshift for C4D Render Farm!Drop RenderDrop & Render is a render farm designed for Cinema 4D (Drop & Render now also supports Blender). Drop & Render is the official Redshift render farm, offering tiled renders, AOV, Cryptomatte, Redshift proxy and more services for your C4D projects. It supports all Redshift versions and offers free €10 render farm credits. 5. 3S Cloud Render Farm - Redshift Render Farm!3S Cloud Render Farm3S is composed of a group of members who are passionate about 3D design and have extensive experience in computer technology. 3S Farm supports Blender, Houdini, Cinema 4D, Maya, 3ds Max, and Redshift for Maya, Houdini and C4D, so it's also a Redshift render farm.A $5 free trial is available and 15% extra bonus on first deposit for new users, only applicable within 72 hours of account registration. 6. VFXFARM - Redshift Cloud Rendering!VFXFarmVFXFarm, for Redshift, supports 3ds Max, C4D, Maya, Houdini cloud rendering. It offers an awesome user experience, friendly interface, nice positioning, color management, application from website to Windows and Mac, automatic synchronization of cloud rendering project output, and much more. He offers both CPU and GPU cloud rendering services. SummaryThe best redshift cloud rendering service is the one that fits your needs. If you're still confused, try Fox Renderfarm, a Redshift render farm and leading cloud rendering service provider, offering a $25 free trial!
A Redshift Production Breakdown and Experience Sharing from Lighting/Rendering Artist Jiaxuan Wang
Final Render In this article, Fox Renderfarm, the best could rendering services provider, will share with you a Redshift production breakdown and experience sharing from lighting/rendering artist Jiaxuan Wang.Introduction: Hi, everyone! This is Jiaxuan Wang. I'm so happy to have gained some popularity for my artwork and have seen my progress along the way.We were given a pretty complex theme, especially on the modeling and lighting. I rendered it with Redshift.!Render without LightingRender without Lighting We can separate the models into 6 sections: foreground, the bridge, architectures on both sides, the cathedral, background and the crowd. When I started dealing with the rendering, it took a very long time since there were too many polygons. Before I could optimize the models, it took nearly 6 minutes just to read the models. So I decided to separate the models. Coincidentally, I found that after dealing with some unnecessary UVs, and combining some models, the time of the input process and the size of the files both would shrink drastically. This allowed me to manage the lighting and rendering with all the models. Thus, for the second time, I input all the 6 files into one to render with Reference. Speaking of texturing, most of the models are attached with textures. Some silhouettes and simple models, I chose to use simple color texture to save time. And the lighting part, besides the radiating window, there are 240 lights in total. A lot of Area Lights were used. Through adjusting the position, strength and so forth to add more details.!A Redshift Production Breakdown and Experience Sharing from LightingRendering Artist-1The first render is not that satisfying. Since this is my first time dealing with this kind of fantasy style, I paid too much attention to working on the fog but ignored the importance of basic lights. Additionally, I just simply multiplied the lights without finding the main light source, which turned out to be a lot of shadows and strong contrast without fine details. My teacher recorded a long video to give me some advice, telling me details like the foreground is too bright, it is too hollow under the bridge, there is no visual focus in the image, etc. I was more experienced on my second render. And I began to think like a concept artist, considering the position of the lights and how I want the shadows and contrast to transit in the picture. Then comes the ambient adjustment, about the fog. Most of them were composited in Nuke afterwards according to my teachers' advice.!Nodes TreeNodes Tree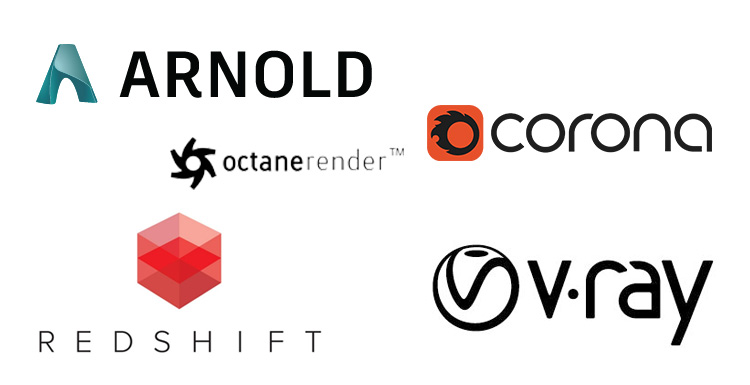 Arnold\ V-Ray\ Octane\ Conora\ RedShift, Which Is The Best 3D Renderer?
Nowadays, many people use 3D software to create their works, so the use of the renderer is essential. There are many popular renderers, including V-Ray, Octane, Arnold, Conona, RedShift. Of course, there are those who will choose cloud render farm for their rendering. But for many new 3D artist, which renderer is the best?The principles of these renderers are basically the same, but the operation methods are somewhat different. Of course, the focus of each rendering is different. Let us take a look at it now. Which is the Best 3D Renderer?The work from the Runner in Evermotion 2017, rendered by V-Ray: V-Ray The V-Ray renderer focuses on interior design and outdoor design for 20 years. The biggest feature is that it is almost half of the building performance, and the latest 4.0 version of the various functions are also very perfect, many works can be fake.Disadvantages, perhaps because V-Ray has too many setting parameters, material adjustment and lighting performance is very difficult, not very friendly to novices! ArnoldArnold renderer is very powerful. The physics-based ray tracing engine CPU renderer is the most stable! Of course, the CPU is not strong enough, the rendering speed is also anxious, especially the rendering of transparent objects such as glass, as well as its powerful node-like operation, so that novices love and hate it!Of course, as an attitude to study the renderer, Arnold is highly recommended to learn! RedShift Next, talk about RedShift, the GPU-based renderer, the most intuitive experience is that the real-time preview and rendering speed is fast, and has a powerful node system like Arnold. It is more suitable for artistic creation, especially for animation. As for the authenticity of the rendering effect, it takes a lot of time to practice and accumulate knowledge. Octane Octane is also a GPU-based renderer. First of all, its SSS and replacement functions are quite good.The speed is also very fast, the light is softer, and the rendering looks very comfortable. Similarly, if the slightly larger scene is solved by PL, the efficiency will drop, but the speed is not fast. There are also problems with dryness that can sometimes become one of the features of the work!PS: The current version of OC does not support A card, nor can it exclude lights. CononaThe work from the first place of Evermotion 2017, rendered by Corona: Conona is also a highly recommended renderer. It comes from V-Ray. It can be seen as a simplified version of V-Ray. LightMix lighting solves the trouble of late dimming. The material system will not have to worry about it by default. Very small and practical, quick to get started, of course, just out of the official version, it is said that next year will be a node system, while the animation is somewhat weak!If you do indoor and outdoor design, static frame rendering can be used, after all, it is best at the ray tracing rendering engine! ConclusionIn fact, the renderer is just a step in the work, we can choose different renderers according to different work content, find the best for you. There are also many people who choose Fox Renderfarm because as the best CPU & GPU cloud rendering services provider, it helps you to render 3D models effortlessly offline.