The Top Benefits of Online Render Farms
2015-03-16
Online Render Farm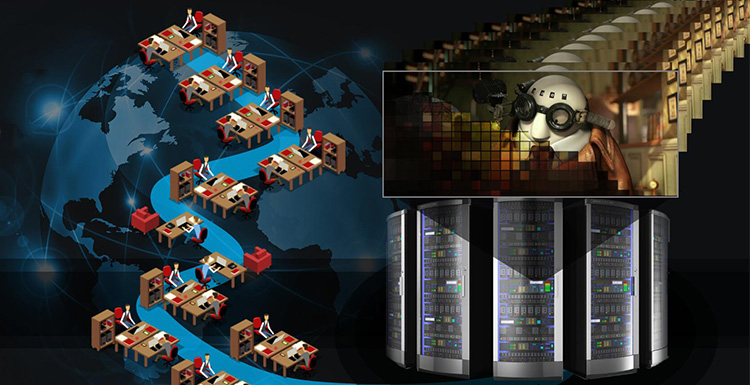 Having a render farm is essential for computer graphics studio owners today. Technology in the field is advancing at a rapid rate and having the resources to keep up with client requirements is something that CG studio owners should consider. Rendering is one of the main duties that a computer graphic designer is responsible for. Having a proper system and software that performs complex rendering tasks can prove impractical sometimes due to the extensive costs and management it requires. However, the services of an online or a cloud render farm can prove invaluable. Here are some reasons:
Easy to Use
Online rendering services are not only a practical option, but they are also very easy to use. Software management and maintenance are handled by service providers thus allowing your time to invest in projects that are more lucrative. All you have to do is access to the cloud render farm through your computer!
Time Saving and Cost Effective
Compared to the time and money it will take for you to do all the rendering yourself, professional online rendering can help you save company resources that can be put to better use elsewhere.
Realistic Visual Effects
The render farm is software based on complex programming that allows programmers to generate effective visual effects. Outsourcing for these services yields highly efficient, updated and realistic visual effects. Expert engineers and programmers use the latest rendering techniques to create realistic visual effects.
Efficient Delivery
Converting the final project in accordance to your format and organizational requirements is a difficult process. However, external rendering services can package and distribute your project according to your required specifications. At Rayvision we offer pioneering self-service cloud computing for rendering, research into cluster rendering, parallel computing technology and computing services for cloud rendering.
Recommended reading
---
How to render large scenes with Redshift in Cinema 4D
2019-10-15
---
Arnold\ V-Ray\ Octane\ Conora\ RedShift, Which Renderer Is The Best?
2019-04-15
---
How the Redshift Proxy Renders the Subdivision
2018-12-28
---
How to Render High-quality Images in Blender
2020-03-09
---
China Film Administration Release New License Logo
2019-01-09
---
Maya 2018 Arnold's Method of Making Motion Vector Blur in AOV Channel
2018-12-26
---
Corona Renderer Learning - Denoising
2019-05-15
---
Redshift for Cinema 4D Tutorial: Interior Design Rendering
2019-10-12
---
Partners
Previous: Alibaba and RAYVISION Pact To Offer Digital Effects Services
Next: RAYVISION Sponsors 3D CG Sci-Fi Challenge for Aspiring Graphic Designers
Interested
Render Nodes Rental Spring Sale!
The Unlimited Render Rental Service allows you to rent your own physical machines on our render farm with the setup, software, power, maintenance & technical support all provided by us. The service is a high priority reservation and it is perfect for users that will be continuously submitting an unlimited amount of rendering tasks for a certain period. You will have instant access to your reserved machines once the service is purchased and confirmed. - About Render Nodes Rental SPRING SALE! - Rent physical machines with the setup, software, power, maintenance & technical support all provided by Fox Renderfarm. - For CPU Rendering ONLY - Minimum rental of 20 render nodes for 1 week - 8th February - 31st March 2021 (UTC+8) If you are interested to purchase or inquire regarding the Unlimited Render Rental Service, please email your account manager or gordon@foxrenderfarm.com for price and details.
Get 100% CPU Render Coupon Back on Recharge!
Due to the COVID-19 pandemic, we know that some artist needs to lockdown in-home. As the largest render farm in the CG industry, Fox Renderfarm is always back with you, to encourage 3d artists can more focus on creation, we offer a big discount for you. So, Fox Renderfarm Spring Sale is live! Get 100% CPU Render Coupon Back on Recharges of $200 & above. Double your render credits, boost your render speed 8th February - 8th March 2021 (UTC+8) CPU coupon's validity time: 8th February - 31st March 2021 (UTC+8). Recharge more and get more now: https://task.foxrenderfarm.com/sso/signin Note: valid for CPU rendering within the official pricing scheme.
What is cloud-based rendering?
With the development of cloud computing, cloud-based rendering has come out in the CG industry. What is cloud-based rendering? Cloud-based rendering, aka cloud rendering, is a cloud service that relies on cloud computing, also you can call it an online render farm. That means users submit a local file to a cloud server, then a remote computer cluster completes the rendering. Finally, users shall download the rendered task from the cloud server. Cloud-based rendering refers to the technology that transfers the 2D or 3D graphics rendering from the client to the cloud server, the application of cloud rendering can greatly simplify the client. That's to say, with display and network access functions, users can enjoy top-level graphics processing capabilities, which will make the same graphics application appear on different terminal devices without distinction. What difficulties does cloud rendering face? The difficulties faced by cloud rendering are more complex than conventional cloud computing applications. This is mainly due to the demanding requirements of 3D rendering for hardware performance and command response. The cloud rendering system may face the rendering requests of thousands of users, which will be huge pressure on the back-end server system. Compared with conventional cloud computing applications, when cloud-based rendering meets the needs of the same number of users, the hardware performance needs at least several tens of times higher than that of cloud computing, such as Gmail, Google Docs, and other commercial applications to scientific computing. Cloud rendering requires servers with amazing graphics performance, otherwise, it cannot meet the simultaneous rendering requests of a large number of users. 1. Efficient data transmission or synchronization capabilities 2. Efficient and accurate matching between the cloud computing environment and the user's local CG production environment 3. Network and storage. Cloud rendering needs to connect to mass storage to save the rendered digital content products. Rendering 1 hour of HD sequence requires about 1TB of storage resources. When all rendering servers output data to the central storage at the same time, network planning becomes a yardstick to measure the final performance of the cluster system. 4. Efficient, stable, and reasonable task distribution management tool. No matter how strong a single rendering node is, it will also cause a waste of resources without good management. Rendering management does not simply the arrangement of render machines. Qualified rendering management solutions embrace a well-designed system architecture. Different technical indicators need different solutions. It can be said that the hardware selection and construction only completed 20% of the overall construction of the render farm and 50% of the effort needed to plan the rendering investment. 5. Cluster computing has a problem of efficiency. The number of CPUs and rendering time will be different from the actual situation, and the actual time used by different systems is not the same. The larger the number of CPUs, the shorter the rendering time, and they are inversely proportional. But in fact, the time spent on animation rendering and the number of CPUs is not linearly inversely proportional. The key to the problem lies in communication and software algorithms, including network communication and communication between the PC's internal CPU, memory, and hard disk. How many node computers, based on the number of CPUs, are used in the system are also issues that need to be considered. This requires a cluster rendering management software with excellent algorithms for scheduling to exert the performance of each CPU. What are the advantages of using a cloud-based rendering services? 1. Powerful rendering speed Fox Renderfarm is one of the top three render farms in the world with plenty of rendering nodes and flexible solutions, which could definitely save your time in the rendering process. 2. Secure & Confidential Fox Renderfarm has implemented a set of security strategies including banking security level computing center, Uninterruptible Power Supply, 24/7 CCTV monitoring, and strong encryption of data transmission. Fox Renderfarm has successfully completed MPAA's Content Security Best Practices and officially become a TPN accredited vendor. We are committed to building a more secure cloud render farm that better protects the privacy of the project of our beloved customers. 3. 24/7 Customer Service and Technical Support Fox Renderfarm has an outstanding team with over 20 years' experience in the CG industry. Around the clock customer service and technical support could always be a lifesaver if users met any problem when rendering. We also provide customized rendering services and a Key Account service team, which aims to provide the best cloud rendering solutions and technical support for our dear customers. 4. Affordable pricing Fox Renderfarm offers students, teachers, and educational institutions an affordable pricing scheme (Diamond level membership) to support educational purposes. We support flexible solutions with the best price for clients by lowering the cost from our end. 5. Easy to Use Fox Renderfarm has both webpage version and desktop client version, which are user-friendly, such as drag and drops project submission, preview during rendering, etc. The UI and pipeline are optimized continuously according to users' habits of the animation industry, which are easy to use. We also provide free services of Raysync Cloud for our users in the rendering process, which is a cloud-based platform for data storage and transferring at a high speed. 6. CSR: Green Data Center The electricity of Fox Renderfarm's green data center is all generated by wind and water power which is natural & clean. The data center is located where the climate is dry and the temperature is extremely low all year round, so it's not necessary to use air conditioners for cooling most times. The average PUE of our data center is under 1.2 which means the energy-saving ability is highly effective. Every time you use Fox Renderfarm for rendering, you are making contributions to the reduction of carbon dioxide emissions.