The Essential Thinking of Roughness and Anisotropy (5)
2019-04-10
Redshift render farm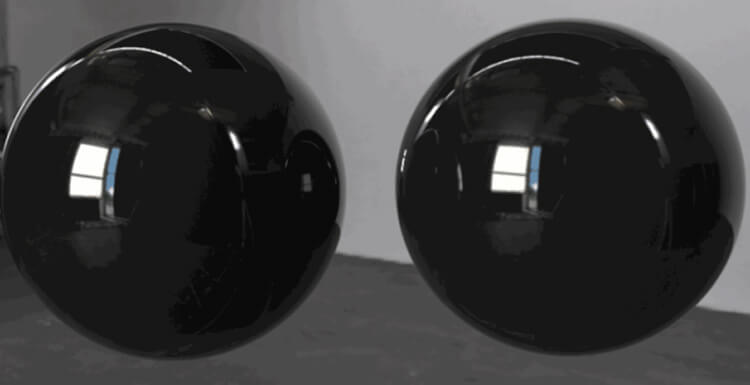 As a leading cloud rendering service provider and CPU & GPU render farm, Fox Renderfarm published an article about "The Essential Thinking Of Roughness And Anisotropy (4)".
In this article, we first learn the principle of directly creating an anisotropy rotation map by bypassing the flowmap. Since the flowmap is not so intuitive, it cannot be used directly in some renderers (vray, redshift). We can start by trying to make an anisotropy rotation map directly.
The tool used is of course the program texture overlord - the substance designer.
First of all, we have to clarify the goal, know exactly what the texture effect to achieve, and then want to make a plan. Now let's analyze what features have been verified and feasible.
We will re-combine the pixel process node in SD before, use -0.25 instead of -0.25, this will make the final output picture brightness completely within the range of [0,1], so that we can observe the picture characteristics. (The only meaning of this operation is for good observation).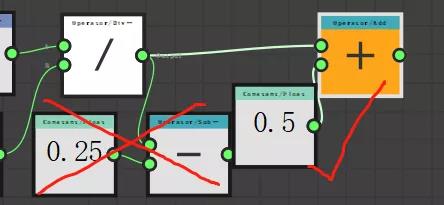 Now the picture looks like this, it shines a lot. All brightness is between [0, 1].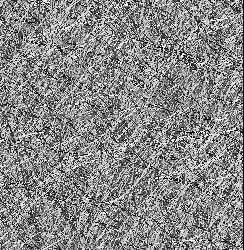 At this time, we use a node called histogram select in SD to observe the picture, so we can see how the scratches of different brightness in the picture are distributed.
The figure below shows the effect of sweeping the original image from 0-1.
Here we can find two characteristics of this picture:
Carefully staring at one end of a line, you will find that the line has rotated 360 degrees completely in the process.
Under the same color gradation, the direction of the scratch is basically uniform. Why can such a feature create a ring-like scratch? This is related to the attributes on our shader.
The material sphere has an anisotropy rotation property that specifically controls the direction of rotation of the opposite sex highlights. The input range of this attribute is [0,1], and the value has a corresponding relationship with the angle:
0 : 0°
0.25 : 90°
0.5 : 180°
0.75 : 270°
1.00 : 360°
The middle is the linear difference, and you should understand this parameter very easily.
The figure below shows the effect of anisotropy rotation changing from 0 to 1. The highlight is turned 360 degrees: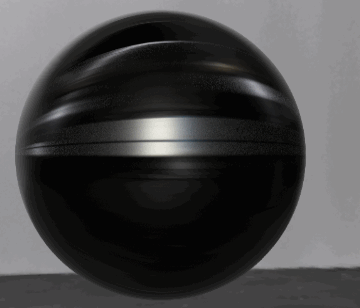 So in fact, we only need to make a scratch map that meets these two characteristics to achieve the goal:
The brightness of each scratch changes with the angle
The same angle of scratch brightness is the same
This is shown by the diagram (rotate 0 = rotate 1)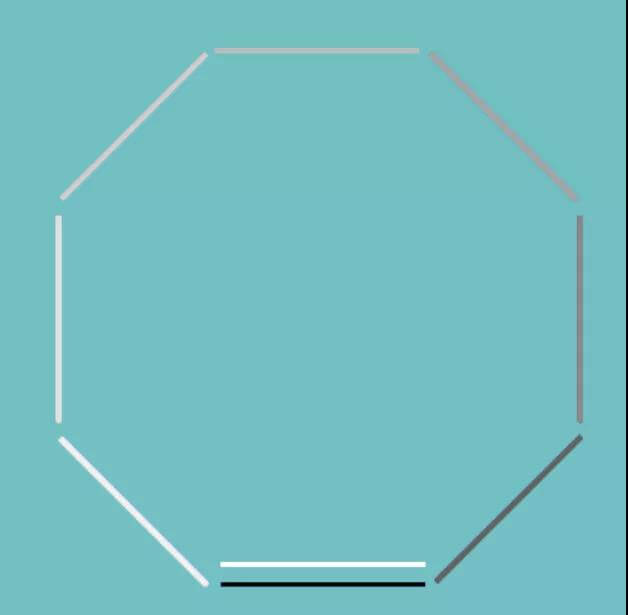 After knowing the principles and goals, we have to find a way to achieve this, a simple implementation in Substance Designer.
This one we only want to talk about ideas, because friends who will use SD software should be in very few.
However, if you already understand the above ideas, you can do it in theory with ps, but it is quite a lot of trouble.
Node graph is relatively simple.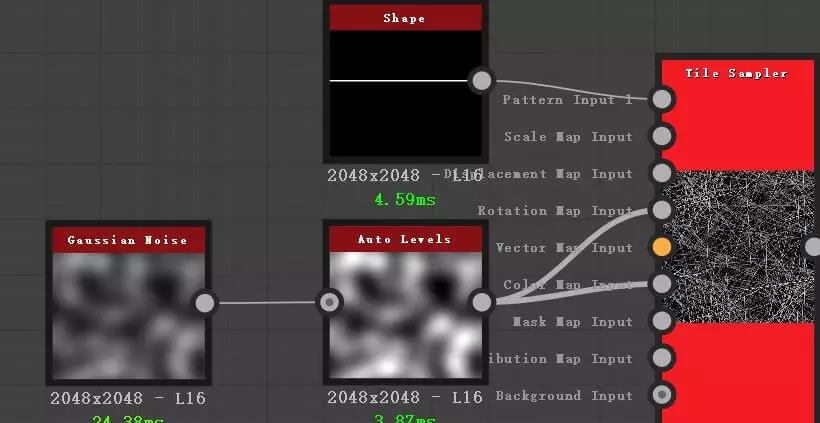 The main thing is to use the tile sampler to do the scattering, the shape node is a square, pressed very flat to make scratch elements. A Gaussian noise makes the spread random.
This gaussian noise should control the rotation and brightness of the scratch at the same time. The final effect is that the darker the gaussian noise is, the smaller the rotation angle is, and the lower the scratch brightness is.
The resulting aniRotation texture effect, SD is naturally seamless.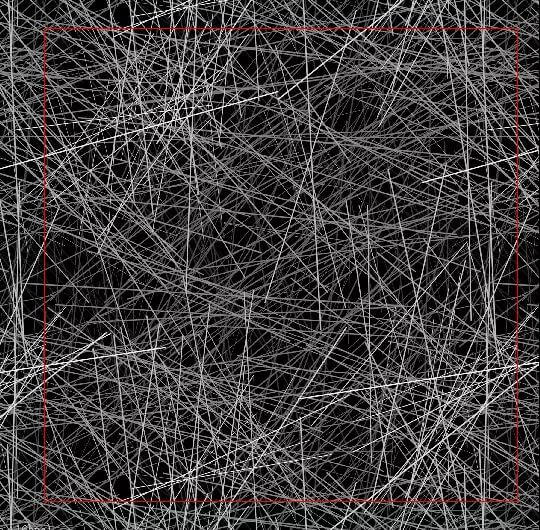 Then use the histgram select node to check the effect, because we are using a black background, so when the brightness is 0, the large area of the screen is selected, this does not matter, the overall effect looks the same as we expected: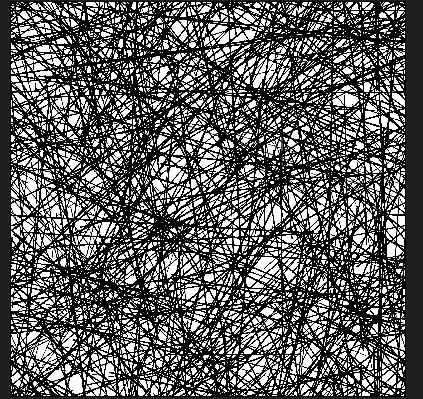 Because this is the simplest implementation, this scratch is not a fancy thing, it is straight. The core principle is the content described above.
Now please follow the best CPU & GPU render farm and cloud rendering services provider to our next part: The Essential Thinking Of Roughness And Anisotropy (6).
Recommended reading
---
How to Render High-quality Images in Blender
2020-03-09
---
Top 9 Best And Free Blender Render Farms of 2023
2022-05-09
---
Revealing the Techniques Behind the Production of Jibaro "Love, Death & Robots", Which Took Two Years to Draw the Storyboard
2022-06-10
---
How to Render Large Scenes with Redshift in Cinema 4D
2019-10-15
---
Top 10 Free And Best Cloud Rendering Services in 2023
2022-06-24
---
Top 8 After Effects Render Farm Recommended of 2023
2022-07-07
---
How to Reduce Noise in Corona Renderer - Corona Denoising
2019-05-15
---
Why V-Ray Render is Black in SketchUp And How To Fix it?
2019-05-07
---
Partners
Previous: The Essential Thinking of Roughness and Anisotropy (6)
Next: Fox Renderfarm Supports SketchUp Pro 19.0.685 Cloud Rendering Services Now
Interested
Top 7 Redshift Cloud Rendering Services
Rendering services in the cloud have revolutionized the way graphics and visual effects are created for film, animation, and other industries. Among the top contenders in this field is Redshift, a powerful, GPU-accelerated renderer. Redshift has gained popularity for its speed, efficiency, and scalability, making it a go-to choice for many professionals and studios. In this article, we will explore the top 7 Redshift cloud rendering services. 1. Fox Renderfarm: Best Redshift Cloud Rendering Service!Fox Renderfarm - Best V-Ray Render FarmWhen it comes to Redshift cloud rendering services, Fox Renderfarm stands out as one of the best options available. Fox Renderfarm has a strong infrastructure and technology to significantly reduce rendering times through the power of multiple servers and GPUs. They allow customization of needs based on your project requirements, providing flexible rendering resources. Fox Renderfarm prioritizes reliability and data security, taking strong measures to ensure uninterrupted rendering and protect valuable project assets. They offer flexible pricing, providing varying levels of discounts to help artists and studios achieve more cost-effective rendering. A $25 free trial is available for all new users to test their cloud rendering service. 2. iRender: An Acclaimed Redshift Cloud Rendering Service!iRender - Great Blender Render FarmiRender is a highly acclaimed Redshift cloud rendering service that provides high-performance computing resources for rendering 3D graphics, animations, and simulations. It offers powerful GPUs to accelerate the Redshift rendering process, allowing users to complete complex rendering tasks more quickly and efficiently. iRender supports various software and plugins commonly used in the animation and visual effects industry, making it a versatile solution for professional artists, studios, and designers. 3. Rebusfarm: A Leading Redshift Cloud Rendering Service!RebusFarm - Excellent Render Farm for BlenderRebusfarm is a reputable and trusted provider of Redshift cloud rendering services, offering a range of features and benefits that cater to the needs of artists and studios. RebusFarm supports Redshift as one of the rendering engines available on its platform. With RebusFarm, users can submit their Redshift-rendering jobs to the cloud and take advantage of the platform's powerful computing resources. The distributed network of servers provided by RebusFarm enables efficient and fast rendering of Redshift scenes, reducing the time required to complete complex projects. By offering Redshift cloud rendering, RebusFarm provides artists and studios with the flexibility and scalability to meet their rendering requirements while optimizing their workflows and reducing hardware costs. 4. Garagefarm: An Efficient Redshift Cloud Rendering Service!GarageFarm - Cloud Rendering Blender Render FarmGaragefarm is a top-notch provider of Redshift cloud rendering services that provides on-demand access to high-performance computing resources for 3D rendering. They support various popular render engines, including Redshift. GarageFarm makes it easy for studios to gain access to powerful computing power through thousands of render nodes and "plug-and-play" integration with existing 3D tools. 3d artists can utilize their cloud rendering technology to meet on-demand rendering needs at a lower cost. 5. Ranch Computing: An Outstanding Redshift Cloud Rendering Service!Ranch Computing An Outstanding Redshift Cloud Rendering ServiceRanch Computing is a Redshift cloud rendering farm based in Paris. Their powerful servers help you handle the rendering phase of your images with complete confidence while controlling deadlines and budgets. They offer powerful GPU and CPU computing servers for all graphic designers, no matter what industry they work in or the size of their organization. Ranch Computing operates globally and develops services that provide increasingly comprehensive solutions based on the needs of their users. 6. 3S Cloud Render Farm: A Reliable Redshift Cloud Rendering Service!3S Cloud Render Farm A Reliable Redshift Cloud Rendering ServiceCreated by a group of 3D fans, 3S Cloud Render Farm is a passionate platform that supports the Redshift cloud rendering service. It allows users to offload rendering tasks to a network of computers, utilizing the combined power of multiple computers to speed up the Redshift rendering process. 7. Drop and Render: Redshift Cloud Rendering Service for Cinema 4D!Drop RenderDrop & Render is a render farm designed for Cinema 4D rendering with support for Redshift cloud rendering. If you use Redshift for Cinema 4D, then Drop and Render is a good choice. They support all versions of Redshift. Their Render Farm plugin allows you to not leave your 3D software. They send all your settings securely to the server and automatically store the render frames on your hard drive. This means you don't have to take extra steps to get your files or wait for long download times, saving your time. ConclusionThere are many render farms that support Redshift cloud rendering and you can choose the one that works best for you. If you don't know which one to pick, we recommend Fox Renderfarm, which offers a $25 free trial!
Top 6 Best Redshift Render Farms
Are you looking for a suitable Redshift render farm? In this article, Fox Renderfarm, the leading Redshift cloud rendering service provider and render farm, will introduce to you 6 best render farms for Redshift. What is Redshift? Redshift is the world's first renderer fully accelerated by GPU. It supports 3D software such as Cinema 4D, Houdini, Maya, 3ds max, Blender, etc. Redshift is a biased renderer that does not pursue physically realistic rendering results, but optimizes rendering as much as possible, it focuses more on speed and quality. Redshift is also faster than other renderers at the same rendering quality.Let's check the Redshift render farms now. 1. Fox Renderfarm - Best Redshift Render Farm!Fox Renderfarm - The Best Blender Render FarmFox Renderfarm has been dedicated to the cloud rendering service for many years and is always a fast and secure Redshift render farm. In addition to Redshift, it also supports other major 3D software such as Blender, Maya, 3ds Max, V-Ray, etc. Fox Renderfarm is available at prices as low as 0.036/core hour and offers a price estimator. Fox Renderfarm supports both GPU and CPU rendering. It offers a $25 free trial to all new registrants. Also, Fox Renderfarm frequently hosts 3D challenges, such as the regular FGT Art in which anyone who submits an entry can get at least a $20 render voucher. 2. Rebusfarm - Redshift Render Farm!RebusFarm - Excellent Render Farm for BlenderRebusFarm supports all common 3D applications, including Redshift, as well as both CPU and GPU rendering.RebusFarm's software, called RebusDrop, supports both Windows and Mac, and it offers a free trial for $25.31.RebusFarm offers many video tutorials for using Redshift.About the version supported of Redshift, you can go to the official website and ask his customer service, they offer 24✖7 hours service. 3. iRender - High-Speed Redshift Render Farm!iRender - Great Blender Render FarmiRender, as an IaaS provider, is also a Redshift render farm. It supports almost all 3D software that uses Redshift such as Cinema 4D, Houdini, Maya, 3ds Max, Blender, etc. iRender is optimized for Redshift multi-GPU rendering tasks.iRender offers a free tool called GPuHub Sync that helps users transfer their files from their local computer to a remote server, even if the server is down and your files can be transferred.iRender charges based on time of use and supports 24/7 live chat. 4. Drop and Render - Redshift for C4D Render Farm!Drop RenderDrop & Render is a render farm designed for Cinema 4D (Drop & Render now also supports Blender). Drop & Render is the official Redshift render farm, offering tiled renders, AOV, Cryptomatte, Redshift proxy and more services for your C4D projects. It supports all Redshift versions and offers free €10 render farm credits. 5. 3S Cloud Render Farm - Redshift Render Farm!3S Cloud Render Farm3S is composed of a group of members who are passionate about 3D design and have extensive experience in computer technology. 3S Farm supports Blender, Houdini, Cinema 4D, Maya, 3ds Max, and Redshift for Maya, Houdini and C4D, so it's also a Redshift render farm.A $5 free trial is available and 15% extra bonus on first deposit for new users, only applicable within 72 hours of account registration. 6. VFXFARM - Redshift Cloud Rendering!VFXFarmVFXFarm, for Redshift, supports 3ds Max, C4D, Maya, Houdini cloud rendering. It offers an awesome user experience, friendly interface, nice positioning, color management, application from website to Windows and Mac, automatic synchronization of cloud rendering project output, and much more. He offers both CPU and GPU cloud rendering services. SummaryThe best redshift cloud rendering service is the one that fits your needs. If you're still confused, try Fox Renderfarm, a Redshift render farm and leading cloud rendering service provider, offering a $25 free trial!
A Redshift Production Breakdown and Experience Sharing from Lighting/Rendering Artist Jiaxuan Wang
Final Render In this article, Fox Renderfarm, the best could rendering services provider, will share with you a Redshift production breakdown and experience sharing from lighting/rendering artist Jiaxuan Wang.Introduction: Hi, everyone! This is Jiaxuan Wang. I'm so happy to have gained some popularity for my artwork and have seen my progress along the way.We were given a pretty complex theme, especially on the modeling and lighting. I rendered it with Redshift.!Render without LightingRender without Lighting We can separate the models into 6 sections: foreground, the bridge, architectures on both sides, the cathedral, background and the crowd. When I started dealing with the rendering, it took a very long time since there were too many polygons. Before I could optimize the models, it took nearly 6 minutes just to read the models. So I decided to separate the models. Coincidentally, I found that after dealing with some unnecessary UVs, and combining some models, the time of the input process and the size of the files both would shrink drastically. This allowed me to manage the lighting and rendering with all the models. Thus, for the second time, I input all the 6 files into one to render with Reference. Speaking of texturing, most of the models are attached with textures. Some silhouettes and simple models, I chose to use simple color texture to save time. And the lighting part, besides the radiating window, there are 240 lights in total. A lot of Area Lights were used. Through adjusting the position, strength and so forth to add more details.!A Redshift Production Breakdown and Experience Sharing from LightingRendering Artist-1The first render is not that satisfying. Since this is my first time dealing with this kind of fantasy style, I paid too much attention to working on the fog but ignored the importance of basic lights. Additionally, I just simply multiplied the lights without finding the main light source, which turned out to be a lot of shadows and strong contrast without fine details. My teacher recorded a long video to give me some advice, telling me details like the foreground is too bright, it is too hollow under the bridge, there is no visual focus in the image, etc. I was more experienced on my second render. And I began to think like a concept artist, considering the position of the lights and how I want the shadows and contrast to transit in the picture. Then comes the ambient adjustment, about the fog. Most of them were composited in Nuke afterwards according to my teachers' advice.!Nodes TreeNodes Tree