Top 10 Free And Best Cloud Rendering Services in 2023
Are you looking for the best cloud rendering services? There are many cloud rendering services on the market today, but they differ in their capabilities and the 3D software they support. Before we introduce you to the best cloud rendering services, let's understand what cloud rendering is.Cloud rendering refers to the technology that transfers the 2D or 3D graphics rendering from the client to the cloud server, the application of cloud rendering can greatly simplify the client. That's to say, with display and network access functions, users can enjoy top-level graphics processing capabilities, which will make the same graphics application appear on different terminal devices without distinction.By the way, if you're looking for google cloud rendering service, I'm sorry to tell you that in the middle of 2021, Google Cloud officially shut down its Zync render online cloud rendering services. 1. Fox Renderfarm - Best Cloud Rendering Services!Fox Renderfarm - The Best Blender Render FarmFox Renderfarm is the industry's leading provider of cloud rendering services and an excellent render farm. In operation since 2011, Fox Renderfarm has earned a reputation for quality performance, great customer service and flexible pricing plans. With over 20 years of experience, Pioneer's core team serves over 200,000 users and top leading visual effects companies and animation studios from over 50 countries or regions, with clients including multiple award and Oscar winners. It supports both CPU and GPU cloud rendering. Fox Renderfarm supports many 3D software such as C4D, Maya, Arnold, Blender, Redshift and more. Fox Renderfarm now offers a free $25 trial for new registrants. 2. RebusFarm - Arnold Cloud Rendering Services!RebusFarm - Excellent Render Farm for BlenderRebusFarm was founded in 2006 in Cologne, Germany. RebusFarm is designed to meet the growing demand for rendering capabilities in the 3D animation field. The render farm is designed to meet the growing demand for rendering capabilities in the 3D animation field. RebusFarm supports all common 3D applications, including host applications, as well as secondary rendering applications. In addition, RebusFarm's goal is to provide the greatest possible rendering power at the most affordable price, while maintaining a service-oriented connection with its customers. RebusFarm offers Arnold cloud rendering services. Each new user automatically receives a free trial of 25 RenderPoints when they register. 3. Chaos Cloud - Houdini Cloud Rendering!Chaos CloudChaos is a world leader in the field of visualization and computer graphics. Chaos creates technology that enables artists and designers to visualize anything they can imagine. Chaos offers the Houdini cloud rendering service, which allows you to easily submit render jobs to the Chaos Cloud directly from the V-Ray for Houdini interface. 4. Garagefarm - Sketchup Cloud Rendering!GarageFarm - Cloud Rendering Blender Render FarmGarageFarm is a small team of technical and 3D enthusiasts who, after years of painful and horrible rendering experiences, decided one day to create their own render farm. GarageFarm allows you to easily upload and manage your projects. He offers Sketchup cloud rendering service and offers a free trial for $25. 5. iRender - After Effects Cloud Rendering Services!iRender - Great Blender Render FarmiRender is a software company based in Vietnam where people, happiness and creativity are at the core of all activities that inspire the company's mission. As a PaaS and IaaS provider, they offer global cloud computing solutions with GPU rental server services for 3D rendering (CPU and GPU remote rendering farms), processing big data or any other GPU intensive tasks. iRender has different prices depending on the GPU and CPU servers. iRender also offers after effects cloud rendering services. 6. VFXFarm - CPU & GPU Cloud Rendering Services!VFXFarmThe VFXFarm story started when traditional cloud rendering companies couldn't meet their needs. VFXFarm offers an awesome user experience, a user-friendly interface, beautiful positioning, color management, applications from websites to Windows and Mac, automatic synchronization of cloud rendering project output, and much more. He offers both CPU and GPU cloud rendering services. 7. RenderShot - KeyShot Cloud Rendering Service!RenderShotRenderShot is a KeyShot render farm based in Vancouver. It is an authorized KeyShot cloud rendering service provider, powered by a team and community of KeyShot enthusiasts and top industry developers, providing step-by-step solutions for all your KeyShot rendering needs. It is built with powerful GPU and CPU servers that are professionally optimized to enable KeyShot CG artists to render multiple jobs at once without sacrificing quality or time. 8. Conductor Cloud Rendering - Good Cloud Rendering Services !Conductor Cloud RenderingConductor was developed by entertainment industry veterans and SaaS web development experts who share a love of discovering and using the best of cloud technology. At the heart of Conductor is the idea that cloud computing will replace the traditional "render farm". Conductor's platform was developed to achieve the scalability, security, flexibility and affordability required for A-list feature production. They offer a very good cloud rendering services. 9. GridMarkets - Redshift Cloud Rendering Services!GridMarketsGridMarkets is a partner of Redshift 3D and provides Redshift cloud rendering service. CPU and GPU rendering are supported. His price is from $0.80/machine-hour all inclusive. 10. SheeIpt - Free Blender Cloud Rendering Services !SheepIt - Free Blender Render FarmSheepIt is a free Blender cloud rendering service. It differs from other render farms by the word distributed, as the service does not own the machines that render, but relies on people sharing their computers. As a result, there is almost no limit to the capabilities of a render farm. As project owners add their scenes to the job queue, the service splits the animation into single frames for rendering, sends each frame to a connected computer, and optimizes its selection based on available memory and CPU/GPU capacity. This free cloud rendering service is free of charge. You can earn points by sharing your computer, and these points will give you access to free renders at SheepIt. SummaryFox Renderfarm hopes it will be of some help to you. It is well known that Fox Renderfarm is an excellent cloud rendering services provider in the CG world, so if you need to find a render farm, why not try Fox Renderfarm, which is offering a free $25 trial for new users? Thanks for reading!
---
The Pros and Cons of 3D Cloud Rendering
The production principle of 3D animation is to simulate three-dimensional objects, scenes, and dynamic effects using computer technology and project them onto a 2D screen to create a 3D effect. In the process of creating 3D animation, artists use professional 3D software to create 3D scenes, which usually involves modeling, material and texture design, animation production, and rendering.Currently, 3D animation is widely used in film, television, gaming, advertising, and virtual reality industries. With the advancement of technology, 3D has become more prevalent in our daily lives. In terms of 3D rendering, cloud rendering is an important solution that can assist artists in efficiently completing rendering tasks and delivering projects. It is also a future trend in the industry.This article aims to provide a comprehensive introduction to 3D cloud rendering, including what it is, its pros and cons, and recommended platforms for 3D cloud rendering. It will help you determine whether you need to use cloud rendering services. What is 3D Cloud Rendering?3D cloud rendering utilizes powerful cloud computing technology to upload your 3D scenes, models, and animation data to cloud servers (this process is secure and confidential), and then efficiently renders your assets using the robust computational power and distributed systems. It generates the final images or videos. Traditional local rendering often requires expensive hardware equipment and long computing times, while 3D cloud rendering leverages the powerful computing resources provided by cloud platforms to quickly and efficiently complete your rendering tasks. You only need to upload the scene data to the cloud, set the rendering parameters, and then wait for the cloud platform to automatically allocate computing resources for rendering. Finally, you can obtain the rendered results without worrying about other things. Pros and Cons of 3D Cloud Rendering!Cloud Rendering for Maya 1 Pros:Cost-saving: Through a cloud rendering platform, you don't need to purchase equipment or bear maintenance and energy costs. Pay-as-you-go pricing reduces rendering expenses. Some cloud rendering farms also offer free trials, discounted packages, and other promotions, allowing you to save more money while using cloud rendering services.Time-saving: A cloud rendering platform can handle multiple tasks simultaneously, completing tasks that would take hours on a local computer in just a few minutes. This allows you to quickly obtain rendering results and refine projects based on requirements.Scalability: Cloud rendering platforms can flexibly allocate computing resources according to user needs, catering to rendering requirements of different scales and complexities. They also regularly update and optimize hardware and software, allowing you to access the service anytime and anywhere through the internet.Improved work efficiency: Cloud rendering platforms provide automated rendering processes and management tools, simplifying the setup and management of rendering tasks. Some rendering farms provide 3D toolkits to help you manage 3D software and quickly check rendering issues.Professional team support: Cloud rendering platforms are typically staffed with professional customer service and technical teams. They can quickly resolve issues that might take you a long time to solve on your own. Some render farms offer 24-hour online customer service to assist you. Cons:Upload and download speed: It takes time to upload a large amount of scene data to the cloud, and downloading rendering results also requires some time. However, some render farms provide plugins that can help solve this problem.Data security: Currently, the level of render farms varies, and the security of some small platforms cannot be guaranteed, which may lead to data leaks. Therefore, it is recommended to choose a large-scale cloud rendering farm that is technically mature and reliable. For example, Fox Renderfarm has many years of rendering experience and has also obtained authoritative certification of MPA's TPN, providing you with 200% security.Network dependency: Using cloud rendering requires a stable internet connection, and poor network connectivity may affect the execution of rendering tasks.Limited software and plugin support: Artists use different software and plugins, and each render farm supports different software and plugins. You need to confirm whether the render farm you choose supports the software and plugins you use.Cloud rendering is not free: Many people ask if there are free render farms. There are indeed some, such as SheepIt, a render farm specifically for the free software Blender. However, it requires you to share your computer for others to render in order to earn points for free usage. If you are not a Blender user or if you want faster and more professional support, you will need to pay for rendering projects on other cloud render farms. But as mentioned earlier, some render farms offer free trials and various promotional discounts. You can reduce your costs based on your needs and obtain ultra-fast rendering results. 3D Cloud Rendering Platform RecommendedHere are recommendations for 3D cloud rendering platforms that have stood the test of time.1. Fox Renderfarm2. Rebusfarm3. iRender4. Ranchcomputing5. Garagefarm
---
How to Use A Render Farm (Step by Step Guide)
For urgent projects, a render farm is a savior. Compared to local rendering, the large-scale computers of a render farm offer significant advantages in terms of improving rendering speed, saving local resources, being maintenance-free, and offering professional assistance. If you haven't used a render farm before, then you may think it is difficult to use. So, in this article, you can learn how to use a render farm by checking out the use of leading cloud rendering service provider, Fox Renderfarm, step by step taking Blender as an example. Step 1. Prepare your file - Depending on your software I recommenced for you to pack your resources into 1 file location.ExampleMaya - Archive Scene3DsMax - Resource CollectBlender - Pack ResourcesC4D - Save project with AssetsFor this tutorial purpose I will be using blender.Once your file is ready for render - Pack Resources into 1 Blend File. (See Images attached)!FoxRenderFarm Tutorial 00Step 2. Head over to the website of Fox Renderfarm. Register an account with Fox Renderfarm and verify your email - This will reward you with a US$20 Coupon.!FoxRenderFarm Tutorial 01!FoxRenderFarm Tutorial 02Step 3. Select your software - This will also reward you with another US$5 Coupon.!FoxRenderFarm Tutorial 03Step 4. Welcome to the Web User Interface. You have your core tabs on the left:- Overview - Gives you a summary of your current/completed jobs, credits available and storage space.- Assets - This Tab is where you can upload your project files.- Submit - This Tab allows you to select your project file/s to start a render.- Analysis - This Tab performs an Ai scene analysis to check if your scene has any noticeable issues before a render is commenced.- Rendering - This Tab gives a scene list and management of your current/previous rendered & rendering frames.- Statistics - This Tab explains the statistics of each job.!FoxRenderFarm Tutorial 04Step 5. Install RaySync Transmission Tool - Raysync is used to speed up the uploading of your files, if you encounter problems with the installation you can visit the Raysync FAQ or seek help from Fox Renderfarm's 24/7 customer service.RaySync can be downloaded by selecting the circled option.!FoxRenderFarm Tutorial 05Step 6. CPU or GPU Region - Select your processing hardware relative to your project, if you are using GPU rendering in your project file, select one of the GPU Regions, if you are CPU Rendering, select one of the CPU regions.!FoxRenderFarm Tutorial 06Step 7. Adding Coupons(you can get render coupons by winning certain 3D competitions; if you don't have such render coupon, you can skip this step) - Click User Center in the overview tab, Click Coupon tab on the new page, then select Redeem Coupon on the top right>Use coupon code to redeem.!FoxRenderFarm Tutorial 07!FoxRenderFarm Tutorial 08!FoxRenderFarm Tutorial 09Step 8. Head to Assets tab, toggle 'Keep Local Path', and press upload file, and locate your packed Blend file - This will use Raysync to upload.!FoxRenderFarm Tutorial 10!FoxRenderFarm Tutorial 11Step 9. Once uploaded, Go to the Submit Tab, Select your Software, and locate your .blend file, select continue.!FoxRenderFarm Tutorial 12Step 10. Creating a Config and sending your job for analysis.You must create a config to continue with your render, enter a config name, e.g. 'Project', select your Operating System, and select the version of the software you are using, in my case it is Blender 3.5.1, then click Save.You will then be prompted to edit the Hardware Configuration, Select the GPU Model to use (RTX 3090), put GPU Number to 2* and select your RAM as 64GB for a normal project or if you are using a lot of data, you can also use 128GB of RAM (This will incur an additional 20% fee to your project credits)Send the job to 'Go Analysis'!FoxRenderFarm Tutorial 13!FoxRenderFarm Tutorial 14!FoxRenderFarm Tutorial 15Step 11. AnalysisIn the Analysis Tab, your project will be there pending. This usually takes a few minutes but could sometimes take longer.Once Analysis is complete, you can go into the details and see if there are any errors or warnings. Errors mean they need to be rectified and render can not commence.Warnings mean there may be some advisories but the project can still go ahead if you are happy.Hint: Seek help from online 24/7 customer service, if you can't solve the problem yourself, they are very fast and reliable.If you have no Errors or Warnings and are happy to continue, select 'Continue' or 'ignore and continue'.!FoxRenderFarm Tutorial 16!FoxRenderFarm Tutorial 17Step 12. Common SettingsOnce 'ignore and continue' was selected, you will be prompted with the common settings tab.To be safe I would toggle first frame, middle frame and last frame for a test render and select 'Submit' - This will allow you to make sure those 3 renders in your scene are done first so you can check over them before committing to a final render.!FoxRenderFarm Tutorial 18Step 13. RenderingYou will now be on Rendering Tab where your test rendering will begin, once the 3 renders are done, you can select the project in the scene list, this will open the job details.Scroll down and take a look at your first frame, middle frame and last frame to confirm everything is okay - you can use the preview window to check the render is okay.!FoxRenderFarm Tutorial 19!FoxRenderFarm Tutorial 20Step 14. Confirming Full RenderOnce you are happy with the results you can go back to the scene list in the Rendering Tab, select your project from the check list and toggle the Render Full Job.You may be prompted with a 'kind tips' pop up if your memory usage was close to the 64gb limit, you can increase to use the 128gb RAM if so which will give you more wiggle room in peak memory usage whilst rendering.Once confirmed on your 64/128gb Ram size, you will have to repeat the step of selecting the project check box and toggling the 'render full job' option again.This will prompt you one last time to confirm the test renders you took before are to your satisfaction before the job goes ahead for a full render.!FoxRenderFarm Tutorial 21!FoxRenderFarm Tutorial 22!FoxRenderFarm Tutorial 23!FoxRenderFarm Tutorial 24!FoxRenderFarm Tutorial 25Step 15. RenderingFull render has now commenced, you will be prompted with an email once completed.!FoxRenderFarm Tutorial 26Step 16. Download ResultsOnce completed, you will be prompted with an email, head back into the rendering tab, select your project from the scene list and click the output file tab.Scroll through your renders so they all cache into the system and then hit the select all check box then download, this will prompt you with a location needed to save.Once you chose a location on your device, the RaySync will download the files to this location.Job Done.!FoxRenderFarm Tutorial 27These are the steps on how to use a render farm, and to render software other than Blender such as Cinema 4D, Maya, 3ds Max etc, steps are similar.This tutorial article was written by the creator of CGANDWE for Fox Renderfarm. CGANDWE is a community where you can participate in 3D competitions to improve your CG skills, and you can join their Discord here.
---
Top 5 Octane Render Farms For Your 3D Projects
As the world's first and fastest bias-free, spectrally correct GPU render engine, OctaneRender has impressed many artists with its extraordinary render quality and speed. Using Octane in combination with the right render farm, working efficiency will be greatly increased. However, there are not many providers offering Octane cloud rendering services, and this post will introduce 5 high-quality Octane render farms for you to choose from. Fox Renderfarm: Best Octane Render Farm!Fox Renderfarm - Best V-Ray Render FarmFox Renderfarm is a large render farm with over a decade of rendering experience. They support a wide range of software and plugins, with an online rendering platform and desktop clients for Windows and Linux. Uploading files on their platform is very fast as they have a corresponding plugin to support the transfer. In terms of price, the lowest price for GPU rendering is $1 per node per hour, and the higher the membership level, the lower the price. Their real-time online customer service is available for any questions and is very nice. For new users who have not experienced the Fox Renderfarm's cloud rendering service, a $25 free trial is there. iRender: High-Speed Octane Render Farm!iRender - Great Blender Render FarmiRender is an IaaS render farm that allows users to remotely control cloud servers to render projects. On their cloud servers, you can install any 3D software, render engines and 3D plugins you want. As an Octane render farm, they have powerful render nodes: 2/4/6/8x RTX 3090/4090. Their pricing is based on node/hour and prices vary depending on the servers offered. They also have real-time online customer service. Rebusfarm: Render Farm for Octane!RebusFarm - Excellent Render Farm for BlenderRebusfarm is also a large render farm and they have rendered a lot of architectural works. It is based on a SaaS model, and with the help of their plugins, you can send projects directly from 3D software. They don't have real-time online customer service, which requires you to fill out a form with your question and wait for a reply. Rendering with their GPUs costs 3.79 cent/OBh and that price is independent of the number of machines used, they only charge for engine time. Ranch Computing: Render farm for Octane Renderer!Ranch Computing An Outstanding Redshift Cloud Rendering ServiceRanch Computing is also a render farm based on the SaaS model, and their proven rendering experience allows them to provide very high quality rendering services to artists. They also have their own plugin to help users send rendering projects directly from the application. Their prices vary from Low-Medium-High levels, and you can choose according to your needs. Currently there is no customer service button visible on their page, but if you have problems, you can tell them through the form on the contact page and wait for a reply. Drop Render: Octane Renderfarm for Cinema 4D!Drop RenderDrop Render is different from the render farms above, as it's a render farm designed for Cinema 4D rendering, but now supports Blender as well. Their plugin allows users to not leave the 3D application and will send the project directly to their servers and automatically store the rendered frames on your hard drive. Regarding pricing, you can choose a level based on the urgency of your project and your budget; the higher the level, the faster your project will receive rendering. They don't have an online customer service, though the support page can answer most of your questions or wait for their technical team to contact you.Each render farm has its own features and differences in service. Artists can choose your favorite one according to your preferences.
---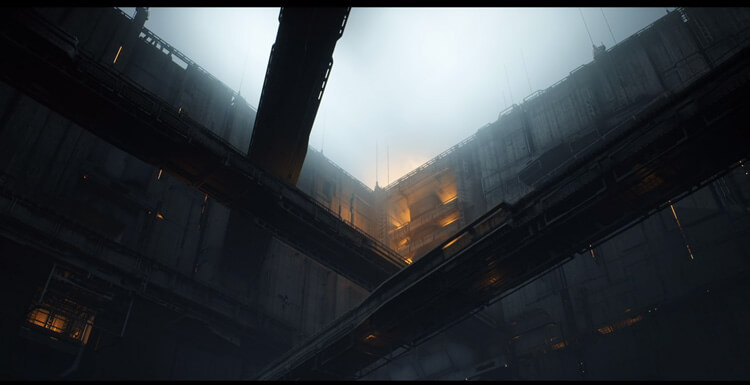 2019 GDC UE4 Real-Time Rendering Short Film: Rebirth
Recently, the Game Developers Conference was held in San Francisco at the Moscone Convention Center. Fox Renderfarm as a professional cloud rendering service provider and render farm, focus more on Unity's real-time technology, today share with you a short film Rebirth completed by UE4 in GDC, click on the video, let's enjoy this short film first. The short film of this photo street realism released by Quixel, directed by the CEO of Quixel, is based on the real-world scan data in the Megascans library, and is produced and rendered by Unreal Engine. Believe me, you see more than just a landscape map. The short film is an Icelandic scene similar to the science fiction style. The fast-moving future car travels across the volcanic belt and heads for a huge industrial building. WTH, is this film over? The end of the short film is very sudden. The people who read it are estimated to be thinking inside. Is this telling the story? We haven't seen enough yet? In order to make this project, Quixel spent more than a month searching more than 1,000 scans in Iceland. An animation team of 3D artists was produced and exported in Unreal Engine 4.21 at a 1:45 ratio of Unreal Scenes. They created a physical camera device that uses virtual reality technology to capture motion information in the Unreal Engine. At the end of the short film, we also saw that Houdini is also on the list of production software, but the official information on Houdini has not been published yet. Quixel has brought together many powerful artists in the production of Rebirth . For example, the former 3D art director of Blizzard Entertainment participated in conceptual art production. Two artists from Ember Lab, a well-known digital media studio, are also authors of the science fiction short film Dust . Responsible for the development of the narrative story of this short film. In the GDC UE4 real-time rendering short film Rebirth , I have to feel that the illusion is really powerful, don't worry about what the short film says, the technical display is higher than the movie description.
---
Which is Better for Game Development, Unity or Unreal Engine?
2023-08-30
Unreal Engine cloud rendering
In today's digital gaming market, both Unity and Unreal Engine are highly regarded game development tools. They each have their unique features and advantages, which can make it confusing when choosing which engine is suitable for your game development project. This article will comprehensively compare Unity and Unreal Engine, analyzing their differences in various aspects to help you make a choice.!unity logoFirst, let's take a look at Unity. As a user-friendly engine, Unity is an excellent choice for beginner developers. Its simple and intuitive user interface makes learning and using it effortless. Unity also provides extensive tutorials and community support, allowing beginners to quickly familiarize themselves with and master development skills. Whether you want to create 2D or 3D games, Unity offers excellent graphics rendering capabilities and a reliable physics engine. Additionally, Unity's cross-platform support is one of its significant advantages. Whether your target platforms are PC, mobile devices, consoles, or AR/VR devices, Unity can meet your needs. Overall, Unity is a powerful and flexible engine that is well-suited for rapid prototyping and small-scale game development.!unreal engine logoOn the other hand, Unreal Engine excels in graphics quality and realism. Whether it's the detailed representation of game scenes or special effects, Unreal Engine provides players with an immersive gaming experience. Additionally, Unreal Engine has a powerful Blueprint system, making it convenient to create logic and game mechanics. At the same time, Unreal Engine also supports C++ programming, enabling developers to have more fine-grained control over game logic. The Unreal Engine community and documentation are also rich, helping you solve various development issues. Generally, Unreal Engine is suitable for large-scale projects and developers seeking high customization, as well as those with higher demands for graphics quality.In addition to functionality and suitability, development cost is also an essential factor in choosing an engine. In comparison, Unity has relatively lower learning and usage costs. For beginners and small teams, choosing Unity can help you better control your development budget. On the contrary, Unreal Engine, with its powerful graphics rendering and physics effects, necessitates higher performance requirements. This means developers need to invest more time and resources in optimizing and fine-tuning the game to provide a smooth and satisfying gaming experience. Therefore, for larger projects and teams or developers with higher development budgets, Unreal Engine may be a better choice.In conclusion, considering functionality, suitability, and cost, both Unity and Unreal Engine have their strengths and limitations. For beginners and small projects, Unity is a good starting point, allowing for quick ramp-up and rapid development. For large-scale projects and developers with higher demands for graphics quality, Unreal Engine provides more customization and optimization possibilities. The choice of engine depends on your specific needs and project scale.Furthermore, if you choose to use Unreal Engine and encounter issues with rendering speed or require higher rendering quality, cloud rendering is one of the perfect solutions.Compared to traditional local rendering methods, using cloud rendering offers benefits beyond just speed improvement. Firstly, using cloud rendering eliminates the need for local hardware requirements and expensive render nodes, significantly reducing rendering costs. Secondly, since cloud rendering services can be flexibly adjusted based on project requirements, it increases rendering efficiency, saving time and manpower costs. Additionally, the distributed architecture of cloud rendering allows simultaneous rendering tasks, improving production efficiency.As a user of Unreal Engine, if you want to accelerate rendering speed through cloud rendering services, firstly, you need to choose a reliable cloud rendering service provider for Unreal Engine that has powerful computing resources and good technical support. Secondly, upload your rendering tasks to the cloud for rendering and select appropriate rendering parameters and configurations. Finally, download the rendered results and perform post-processing. For example, Fox Renderfarm is an excellent Unreal Engine render farm. For projects that require frequent rendering, using Fox Renderfarm's cloud rendering service can not only improve rendering speed but also greatly enhance work efficiency. By entrusting rendering tasks to Fox Renderfarm, you can save a lot of time and effort, allowing you to focus more on creation and design, thereby enhancing the quality of your work.In a word, cloud rendering service is a powerful tool for solving Unreal Engine rendering speed bottlenecks. It not only greatly accelerates rendering speed but also brings lower costs and higher production efficiency. If you want to achieve better results in the digital entertainment and film production fields, why not try using Fox Renderfarm's cloud rendering service to make your work shine!
---
Top 7 Redshift Cloud Rendering Services
Rendering services in the cloud have revolutionized the way graphics and visual effects are created for film, animation, and other industries. Among the top contenders in this field is Redshift, a powerful, GPU-accelerated renderer. Redshift has gained popularity for its speed, efficiency, and scalability, making it a go-to choice for many professionals and studios. In this article, we will explore the top 7 Redshift cloud rendering services. 1. Fox Renderfarm: Best Redshift Cloud Rendering Service!Fox Renderfarm - Best V-Ray Render FarmWhen it comes to Redshift cloud rendering services, Fox Renderfarm stands out as one of the best options available. Fox Renderfarm has a strong infrastructure and technology to significantly reduce rendering times through the power of multiple servers and GPUs. They allow customization of needs based on your project requirements, providing flexible rendering resources. Fox Renderfarm prioritizes reliability and data security, taking strong measures to ensure uninterrupted rendering and protect valuable project assets. They offer flexible pricing, providing varying levels of discounts to help artists and studios achieve more cost-effective rendering. A $25 free trial is available for all new users to test their cloud rendering service. 2. iRender: An Acclaimed Redshift Cloud Rendering Service!iRender - Great Blender Render FarmiRender is a highly acclaimed Redshift cloud rendering service that provides high-performance computing resources for rendering 3D graphics, animations, and simulations. It offers powerful GPUs to accelerate the Redshift rendering process, allowing users to complete complex rendering tasks more quickly and efficiently. iRender supports various software and plugins commonly used in the animation and visual effects industry, making it a versatile solution for professional artists, studios, and designers. 3. Rebusfarm: A Leading Redshift Cloud Rendering Service!RebusFarm - Excellent Render Farm for BlenderRebusfarm is a reputable and trusted provider of Redshift cloud rendering services, offering a range of features and benefits that cater to the needs of artists and studios. RebusFarm supports Redshift as one of the rendering engines available on its platform. With RebusFarm, users can submit their Redshift-rendering jobs to the cloud and take advantage of the platform's powerful computing resources. The distributed network of servers provided by RebusFarm enables efficient and fast rendering of Redshift scenes, reducing the time required to complete complex projects. By offering Redshift cloud rendering, RebusFarm provides artists and studios with the flexibility and scalability to meet their rendering requirements while optimizing their workflows and reducing hardware costs. 4. Garagefarm: An Efficient Redshift Cloud Rendering Service!GarageFarm - Cloud Rendering Blender Render FarmGaragefarm is a top-notch provider of Redshift cloud rendering services that provides on-demand access to high-performance computing resources for 3D rendering. They support various popular render engines, including Redshift. GarageFarm makes it easy for studios to gain access to powerful computing power through thousands of render nodes and "plug-and-play" integration with existing 3D tools. 3d artists can utilize their cloud rendering technology to meet on-demand rendering needs at a lower cost. 5. Ranch Computing: An Outstanding Redshift Cloud Rendering Service!Ranch Computing An Outstanding Redshift Cloud Rendering ServiceRanch Computing is a Redshift cloud rendering farm based in Paris. Their powerful servers help you handle the rendering phase of your images with complete confidence while controlling deadlines and budgets. They offer powerful GPU and CPU computing servers for all graphic designers, no matter what industry they work in or the size of their organization. Ranch Computing operates globally and develops services that provide increasingly comprehensive solutions based on the needs of their users. 6. 3S Cloud Render Farm: A Reliable Redshift Cloud Rendering Service!3S Cloud Render Farm A Reliable Redshift Cloud Rendering ServiceCreated by a group of 3D fans, 3S Cloud Render Farm is a passionate platform that supports the Redshift cloud rendering service. It allows users to offload rendering tasks to a network of computers, utilizing the combined power of multiple computers to speed up the Redshift rendering process. 7. Drop and Render: Redshift Cloud Rendering Service for Cinema 4D!Drop RenderDrop & Render is a render farm designed for Cinema 4D rendering with support for Redshift cloud rendering. If you use Redshift for Cinema 4D, then Drop and Render is a good choice. They support all versions of Redshift. Their Render Farm plugin allows you to not leave your 3D software. They send all your settings securely to the server and automatically store the render frames on your hard drive. This means you don't have to take extra steps to get your files or wait for long download times, saving your time. ConclusionThere are many render farms that support Redshift cloud rendering and you can choose the one that works best for you. If you don't know which one to pick, we recommend Fox Renderfarm, which offers a $25 free trial!
---
The Key Differences Between Cloud Rendering and Local Rendering: Which is Right for You?
In today's fast-paced digital world, rendering has become an integral part of a wide range of industries, including animation, visual effects, architecture and gaming. When it comes to rendering, there are two main methods that are widely used: cloud rendering and local rendering. Understanding the basics of both methods is crucial for professionals in these fields.In this article, we'll explore the differences between cloud rendering and local rendering, including comparison of price, rendering speed, data security, and maintenance. What is Cloud Rendering and Local Rendering?!benefits of cloud rendering -1Local rendering refers to the process of performing computer graphics rendering tasks on a user's own hardware infrastructure, typically using dedicated software installed on a local machine. In this method, the rendering calculations and processing are performed directly on the user's computer or a local network of computers without relying on external resources or services. The user's computer, equipped with sufficient processing power and resources such as CPUs, GPUs, and memory, handles the entire rendering pipeline, including geometry processing, shading, texturing, and image synthesis, to produce the final rendered images or animations. Local rendering provides users with full control over the rendering process, allowing for customization and real-time feedback during the rendering workflow.On the other hand, cloud rendering involves submitting rendering tasks to server clusters in a cloud platform, utilizing the powerful computing capabilities and resources of cloud computing to complete the rendering tasks. Cloud rendering has massive computing resources and is especially suitable for large and complex rendering tasks. Cloud rendering usually supports a wide range of operating systems and software platforms to meet the different needs of users, so that users do not have to buy expensive rendering equipment, and do not need to be responsible for the maintenance of the equipment, and can also get technical support from professionals.Top 10 Free And Best Cloud Rendering Services in 2023 Cost Comparison of Cloud Rendering and Local RenderingLocal rendering requires artists to purchase their own hardware devices, such as graphics cards, CPUs, memory, etc. Furthermore, in order to meet certain rendering requirements, a significant budget needs to be allocated for purchasing high-end equipment. Additionally, when large-scale rendering tasks need to be performed, more hardware devices need to be added, which also consumes more resources such as electricity.In contrast, cloud rendering service providers offer various tailored service packages and provide corresponding pricing plans based on the specific needs of each user. Thus, cloud rendering is generally more affordable compared to local rendering. Performance and Speed of Cloud Rendering and Local RenderingFor local rendering, the rendering speed depends on the hardware configuration of your computer and the version of the rendering software you are using. In general, local rendering tends to be slower and requires longer processing times. Longer rendering tasks can also consume a significant amount of the computer's processing resources, causing inconvenience for artists who need to perform other tasks.On the other hand, cloud rendering, with its powerful server hardware configurations and optimized systems, offers faster rendering speeds. It can handle multiple tasks simultaneously, resulting in much higher efficiency compared to local rendering. Data Security and Privacy of Cloud Rendering and Local RenderingLocal computers require the installation of design software for rendering tasks, and some of these software may have certain security vulnerabilities, copyright issues, or piracy concerns. Additionally, rendering tasks may involve sensitive design materials, making local rendering susceptible to potential security risks and hacker attacks.Cloud rendering service providers typically employ multiple layers of security mechanisms to ensure the data security of users. They utilize internal measures to hide and protect against external attacks. Weighing the Effort Needed for Cloud Rendering and Local Rendering SetupsFor local rendering setups, you need to invest in and maintain your own hardware infrastructure, including powerful processors, graphics cards, and ample memory. You also need to install and update rendering software on your machines. This requires upfront costs, ongoing maintenance, and potential technical expertise to troubleshoot any hardware or software issues that may arise. Additionally, local rendering can be time-consuming, especially for complex rendering tasks that require long processing times.On the other hand, cloud rendering eliminates the need for substantial hardware investments and maintenance. Cloud service providers offer pre-configured, high-performance rendering servers, allowing you to tap into their computing resources on-demand. This saves you the effort of managing hardware upgrades or troubleshooting technical problems. Cloud rendering also enables parallel processing, allowing multiple tasks to be rendered simultaneously, thus reducing overall rendering time.However, it is worth noting that using cloud rendering services requires an internet connection, and you may incur additional costs based on usage and data transfer. You also need to ensure the security of your data by choosing reputable and secure cloud rendering service providers. Best Cloud Rendering Platform RecommendedLocal rendering and cloud rendering both have their advantages and disadvantages, and the choice of which method to use depends on the specific needs and project requirements of the designer. Factors such as time, cost, and quality need to be weighed, and the appropriate rendering method should be selected for the project.That being said, if you are impressed by the advantages of cloud rendering, I would recommend a leading cloud rendering platform and render farm called Fox Renderfarm. It excels in efficiency, cost-effectiveness, security, and maintenance-free operation.!Fox Renderfarm - Best V-Ray Render FarmFox Renderfarm supports most 3D software, renderers and plugins, as well as CPU and GPU rendering. The $25 free trial is a great opportunity to try it out!
---
The Ruins of David Made With 3ds Max & ZBrush
In this article, Fox Renderfarm, a leading cloud rendering service provider and render farm in the CG industry, will share with you a 3D scene called "The Ruins of David" that was collaboratively created by a student team over a span of 4 weeks with the PBR process.Final result:!Final result of The Ruins of David 1!Final result of The Ruins of David 2 Observing and Analyzing Concept Art & Asset AllocationOur reference was inspired by the work of a skilled artist we found online. It was our first attempt to collaboratively create a PBR scene from start to finish as a team. Throughout the process, we were constantly exploring and learning, but fortunately, we managed to complete the project in the end.For our scene, sculpting played a major role. We followed a production workflow that involved using 3ds Max for rough modeling, ZBrush for high-resolution sculpting, and then Topogun for creating low-polygon topology. During the high-resolution phase, we utilized KeyShot for rendering. Afterwards, we used Substance Painter, Photoshop, and Pixplant for texture and material creation. Finally, we rendered and outputted the scene using Unreal Engine 5.To ensure collaborative work while maintaining overall proportion unity, we initially need to establish the rough shape proportions and object placement based on the concept art. Afterward, we assigned tasks and divided the entire scene into five parts: the head of David, the distant mountains, the stairs and platform, the pillars and ornaments, and the background mountains with nearby rocks along with the obscured mountains in the foreground.!Asset allocation chartAsset allocation chart!Large-scale scene constructionLarge-scale scene construction Making Mid-poly ModelIn this scene, the only parts that required mid-poly modeling were the stone pillars, steps, and other small objects. For the rest of the scene, we mainly used a box or sphere shape and directly imported them into ZBrush for sculpting.!Mid-poly model of small objectsMid-poly model of small objects Making High-poly ModelCompared to the leisurely mid-poly modeling stage, the high-poly modeling phase is much more lengthy and complex. Approximately 90% of the entire scene required using ZBrush for high-resolution sculpting. Since most objects during the mid-poly modeling stage were very rough, we not only had to shape them but also focus on capturing intricate details. We conducted extensive research and decided to focus on creating a desert and wind-eroded terrain. The majority of the artificial objects in the scene were made of sandstone. During the sculpting process, we had to ensure the integrity of the main structure while considering the effects of wind erosion on the material surface, such as which structures would be eroded and which ones would be preserved. We went through many trial-and-error stages. Initially, we struggled with rigidly replicating the structures, but with guidance from our instructor, we eventually found the correct approach. By closely observing real mountains and wind-eroded statues, we finally achieved the desired aesthetic.!Sculpting of Mountain StonesSculpting of Mountain Stones!Sculpting of pillars and small objectsSculpting of pillars and small objects!Sculpting on the side of the stoneSculpting on the side of the stoneWhen creating the sculpture of David, as it was our first time sculpting a human figure, we had to make countless modifications just to get the lips right. One moment, it would resemble a rugged, masculine face, and the next moment, it would transform into a delicate, feminine one. It must be said that facial sculpting for the character was indeed one of the challenges in this scene. Even the slightest change could disrupt the overall proportions. There were moments when I looked at the ugly face I sculpted and felt like giving up. Fortunately, with guidance from our instructor and numerous revisions, we were able to somewhat capture the essence of Michelangelo's David.!Sculpting of the Statue of DavidSculpting of the Statue of David!Failed versionFailed versionOf course, there were many other challenges besides these. The making of the candles was also a headache. We struggled for a long time to recreate the true essence, so we decided to simply buy two large candles. We burned them day and night until they finally took on the appearance we desired.!Candles dedicated to the artsCandles dedicated to the arts!Sculpting of candlesSculpting of candles Making Low-poly ModelIf the previous process was more like creation, then making the low-poly models is more like streamlining and finalizing the previous work. We used two methods to create low-poly models. One method involved using ZBrush's automatic retopology tools to generate the low-poly models, and then organizing the topology in 3ds Max through subtraction. The second method, used for objects like heads and candles, involved using Topogun for retopology. This method required patience and attention to detail. We needed to ensure simplicity, comply with proper topology standards, and also preserve the silhouette contours and main structures as much as possible.!Low-poly of Statue of DavidLow-poly of Statue of DavidAfter the topology phase, we moved on to the stage of UV unwrapping and baking normal maps. UV unwrapping may seem like an ordinary process, but it actually has a significant impact on the final result. If not done properly, it may even require rework in the later stages. To ensure consistent UV size, we adopted a pixel density of 256 pixels per cubic meter (256/m³) for our production.After the UV layout was completed, the next step was baking. We needed to match the high-poly and low-poly models as closely as possible in 3ds Max, ensuring minimal gaps or low matching accuracy. Afterwards, we exported the models to Substance Painter for baking the normal maps and ambient occlusion (AO). However, due to our limited experience, we often encountered rainbow artifacts, which required numerous iterations of rework. In some cases where certain issues were difficult to resolve, we directly hand-painted the normals using Photoshop to solve the problem.For different materials, we adopted a method of using material balls to differentiate them. It is crucial to have standardized naming conventions for the material balls, as any lack of consistency in naming can lead to significant difficulties during the later stages of production. Making MaterialsWe put a lot of effort into sculpting the details, while the material aspect was relatively easier. We adopted the standard PBR (Physically Based Rendering) workflow for material creation. We focused on establishing the overall volume first and then added specific details such as weathering and cracks. Unlike individual material creation, the team's material production required coordination among members to achieve a unified artistic style and texture. Objects with the same material were assigned identical generators and material balls to maintain consistency in the art style, while incorporating different details to avoid excessive repetition.To avoid significant discrepancies between different team members' work, we would apply similar materials to the engine and observe the overall effect. This allowed us to determine how to modify the materials to ensure a consistent and cohesive final result. RenderingFrom the beginning of the production, we planned to do the final rendering in UE5 (Unreal Engine 5). In order to achieve this goal, we worked overtime and studied UE5 for more than a week. During this stage, we faced considerable difficulties and had to explore and learn as we progressed. We were challenged by various nodes and encountered obstacles along the way. Thankfully, we managed to resolve most of the issues in the end.!Making of terrain material ballsMaking of terrain material ballsCandle making was also a challenging aspect. In order to achieve the effect of flickering flames and dynamic firelight, we chose to use the Niagara particle system for the candle. We worked overtime for several days specifically to study and develop this relatively fundamental effect for the candle's flame.!Fire particle effectsFire particle effects!Final result of The Ruins of David 1Rendering ConclusionThe above is our experience and insights into the entire production process. Together, we faced many unprecedented challenges and encountered new software and knowledge. However, with the collective efforts of all team members, we successfully overcome those obstacles. We would like to express our gratitude and appreciation to everyone for their hard work and dedication!Fox Renderfarm is a 3ds Max cloud rendering service provider and 3ds Max render farm dedicated to bringing more useful tutorials to our 3ds Max users. We are offering a free $25 render trial to all new users, get rendering to free up your computer now.Source: Thepoly
---
Top 5 V-Ray Render Farms in 2023
Chaos' V-Ray is a powerful rendering engine widely used in the computer graphics industry. It provides high-quality and realistic rendering for various 3D software applications such as 3ds Max, Maya, Cinema 4D, and more. V-Ray offers advanced lighting and material options, global illumination effects, and efficient rendering algorithms, allowing artists to create stunning visuals for their projects.Using V-Ray for rendering can achieve higher quality results, but sometimes V-Ray rendering can be slow, taking several days to render just a minute of video. Apart from making some adjustments in your project files, another option to speed up V-Ray rendering is utilizing a V-Ray render farm for faster and more efficient rendering.Next, as a leading render farm and cloud rendering service provider in the industry, Fox Renderfarm will introduce you to some excellent V-Ray render farms. 1. Fox Renderfarm - Best V-Ray Render Farm!Fox Renderfarm - Best V-Ray Render FarmFox Renderfarm has over 20 years of experience in cloud rendering services and as a V-Ray render farm, it is committed to providing the best V-Ray cloud rendering service. In addition to V-Ray, it also supports 3D software such as Cinema 4D, 3ds Max, and Maya that can work with V-Ray. Both CPU and GPU rendering are supported. They have an online rendering platform as well as a desktop application, both of which are constantly maintained and updated. Currently, they offer a $25 free trial for all new registered users. Additionally, they provide real-time chat support where you can reach out to their customer service representatives if you have any questions about V-Ray rendering services. 2. RebusFarm - Your V-Ray Render Farm!RebusFarm - Your V-Ray Render FarmRebusFarm is a renowned render farm service provider that supports various rendering engines, including V-Ray. It is not exclusively a V-Ray render farm but offers support for V-Ray along with other popular rendering engines. With RebusFarm, users can submit their V-Ray projects for rendering and benefit from the farm's powerful infrastructure to accelerate the rendering process. RebusFarm provides a user-friendly interface, reliable cloud rendering services, and efficient support for V-Ray and other compatible rendering software. 3. iRender - Powerful V-Ray Render Farm!iRender - Great Blender Render FarmAs a V-Ray render farm, iRender is a cloud-based rendering platform that specializes in providing efficient and powerful rendering services for V-Ray users. They offer support for V-Ray rendering with both CPU and GPU options. iRender provides a user-friendly interface and scalable cloud resources, allowing users to render their V-Ray projects quickly and effectively. Whether you need to render architectural visualizations, animations, or product designs, iRender can help accelerate the rendering process by leveraging their dedicated infrastructure and computing power. 4. GarageFarm - Effective V-Ray Render Farm!GarageFarm - Cloud Rendering Blender Render FarmGarageFarm is also a V-Ray render farm. It is a popular cloud rendering service provider that supports various rendering engines, including V-Ray. With GarageFarm, users can submit their V-Ray projects for rendering and take advantage of their powerful infrastructure to speed up the rendering process. GarageFarm offers flexible pricing options, extensive software compatibility, and 24/7 support to ensure a smooth rendering experience. Whether you are working on architectural visualizations, animations, or other V-Ray projects, GarageFarm can provide the rendering resources needed to achieve high-quality results in a timely manner. 5. Super Renders Farm - Affordable V-Ray Render Farm!SuperRenders FarmSuper Renders Farm is a cloud rendering service provider that supports V-Ray rendering along with other popular rendering engines. Super Renders Farm offers a user-friendly interface, flexible pricing options, and powerful cloud infrastructure to accelerate the rendering process for V-Ray users. You can submit your V-Ray projects to the Super Renders Farm platform, and they will distribute the rendering workload across their network of high-performance servers to deliver fast and efficient results. ConclusionWe hope you find the best V-Ray render farm for you. But if you can't decide which one to use, try Fox Renderfarm, which is also a TPN-Accredited render farm and is now offering a $25 free trial for new users.
---
Get Started on Game Modeling with 3ds Max Modeling Tips
The reason why 3D is called "3D" is because it takes a 2D profile of an object and extrudes it along a certain path, forming complex 3D objects. Different shapes can be applied to different segments along the same path. This transformation path is called loft modeling. Today, Fox Renderfarm, as a leading cloud rendering service provider and render farm in the industry, will introduce the basic modeling techniques 3ds Max loft modeling to you. Lattice ModelingMaya's powerful lattice modeling tool is incredibly powerful but often overlooked by beginners. The lattice allows you to efficiently make overall changes to high-resolution models, avoiding the tedious task of manipulating hundreds or thousands of edges and vertices individually.Despite being a powerful tool, lattice modeling is often missed by beginners, partly because it is located under the Animation tab rather than the Polygon Modeling tab in Maya's interface.!Get Started on Game Modeling with 3ds Max Modeling Tips 1Image from Internet, copyright of the original author Soft SelectionAre you tired of moving each vertex individually?Just like the lattice modeling, the soft selection feature allows you to efficiently modify a region of a model by setting a controllable falloff radius for each vertex, edge, or face. In other words, when soft selection is enabled, selecting a vertex and translating it in space will also affect the surrounding vertices (the degree of influence is determined by the falloff radius you have set).Soft selection is particularly useful for modeling organic objects such as skeletons, muscles, and faces. It helps you achieve smoother transitions and deformations between different parts of the model.!Get Started on Game Modeling with 3ds Max Modeling Tips 2Image from Internet, copyright of the original author The Duplicate SpecialHave you ever been frustrated while modeling objects with regularly spaced elements, like fences? The Duplicate Special feature allows you to create multiple copies of an object and translate, rotate, or scale each instance individually.For example, let's say you need to model a Greek pillar with a series of regularly spaced relief units encircling its surface. In this case, after creating a single relief unit, you can find the central axis of the cylinder and use the duplicate special feature to evenly distribute and replicate each relief unit, making it easy to complete the modeling process.!Get Started on Game Modeling with 3ds Max Modeling Tips 3Image from Internet, copyright of the original author The Relax BrushBeginners often tend to end the modeling of organic models with a "blocky" appearance. Although Maya does not have a complete set of sculpting tools, it does have some basic sculpting brushes, with the most useful one being the Relax Brush tool.The Relax brush will average out the spacing between the vertices you brush over, resulting in a smoother surface without compromising the model's overall shape. If you are modeling a facial model, for example, you can use the Relax brush to make the blocky face appear more like a smooth skin surface.Find mesh tool under the polygons menu, then sculpt geometry tool, click on the little square behind this option, and find sculpt parameter under properties, locate relax brush, and then go back to the 3D view and brush the vertices you want to smooth.Alternatively, you can select the object you are currently modeling, hold down the right mouse button until a menu appears, and then choose Paint -> Sculpt. In the Sculpt Parameters, select the Relax Brush. You can also modify the brush radius and strength in the brush options tab to control the brush effect.!Get Started on Game Modeling with 3ds Max Modeling Tips 4Image from Internet, copyright of the original author Selection SetsHave you ever had this experience: After spending a long time carefully selecting complex faces, edges, and vertices, and performing a series of operations, you unselect them to start working on something else. Then you realize that you need to make further adjustments to the large area you originally selected, but you have already canceled your previous selection. Now you have to go through the frustration of manually clicking and selecting points, edges, and faces again.Actually, this can be avoided. Maya allows you to save selection sets so that you can quickly and easily activate them later on.If you find yourself repeatedly selecting the same points, edges, or faces, or if you have just spent a lot of time selecting a large area and suspect that you may need to select that area again in the future, use the Command Selection Sets to save it.Select the desired points, edges, or faces, then go to Create -> Quick Select Sets. Name the set and click "OK." (If you want to find it on the toolbar later, click "Add to Shelf"). To quickly select this area in the future, simply go to Edit -> Quick Select Sets and locate your named selection set in the list. Interact with Others MoreMany beginners often overlook this step and rely solely on hard work. While professionals in the workplace can easily communicate with colleagues in the industry, it can be more challenging for beginners.Beginners can exchange experiences with classmates who are learning together, or engage with unfamiliar peers on social platforms and other forums.Regardless of the approach, it is always beneficial to look at other people's work. Hopefully, with the guidance of these tips, everyone can achieve great success.If you have problems with slow 3ds Max rendering on your own computer, you can use a 3ds Max render farm that offer fast cloud rendering service to speed up your 3ds Max rendering and meet your project's delivery date.Source: aliyun
---
Is There Any Way to Get Free Render Coupons?
If you are a 3D artist, you probably understand how agonizing it can be to wait for the final rendering of your projects or artworks. To speed up the 3D rendering process, we often explore various methods, such as optimizing the scene, reducing unnecessary lighting, using GPU-based renderers, or seeking external assistance, such as a powerful render farm.However, render farms are not free. Even if you don't need to spend actual money, you may have to give something in return, such as sharing your computer for rendering with others. When it comes to urgent rendering projects, investing money in a render farm is the best solution. It can significantly improve rendering speed and ensure timely completion of the project. Moreover, some render farms offer super fast rendering speeds, which may even allow you to save time for optimizing the images.When using a render farm, it's nice to get certain discounts or free render vouchers that can help us save some money. So how can we get free render coupons? Actually, some 3D competitions are sponsored by many render farms, and if you win the competition, you can get a good amount of render vouchers or render points. Taking part in a 3D challenge will not only give you the chance to win prizes, but it will also practice your 3D skills - it's killing two birds with one stone. So what 3D contests offer rendering vouchers as prizes? In this post, the leading cloud rendering service provider and render farm in the industry, Fox Renderfarm, introduces some opportunities or 3D art challenges to you where you can get free render coupons. 1. Fox Renderfarm's FGT3D Challenge!Fox Renderfarm's FGT3D New Adventure ChallengeNew Adventure of Fox RenderfarmJoining the FGT3D Challenge of Fox Renderfarm is a very good chance to get free Fox Renderfarm render coupons, more than $100! This 3D competition is regular held, usually twice a year, so don't worry about missing it. The last contest was the 9th one, with the theme of New Adventure and received a lot of excellent entries in both student and professional categories (so you don't have to worry about competing with professional 3D artists if you are a student), and the winners were awarded with very generous prizes!Learn more about the FGT3D challenge of Fox Renderfarm. 2. FGT Art Campaign of Fox Renderfarm!FGT Art Campaign of Fox RenderfarmFGT Art Campaign of Fox RenderfarmFGT Art Campaign is a monthly 3D competition run by Fox Renderfarm for its users. Only artwork rendered with Fox Renderfarm is eligible for entry, and you'll receive a $20 render voucher for submitting your artwork, in addition to a $100 fox render farm coupon for the featured artwork of the month. If you're not a Fox Renderfarm user yet, sign up for an account and any future 3D work rendered with Fox Renderfarm can be submitted to win free render coupons. 3. 3D Challenge of Hum3D !Sci-Fi Industrial Zone 3D Competition of Hum3DSci-Fi Industrial Zone 3D Competition of Hum3DHum3D is a website that offers 3D models and has been organising 3D competitions for 3D artists since 2013. The winner's renderings will be permanently published in 3DArtist magazine. Their 3D contests usually receive a large number of quality entries, and the rewarding render vouchers include multiple render farms such as Fox Renderfarm, Rebusfarm and iRender. If you win the contest, you get so many free render vouchers at once, such as irender coupon and fox render farm coupon, which sounds really nice. 4. Evermotion Annual 3D Challenge!Evermotion Annual 3D ChallengeEvermotion is a company that produces high-quality 3D models, scenes, textures and tutorials. They often run 3D competitions, usually the biggest being an annual one that includes various prizes, among them rendering coupons. Fox Renderfarm and Rebusfarm are the regular renderfarm sponsors for their challenge, so if you win the competition, you can get free render vouchers from both render farms.There are some other competitions where you can get various free rendering vouchers, but only some of them are mentioned here as they are often held. If you want to know about other chances to get free render coupons from render farms, you can follow us, and we will often post news about relevant competitions or events, thus allowing you to decide whether to participate in the event to practice your 3D skills and get the prizes of render coupons according to your own situation.
---
Recommended reading
---
How to Render High-quality Images in Blender
2020-03-09
---
Top 9 Best And Free Blender Render Farms of 2023
2022-05-09
---
Revealing the Techniques Behind the Production of Jibaro "Love, Death & Robots", Which Took Two Years to Draw the Storyboard
2022-06-10
---
How to Render Large Scenes with Redshift in Cinema 4D
2019-10-15
---
Top 10 Free And Best Cloud Rendering Services in 2023
2022-06-24
---
Top 8 After Effects Render Farm Recommended of 2023
2022-07-07
---
How to Reduce Noise in Corona Renderer - Corona Denoising
2019-05-15
---
Arnold\ V-Ray\ Octane\ Conora\ RedShift, Which Is The Best 3D Renderer?
2019-04-15
---
Partners