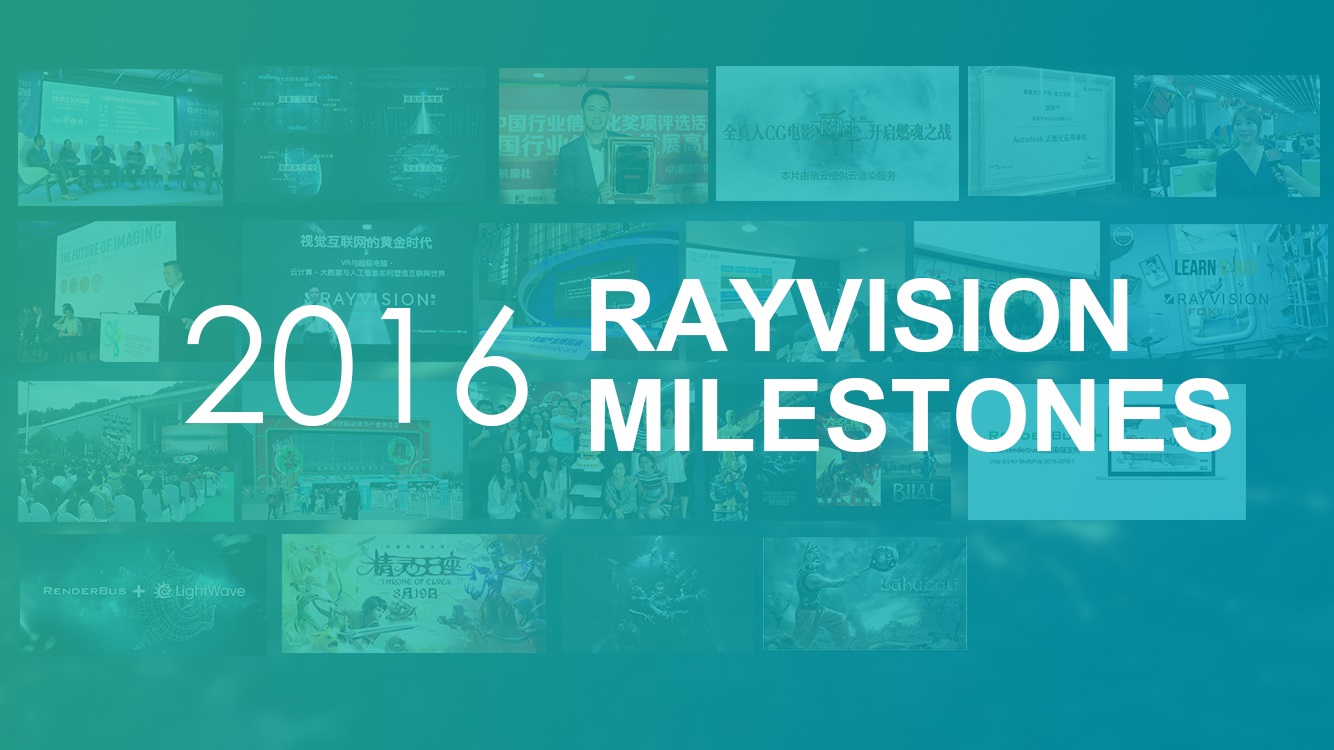 RAYVISION MILESTONES in 2016
2017-02-17
Fox Renderfarm MILESTONES
Timeline: 7/12/2016SIGGRAPH Asia Featured Sessions Planned by RAYVISIONAs experienced entrepreneur in computer graphics industry, Hsin-Yao Liang, the president of RAYVISION (Fox Renderfarm), took the Featured Sessions Chair of SIGGRAPH Asia 2016. Hosted by Hsin-Yao Liang and planned by RAYVISION, Featured Sessions have 2 panels: He's Back! T2 25 Years Later (Panel 1) & The Future of Imaging (Panel 2). Many authoritative experts and scholars from computer graphics industry all over the world come together to attend this grand meeting.Timeline: 6/12/2016RAYVISION - The Only Chinese Enterprise Representative of SIGGRAPH Asia CommitteeThe 9th ACM SIGGRAPH Conference and Exhibition on Computer Graphics and Interactive Techniques in Asia (SIGGRAPH Asia 2016) attracts more than 6000 industry leaders, experts and scholars of computer graphics and interactive techniques. As the only Chinese enterprise representative of the committee, RAYVISION (Fox Renderfarm) attended SIGGRAPH Asia 2016 as the exhibitor (Booth B-02) and displayed their splendid rendering projects, which drew attention of the worldwide experts in the field of computer graphics and interactive techniques.Timeline: 28/11/2016RAYVISION Was Invited to Attend CSFFThe 7th China International New Media Short Film Festival (CSFF) is the only state-level international short film festival in China. CSFF has been witnessed rapid increase in its influence, it attracted film agencies from 18 countries and regions, and made itself one of the most significant short film festivals acknowledged by the industry and one of the three major film & TV cultural activities in China, with the other two being Beijing International Film Festival and the Shanghai International Film Festival. The high ratio international agency attendance, high level of specialization and advanced film & TV equipment are the highlights of this year's festival.. As the exhibitor of New Technology Interactive Experience Area, RAYVISION aims to accelerate the development of new media industry and promote the exchanges and cooperation of international culture.!RAYVISION MILESTONES in 2016Timeline: 15/11/2016RAYVISION Held First CGTS in ShenzhenRAYVISION held first CGTS (CG Tech Summit) in Shenzhen on November 12th, 2016. With the popularity of Hollywood's top CG works, we gradually realized that CG technology not only explores the possibility of artistic expression, but also provides the audience with a higher quality of visual experience. Art challenges technology all the time. How to solve the technical problems during the film production, how to improve production efficiency are the purposes that RAYVISION launched the CGTS. Themed as "Technology Inspires Art", CGTS chose Shenzhen as the first station, gathered the most professional CG elites, provided a platform for them to share and exchange their experience.Timeline: 10/11/20163 Films Rendered by FoxRenderfarm Eligible for 89th Oscar Best Animation AwardThe Academy of Motion Picture Arts and Science (AMPAS) recently released the official notice that 27 animated films participate 89th Oscar Best Animation Award which creates the record on quantity. 3 of these submitted animated films were rendered by Fox Renderfarm: Monkey King: Hero Is Back (China), Kingsglaive Final Fantasy XV (Japan) and Bilal (Dubai). Back to 2014, Mr. Hublot rendered by FoxRenderfarm won the 86th Oscar Best Animated Short Film Award. It clearly shows that the projects rendered by Fox Renderfarm are excellent.Timeline:1/11/2016RAYVISION Got A Certification for Applying Authentic Autodesk SoftwareAs the core of Internet+ era, the software is widely applied in every aspect of economy society. RAYVISION always respects intellectual property, improves the awareness of software copyright protection. Therefore, RAYVISION got a certification for applying authentic Autodesk software in November 2016. Moreover, RAYVISION strongly promoted the use of genuine software, and got certifications of several large enterprises worldwide, such as Pixar's RenderMan, Arnold, V-Ray and IBM. Timeline: 25/10/2016RAYVISION's Internal Storage Was Upgraded to 360GbpsStorage is the core facility applied to the cluster. By applying the data classification, RAYVISION extended the data storage with memory, SSD and common disk. RAYVISION's distributed storage throughput used by the cluster of every 1000 nodes were upgraded to unprecedented 360Gbps, which completely solved the problem of frame stucking caused by insufficient memory. In order to adapt to the special effects rendering, RAYVISION planned to upgrade the throughput of every cluster by 4 times in 2017.Timeline: 17/10/2016RAYVISION Demonstrated Cloud Computing Force behind Visual IndustryThe Computing Conference 2016 was held in Yunqi Town of Hangzhou on October 13th, 2016. The Conference unprecedentedly attracted a large crowd of entrepreneurs and experts from all over the world. The Visual Processing Venue tended to be the most popular session. In the Visual Processing Venue, Kenny Zou, the general manager of RAYVISION, demonstrated the cloud computing force behind visual industry by 3 aspects: the great challenge of film industry, FoxRenderfarm's cloud rendering service, the value of cloud rendering industry. As the leader of cloud rendering industry, RAYVISION was the first company to put forward the concept of "cloud rendering" in the field of visual computing and make the 3 features (scalable, cost effective, usability) of cloud rendering to be more remarkable.Timeline: 30/9/2016China's First Full Realistic Human CGI L.O.R.D Was ReleasedL.O.R.D (Legend of Ravaging Dynasties) is a fantasy film directed by Jingming Guo, which adapted from his novel with the same title. As the investor and producer of L.O.R.D, Original Force took the responsibility of production, including character design, role scanning, action & expression and CG animation. RAYVISION had the honour to render this China's first full realistic human CGI film. In the release of L.O.R.D, RAYVISION conducted an exclusive interview with Original Force's production team who highly appreciated the expertise and service of FoxRenderfarm.Timeline: 1/9/2016FoxRenderfarm Client Was Updated to Version 4.0FoxRenderfarm client was updated to version 4.0. The new version was based on QT structure and worked on Windows, Linux and Mac. Linux users have access to FoxRenderfarm client now!Timeline: 25/8/2016RAYVISION Won the Award of 2016 Leading Cloud Rendering Platform in ChinaThe 8th China Industry Informatization Conference was held in Beijing on August 25th, 2016. It was jointly hosted by China Information World, China Computer Industry Association, China Federation of IT Promotion. At the award selection of this conference, RAYVISION won 2016 Leading Cloud Rendering Platform in China. Ben Cheung, the vice president of RAYVISION, accepted the award as the representative, which was reported by more than 50 media.Timeline: 19/8/2016Throne of Elves - New Height of Chinese AnimationThrone of Elves was a fantasy animated film produced by Mili Pictures and rendered by RAYVISION. It was released on August 19th, 2016. Based on Dragon Nest, the film abandoned the huge background in the game, described a love story about a human boy and an elf girl across races in the cruel war. In this film, every scene, every frame and every shot is beautiful.Timeline: 12/8/2016LOVE O2O's Hit on the Big ScreenRendered by RAYVISION, LOVE O2O is a film adapted from Gu Man's novel of the same title. It was about an online game love story of Xiao Nai (acted by Jing Boran) and Bei Weiwei (acted by Angelababy). They came across in the game world and fell in love in the real world. The scene filming was used to the film, which created a beautiful fantastic game world.Timeline: 4/8/2016FoxRenderfarm is applicable to LightWave!LightWave 3D is a cost-effective 3D animation software developed by an American company NewTek. It's one of the most important 3D animation software in the industry. Due to LightWave's easy-to-use and powerful functions in biological modeling and character animation, LightWave 3D is widely used in the field of film, television, advertising, games, animation etc. FoxRenderfarm is applicable to LightWave! FoxRenderfarm has numerous rendering nodes and huge storage, they can provide a lot of servers as what customers need and save much rendering time for the projects. FoxRenderfarm's powerful technical team can customize different rendering solutions according to customers' requirements, so that they can put more time and energy on artistic creation. Timeline: 3/8/2016The FoxRenderfarm Cloud Rendering for SketchUp LaunchedAs we all know, SketchUp is a popular and outstanding software for 3D architectural designing, it is called the "pencil" in CG designing industry for the reason of its extremely easy using feature. Now we are proud of declaring that FoxRenderfarm has supported Vray 2.0 for SketchUp 2015-2016. You can freely choose multi machine sequence for rendering to save more time, so that you can devote yourself to the unlimited creative designing with limited energy and time. Besides that, you can also freely choose the needed scenes to render with just a few simple clicks when submitting jobs.Timeline: 24/7/2016RAYVISION's Hit TV Drama Ice FantasyIce Fantasy was a costume TV drama adapted from Guo Jingming's novel, which was post-produced by PIXOMONDO, an international special effects company, and rendered by RAYVISION. It was exclusively played on Hunan Satellite TV Diamond Theatre from July 24th, 2016. The magnificent snow world and beautiful sea in the TV drama attracted a lot of audience.Timeline: 20/7/2016RAYVISION Partnered with Alibaba Group to Make Strategic Layout on Visual Cloud ComputingAs a giant in the Internet companies, Alibaba Group's cloud computing power has risen to the top line of the world. Last year, RAYVISION and Alibaba Group reached a strategic cooperation on visual cloud computing. A few months later, Alibaba invested in RAYVISION and partnered with RAYVISION to make strategic layout of visual cloud computing and provide powerful, accessible and economic cloud rendering service, which turned to be an important milestone for Alibaba on cloud computing globalization.Timeline: 10/7/2016Bahubali: The Beginning's First Hit on Big Screen in ChinaAfter the historical Indian epic blockbuster "Baahubali - The Beginning" released in 2015, it set a record for the opening day in India's history, and became the top-grossing Indian film within India in 2015. This year, Bahubali: The Beginning's first hit on big screen in China on July 10th. CGI visual effects was collaborated with a local company Makuta VFX. FoxRenderfarm was tasked with the responsibility of rendering the movie. Almost entire movie was super imposed with elaborated CGI special effects of lavish landscapes and magnificent war scenes from the movie.Timeline: 9/7/2016Final Fantasy XV: Kingsglaive Provided A Visual FeastFinal Fantasy XV: Kingsglaive was a CGI film produced by SQUARE ENIX, which is the developer of Final Fantasy series games. After the film released on July 9th, 2016, it was widely acclaimed for its incomparable visual special effects. Final Fantasy XV: Kingsglaive was rendered by RAYVISION, and the producer gave very high praise of RAYVISION's cloud rendering services. The sophisticated 3D CG animated technology made the character vivid and lively. Obviously, this film has reached the top level of CG film in the world.Timeline: 28/5/2016RAYVISION Was Invited to Attend CIFTISThe 4th China Beijing International Fair for Trade in Service (CIFTIS) was held in Beijing International Convention Center on May 28, 2016. CIFTIS is the first comprehensive platform specializing in the trade in services around the world. As the leading brand in cloud rendering service industry, RAYVISION was invited to attend CIFTIS as an exhibitor. RAYVISION introduced the concept of cloud rendering, promoted RAYVISION's cloud rendering products - FoxRenderfarm (overseas) and Renderbus (domestic), and showed their wonderful rendering projects. At the same time, Phoenix TV conducted an exclusive interview with Kenny Zou, the general manager of RAYVISION, around the advantage of Rayvision's cloud rendering service.Timeline: 6/5/2016RAYVISION Issued Cloud Computing Platform in Big Data ExpoGuiyang International Big Data Expo 2016 was opened in Guiyang International Conference & Exhibition Center on May 6, 2016. The event exhibited the world's latest development of cutting-edge big data-based technologies, products and solutions, and it also provided a platform for sharing information and exchanging ideas as well as business negotiation. It attracted the pioneer enterprises and leaders from all over the world in the big data field. Dawn Wu, the product director of RAYVISION (FoxRenderfarm), issued Rayvision Cloud Computing Platform in Big Date Expo. She explained "what is cloud rendering" and "main features of Rayvision platform", meanwhile she introduced the numerous projects rendered by FoxRenderfarm and FoxRenderfarm's Hollywood-class technical team behind the Mr. Hublot, the Best Animated Short Film of Oscar.Timeline: 24/5/2016Learn V-Ray Partners with FoxRenderfarm to Creat More Amazing WorksLearn V-Ray is an authorized training center certified by Chaos Group. In the online area you can find the 5SRW Course for V-Ray, including V-Ray tutorials and lessons, materials to download and all you need to get the 5SRW Certification for V-Ray. As Learn V-Ray's official partner, FoxRenderfarm rendered countless works for Learn V-Ray's trainers and students. The philosophy that RAYVISION (FoxRenderfarm) always sticks to is that technology inspires arts. With the most professional technical team, the best customer service team and the most powerful computing center, RAYVISION (FoxRenderfarm) can save more time for users so that they can devote to more creative artworks.Timeline: 14/5/2016RAYVISION's Outlook on VR in ICIFThe 12th China International Cultural Industries Fair (ICIF) was held in Shenzhen Convention & Exhibition Center. ICIF is a world-famous cultural feast playing an increasingly important role in boosting China cultural industries and promoting China cultural products and projects to go global. The number of sub-venues expanded from 1 to 61. VR Summit was held in F518 Idea Land sub-venue. Hsin-Yao Liang, the president of RAYVISION (FoxRenderfarm), attended VR Summit as a guest speaker. He exchanged his experience of VR in 1993, shared his feelings when he attended NAB Show in USA, brought the newest VR product information, and broadened everyone's vision for the latest technology. Timeline: 18/5/2016RAYVISION Got Invention Patent for Cloud RenderRAYVISION (FoxRenderfarm) is specialized in researching and developing cloud rendering platform and related technologies, and has numbers of invention patents for related technology. Compared to many other render farms, RAYVISION's influence in the industry as well as the values provided for the users in the animation, film, television and special effects industry are immeasurable. RAYVISION firstly-launched cloud rendering platform brings much convenience and saves incalculable time and cost for users. Now, RAYVISION got an invention patent for cloud rendering from State Intellectual Property Office.Timeline: 27/4/2016VR Game Rendered by RAYVISION Attracted Lots of Visitors in CICAFThe 12th China International Cartoon & Animation Festival (CICAF) attracted more than 1500 companies from 80 countries and regions. As the leading brand of global cloud rendering business, RAYVISION (FoxRenderfarm) made a significant contribution to animation, film, VFX, VR and other industries. This time, RAYVISION exhibited at booth B2-024 to show the core values and achievements they brought to customers. At the meantime, Mili Pictures' STAR CORE VR game rendered by RAYVISION attracted lots of visitors in CICAF.Timeline: 26/2/2016RAYVISION Launched GoCloud ProgramRAYVISION (FoxRenderfarm) always adhered to the spirit of "Small Teams Dream Big" and made contributions to education and CG industry. RAYVISION (FoxRenderfarm) not only sponsored many different kinds of international CG challenges, but also launched GoCloud program to help the small teams realize their dreams. GoCloud is a program that aims to help potential CG students and creative small teams. This project has two parts: For Education & For Creative.
---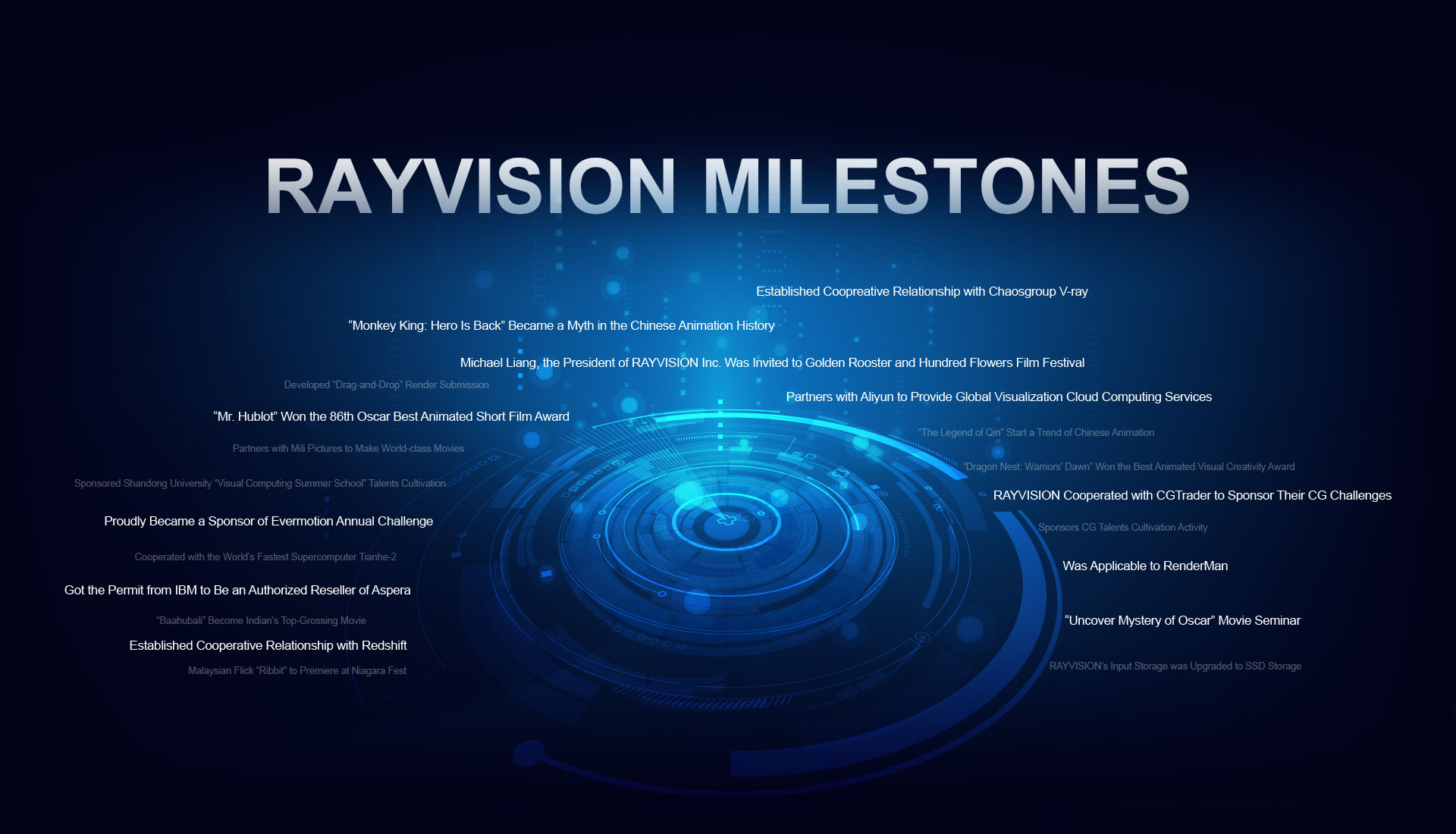 RAYVISION MILESTONES
Aspera's software moves the world's data at maximum speed, regardless of file size, transfer distance or network conditions. At the heart of our solutions is our patented FASP® transport technology – a breakthrough transfer protocol that leverages existing WAN infrastructure and commodity hardware to achieve speeds that are up to hundreds of times faster than FTP and HTTP. Supporting deployments on premise or on the public, private and hybrid cloud platforms, and covering a wide range of server, desktop and mobile operating systems, Aspera software delivers end-to-end security, 100% reliability and exceptional bandwidth control. On December 29th, RAYVISION was authorized by IBM to be the reseller of Aspera.10/12/2015 RAYVISION Established Cooperative Relationship with Redshift RAYVISION established a cooperative relationship with Redshift development team. Redshift is the world's first render engine fully based on GPU computing. RAYVISION got the permit from Redshift to provide GPU rendering service and to be an agent to sell Redshift renderer.09/12/2015 RAYVISION Was Applicable to RenderMan RenderMan is widely used in producing top-level moving images because of its extremely high quality and speed. It's an essential rendering solution used in high level fields such as animation and film VFX. And besides the Pixar and Disney, many other famous production companies such as ILM and Sony are also using the RenderMan as one of the final solutions for rendering. On December 9th, RAYVISION was applicable to RenderMan.30/11/2015 RAYVISION Proudly Became a Sponsor of Evermotion Annual Challenge Founded in 1998, Evermotion is a famous 3D model resource network in global CG industry. Evermotion creates and develops products that help CG artists with their 3d visualizations by speeding up their workflow and increasing their quality of output. As one of the world's leading cloud render farm, RAYVISION (Fox Renderfarm) sponsored so many world-class challenges. This time, RAYVISION (Fox Renderfarm) proudly became a sponsor of Evermotion annual challenge.18/09/2015 "Baahubali - The Beginning" Become Indian's Top-Grossing Movie As 2015 India's top budget film, the historical Indian epic blockbuster "Baahubali - The Beginning" become Indian's top-grossing movie. This movie was directed by renowned Indian director S.S. Rajamouli, co-starring Prabhas and Rana Daggubati. Baahubali's CGI visual effects were collaborated with a local company Makuta VFX. RAYVISION (Fox Renderfarm) was tasked with the responsibility of rendering the movie. RAYVISION (Fox Renderfarm) as rendering expert and probably one of the world's largest render farms are eager to work with any production houses to produce top quality special effects as well as animations.20/08/2015 RAYVISION Cooperated with the World's Fastest Supercomputer Tianhe-2 Tianhe-2 developed by the National University of Defense Technology is the fastest supercomputer in the world. A group of computer scientists and engineers who twice a year release the "Top500" list of fastest supercomputers measured the Tianhe-2 at 33.9 petaflops (quadrillions of calculations per second). That's nearly twice as fast as the Titan, which was relegated to the second spot on the list. RAYVISION partners with Tianhe-2 National Supercomputing Center in GuangZhou to provide better cloud rendering service.20/07/2015 RAYVISION Sponsored Shandong University "Visual Computing Summer School" Talents Cultivation Shandong University Visual Computing Summer School was opened on July 20th, 2015 in Qindao, Shandong, sponsored by RAYVISION (Fox Renderfarm) and other companies. More than 20 world-famous Visual Computing experts were invited to give lectures on general theory and development of Visual Computing, which can be compared with the SIGGRAPH Conference. Baoquan Chen, the president of SIGGRAPH Asia 2014, acted as the principal of the Visual Computing Summer School. Michael Liang, the president of RAYVISION, delivered a speech at the conference and gave his best wishes to the attendees.10/07/2015 "Monkey King: Hero Is Back" Became a Myth in the Chinese Animation History In the era that Chinese animations are easy to become box office flop, the animated film rendered by RAYVISION survived and become a hit. As a backstage hero of Oscar Best Animated Short Film "Mr. Hublot", RAYVISION rendered abundant magnificent Chinese Animation, such as "Dragon Nest: Warriors' Dawn", "The Legend of Qin", "10,000 Years Later", "Robb Rabbit", "Three Pigs and the Lamp". "Monkey King: Hero Is Back" is the most outstanding animated film that becomes a massive hit and a myth in the history of Chinese Animation.16/06/2015 Mili Pictures Partners with RAYVISION Inc. to Make World-class Movies During Shanghai International Film Festival, Mili Pictures held a press conference announcing Mili Pictures officially teamed up with RAYVISION to form a strategic partnership. In the future 3 years, Mili Pictures will partner with RAYVISION to make 12 world-class movies to enter the international market.01/06/2015 RAYVISION Developed "Drag-and-Drop" Render Submission RAYVISION's highly praised Fox Renderfarm cloud render farm released a new generation of rendering platform. Instead of traditional web submission method, it was improved to "Drag-and-Drop" submission. You can get thousands of computing nodes from RAYVISION with only one second, and through API you can easily and seamlessly connect with present work environment pipeline, which realized fully-automated rendering.01/05/2015 RAYVISION Established Coopreative Relationship with Chaosgroup V-ray Chaosgroup is the developer of famous V-ray renderer. They have a large number of users in China. In 2011, RAYVISION has become V-ray's official authorized render farm. This time, RAYVISION and Chaosgroup reached a long-term cooperation agreement.28/04/2015 Aliyun Partners with RAYVISION Inc. to Provide Global Visualization Cloud Computing Services On April 28th, 2015, Simon Hu, president of Aliyun Computing Co., LTD and Michael Liang, president of RAYVISION Inc., held a press conference in Alibaba's Hangzhou headquarter announcing Aliyun officially teamed up with RAYVISION to form a global strategic partnership to provide global visual cloud computing services. Many honorable guests attended the press conference and gave praised speeches such as Michael Liang, the president of RAYVISION Inc., Zhang Qiang, the CEO of Alibaba Pictures Group Limited, Mr. Laurent Witz, the director of "Mr. Hublot" who won the Academy Award for Best Animated Short Film at the 86th Academy Awards, Nickson Fong, the winner of lifetime Academy Award for Scientific and Technical Awards in 2013 as well as representatives from famous VFX and animation studios.24/04/2015 "Uncover Mystery of Oscar" Movie Seminar Was Held in Beijing Film Academy "Uncover Mystery of Oscar" Movie seminar was held in Beijing Film Academy on April 24th, 2015. It was jointly organized by Beijing Film Academy, China Film Industry Research Institute and RAYVISION. Many experts in entertainment industry attended this seminar. Laurent Witz (the director of Mr. Hublot) and Nickson Fong (Oscar winner for Technical Achievement) uncovered mystery of Oscar and discussed the creation of Oscar works from director's perspective and movie technology.06/03/2015 RAYVISION's Input Storage Was Upgraded to SSD Storage RAYVISION's storage server was upgraded to expensive SSD storage, with which there is no pressure for RAYVISION's rendering platform, even if hundreds of thousands of machines are rendering a huge amount of files at the same time. It completely solved the problem of network io rendering storage, improved rendering efficiency further, and reduced the probability of frame lost.20/02/2015 RAYVISION Cooperated with CGTrader to Sponsor Their CG Challenges CGTrader is the highest growing, hippest and happening 3D model market on the Internet. It's 230,000+ model library will serve all of your needs. Human faces, medical equipment, interior details, stylized characters and more are available. As for now, RAYVISION (Fox Renderfarm) has sponsored 6 CGTrader Challenges: 3D SciFi Challenge, CG Flora & Fauna Challenge, CG Game Characters Challenge, First Model Challenge, Science/Medical Challenge and CG Wildlife Challenge.27/09/2014 Michael Liang, the President of RAYVISION Inc. Was Invited to Golden Rooster and Hundred Flowers Film Festival The 23th Golden Rooster and Hundred Flowers Film Festival was held in Lanzhou province, China, from September 24th to 27th in 2014. Reputed as China's top film gala, the annual China Golden Rooster and Hundred Flowers Film Festival has the longest history and greatest influence. It launches a series of cultural activities every year, including the appraisal of awards, the exhibition of Chinese and foreign new films, the academic seminars, the film trade fair, international cultural exchanges and entertainment performances. The festival is best known for its focus on academic fields, the extensive participation of the masses, and the unfixed host city. Michael Liang, the President of RAYVISION Inc. was invited to Golden Rooster and Hundred Flowers Film Festival and delivered a speech on the China Film Industry Development & Financial Investment Summit Forum.08/08/2014 "The Legend of Qin" Start a Trend of Chinese Animation "The Legend of Qin" produced by Sparkly Key Animation Studio is a motivated 3D animated film. The animation was adapted from a Taiwanese novel. Since its creation, it has attracted so many young Chinese audiences. RAYVISION provide the cloud render service for this animation. It takes 8 months with over 6000 scenes and 300 to 400 machines.31/07/2014 "Dragon Nest: Warriors' Dawn" Won the Best Animated Visual Creativity Award Adapted from a popular online game, "Dragon Nest: Warriors' Dawn" was released on July 31st, 2014. This animated film was directed by Song Yuefeng, rendered by RAYVISION, and produced by Mili Pictures and NASDAQ:GAME. The story and plot were designed by Bill Borden. It is a big-budget animated film with the features of epic, fantasy, adventure and war. "Dragon Nest: Warriors' Dawn" won the Best Animated Visual Creativity Award in Canadian International Film Festival.29/07/2014 RAYVISION Sponsors CG Talents Cultivation Activity In order to educate and discover talent in CG industry, RAYVISION sponsors CG talents cultivation activity of SILKROAD EDU. RAYVISION provides coupons and cloud render farm courses for the outstanding students. Besides, RAYVISION's cloud render technical team for 86th Oscar Best Animated Short Film will deliver lectures to these students face to face, and introduce the world's most advanced cloud rendering technology to the future CG talents.23/06/2014 Malaysian Flick "Ribbit" to Premiere at Niagara Fest Malaysian Flick "Ribbit" to Premiere at Niagara Fest. The rendering part of this cartoon movie has been done by Fox Renderfarm which belongs to RAYVISION Inc. Canada's Niagara Integrated Film Festival (NIFF) is taking place June 19-22, showcasing a hand-picked selection of films around the world. One of the premieres that will be featured at the event is the global debut of Malaysian animated film "Ribbit" from KRU International's Kartun Studios. "Ribbit" won the Best Family Film Award at NIFF.03/03/2014 "Mr. Hublot" Won the 86th Oscar Best Animated Short Film Award "Mr. Hublot" is a Luxembourg/France co-produced 11 min animated film won the 2014 Oscar for Best Animated Short Film. Produced, written and directed by Mr. Laurent Witz and co-directed by Alexandre Espigares. Designed by sculptor Stephane Halleux, the story is set in a realistic world that is a combination of steam punk and a bizarre futuristic world. As "Mr. Hublot" rendering partner behind the scenes, RAYVISION (Fox Renderfarm) participated in the whole rendering process.
---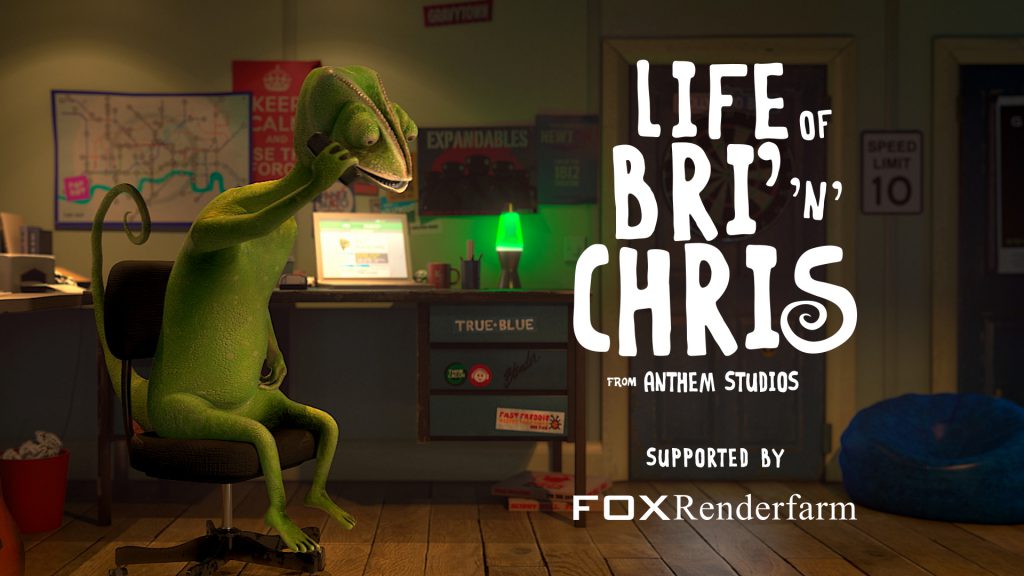 Interview with Anthem Studios Regarding Making Life of Bri' n Chris
Continuous effort will always bring substantial results. So does the 3d short animation: Life of Bri' n Chris. Although with limited human resource and budget, Anthem studios tried their best to solve the tough difficulties and finally released the 8-minutes 3d animation. Great congratulations to them. And thanks Michael Wakelam so much for offering the opportunity for the short interview between Fox Renderfarm and Anthem Studios as below.Fox Renderfarm: Hi Michael, would you please give a brief introduction about yourself and your studio?Anthem Studios: My name's Michael Wakelam and I founded Anthem Studios in 2012 with a vision to bring entertaining stories and new characters to life. We're based in London and work in a variety of styles using various software.Fox Renderfarm: So when and how did you get into the CG industry?Anthem Studios: I started through TV design and then got into motion design and branding. I started to develop more knowledge and interest in visual effects and animation and then as I grew in experience, I really wanted bring my love of stories and characters together with animation.Fox Renderfarm: Wow, sounds great, then what is your most satisfied work in these years and why?Anthem Studios: I'm most proud of Life of Bri' n Chris, because it was so ambitious as a project. Most short films of this length have a huge crew, ours was a core crew of 7 or 8, with a bunch of other people helping out in little ways. We had no budget but had generous support of a few key partners, such as Fox Render Farm, Chaos Group and Adelphoi Music.Fox Renderfarm: That's amazing, while since your new short film Life of Bri' n Chris is going to be online soon, would you please share with us about what's the story and why you come out the idea of making this film?Anthem Studios: The film is a comedic tale of Bri', a scottish Common Lizard, and Chris, a hapless Australian Chameleon, whose overly competitive attitude leads to a crazy accident. When I was growing up in Australia, we had these lizards called blue tongue lizards that we would catch, but when trying to outrun us kids, they would drop their tail. I found out a few years back that Chameleons are one of the only species of Lizard that can't drop their tail in self defense. I though it could be a funny idea and developed it further.Fox Renderfarm: Really interesting experience : ) For making the short film, what 3D software, renderers and plugins used for it? Do you have any preferred one and why?Anthem Studios: For modeling and animation we used Maya, rendering we used Vray and for compositing we used After Effects. Maya's main attraction was it's robust referencing system, and Vray is an outstanding renderer. I used After Effects because I was doing the compositing myself, and that's the tool I knew best.Fox Renderfarm: Haha, you guys are real professionals. While what difficulties you met when making this short film?Anthem Studios: The biggest challenge for me was learning producing and production management. The number of assets and shot was more than I'd ever handled on short form branding and advertising, so it was a steep learning curve for me. The other challenge was the technical side of render 'render wrangling' and file management.Fox Renderfarm: Em, really happy that you guys solved all of the problems. So where would you plan to submit/release the video? Any interest for battling for some 3d animation awards?Anthem Studios: We've already screened at a few festivals, but want to be seen by the widest audience possible, so decided to release the film online.Fox Renderfarm: Sounds great : ) We'd like to ask why choose Fox Renderfarm as the partner and what you think about us in the rendering phase?Anthem Studios: I had used Fox before I started this project and what always stood out to me was the service. To have people available 24/7 on skype has always been so valuable. We all know that late nights can be a regular occurrence in this industry, and often we can't wait until the next day to solve a problem, and no one else offers the service you offer.Fox Renderfarm: Thanks so much for your compliment : ) Do you have any thought for making the next short film?Anthem Studios: I've started looking at developing Life of Bri' n Chris into an animated sitcom. Because it's mainly set in one room like a traditional sitcom, we could get a very high quality render, which would be unusual for TV animation. I'm also continuing to write and develop other stories, live action and animation, so stay tuned.Fox Renderfarm: That's really a great news, we are looking forward to the next video. OK, is there anything else you would like to add or say?Anthem Studios: I'd just like to thank Fox Render Farm once again for your support throughout the project. I couldn't have done it without you.Fox Renderfarm: Thanks, it's our pleasure, and hope we can have more cooperations in the near future. And thanks for your time to take this interview.
---
Fox Renderfarm in SIGGRAPH 2017, We Are More Than An Exhibitor
As the largest and most influential annual conference and exhibition in computer graphics and interactive techniques, SIGGRAPH 2017 is popularly ongoing (30th July – 3rd August). As one of the most popular render farms in the exhibition, and honorably invited as the speaker of SIGGRAPH 2017 conference, Fox Renderfarm is holding hands with SIGGRAPH and having several deep cooperations this time."CG in Asia"SpeechBenjamin Cheung, the VP of Fox Renderfarm, was invited by SIGGRAPH International Resources Committee to be a speaker for the subject of "CG in Asia". Ben shared the development of CG industry with speakers from Digital Idea in Korea, SQUARE ENIX, CG-ARTS Society and OLM Digital in Japan. Ben focused on the topic of current situation and development of Chinese film industry, and made a point that China has huge potentials in film industry."SIGGRAPH Student Volunteer Program"ConferenceMike, the marketing director of Fox Renderfarm, was also invited to present in the conference of "SIGGRAPH 2017 Student Volunteer Program", Mike introduced Fox Renderfarm and explained how powerful the rendering ability is, as well as the GoCloud Program which aims to help potential CG students, creative small teams and charity groups to realize their dreams.At the end of the speech, Mike even revealed an amazing news, it is about a self-developed online platform ( Vivue: http://www.vivue.io ) which is designed to help directors, producers, artists, designers, managers and media groups to save huge time on video collaboration. The Vivue is currently available on webpage and iOS App.Officially Authorized to Distribute SIGGRAPH Collectible Pixel ToysFox Renderfarm is officially authorized by SIGGRAPH to distribute the limited number of collectible bobble head Pixel toys at the SIGGRAPH 2017 conference and exhibition. These keepsakes will not be available for sale, but will be given away in a variety of ways throughout the conference and exhibition, including at Fox Renderfarm booth 243. Besides, there are a lot of other gifts available for visitors by playing the dart game on Fox Renderfarm's booth.The confidence of SIGGRAPH for Fox Renderfarm's leading position in render farm industry along with the outstanding contribution, is the most important reason that SIGGRAPH decides to start such deep cooperations with Fox Renderfarm. And Fox Renderfarm really appreciated the awesome opportunity to present themselves in front of so many international 3d animation and VFX production companies. Let's take hand by hand to help enhance the development of CG industry.
---

Interview with Makuta VFX Regarding the Production of Baahubali 2: The Conclusion
As we all know, the Indian epic blockbuster 'Baahubali: The Beginning' made great success in 2015, it earned great reputation worldwide and set a record in Indian film industry. That's the reason why so many people looking forward to the release of the Baahubali 2: The Conclusion, it absolutely does not let us down, which even broke the record again by earning $120 million during the first week, making it the highest grossing Indian film all around the world ever. Here comes the thunderous applause to Makuta VFX who produced it and Fox Renderfarm who rendered it.And we are so honorable to have the chance to interview Peter Draper who comes from Makuta VFX regarding the production of Baahubali 2: The Conclusion.Fox Renderfarm: Hi Peter, May I ask what's your biggest issue during Baahubali 1 and 2 productions?Peter Draper: The biggest issues we had were the sheer size of the data assets that we had to work with. The environments that we needed to create were huge and kept on growing due to additional angles that needed to be achieved; from the original model designed for Baahubali 1, additional augmentation was needed to enhance angles for the second film which greatly increased the geometry and texture sizes, thus the memory overheads for not only our workstations but also the rendering aspects.Fox Renderfarm: So what's your biggest challenge during your rendering phase before using Fox Renderfarm?Peter Draper: Primarily the sheer size of the data assets that needed to be output in the short amount of time that we had to deal with within the production cycle. The post work, especially in the latter stages of the film's production cycle, required some amendments and re-rendering which we didn't have the scope to be able to do internally on our own farm, especially with the render times we were achieving in-house.Fox Renderfarm: OK, I see, so how did Fox Renderfarm help you on Rendering? What do you feel about us and the cooperation between both companies?Peter Draper: Fox initially approached us with an end-to-end solution for rendering, complete with back-end support. As our entire render pipeline revolved around externally referenced files and proxies due to the sheer amount of geometry, therefore we needed a mirror setting up on each node. Coupled with constant monitoring of our jobs, we needed complete back-end support to ensure that the job was maintained. Fox were on call 24/7 and helped us achieve our deadlines to the quality that was required by the client. Data transfer was fast, along with our own high-speed connection, it was like having our own tech support and farm extension!Fox Renderfarm: We are so glad to hear that. While we've just got an international market development awards recently, as a business partner of Fox Renderfarm, what do you think about it?Peter Draper: Congratulations! Very much deserved! Hopefully many more to come.Fox Renderfarm: Thanks so much for your really kind words. Since Baahubali made so much success, what do you think about your company's advantage for animation and VFX production?Peter Draper: In our short life of seven years, we've managed to establish ourselves as one of the highest regarded studios in India through the quality of the work that we produce and the team of artists that we have. We don't compromise on quality and love to have the ability to work with some of the best directors, art directors and directors of photography in the industry. We absorb creativity so we look not only for the same in the talent that we hire, but also the people we work for and with.Fox Renderfarm: That's great. We sincerely hope Makuta VFX will produce more and more awesome films in the near future and keep work with Fox Renderfarm. Thanks so much for your time.
---
Interview with Seth Belanger from EnchantedMob
We are so thrilled to announce that Fox Renderfarm just help finished rendering the 3D animation music video named Hard Drive which was animated by EnchantedMob. EnchantedMob is a popular YouTube channel that owns 500,000+ subscribers and mainly focus on Minecraft style 3D animation music videos. The new video Hard Drive has earned more than 1 million views within one week, how popular it is! It has become an ear worm and stuck in my head for days. Let's have a look about this awesome video firstly.And we did a short interview with Seth about himself and EnchantedMob as below.FoxRenderfarm: Hi Seth, would you please give a brief introduction about yourself and EnchantedMob?Seth: My name is Seth. Sometime in 2010, my older brothers downloaded a 2D animation program called Pivot. With the program, you could create stick figure animations very easily. We all would create whatever funny animation we could think of. It was all for fun and laughter. I was 11 at this time. Since then, I became very interested in pursuing animation. I eventually branched into clay animation and eventually Minecraft animation.Fox Renderfarm: That's really a good start, so when and how did you get into the CG industry?Seth: Skipping over to December 8th of 2013, I discovered Blender. With Blender, I could create 3D animations. Shortly after, in 2014 I created a brand new channel for 3D animation specifically for Minecraft. My main motive for Minecraft animation was from the music videos produced by CaptainSparklez. Those videos still inspire me today. From December 2013 to February 2015, creating Minecraft animations on EnchantedMob was just for fun and entertainment.Fox Renderfarm: Blender did a great job for a lot of 3D beginners. And what other 3D software, renderers and plugins you used? Any preferred one and why?Seth: It wasn't until the summer of 2016 when I switched to Autodesk Maya. It took some time to learn, and I found the Redshift rendering engine which was referred by a fellow animator. Redshift is great and I still use it today because of how fast it renders. This year, I have been increasing the quality of each video, which has been bringing larger render times.Fox Renderfarm: Great, so how did the idea of creating Minecraft style 3d animation music video comes out?Seth: Like I mentioned previously, the idea of creating Minecraft style 3D animation was developed in 2011 and I began using this style of animation in 2014. This style came about because it is simple to animate box-like characters, and because of Minecraft's popularity.Fox Renderfarm: I see, while what is the first music video published on EnchantedMob Youtube channel? And what is the most difficult problems you met on creating it at that time?Seth: In February of 2015, I uploaded my first music video "Survive The Night" to EnchantedMob. It was by far my most difficult video to make because of the 6 minute length of the song and the amount of characters in the video. It payed off; however, as that video is my most popular video to date, with almost 50 million views. When this video skyrocketed, I started to focus on creating more Minecraft music videos and taking my YouTube career a bit more seriously, while still enjoying animation.Fox Renderfarm: That's really brilliant work. Would you please share some details about your just finished work: Hard Drive? Got some new problems on it?Seth: Recently, I discovered Fox RenderFarm. Fox allowed my channel to reach a higher level of render quality, while also keeping render times reasonable. This can be seen in how well the renders turned out in my newest Minecraft music video "Hard Drive." This video is unique in that it has already gotten over 1,000,000 views less than a week after its release, which is surprising given that I've never made an animation based on the game Undertale before.Fox Renderfarm: Since you mentioned us about the GPU rendering service, what you think about us? Happy with it?Seth: Fox Renderfarm's GPU rendering service is very good and much cheaper than lots of other render farms out there. Personally, my favorite quality of Fox Renderfarm is their willingness to help their customers. Any question I've had about Fox Renderfarm were quickly answered, and their support team took great good care of my account and render tasks.Fox Renderfarm: Thanks for your kindly compliment. Do you have any idea about your next work? Is that OK to have a sneak peek : )Seth: While I normally try to keep projects secret at first, I'll go ahead and spill the beans on my next music video. This next video is returning to the ever-popular FNAF Sister Location game, and it will be animated to a song by the Content Creator "Chaotic Canine Culture." And heck, while we're at it, I may as well say that I think the video can be finished before the end of June. So, to anyone reading, stay tuned! :)Fox Renderfarm: That's a big news, we are so glad that we can know it here in advance. OK, so is there anything else you would like to add or say?Seth: I recommend using Fox Renderfarm. Their support team alone is a great reason to use their company. :)Fox Renderfarm: Haha, thanks again for your recommendation. Nice to talk with you, and we are quite look forward to your next work.
---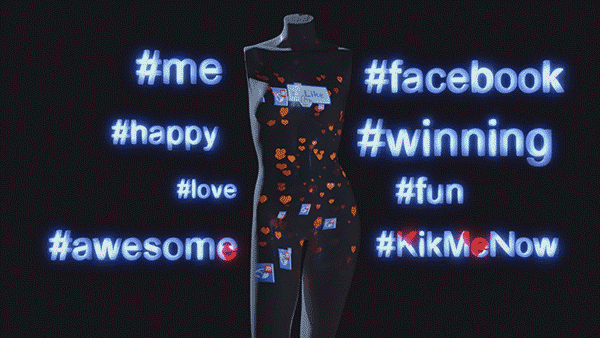 Interview with Chris Buchal Regarding Glass Cage
Glass Cage, a new film about female social issues which produced by Chris Buchal just been released (Check the Glass Cage video at bottom). Chris and his team had overcome so many difficulties and didn't give up the film even under very serious budget problem, what a tough team! And Fox Renderfarm is honorable to offer the rendering power for its VFX part. Here is the interview regarding this new film between Chris Buchal and Fox Renderfarm as below.Fox Renderfarm: Hi Chris, would you please give a brief introduction about yourself?Chris: Sure thing! Hi! I'm an English Major from University of Oregon. I've been making films for about 5 years now, and I am self-taught in visual effects, editing, cinematography, and post production. I've made commercials for some major brands, and have been building out my portfolio for past few years to hopefully apply for more commercial agency work, while I work on a feature script.Fox Renderfarm: Sounds wonderful. So when and how did you get into the film industry?Chris: It all started when I wrote to a craigslist advertisement and applied to have a job helping write the technical questions for the food safety manual that restaurant workers study before taking an exam. From there it evolved to editing videos, and from there the creative realm. My first year I made 20 pretty terrible comedy films, and then took the level up to a more professional and polished final product.Fox Renderfarm: Haha, very interesting experiences. Then what is your most satisfied work in these years and why?Chris: The short commercial piece "Baquon," because I made it with my best friend in my kitchen, it was a successful commercial, and it was a love poem to Bacon. It also made us some money.Fox Renderfarm: Congratulations! OK, how did you and your team members come out the idea of making the female empowerment film?Chris: The original concept was based on something my friend at the time, Cheree Marks, came up with. I wanted to do something with projection mapping and the female form, because at the time glass sculptures were on the table of the female form, and Cheree suggested body issues, and then agreed to work with me to help formulate a script that would enable us to tackle these social issues, and hopefully provide strength to women who struggle with them. Then the glass sculpture artist dropped out and we decided to use a mannequin of the female form, which was a blessing in disguise because it made the projection mapping more legible.Fox Renderfarm: You guys are so much warm hearted! We highly appreciate your work for women. Would you please tell us what's the Glass Cage about?Chris: Glass Cage is a mother-daughter bedtime story about growing up in the world. It's a story about self-love and not giving into societies sometimes skewed expectations. It's a movie that tackles different social constructs, and provides hope for how a woman can overcome them by being brave and staying true to themselves, and not letting the opinions of others sway themselves from the love they must have for themselves. Women are incredibly strong, they give life, and yet society oftentimes tries to take their inner light away from them.Fox Renderfarm: That must a great inspiration for women. While how many team members for the Glass Cage and how you guys cooperate with each other?Chris: This was a rather large and ambitious project. We had no budget, and a lot of visual effects, but luckily members of the team such as Ray Kelley, Celeste Leizer, Tim Riva, John Williamson, Shepherd Duff, Michael Mavromatis, Paul Turcott, and Andrew Williamson all were willing to dedicate their visual effects knowledge and time to help accomplish some of the more advanced CGI. I created all the projection mapping assets, and did a lot of the compositing work. This film was a labor of love, and thanks to the producers/cast, and crew who all donated 4 days of their life to make this possible. The cooperation worked the way most film sets work, a lot of phone calls, favors, and just the generosity of other people. Without them this film could not have been made.Fox Renderfarm: We are really impressed by the effort of all the members involved. Besides, what difficulties you met when making it?Chris: There were a lot of difficulties with this project. We had no budget. We had about $100,000 of rendering/VFX time. We wanted to finish the film in 4k (in hindsight 2k would have been smarter). At various points people dropped out or dropped the ball, which happens on projects with no budget, and we also had several random cloud server crashes and hard drive failures that thankfully were avoided by triple backups. Backup your data! There was some lack of clarity on the time commitment the project would take, and so some people had to drop out due to personal reasons, but all in all, this is par for the course with a no budget film. It was the effort of a lot of kind talented and generous people, and thanks to Fox Renderfarm, we were able to render out our films title sequence using Maya/Vray and 4k finishing.Fox Renderfarm: Anyway, the good news is the film is finally released. So where would you plan to submit/release the film?Chris: Ideally it will get passed along the festival circuit before being released online, and backed by some female organizations who support its messageFox Renderfarm: Great, we sincerely hope the Glass Cage would have a perfect result. As for the rendering phase, why choose Fox Renderfarm as the partner and What you think about us?Chris: Fox Renderfarm was an absolute lifesaver. We are a no budget, VFX heavy film. We simply don't have enough CPU power or render hours to export at 4k all the visual effects in the film. Thankfully Shelly Yu, responded to my request for a sponsorship proposal with grace, tact, and charm. Fox Renderfarm worked tirelessly, and patiently with us as we slowly compiled the work of multiple artists across the globe into the film's final title sequence, as well as a few of the "Glass Cage" CGI shots. Without Fox Renderfarm, we wouldn't have these elements in the film. They worked with us tireless overcoming technical hurdles, and even language barrier. They were really caring and just an incredibly supportive experience. I hope to be able to employ them sometime in the next year or two on some vfx heavy commercial projects should the opportunity arise.Fox Renderfarm: Besides the previous child abuse film "The Cycle Starts And Stops With You" and the just released female empowerment film"Glass Cage", do you have any idea for your next film?Chris: Yes, a female dynamic due comedy feature script is in the works, as well as maybe two more short films and proof of concepts. One involves the future of virtual reality, and the other is an alien invasion proof of concept. We also have another short film in post-production about cell phone addiction.Fox Renderfarm: Looking forward to your next film soon. OK, anything else you would like to add or say?Chris: Thanks again to Fox RenderFarm, and anyone who worked on or donated time to Glass Cage. Couldn't have finished the film without you guys.Enjoy the Glass Cage video now!Glass Cage from Illustrious Productions on Vimeo.
---
Recommended reading
---
How to Render High-quality Images in Blender
2020-03-09
---
Top 9 Best And Free Blender Render Farms of 2023
2022-05-09
---
Revealing the Techniques Behind the Production of Jibaro "Love, Death & Robots", Which Took Two Years to Draw the Storyboard
2022-06-10
---
How to Render Large Scenes with Redshift in Cinema 4D
2019-10-15
---
Top 10 Free And Best Cloud Rendering Services in 2023
2022-06-24
---
Top 8 After Effects Render Farm Recommended of 2023
2022-07-07
---
How to Reduce Noise in Corona Renderer - Corona Denoising
2019-05-15
---
Arnold\ V-Ray\ Octane\ Conora\ RedShift, Which Is The Best 3D Renderer?
2019-04-15
---
Partners