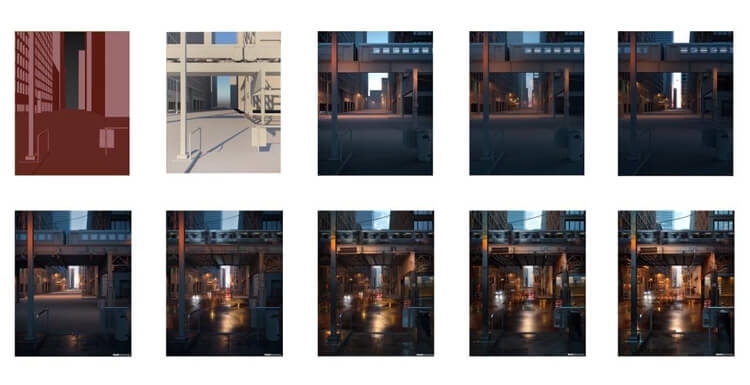 Interview With Mohit Sanchaniya, The 1st Winner In Evermotion Challenge 2018
CG Challenges | Trending | Fox News
Evermotion Challenge 2018 | Mohit Sanchaniya | Cloud Rendering Farm
First of all, congratulations to Mohit Sanchaniya to win the 1st place in Evermotion Challenge 2018, which also sponsored by Fox Renderfarm, we just have an interview with Mohit, thanks so much for Mohit to spend his time in doing this interview, now, let's know more about this good CG artist.
Fox Renderfarm: Hi Mohit, would you please give a brief introduction about yourself?
Mohit Sanchaniya: I am Mohit Sanchaniya, living in Stockholm, but i origin from Bengaluru, India. Academically I have graduated in Civil architecture, which during my college days I found the arch vis industry had a keen in making 3d stuff where I found my passion, then turned into a full-time profession. I am a self-taught CG artist and creative specialist. It has been a great journey even after having less exposure in India as it is still initial stages of CGI industry in archives growing in India.
Fox Renderfarm: So, are you currently working as a CG artist?
Mohit Sanchaniya: Yep I am working as Visual Designer at the TMRW studio in Stockholm, Sweden.
Fox Renderfarm: Great! How did you make the decision to step into the CG industry?
Mohit Sanchaniya: It started out all suddenly from an amazing movie transformer which I was watching in 2014, which literally amazed how the character was bought to life and so realistic. This inspired me to get into 3D that when I started out learning tools which I initially started with learning Maya and later moved to 3Ds Max, focus more on architecture.
Fox Renderfarm: It was a really good experience that leads you into the CG industry. Now, did you still remember your first CG work, how does it look like?
Mohit Sanchaniya: I still remember my first work it was super fine those days, but bad when compared now. but that result is still embedded my nerves to push furthermore.
Fox Renderfarm: How did you know the Evermotion Challenge?
Mohit Sanchaniya: I have been following Evermotion as well using their model from a long time, which I have known that they organize the challenge every year in the winter. so I followed up them in facebook that had a post up for Evermotion Challenge 2018 which excited me to check the topic a day in a city ´this brought a lot of interest to participate in the challenge.
Fox Renderfarm: What inspired you to come out the idea of making the work Misty Chicago?
Mohit Sanchaniya: It was the challenge and skills that brought out the Idea, as I always looks for a challenge in projects, So it had been a long time I had made a big cityscape with all the details, modelling etc. so then as told I saw up the Evermotion Challenge topic A day in the City´ this definitely pushed me in doing it. so I took almost 2 weeks to complete the project from scratch to the final art. I have always been making images in a different style and moddy, rather than making it a typical archviz images which I find almost every day. I started out looking for a reference in the Pinterest, Instagram, Flickr etc to find the perfect reference with had to balance of composition, lighting, colour scheme and details in it. Unfortunately, I couldn't find any so had to create out using the photo-bashing technique using photoshop. I had almost made 10-15 sketches of this topic in a different style, composition. This idea of the process involving so many different creative aspects and decision inspired me to create the work Misty Chicago.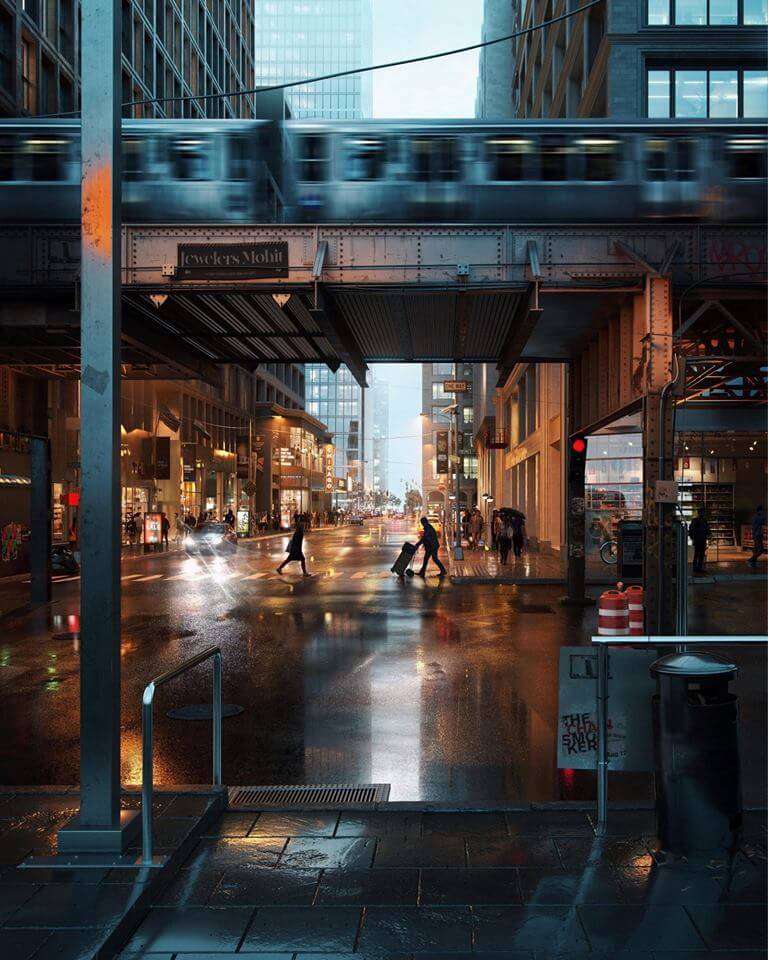 Fox Renderfarm: What software, renderers, plugins you used in this work?
Mohit Sanchaniya: I used Autodesk 3Ds Max, Chaos Group V-Ray, Forest pack, Rail Clone, Substance Designer and Adobe Photoshop.
Fox Renderfarm: Did you meet any difficulties when creating this work? If yes, how did you solve it?
Mohit Sanchaniya: I had difficulty in the balancing and optimizing the scene in terms of details as well polycount. I had started out with the modelling the scene all from scratch taking out the reference from the google maps and google street view which was super helpful, then as the modeling in the scene was coming to end, the scene had become so heavy and difficult in managing of the props, architecture, street details etc. I converted all the heavy objects into Xref. removing the unwanted poly like the LOD - level of details which took me 2 hours to clean up and optimize the scene to flow. I figured out some models had unwanted polycount and Vray displacement MOD in it which I had to eradicate as they weren't that close or necessary to the scene, it was playing smart and optimized helped to get through the problem.
Fox Renderfarm: Did you use Fox Renderfarm service previously? If yes, would you share your ideas about us?
Mohit Sanchaniya: No, I haven't used the Fox Renderfarm service, but I am definitely looking forward to utilizing the Fox Renderfarm in future projects.
Fox Renderfarm: Thank you, hope our render farm can make your works more and more wonderful and satisfy you. Anything else you would like to share with us?
Mohit Sanchaniya: I think it was a great opportunity in participating in the Evermotion Challenge - 2018, it pushed me and learnt so many stuff during this project. I would like to tell everyone to participate or work more in making something different and creative apart from the work routine it will definitely make you more creative and understanding when it comes to the complex projects and scene.
Also, check out my work at www.facebook.com/artofmohitsanchaniya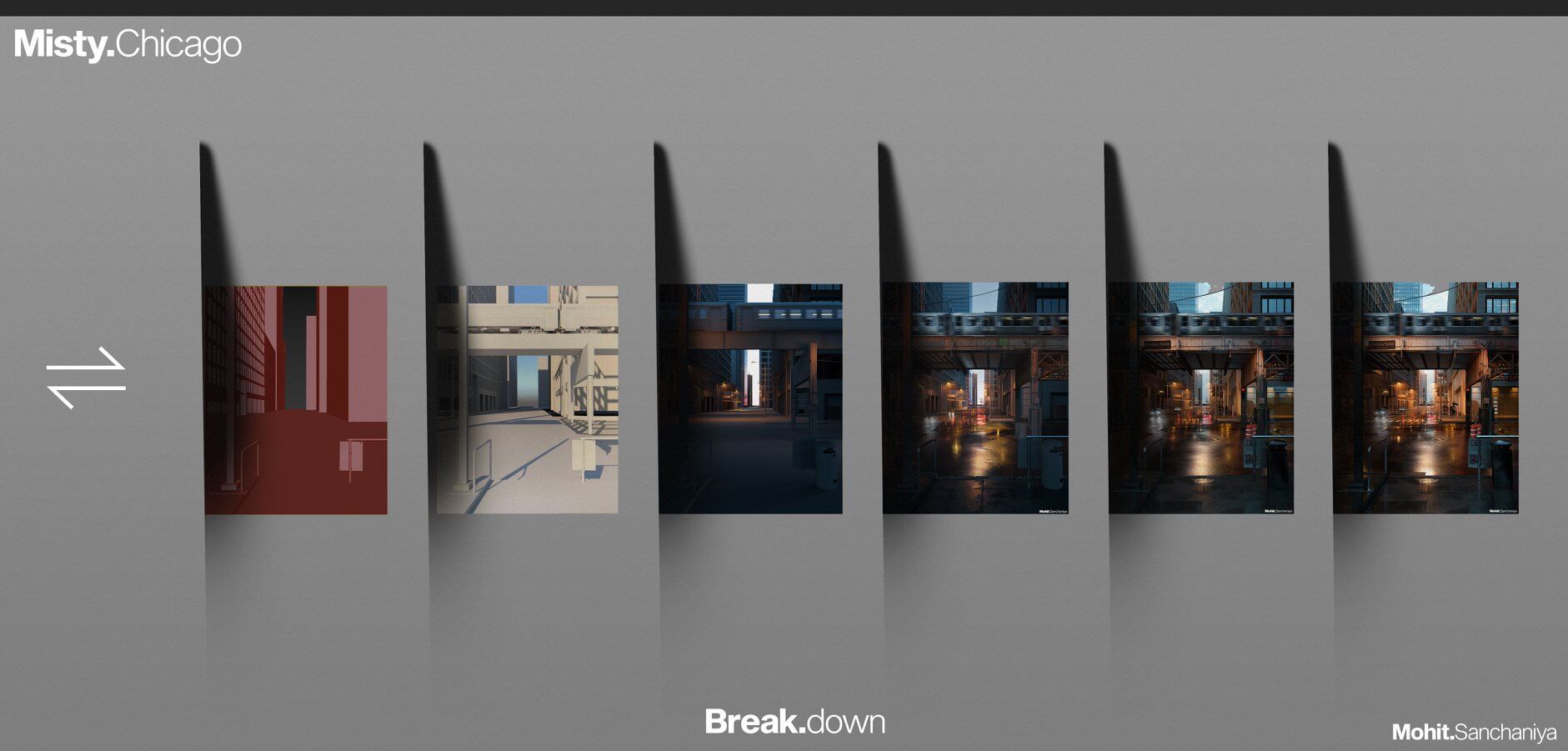 Key Words
Cloud Rendering Farm
|
Annecy Festival
|
MILESTONES
|
Fox Renderfarm
|
Desktop Client
|
Blender
|
Bollywood films
|
Hum3D Contest
|
NVIDIA
|
Silkroad Digital Vision
|
Malaysian Animated Films
|
Indiajoy
|
Art Competitions
|
Architectural Visualization
|
CGarchitect Architectural 3Dawards
|
Best cloud rendering services
|
Render cloud
|
VFX
|
Upin & Ipin
|
Green Book
|
Fox Renderfarm Interview
|
Mission Mangal
|
Kre8tif!
|
Fox Renderfarm Mini Program
|
CG
|
CG Tech Summit Malaysia
|
film works
|
cloud rendering
|
Golden Horse Award
|
Shadow
|
SIGGRAPH Asia 2018
|
Morrigan Flebotte
|
VWArtclub Annual *Contest
|
Asswad Mouhamad
|
animation works
|
IMax Studio
|
Boonie Bears
|
Renderosity
|
Gary S. Kennedy
|
Evermotion Challenge 2018
|
Brian Beaudry
|
Alita: Battle Angel
|
Bobby Bala
|
Mohit Sanchaniya
|
Katapix Media
|
Flying Car Productions
|
Razer
|
The Shipment
|
FoxRenderfarm
|
CG Tech Summit
|
Alpacalypse Productions
|
halloween
|
Hum3d Survial Car Challenge
|
Federico Ciuffolini
|
Ralf Sczepan
|
Iavor Trifonov
|
Clarisse
|
CGTS Malaysia
|
Isotropix
|
C4D
|
Tomasz Bednarz
|
V-Ray
|
Cinema 4D
|
MAXON
|
siggraph caf
|
Evermotion challenge 2017
|
CGTrader Space Competition
|
film of the year
|
Le Anh Nhan
|
Planet Unknown
|
Fox Renderfarm 2017 Achievements
|
CSFF
|
Julio Soto
|
boar 2017
|
Deep
|
SIGGRAPH Asia 2017
|
Chris Sun
|
Glass Cage
|
Making Life of Bri' n Chris
|
anthem studios
|
The Rookies
|
Peter Draper
|
Makuta VFX
|
Baahubali 2
|
CG Competition
|
enchantedmob
|
CG Studios
|
Academy Awards
|
CGVray
|
weeklycgchallenge
|
SketchUp
|
siggraph 2017
|
Chris Buchal
|
SIGGRAPH Asia
|
LightWave
|
Indigo Renderer
|
Rafael Chies
|
V-Ray RT
|
CPU Rendering
|
NVIDIA Iray
|
Chaos Group
|
OctaneRender
|
Redshift
|
STAR CORE
|
CICAF
|
VR
|
Mr. Hublot
|
Ribbit
|
GPU Rendering
|
Linux
|
Monkey Island
|
LuxRender
|
HPC
|
Render Farm
|
Life of Bri
|
WORLD LAB
|
Michael Wakelam
|
3D Rendering
|
Online Render Farm
|
Alibaba
|
Baahubali
|
阿里雲
|
VAX
|
Malaysia
|
Aliyun
|
2015 Hangzhou Computing Conference
|
Oscar
|
SIGGRAPH
|
CGTrader
|
Kunming Asia Animation Exhibition
|
Evermotion
|
RenderMan
|
Categories
---
Fox Renderfarm News
---
Fox Renderfarm Projects
---
Fox Renderfarm Lectures
---
CG Challenges
---
Top News
---
Blog
---
Fox News
---
Fox Talk
---
Trending
---
Recent News List
---
How To Make a Stylized Character For Games in ZBrush and 3ds Max
2021-10-15
---
How a Team of 3 Made an Incredible Short and Won the Draft Selection of the Rookies Awards 2021
2021-10-14
---
How to Make an Adventurous Treehouse in Blender
2021-10-12
---
E-meet Fox Renderfarm @ MIPCOM 2021
2021-10-09
---
Interview with Robb Innes: Co-founder and Director at PIXL VISN Media Arts Academy
2021-09-30
---
FGT3D Snowman Challenge Is Open for Submissions Now!
2021-09-28
---
How to Make a Stylish Spacecraft in Blender
2021-09-23
---
How to Make Lighting a Booster to the Whole Picture?
2021-09-16
---
How to Portray a Photo-realistic Render With Powerful Storytelling in 3ds Max
2021-09-15
---
Partners