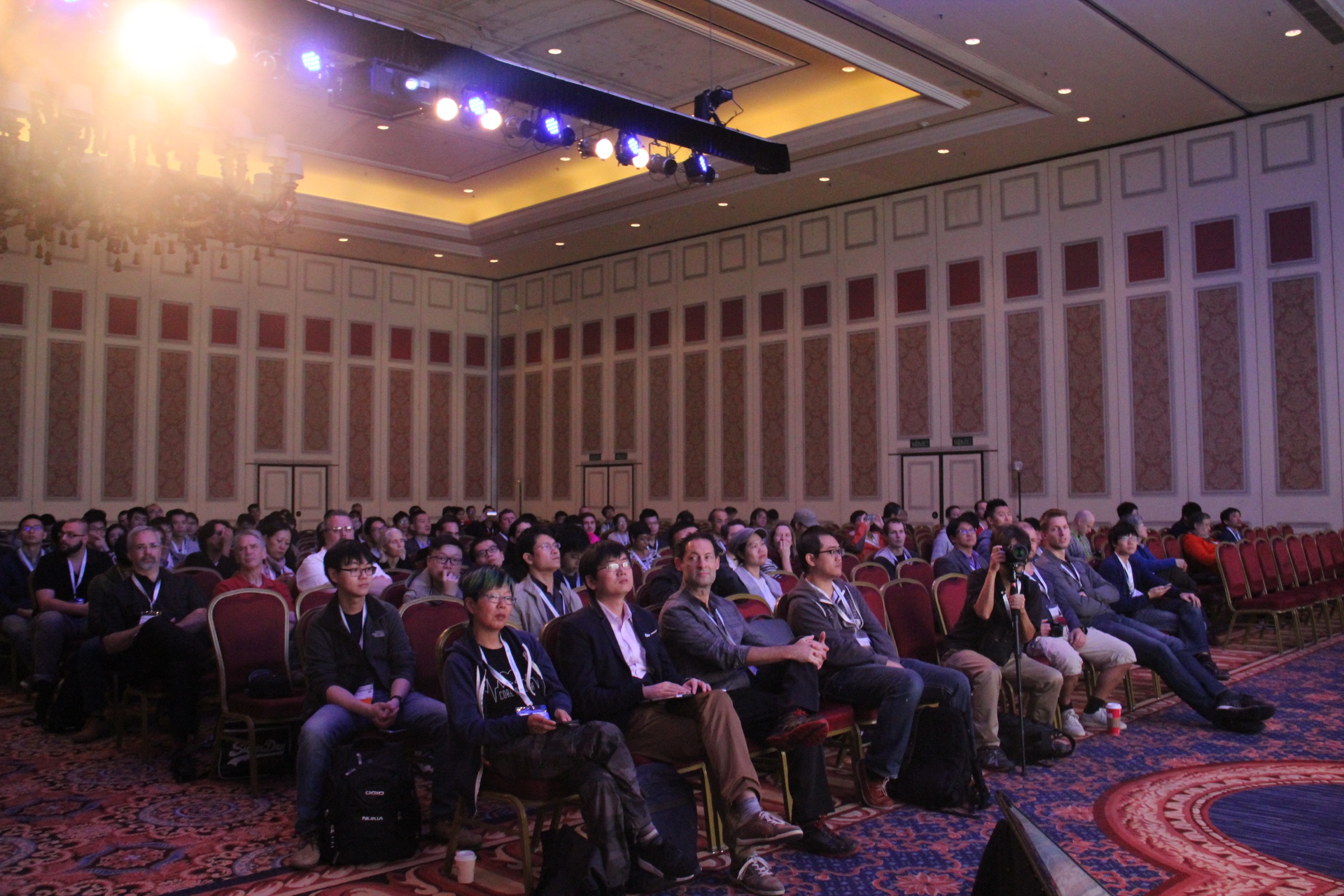 SIGGRAPH Asia Review | Featured Sessions Planned by Rayvision
Fox Renderfarm News | Trending
SIGGRAPH Asia 2016 has officially ended on 8th December, 2016 in The Venetian Macao Resort Hotel. The 4-day exhibition consists of Art Gallery, Computer Animation Festival, Keynotes, Featured Sessions, Emerging Technologies, Technical Briefs, Technical Papers, Symposium on Mobile Graphics and Interactive Applications, Symposium on Education and Symposium on Visualization.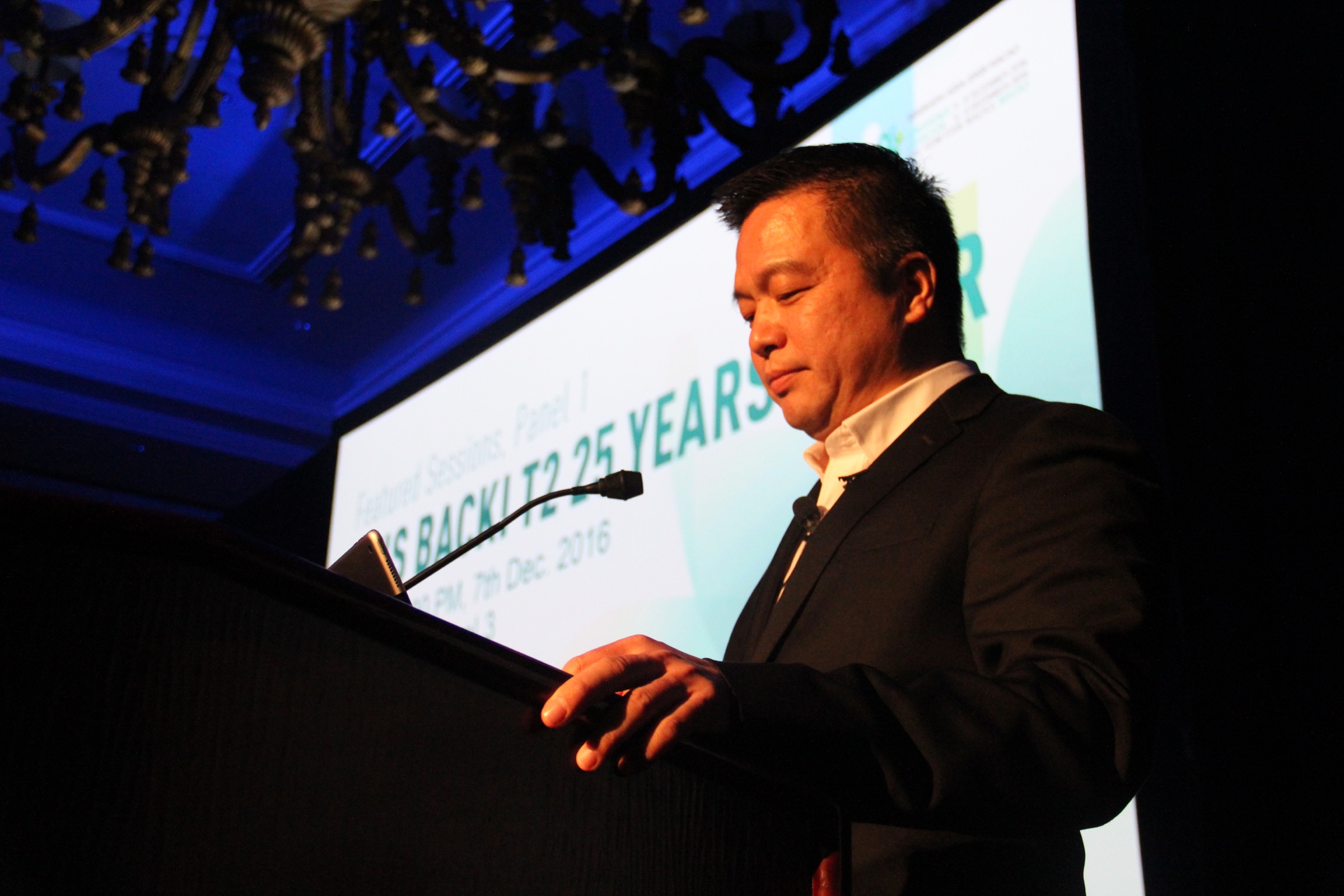 The most popular program of SIGGRAPH Asia 2016 is Featured Sessions, which is host by Hsin-Yao Liang, the president of Rayvision, and planned by Marketing of Rayvision. Featured Sessions have 2 panels: He's Back! T2 25 Years Later (Panel 1) & The Future of Imaging (Panel 2). Many authoritative experts and scholars from computer graphics industry all over the world come together to attend this grand meeting.
Panel 1:He's Back! T2 25 Years Later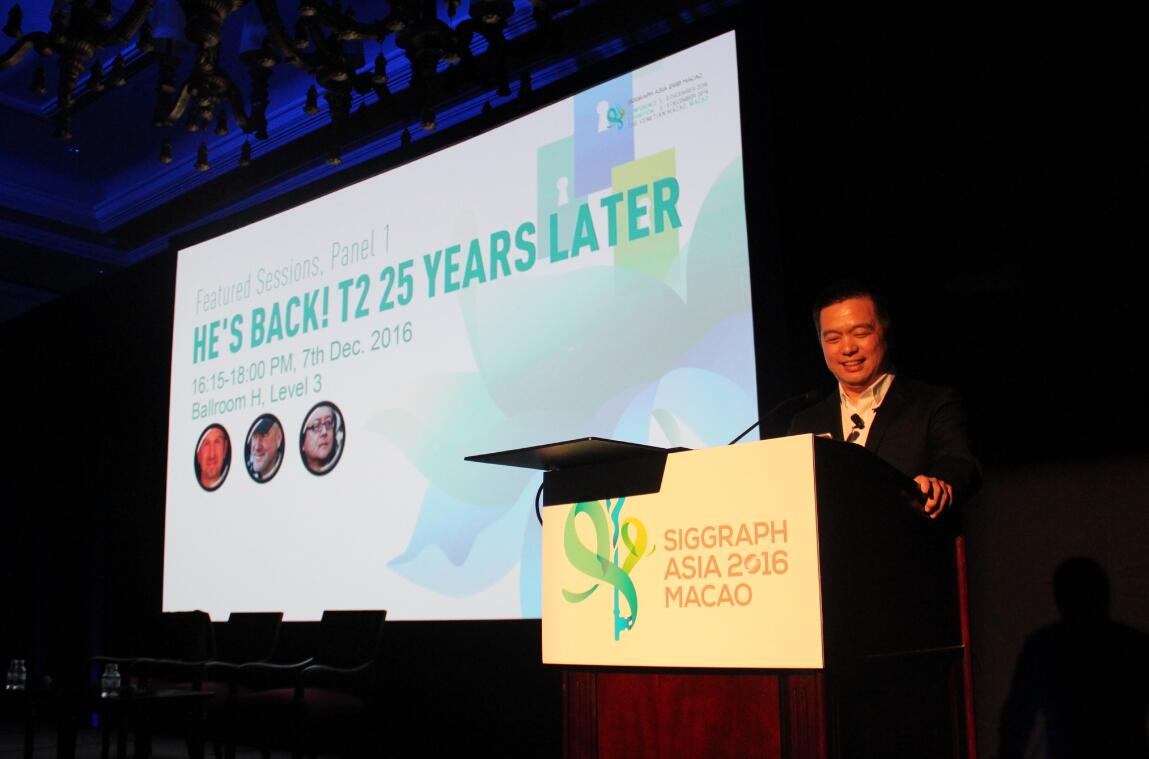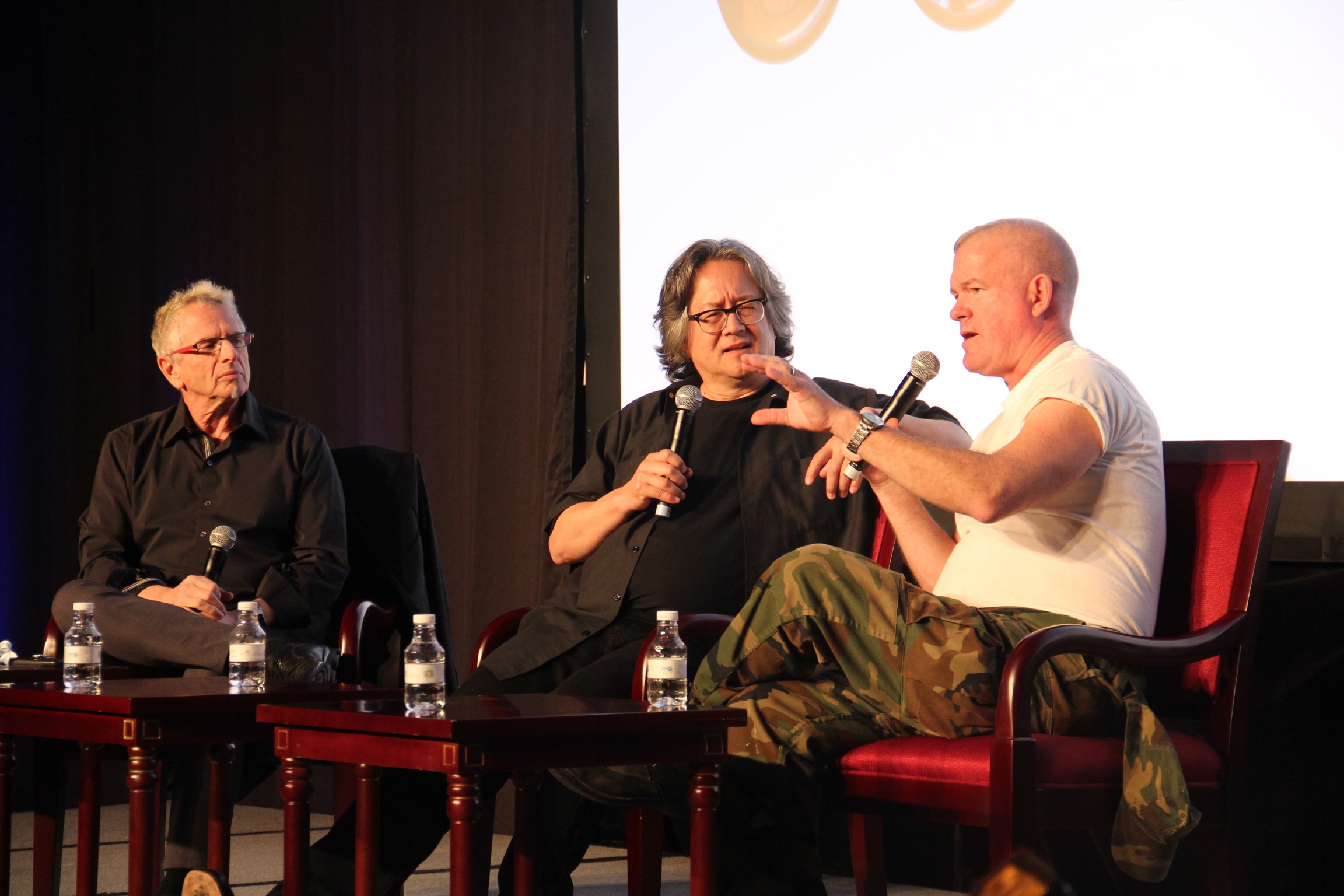 (Scott Ross, GM ILM, Co-Founder of Digital Domain with James Cameron; Mark Dippe, Assistant Visual Effects Supervisor for T2; Steve "Spaz" Williams, Computer Animation Supervisor for T2.)
25 years ago, movie history was made with Terminator 2: Judgment Day. The use of computer generated images in cinema had finally come of age. James Cameron and ILM utilized state of the art computer technology to help create some of the most memorable characters in the film. Scott Ross, the General Manager of ILM in 1991, hosted an in depth discussion with Mark Dippe and Steve "Spaz" Williams, the team that created the breakthrough images. Attendees were given a behind the scenes look at the challenges they faced, the technology they used, the process that was developed and the moment when they realized they had forever changed the landscape of feature films.
In addition, the newly-remaked 3D version of Terminator 2: Judgment Day will be released in 2017. Let's expect the fantastic visual special effects of T2!
Panel 2:The Future of Imaging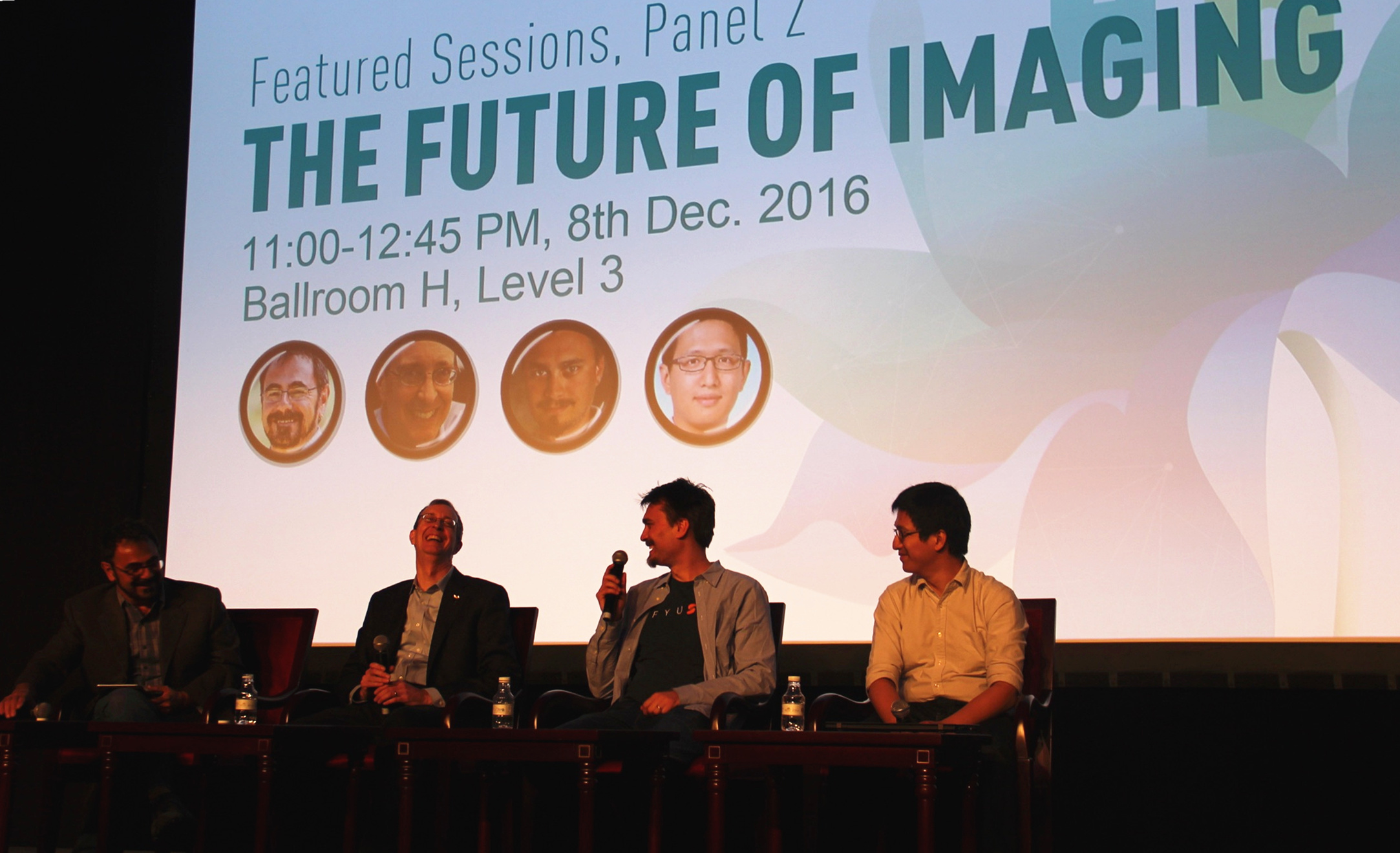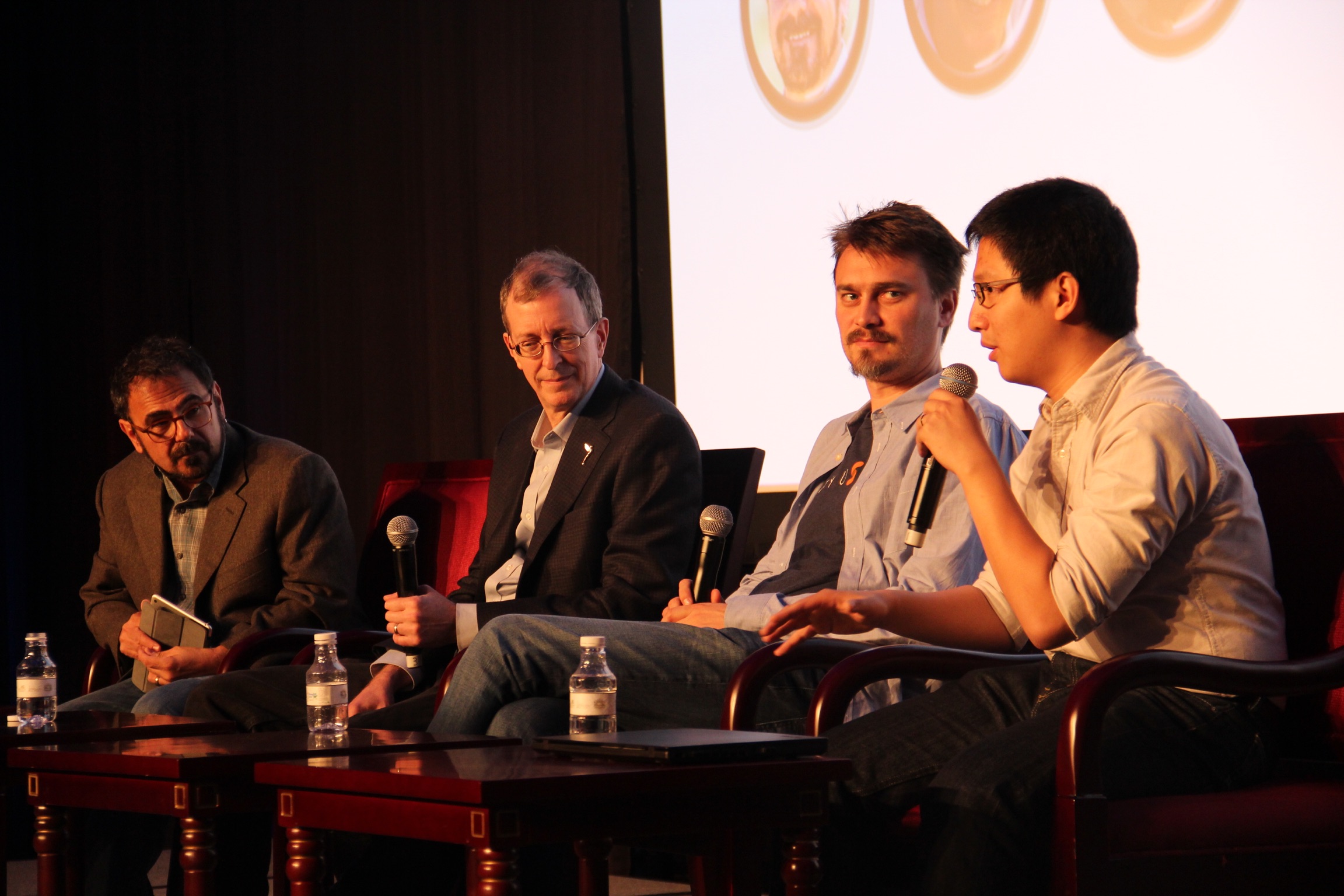 (Brian Cabral, Director of Engineering at Facebook; Kurt Akeley, CTO of Lytro Inc; Radu B. Rusu, CEO and Co-Founder of Fyusion, Inc; Shen Shaojie, Chief Roboticist, DJI.)
Computational Photography and Artificial Intelligence are not just massively redefining human visual experiences, or the way people create content, but also equipping robots everywhere with vision and cognitive intelligence. We are honored to have visionary executive scientists from revolutionary firms: Lytro, Fyusion and DJI, who have been successfully building critical stepping-stones for the global society, and keep leading the revolutions for tomorrow. In this panel, they shared their past and current adventures as well as their visions for the future of imaging.
Key Words
Cloud Rendering Farm
|
Annecy Festival
|
MILESTONES
|
Fox Renderfarm
|
Desktop Client
|
Blender
|
Bollywood films
|
Hum3D Contest
|
NVIDIA
|
Silkroad Digital Vision
|
Malaysian Animated Films
|
Indiajoy
|
Art Competitions
|
Architectural Visualization
|
CGarchitect Architectural 3Dawards
|
Best cloud rendering services
|
Render cloud
|
VFX
|
Upin & Ipin
|
Green Book
|
Fox Renderfarm Interview
|
Mission Mangal
|
Kre8tif!
|
Fox Renderfarm Mini Program
|
CG
|
CG Tech Summit Malaysia
|
film works
|
cloud rendering
|
Golden Horse Award
|
Shadow
|
SIGGRAPH Asia 2018
|
Morrigan Flebotte
|
VWArtclub Annual *Contest
|
Asswad Mouhamad
|
animation works
|
IMax Studio
|
Boonie Bears
|
Renderosity
|
Gary S. Kennedy
|
Evermotion Challenge 2018
|
Brian Beaudry
|
Alita: Battle Angel
|
Bobby Bala
|
Mohit Sanchaniya
|
Katapix Media
|
Flying Car Productions
|
Razer
|
The Shipment
|
FoxRenderfarm
|
CG Tech Summit
|
Alpacalypse Productions
|
halloween
|
Hum3d Survial Car Challenge
|
Federico Ciuffolini
|
Ralf Sczepan
|
Iavor Trifonov
|
Clarisse
|
CGTS Malaysia
|
Isotropix
|
C4D
|
Tomasz Bednarz
|
V-Ray
|
Cinema 4D
|
MAXON
|
siggraph caf
|
Evermotion challenge 2017
|
CGTrader Space Competition
|
film of the year
|
Le Anh Nhan
|
Planet Unknown
|
Fox Renderfarm 2017 Achievements
|
CSFF
|
Julio Soto
|
boar 2017
|
Deep
|
SIGGRAPH Asia 2017
|
Chris Sun
|
Glass Cage
|
Making Life of Bri' n Chris
|
anthem studios
|
The Rookies
|
Peter Draper
|
Makuta VFX
|
Baahubali 2
|
CG Competition
|
enchantedmob
|
CG Studios
|
Academy Awards
|
CGVray
|
weeklycgchallenge
|
SketchUp
|
siggraph 2017
|
Chris Buchal
|
SIGGRAPH Asia
|
LightWave
|
Indigo Renderer
|
Rafael Chies
|
V-Ray RT
|
CPU Rendering
|
NVIDIA Iray
|
Chaos Group
|
OctaneRender
|
Redshift
|
STAR CORE
|
CICAF
|
VR
|
Mr. Hublot
|
Ribbit
|
GPU Rendering
|
Linux
|
Monkey Island
|
LuxRender
|
HPC
|
Render Farm
|
Life of Bri
|
WORLD LAB
|
Michael Wakelam
|
3D Rendering
|
Online Render Farm
|
Alibaba
|
Baahubali
|
阿里雲
|
Malaysia
|
VAX
|
Aliyun
|
2015 Hangzhou Computing Conference
|
Oscar
|
SIGGRAPH
|
CGTrader
|
Kunming Asia Animation Exhibition
|
Evermotion
|
RenderMan
|
Categories
---
Fox Renderfarm News
---
Fox Renderfarm Projects
---
Fox Renderfarm Lectures
---
CG Challenges
---
Top News
---
Blog
---
Fox News
---
Fox Talk
---
Trending
---
Recent News List
---
Fox Renderfarm, 2022년 연간 TPN 평가 프로세스 완료
2022-06-21
---
Ballerina: A CGI Fantasy Created by Kay John Yim
2022-06-15
---
시그라프 아시아 2022 컴튜터 아니매이션 페스티벌, 출품작 등록 시작
2022-06-08
---
ウィッシュ・ドラゴンから最大のウィッシュを見出す
2022-06-02
---
Zync Render 사용자가 알아두어야 두 가지 중요한 사항
2022-05-30
---
Call for Submissions: SIGGRAPH Asia 2022 Computer Animation Festival
2022-05-25
---
Zync Renderユーザーが知っておきたい2つの重要なこと
2022-05-17
---
Fox Renderfarm Evergreen Program in 2022
2022-04-29
---
Revealing Mitosis Process with Cinema 4D
2022-04-15
---
Partners