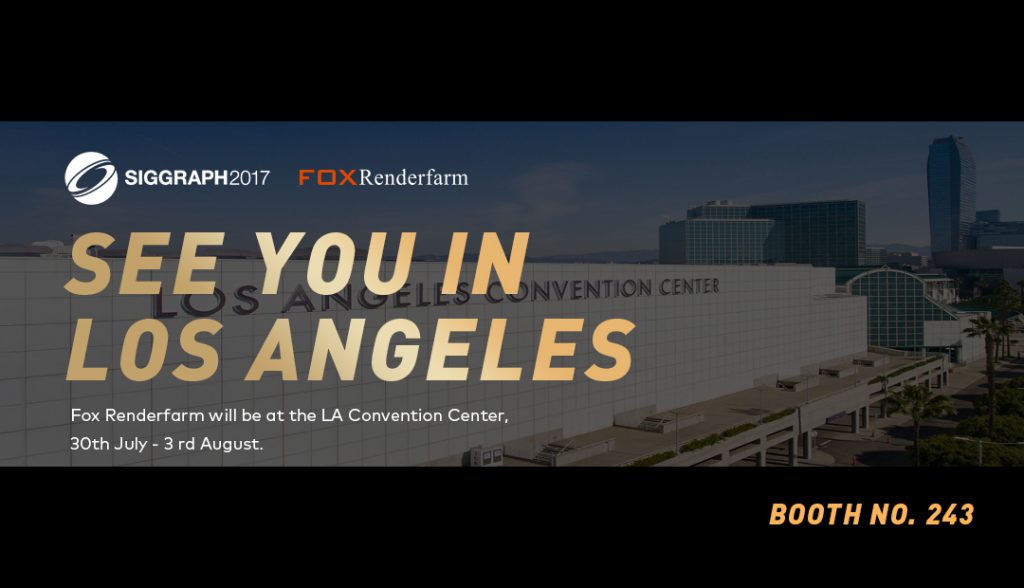 See You in Los Angeles
Fox Renderfarm News | Trending
The 44th International Conference & Exhibition on Computer Graphics and Interactive Techniques will be held from 30th July 30 to 3rd August at the Los Angeles Convention Center. By then, CG industry's established leaders and emerging challengers will attend the conference as exhibitor. As one of the world's largest cloud render farm, Rayvision's Fox Renderfarm will be shown at booth No. 243.
SIGGRAPH is the world's largest, most influential annual conference and exhibition in computer graphics and interactive techniques: Five days of research results, demos, educational sessions, art, screenings, and hands-on interactivity featuring the community's latest technical achievements, and three days of commercial exhibits displaying the industry's current hardware, software, and services.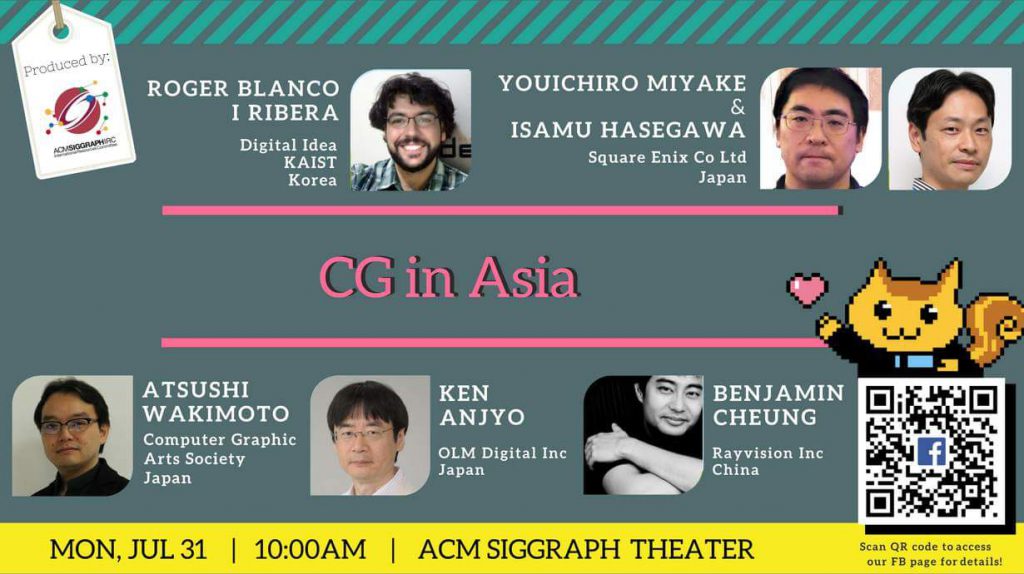 Benjamin Cheung, the VP of Rayvision, was invited by SIGGRAPH International Resources Committee to be a speaker of International center. He will share the development of CG industry with speakers from Digital Idea in Korea, SQUARE ENIX, CG-ARTS Society and OLM Digital in Japan. Themed as "CG in Asia: Inside the Asian CG Industry", the session will be hold at ACM SIGGRAPH THEATER on 10am, 31st July. If you want to know about the development of CG industry in Asia, the session is absolutely not to be missed!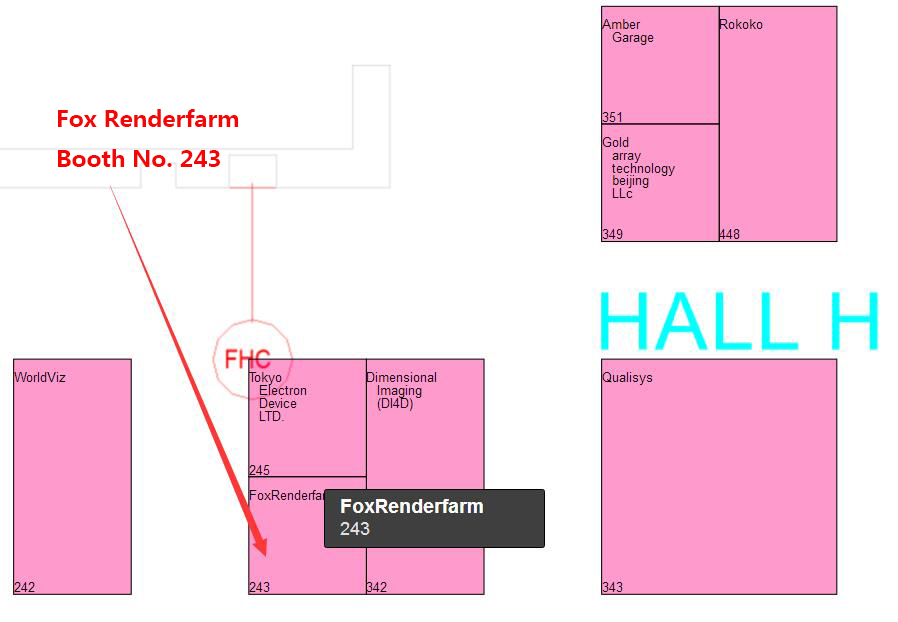 Another one not to be missed is, Fox Renderfarm as a symbol of cloud render farm from China, we will prepare some wonderful gifts to give away, please make sure to find us. See You in Los Angeles!
Key Words
Cloud Rendering Farm
|
Annecy Festival
|
MILESTONES
|
Fox Renderfarm
|
Desktop Client
|
Blender
|
Bollywood films
|
Hum3D Contest
|
NVIDIA
|
Silkroad Digital Vision
|
Malaysian Animated Films
|
Indiajoy
|
Art Competitions
|
Architectural Visualization
|
CGarchitect Architectural 3Dawards
|
Best cloud rendering services
|
Render cloud
|
VFX
|
Upin & Ipin
|
Green Book
|
Fox Renderfarm Interview
|
Mission Mangal
|
Kre8tif!
|
Fox Renderfarm Mini Program
|
CG
|
CG Tech Summit Malaysia
|
film works
|
cloud rendering
|
Golden Horse Award
|
Shadow
|
SIGGRAPH Asia 2018
|
Morrigan Flebotte
|
VWArtclub Annual *Contest
|
animation works
|
Asswad Mouhamad
|
IMax Studio
|
Boonie Bears
|
Renderosity
|
Gary S. Kennedy
|
Evermotion Challenge 2018
|
Brian Beaudry
|
Alita: Battle Angel
|
Bobby Bala
|
Mohit Sanchaniya
|
Katapix Media
|
Flying Car Productions
|
Razer
|
The Shipment
|
FoxRenderfarm
|
CG Tech Summit
|
Alpacalypse Productions
|
halloween
|
Hum3d Survial Car Challenge
|
Federico Ciuffolini
|
Ralf Sczepan
|
Iavor Trifonov
|
Clarisse
|
CGTS Malaysia
|
Isotropix
|
C4D
|
Tomasz Bednarz
|
V-Ray
|
Cinema 4D
|
MAXON
|
siggraph caf
|
Evermotion challenge 2017
|
CGTrader Space Competition
|
film of the year
|
Le Anh Nhan
|
Planet Unknown
|
Fox Renderfarm 2017 Achievements
|
CSFF
|
Julio Soto
|
boar 2017
|
Deep
|
SIGGRAPH Asia 2017
|
Chris Sun
|
Glass Cage
|
Making Life of Bri' n Chris
|
anthem studios
|
The Rookies
|
Peter Draper
|
Makuta VFX
|
Baahubali 2
|
CG Competition
|
enchantedmob
|
CG Studios
|
Academy Awards
|
CGVray
|
weeklycgchallenge
|
SketchUp
|
siggraph 2017
|
Chris Buchal
|
SIGGRAPH Asia
|
LightWave
|
Indigo Renderer
|
Rafael Chies
|
V-Ray RT
|
CPU Rendering
|
NVIDIA Iray
|
Chaos Group
|
OctaneRender
|
Redshift
|
STAR CORE
|
CICAF
|
VR
|
Mr. Hublot
|
Ribbit
|
GPU Rendering
|
Linux
|
Monkey Island
|
LuxRender
|
HPC
|
Render Farm
|
Life of Bri
|
WORLD LAB
|
Michael Wakelam
|
3D Rendering
|
Online Render Farm
|
Alibaba
|
Baahubali
|
阿里雲
|
Malaysia
|
VAX
|
Aliyun
|
2015 Hangzhou Computing Conference
|
Oscar
|
SIGGRAPH
|
CGTrader
|
Kunming Asia Animation Exhibition
|
Evermotion
|
RenderMan
|
Categories
---
Fox Renderfarm News
---
Fox Renderfarm Projects
---
Fox Renderfarm Lectures
---
CG Challenges
---
Top News
---
Blog
---
Fox News
---
Fox Talk
---
Trending
---
Recent News List
---
Zync Renderユーザーが知っておきたい2つの重要なこと
2022-05-17
---
Fox Renderfarm Evergreen Program in 2022
2022-04-29
---
Revealing Mitosis Process with Cinema 4D
2022-04-15
---
MayaとZBrushでEpic Leviathan Roverの作成方法
2022-03-22
---
Interview with Squids Visual Arts, VFX Creator of the Vodafone x Salah Campaign
2022-03-11
---
Creating a Angry Snowman With Blender
2022-03-02
---
How to Render Realistic Snow With Blender
2022-02-28
---
SIGGRAPH Asiaは2021、東京で初のハイブリッド版が無事開催
2022-02-25
---
Interview With Andrey Oliver, Who Won First Place in the Student Category of FGT3D Snowman Challenge
2022-02-24
---
Partners