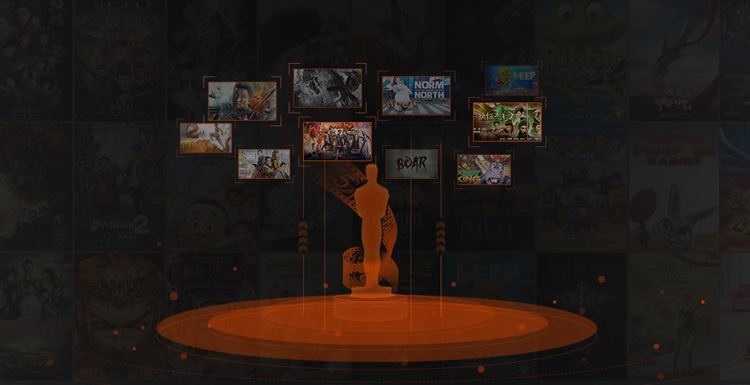 Why Choose FoxRenderfarm?
Fox Render Farm is becoming one of the most notable and credited online render farms in the CG industry. We provide a web-based online platform for users and have more than two thousand render nodes. Therefore, with us, it does not matter where you are present – as long as you are connected to the internet, you can access and enjoy the 24/7 non-stop cloud renderingservices that we provide, without any fail.
Fox is extremely user-friendly and hence, rendering tasks can be submitted to our system by following some easy steps. The user's online system and control panel provided by the Fox Render Farm allows you to monitor the overall rendering progress in real-time. Queuing is not required, as the final rendered file will be presented as soon as the process is finished. Our users can get their HD and Ultra HD animations rendered at full quality through Fox's system.
With nearly two thousand workstations, the Fox Render Farm is equipped with brilliant hardware specifications. Every functional node has an Intel Xeon I7 3770K processor and an E5645 processor. The I7 3770K processor has the memory capacity of 16 GB while the Intel Xeon processor's memory varies between 24 and 64 GB. The local network that we use is Infiniband, with a high speed of 20 Gbps and it utilizes the Windows 7 operating system.
Software such 3d Max, Maya, Softimage, Blender and C4D are supported by our rendering farm as well. It also supports render engines like V-Ray, Mental Ray and Final Render.
The cloud rendering service that we offer is our biggest strength. Render farm are usually a structure built on interconnected PCs, which share their memory and processing capabilities to efficiently process CGI rendering. Nodes that are utilized; are advanced in nature; and thus, without too much manual input and manipulation, brilliant computer generated graphics and imagery can be created. Render farms are also highly efficient and that is why, at CG Studios, we use them to examine graphic and special effects.
Traditional render farms are great, but they do not come without their limitations. Space constraints, high maintenance requirements, and expenses associated with these farms could be a huge problem for smaller companies. cloud renderingensures that the performance of the traditional render farm are amalgamated with lesser costs and user friendly system in order to provide smaller companies with the best rendering option.
Key Words
Cloud Rendering Farm
|
Annecy Festival
|
MILESTONES
|
Fox Renderfarm
|
Desktop Client
|
Blender
|
Bollywood films
|
Hum3D Contest
|
NVIDIA
|
Silkroad Digital Vision
|
Malaysian Animated Films
|
Indiajoy
|
Art Competitions
|
Architectural Visualization
|
CGarchitect Architectural 3Dawards
|
Best cloud rendering services
|
Render cloud
|
VFX
|
Upin & Ipin
|
Green Book
|
Fox Renderfarm Interview
|
Mission Mangal
|
Kre8tif!
|
Fox Renderfarm Mini Program
|
CG
|
CG Tech Summit Malaysia
|
film works
|
cloud rendering
|
Golden Horse Award
|
Shadow
|
SIGGRAPH Asia 2018
|
Morrigan Flebotte
|
VWArtclub Annual *Contest
|
Asswad Mouhamad
|
animation works
|
IMax Studio
|
Boonie Bears
|
Renderosity
|
Gary S. Kennedy
|
Evermotion Challenge 2018
|
Brian Beaudry
|
Alita: Battle Angel
|
Bobby Bala
|
Mohit Sanchaniya
|
Katapix Media
|
Flying Car Productions
|
Razer
|
The Shipment
|
FoxRenderfarm
|
CG Tech Summit
|
Alpacalypse Productions
|
halloween
|
Hum3d Survial Car Challenge
|
Federico Ciuffolini
|
Ralf Sczepan
|
Iavor Trifonov
|
Clarisse
|
CGTS Malaysia
|
Isotropix
|
C4D
|
Tomasz Bednarz
|
V-Ray
|
Cinema 4D
|
MAXON
|
siggraph caf
|
Evermotion challenge 2017
|
CGTrader Space Competition
|
film of the year
|
Le Anh Nhan
|
Planet Unknown
|
Fox Renderfarm 2017 Achievements
|
CSFF
|
Julio Soto
|
boar 2017
|
Deep
|
SIGGRAPH Asia 2017
|
Chris Sun
|
Glass Cage
|
Making Life of Bri' n Chris
|
anthem studios
|
The Rookies
|
Peter Draper
|
Makuta VFX
|
Baahubali 2
|
CG Competition
|
enchantedmob
|
CG Studios
|
Academy Awards
|
CGVray
|
weeklycgchallenge
|
SketchUp
|
siggraph 2017
|
Chris Buchal
|
SIGGRAPH Asia
|
LightWave
|
Indigo Renderer
|
Rafael Chies
|
V-Ray RT
|
CPU Rendering
|
NVIDIA Iray
|
Chaos Group
|
OctaneRender
|
Redshift
|
STAR CORE
|
CICAF
|
VR
|
Mr. Hublot
|
Ribbit
|
GPU Rendering
|
Linux
|
Monkey Island
|
LuxRender
|
HPC
|
Render Farm
|
Life of Bri
|
WORLD LAB
|
Michael Wakelam
|
3D Rendering
|
Online Render Farm
|
Alibaba
|
Baahubali
|
阿里雲
|
Malaysia
|
VAX
|
Aliyun
|
2015 Hangzhou Computing Conference
|
Oscar
|
SIGGRAPH
|
CGTrader
|
Kunming Asia Animation Exhibition
|
Evermotion
|
RenderMan
|
Categories
---
Fox Renderfarm News
---
Fox Renderfarm Projects
---
Fox Renderfarm Lectures
---
CG Challenges
---
Top News
---
Blog
---
Fox News
---
Fox Talk
---
Trending
---
Recent News List
---
Fox Renderfarm, 2022년 연간 TPN 평가 프로세스 완료
2022-06-21
---
Ballerina: A CGI Fantasy Created by Kay John Yim
2022-06-15
---
시그라프 아시아 2022 컴튜터 아니매이션 페스티벌, 출품작 등록 시작
2022-06-08
---
ウィッシュ・ドラゴンから最大のウィッシュを見出す
2022-06-02
---
Zync Render 사용자가 알아두어야 두 가지 중요한 사항
2022-05-30
---
Call for Submissions: SIGGRAPH Asia 2022 Computer Animation Festival
2022-05-25
---
Zync Renderユーザーが知っておきたい2つの重要なこと
2022-05-17
---
Fox Renderfarm Evergreen Program in 2022
2022-04-29
---
Revealing Mitosis Process with Cinema 4D
2022-04-15
---
Partners