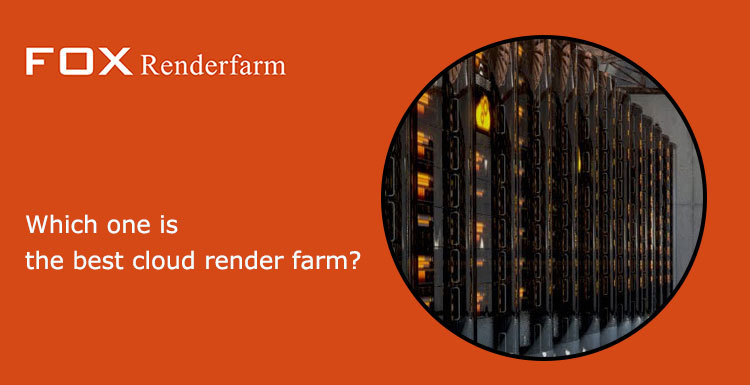 Which One Is The Best Cloud Render Farm?
There are a lot of .
Fox Renderfarm, your powerful with 24 Hours support, OSCAR service team, massive render nodes, and Hollywood security.
Their experienced technical team has already supported hundreds of projects around the world.
Fox Renderfarm has an outstanding team with over 20 years of CG production experience. Team members are from Disney, Lucasfilm, Dream works, Sony, etc. With professional services and industry-leading innovations, they serve leading special effects companies and animation studios from over 50 countries, including two Oscar winners. In 2015, Fox Renderfarm has formed a global strategic partnership with Aliyun (Alibaba Cloud Computing) to provide global visual cloud computing services.
Powerful & Secure Render Farm Service
Fox Renderfarm is Rayvision's overseas service. It is one of the leading cloud render farms in the industry. Since 2009, Fox Renderfarm has earned a good reputation for its quality performance, strict security protection great customer service and flexible pricing scheme.
Customized Rendering Solution
Advantage of cloud render farm
The Best Powerful Cloud Render Farm Service
Powerful Cloud Render Farm for Project Submission
No software installation needed, freely submit a project at any time, anywhere.

Available to use on Windows, Mac, and Linux.

The rendering service availability is up to 99.99%.

Refers to MPAA security standards.

Possesses a massive SSD storage system to solve the I/O bottleneck.
Supported Software & Plugins
Fox Renderfarm supports most of the mainstream CG software and plugins. Flexible Cloud Render Farm Pricing Dedicated Service Team Fox Renderfarm's professional and dedicated customer service & technical support team are waiting for you! Fox Renderfarm is Absolutely Secure & Confidential for Customers
Parts of projects rendered with Fox Renderfarm
Well, you might still wonder if their platform is really the , then just have a free trial, you will know the answer right away.
---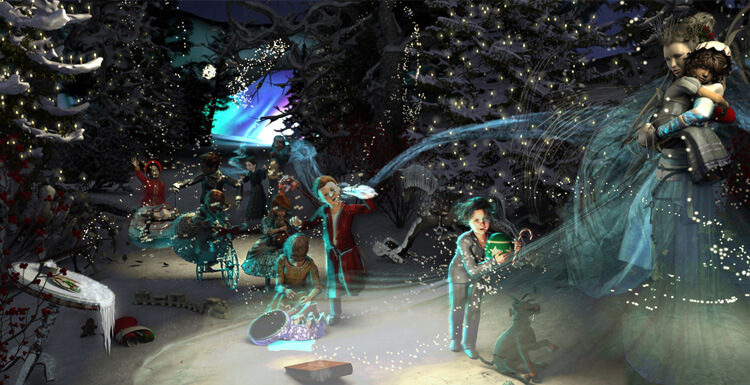 Interview With Morrigan Flebotte, The 1st Winner In 3D Category Of Renderosity 2018 Holiday Contest
Last week, we had a chance to have an interview with Morrigan, the 1st place in 3D Category of 2018 Holiday Contest on Renderosity, which is sponsored by Fox Renderfarm, here is the detailed content as below.Fox Renderfarm: Hi Morrigan, would you please give a brief introduction about yourself?Morrigan Flebotte: I am a middle-aged mother of four school-age children living in the countryside of Alberta, Canada.  Which, I suppose, shows that art can pop up just about anywhere!Fox Renderfarm: So pride of you, are you currently working as a CG artist?Morrigan Flebotte: No, I am a hobbyist.  I have a part-time job as a bank teller, but CG art is my current creative escape, along with writing.  It would be amazing if this was a job; there aren't many around here!Fox Renderfarm: How did you make the decision to step into the CG industry?Morrigan Flebotte: A friend I write with said to me, "Hey, there is this program called Daz – you can make 3D art, and it's free!"  I liked the idea, because children couldn't tip it, spill it, or rip it, and it didn't take up much room.Fox Renderfarm: Thanks your friend to bring you into the CG world. Did you still remember your first CG work, how does it look like?Morrigan Flebotte: It wasn't too bad, actually – I think if it had been really terrible, I might have been discouraged.  I am always tempted to go back and 'fix' things once I have learned a new technique.Fox Renderfarm: Great!  How did you know the Renderosity 3D contest?Morrigan Flebotte: Renderosity is where I put most of my art up for comments, and I like to shop there.  It has a friendly, comfortable feel to the website, so I sort of settled in.  I won the Christmas Contest last year... I wanted to see if it was possible to win again.Fox Renderfarm: Wish you win it again! What inspired you to come out the idea of making most of your works?Morrigan Flebotte: I like to tell stories, and so most of my pictures are simply a piece of the story I wanted to tell, to evoke a specific idea or feeling.Fox Renderfarm: This is a good habit. What's your favourite 3d software, renderers, plugins? Why?Morrigan Flebotte: I use Daz3D because it was free, which made it accessible to someone with no background in 3D graphics.  I use the 3Delight renderer because I appreciate the control of lights, and because the results have a more painterly quality.  I have tried reality-based renderers, and I find them very technical and cumbersome to use.  Also, I don't want to make a poor imitation of reality.Fox Renderfarm: Did you participate in any other CG competition besides Renderosity Contest?Morrigan Flebotte: I have participated in a few previous Renderosity Contests (Hallowe'en one year, and a Beauty Show styled one), and I have won 3 of them (Christmas 2017 and 2018, and the Valentine's Day 2018).  The Valentine's Day one was funny – I entered just because I wanted to win a t-shirt!Fox Renderfarm: Really Cool! Would you please share your ideas for winning the 1st place in the 2018 Holiday Contest on Renderosity?Morrigan Flebotte: I'm sorry – do you mean how do I feel about winning, or about the picture?  I was very excited to win – my husband saw the notice first, but didn't tell me.Fox Renderfarm: Anything else you would like to add or say?Morrigan Flebotte:This is the most I've talked about myself in years, I would like to say I am very grateful that Renderosity has provided not just a store, but a platform for 3D artists.  The contests have encouraged me a great deal, and having access to new services and software will hopefully aid me in growing my skills.Fox Renderfarm: Yes, Renderosity is really a good platform, Fox Renderfarm is highly appreciated in sponsor these platforms, hope it to help more and more persons to like CG industry, thanks for your time.
---
Key Words
Kre8tif!
|
Fox Renderfarm Mini Program
|
CG
|
Florian Renner
|
CG Tech Summit Malaysia
|
event
|
Zhang Yimou
|
CSFF 9th
|
film works
|
cloud rendering
|
Golden Horse Award
|
Shadow
|
SIGGRAPH Asia 2018
|
Morrigan Flebotte
|
VWArtclub Annual *Contest
|
Asswad Mouhamad
|
animation works
|
IMax Studio
|
Interview
|
Boonie Bears
|
Renderosity
|
Renderosity 2018 Holiday Contest
|
Renderosity 2018 Animation Holiday Contest
|
Gary S. Kennedy
|
Upin & Ipin
|
Evermotion Challenge 2018
|
Brian Beaudry
|
VFX
|
Alita: Battle Angel
|
Bobby Bala
|
Mohit Sanchaniya
|
Katapix Media
|
Flying Car Productions
|
Razer
|
The Shipment
|
FoxRenderfarm
|
CG Tech Summit
|
Alpacalypse Productions
|
halloween
|
Hum3d Survial Car Challenge
|
Federico Ciuffolini
|
sc
|
Ralf Sczepan
|
Iavor Trifonov
|
Clarisse
|
CGTS Malaysia
|
Isotropix
|
C4D
|
Tomasz Bednarz
|
V-Ray
|
Cinema 4D
|
MAXON
|
siggraph caf
|
Evermotion challenge 2017
|
CGTrader Space Competition
|
Henrik Lein
|
film of the year
|
Le Anh Nhan
|
Planet Unknown
|
Fox Renderfarm 2017 Achievements
|
CSFF
|
Julio Soto
|
boar 2017
|
Deep
|
SIGGRAPH Asia 2017
|
Chris Sun
|
Glass Cage
|
Fox Renderfarm
|
Making Life of Bri' n Chris
|
fox renderfarm interview
|
anthem studios
|
The Rookies
|
Peter Draper
|
Makuta VFX
|
The Rookies 2017
|
Baahubali 2
|
CG Competition
|
hard drive
|
hum3d contest
|
enchantedmob
|
CG Studios
|
Rookies
|
Academy Awards
|
RAYVISION MILESTONES
|
CGTS
|
CGVray
|
weeklycgchallenge
|
SketchUp
|
siggraph 2017
|
Chris Buchal
|
SIGGRAPH Asia
|
LightWave
|
Indigo Renderer
|
Rafael Chies
|
V-Ray RT
|
CPU Rendering
|
NVIDIA Iray
|
Chaos Group
|
OctaneRender
|
Redshift
|
Vray
|
STAR CORE
|
CICAF
|
VR
|
Mr. Hublot
|
Ribbit
|
Blender Cycles
|
GPU Rendering
|
Linux
|
Monkey Island
|
LuxRender
|
HPC
|
Render Farm
|
RAYVISION
|
Life of Bri
|
WORLD LAB
|
Michael Wakelam
|
3D Rendering
|
Online Render Farm
|
Alibaba
|
Baahubali
|
阿里雲
|
Malaysia
|
VAX
|
Aliyun
|
2015 Hangzhou Computing Conference
|
Oscar
|
SIGGRAPH
|
CGTrader
|
Kunming Asia Animation Exhibition
|
Evermotion
|
RenderMan
|
Categories
---
RAYVISION News
---
RAYVISION Projects
---
RAYVISION Lectures
---
CG Challenges
---
Top News
---
Blog
---
Fox News
---
Fox Talk
---
Hot Spots
---
Recent News List
---
Kre8tif! 2019 Fox Renderfarm will see you in Malaysia!
2019-08-16
---
Big Shots Here!Fox Renderfarm @ SIGGRAPH 2019
2019-08-09
---
Tutorial: Fox Renderfarm Mini Program in WeChat
2019-08-09
---
BoBoiBoy Movie 2 To Be Released In 5 Countries With Much Sensation In This Summer
2019-08-08
---
Interview With The Volunteers Of SIGGRAPH 2019
2019-08-02
---
Shenzhen & Los Angeles Chapters Meetup In SIGGRAPH 2019
2019-07-31
---
The Best Cloud Rendering Service Provider
2019-07-23
---
Cloud Render Farm Company's Introduction Video
2019-07-18
---
An Amazing Dragon Ball 3D Animation Project Supported By Fox Renderfarm
2019-07-12
---
Partners
Medias