Interview With Leonard Daly, Creating A New Future Of Websites
Web-based 3D multi-media is becoming an important part of many websites. 3D on the web offers the advantages of seeing the information from a variety of viewpoints in a manner not possible with other media types.
As a 3D/VR Systems Architect, Leonard Daly has made many contributions to the 3D multi-media industry. He founded Daly Realism in 1996, which can help businesses with project management, website development, secure business-to-business communications, elearning, and web-based 3D and multi-media content.
With his extensive background in Web and other technologies, Leonard Daly developed Daly Realism to handle businesses needs for eBusiness and Business to Business (B2B) transactions, project management, technical strategy development, web development, information visualization, advanced web technologies, and web-based multi-media content.
Knowing that the key to a successful project is quality management and leadership, Leonard Daly has developed a number of tools with proven success records for assisting in the management of projects.
Daly Realism's latest work is XSeen - a VR/3D library in JavaScript that uses THREE.js for rendering. XSeen is the first declarative language for the VR/AR/MR — xR Web. It incorporates the ability to seamlessly integrate HTML with your 3D environment. It uses HTML-like tags and attributes that are fully integrated into the DOM and manipulatable with JavaScript. It works with all of the standard JavaScript frameworks including jQuery and React.
XSeen is also the JavaScript library that implements the XSeen language. It is built on top of THREE.js and other open-source web tools and platforms. It loads all standard web model formats, including glTF, THREE json, OBJ, and others. You can use the THREE editor (local-link) to create scenes that are loaded into and XSeen web page to be displayed in a browser.
Fox Renderfarm was honoured to have an interview with Leonard Daly in SIGGRAPH 2019.
Leonard Daly
·President of Daly Realism
·Independent Internet consultant
·3D/VR Systems Architect
·Designer of XSeen
·Co-author of "X3D: Extensible 3D Graphics for Web Authors"
Fox Renderfarm: Can you introduce yourself?
Leonard: Hi, I'm Leonard Daly, I'm an independent consultant here in Los Angeles. Daly Realism provides consulting services to small businesses in the area of 3D systems, architecture and data management in the cloud. Most of our work is related to website production and development.
In 3D systems, I've been doing a lot of work with web standards organizations including W3C on the just released and what they call "VR complete" webXR Device API specification. I've also worked with Khronos on glTF, and looking forward to working on their new effort in the e-commerce area. In the past, I've also worked with the Web3D Consortium on the X3D specification.
Fox Renderfarm: Can you introduce your latest development to us?
Leonard: In conjunction with SIGGRAPH this year, version 0.8 of Xseen was released. Xseen is a library written in JavaScript. It is fully open source, including open source documentation that runs in the browser. It takes code that looks very much like HTML and allows you to display 3D content. It runs in the phone, on the desktop, in the tablets and it gracefully degrades depending upon the hardware and support available. So that on the phone you have full access to the orientation sensors and the camera, while on the desktop it's a more fixed environment, more suitable for working with the mouse.
There're two demos available, both are available through QR codes. The top, the first one is a VR demo. Its complete environment there is computer-generated background and model; and the second QR code is the same model presented through your phone to see wherever you happen to be.
Fox Renderfarm: Can you introduce your team?
Leonard: Xseen has been under development for about two years. At this stage is just myself with a couple of other contributions from other people interested in it. This show has been productive and I've talked to at least three people. One has expressed very strong interest in developing two portions that will be needed for future releases.
Fox Renderfarm: Have your meet any challenges during your development?
Leonard: The biggest challenge today on Xseen has been adjusting the model lighting to match the scene in incorporating various mechanisms. It hasn't been incorporated yet but the current under-development version is using spherical harmonic lighting which is very easy to manage, collect and project into the scene, and just light the model. Due to the development of Xseen, we will include not only the spherical harmonic lighting, but also integration and simultaneous localization and mapping, or also known as SLAM algorithm, so that the models can be tracked and located in physical space, as opposed to just relative to the orientation of the phone. Other features include fully web componentizing the systems and making sure that everything is fully integrated with the DOM API that's available in all web browsers to HTML pages.
Fox Renderfarm: Have you ever heard of Fox Renderfarm?
Leonard: My work with Xseen and other 3D applications have been exclusively within the browser. So, I personally have not used Fox Renderfarm, although I have heard of the company. Many of my associates within the Los Angeles Chapter of ACM SIGGRAPH do use for their purposes in episodic TV, movies and advertisements.
Fox Renderfarm: Any other things you want to share with the audience?
Leonard: As a long-time member of Los Angeles Chapter of SIGGRAPH, I wish from all of us to the people of Shenzhen a great day and happy year.
---
Interview with BoBoiBoy Movie 2, the Highest-grossing Animated Film in Malaysia
3-6 September 2019, Fox Renderfarm participated in Kre8tif! 2019, an annual digital creative content industry event in Malaysia aimed to spark innovation and exploration of major trends across the creative sector. We received a large number of CG enthusiasts and had good communications with them regarding our powerful service.
In Kre8tif! 2019, we were honored to have an interview with Mr. Kee Yong Pin, COO of Animonsta Studios in Malaysia.
Kee Yong Pin
COO of Animonsta Studios
Works:
Animated series BoBoiBoy (2011-2016)
BoBoiBoy Galaxy (2016-present)
BoBoiBoy: The Movie (2016)
BoBoiBoy Movie 2 (2019)
Animonsta Studios, a Malaysian animation company that produces creative content for the Malaysian and international market. Its second computer-animated film BoBoiBoy Movie 2, which is the new No.1 animated feature in Malaysia.
Below is Fox Renderfarm's exclusive interview with Mr. Kee Yong Pin. Let's check it out!
Fox Renderfarm: Can you introduce yourself?
Kee Yong Pin: My name is Kee Yong Pin, from Animonsta Studios, an animation studio from Malaysia.
Fox Renderfarm: Can you introduce BoBoiBoy?
Kee Yong Pin: BoBoiBoy is an animation created by Animonsta Studios since back in 2011. And our latest movie for BoBoiBoy, it's just completed and released in Malaysia, Indonesia, Singapore, Brunei and Vietnam at the same time. So, we are happy to tell that our BoBoiBoy Movie 2 is currently the highest-grossing box office animation ever shown in Malaysia of all time.
Fox Renderfarm: What's the interesting part when producing BoBoiBoy Movie 2?
Kee Yong Pin: One of the biggest, interesting things about this movie is actually the production, the whole production only takes 12 months. Most of the animated movies need to take 3 to 4 years. And then our team is actually not very big. We have only around 100 people with around 60-70 people from production.
Fox Renderfarm: Any challenges of making the movie?
Kee Yong Pin: The challenge is the time itself, so, as much as we worked very hard, there is still a lot of obstacles, for example, all the technical stuff, the rendering processes or the animation processes. So, the biggest challenge for us is actually the race against time for the rendering. For rendering it needs to be done by the computer. We need to do a very proper calculation, so that we can speed up the process without sacrificing the quality.
Fox Renderfarm: What do you think of Fox Renderfarm ?
Kee Yong Pin: In order to meet our timeline, one biggest thing that we changed is actually going into half GPU, which is using Redshift. And then we find out that even that is not enough. Throughout the movie, we can deliver according to timeline. But towards the end of the movie, that's when things become difficult, because the deadline is getting closer and then the scenes are getting very heavy towards the final part of the movie. So that's when we start to engage with Fox Renderfarm. And then we are really impressed actually, especially on the support portion of Fox Renderfarm. Because it's so easy for us to get in touch with, you know, just using WhatsApp. So everything just is direct communication, whenever we need anything and then everything is actually quite fast and, more importantly, when it comes to the last minute, it is hard for us to get the finance portion, budgeting portion to meet according to our criteria, and timeline also needs to be meeting. So, Fox Renderfarm, luckily for us, managed to meet our criteria in terms of pricing, in terms of delivery.
Fox Renderfarm: Will you distribute the movie in China?
Kee Yong Pin: We are actually trying, because China has a very small quota for foreign movies, but we are actually trying our best to get into China's market. Good thing for us is that our animation series is already broadcasted on China's platform, which is Tencent. And it gets quite a good amount of views, which is more than 40 million views already up to date. We want to continue our footsteps into China's market if possible.
Fox Renderfarm: Any plans for next step?
Kee Yong Pin: We are doing our next animation, moving forward. And unfortunately, we cannot share anything in detail yet, but definitely I would safely, at least say that project has more challenges than BoBoiBoy Movie 2. So we want to get more market after this release in more countries and all those things, and so definitely, we need more support in terms of technology and also various partnership in the near future.
Fox Renderfarm: Any other things you want to share with the CG enthusiasts?
Kee Yong Pin: We just want to share that animation industry in Malaysia has been more than fifteen, twenty years. We might not be the most famous animation content hub in the world yet. But definitely Malaysia is going to be one of the best, not in terms of quantity, but in terms of quality, one of the best animation providers in the world. So, we really hope that the world will be able to really pick up our animation, have a look on what we can achieve in a more practical way, high quality, efficient, because we have a lot of good talents in Malaysia.
Let's look forward to the new development of Malaysian animated films.
---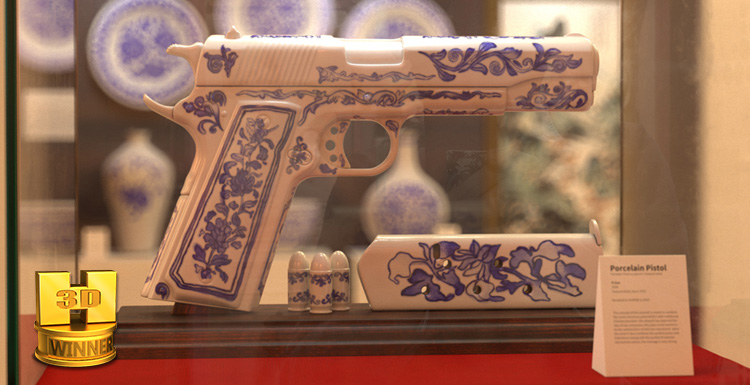 Interview With Yi Sun, The 1st Winner In Hum3D's Three D Gun 2 Competitio
It is our honor to have an interview with Yi Sun, the first place winner in Hum3D's Three D Gun 2 Competition, which is also sponsored by Fox Renderfarm, a leading service provider in CG industry. Share this interview with everyone, here are the dialogue between Fox Renderfarm and Yi Sun.
Fox Renderfarm: Hi, Yi Sun, congratulations to winning the 1st place in this contest, thanks so much for taking your time to have the interview with us. Firstly, would you please give a brief introduction about yourself?
Yi Sun: Yes, my name is Yi Sun, 25 years old, from China, I had a bachelor degree in 3d animation and I'm currently studying Master of Design in Sydney.
Fox Renderfarm: How long have you been in the CG industry? And how did you make the decision to get into the CG industry?
Yi Sun: I haven't found a job in the CG industry yet, but I've been teaching myself 3D for 5 years now. I started doing silly short videos when I was a kid. back then I discovered I can make some visual effects for videos in After Effects, but soon, I realized the 2D visual effects is very limited, I want to make more sophisticated effects, especially 3D effects. so I started learning 3D software. At that time I just thought it was cool, I never thought about doing this for a career, until I visited the universal studio in Los Angles. I got a chance to listen to the Hollywood VFX artists talks about the VFX production of the blockbuster movies and it blew my mind. I've been dreaming to work on a blockbuster movie ever since that talk and I've been working very hard trying to put my first step in the CG industry. I hope my dream will come true soon.
Fox Renderfarm: It is a great experience. Wish your dream come true. About the work "Porcelain 1911", what inspired you to come out the idea of making it?
Yi Sun: The idea is very simple, combining two completely different objects together. I used to do this kind of design practice a lot when I was learning character design in 3D animation. In "Porcelain 1911", I try to combine the porcelain element I familiar with and a gun which I'm not quite familiar with. I think as a 3d artist, the biggest advantage I had is my cultural background.  I've seen a lot of Chinese porcelain as I grow up, I found them very beautiful, so I feel very comfortable to work with porcelain element in my design. if this competition is about design a realistic and futuristic sci-fi gun, I believe there are millions of 3d artist who can design better sci-fi gun than me, because I never have seen or touch a real gun.
Fox Renderfarm: It is an interesting idea. How long did it take you to finish the work?
Yi Sun: I was doing a master degree while working on the "Porcelain 1911", I had 3 assignments from Uni so I barely had time to work on it, sometimes I only have 15 minutes before I got to go to sleep. It took me about 2 months, but I think the actual time I spent on it is only about 120 hours. Now I look at it, I think it could be done better, there are still many things I want to polish in this work.
Fox Renderfarm: What software, renderers, plugins did you use in this work?
Yi Sun: My main 3d software is Maya, and I used Mari (non-commercial) for texturing, and redshift for rendering and photoshop.
Fox Renderfarm: Did you meet any difficulties when creating this work? And how did you solve it?
Yi Sun: The difficulties I faced in this project is to create the realistic hand paint graphic of the Chinese porcelain, I tried to import vector into Photoshop apply filters but the result looks very fake, I tried to download watercolour brush for photoshop, but it doesn't look good either. Then I realized it's not possible to create realistic paint mark on the computer, so I decided to create the texture physically with watercolour. I realized even though we had so many presets, filters and plugins to helps us create digital works, but they can never replace traditional mark making techniques, as a digital artist, I should always remember to respect the physical medium.
Fox Renderfarm: Anything else you would like to share with CG enthusiasts?
Yi Sun: I think CG is the best medium for self-expression, you can create almost anything and everything, that's why there are many things to learn, too many. I spent 5 years learning CG and I still feel that I know nothing about it, that's why I think we should always be humble to learn and we should try to use our cultural background as our advantage to develop our own unique style.
Fox Renderfarm: Yes, totally agree with you. I hope you can make more wonderful works in the future, and you will be an excellent CG artist. Thanks so much for your time.
More Yi Sun's artworks: yisun.artstation.com
---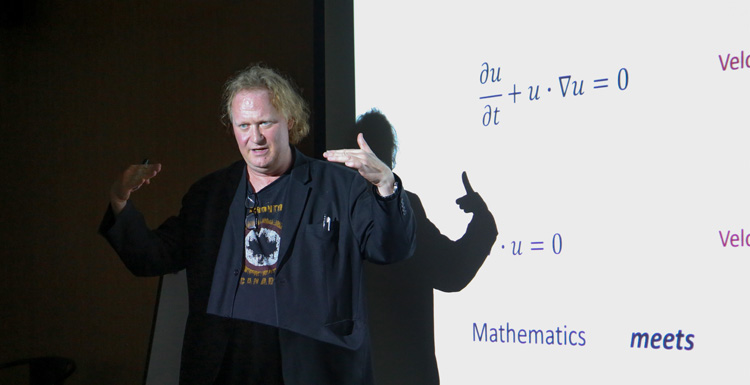 Three Academy Awards Winning Scientist Dr. Jos Stam's Exclusive Interview with Fox Renderfarm
On May 19th, the provider Fox Renderfarm's CG Salon, The beauty of CG Technology was successfully held in Shenzhen. The event is co-organized with Shenzhen ACM SIGGRAPH and International Chinese Association of Computer-Human Interaction(ICACHI). Dr. Jos Stam, Dr. LiWei (Chair of ICACHI), and Mr. Jelo Wang (CEO of FACEGOOD) were invited to share their CG insights and experiences with the audience.
After the Salon, the Fox Renderfarm had an exclusive interview with Dr. Jos Stam, who has won three technical achievement awards, respectively in 2006, 2008 and 2019 from the Academy of Motion Picture Arts and Sciences. He has published groundbreaking research in computer graphics notably at SIGGRAPH. He also received top awards, the computer graphics achievement from SIGGRAPH in 2005.
Here is the interview of Dr. Jos Stam by .
Fox Renderfarm: As we know, this year you won your third Oscar at the Academy's Scientific and Technical Awards. Can you share the feeling of winning the award?
Jos Stam: Very grateful, very happy of course, but I didn't quite expect it this year. This award is an upgrade from the award I got in 2006, so still surprised when I got the official email. Another Academy Award after the last one I got was 2008. It's been ten years after my last Academy Award. So it's pretty exciting.
Fox Renderfarm: This year, do you have any new plan or new target in the science of subdivision surfaces or other 3D graphics technical field?
Jos Stam: Well, I don't have any plans to work directly on subdivision, I might, but I like to work in different areas. I started to work on the subdivision work about twenty years ago. I'm sort of looking at artificial intelligence as well, not only how to apply to graphics or also how computer graphics can be applied to artificial intelligence. But in research, you can never really plan things. I usually work on many problems, some of them turn out to be effective and will get you a Technical Award. So who knows where this will lead? I can't really lay out what I'm going to work out, but hopefully cool stuff.
Fox Renderfarm: This time you come to Shenzhen, to meet and communicate with the young people who are interested in CG art, how do you feel about this? Can you give them some encouragements?
Jos Stam: I work a lot with young people and I find it's very inspiring. And I think there's still a lot that can be done especially in Computer Graphics. And I've been in the field for thirty years and we went from pixelated games to highly photo-real games, it only in the span of thirty years. Who knows what's gonna happen in the next thirty years? And it's the young people who're gonna make it happen, So it's really good to inspire them and not to discourage them. It's very important that they should follow their passion, don't give up and don't do it for the money. Of course, it helps, usually, these jobs are well paid, but they shouldn't be the main factor. You should be very passionate about computer graphics, what it stands for, or other fields, you know. Like in my case, I'm sort of coming from an art background, mathematics and I like to code, so sort of perfect background for computer graphics. But you might come from another background as well, like from Biology or some of the passions for music. I know people come from music are drawn into computer graphics and coding. So, basically, don't discourage. And inspire young people. Not only in China but the rest of the world.
Fox Renderfarm: As you said in the previous interview, "If you're an artist, you don't care why the sky is blue. You just want to create a dramatic sky." Creative ability is very important for artists, do you have any suggestions for young artists to enhance creativity?
Jos Stam: Usually people associate creativity with artists, but you can do math or code and be very creative. Creativity actually works if you have boundaries. And if there are no boundaries, creativity doesn't make any sense if you can just do anything. Of course, artists are supposed to be creative. But what I want to say is to everyone, try to be creative in your job. Even in your life, being creative and how to live your life, give some meaning to it.
(Paintings of Jos Stam)
Fox Renderfarm: Nowadays, Chinese CG industry is also developing rapidly and progressing continuously, will you have more co-operation with China in the future? What do you expect most about the cooperation?
Jos Stam: I think, it should be across the world, not just in China, me and everyone. It helps research that you can be open and free about problem discussion. So it's sort of the beauty of mathematics. It is a single language. I can show an equation to a person in China, they will understand it, even if I don't know any Chinese. So an ideal world that anyone would be able to talk to anyone else openly and further technologies or science. Now I have to say about China, especially Shenzhen. Things are changing extremely rapidly and the city is growing incredibly fast. So I believe, to be in China, the time is pretty exciting.
Message from Dr. Jos Stam: Be yourself if you can. And be creative. Live your life to the fullest.
---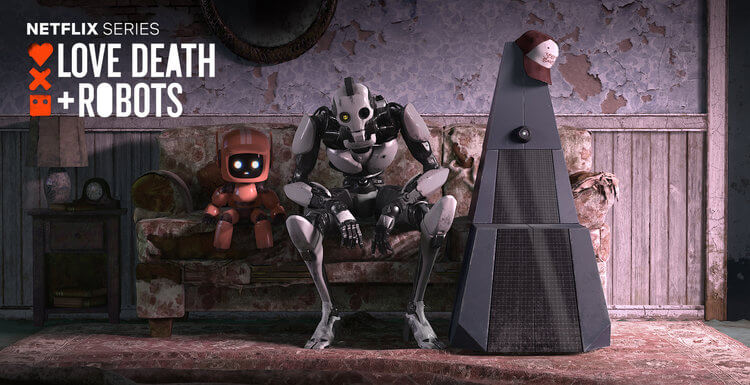 Interview With Blow Studio, One Of The Animation Producers Of Netflix's Love, Death & Robots
Love, Death & Robots, is an American adult animated anthology web television series on Netflix, consists of 18 stand-alone episodes, all under 20 minutes long and all produced by different casts and crews. Now, Fox Renderfarm is so happy to have an interview with Blow Studio, the animation producer of "Three Robots" in Netflix's Love, Death & Robots, and honorable to provide services for "Three Robots". Here is the interview regarding "Three Robots" between Blow Studio and Fox Renderfarm.
Fox Renderfarm: We noticed that you provide production services for commercials, TV shows, short films, and many other formats related to animation, so can you please give us a brief overview of Blow Studio?
Blow Studio: Blow Studio is an animation and VFX production company formed in 2011. We provide production services for commercials, series, short films, and many other formats related to animation. In addition, we are always looking for personal projects to push our limits.
We have worked on projects for brands such as: Netflix, Chanel, River Island, Johny Walker, MTV, Izze, Axe, Rdio, Sanex, Vimeo and others.
Fox Renderfarm: Which part is the most important in production of this project?
Blow Studio: All production stages are important. Every step must have an even quality so the final product is balanced. Considering the type of story, if we had to choose a fundamental area of this episode that required a greater effort from us, I think we would choose animation.
Fox Renderfarm: Can you share with us the challenges in the production of this short film?
Blow Studio: The animation was a challenge because we had to animate about 120 shots mixing styles. We had to invest a lot of effort in this area in order to take forward the project
Another challenge I would like to highlight is the making of a realistic talking cat. Modeling, shading, rig, animation, hair...everything required the highest quality to make this character credible. The cat was the most complicated character of this episode and we are very proud of the result.
Fox Renderfarm: How do you like this short film? Which part do you think is the most interesting?
Blow Studio: Three Robots is the most important project we have made at Blow Studio. We love the story, the tone and the visual design. If we had to choose one sequence, maybe it would be the abandoned house. It's a very funny part, with a delicious animation and hilarious lines. Also, here is when we meet the cat, a character that will be the key at the end of the story.
Fox Renderfarm: What do you think of Netflix's animated series Love, Death & Robots?
Blow Studio: We are fans of "Love, Death & Robots" and we are completely into adult animation. Before the series, back in 2017 we release a short film called "Alleycats", and it goes in the same tone of "Love, Death & Robots". This is a short film where we did what we wanted to: ninja cats slicing their heads through the alleys of the city with a dark vengeance background reflected in the story. So yes, this is the kind of things we love to do.
We needed someone to stand for this kind of animation, and Netflix did the bet. We just hope they continue investing in this type of content because it looks that it's something people was asking for.
Fox Renderfarm: Which episode do you like the most in season 1 of Love, Death & Robots? Why?
Blow Studio: All episodes have a very high level of quality and something to highlight, so it's very difficult to choose just one. But if we had to, we will surely choose "Three Robots" because making it was very satisfying and it is like our little baby.
Fox Renderfarm: Speaking of rendering, please tell us more about your overall experience with Fox Renderfarm?
Blow Studio: It was a pleasant surprise to work with Fox Renderfarm. We had to outsource some parts of the render in order to deliver on time and allowed us to meet our deadline. Sure we will work again with them if we need to.
Fox Renderfarm: In closing, is there any interesting behind scene story you would like to share with us?
Blow Studio: Thanks to 'Three Robots' now we are cat experts. We had to do a very laborious study of them to reach this quality, and we really don't know how much hours we had to spend watching references for animation, the hair, the anatomy, the behavior of the skin, etc.
And we just wanted to say that it has been an adventure and an honor to be part of the production team of this amazing project along with the best CG studios today.
Fox Renderfarm: Thank Blow Studio for taking time in this interview, looking forward to seeing more and more wonderful works produced by Blow Studio.
---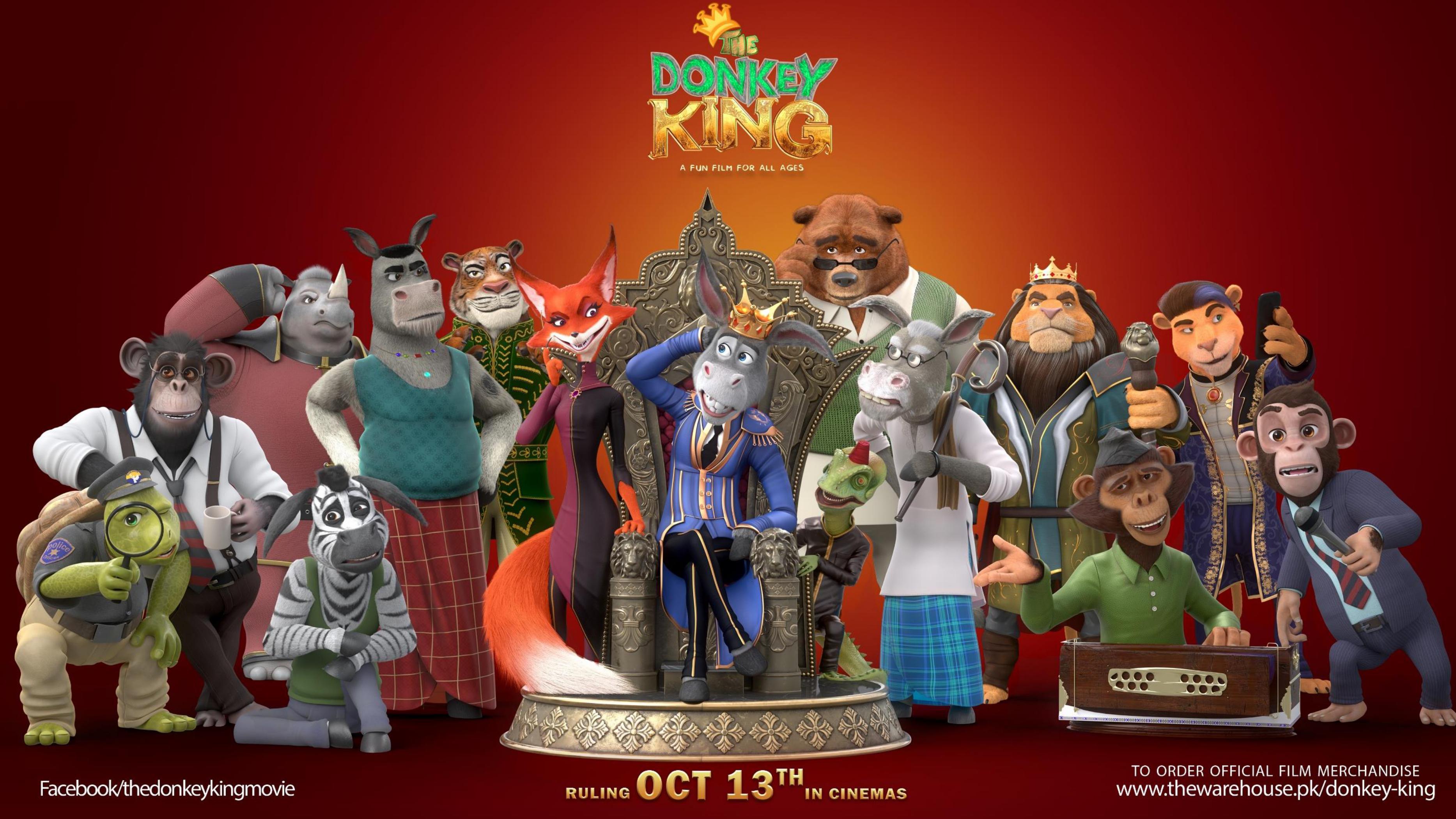 Aziz Jindani | Studios Life Is Better with Fox Renderfarm
The much awaited and biggest Pakistan's and Talisman's first animated film - 'The Donkey King' will be released today, which will hit box office across Pakistan. Director Aziz Jindani and others attended the grand ceremony of The Donkey King. Aziz Jindani succeeded in giving a great gift to viewers and fans in shape of The Donkey King. And marketing and promotions have been unprecedented for any movie to have come out from Pakistan. Fox Renderfarm specially interviewed with him for the production story of The Donkey King.
The Plot
A roller coaster comedy film for all ages with a crisp run time of 105 minutes. Language is Urdu / Hindi with subtitles in English and Arabic. This is the story of Mangu, a happy go lucky, dreamer donkey. In his quest to realize his dreams and transcend his being, Mangu accidentally ends up as the "popular choice" to be the King of Azad Nagar. Little did he know that he was a mere pawn in the machivallaious design of Ms. Fitna (a fox) who had her ulterior motives to dethrone the Lion and prevent heir apparent from succeeding him. Will Mangu rise to be the king he had promised to be or will he resign to being a puppet? Will Fitna succeed in realizing her ulterior goals? Will Azad Nagar ever recover from this chaos?
Aziz Jindani – Co-Producer & Director
A global brand builder with +17 years experience at Procter & Gamble across Pakistan, USA, Singapore, Kenya, and UAE.The architect of the Commander Safeguard animated series, a branded entertainment property designed to promote the importance of hand washing among children. This is the longest running and most popular local animated series in Pakistan and has also been re-applied across China, Philippines, Russia, Nigeria, Mexico, and the Arabian Peninsula. Commander Safeguard is featured as a case study on marketing to Low-income consumers in 5th Edition of Advertising and Integrated Brand Promotion by Chris Allen and Thomas Guinn (University of Cincinnati, Montana University and University of Wisconsin). Aziz has furthered his passion for animation by establishing Talisman Animation Studios, a storytelling company with the objective to create original Pakistani IP content. The Donkey King movie is the first property to come out of this endeavor.
Interview with Aziz Jindani
Please tell us something about yourself, what do you do and what film projects have you participated?
I am a career brand builder with over 18 years of experience at Procter & Gamble, working across USA, Singapore, Kenya, Dubai, and Karachi. During this time I happen to lead the client team that created an animated superhero property for a leading anti-bacterial soap brand (Safeguard / sold under the trademark of Shu Fu chiya in China). This superhero character achieved cult status in Pakistan and has been reapplied in various parts of the world including China.  More recently, I have given up my P&G job and set up a content creation company in Pakistan by the name of Talisman Animation Studios and our first project is this film called The Donkey King.
Can you briefly introduce The Donkey King?
The Donkey king is an animated family comedy for children and children at heart. It's a story of Mangu, a dreamer, happy go lucky donkey. The story traces Mangu's extraordinary journey from a small town dhobhi ghat to a royal palace during which he rises, falls and then rises again to prove to the world that he may be born a donkey, but is not one. In a nutshell, Donkey King is an allegorical story of the triumph of an underdog. The core objective of the film is to inspire children and adults alike to reach their full potential, regardless of the skills and talents they are born with.The film has an ensemble voice cast including some of the top names from Pakistan film industry. These include Jan Rambo, Hina Dilpazir, Jawed Sheikh, Ghulam Mohiuddin, Ismail Tara, Shabbir Jan, Irfan Khoosat, Ahsan Rahim, Adeel Hashmi and Faisal Qureshi amongst others. The music score is done by Shani Arshad and songs are composed by Asrar, Shuja Haider and Shani. Direction, Story & Screenplay is by Aziz Jindani, former Global Business Unit head Procter & Gamble and architect of proven, successful iconic Commander Safeguard Animation Series.
Is it your own IP? How it was generated before making it into the animated film?
Yes. 100% original IP. It was developed over a period of 12-18 months before we embarked on production with extensive and iterative concept development exercise.
How long it took to finish the whole production? Any complicated scenes or technical barrier during the project? How you manage it?
All in all, it took us about 2.5 years to finish the film from start to finish. The climax sequence (6 mins of the thrilling chase) was the most difficult one to execute. The biggest technical barrier was the slow rendering time locally due to a fur-based character and limited render capacity in-house. That is where Fox came in.
Before using Fox Renderfarm, how you solve your rendering? Any big differences?
As said earlier, we were rendering in-house but were constrained by available nodes and high render time/frame due to fur based characters. The biggest difference between in-house and Fox is speed and reliability. Our speed shot up almost  5 times and there were seldom any issues with the output.  It was a great enabler to complete the project on time.
How do you think of Fox Renderfarm? Any comment?
I think of Fox as a savior for small production houses with big ambitions, like us. The solution is both affordable and reliable supported by some of the most collaborative team.
It's going to be released very soon, what do you want to say to the audience?
Well, what can I say? I'd just like each and everyone to see this film because it has a relevant story that appeals to children and children at heart and is made by a bunch of crazy people at Talisman Studios who have refused to grow up.
---
Green Book VFX Veteran Raymond McIntyre Jr. Shares Production and Careers Insights
Nowadays, with the development of computer graphics technology, VFX plays an incomparable important role in sci-fi blockbusters, live-action movies or animation films. Behind these stunning VFX, there is a group of professionals & specialists. Raymond McIntyre Jr., one of the legendary VFX Supervisors, who has been working in the film industry for more than 30 years, has been involved in the production of films including Green Book, Harry Potter and the Deathly Hallows, Spider-Man, X2, Blood Diamond, Men in Black 3, The Conjuring and so on. Let's take a look at the scenes behind these Hollywood blockbusters through Ray's story.
Raymond McIntyre Jr.
VFX Supervisor and President of Pixel Magic
VFX Supervisor and Producer for ABC, Netflix
Works
(2010/2011) and more
Awards
2004, Visual Effects Society Award, for his work in THE LAST SAMURAI 1998, International Monitor Award, for his work in CASPER MEETS WENDY
Raymond McIntyre Jr. is a Visual Effects Society (VES) Award winning Supervisor that brings 30+ years of experience in the film industry and oversees all creative operations at Pixel Magic, an award-winning VFX & 3D animation studio with credits including: Blood Diamond, The Guardian and the films mentioned above.
An impressive production pipeline, combined with deep expertise in both visual effects and 3D stereo conversion has allowed Pixel Magic to tackle some highly visible projects. And their capabilities in 3D stereo conversion has landed them work on the Chronicles of Narnia, as well as Harry Potter and the Deathly Hallows.
As the President and VFX Supervisor of Pixel Magic, Ray brings extensive knowledge and expertise to the company. Also, he has frequently served as the primary Visual Effects Supervisor for feature film productions. In that capacity, he provides on-set supervision, plate/element photography as well as 2nd / VFX unit direction. Ray has been recognized for his achievements as Visual Effects Supervisor.
Ray and his team offers a wide array of visual effects such as compositing services, including CGI creation of objects, animals, smoke, fire, and matte paintings to many Hollywood blockbusters.
(Pixel Magic VFX breakdown reel)
In the film 22 Jump Street, Ray was called on for 2nd unit VFX supervision supporting Edwin Rivera, the film's overall VFX supervisor. The Pixel Magic team was tapped to create all of the visual effects for the establishing action scene of the Metro City Port and other 100 VFX shots in various scenes throughout the movie, such as the CG gantry crane and CG netting that tangles up the heroes, CG windshield cracks on the 18 wheeler truck and CG octopus tentacles.
What's more, they completed over 400 visual effects shots for the film My All American. "Production wanted the ability to move the camera all the time. This eliminated the traditional approach of locked off cameras and tiling practical people in different spots in the stadium, hence the need for CGI crowds. A full digital crowd was mixed with extras shot on green screen and composited with the few extras available on set. Shooting HDRI's on set allowed for realistic and accurate lighting for all the digital crowd and stadium shots. This is the real advantage of CG crowds, an exact match of lighting." according to Ray.
In SIGGRAPH 2019, was honored to have Mr. Ed Lantz, President/CTO for Vortex Immersion Media & Chair of Los Angeles ACM SIGGRAPH Chapter, to do an interview with Ray.
Here's the exclusive interview with Raymond and Ed Lantz.
Ed Lantz:
Hi, my name is Ed Lantz, from Vortex Immersion Media and Chair of SIGGRAPH Los Angeles. I'm here with Raymond McIntyre, and Ray why not just tell us a little about what you do.
Raymond:
Hi, my name is Raymond McIntyre. I'm a visual effects supervisor and visual effects producer. I usually get hired by studios and companies to do the visual effects for movies like Netflix, Warner Brothers, CBS, ABC or companies like that. I also have my own company called Pixel Magic and I am president for Pixel Magic and we are a visual effects house, a small visual effects house that's been in business for more than 30 years now. And what I do is, I create and budget and produce visual effects for features, generally, I'm known for creating photo-realistic work. Most recently, I did the movie Green Book which won Academy Award for Best Picture and Academy Award for Best Screenplay. I did the visual effects for that, and my company did as well. And visual effects we did on that movie is the actor Mahershala Ali who did not play the piano in that movie at all, so everything he did was a head replacement. So we had a piano player play the piano on set and then move the piano player out once we were happy with take, and move Mahershala Ali in, shot him in the same seat, and the computer later on composited his head onto the piano player's body. So that's the kind of work I do, we create a basically seamless visual effects that hopefully you watched, the movie like Green Book and ever saw one of the 2 or 3 hundred shots we did for that movie.
The film Green Book
Ed Lantz:
That's incredible. Could you tell us a little about the process in Green Book to replace the head? Was that volumetrically scanned or you're working with 2D plates?
Raymond:
Sure. To replace the head or do the head replacement on Green Book, we actually get it in a more traditional approach. We did not create a 3D model of Mahershala Ali or anything like that. We actually shot him on location, either at the piano or wherever the shot or scene was and composited via rotoscope. We did not put up green screen because the green screen changes the light value on the actor pretty substantially. And so when you're looking for absolute seamless work, we decided that the green screen change the light too much to make that work. So we shot him in the scene with the exact same light that was on the piano player and then tracked and rotoscoped, and composited Mahershala's head onto the body of the piano player. So it was all done with a more traditional approach instead of either a 3D approach, or you know something like that.
Green Book VFX breakdown
Ed Lantz:
I especially like the shot of the White House (in the movie LBJ). And you actually shot a caravan of cars, and you could see (White House) through the windows. How did you pull that one off?
Raymond:
Well, for this movie called LBJ, that was directed by Rob Reiner and it stars Woody Harrelson. Rob wanted a shot in 1960 presidential motorcade was driving out of the White House down Pennsylvania Avenue to go off and whatever their business was for that day. But you cannot get a permit to shoot in front of the White House and plus Pennsylvania Avenue is closed to all car traffic except for presidential car traffic. So it's not something you can go and do. In order to create it, the movie was being shot in New Orleans. We shot the motorcade driving on a parking lot in New Orleans, because of the camera move, the extreme scale of watching them drive out the front driveway of the White House and then panning to follow them as they drove down Pennsylvania Avenue. That was a really big camera move, so we were unable to put up a green screen for the size and scale that would have been needed for that. So the approach had to be rotoscope, and that's something we're very familiar with, fortunately. It was really the talent of the artist that put the shot together. His name is Patrick Trahan and he was responsible for all this. His ability to make us believe that as we saw through the window of the motorcade as it was driving in the Louisiana parking lot, he had to roto and create transparency and create glass basically for his own (distortion). When you go around a corner especially those curves have to be rounded pieces of glass, it would distort the image, so he actually created pieces of glass, created his own distortion. So as the car rounded the corner and you as now seen the White House background through there he distorted and created exactly. And then we generated a Matte Painting for the White House based on photography that I did at the White House today and then painted out everything that isn't period or doesn't look correct and added in movements for trees and things like.
LBJ VFX breakdown
Ed Lantz:
Very impressive!Why don't you tell us a little about what software tools that you use in your work?
Raymond:
We used a lot of software to complete the visual effects, and a lot of different tools. First off, you usually have to match move or track your scene or your object, or whatever it is, what that means is if you have a moving camera and a person in the shot that's moving and you want to add something to the person, you need to know what that movement of that person. Let's say we want to change my badge to something else, and I'm walking and the camera is moving, so you need to know what the movement of that is in the computer. So we call it a match move, which means we're going to match the motion of what the physical object in the real world does in the computers. Then the computer can recreate its motion exactly in pixels, and in dimensions in the computer. And then we can replace the object, change the object, do whatever it is. So we use tools to do that, which is called match move. We use SynthEyes and tools like that which is our primary matchmover. And then whether you create something in 3D to change the object, you have to composite it, so we use different compositing tools. But primarily we use Adobe After Effects and Nuke for our two primary compositing tools, and they both have features and feature sets that are unique and different than the other, and both have pros and cons that the other one does or doesn't have, so we use those two. There are others that are very similar, but those are our two main tools. And then for creating 3D objects like the cars in Green Book or the creature in Rim of the world, or the snowfall in Green Book, to create those kinds of things that have to be generated in a computer, they are solely made in the computer. We use several different tools. We use LightWave 3D, we use Maya, some of our people use Houdini for certain things. Again the tool that you choose should be based on what its strength and or weakness, isn't that you don't want. So if something is really good at doing water, for example, a CG ocean or CG water, then you use that tool, not all 3 software tools sets create water equally as good as the next. So you choose a tool that's best for the project.
Green Book VFX breakdown
The film Rim Of The World
Ed Lantz:
And why don't you tell us maybe one of your most challenging projects that you're most proud of?
Raymond:
Well, I think the project I'm most proud of right now is Green Book, because it's a recent project that won two Academy Awards, and the actor won an Academy Award for Best Supporting Actor. A lot of People would probably say that they thought he was playing the piano, even though he did not. So that's something we are very proud of, and I'm proud of that the sense we made something that (hopefully) no one had any idea that we actually modified a change.
Ed Lantz:
Certainly I didn't, that was very impressive.
Raymond:
I learned something I've been doing this. I've been in this business for quite a while, and I've been doing this for a very long time, but I learned something basically on every show, I learned how to improve or what I should have done better or what I can do on the next one and so there's many shows like that. Recent ones come to mind for me, Rim of the World. We had to design and create two different creatures, three or four different alien vessels and ships and things like that. And that's always fun for a different reason because when you're designing and creating something you're trying to make something that hasn't been seen or hasn't been done before, which is difficult in today's world, especially when it comes to aliens and spaceships and things like that. And then implement them in a way that they look like the real in the shot, that are realistic and photo-realistic in the shot. And so that's always fun, you need challenges, but always fun.
Fox Renderfarm:
Any other things you want to share with the CG enthusiasts?
Ed Lantz:
My work involves projecting on large domes and we're creating shows with a-list talents. We did a show with Childish Gambino, otherwise known as the Donald Glover, and a 160 foot dome out in the Joshua Tree Desert, and we had 12 video projectors covering the dome blended together and produce the whole concert. 5 shows over 3 days, 2500 people per show inside the dome. And we also did an event at the Coliseum, here for the founder of Minecraft. He invited 3000 of his closest friends to come to party and with Skrillex and Diplo and some big DJs. And that was 24 video projectors blended together to create one big image. So now there's project in Vegas, Madison Square Gardens Entertainment makes LED dome that will hold twenty thousand people. So now we will have an arena that artists can graduate to. My company is building five-hundred to twenty-five-hundred-seat venues, so we hope CG artists get into the format creates spherical not just for VR but also for dome.
MSG Sphere
Raymond:
As a visual effects supervisor and producer, and as a company owner, I've been doing this for a long time. It's not a good way to say is going to be, most of my exposures is US-based, but I travel all over the world for shooting and for production and things like that. The post production end of things is in the last ten or fifteen years really started to become worldwide. But I would say now that's really expanding, even more so with China and India and Australia. I'm all for the worldwide visual effects input because there's lots of reasons for that. The more brains you have figuring something out, the better it's likely to get and the result will be. So it's always nice to involve people who either look at something a little bit differently with a fresh perspective. As opposed to a perspective that I may have or colleagues may have looked at for a long period of time. When we go down one path when there is really another path that might get something done. So I actually enjoy traveling for production and I enjoy being on shows now where you know you have five, six, seven hundred, even more of those movies that have two and three thousand shots. You have to involve companies all over the world in order to get them done, and that's a challenge, but it's a good one.
As Ray said, challenge helps us to step forward. Looking forward to more possibilities of CG creations.
---
Interview with Junliang Zhang, Creator of the Game Scenes Project CyberNeon
At SIGGRAPH 2019, Fox Renderfarm had an interview with the talented Mr. Junliang Zhang, Creator of the Game Scenes Project CyberNeon, in UE4. He is also a 2BLACKDOT Lighting Artist, and Arts Technology Graduate Student at the University of Utah. He started from scratch and finished this incredible project all on his own. During the interview, he shared his inspiration and experience with us. Thanks to Junliang Zhang.
Fox Renderfarm: What is your inspiration for starting this project?
Mr. Junliang Zhang: The Cyberpunk Chinese city project--CyberNeon is one of my biggest individual projects. It is also a project created all by myself. The reason why I created this project is that I watched the movie Blade Runner 2049. This movie has left a great impression on me. Blade Runner is one of the first works which created a Cyberpunk scene and has thrilled me a lot. Blade Runner 2049 depicted a Cyberpunk-styled Los Angeles, so I decided to make a Chinese version, which was unprecedented in China. It seemed unique and cool.
Fox Renderfarm: How did you create CyberNeon?
Mr. Junliang Zhang: It was in October 2017, my first step was to find some references and made a Mood Board. After creating the Mood Board and collecting some references, I went outdoors to shoot some materials. Then, I tried to make a nice composition, and I spent a long period of time to create the composition. According to the composition, some Shaders were made, and the Pipeline was finished. Because without the completion of Pipeline, later things cannot be done according to standards to make other objects and other procedures. The first procedure I did is to Block-Out all the scenes and models into one Maya file and to export them respectively into UE4, in order to adjust the composition, to adjust the lighting and to design the lighting. Then I added all the fog effects and particle effects without any textures. All were white models in order to make myself clear about what I had seen at first sight. For the establishment of structures and compositions, I had modified and adjusted more than 100 times over and over again for nearly 2 to 3 months. By adding step by step, in February 2018, one building is finished--the modeling and textures. All the architectural models were made by Modular, built modulizedly like making LEGO. For the large scale of the scene, most shared things were used, art materials were created in the modulized way. After the creation of the art materials, I set about the lighting. For the lighting, I had referred to a lot of Cyberpunk style materials online, and had tried various ways of lighting. During the project, I didn't set any deadline to myself. All I did was making what I could do as perfect as possible. I didn't give myself any time limit for completion, that's why this project took a year and a half.
Fox Renderfarm: What's the most challenging part of the creation?
Mr. Junliang Zhang: The most challenging part is the lighting. It is difficult for computer performance, which is the main reason. Creating an open world with such a big scene will cause a huge performance loss. I had tried multiple techniques to improve the lighting and models. At that time, I didn't have enough knowledge about all these technologies, so I tried to find many references, continually worked on the improvement, and finally made it to FPS 60.
Fox Renderfarm: What are the things your interest leads you to persist doing?
Mr. Junliang Zhang: I've always wanted to make something really sophisticated and advanced. Because there are many advanced tools have been developed. Many of them are really powerful, like Substance, Quixel, which enable us to make the game environment photorealistic, also with the help of the powerful engines, all kinds of Real-time and all kinds of ray tracing technologies. Speaking of the things I persevere with, interest is always the best teacher. With powerful tools and strong interest, I keep on learning new things and keep on applying what I've learned into work and life.
Fox Renderfarm: What are the technological requirements to become an environment artist?
Mr. Junliang Zhang: To improve my personal capacity, I've collected many books about architecture. If you are creating a scene, you need to acquire a deep understanding of its structure first. Because the architectural styles vary at different times, I have a collection of encyclopedias on my shelves about architecture, like architectural structure which is very helpful when dealing with 3D modeling. No matter the Middle Ages ancient architectural style, the contemporary architectural style of the ancient Greek architectural style, they are all different. Nature is the best teacher. As an environment designer, the real world is the best inspiration source. If you are designing a scene, you'd better travel around, and to experience nature, which is great. You will learn a lot from it, and can also apply them to your life, apply them to your game design, apply them to the architectural visual effects and so forth. For our life is influenced by the environment.
Fox Renderfarm: Have you ever heard of Fox Renderfarm?
Mr. Junliang Zhang: Sure! The Wandering Earth is one of my favorite movies and it is rendered by Fox Renderfarm.
Fox Renderfarm: Any other things you want to share with the CG enthusiasts?
Mr. Junliang Zhang: If you are keen on something, try to do it as good as you can, and don't ever regret. It doesn't matter if there is a failure, we can start over again. Like the Kyoto Animation accident, though it's very heartbreaking to have lost so many talents. It could still be rebuilt, even though it is such a pity. Kyoto Animation is my youth, I have been deeply influenced by Japanese animation since I was little. I love watching Japanese animation and Japanese works, which have a huge impact on me. I believe that difficulties and struggles in this industry don't matter, what we need to do is, no matter how big the difficulty we are facing now, we work on the things at hand and in future step by step to bring out the best.
---
Interview With The Volunteers Of SIGGRAPH 2019
On 31 July - 1 Aug, Fox Renderfarm was exhibiting at SIGGRAPH 2019. During the exhibition, we had an interview with two passionate volunteers of SIGGRAPH 2019, Ellie Metzelaar and David Eagan. As the representatives of CG enthusiasts, they shared the experience of their CG works and the evaluation of Fox Renderfarm.
Fox Renderfarm: Have you ever heard of Fox Renderfarm?
Ellie: Yes, I have, actually. I was working with a team on a short film, and we were rendering on the personal computers, and we realized that we wouldn't finish the rendering with our own computers on time. So we actually, one of the people in my team, he used Fox Renderfarm, and we actually used it to finish the project on time for the deadline. So, thank you!
David: Fox Renderfarm provided students at SIGGRAPH with free rendering time and service, so with a few projects that I wanna use to render on their service.
Fox Renderfarm: Will you recommend Fox Renderfarm to your friends?
Ellie: Yes, if you don't have a very expensive computer, or your expensive computers aren't gonna finish things on time. I will definitely recommend. It's crucial to get your renders done on time.
David: We don't all have supercomputers or renderfarms at disposal.
Here's the interview between Fox Renderfarm and two volunteers.
Check here and know more about them.
Ellie's demo reel: http://elliemetz.com/ David's demo reel: https://www.youtube.com/watch?v=xQY4hv8ttSo
---
An Amazing Dragon Ball 3D Animation Project Supported By Fox Renderfarm
A group of international CG artists, who are also the fans of Dragon Ball, one of the most successful manga and anime series of all time, decided to make a project about the anime on their free time.
The nonprofit project, Dragon Ball Z Legacy, supported by , is going to be a 3D animation video clip featuring some of the best manga and animated moments. They said, if this project earns money, all the money will be donated to an international association for children with cancer.
Fox Renderfarm has been committed to supporting public welfare project, such as the Dragon Ball Z Legacy. While supporting more CG artists, we hope to make more contributions to society.
The characters of Dragon Ball Z Legacy
You can check the and know more about the characters.
It is our honor to have an interview with the team leader, Olivier Schmitt. Moreover, Olivier shares us with the making of the project and production experience.
Here's the interview between Fox RenderFarm and Olivier Schmitt.
Fox Renderfarm: Could you please introduce yourself?
Olivier Schmitt: Hello, I'm Olivier Schmitt, I'm French, I'm a CG artist for 12 years, I've studied 3D animation in Paris for 4 years, at Lisaa and Les Gobelins. I work in China in Beijing for 3 years, as a CG artist supervisor.
Fox Renderfarm: When did you begin to like Dragon Ball? And which is your favorite character?
Olivier Schmitt: I started to watch Dragon ball in 1989 when I was 8 years old. I don't have a favorite character, each one is special and has its own specificity, for example, I like Goku when he arrived late and came to save his friends, I like Krillin when he fight with Cell for saving a mother with her daughter, or when he uses the Kienzan. Vegeta he sacrificed his life to try to kill Buu, etc..
Fox RenderFarm: Does Dragon Ball have any impact on your life and career?
Olivier Schmitt: Yes, Dragon Ball influenced me a lot. When I was a young student I drew Dragon Ball many times, step by step I tried to improve my level and push me always to be better. And I think that helped me to take the decision to start art school and do 3D animation and be here now.
Fox RenderFarm: What's your original intention of creating the team project?
Olivier Schmitt: The original intention of me and my team, is to create a very beautiful 3D animation of Dragon Ball Z. To take big pleasure to create this Fan video, and give pleasure to the peoples who will watch it.
Fox RenderFarm: What is the story of the team project? And what do you want to express through the work? 30 Dragon Ball characters are selected, any reasons why you choose them in your work?
Olivier Schmitt: The story is to recreate between on 3 and 4 minutes a video clip with many of the best moments of the Dbz action. The thing we want to express is to have chills to do this job and give chills to the audience who will watch the video. The 30 characters selected, are all characters who have influenced the most the story of Dragon Ball Z.
The concept of Dragon Ball Z Legacy
Fox RenderFarm: As for the character modeling design, will you innovate or restore the original version?
Olivier Schmitt: For the characters, we keep the original design version with some small changes.
The character designs of Dragon Ball Z Legacy
Fox RenderFarm: Any software and plugins you use for the project?
Olivier Schmitt: For do this project we use much software: the base is Maya, and we use, Zbrush, Wrap 3, Photoshop, Substance designer, Mari, V-ray for the renders, Houdini, Nuke, Premiere, After effect.
Fox RenderFarm: Artists who are also Dragon Ball fans, how did you call them together? How many team members now? Could you introduce a bit about your team members?
Olivier Schmitt: Yes, all the artists who work on this project are all Fan of DBZ, I think we need it because it's a big work and long project, needs to be a passion. There are around 60 artists, some of whom work to ILM or MPC, and some other big studios.
*Here's a credit work of the peoples work on the project:
Gonza Estay: Polunga, Fat Buu
David Ruiz: Gohan ss2, Perfect Cell, Goku
Lim Philippe: goten
Jose Roa: Majin buu
Emilio Jose Dominguez Calvo: C18
Sarah Clippe Petruzzi: Trunks
Luís Figueiredo: concept character
Narupiti Harunsong: concept city war
Romain Caudron: Nappa
Melvin Okoronkwo: Krillin
Jose Carrasco: Freezer V3
André de Souza: Kid buu
Gael Roulin: concept character
Anthony Amorose: concept character
Frankino Lupo: TD hair
Laurent Merceau: Rigging
Olivier Schmitt : Director*
Fox RenderFarm: Your team members come from all over the world, so how do you communicate during the creation? Any difficulties? How to solve it?
Olivier Schmitt: I created a secret Facebook group and I included step by step all the artists who want to join the project. This is more easy to show where I wish the project takes direction and can communicate all together. And if I need to say some specific things to an artist I communicate with Facebook messenger, or by email. In fact the master word is "patience". Because all of us we do this project on us spend time, during the day we all have our jobs which take a long time of our day, and when we back home sometimes we are tired of being front a computer again. And I really understand about this, so we work all on our own speed, and can take time. But for now, we not really meet difficulty, because we are professional and we know in advance what kind of problems we will meet and we try to fix them before is coming.
Fox RenderFarm: Have you received any favorable comments or suggestions after posting your works on the Internet?
Olivier Schmitt: Yes, I posted some images of the characters on Facebook and generally more than 3/4 of peoples like what we did, and we already got an interview on a French website of 3D animation and we received a favorable reception, and even after that we had some artists join the project after reading the article.
Fox RenderFarm: When is the work expected to be completed? Do you plan to create a longer video or film in the future?
Olivier Schmitt: I hope we finish this video in around 18 months, but is not guaranteed, it will depend on each artist the time he will devote to this project. Yes, I love very much Dragon ball, and my big dream is to create 4 movies for the cinema on 3D animation. When the project is done I hope to have the opportunity the show the video to Toei animation and we can talk about this project and have the license to create it.
Fox RenderFarm: Any interesting stories happened during your project making?
Olivier Schmitt: In fact for this project I communicate a lot with all the artists, some of them every day, but I never meet them in real, some I don't know how they look like, maybe I can cross them on the street, and don't know them, whom I talk with every day. And this project allowed me to get in touch with many talented artists and I'm very proud of this.
Fox RenderFarm: Have you heard of Fox Renderfarm before? Where and how? Have you used our service before? How do you like it?
Olivier Schmitt: I heard Fox RenderFarm from Linkedin, and I get touch with Anthony who works on your company. It's the first time I work with a I created by myself in the company. And the first time I use Fox Renderfarm, I find it's so easy to use, have a tutorial which explains very clearly step by step how to use it, so is very easy.
Fox RenderFarm: Any other things you want to share with the audience from the CG industry or CG enthusiasts?
Olivier Schmitt: Yes, as I said we do this project for us because we love Dragon Ball, and we want to share with peoples this project, we really want people to take big pleasure to watch it. And we all agree that if this project brings any money, all of this money will be given to an international association for kids who have cancer. We wish that all the children of the world could have the chance like us when we were young to get up in the morning in a good mood because you knew that you would see one or two episodes of Dragon Ball on television. For my part, during the summer holidays with my cousins we woke up every morning before 9 a.m. to watch Dragon Ball, and it was magical :). And finally, I wish to say if any artist loves dragon ball like us and wish to participate in this project he is welcome to contact me. They can contact me on the Facebook page: https://www.facebook.com/dbzLegacyTeam
What's more, Olivier Schmitt also share the steps for how they made Goku for the project of Dragon Ball Z Legacy. Here we can see how Goku cone into being. 1. Firstly, Luis Figueiredo make a concept, and he designed an amazing Goku:
When the concept was done, David Ruiz make a sculpture on Zbrush of Goku and he gave this very fast and good:
After from this sculpt who was on very high polygon around 6 million polygons we applied on him a base mesh of around 5000 polygons for be on low poly and include rigging, for put the low resolution to the high we used Wrap3:
And to create the textures we use Substance painter:

And we can extract this differents map:
This different maps we apply them on the ALshader on Maya on the Hypershade:
For finally have this result on low poly:
And from here we can apply the Rigging, we use Advanced skeleton as a base Rigging we optimize for this project:
For the cloth we use almost the same way, we go to substance painter to do the texture and extract these maps:
And have this result:
Finally, we have the Goku with the cloth:
We all expect that Dragon Ball Legacy will be an amazing 3D animation video, especially for the Dragon Ball fans.
---
Cuteness Overload! Interview With The Champion Of The CG Boost Cute Warrior Challenge
On July 3, 2019, the CG Boost Cute Warrior Challenge, which sponsored by Fox Renderfarm, announced the final list of winners. There were 128 accepted submissions and so many cute, funny and also weird characters for the Cute Warrior Challenge. Congratulations to 11 entries with the most votes by the jury. Fox Renderfarm also had an interview with the Champion, Kenji Aito, a funny and creative CG artist.
First place: Teddy The Halberdier Bear by Kenji Aito What the jury says: Chris Plush: Extremely well executed idea in all aspects. Great armor and weapon design, and awesome attention to detail especially on the fur being worn down in some areas.
Aidy Burrows: Nice clear and readable character! Liking the semi-realistic super clean rendering style too. Nice design on the armor – holes for the ears for example and subtle but effective details! 
Gregory Smith: This is a great entry; it hits the topic perfectly, and the technical execution is excellent. The presentation is clear and readable, whilst the attention to detail gives it that extra visual interest.
Ebrahim Umar-Khitab: The accuracy of that grim expression has done me in! Great work.
Lukas Walzer: This piece stands out as being technically incredibly well done. Modeling, fur, texturing and posing are top-notch!
Marius Iatan: his little guy checks all the boxes, down to the pin that holds the bandage. Has the right attitude, too. Very nice character!
Julien Kaspar: There clearly has been a lot of focus on polishing the character itself. This is the one I found myself looking at the most, looking at the details as well as the broader decisions of for the character model. Also, really great grooming and materials throughout!
Zacharias Reinhardt: This plushy character has probably the best technical execution I saw in this challenge. From the great looking metal, the perfect looking fur with the worn out spots, down to all the fine details, everything very well executed. A good dynamic pose and a proper lighting shows the character in fully glory. The only thing I wished here, would have been to see this little guy in an environment with a bit more storytelling context.
Here's the interview between Fox Renderfarm and Kenji Aito. Fox Renderfarm: Hi Kenji Aito, would you please give a brief introduction about yourself?
Kenji Aito: Hi, I'm Kenji from Japan (but I'm from France originally). I started to study CG seriously one year ago during my spare time with Blender, that I fell in love with. I still have much to learn and I think it is necessary to keep learning forever in CG (because software evolution is FAST! and so much more accessible than 10 years ago!) Now I wish I can work in the CG industry and well. I'm potentially open to opportunities! Meanwhile, I will keep improving both the technical and artistic sides of CG!
Fox Renderfarm: What inspired you to come out the idea of making the work "Teddy The Halberdier Bear"?
Kenji Aito: Well.. all right... First I was re-watching from scratch Game of Thrones... preparing myself for the LAST season. So, I could see all those nice armors, helmets.. pike axes.. halberd... Then the CGBoost challenge "cute warrior" came up and I was not even sure I will try something (I also join the challenge just before this one but ended up 4th). I gave some consideration to it and... I just thought "Halberdier bear"; sounds funny... and that was it! I was on! Honestly, I was not even sure I will have time to finish my artwork!
Fox Renderfarm: How long did it take you to finish the work? And which part took the most time? Why?
Kenji Aito: Approximately half a day to a day... but it's hard to keep count. Since I have a job I can only work on CG at night, and as I said, I was watching Game of Thrones too! So I think I worked 1.5 hours per day on average, for a bunch of days. The part that took the most time is certainly the fur... I was really not sure what kind of fur will look cool. And since I wanted to be sure, I was doing test renders often... Also, I did not optimize the particles systems at first, so my GPU was too short on memory, and I was rendering on the CPU. So the whole tweaking process took time. As the armor it was fast: for example, the weapon was modeled in 15 min, and shading took something like 20 min.
Fox Renderfarm: What software, renderers, plugins did you use in this work?
Kenji Aito: Blender 3D as my main 3D package! The character was modeling with Blender sculpting mode.. retopology with Instant Meshes! Cycles as render. Everything was made without plugins in Blender actually. But for the armor shaders, I used Substance Painter.
Work-In-Progress
Fox Renderfarm: The jury praises your "awesome attention to detail" in this work, how did you deal with the details?
Kenji Aito: With love! Always... I think I'm addicted to details. Maybe it's a good thing, but it could be a bad thing too... because when I focus too many details I might forget the "big picture", such as storytelling, the overall balance of shapes and color, proportions... Though, I always try to start with simple shapes down to smaller ones... My workflow is very iterative, and feels like going through the history of CGs: decades ago everything was made a few polys but people were already trying to make attractive shapes, profiles, and silhouettes. Then, as software and hardware got better, the same base ideas with more details came to life. The only issue is that it's time-consuming, so you'd better find a "smart/lazy" workflow to quickly add all those yummy details. But also, one must be careful not to saturate with extra small details, otherwise, the audience will be lost. And that, I have to work on it... I guess.
Fox Renderfarm: What has satisfied you most about this work?
Kenji Aito: Well, it was my first 3D character! so I was happy with the result. I don't think I have many skills for characters design... because I should learn to sketch/draw properly for that, study anatomy and all that... But anyway, I think I was happy with the workflow because even though it was my first character, I did not have to check online what to do... It was only me, my Blender and my Pureref (to organize my references)
Fox Renderfarm: Did you meet any difficulties when creating this work? And how did you solve it?
Kenji Aito: Honestly, not really. And I was happy about that. Everything went smooth and only the tweaking of the fur was time-consuming. I should have probably tweaked all that in a separated scene with less fur and smaller geometry.
Fox Renderfarm: Did you use Fox Renderfarm service previously? If yes, would you share your ideas about us?
Kenji Aito: No! not yet. But I was thinking about turntables renders in the near future. For my next personal project, I want to make very photorealistic stuff... and a turntable with Cycles would be great. I know, everyone will say " why not EEVEE?!" but well, I want to try your services and I do love raytracing!!
Fox Renderfarm: How long have you been in the CG industry? Do you have any recommendable learning methods to improve professional skills?
Kenji Aito: Well, I'm not a professional but I wish to become one! and make my living with it! Learning methods: well, Blender is awesome and the community is top notch. so many resources are free and of quality... I was really surprised. There are some people making real art with Blender and I think it's great to learn from them. Also, it's always good to look at more classic art: I am very interested into painting theory.. lightning... and all those things that bring life to a piece of paper (or screen!). So I recommend to everyone not to just focus on the theory of 3D, but also go out and learn about art in general: "how to make a good composition" "the art of color matching" and so on... It takes time but I think it's worth it. If I can become a CG professional I will definitely find the time to study all that and I hope I can show it makes a real difference.
Fox Renderfarm: Anything else you would like to share with CG enthusiasts?
Kenji Aito: Contact me if you want to work with me :) My motivation is burning! Now that I start to have some tools at my disposal and know how to use them... I have so many ideas I don't know where to start!!!
You can visit Kenji Aito's Artstation here. (https://www.artstation.com/kenji-art )
To see more entries of Cute Warrior Challenge, please check here. (https://cgboost.com/cute-warrior-challenge-winners/?tdsourcetag=s_pcqq_aiomsg)
---
Key Words
VFX
|
Upin & Ipin
|
Green Book
|
Fox Renderfarm Interview
|
Mission Mangal
|
Kre8tif!
|
Fox Renderfarm Mini Program
|
CG
|
Florian Renner
|
CG Tech Summit Malaysia
|
Zhang Yimou
|
CSFF 9th
|
film works
|
cloud rendering
|
Golden Horse Award
|
Shadow
|
SIGGRAPH Asia 2018
|
Morrigan Flebotte
|
VWArtclub Annual *Contest
|
animation works
|
Asswad Mouhamad
|
IMax Studio
|
Interview
|
Boonie Bears
|
Renderosity
|
Renderosity 2018 Holiday Contest
|
Renderosity 2018 Animation Holiday Contest
|
Gary S. Kennedy
|
Evermotion Challenge 2018
|
Brian Beaudry
|
Alita: Battle Angel
|
Bobby Bala
|
Mohit Sanchaniya
|
Katapix Media
|
Flying Car Productions
|
Razer
|
The Shipment
|
FoxRenderfarm
|
CG Tech Summit
|
Alpacalypse Productions
|
halloween
|
Hum3d Survial Car Challenge
|
Federico Ciuffolini
|
Ralf Sczepan
|
Iavor Trifonov
|
Clarisse
|
CGTS Malaysia
|
Isotropix
|
C4D
|
Tomasz Bednarz
|
V-Ray
|
Cinema 4D
|
MAXON
|
siggraph caf
|
Evermotion challenge 2017
|
CGTrader Space Competition
|
Henrik Lein
|
film of the year
|
Le Anh Nhan
|
Planet Unknown
|
Fox Renderfarm 2017 Achievements
|
CSFF
|
Julio Soto
|
boar 2017
|
Deep
|
SIGGRAPH Asia 2017
|
Chris Sun
|
Glass Cage
|
Fox Renderfarm
|
Making Life of Bri' n Chris
|
anthem studios
|
The Rookies
|
Peter Draper
|
Makuta VFX
|
The Rookies 2017
|
Baahubali 2
|
CG Competition
|
hard drive
|
hum3d contest
|
enchantedmob
|
CG Studios
|
Rookies
|
Academy Awards
|
RAYVISION MILESTONES
|
CGTS
|
CGVray
|
weeklycgchallenge
|
SketchUp
|
siggraph 2017
|
Chris Buchal
|
SIGGRAPH Asia
|
LightWave
|
Indigo Renderer
|
Rafael Chies
|
V-Ray RT
|
CPU Rendering
|
NVIDIA Iray
|
Chaos Group
|
OctaneRender
|
Redshift
|
Vray
|
STAR CORE
|
CICAF
|
VR
|
Mr. Hublot
|
Ribbit
|
Blender Cycles
|
GPU Rendering
|
Linux
|
Monkey Island
|
LuxRender
|
HPC
|
Render Farm
|
RAYVISION
|
Life of Bri
|
WORLD LAB
|
Michael Wakelam
|
3D Rendering
|
Online Render Farm
|
Alibaba
|
Baahubali
|
阿里雲
|
VAX
|
Malaysia
|
Aliyun
|
2015 Hangzhou Computing Conference
|
Oscar
|
SIGGRAPH
|
CGTrader
|
Kunming Asia Animation Exhibition
|
Evermotion
|
RenderMan
|
Categories
---
RAYVISION News
---
RAYVISION Projects
---
RAYVISION Lectures
---
CG Challenges
---
Top News
---
Blog
---
Fox News
---
Fox Talk
---
Hot Spots
---
Recent News List
---
Fox Renderfarm, Your TPN Accredited Cloud Render Farm
2019-10-07
---
Interview With Leonard Daly, Creating A New Future Of Websites
2019-09-30
---
對話視效總監李昭樺:從《三生三世十裏桃花》到《宸汐緣》的延續與突破
2019-09-24
---
Global computer-generated animation and visual effects brands to gather at SIGGRAPH Asia 2019
2019-09-20
---
Interview with BoBoiBoy Movie 2, the Highest-grossing Animated Film in Malaysia
2019-09-12
---
"Upin & Ipin" Won The Best Feature Category at ANIMAZE 2019
2019-09-12
---
Green Book VFX Veteran Raymond McIntyre Jr. Shares Production and Careers Insights
2019-08-30
---
Interview with Junliang Zhang, Creator of the Game Scenes Project CyberNeon
2019-08-29
---
Tutorial | Desktop Client Installation (Linux)
2019-08-28
---
Partners
Medias