13-Year of Exciting CG Journey: Introducing FGT Art February Winner, Rahul Venugopal
FGT Art, initiated and organized by Fox Renderfarm, is a program that encourages all Fox Renderfarm users to share their talents and get awarded monthly. We are very pleased to announce that the FGT Art February winner is Rahul Venugopal, who is the creator of the award-winning work Cyberpunk Neo Dharavi, and also an outstanding Matte Painter / Environment TD from Framestore.!FGT ART February Winner 2021Cyberpunk Neo Dharavi © Rahul Venugopal Rahul is a digital matte painter and compositor, who has worked for many fantastic projects including feature films, high-end TV series, TV commercials, and corporate videos. As a well-travelled artist, Rahul has worked in many countries such as Singapore, India, Bulgaria, Turkey, China, United Kingdom, Canada, and the United Arab Emirates.In his 13-year CG journey, he has participated in the production of many famous movies, including Interstellar, The Expendables 2, Olympus Has Fallen, Eega, ect.From the exclusive interview, you can learn about how Rahul created his Cyberpunk artwork and share with us his CG journey.Rahul Venugopal· Environment TD / Matte Painter at Framestore· Specialize in Matte Painting, Environments & Compositing Fox Renderfarm: Hi Rahul, thank you so much for accepting our interview! Could you give us a brief introduction about yourself?Rahul: I am originally from Kochi, India and I have been in the motion pictures and television industry for the past 13 years. I started my career in Singapore and then went on to work as a freelance VFX artist in 8 countries around the world. At the moment, I am working as an Environment TD / Matte Painter at Framestore, Montreal. !rahul-venugopal-stormy-outpostsStormy Outpost © Rahul Venugopal Fox Renderfarm: Congratulations! How do you feel about being the February winner of FGT Art?Rahul: I feel really honoured and excited, this project was really a fun one and I feel great to be honoured by the Fox Renderfarm community. !rahul-venugopal-dmp-349-styleframe-v04 Fox Renderfarm: What's your inspiration for this Cyberpunk artwork "Cyberpunk Neo Dharavi"?Rahul: This started off as a pitch for a client work but later I developed it into my own personal project. My main obvious inspiration for this project was Blade Runner but I wanted to put this scene in a not so distant future and put more relatable elements from the present day. The main idea was to show the division of wealth between state / mega corporations vs the poor section of the society. Also, at the same time show that there is thriving street life culture within slums, possibly infected with crimes, gambling and adult entertainment. !Blade Runner (1982 poster)Blade Runner Fox Renderfarm: We can see that there are some Indian elements in the scene, could you introduce these details and how you design them? Rahul: I wanted to base this city in India and I took modern-day metropolises like Mumbai as an inspiration where rich and poor districts are almost side by side. I took a lot of elements from Mumbai Dharavi Slums and bashed it with Hong Kong-style neon lights but with flavours of Indian brands and local shops signages. Also, I kept a neon signage of Hindu God Ganesha to give this city a distinctive Asian taste. !rahul-venugopal-frame349!rahul-venugopal-frame1 Fox Renderfarm: The composition, modeling and lighting of the work are pretty great, which part satisfied you most? And could you tell us how you make this part?Rahul: Majority of the models are kitbashed from various commercial and non-commercial 3D kitbash sets so I spend the majority of the time developing the look and feel of the city. I am really satisfied by the overall mood. I think I could have made it more hazy to make it more photorealistic but since this was a personal project, I took the freedom to reveal most of the details that I had put into this work. Fox Renderfarm: How long did it take to finish the work? Have you met any difficulties?Rahul: From start to finish, this took about 3 weeks, getting the layout right was obviously a huge task for such a scale and getting the right blend of 3D and 2.5D for the comp was another challenging task towards the end. !rahul-venugopal-ao-pass Fox Renderfarm: Which cyberpunk artwork is your favorite (including movies, games, etc.)?Rahul: The movie 'The Matrix' came out when I was in High School and it just blew my mind and there was no looking back. I knew what I wanted to do for a living and I've been pretty much after VFX ever since. My other influences included Blade Runner, Alien, Terminator 2, Minority Report and Ghost in the Shell. Fox Renderfarm: As an outstanding digital matte painter and compositor, you participated in the production of many movies and TV projects, could you share with us your work experience along your CG journey, any project impressed you most?Rahul: I have enjoyed working each and every project that I have got the opportunity to work on. However, I especially cherish working on Interstellar as a Digital Compositor back in 2014 at DNEG, London. I really enjoyed watching the film and it is one of my all-time favorite movies. !InterstellarInterstellarI also enjoyed a lot working Ad Astra as Lead Digital Matte Painter at Mr.X Montreal. I particularly feel proud about my work in Ad Astra since I was able to contribute to the look and feel of the entire opening sequence where we see Earth from eighty thousand feet above the atmosphere. !rahul-venugopal-adastra-mrx-itw-01a!rahul-venugopal-adastra-mrx-itw-01b!rahul-venugopal-adastra-mrx-itw-02a!rahul-venugopal-adastra-mrx-itw-02b!rahul-venugopal-adastra-mrx-itw-08a!rahul-venugopal-adastra-mrx-itw-08b!rahul-venugopal-adastra-mrx-itw-05a!rahul-venugopal-adastra-mrx-itw-05b!rahul-venugopal-adastra-mrx-itw-03aAd Astra Earth Opening Environment Sequence Fox Renderfarm: How do you feel about Fox Renderfarm cloud rendering services?Rahul: I was amazed how easy and efficient Fox Renderfarm was even for first-time users and the support I received from your customer care team was top-notch. I think moving forward, I have more confidence to use more 3D and less of 2.5D with the help of Fox Renderfarm :) Fox Renderfarm: Any other things you want to share with the CG enthusiasts?Rahul: It is really exciting times for CG development now, especially with services like Fox Renderfarm which is easily accessible for any artists around the globe. There is no limitation to what you can achieve and I am really excited about what you guys will create since as artists we feed off from each other when it comes to inspiration. !rahul-venugopal-abandonedAbandoned © Rahul VenugopalArtstation: https://www.artstation.com/metalrahul
---
How to Make an Appealing Snow Fairy in Blender
!CG BOOSTBesides Olaf, Yeti and Sid, what can you think of when it comes to snow creatures? Jesse Amiel Gayanilo, an engineering student from Philippines, amazed the judges and won 1st place in the Snow Creature Challenge, which was sponsored by the TPN-Accredited cloud render farm, Fox Renderfarm.The snow fairy he created demonstrates the anatomy beauty of muscle and bones. Along with its color use and composition, the consistency makes his artwork stand out in this challenge. However, the creation process is not an easy one. We are glad to have an interview with him where we could hear about how he made it from sketching in Blender with a limited amount of time. - Jesse Amiel Gayanilo- Engineering student- From: PhilippinesSnow Creature © Jesse Amiel GayaniloArtwork Caption: Just a simple scene of a snow fairy chilling.Jesse Amiel Gayanilo, "At first, my idea was to create some sort of winter wolf in a forest, but after a while, I have a difficulty in making it before the time, then I decided to make a way smaller scene, a snow fairy on a frosty leaf, which is around 4 days before the deadline, so I have to make the scene simple, stylized, and keep only the essential stuff like gesture, form, value, and composition.I also didn't have time to create the fairy in the usual way we create characters, so I sculpted the fairy already posed, retopo it in Instant Meshes, and then adding more stuff (the muscles, bony landmarks, etc) and tweaking back in Blender.**I learned a lot in this challenge. It gave me the opportunity to apply my recently acquired anatomy knowledge into 3D sculpting."Snow Creature was created using Blender 2.91 (EEVEE) and Instant Meshes.Clay render © Jesse Amiel Gayanilo Fox Renderfarm: Hi Jesse, thank you so much for accepting our interview! Could you give us a brief introduction about yourself?Jesse: Hello, I am Jesse Amiel D. Gayanilo, currently an Engineering student, living here in the Philippines. Fox Renderfarm: How do you feel about winning the CG Boost Snow Creature Challenge?Jesse: I feel very accomplished, having to finally win first place after many years of joining CG Boost challenges. Fox Renderfarm: What's your inspiration for this amazing work?Jesse: My entry was inspired by Nikita Veprikov's artworks. I like his designs because it looks very clean, and gives importance to the basic forms and plane changes. Her pose was inspired by one of Follygon's artworks while searching for tutorials on YouTube on sculpting stylized humans. I like the pose in his artwork because it looks so chill, and relaxed.© Nikita Veprikov© Follygon Fox Renderfarm: The snow fairy is terrific. Could you tell us how you designed and modeled it?Jesse: For the design of the fairy, I basically took the design of a human, and then emphasized its muscle borders, and bony landmarks, to make it look kind of like the exoskeleton of an insect. Also I placed the wings on her waist because putting it on the usual place, which is around the scapular, will cover the muscles on her back and the spine, which I think are interesting details of the human anatomy, and is one of the main focus of the artwork. It is also inspired by some designs of Angels, Demons, and some fictional characters, like Morrigan from the video game series Darkstalkers, or Morgana from the video game League of Legends, where their wings are placed on their waist instead of on their backs. First, I sketched the pose for the fairy in Krita.!sketch - Snow Creature © Jesse Amiel GayaniloNext, in Blender, I modeled the basic forms of the fairy, but it's already posing, so that I don't have to rig it.!rig - Snow Creature © Jesse Amiel GayaniloNext, I sculpted the secondary details. I used a small resolution to sculpt big forms to avoid unnecessary details. I mostly use the grab, smooth, and inflate/deflate brush. Sometimes crease or pinch brush to sculpt plane changes. Then I retopologized it in Instant Meshes.!sculpt - Snow Creature © Jesse Amiel GayaniloNext, I added the muscles and bony landmarks. The muscles and bony landmarks are all separated objects. They are all just basic objects (round cubes, long and slender round cubes, planes with solidify and shrinkwrap modifiers, the ribs and spine are vertices applied with skin modifiers, etc.) sculpted into the shape of that individual muscle/bony landmark, no dyntopo, only grab and inflate/deflate sculpt brush. I only added these details to parts only seen by the viewer.!Snow Creature © Jesse Amiel GayaniloHer dreadlocks are a single hair particle system, combed, and then converted to curves so that I can twist each strand, and also add a custom bevel to it. Fox Renderfarm: The jury appreciated the lighting and color use, and could you introduce how you made it?Jesse: In this artwork, I am trying to achieve a simplistic, non-photorealistic art style. The lighting is a single area lamp on top of her, and the world lighting is a simple gradient texture. The materials are all principled shaders. The fairy only has one image texture for the subtle colors on her. The leaf is a bit more complex, it has a vertex color as a frost map, or a map to separate the most frozen part of the leaf around its edges, and the least frozen part, around the center. This map is then overlaid with a procedural voronoi texture to try to create that crystal like appearance. The leaf and the twig are principled shaders mixed with a glossy shader with very high roughness, to try to create the frosty/cold/kind of velvet appearance.The rest of the objects are simpler shaders with a principled shader and a procedural texture, some don't even have textures at all, like the frosts crystals, only a white principled shader with random alpha. Fox Renderfarm: How long did it take you to finish the work? Did you meet any difficulties?Jesse: At first, I wanted to create some sort of Eldritch hound in a dead winter setting. I really liked the idea, but after sculpting it, I find it difficult to create a natural pose for the hound, and build the image composition from it. Plus I still have to build a large environment. I already have put a considerable amount of time and effort into it, but I don't feel like it's going to go well. Should I continue? Or start again from scratch? This was the difficulty I met.But when I looked at the net for some inspiration, I found Nikita Veprikov and Follygon's artworks, which inspired me to create a new artwork. With less than 5 days, I decided to create a new artwork, but only keep it simple, and not too photorealistic. I try to emphasize my artwork with its basic, organic forms. Fox Renderfarm: How long have you been learning Blender? For you, what advantages does Blender have in CG creation?Jesse: I started learning Blender when it was still version 2.74, so it was around 2015. Between those years and now, I join online competitions, and learn Blender at the same time. For me, the advantages of Blender are it is Free and open source. It may not have the best features, but it has most features that I will need, which means it is the best CG software for beginners. Since it is free, a lot of people can use it. I see that it also has a very large community, where people can teach each other. Since it is open source, a lot of people can improve Blender on their own. I also see that it has lots of addons created by the community, and some of the best ones are officially applied to Blender, further improving Blender. Plus, a number of companies started supporting Blender. All the support pushes Blender to keep improving. Fox Renderfarm: As a student, how do you do to improve your CG skills in your spare time?Jesse: For me, drawing is very useful in creating CG art, especially for creating characters. I improve my skills by studying the fundamental drawing skills, like drawing basic shapes, perspective, 3D forms, gesture drawing, etc. Quality of life is also very important. I try to improve it by getting proper sleep, food, and fluids, and exercise. Aim to be healthy. This way, my mind can be in a good state, which will help me in managing my time. Giant Samurai Rampages © Jesse Amiel Gayanilo- Artstation: https://www.artstation.com/jcg
---
Call For Submissions: FGT3D 'Hero' Challenge
FGT3D 'Hero' Challenge is now open for submissions! We would like to invite CG artists around the world to submit their artworks and show their CG talents and originality.Fox's Got Talent 3D Challenge (hereinafter, "FGT3D" or "FGT3D Challenge") is a 3D Rendering Challenge curated and organized by Fox Renderfarm, which aims to provide a platform for creators to improve their CG skills, shine their talents and get the chance to win the great prizes.The theme of the 2nd FGT3D Challenge is 'Hero'. Have you ever imagined the shape of Heroes? What hero looks like in your mind, set your imagination free, create a 3D render, and tell us your Hero story!TimeTime for entries:June 22nd - September 6th, 2020 (UTC+8)Winners announcement time:September 10th, 2020 (UTC+8)Prizes3 artworks will be selected and awarded!!FGT3D Hero Challenge PrizesBesides, the winning artworks will gain a great amount of exposure and publicity, including:- Interview with Fox Renderfarm- Advertisement and promotion on our official website, social media accounts, and newsletters.How to submit Send your artwork to fgt3d@foxrenderfarm.com with your name and the description of the work.Rules- Your entry must relate to the challenge's theme (we strongly encourage you to set your imagination free)- Your entry must be a 3D rendered image - Your entry can be created by one artist or a group- There's no limitation on styles and the choices of software and plugins- Your entry must be original art created specifically for the challenge (no existing projects)- Minimal use of third party assets is allowed, as long as they are not the main focus of your scene (third party textures and materials are not included in this rule and can be used freely)- No fanart allowed- Feel free to enhance your rendering- Images that depict hate, racism, sexism or other discriminatory factors are not allowed- Works must be submitted before the deadlineSponsorsThe prizes are provided by our awesome sponsors.!FGT3D-Hero-ChallengeFox-Render-Farm 03We are looking forward to your participation. Come to shine your talent and loads of prizes are waiting for you!
---
Street Musician Reindeer Made in Blender: Sprinkle Some Fun in Character
!CG BOOSTSpeaking of reindeer, your first impression might be the ones pulling the sledge for Santa. Whereas, artists set their imagination free in the CGBoost "Reindeer" challenge which is sponsored by the TPN-accredited cloud render farm, Fox Renderfarm. Besides all the cute creatures made by the artists, there's one that the audience can't take their eyes off, a punk-style reindeer with one leg on the stool, playing his guitar and humming alone. !CGBoost "Reindeer"You must want to know who's the great mind behind, how he thought of the ideas making a street musician reindeer, what software and plugins he used, and how he made it possible step by step. Let's introduce the creator, Dante Resendez Delgado, 3rd prize winner in the challenge. And his exclusive interview with Fox Renderfarm shares more than just his creation process. Let's dive in and enjoy!- Dante Resendez Delgado- 3D ArtistFox Renderfarm: Hi, Dante! Thank you so much for accepting our interview. Could you please give a brief introduction about yourself?Dante: Hello there, thanks for this interview, my name is Dante Resendez Delgado I call myself on social media "Mycro Tr Ct". I'm a Mexican 3D artist, born in Victoria city, and I live and work in Monterrey. I have been working for about 10 years as a 3D artist, and for about 6 years working as a 2D digital artist, doing graphic design and illustration. Most of my artworks are for advertising. In 2006, I had the opportunity to travel out of Mexico and live in Canada. Because I have the intention to learn 3D animation, that goal happened after two years when I went to Spain and learned 3D. It was a very difficult journey.Since then, I have been working in 3D for advertising doing a mix of 2D and 3D. Artworks by Dante Fox Renderfarm: How do you feel about winning the 3rd prize in the CG Boost "Reindeer" Challenge?Dante: So excited to win the challenge, I got the third place but I celebrated as I was winning the first prize. For me, getting that place was an honor, also having the chance to meet people who are better than me and have a strong background in the 3D world gives me more confidence.Participating in challenges pushes my work in a better way. I learned to work faster and learned new techniques. In this case, I was working with particles for the first time in Blender and depth of field, also some hair fur, Quixel Mixer and Graswald.!Reindeer DanteFox Renderfarm: The reindeer has a very strong characteristic. What's your inspiration for this picture of the cute reindeer?Dante: My inspiration came from Vancouver, I've been there before and remembered my Granville walks listening to the music on the street where traveler musicians playing for tips and asking for changes to continue their traveling, some of them are really good ones, those rebel and free souls are really good inspiration topics.!Reindeer DanteFox Renderfarm: We found the texture of the reindeer quite sophisticated, and different parts have a different texture. Could you tell us the creative process of the reindeer?Dante: Yes I will. First, I had two words in my mind, do it simple and fast, I was only able to spend 6 days, no more than 8, because I have a full-time job. I could spend only nights, and Christmas vacation was coming. So I was making it easy on the planning, the idea, and also the production.I wanted the reindeer to look like a stuffed toy. I went for square pattern textures to make a flannel shirt, and I found a good texture on google for free, that was for the shirt. For the skin, I used a normal map of a fabric texture I found on CCO textures and put in the node just to add volume. And also I used hair fur on the skin to help the texture look better. On the jeans, I did almost the same, but there I just corrected the color of the diffuse textures.I did not complicate workflow because of the time, the most important thing for me was to have the color palette clear in my mind, that was the most important guide to lighting and texture as the scene for me.!Dante ReindeerFox Renderfarm: The lighting merges cold and warm together.How did you set the lighting? And any ideas behind that?Dante: Technically, I used 3 light areas and one point to support the backlight. Area lights let me have more control over the scene, easy to get contrast on areas. I also used a very easy HDRI on the strength I got from the HDRI heaven. In my setting renders, I used a volume scatter node connected to the world that let me blur the particles. I like to spend time playing with lamps, just play and see, if I like what I see that's fine. For sure I'm always looking for good contrast and layers on the composition, also have in my mind what makes the sense on the character and the situation he is living on the scene. In this case, Reindeer is a nostalgic traveler character, a free soul who is going around the world with no worries. Some ideas came into my mind because my initial idea was to make a talented character who is discovered by a Santa Claus talent scout. !Dante Reindeer 1Fox Renderfarm: How long did it take to finish the artwork?Dante: It took me 6 to no more than 8 nights after my job. Fox Renderfarm: What software and plugins did you use?Dante: I used Blender 2.81 rendered with Eevee, I also used Graswald and Quixel Mixer textures for the floor and background, and some color corrections in Photoshop.!Quixel MixerFox Renderfarm: When and how did you come up with the idea of entering the 3D industry? Dante: I was sure to start when I was a little kid, and that was just the idea to work in something related to art and entertainment, like animation or movies. I liked to watch cartoons like Hanna Barbera, Popeye, Looney Tunes... I always like to draw cartoons and I grew up with all that inspiration. Cartoons by Hanna Barbera (Image via IMDb)!Popeye the SailorPopeye the Sailor (Image via Google)!Looney TunesLooney Tunes (Image via Google)Then I became a little older and I knew about a school called CalArts (California Institute of the Arts), then I found The Kubert School and VanArts (Vancouver Institute of Media Arts), they teach people how to draw comics and make animation movies. Wow!!! I remember sending letters written by hand in Spanish, asking for information when I was a teenager. But especially in 3D, it was when I saw Toy Story 1, that was the biggest inspiration and the first.!Toy Story 1Toy Story 1 (Image via IMDb)Fox Renderfarm: Could you share with us your education and work experience along the 3D journey?Dante: For sure, I was studying 3D animation in Barcelona on IDEC, the university of Pompeu Fabra, they have a program and teach you animation and 3D. Students end up doing a short film, like preproduction and production, and you learn a lot from it. But for some people who don't know anything about 3D, if you are thinking about doing a short film in 3D, you have to be a very organized person and do a good planning, and there are more things to do if you wanna make it right and have good results, this is my personal opinion.I was studying really hard but I had a very failed result with my final project. That put me in another direction, I started to do more hard work, study and discipline myself to practice and improve my skills.!Artworks made by Dante in 2009Artworks made by Dante in 2009Experience in work, well, I started working as an illustrator during my study in graphic design. After my graduation, I kept working in the same direction, and during my free time, I worked on my own projects. I have two projects published by Pictoplasma (Berlin, 2006). The Pictoplasma Encyclopedia Character and Rabbit Essence poster. I also had the opportunity to collaborate on projects, some of which won prizes around the world. I did the concept art for the image of a school of design in Saltillo Mexico called The Digital Invaders, and that won so many prizes, one of which in Cannes Lions.!Projects published by PictoplasmaProjects published by Pictoplasma!Concept Art for The Digital Invaders SchoolConcept Art for The Digital Invaders SchoolFox Renderfarm: As an outstanding 3D artist, what do you do to keep yourself motivated and inspired?Dante: Thanks for that. It is really difficult to keep yourself motivated because in many ways you are alone, people will say, your work is really good sometimes, other times don't. Actually, only you know where you wanna go with your work, and at the end, you have to be your own judge, how good you wanna be, what really matters is what you believe you can do, then you have to put action!!! And try to make good decisions, don't forget that one.Surround yourself with people who go in the same direction and who will understand your ideas even if you don't talk with them like, maybe you just follow them on Instagram, that's good!!! Because they will show you constantly what they are doing and you can be motivated watching what they are doing. That's my experience.Inspiration is everywhere if you wanna be a character designer you can be inspired in all kinds of art, like fashion, photography, architecture because everything has a sense and you can apply in your own work. Fox Renderfarm: Any artwork or anyone that inspires you in the industry?Dante: Tartakovsky!!! One of my favorites, I love his work in Samurai Jack!!! And what he tries to do in Popeye 3D movie, in comic art, Joe Madureira (Battle Chasers), I love his very unique style the same as Humberto Ramos (Crimson), Luis Vasquez (illustrator from Monterrey Mexico), and Juan Díaz Canales (Black Sad). Left: Genndy Tartakovsky; Right: Samurai JackLeft: Joe Madureira; Right: Battle ChasersLeft: Humberto Ramos; Right: CrimsonIllustrations by Luis VasquezLeft: Juan Díaz Canales; Right: Black SadTalking just about the drawing style, shape and color palette. Brian Froud, Concept Artist for Dark Crystal, you have to see his work, it is amazing, Daniel Lara is one of my favorites on 3D, everyone in Blender community knows who is, those artists are the very first ones who have been inspiring me.Left: Brian Froud; Right: The World of the Dark Crystal(Images via Wikipedia & Google)"Hero" by Daniel M. Lara Fox Renderfarm: Any other things you want to share with CG enthusiasts?Dante: Thanks Fox Renderfarm for sponsoring me and for the interview, I hope it can inspire some CG enthusiasts, not much to say just never give up and keep on the road.3D Render Challenge Ongoing: Shine your talents and win $500 Render Coupons, submit now!
---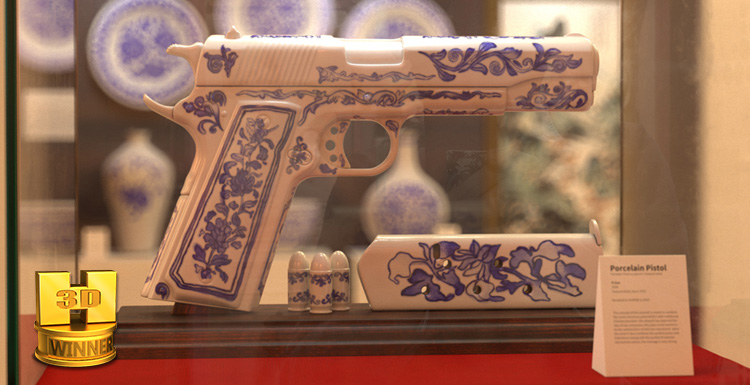 Interview With Yi Sun, The 1st Winner In Hum3D's Three D Gun 2 Competitio
It is our honor to have an interview with Yi Sun, the first place winner in Hum3D's Three D Gun 2 Competition, which is also sponsored by Fox Renderfarm, a leading render farm service provider in CG industry. Share this interview with everyone, here are the dialogue between Fox Renderfarm and Yi Sun.Fox Renderfarm: Hi, Yi Sun, congratulations to winning the 1st place in this contest, thanks so much for taking your time to have the interview with us. Firstly, would you please give a brief introduction about yourself?Yi Sun: Yes, my name is Yi Sun, 25 years old, from China, I had a bachelor degree in 3d animation and I'm currently studying Master of Design in Sydney.Fox Renderfarm: How long have you been in the CG industry? And how did you make the decision to get into the CG industry?Yi Sun: I haven't found a job in the CG industry yet, but I've been teaching myself 3D for 5 years now. I started doing silly short videos when I was a kid. back then I discovered I can make some visual effects for videos in After Effects, but soon, I realized the 2D visual effects is very limited, I want to make more sophisticated effects, especially 3D effects. so I started learning 3D software. At that time I just thought it was cool, I never thought about doing this for a career, until I visited the universal studio in Los Angles. I got a chance to listen to the Hollywood VFX artists talks about the VFX production of the blockbuster movies and it blew my mind. I've been dreaming to work on a blockbuster movie ever since that talk and I've been working very hard trying to put my first step in the CG industry. I hope my dream will come true soon.Fox Renderfarm: It is a great experience. Wish your dream come true. About the work "Porcelain 1911", what inspired you to come out the idea of making it?Yi Sun: The idea is very simple, combining two completely different objects together. I used to do this kind of design practice a lot when I was learning character design in 3D animation. In "Porcelain 1911", I try to combine the porcelain element I familiar with and a gun which I'm not quite familiar with. I think as a 3d artist, the biggest advantage I had is my cultural background.  I've seen a lot of Chinese porcelain as I grow up, I found them very beautiful, so I feel very comfortable to work with porcelain element in my design. if this competition is about design a realistic and futuristic sci-fi gun, I believe there are millions of 3d artist who can design better sci-fi gun than me, because I never have seen or touch a real gun.Fox Renderfarm: It is an interesting idea. How long did it take you to finish the work?Yi Sun: I was doing a master degree while working on the "Porcelain 1911", I had 3 assignments from Uni so I barely had time to work on it, sometimes I only have 15 minutes before I got to go to sleep. It took me about 2 months, but I think the actual time I spent on it is only about 120 hours. Now I look at it, I think it could be done better, there are still many things I want to polish in this work.Fox Renderfarm: What software, renderers, plugins did you use in this work?Yi Sun: My main 3d software is Maya, and I used Mari (non-commercial) for texturing, and redshift for rendering and photoshop.Fox Renderfarm: Did you meet any difficulties when creating this work? And how did you solve it?Yi Sun: The difficulties I faced in this project is to create the realistic hand paint graphic of the Chinese porcelain, I tried to import vector into Photoshop apply filters but the result looks very fake, I tried to download watercolour brush for photoshop, but it doesn't look good either. Then I realized it's not possible to create realistic paint mark on the computer, so I decided to create the texture physically with watercolour. I realized even though we had so many presets, filters and plugins to helps us create digital works, but they can never replace traditional mark making techniques, as a digital artist, I should always remember to respect the physical medium.Fox Renderfarm: Anything else you would like to share with CG enthusiasts?Yi Sun: I think CG is the best medium for self-expression, you can create almost anything and everything, that's why there are many things to learn, too many. I spent 5 years learning CG and I still feel that I know nothing about it, that's why I think we should always be humble to learn and we should try to use our cultural background as our advantage to develop our own unique style.Fox Renderfarm: Yes, totally agree with you. I hope you can make more wonderful works in the future, and you will be an excellent CG artist. Thanks so much for your time.More Yi Sun's artworks: yisun.artstation.com
---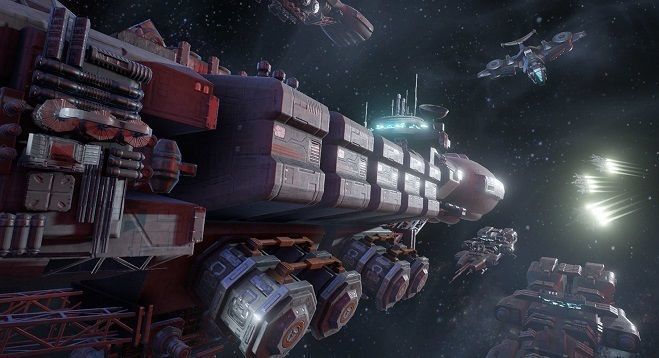 Winners of 3D Challenge: SPACE by CGTrader | Sponsored by Fox Renderfarm
Another challenge has come to an end. This time, the 3D Challenge with the theme of Space organized by CGTrader ran from the 9th October 2017 till 10th December 2017 and has attracted artists from all over the world to submit original space-themed designs in low (models up to 50,000 polygons) and high (models with more than 50,000 polygons) poly categories. The end of the challenge means the start of the extremely difficult models' evaluation process due to huge participation from the artists. A total of 240 high-quality models were submitted ranging from planets, asteroids, aliens, rockets, satellites to space stations have been evaluated and dozens of discussion were made! Most models in this challenge are ready for Virtual Reality (VR), Augmented Reality (AR), games and other real-time apps.Judging panels from Fox Renderfarm, CGTrader, 3D-Coat, Cebas Visual Technology, Quixel, and Exlevel worked together to decide the Challenge winners. The judging criteria for both categories were quality of the model (the most IMPORTANT criteria), as well as uniqueness, innovation, and general achievement in design of the model.Well, there are only just six places for the winners. So, fasten your seatbelts and let's look at the winner's list!Low Poly CategoryWinner: "4 Spaceship Set" by triplebrickDescription: A set of 4 highly detailed spaceships for interstellar fleet with PBR metal/smoothness workflow, 4k textures, small ships have one material, large ships two materials and details can be removed on the larger ships.Prize: $250 rendering credits by Fox Renderfarm1st Runner Up: "Scout Space-ship RS-1" by Antonio112661Description: High quality Scout space-ship RS-1 model which could be used in any game. This asset is optimized and hand tweaked. The textures tuned for Physically-Based Rendering. 16688 polygon count.Prize: $150 rendering credits by Fox Renderfarm2nd Runner Up: "Lambro Robot" by furqaanDescription: The model is based on transformers look due to the robot is made of lamborghini parts and engine.Prize: $100 rendering credits by Fox RenderfarmHigh Poly CategoryWinner: "Space Pursuit MFP Disc Driver" 3D model by eccemaniaDescription: The artist's own vision from a spaceship pursuit with one back tyre and hover engine. Works without driver, the MFP Disc Driver has a programmable memory. Drive with rechargeable power cell and hover system, VROOOM!!!Prize: $250 rendering credits by Fox Renderfarm1st Runner Up: "PBR Detailed Robot" by jackfurneri1984Description: The model has been created with Autodesk Maya (version 2016) - Textured and polypainted in Substance Painter 2 and rendered with different render engines (Arnold by Solid Angle and Marmoset Toolbag 3 package). There are 20557 faces, 21467 vertices, all pieces can be separated from each other (legs, gears, hands, etc..) with unwrapped UVs with no overlapping.Prize: $150 rendering credits by Fox Renderfarm2nd Runner Up: "Icarus Orbital – Space Station" 3D model by shaunDescription: The Icarus space station model is a huge and detailed orbital station which is packed full of details and character. This space station is Intricately designed by Shaun T. Williams BA for practical usage and design within its role as an orbital space station for habitat and re-supply. The station boasts a variety of details such as antennas and radio equipment, docking bays, airlocks and many other features which make it perfect for detailed close-up shots with well-optimized model and is 2,255,400 Tris / 1,112,114 Polys.Prize: $100 render credits by Fox RenderfarmFox Renderfarm is proud to be the official render farm sponsor for this 3D Challenge: SPACE. The challenge is co-jointly sponsored by Fox Renderfarm, 3D-Coat, Quixel, Exlevel and Cebas Visual Technology.p/s: Shhh! Fox Renderfarm will be launching Fox's Got Talent in the near future with lots of attractive prizes waiting for everyone to grab! So, stay tuned!
---
Key Words
Cloud Rendering Farm
|
Annecy Festival
|
MILESTONES
|
Fox Renderfarm
|
Desktop Client
|
Blender
|
Bollywood films
|
Hum3D Contest
|
NVIDIA
|
Silkroad Digital Vision
|
Malaysian Animated Films
|
Indiajoy
|
Art Competitions
|
Architectural Visualization
|
CGarchitect Architectural 3Dawards
|
Best cloud rendering services
|
Render cloud
|
VFX
|
Upin & Ipin
|
Green Book
|
Fox Renderfarm Interview
|
Mission Mangal
|
Kre8tif!
|
Fox Renderfarm Mini Program
|
CG
|
CG Tech Summit Malaysia
|
film works
|
cloud rendering
|
Golden Horse Award
|
Shadow
|
SIGGRAPH Asia 2018
|
Morrigan Flebotte
|
VWArtclub Annual *Contest
|
Asswad Mouhamad
|
animation works
|
IMax Studio
|
Boonie Bears
|
Renderosity
|
Gary S. Kennedy
|
Evermotion Challenge 2018
|
Brian Beaudry
|
Alita: Battle Angel
|
Bobby Bala
|
Mohit Sanchaniya
|
Katapix Media
|
Flying Car Productions
|
Razer
|
The Shipment
|
FoxRenderfarm
|
CG Tech Summit
|
Alpacalypse Productions
|
halloween
|
Hum3d Survial Car Challenge
|
Federico Ciuffolini
|
Ralf Sczepan
|
Iavor Trifonov
|
Clarisse
|
CGTS Malaysia
|
Isotropix
|
C4D
|
Tomasz Bednarz
|
V-Ray
|
Cinema 4D
|
MAXON
|
siggraph caf
|
Evermotion challenge 2017
|
CGTrader Space Competition
|
film of the year
|
Le Anh Nhan
|
Planet Unknown
|
Fox Renderfarm 2017 Achievements
|
CSFF
|
Julio Soto
|
boar 2017
|
Deep
|
SIGGRAPH Asia 2017
|
Chris Sun
|
Glass Cage
|
Making Life of Bri' n Chris
|
anthem studios
|
The Rookies
|
Peter Draper
|
Makuta VFX
|
Baahubali 2
|
CG Competition
|
enchantedmob
|
CG Studios
|
Academy Awards
|
CGVray
|
weeklycgchallenge
|
SketchUp
|
siggraph 2017
|
Chris Buchal
|
SIGGRAPH Asia
|
LightWave
|
Indigo Renderer
|
Rafael Chies
|
V-Ray RT
|
CPU Rendering
|
NVIDIA Iray
|
Chaos Group
|
OctaneRender
|
Redshift
|
STAR CORE
|
CICAF
|
VR
|
Mr. Hublot
|
Ribbit
|
GPU Rendering
|
Linux
|
Monkey Island
|
LuxRender
|
HPC
|
Render Farm
|
Life of Bri
|
WORLD LAB
|
Michael Wakelam
|
3D Rendering
|
Online Render Farm
|
Alibaba
|
Baahubali
|
阿里雲
|
Malaysia
|
VAX
|
Aliyun
|
2015 Hangzhou Computing Conference
|
Oscar
|
SIGGRAPH
|
CGTrader
|
Kunming Asia Animation Exhibition
|
Evermotion
|
RenderMan
|
Categories
---
Fox Renderfarm News
---
Fox Renderfarm Projects
---
Fox Renderfarm Lectures
---
CG Challenges
---
Top News
---
Blog
---
Fox News
---
Fox Talk
---
Trending
---
Recent News List
---
How to Make a Stylish Spacecraft in Blender
2021-09-23
---
How to Make Lighting a Booster to the Whole Picture?
2021-09-16
---
How to Portray a Photo-realistic Render With Powerful Storytelling in 3ds Max
2021-09-15
---
How To Show Epic Futuristic Transport By C4D Artwork
2021-09-14
---
How To Create Robot Pet In Blender: Introducing 2nd Place of Robot Pet Challenge
2021-09-10
---
The Journey of Creativity Exploration with Houdini: Introducing Houdini FX TD, Ben Watts
2021-09-08
---
How to Achieve the Fine-balanced Composition in ArchViz: Introducing CG Generalist, Ramees Muhammed
2021-09-07
---
Winners Announced - FGT3D Hunter Challenge
2021-09-02
---
クラウドレンダリングのメリット
2021-08-24
---
Partners
Medias