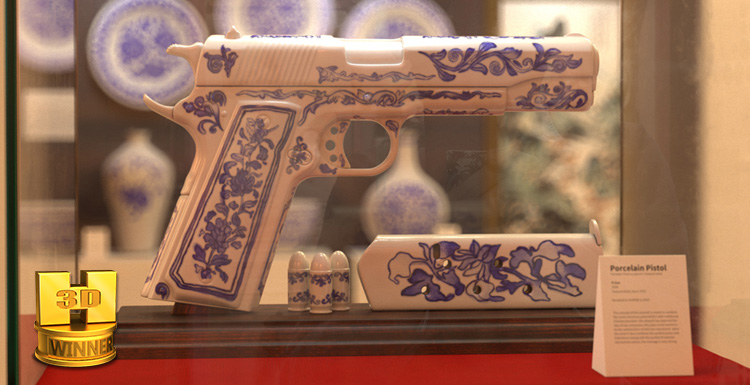 Interview With Yi Sun, The 1st Winner In Hum3D's Three D Gun 2 Competitio
It is our honor to have an interview with Yi Sun, the first place winner in Hum3D's Three D Gun 2 Competition, which is also sponsored by Fox Renderfarm, a leading service provider in CG industry. Share this interview with everyone, here are the dialogue between Fox Renderfarm and Yi Sun.
Fox Renderfarm: Hi, Yi Sun, congratulations to winning the 1st place in this contest, thanks so much for taking your time to have the interview with us. Firstly, would you please give a brief introduction about yourself?
Yi Sun: Yes, my name is Yi Sun, 25 years old, from China, I had a bachelor degree in 3d animation and I'm currently studying Master of Design in Sydney.
Fox Renderfarm: How long have you been in the CG industry? And how did you make the decision to get into the CG industry?
Yi Sun: I haven't found a job in the CG industry yet, but I've been teaching myself 3D for 5 years now. I started doing silly short videos when I was a kid. back then I discovered I can make some visual effects for videos in After Effects, but soon, I realized the 2D visual effects is very limited, I want to make more sophisticated effects, especially 3D effects. so I started learning 3D software. At that time I just thought it was cool, I never thought about doing this for a career, until I visited the universal studio in Los Angles. I got a chance to listen to the Hollywood VFX artists talks about the VFX production of the blockbuster movies and it blew my mind. I've been dreaming to work on a blockbuster movie ever since that talk and I've been working very hard trying to put my first step in the CG industry. I hope my dream will come true soon.
Fox Renderfarm: It is a great experience. Wish your dream come true. About the work "Porcelain 1911", what inspired you to come out the idea of making it?
Yi Sun: The idea is very simple, combining two completely different objects together. I used to do this kind of design practice a lot when I was learning character design in 3D animation. In "Porcelain 1911", I try to combine the porcelain element I familiar with and a gun which I'm not quite familiar with. I think as a 3d artist, the biggest advantage I had is my cultural background.  I've seen a lot of Chinese porcelain as I grow up, I found them very beautiful, so I feel very comfortable to work with porcelain element in my design. if this competition is about design a realistic and futuristic sci-fi gun, I believe there are millions of 3d artist who can design better sci-fi gun than me, because I never have seen or touch a real gun.
Fox Renderfarm: It is an interesting idea. How long did it take you to finish the work?
Yi Sun: I was doing a master degree while working on the "Porcelain 1911", I had 3 assignments from Uni so I barely had time to work on it, sometimes I only have 15 minutes before I got to go to sleep. It took me about 2 months, but I think the actual time I spent on it is only about 120 hours. Now I look at it, I think it could be done better, there are still many things I want to polish in this work.
Fox Renderfarm: What software, renderers, plugins did you use in this work?
Yi Sun: My main 3d software is Maya, and I used Mari (non-commercial) for texturing, and redshift for rendering and photoshop.
Fox Renderfarm: Did you meet any difficulties when creating this work? And how did you solve it?
Yi Sun: The difficulties I faced in this project is to create the realistic hand paint graphic of the Chinese porcelain, I tried to import vector into Photoshop apply filters but the result looks very fake, I tried to download watercolour brush for photoshop, but it doesn't look good either. Then I realized it's not possible to create realistic paint mark on the computer, so I decided to create the texture physically with watercolour. I realized even though we had so many presets, filters and plugins to helps us create digital works, but they can never replace traditional mark making techniques, as a digital artist, I should always remember to respect the physical medium.
Fox Renderfarm: Anything else you would like to share with CG enthusiasts?
Yi Sun: I think CG is the best medium for self-expression, you can create almost anything and everything, that's why there are many things to learn, too many. I spent 5 years learning CG and I still feel that I know nothing about it, that's why I think we should always be humble to learn and we should try to use our cultural background as our advantage to develop our own unique style.
Fox Renderfarm: Yes, totally agree with you. I hope you can make more wonderful works in the future, and you will be an excellent CG artist. Thanks so much for your time.
More Yi Sun's artworks: yisun.artstation.com
---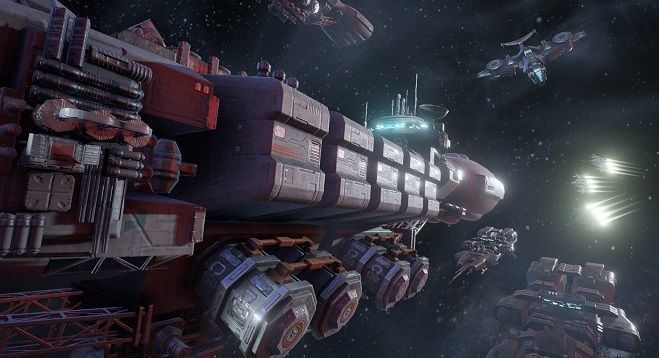 Winners of 3D Challenge: SPACE by CGTrader | Sponsored by Fox Renderfarm
Another challenge has come to an end. This time, the 3D Challenge with the theme of Space organized by CGTrader ran from the 9th October 2017 till 10th December 2017 and has attracted artists from all over the world to submit original space-themed designs in low (models up to 50,000 polygons) and high (models with more than 50,000 polygons) poly categories. The end of the challenge means the start of the extremely difficult models' evaluation process due to huge participation from the artists. A total of 240 high-quality models were submitted ranging from planets, asteroids, aliens, rockets, satellites to space stations have been evaluated and dozens of discussion were made! Most models in this challenge are ready for Virtual Reality (VR), Augmented Reality (AR), games and other real-time apps.
Judging panels from , CGTrader, 3D-Coat, Cebas Visual Technology, Quixel, and Exlevel worked together to decide the Challenge winners. The judging criteria for both categories were quality of the model (the most IMPORTANT criteria), as well as uniqueness, innovation, and general achievement in design of the model.
Well, there are only just six places for the winners. So, fasten your seatbelts and let's look at the winner's list!
Low Poly Category
Winner: "4 Spaceship Set" by triplebrick
Description: A set of 4 highly detailed spaceships for interstellar fleet with PBR metal/smoothness workflow, 4k textures, small ships have one material, large ships two materials and details can be removed on the larger ships.
Prize: $250 rendering credits by Fox Renderfarm
1st Runner Up: "Scout Space-ship RS-1" by Antonio112661
Description: High quality Scout space-ship RS-1 model which could be used in any game. This asset is optimized and hand tweaked. The textures tuned for Physically-Based Rendering. 16688 polygon count.
Prize: $150 rendering credits by Fox Renderfarm
2nd Runner Up: "Lambro Robot" by furqaan
Description: The model is based on transformers look due to the robot is made of lamborghini parts and engine.
Prize: $100 rendering credits by Fox Renderfarm
High Poly Category
Winner: "Space Pursuit MFP Disc Driver" 3D model by eccemania
Description: The artist's own vision from a spaceship pursuit with one back tyre and hover engine. Works without driver, the MFP Disc Driver has a programmable memory. Drive with rechargeable power cell and hover system, VROOOM!!!
Prize: $250 rendering credits by Fox Renderfarm
1st Runner Up: "PBR Detailed Robot" by jackfurneri1984
Description: The model has been created with Autodesk Maya (version 2016) - Textured and polypainted in Substance Painter 2 and rendered with different render engines (Arnold by Solid Angle and Marmoset Toolbag 3 package). There are 20557 faces, 21467 vertices, all pieces can be separated from each other (legs, gears, hands, etc..) with unwrapped UVs with no overlapping.
Prize: $150 rendering credits by Fox Renderfarm
2nd Runner Up: "Icarus Orbital – Space Station" 3D model by shaun Description: The Icarus space station model is a huge and detailed orbital station which is packed full of details and character. This space station is Intricately designed by Shaun T. Williams BA for practical usage and design within its role as an orbital space station for habitat and re-supply. The station boasts a variety of details such as antennas and radio equipment, docking bays, airlocks and many other features which make it perfect for detailed close-up shots with well-optimized model and is 2,255,400 Tris / 1,112,114 Polys.
Prize: $100 render credits by Fox Renderfarm
Fox Renderfarm is proud to be the official sponsor for this 3D Challenge: SPACE. The challenge is co-jointly sponsored by Fox Renderfarm, 3D-Coat, Quixel, Exlevel and Cebas Visual Technology.
p/s: Shhh! Fox Renderfarm will be launching in the near future with lots of attractive prizes waiting for everyone to grab! So, stay tuned!
---
Key Words
Blender
|
Bollywood films
|
Hum3D Contest
|
NVIDIA
|
Silkroad Digital Vision
|
Malaysian Animated Films
|
Indiajoy
|
Art Competitions
|
Architectural Visualization
|
CGarchitect Architectural 3Dawards
|
Best cloud rendering services
|
Render cloud
|
VFX
|
Upin & Ipin
|
Green Book
|
Fox Renderfarm Interview
|
Mission Mangal
|
Kre8tif!
|
Fox Renderfarm Mini Program
|
CG
|
Florian Renner
|
CG Tech Summit Malaysia
|
Zhang Yimou
|
film works
|
cloud rendering
|
Golden Horse Award
|
Shadow
|
SIGGRAPH Asia 2018
|
Morrigan Flebotte
|
VWArtclub Annual *Contest
|
Asswad Mouhamad
|
animation works
|
IMax Studio
|
Boonie Bears
|
Renderosity
|
Gary S. Kennedy
|
Evermotion Challenge 2018
|
Brian Beaudry
|
Alita: Battle Angel
|
Bobby Bala
|
Mohit Sanchaniya
|
Katapix Media
|
Flying Car Productions
|
Razer
|
The Shipment
|
FoxRenderfarm
|
CG Tech Summit
|
Alpacalypse Productions
|
halloween
|
Hum3d Survial Car Challenge
|
Federico Ciuffolini
|
Ralf Sczepan
|
Iavor Trifonov
|
Clarisse
|
CGTS Malaysia
|
Isotropix
|
C4D
|
Tomasz Bednarz
|
V-Ray
|
Cinema 4D
|
MAXON
|
siggraph caf
|
Evermotion challenge 2017
|
CGTrader Space Competition
|
film of the year
|
Le Anh Nhan
|
Planet Unknown
|
Fox Renderfarm 2017 Achievements
|
CSFF
|
Julio Soto
|
boar 2017
|
Deep
|
SIGGRAPH Asia 2017
|
Chris Sun
|
Glass Cage
|
Fox Renderfarm
|
Making Life of Bri' n Chris
|
anthem studios
|
The Rookies
|
Peter Draper
|
Makuta VFX
|
Baahubali 2
|
CG Competition
|
enchantedmob
|
CG Studios
|
Academy Awards
|
RAYVISION MILESTONES
|
CGVray
|
weeklycgchallenge
|
SketchUp
|
siggraph 2017
|
Chris Buchal
|
SIGGRAPH Asia
|
LightWave
|
Indigo Renderer
|
Rafael Chies
|
V-Ray RT
|
CPU Rendering
|
NVIDIA Iray
|
Chaos Group
|
OctaneRender
|
Redshift
|
STAR CORE
|
CICAF
|
VR
|
Mr. Hublot
|
Ribbit
|
GPU Rendering
|
Linux
|
Monkey Island
|
LuxRender
|
HPC
|
Render Farm
|
RAYVISION
|
Life of Bri
|
WORLD LAB
|
Michael Wakelam
|
3D Rendering
|
Online Render Farm
|
Alibaba
|
Baahubali
|
阿里雲
|
VAX
|
Malaysia
|
Aliyun
|
2015 Hangzhou Computing Conference
|
Oscar
|
SIGGRAPH
|
CGTrader
|
Kunming Asia Animation Exhibition
|
Evermotion
|
RenderMan
|
Categories
---
RAYVISION News
---
RAYVISION Projects
---
RAYVISION Lectures
---
CG Challenges
---
Top News
---
Blog
---
Fox News
---
Fox Talk
---
Trending
---
Recent News List
---
Over 200 SCAD alumni and students contributed to 21 Academy-Awards-nominated films for 2020
2020-02-24
---
Fox's Got Talent January Winners Revealed: Jelly, Demonstrating Connection, Unity and Hope
2020-02-21
---
新しいロゴのお知らせ:Fox Renderfarmはロゴマークをリニューアルしました
2020-02-21
---
5 Key Features in Blender 2.82 that Boost Your Creation Productivity
2020-02-20
---
Creating an Alien Alchemist Inspired by Yoda and Spirited Away
2020-02-11
---
Jensen HuangがGTC CHINA 2019の講演でRAYVISIONクラウドレンダリングにNVIDIA RTXのスーパーチャージを発表
2020-02-10
---
'Tanhaji', Rendered with Fox Renderfarm, with a Worldwide Gross of US$49 Million Became the Highest-grossing Bollywood Film of 2020
2020-02-10
---
Creating Photorealistic Marseille Oceanic Views in Cinema 4D
2020-02-05
---
Creating the Sophisticated Chevrolet Corvette 1960 in 3ds Max
2020-01-21
---
Partners
Medias