"Upin & Ipin" Won The Best Feature Category at ANIMAZE 2019
Upin & Ipin: The Lone Gibbon Kris (Malay: Upin & Ipin: Keris Siamang Tunggal) (short for Upin & Ipin), produced by Les' Copaque Production Sdn. Bhd., rendered by Fox Renderfarm, has won the Best Feature category at the Montreal International Animation Film Festival 2019 (ANIMAZE).
ANIMAZE is an international film festival and conference dedicated to exploring the world of animation in all its diversity. Filmmakers from over 65 countries working in a wide range of genres and styles converge on Montreal in the summer. Proudly, the mischievous twins Upin and Ipin are now the winners of the international film award.
In this fantasy film, Upin, Ipin and their friends find a magical kris which transports them into a fictional country known as Inderaloka. Here they meet various colourful characters from Malay folklore and help them battle an powerful villian. Les' Copaque, the production company of Upin & Ipin, elected to create its own unique intellectual property based on traditional Malaysian mythology, but told in an energetic, child-friendly way.
The production of Upin & Ipin took 5 years to complete, and the cost is almost RM20 million, making it the most expensive Malaysian film ever made. Fox Renderfarm's reliable and high-efficient cloud rendering service helped a lot in its rendering process. As a local animated film in Malaysia, Upin & Ipin's award means a lot to the Malaysian animation industry.
Here we congratulate on Upin & Ipin's great success in gaining international recognition and sincerely look forward to working together for the next project soon again!
---
'Ne Zha' and 'Upin & Ipin' Officially in Running for 2020 Oscar Nomination!
Congratulations to the 32 animated features in running for 2020 Oscar nomination. Two of them have chosen Fox Renderfarm's cloud rendering service, they are, Ne Zha, produced by Chengdu Coco Cartoon and Beijing Enlight Media Co., Ltd; and Ipin & Upin: The Lone Gibbon Kris (short for Upin & Ipin), produced by Les' Copaque Production Sdn. Bhd. Besides, another Chinese animated feature White Snake produced by Light Chaser Animation Studios is also listed.
(From left to right: Ne Zha; Ipin & Upin; White Snake)
Both Nezha and Upin & Ipin have made massive box office success in their home country. As of October 2019, Nezha and Upin & Ipin rank respectively as the top and 2nd highest-grossing animated film in their local box offices of all time. Besides their commercial success and popularity within the local markets, being listed in the Animated Feature race in the Oscars demonstrates that their extraordinary stories and productions resonate with people from all walks of life regardless of age, race, and culture.
Fox Renderfarm is wholeheartedly happy for our customers' breakthroughs and their recognition among the world stage. And as a world-leading cloud render farm that has served numerous big productions including Oscar winner and worldwide box office smashes, assistance to more content creations, no matter of what sizes or from what nations, with our effective and user-friendly cloud rendering services, is our endless pursuit. Because nothing is more delightful than seeing the progress and thriving of the whole community. And we are sincerely looking forward to more cooperation around the world!
Congratulations to all the contenders! The full list of the 32 animated features is attached below, check out to see the animated movies you can't miss this year.
Posted:
Wednesday, October 16, 2019 - 10:00
32 ANIMATED FEATURES SUBMITTED FOR 2019 OSCAR® RACE
Thirty-two features have been submitted for consideration in the Animated Feature Film category for the 92nd Academy Awards®.
The submitted features, listed in alphabetical order, are:
"Abominable"
"The Addams Family"
"The Angry Birds Movie 2"
"Another Day of Life"
"Away"
"Buñuel in the Labyrinth of the Turtles"
"Children of the Sea"
"Dilili in Paris"
"Frozen II"
"Funan"
"Genndy Tartakovsky's 'Primal' – Tales of Savagery"
"How to Train Your Dragon: The Hidden World"
"I Lost My Body"
"Klaus"
"The Last Fiction"
"The Lego Movie 2: The Second Part"
"Marona's Fantastic Tale"
"Missing Link"
"Ne Zha"
"Okko's Inn"
"Pachamama"
"Promare"
"Rezo"
"The Secret Life of Pets 2"
"Spies in Disguise"
"The Swallows of Kabul"
"This Magnificent Cake!"
"The Tower"
"Toy Story 4"
"Upin & Ipin: The Lone Gibbon Kris"
"Weathering with You"
"White Snake"
From: https://www.oscars.org/news/32-animated-features-submitted-2019-oscar-race
---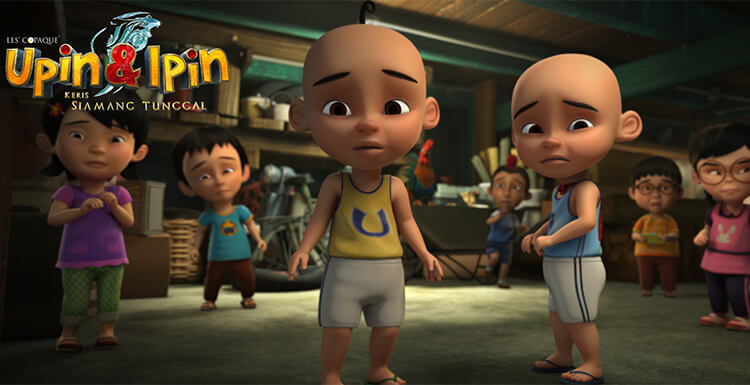 "Upin & Ipin: Keris Siamang Tunggal" Rendered With Fox Renderfarm
"Upin & Ipin: Keris Siamang Tunggal", produced by Les' Copaque Production Sdn. Bhd. has been on screen in  Malaysia on 21st March 2019. This film was rendered by Fox Renderfarm.
This is a 100-minute feature film of adventure, family and fantasy genre, with a very interesting story. The details of the movie are as follows.
"Upin & Ipin: Keris Siamang Tunggal" is Les' Copaque Production Sdn. Bhd.'s third feature film.
Les' Copaque Production Sdn. Bhd. was established in December 2005 to spearhead Malaysia's animation industry and specialize in producing high-quality 3D animation and IP production.
Les' Copaque Production has spent five years producing their second full-length 3D animated movie "Upin & Ipin: Keris Siamang Tunggal".
Before this feature film, "Upin & Ipin" is the longest-running Malaysian animated series and the most popular IP in South Asia with over 12 million audience on Facebook. The series is currently on its 13th season in production.
This new adventure film tells of the adorable twin brothers Upin and Ipin together with their friends Ehsan, Fizi, Mail, Jarjit, Mei Mei, and Susanti, and their quest to save a fantastical kingdom of Inderaloka from the evil Raja Bersiong. It all begins when Upin, Ipin, and their friends stumble upon a mystical kris that leads them straight into the kingdom. While trying to find their way back home, they are suddenly burdened with the task of restoring the kingdom back to its former glory. With help from Mat Jenin and Belalang, Upin, Ipin and their friends must overcome a series of challenging obstacles in this action-packed, magical and humorous adventure film produced by Les' Copaque Production Sdn. Bhd.
"Upin & Ipin: Keris Siamang Tunggal" is the most expensive movie in Malaysia, costing an estimate of 20 million ringgit (around US$4.92 million). The movie is 100 minutes in duration and took a production team of 140, including 12 lighting and rendering artists, and 5 years to complete.
Over 50 different species of animals were created. It is also the first time Les' Copaque Production has had hair groomed for over 70 rigged characters. There were a lot of technical challenges that the production team has to overcome. For example, one dancing shot has a crowd of 120 characters at once, with some heavy shots that have more than 180 rendered layers, etc.
During 5-year long production, the team has had three major upgrades in regards to their hardware and software in order to deliver the complexity of the film. The longest shot in this film has 722 frames and it took 100 rendering nodes and 2 months.
As a leading cloud rendering service provider, Fox Renderfarm's reliable and high-efficient service helps Les' Copaque Production in its support of the 3D feature film "Upin & Ipin: Keris Siamang Tunggal".
The technical team of Les' Copaque Production greatly praises the high-quality rendering service. They said: "We are very satisfied with Fox Renderfarm's 24/7 real-time technical support, reliable download and upload speed, the user friendly webpage interface, and very simple desktop client app for our alternative option. For example, we have some frames that took 3 days to render locally, and after we submitted to Fox Renderfarm's cloud rendering platform, it was completed in 2 hours, which greatly saved our time and budget. More importantly, the reliable and quality rendering also guarantees the quality of this film."
"We use this mentality to the way we do our work, in giving our best in creating our own Intellectual Property (IP) with the highest quality possible." This is the Mission of Les' Copaque Production Sdn. Bhd.
Personally, I really like this mission statement. We look forward to the release of "Upin & Ipin: Keris Siamang Tunggal" in China and more countries in the world. It is our hope that the "Upin & Ipin" series will bring joy to more and more people, they will understand and enjoy the culture of Malaysia, and we expect nothing less than excellent work coming from Les' Copaque Production Sdn. Bhd. in the future.
---
Key Words
MILESTONES
|
Fox Renderfarm
|
Desktop Client
|
Blender
|
Bollywood films
|
Hum3D Contest
|
NVIDIA
|
Silkroad Digital Vision
|
Malaysian Animated Films
|
Indiajoy
|
Art Competitions
|
Architectural Visualization
|
CGarchitect Architectural 3Dawards
|
Best cloud rendering services
|
Render cloud
|
VFX
|
Upin & Ipin
|
Green Book
|
Fox Renderfarm Interview
|
Mission Mangal
|
Kre8tif!
|
Fox Renderfarm Mini Program
|
CG
|
CG Tech Summit Malaysia
|
Zhang Yimou
|
film works
|
cloud rendering
|
Golden Horse Award
|
Shadow
|
SIGGRAPH Asia 2018
|
Morrigan Flebotte
|
VWArtclub Annual *Contest
|
animation works
|
Asswad Mouhamad
|
IMax Studio
|
Boonie Bears
|
Renderosity
|
Gary S. Kennedy
|
Evermotion Challenge 2018
|
Brian Beaudry
|
Alita: Battle Angel
|
Bobby Bala
|
Mohit Sanchaniya
|
Katapix Media
|
Flying Car Productions
|
Razer
|
The Shipment
|
FoxRenderfarm
|
CG Tech Summit
|
Alpacalypse Productions
|
halloween
|
Hum3d Survial Car Challenge
|
Federico Ciuffolini
|
Ralf Sczepan
|
Iavor Trifonov
|
Clarisse
|
CGTS Malaysia
|
Isotropix
|
C4D
|
Tomasz Bednarz
|
V-Ray
|
Cinema 4D
|
MAXON
|
siggraph caf
|
Evermotion challenge 2017
|
CGTrader Space Competition
|
film of the year
|
Le Anh Nhan
|
Planet Unknown
|
Fox Renderfarm 2017 Achievements
|
CSFF
|
Julio Soto
|
boar 2017
|
Deep
|
SIGGRAPH Asia 2017
|
Chris Sun
|
Glass Cage
|
Fox Renderfarm
|
Making Life of Bri' n Chris
|
anthem studios
|
The Rookies
|
Peter Draper
|
Makuta VFX
|
Baahubali 2
|
CG Competition
|
enchantedmob
|
CG Studios
|
Academy Awards
|
CGVray
|
weeklycgchallenge
|
SketchUp
|
siggraph 2017
|
Chris Buchal
|
SIGGRAPH Asia
|
LightWave
|
Indigo Renderer
|
Rafael Chies
|
V-Ray RT
|
CPU Rendering
|
NVIDIA Iray
|
Chaos Group
|
OctaneRender
|
Redshift
|
STAR CORE
|
CICAF
|
VR
|
Mr. Hublot
|
Ribbit
|
GPU Rendering
|
Linux
|
Monkey Island
|
LuxRender
|
HPC
|
Render Farm
|
Life of Bri
|
WORLD LAB
|
Michael Wakelam
|
3D Rendering
|
Online Render Farm
|
Alibaba
|
Baahubali
|
阿里雲
|
VAX
|
Malaysia
|
Aliyun
|
2015 Hangzhou Computing Conference
|
Oscar
|
SIGGRAPH
|
CGTrader
|
Kunming Asia Animation Exhibition
|
Evermotion
|
RenderMan
|
Categories
---
Fox Renderfarm News
---
Fox Renderfarm Projects
---
Fox Renderfarm Lectures
---
CG Challenges
---
Top News
---
Blog
---
Fox News
---
Fox Talk
---
Trending
---
Recent News List
---
Call For Submissions: FGT3D 'Hero' Challenge
2020-07-08T06:31:02.293Z
---
Lomas Post, One of Mexico´s Top Ad Agencies, Won the May Winner of Fox's Got Talent
2020-07-06T06:39:14.836Z
---
SIGGRAPH Asia 2020 Goes Virtual
2020-07-03T11:18:09.554Z
---
How to Build a Realistic Character in Maya
2020-07-03T08:05:07.636Z
---
Call for Submissions: SIGGRAPH Asia 2020 Computer Animation Festival
2020-07-02T08:55:12.838Z
---
E-Meet Fox Renderfarm @ Annecy 2020 Online
2020-06-19T08:27:20.677Z
---
How to Build A Magnificent Space Carrier in UE4
2020-06-12T09:33:11.012Z
---
Creating a Magical Library Inspired by Harry Potter in 3ds Max
2020-05-25T08:00:01.021Z
---
Creating a Hyper Futuristic Robot Under an AI Generative System in Blender
2020-05-20T07:40:06.217Z
---
Partners
Medias