'Ne Zha' and 'Upin & Ipin' Officially in Running for 2020 Oscar Nomination!
Congratulations to the 32 animated features in running for 2020 Oscar nomination. Two of them have chosen Fox Renderfarm's cloud rendering service, they are, Ne Zha, produced by Chengdu Coco Cartoon and Beijing Enlight Media Co., Ltd; and Ipin & Upin: The Lone Gibbon Kris (short for Upin & Ipin), produced by Les' Copaque Production Sdn. Bhd. Besides, another Chinese animated feature White Snake produced by Light Chaser Animation Studios is also listed. !'Ne Zha' and 'Upin & Ipin' Officially in Running for 2020 Oscar Nomination! (From left to right: Ne Zha; Ipin & Upin; White Snake) Both Nezha and Upin & Ipin have made massive box office success in their home country. As of October 2019, Nezha and Upin & Ipin rank respectively as the top and 2nd highest-grossing animated film in their local box offices of all time. Besides their commercial success and popularity within the local markets, being listed in the Animated Feature race in the Oscars demonstrates that their extraordinary stories and productions resonate with people from all walks of life regardless of age, race, and culture.Fox Renderfarm is wholeheartedly happy for our customers' breakthroughs and their recognition among the world stage. And as a world-leading cloud render farm that has served numerous big productions including Oscar winner and worldwide box office smashes, assistance to more content creations, no matter of what sizes or from what nations, with our effective and user-friendly cloud rendering services, is our endless pursuit. Because nothing is more delightful than seeing the progress and thriving of the whole community. And we are sincerely looking forward to more cooperation around the world!Congratulations to all the contenders! The full list of the 32 animated features is attached below, check out to see the animated movies you can't miss this year.!2020-Oscar Posted: Wednesday, October 16, 2019 - 10:00 32 ANIMATED FEATURES SUBMITTED FOR 2019 OSCAR® RACEThirty-two features have been submitted for consideration in the Animated Feature Film category for the 92nd Academy Awards®.The submitted features, listed in alphabetical order, are:- "Abominable"- "The Addams Family"- "The Angry Birds Movie 2"- "Another Day of Life"- "Away"- "Buñuel in the Labyrinth of the Turtles"- "Children of the Sea"- "Dilili in Paris"- "Frozen II"- "Funan"- "Genndy Tartakovsky's 'Primal' – Tales of Savagery"- "How to Train Your Dragon: The Hidden World"- "I Lost My Body"- "Klaus"- "The Last Fiction"- "The Lego Movie 2: The Second Part"- "Marona's Fantastic Tale"- "Missing Link"- "Ne Zha"- "Okko's Inn"- "Pachamama"- "Promare"- "Rezo"- "The Secret Life of Pets 2"- "Spies in Disguise"- "The Swallows of Kabul"- "This Magnificent Cake!"- "The Tower"- "Toy Story 4"- "Upin & Ipin: The Lone Gibbon Kris"- "Weathering with You"- "White Snake"From: https://www.**oscar**s.org/news/32-animated-features-submitted-2019-**oscar**-race
---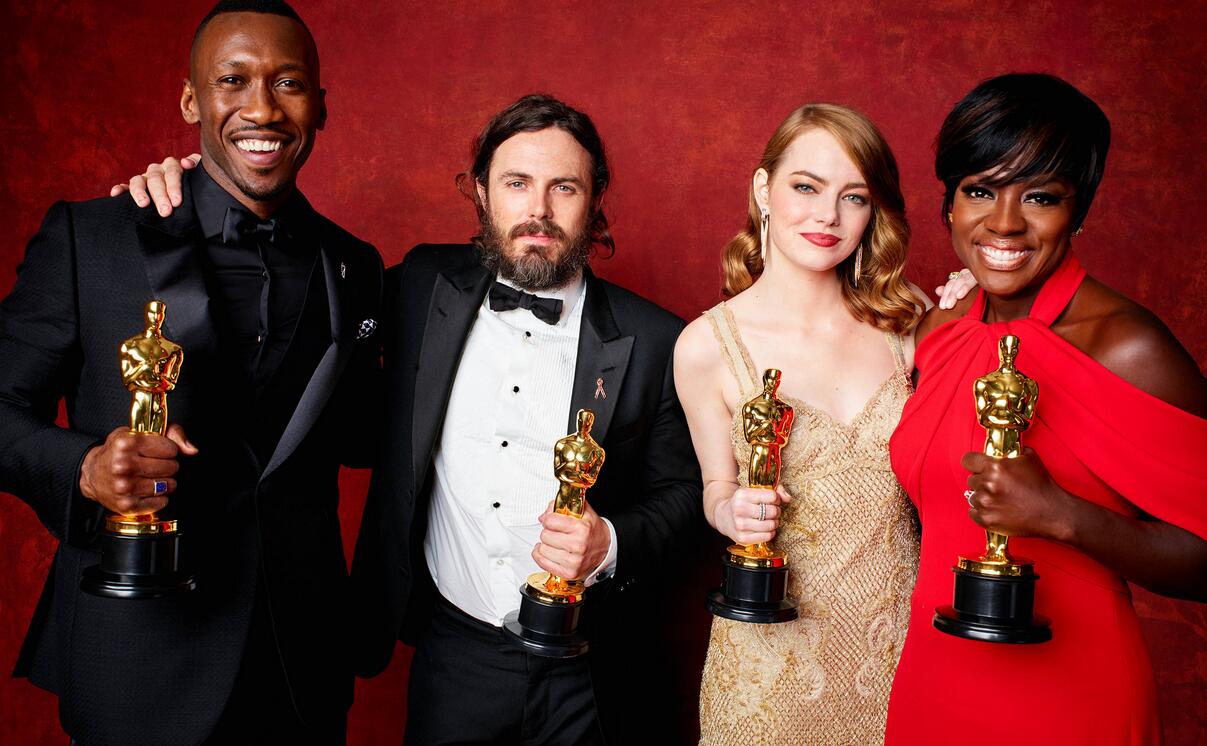 Oscars 2017, 'La La Land' Mistakenly Named Best Picture, But 'Moonlight' Wins!
The 89th Academy Awards took place on Sunday night, 26th February, 2017 (PST). 'La La Land', the recently popular film, got 6 awards for Best Actress in Leading Role, Best Directing, Best Cinematography, Best Production Design, Best Original Song and Best Original Score.But...Life is full of ups and downs...The presenter at the Oscars took the wrong envelope and mistakenly announced 'La La Land' as the Best Picture, but actually 'Moonlight' wins!It must be the most embarrassing moment in Oscars history!BEST PICTUREWINNER: MOONLIGHTNOMINEES:ARRIVALFENCESHACKSAW RIDGEHELL OR HIGH WATERHIDDEN FIGURESLA LA LANDLIONMANCHESTER BY THE SEAVISUAL EFFECTSWINNER: THE JUNGLE BOOKNOMINEES:DEEPWATER HORIZONDOCTOR STRANGEKUBO AND THE TWO STRINGSROGUE ONE: A STAR WARS STORYANIMATED FEATURE FILMWINNER: ZOOTOPIANOMINEES:KUBO AND THE TWO STRINGSMOANAMY LIFE AS A ZUCCHINITHE RED TURTLESHORT FILM (ANIMATED)WINNER: PIPERNOMINEES:BLIND VAYSHABORROWED TIMEPEAR CIDER AND CIGARETTESPEARLACTOR IN A LEADING ROLEWINNER: CASEY AFFLECK - Manchester by the SeaNOMINEES:ANDREW GARFIELD - Hacksaw RidgeRYAN GOSLING - La La LandVIGGO MORTENSEN - Captain FantasticDENZEL WASHINGTON - FencesACTRESS IN A LEADING ROLEWINNER: EMMA STONE - La La LandNOMINEES:ISABELLE HUPPERT - ElleRUTH NEGGA - LovingNATALIE PORTMAN - JackieMERYL STREEP - Florence Foster JenkinsACTOR IN A SUPPORTING ROLEWINNER: MAHERSHALA ALI - MoonlightNOMINEES:JEFF BRIDGES - Hell or High WaterLUCAS HEDGES - Manchester by the SeaDEV PATEL - LionMICHAEL SHANNON - Nocturnal AnimalsACTRESS IN A SUPPORTING ROLEWINNER: VIOLA DAVIS - FencesNOMINEES:NAOMIE HARRIS - MoonlightNICOLE KIDMAN - LionOCTAVIA SPENCER - Hidden FiguresMICHELLE WILLIAMS - Manchester by the SeaDIRECTINGWINNER: LA LA LAND - Damien ChazelleNOMINEES:ARRIVAL - Denis VilleneuveHACKSAW RIDGE - Mel GibsonMANCHESTER BY THE SEA - Kenneth LonerganMOONLIGHT - Barry JenkinsCOSTUME DESIGNWINNER: FANTASTIC BEASTS AND WHERE TO FIND THEMNOMINEES:ALLIEDFLORENCE FOSTER JENKINSJACKIELA LA LANDDOCUMENTARY (FEATURE)WINNER: O.J.: MADE IN AMERICANOMINEES:FIRE AT SEAI AM NOT YOUR NEGROLIFE, ANIMATED13THMAKEUP AND HAIRSTYLINGWINNER: SUICIDE SQUADNOMINEES:A MAN CALLED OVESTAR TREK BEYONDSOUND EDITINGWINNER: ARRIVALNOMINEES:DEEPWATER HORIZONHACKSAW RIDGELA LA LANDSULLYSOUND MIXINGWINNER: HACKSAW RIDGENOMINEES:ARRIVALLA LA LANDROGUE ONE: A STAR WARS STORY13 HOURS: THE SECRET SOLDIERS OF BENGHAZIMUSIC (ORIGINAL SCORE)WINNER: LA LA LANDNOMINEES:JACKIELIONMOONLIGHTPASSENGERSMUSIC (ORIGINAL SONG)WINNER: CITY OF STARS - La La LandNOMINEES:AUDITION (THE FOOLS WHO DREAM) - La La LandCAN'T STOP THE FEELING - TrollsTHE EMPTY CHAIR - from JimHOW FAR I'LL GO - MoanaCINEMATOGRAPHYWINNER: LA LA LAND - Linus SandgrenNOMINEES:ARRIVAL - Bradford YoungLION - Greig FraserMOONLIGHT - James LaxtonSILENCE - Rodrigo PrietoFILM EDITINGWINNER: HACKSAW RIDGENOMINEES:ARRIVALHELL OR HIGH WATERLA LA LANDMOONLIGHTFOREIGN LANGUAGE FILMWINNER: THE SALESMAN - IranNOMINEES:LAND OF MINE - DenmarkA MAN CALLED OVE - SwedenTANNA - AustraliaTONI ERDMANN - GermanyPRODUCTION DESIGNWINNER: LA LA LANDNOMINEES:ARRIVALFANTASTIC BEASTS AND WHERE TO FIND THEMHAIL, CAESAR!PASSENGERSSHORT FILM (LIVE ACTION)WINNER: SINGNOMINEES:ENNEMIS INTÉRIEURSLA FEMME ET LE TGVSILENT NIGHTSTIMECODEWRITING (ADAPTED SCREENPLAY)WINNER: MOONLIGHTNOMINEES:ARRIVALFENCESHIDDEN FIGURESLIONWRITING (ORIGINAL SCREENPLAY)WINNER: MANCHESTER BY THE SEANOMINEES:HELL OR HIGH WATERLA LA LANDTHE LOBSTER20TH CENTURY WOMEN
---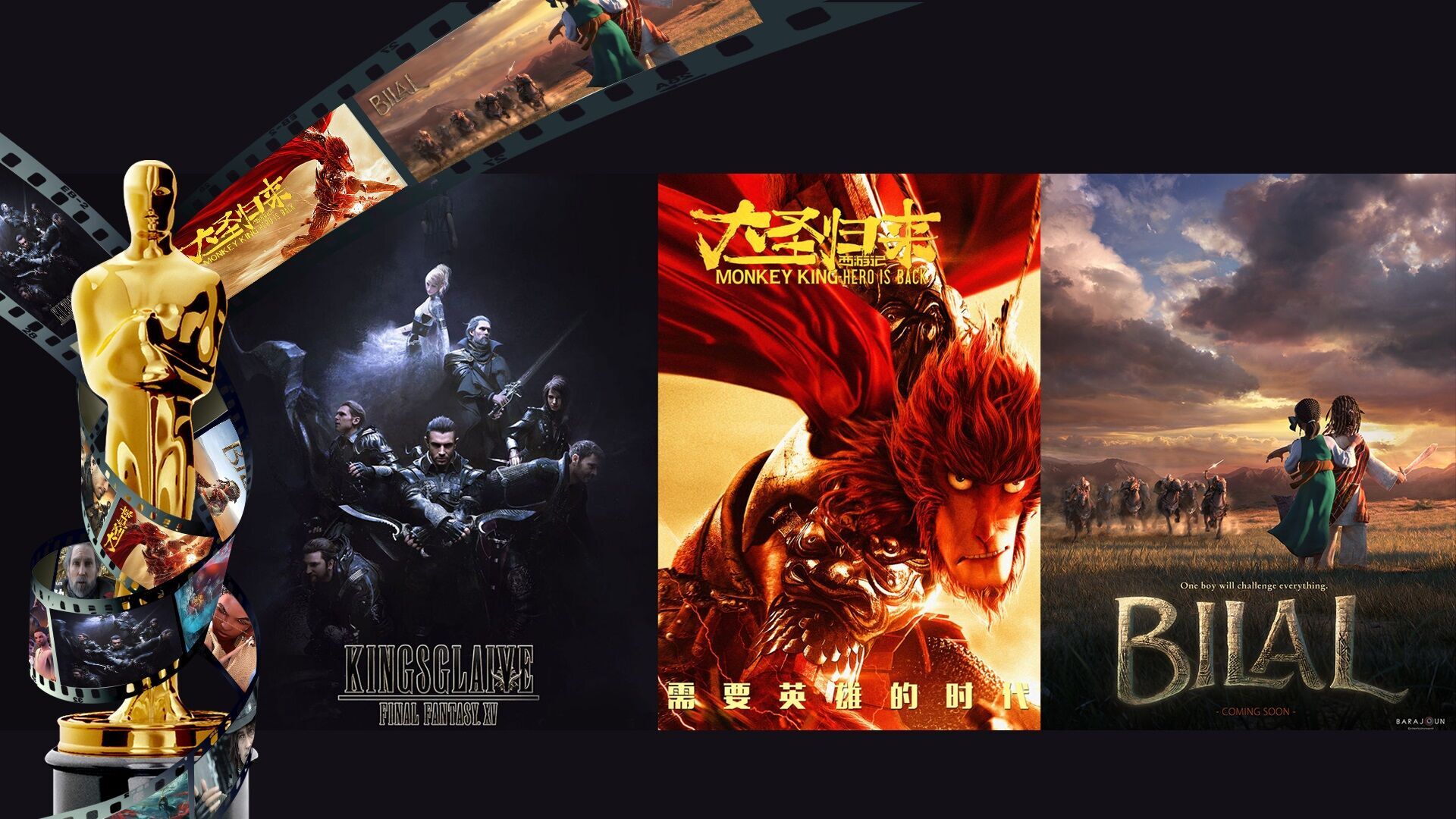 3 Films Rendered by FoxRenderfarm Eligible for 89th Oscar Best Animation Award
The Academy of Motion Picture Arts and Science (AMPAS) recently released the official notice that 27 animated films participate 89th Oscar Best Animation Award which creates the highest record.To my surprise, 3 of these submitting animated films are rendered by Fox Renderfarm : Monkey King: Hero Is Back (China), Kingsglaive Final Fantasy XV (Japan) and Bilal (Dubai). Back to 2014, Mr. Hublot rendered by Fox Renderfarm won the 86th Oscar Best Animated Short Film Award. At this time, let's hope animated films rendered by Fox Renderfarm can win this special award again.As a great CG film in China animation history, Monkey King: Hero Is Back has won the 30th China Golden Rooster Awards for Best Art Film and the 16th China Ornamental Column Awards for Excellence Fearure Film. Now Monkey King: Hero Is Back sets Chinese animation record to compete with Hollywood film studios for Oscar Best Animation Award.Produced by SQUARE ENIX, Kingsglaive Final Fantasy XV earned worldwide acclaim for its verisimilitude and stunning special effects.Produced by Barajoun Entertainment in Dubai, Bilal is the first 3D Animated epic film in Middle East, telling a story of an immortal hero of Arabic history.27 movies run for the 89th Oscar Best Animation Award as follows:The Angry Birds MovieApril and the Extraordinary WorldBilalFinding DoryIce Age: Collision CourseKingsglaive Final Fantasy XVKubo and the Two StringsKung Fu Panda 3The Little PrinceLong Way NorthMiss HokusaiMoanaMonkey King: Hero Is BackMuneMustafa & the MagicianMy Life as a ZucchiniPhantom BoyThe Red TurtleSausage PartySausage PartySingSnowtime!StorksTrolls25 AprilYour NameZootopia
---
88th Oscar Nominees
Each January, all film fans around the world turn their attention to the Academy Awards. Interest and anticipation builds to a fevered pitch leading up to the Oscar telecast in February, when hundreds of millions of movie lovers tune in to watch the glamorous ceremony and learn who will receive the highest honors in filmmaking.View complete list of nominees for 88th Oscars:ACTOR IN A LEADING ROLE - BRYAN CRANSTON - Trumbo - MATT DAMON - The Martian - LEONARDO DICAPRIO - The Revenant - MICHAEL FASSBENDER - Steve Jobs - EDDIE REDMAYNE - The Danish GirlACTOR IN A SUPPORTING ROLE - CHRISTIAN BALE - The Big Short - TOM HARDY - The Revenant - MARK RUFFALO - Spotlight - MARK RYLANCE - Bridge of Spies - SYLVESTER STALLONE - CreedACTRESS IN A LEADING ROLE- CATE BLANCHETT - Carol- BRIE LARSON - Room- JENNIFER LAWRENCE - Joy- CHARLOTTE RAMPLING - 45 Years- SAOIRSE RONAN - BrooklynACTRESS IN A SUPPORTING ROLE - JENNIFER JASON LEIGH - The Hateful Eight - ROONEY MARA - Carol - RACHEL MCADAMS - Spotlight - ALICIA VIKANDER - The Danish Girl - KATE WINSLET - Steve JobsANIMATED FEATURE FILM - ANOMALISA - Charlie Kaufman, Duke Johnson and Rosa Tran - BOY AND THE WORLD - Ale Abreu - INSIDE OUT - Pete Docter and Jonas Rivera - SHAUN THE SHEEP MOVIE - Mark Burton and Richard Starzak - WHEN MARNIE WAS THERE - Hiromasa Yonebayashi and Yoshiaki NishimuraSHORT FILM (ANIMATED) - BEAR STORY - Gabriel Osorio and Pato Escala - PROLOGUE - Richard Williams and Imogen Sutton - SANJAY'S SUPER TEAM - Sanjay Patel and Nicole Grindle - WE CAN'T LIVE WITHOUT COSMOS - Konstantin Bronzit - WORLD OF TOMORROW -Don HertzfeldtBEST PICTURE- THE BIG SHORT - Brad Pitt, Dede Gardner and Jeremy Kleiner, Producers- BRIDGE OF SPIES - Steven Spielberg, Marc Platt and Kristie Macosko Krieger, Producers- BROOKLYN - Finola Dwyer and Amanda Posey, Producers- MAD MAX: FURY ROAD - Doug Mitchell and George Miller, Producers- THE MARTIAN - Simon Kinberg, Ridley Scott, Michael Schaefer and Mark Huffam, Producers- THE REVENANT - Arnon Milchan, Steve Golin, Alejandro G. Iñárritu, Mary Parent and Keith Redmon, Producers- ROOM - Ed Guiney, Producer- SPOTLIGHT - Michael Sugar, Steve Golin, Nicole Rocklin and Blye Pagon Faust, ProducersCINEMATOGRAPHY- CAROL - Ed Lachman- THE HATEFUL EIGHT - Robert Richardson- MAD MAX: FURY ROAD - John Seale- THE REVENANT - Emmanuel Lubezki- SICARIO - Roger DeakinsCOSTUME DESIGN- CAROL - Sandy Powell- CINDERELLA - Sandy Powell- THE DANISH GIRL - Paco Delgado- MAD MAX: FURY ROAD - Jenny Beavan- THE REVENANT - Jacqueline WestDIRECTING- THE BIG SHORT - Adam McKay- MAD MAX: FURY ROAD - George Miller- THE REVENANT - Alejandro G. Iñárritu- ROOM - Lenny Abrahamson- SPOTLIGHT - Tom McCarthyFILM EDITING- THE BIG SHORT- Hank Corwin- MAD MAX: FURY ROAD - Margaret Sixel- THE REVENANT - Stephen Mirrione- SPOTLIGHT - Tom McArdle- STAR WARS: THE FORCE AWAKENS - Maryann Brandon and Mary Jo MarkeyFOREIGN LANGUAGE FILM- EMBRACE OF THE SERPENT - Colombia- MUSTANG - France- SON OF SAUL - Hungary- THEEB - Jordan- A WAR - DenmarkMAKEUP AND HAIRSTYLING- MAD MAX: FURY ROAD - Lesley Vanderwalt, Elka Wardega and Damian Martin- THE REVENANT - Siân Grigg, Duncan Jarman and Robert Pandini- THE 100-YEAR-OLD MAN WHO CLIMBED OUT THE WINDOW AND DISAPPEARED - Love Larson and Eva von BahrPRODUCTION DESIGN- BRIDGE OF SPIES - Production Design: Adam Stockhausen; Set Decoration: Rena DeAngelo and Bernhard Henrich- THE DANISH GIRL - Production Design: Eve Stewart; Set Decoration: Michael Standish- MAD MAX: FURY ROAD - Production Design: Colin Gibson; Set Decoration: Lisa Thompson- THE MARTIAN - Production Design: Arthur Max; Set Decoration: Celia Bobak- THE REVENANT -Production Design: Jack Fisk; Set Decoration: Hamish PurdyVISUAL EFFECTS- EX MACHINA - Andrew Whitehurst, Paul Norris, Mark Ardington and Sara Bennett- MAD MAX: FURY ROAD - Andrew Jackson, Tom Wood, Dan Oliver and Andy Williams- THE MARTIAN - Richard Stammers, Anders Langlands, Chris Lawrence and Steven Warner- THE REVENANT - Rich McBride, Matthew Shumway, Jason Smith and Cameron Waldbauer- STAR WARS: THE FORCE AWAKENS - Roger Guyett, Patrick Tubach, Neal Scanlan and Chris CorbouldDOCUMENTARY (SHORT SUBJECT)- BODY TEAM 12 - David Darg and Bryn Mooser- CHAU, BEYOND THE LINES - Courtney Marsh and Jerry Franck- CLAUDE LANZMANN: SPECTRES OF THE SHOAH - Adam Benzine- A GIRL IN THE RIVER: THE PRICE OF FORGIVENESS - Sharmeen Obaid-Chinoy- LAST DAY OF FREEDOM - Dee Hibbert-Jones and Nomi TalismanDOCUMENTARY (FEATURE)- AMY - Asif Kapadia and James Gay-Rees- CARTEL LAND - Matthew Heineman and Tom Yellin- THE LOOK OF SILENCE - Joshua Oppenheimer and Signe Byrge Sørensen- WHAT HAPPENED, MISS SIMONE? - Liz Garbus, Amy Hobby and Justin Wilkes- WINTER ON FIRE: UKRAINE'S FIGHT FOR FREEDOM - Evgeny Afineevsky and Den TolmorSHORT FILM (LIVE ACTION)- AVE MARIA - Basil Khalil and Eric Dupont- DAY ONE - Henry Hughes- EVERYTHING WILL BE OKAY (ALLES WIRD GUT) - Patrick Vollrath- SHOK - Jamie Donoughue- STUTTERER - Benjamin Cleary and Serena ArmitageWRITING (ORIGINAL SCREENPLAY)- BRIDGE OF SPIES - Written by Matt Charman and Ethan Coen & Joel Coen- EX MACHINA - Written by Alex Garland- INSIDE OUT - Screenplay by Pete Docter, Meg LeFauve, Josh Cooley; Original story by Pete Docter, Ronnie del Carmen- SPOTLIGHT - Written by Josh Singer & Tom McCarthy- STRAIGHT OUTTA COMPTON - Screenplay by Jonathan Herman and Andrea Berloff; Story by S. Leigh Savidge & Alan Wenkus and Andrea BerloffWRITING (ADAPTED SCREENPLAY)- THE BIG SHORT - Screenplay by Charles Randolph and Adam McKay- BROOKLYN - Screenplay by Nick Hornby- CAROL - Screenplay by Phyllis Nagy- THE MARTIAN - Screenplay by Drew Goddard- ROOM - Screenplay by Emma DonoghueSOUND EDITING- MAD MAX: FURY ROAD - Mark Mangini and David White- THE MARTIAN - Oliver Tarney- THE REVENANT - Martin Hernandez and Lon Bender- SICARIO - Alan Robert Murray- STAR WARS: THE FORCE AWAKENS - Matthew Wood and David AcordSOUND MIXING- BRIDGE OF SPIES - Andy Nelson, Gary Rydstrom and Drew Kunin- MAD MAX: FURY ROAD - Chris Jenkins, Gregg Rudloff and Ben Osmo- THE MARTIAN - Paul Massey, Mark Taylor and Mac Ruth- THE REVENANT - Jon Taylor, Frank A. Montaño, Randy Thom and Chris Duesterdiek- STAR WARS: THE FORCE AWAKENS - Andy Nelson, Christopher Scarabosio and Stuart WilsonMUSIC (ORIGINAL SCORE)- BRIDGE OF SPIES - Thomas Newman- CAROL - Carter Burwell- THE HATEFUL EIGHT - Ennio Morricone- SICARIO - Jóhann Jóhannsson- STAR WARS: THE FORCE AWAKENS - John WilliamsMUSIC (ORIGINAL SONG)- FIFTY SHADES OF GREY - "Earned It" from Fifty Shades of Grey; Music and Lyric by Abel Tesfaye, Ahmad Balshe, Jason Daheala Quenneville and Stephan Moccio- RACING EXTINCTION - "Manta Ray" from Racing Extinction; Music by J. Ralph, Lyric by Antony Hegarty- YOUTH - "Simple Song 3" from Youth; Music and Lyric by David Lang- THE HUNTING GROUND - "Til It Happens To You" from The Hunting Ground; Music and Lyric by Diane Warren and Lady Gaga- SPECTRE - "Writing's On The Wall" from Spectre; Music and Lyric by Jimmy Napes and Sam Smith
---
Key Words
Cloud Rendering Farm
|
Annecy Festival
|
MILESTONES
|
Fox Renderfarm
|
Desktop Client
|
Blender
|
Bollywood films
|
Hum3D Contest
|
NVIDIA
|
Silkroad Digital Vision
|
Malaysian Animated Films
|
Indiajoy
|
Art Competitions
|
Architectural Visualization
|
CGarchitect Architectural 3Dawards
|
Best cloud rendering services
|
Render cloud
|
VFX
|
Upin & Ipin
|
Green Book
|
Fox Renderfarm Interview
|
Mission Mangal
|
Kre8tif!
|
Fox Renderfarm Mini Program
|
CG
|
CG Tech Summit Malaysia
|
film works
|
cloud rendering
|
Golden Horse Award
|
Shadow
|
SIGGRAPH Asia 2018
|
Morrigan Flebotte
|
VWArtclub Annual *Contest
|
Asswad Mouhamad
|
animation works
|
IMax Studio
|
Boonie Bears
|
Renderosity
|
Gary S. Kennedy
|
Evermotion Challenge 2018
|
Brian Beaudry
|
Alita: Battle Angel
|
Bobby Bala
|
Mohit Sanchaniya
|
Katapix Media
|
Flying Car Productions
|
Razer
|
The Shipment
|
FoxRenderfarm
|
CG Tech Summit
|
Alpacalypse Productions
|
halloween
|
Hum3d Survial Car Challenge
|
Federico Ciuffolini
|
Ralf Sczepan
|
Iavor Trifonov
|
Clarisse
|
CGTS Malaysia
|
Isotropix
|
C4D
|
Tomasz Bednarz
|
V-Ray
|
Cinema 4D
|
MAXON
|
siggraph caf
|
Evermotion challenge 2017
|
CGTrader Space Competition
|
film of the year
|
Le Anh Nhan
|
Planet Unknown
|
Fox Renderfarm 2017 Achievements
|
CSFF
|
Julio Soto
|
boar 2017
|
Deep
|
SIGGRAPH Asia 2017
|
Chris Sun
|
Glass Cage
|
Making Life of Bri' n Chris
|
anthem studios
|
The Rookies
|
Peter Draper
|
Makuta VFX
|
Baahubali 2
|
CG Competition
|
enchantedmob
|
CG Studios
|
Academy Awards
|
CGVray
|
weeklycgchallenge
|
SketchUp
|
siggraph 2017
|
Chris Buchal
|
SIGGRAPH Asia
|
LightWave
|
Indigo Renderer
|
Rafael Chies
|
V-Ray RT
|
CPU Rendering
|
NVIDIA Iray
|
Chaos Group
|
OctaneRender
|
Redshift
|
STAR CORE
|
CICAF
|
VR
|
Mr. Hublot
|
Ribbit
|
GPU Rendering
|
Linux
|
Monkey Island
|
LuxRender
|
HPC
|
Render Farm
|
Life of Bri
|
WORLD LAB
|
Michael Wakelam
|
3D Rendering
|
Online Render Farm
|
Alibaba
|
Baahubali
|
阿里雲
|
Malaysia
|
VAX
|
Aliyun
|
2015 Hangzhou Computing Conference
|
Oscar
|
SIGGRAPH
|
CGTrader
|
Kunming Asia Animation Exhibition
|
Evermotion
|
RenderMan
|
Categories
---
Fox Renderfarm News
---
Fox Renderfarm Projects
---
Fox Renderfarm Lectures
---
CG Challenges
---
Top News
---
Blog
---
Fox News
---
Fox Talk
---
Trending
---
Recent News List
---
Fox Renderfarm, 2022년 연간 TPN 평가 프로세스 완료
2022-06-21
---
Ballerina: A CGI Fantasy Created by Kay John Yim
2022-06-15
---
시그라프 아시아 2022 컴튜터 아니매이션 페스티벌, 출품작 등록 시작
2022-06-08
---
ウィッシュ・ドラゴンから最大のウィッシュを見出す
2022-06-02
---
Zync Render 사용자가 알아두어야 두 가지 중요한 사항
2022-05-30
---
Call for Submissions: SIGGRAPH Asia 2022 Computer Animation Festival
2022-05-25
---
Zync Renderユーザーが知っておきたい2つの重要なこと
2022-05-17
---
Fox Renderfarm Evergreen Program in 2022
2022-04-29
---
Revealing Mitosis Process with Cinema 4D
2022-04-15
---
Partners
Medias