Hell FX - The Perfect Disintegration Setup in Blender
Hell FX has released a new tutorial video showcasing one of Hollywood's most famous effects, Disintegration. In the video, he creates his own setup using Simulation Nodes in Blender 3.6.Hell FX talks about Disintegration in 3 steps, including Point Distribution, Mask, Movement, Delete Particles, Applying to The Animated Character, and other breakdown explanations.!Hell FX - The Perfect Disintegration Setup in Blender 1Image via Hell FX!Hell FX - The Perfect Disintegration Setup in Blender 2Image via Hell FX!Hell FX - The Perfect Disintegration Setup in Blender 3Image via Hell FXCheck out this amazing tutorial now!Hell FX Learn channel focuses on providing awesome 3D tutorials, including tutorials for Blender and Unreal Engine. As the CG industry's leading cloud rendering service provider and render farm, Fox Renderfarm is proud to partner with Hell FX. Source: Hell FX
---
Blender 3.6 LTS Released with Amazing New Features
Blender Foundation and the online developers community proudly present Blender 3.6 LTS! It's the last highly-anticipated long-term support release of the 3.x series.It brings Simulation Nodes, an upgraded UV Packing system, improved Cycles renderer, and more. WHAT'S NEW?1. Geometry Nodes: SimulationsThe highlight of the release is Geometry Nodes: simulations! The Geometry Nodes project takes a leap with initial support for simulations.Simulation is defined by the "Simulation Zone", connecting the Simulation Input and Output. Check out how to use the new simulation nodes in Blender in the following introduction video:2. Faster scene loading and light tree building in CyclesBlender 3.6 can load large geometries into Cycles much faster, meaning rendering can start more quickly after geometry changes or switching to rendered view. Besides, the Light Tree feature introduced in Blender 3.5 is now much faster thanks to multi-threading and instancing support.3. Hardware ray-tracingAnother key feature is that Blender 3.6 now supports hardware ray-tracing acceleration for AMD and Intel graphics cards in Cycles.It added experimental support for AMD hardware ray-tracing acceleration, using HIP RT. This improves performance on RX 6000, RX 7000, W6000, and W7000 series GPUs. Also support hardware ray-tracing acceleration for Intel® Arc™ and Data Center GPUs, using Embree 4.4. Packing UV islands has been greatly improvedThanks to a new UV packing engine, Blender 3.6 dramatically improves performance on large meshes and better support for non-square materials.ShapeshiftChoose the final shape of the UV packing between Exact Shape (Concave), Convex Hull, or Bounding Box, giving layouts that use available space depending the geometry.Better TogetherThe new Merge Overlapped option makes overlapping islands stick together during UV packing.Bounding ExperiencePack To > Original Bounding Box allows islands to be packed back into the original bounding box of the selection.!Packing UV islands has been greatly improvedImage via Blender FoundationBesides, Blender Studio and the Blender community put together an asset bundle with a collection of human base meshes ready to use for sculpting, animation, texturing, you name it.THERE'S MORE- ModelingNew Retopology overlay- I/OFBX: Faster import/exportFBX: Export active color layer firstNew add-on: 3DS import/exportNew C++ based PLY importer/exporter- PerformanceFaster object linking and unlinking25% less memory usage in large geometriesBetter performance when exiting edit mode75% faster mesh conversion with multiple UV mapsUp to 80% improvement in memory usage of face corner "split" normal calculationExtracting UV map data up to 3x fasterBetter Subdivision Surface performance on large meshes with no loose verticesUp to 44% performance improvement in meshes with custom split normals data- USDCurves/Hair exportPath Mask import support for multiple primitive pathsNew "Prim Path" export optionSet emissiveColor USD Preview Surface material input when exportingAuthor opacityThreshold USD Preview Surface material attribute when exportingFixed texture alpha on exportFixed duplicate shader nodes- Node EditorCustom subtypes for group socketsSupport for smooth viewAdded shortcut to Online Manual in node's context menuLink-drag search can copy values of basic socket typesMove data-block default values with link-drag search- AssetsShow tooltips with full name and descriptionClear Asset now works for all selected assetsHide meta-data fields if asset is read-onlyNew Relative Path option per asset libraryTo learn more about Blender 3.6 LTS, please visit: https://www.blender.org/download/releases/3-6/See how the community is pushing the Freedom to Create on this reel:Tip: As the best render farm in the industry, Fox Renderfarm supports Blender cloud rendering and has joined Blender Development Fund as a Corporate Bronze Member! Fox Renderfarm is always willing to support the future of Blender and cares about the core Blender development. We'd like to work together to promote the prosperity and development of the CG industry.Source: Blender Foundation
---
Let's Learn Blender Lighting Techniques with Hell FX
As the leading cloud rendering service provider and render farm in the CG industry, Fox Renderfarm is always committed to the development of the CG community. We are glad to meet Hell FX and partner with the YouTube channel Hell FX Learn, which focuses on providing awesome 3D tutorials, including those for Blender and Unreal Engine.Hell FX Learn's latest video is a Blender tutorial using lightning techniques to create three different moods in one scene, including hope, fear, and fury.Scene 1 - Hope!HopeImage via Hell FX LearnScene 2 - Fear!FearImage via Hell FX LearnScene 3 - Fury!FuryImage via Hell FX LearnIf you're a Blender learner and want to improve your lighting skills, have a look at this easy to learn tutorial from Hell FX.Tips:Fox Renderfarm is a leading cloud rendering service provider and render farm in the CG industry. We offer a free $25 trial for every new user. Thanks for reading!Source: Hell FX Learn
---
Big News: Fox Renderfarm Joins Blender Development Fund!
As a world-leading render farm in the CG industry, we are thrilled to announce that Fox Renderfarm has joined Blender Development Fund as a Corporate Bronze Member!!Big News Fox Renderfarm Joins Blender Development Fund 1Fox Renderfarm respects and values Blender's mission in providing the world's best 3D CG technology as free and open source software. Blender Development Fund, one of the Blender Foundation's main sources of funding, enables developers to work full-time on Blender and support artists using the software. Fox Renderfarm, as Blender Render Farm, with a long history of supporting the community with various Blender versions as well as the render engines Cycles CPU, Cycles GPU and EEVEE, we are especially excited to join Blender Development Fund and become a Corporate Bronze Member. Fox Renderfarm actively stays tuned for every new release of Blender and its every update, and continues offering powerful, affordable, fast and safe cloud rendering services for all 3D CG artists!
---
Blender Foundation Released Blender 3.4
The Blender Foundation released Blender 3.4 on December 7th, which is the first major update since the release of Blender 3.0 for almost a year. This is great news for Blender fans! Features of this update include path guiding in Cycles, new sculpt and paint masking tools, Geometry Nodes viewport overlay, new UV Editing tools, improved performance and much more. Path Guiding in Cycles !Blender Foundation Released Blender 3.4 1Image via blender.orgBlender 3.4 adds support for path guiding into Cycles by integrating Intel's Open Path Guiding Library. This improves the sampling quality of individual paths, reduces noise in complex lighting scenes, and helps render scenes containing simple caustics such as water surface. It is worth noting, however, that it is not designed to be a caustic solver, such as MNEE, which means it may not help rendering scenes containing complex caustics.Currently, path guiding is only available for CPU rendering and can be enabled in the Render Properties panel under "Sampling->Path Guiding". Auto-Masking!Blender Foundation Released Blender 3.4 2Image via blender.orgAuto-Masking settings in Sculpt mode can now be accessed from the header of the 3D Viewport. New methods of auto-masking by cavity, viewpoint, and area have been added. This auto-masking option provides a faster way to paint and sculpt with Cavity instead of manually creating cavity masks. New UV Editing Tools!Blender Foundation Released Blender 3.4 3Image via blender.orgThe new geometry-based relax brush method allows the user to drive the relaxation process, thus helping to improve the quality of UV mapping by making the UVs more closely follow the 3D geometry.Some of the improvements in the UV editor grid include Non-uniform grids, Pixel spacing, and Draw grid on top of the image. Geometry Nodes!Blender Foundation Released Blender 3.4 4Image via blender.orgWhen the viewer has a geometry connected to a separate value input, the values can be visualized by a viewport overlay. The opacity of the attribute overlay can be controlled by the Viewer Node setting in the overlays popover. The intensity of the overlay can be adjusted via the overlay popover in the 3D Viewport header. More Features:!Blender Foundation Released Blender 3.4 5Image via blender.orgRead the release notes of Blender 3.4.Watch the video to learn more about Blender 3.4:Tips: As a leading cloud rendering service provider and render farm in the CG industry, Fox Renderfarm also supports Blender cloud rendering. We are offering a free $25 trial to every new registered user, so start rendering your beautiful work now! Source: blender.org
---
Blender Foundation Announced that Blender 3.3 Officially Entered Beta
Blender Foundation has declared that Blender 3.3 is officially in beta stage.Blender 3.3 will be released on September 7, 2022. Blender 3.3 promises to feature updates to Blender's animation, modeling, and rigging pipelines, improvements to Grease Pencil and Geometry Nodes workflows, enhancements to Cycles, and more.Check Blender 3.3 dates and schedule: https://developer.blender.org/project/view/142/Tips:Fox Renderfarm is a leading cloud rendering services provider and render farm for Blender. We offer a free $25 trial for every new user. Thanks for reading!Source: blender.org
---
Never Lose the Passion to Learn and Create Your Own CG Worlds
!Fox-Got-Talent-3D!Fox RenderfarmFGT3D "Easter Egg" challenge was organized in March, sponsored by Texture Box and Fox Renderfarm.Fox Renderfarm is so glad to have an interview with Maged Atef. Maged won the 3rd place of the Challenge by Wrong Easter Egg. Congrats!What's the story behind while creating this artwork? Scroll down to figure it out together!!Wrong Easter Egg ©Maged AtefWrong Easter Egg ©Maged Atef- Maged Atef- From: Egypt- Caption: Someone was surprised by this big egg, so they collected and painted it. To their surprise, it turns out to be a dinosaur's egg that just hatched, so they run for their life.!Wrong Easter Egg ©Maged Atef clay renderFox Renderfarm: Hi Maged, thank you so much for accepting our interview! Could you briefly introduce yourself?Maged: I am Maged Atef from Egypt. I am 24 years. I love art, cartoon dubbing, and English.Fox Renderfarm: How do you feel about winning the 3rd place in the FGT3D "Easter Egg" Challenge?Maged: Feels awesome, as I have always been suffering self-confidence issues, and it's the first time l officially compete with others rather than only making personal projects. And came the third, yay me.Fox Renderfarm: What's the inspiration behind the award-winning work?Maged: I love being different, that's why I thought of going for something like "wrong" easter egg, rather than a normal easter egg project.!Wrong Easter Egg ©Maged Atef dino-rend!Wrong Easter Egg ©Maged Atef egg-rendFox Renderfarm: How long did it take to finish the artwork?Maged: 5-6 hours on several days.Fox Renderfarm: What software and plugins did you use to finish the artwork?Maged: Blender 2.82 - ZBrush - Substance Painter. Fox Renderfarm: Technically and visually, which is your favorite part of this work? Why?Maged: I guess the nest, it was the first time I used Blender hair particle system, l love how it worked, and I also like how it looks.!Wrong Easter Egg ©Maged Atef nest-rendFox Renderfarm: Have you met any difficulty in the creation? How did you overcome it?Maged: Some issues creating the grass, but youtube really helped.!Wrong Easter Egg ©Maged Atef grass-rendFox Renderfarm: When and how did you encounter CG?Maged: It's a long story, but basically I studied English then tried dubbing cartoons, really loved it but found very few local cartoons in Egypt, then decided to learn to create my own cartoon. Wish me luck.Fox Renderfarm: Could you briefly tell us the story of your educational and work experience along your CG journey?Maged: Surprisingly, never been into working in CG art. Yes, I am still learning till now. Started almost a year ago, but was struggling in different courses, and was on the right track only three or four months ago.Fox Renderfarm: What do you do to improve your professional skills?Maged: Watch more tutorials and practice.Fox Renderfarm: Any other things you wanna share with CG enthusiasts?Maged: Yes, never lose the passion to learn and create your own worlds.
---
A Self-Taught Creator Realized His Unique Idea in Blender
!CG BOOSTCG Boost keeps bringing us artworks with compelling ideas behind. No matter what the theme of the challenge is, there are always artists who create their artworks with amazing stories. In the "Graveyard" challenge, sponsored by the leading render farm Fox Renderfarm, Andrey Agafonov, the 2nd prize winner, created his graveyard scene in a humorous way. Curious about how a graveyard scene can be made humorous, what the creative process was like, and how he taught himself to use Blender while being an English teacher? Here is our exclusive interview that can answer all these questions, and hopefully, will give you some inspiration and motivation.- Andrey Agafonov- 3D Artist- Chicago, Illinois!Graveyard - Andrey!Graveyard ModelingFox Renderfarm: Hi, Andrey! Thank you so much for accepting our interview, could you briefly introduce yourself?Andrey: Sure. You already know my name. I am 30 years old. I live in Chicago, IL and I am currently in the process of switching careers. Always gravitating towards the creative and artistic side of things, with a background in education, design, and project management, I am looking to make it in 3D now.Fox Renderfarm: How do you feel about winning the 2nd Prize in the CGBoost 'Graveyard' Challenge?Andrey: Familiar :D It is the second time I won the 2nd Prize in the challenge. I have participated 4 times in total. With the first one getting into the final, second one earning me an honorable mention, and the latest two being among the winners, I feel that I made decent progress and reached some level of consistency. Fox Renderfarm: Your artwork is well-made and seems to have a humorous story behind, what's your inspiration?Andrey: In fact, I wanted to go for something dark, creepy or even gory for this topic. But every humorous, Pixary idea I had resonated so well that I just went with the flow. I came up with the idea of a skeleton gardener in the graveyard and then linked it to the real person by the name of Lancelot Brown, known as the "England's greatest gardener". This drove my design choices. Lancelot BrownFox Renderfarm: And there are 2 characters in the image, please introduce them a bit, and tell us how you made them.Andrey: The first one is obviously Lancelot Brown or rather his undead representation. No grave can hold his passion for gardening down. His skeleton design was heavily inspired by characters from Coco. I sculpted every bone by hand keeping it as close to real anatomy as possible while also making sure they align with the stylized look I chose. I then rigged, posed and textured it, giving it some clothes made in Marvelous Designer. I think making this character took the most time.!Coco Coco (Image via Google)!CocoThe second one is a constable of the British Police force, who arrived at the scene after receiving several reports of a strange-looking gardener in the graveyard by its visitors. You can see him questioning his choice of occupation at the moment. To tell you the truth, he is just head and arms, haha, but it is enough to do the job. I sculpted the body parts and hand-painted his skin texture as well as the subsurface scattering map.Fun fact. No one will ever notice it because of the blur and depth of field effect, but there are some more people in the background peaking around the corner and over the fence. One of them is Inspector Gadget and another one is Dwayne Johnson. They are just planes with transparency. Left: Inspector Gadget; Right: Dwayne Johnson (Images via Google)!Inspector GadgetFox Renderfarm: The face of the skeleton is so vivid, how did you achieve its facial expression?Andrey: I used a lot of reference images and studied facial expressions, including taking pictures of my own face (which I am not going to provide because I respect your mental wellbeing). The funniest thing is that initially, I planned it to be a different angle and only after a render I accidentally did without adjusting the default position of camera I saw it from a different perspective that I liked more and it ended up being in the final image.Fox Renderfarm: The composition of the artwork is fine-balanced, did you use any elements and techniques when considering the composition?Andrey: I had a picture in my head when I thought of the idea and first created it in blockout, then perfecting it through iterations. No magic techniques were used, it was mostly trial and error and trying to fail better. One thing I always do though, is checking my values (using desaturation).!Andrey AgafonovFox Renderfarm: The choice of the color palette and the process of colors deliver a harmonious picture, what did you consider and do when dealing with colors?Andrey: I am glad you liked it! I didn't really consider it much, I think I just relied on my personal taste, which I hope is not too bad. There were definitely some color theory shenanigans under the hood from reading and watching the stuff on the topic.Fox Renderfarm: How long did it take to finish the artwork?Andrey: Around 2 weeks. And every minute before the deadline, Parkinson's law is real.Fox Renderfarm: What software and plugins did you use?Andrey: It was modeled in Blender 2.81 and rendered with Cycles. Some texturing was done in Substance Painter, clothes in Marvelous Designer, compositing in Krita. I made heavy use of Graswald add-on during environment creation which sped up the process significantly allowing great control of particle systems and materials.Fox Renderfarm: During creation, what's the most unforgettable part?Andrey: I have a pretty good memory and it wasn't so long ago, so, everything, for now. But jokes aside, I think it was when the main character came together with pose, facial expression, clothes, and props. I thought: "Wow! This looks cool. It needs a good environment now and it will be a shame if I don't finish on time so I better press on".Fox Renderfarm: Did you meet any difficulties? And how did you solve it?Andrey: Lots. With pain and satisfaction afterward.I did a lot of research, read and watched many tutorials to make it look like I imagined it. It definitely pays off and you learn a ton along the way. (Now that is something no one ever said right?)Fox Renderfarm: Could you recall your first encounter with CG? How did you step into the 3D industry? Andrey: I took a modeling course in 3ds Max before college. Did a lot of crappy modeling while listening to Sum 41. Happy times.Fox Renderfarm: Could you share your education and work experience along your CG journey?Andrey: I doodled with 3ds Max after the course for the next two years and had a couple of design gigs in college. I then chose a career in education while also doing occasional design jobs on the side. I came across the short movie "Spring" and my 15-year old self punched me in the face like: "Man, this is what you are supposed to be doing!" I was determined to switch to 3D, following a self-taught approach, and I started the active phase of it with the legendary Donut scene around a year ago. I decided to participate in challenges because they offer a project-based structure, which lets you learn about every stage of the creation process. SpringFox Renderfarm: How did you keep yourself inspired and motivated?Andrey: I just do what I love and really enjoy it.Fox Renderfarm: Anyone or any artwork that inspires you the most?Andrey: So many… If you want some names I can include Jama Jurabaev, Nikita Veprikov, Julen Urrutia, but this list could go on and on. Artworks by Jama Jurabaev!Artworks by Nikita Veprikov!Artworks by Nikita Veprikov 1 Artworks by Nikita Veprikov!Artwork by Nikita Veprikov Artwork by Nikita VeprikovFox Renderfarm: Any other things you want to share with CG enthusiasts?Andrey: Just follow your passion. When you see a direction it can really take you places.3D Render Challenge Ongoing: Shine your talents and win $500 Render Coupons, submit now!
---
5 Key Features in Blender 2.82 that Boost Your Creation Productivity
Update Alert! Blender 2.82 is Released! New features include improvements in various aspects, from sculpting to texturing. Also, the support of RTX on rendering and USD on pipeline are going to boost your productivity to the next level! Here are the details for the 5 groundbreaking new features, and what they mean to CG artists. 1. New Fluids Simulation SystemBlender is a popular open-sourced software for production and animation artists, but not a perfect choice for hardcore simulations. The new fluids simulation system - Mantaflow - is going to change that.Mantaflow is the new physically-based fluid simulation framework in Blender for gas (smoke & fire) and liquid simulations. It completely replaces the existing fluid simulation systems and changes the way you work with fluids.!Blender 2.82 2. Cloth SimulationIn cloth simulation, internal air pressure and internal cloth springs are both supported now, which means simulating balloons, cushions and soft bodies will be much easier. What's more, it is likely that future releases will enable Blender artists to do fully procedural workflow like Houdini.(Left: Internal air pressure; Right: Internal cloth springs) 3. UDIM SupportThe UDIM UV layout format was initiated by Weta Digital to handle the high-resolution textures more efficiently. Now it is widely used in the VFX pipelines.!Blender 2.82The new support for UDIM in Blender facilitates assets exchanging with applications like Substance Painter, Maya and Houdini. Moreover, UDIM is implemented across all of the key toolsets, which means to display UDIMs in the Image and UV Editors, to paint onto UDIMs in the Image Editor and 3D viewport, and to render scenes that use them in both Cycles and Eevee, are now possible. 4. Pixar USD ExportBlender now supports exporting files in Pixar's open-source Universal Scene Description format.!Blender 2.82(Image via Google) Universal Scene Description (USD) files can contain complex layering, overriding, and references to other files. Blender's USD Exporter takes a much simpler approach. When exporting, all visible, supported objects in the scene are exported, optionally limited by their selection state. Blender does not (yet) support exporting invisible objects, USD layers, variants, skeletal animation, etc. 5. Cycles ImprovementsThe updated Blender now supports custom render passes, adding in the Shader AOVs (Arbitrary Output Variables) panes in the view layer settings, with a name and data type. The output of any component of a shader graph will be shown in the custom render passes. That helps artists to debug shading problems in a scene.For artists who work in production, another change to Cycles in Blender 2.82 is supporting the AI-accelerated Denoiser from OptiX, from NVIDIA RTX graphics cards.!Blender 2.82(Image via blendernation.com)As the leading render farm in the CG industry, Fox Renderfarm supports most mainstream 3D software, renderers and plugins, including Blender, 3ds Max, Maya, Cinema 4D, Clarisse, and more. We always provide fast, secure and affordable cloud rendering services to reduce your rendering time. Welcome to get a $25 free trial.For more update details, please check the Release Notes by Blender: https://wiki.**blender**.org/wiki/Reference/Release_Notes/2.82
---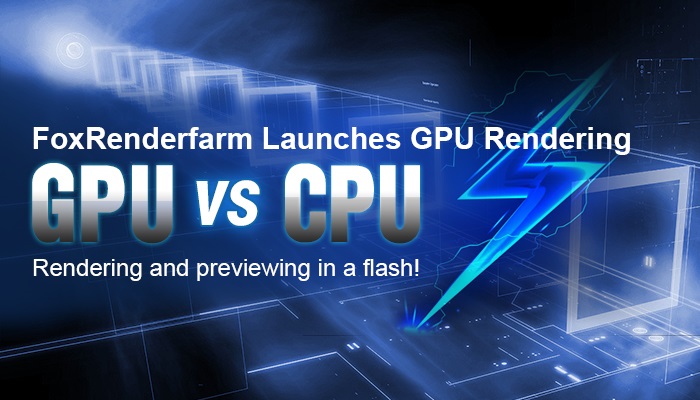 Fox Renderfarm Launches GPU Rendering
Rendering and previewing in a flash!The craze for Marvel's superhero movie Deadpool swept over the world;As the first full CGI realistic human feature film in Asia, Legend of Ravaging Dynasties dominated the headlines once the trailer came out.These two movies were rendered with GPU rendering engines.Obviously, GPU computing card and GPU rendering engines are gradually used in film production. It is a good start!Now, as the leading render farm in the industry, Fox Renderfarm launches GPU rendering. Let's start a free trial with Fox Renderfarm's GPU rendering.Let's get it started!What're the differences between GPU and CPU?A simple way to understand the difference between a CPU and GPU is to compare how they process tasks. A CPU consists of a few cores optimized for sequential serial processing, while a GPU has a massively parallel architecture consisting of thousands of smaller, more efficient cores designed for handling multiple tasks simultaneously.Adam Savage and Jamie Hyneman made a painting demonstration to show the difference between CPU and GPU:Mythbusters Demo GPU versus CPUWhat's the advantage of GPU Rendering? In the field of graphics rendering, not only films and animations but also CG art, GPU with its computing ability and architecture specially designed for graphics acceleration provides the users with a more efficient rendering solution, namely the GPU rendering solution. GPU rendering has a great advantage of fast speed and low cost. Moreover, GPU rendering becomes more and more available now, lots of works with high quality rendered with GPU has come out. GPU rendering tends to be popular with users at home and abroad.Thinking of the CPU as the manager of a factory, thoughtfully making tough decisions. GPU, on the other hand, is more like an entire group of workers at the factory. While they can't do the same type of computing, they can handle many, many more tasks at once without becoming overwhelmed. Many rendering tasks are the kind of repetitive, brute-force functions GPUs are good at. Plus, you can stack several GPUs into one computer. This all means GPU systems can often render much, much faster!There is also a huge advantage that comes along in CG production. GPU rendering is so fast it can often provide real-time feedback while working. No more going to get a cup of coffee while your preview renders chugs away. You can see material and lighting changes happen before your eyes. GPU Renderer1. Redshift is the world's first fully GPU-accelerated, biased renderer and it is also the most popular GPU renderer. Redshift uses approximation and interpolation techniques to achieve noise-free results with relatively few samples, making it much faster than unbiased rendering. From rendering effects, Redshift can reach the highest level of GPU rendering, and render high-quality movie-level images.2. Blender Cycles is Blender's ray-trace based and unbiased rendering engine that offers stunning ultra-realistic rendering. Cycles can be used as part of Blender and as stand-alone, making it a perfect solution for massive rendering on clusters or at cloud providers.3. NVIDIA Iray is a highly interactive and intuitive, physically based rendering solution. NVIDIA Iray rendering simulates real-world lighting and practical material definitions so that anyone can interactively design and create the most complex of scenes. Iray provides multiple rendering modes addressing a spectrum of use cases requiring real-time and interactive feedback to physically based, photorealistic visualizations.4. OctaneRender is the world's first and fastest GPU-accelerated, unbiased, physically correct renderer. It means that Octane uses the graphics card in your computer to render photo-realistic images super fast. With Octane's parallel compute capabilities, you can create stunning works in a fraction of the time.5. V-Ray RT (Real-Time) is Chaos Group's interactive rendering engine that can utilize both CPU and GPU hardware acceleration to see updates to rendered images in real time as objects, lights, and materials are edited within the scene.6. Indigo Renderer is an unbiased, physically based and photorealistic renderer which simulates the physics of light to achieve near-perfect image realism. With an advanced physical camera model, a super-realistic materials system and the ability to simulate complex lighting situations through Metropolis Light Transport, Indigo Renderer is capable of producing the highest levels of realism demanded by architectural and product visualization.7. LuxRender is a physically based and unbiased rendering engine. Based on state of the art algorithms, LuxRender simulates the flow of light according to physical equations, thus producing realistic images of photographic quality.GPU Computing Card Parameter TableNow Fox Renderfarm is applicable to Redshift for Maya and Blender Cycles. There are more than 100 pieces of NVIDIA Tesla M40 cards in Fox Renderfarm cluster, each server has 128G system memory with two M40 computing cards. Welcome to Fox Renderfarm to experience the super fast GPU cloud rendering!
---
Key Words
3D Art Competitions
|
3D Tool
|
Trailer
|
Fox Renderfarm Promotion
|
Cloud Rendering Farm
|
Annecy Festival
|
MILESTONES
|
Fox Renderfarm
|
Desktop Client
|
Blender
|
Bollywood films
|
Hum3D Contest
|
NVIDIA
|
Silkroad Digital Vision
|
Malaysian Animated Films
|
Indiajoy
|
Architectural Visualization
|
CGarchitect Architectural 3Dawards
|
Best cloud rendering services
|
Render cloud
|
VFX
|
Upin & Ipin
|
Green Book
|
Fox Renderfarm Interview
|
Mission Mangal
|
Kre8tif!
|
Fox Renderfarm Mini Program
|
CG
|
CG Tech Summit Malaysia
|
film works
|
cloud rendering
|
Golden Horse Award
|
Shadow
|
SIGGRAPH Asia 2018
|
Morrigan Flebotte
|
VWArtclub Annual *Contest
|
Asswad Mouhamad
|
animation works
|
IMax Studio
|
Boonie Bears
|
Renderosity
|
Gary S. Kennedy
|
Evermotion Challenge 2018
|
Brian Beaudry
|
Bobby Bala
|
Mohit Sanchaniya
|
Katapix Media
|
Flying Car Productions
|
Razer
|
The Shipment
|
FoxRenderfarm
|
CG Tech Summit
|
Alpacalypse Productions
|
halloween
|
Hum3d Survial Car Challenge
|
Federico Ciuffolini
|
Ralf Sczepan
|
Iavor Trifonov
|
Clarisse
|
CGTS Malaysia
|
Isotropix
|
C4D
|
Tomasz Bednarz
|
V-Ray
|
Cinema 4D
|
MAXON
|
siggraph caf
|
Evermotion challenge 2017
|
CGTrader Space Competition
|
film of the year
|
Le Anh Nhan
|
Planet Unknown
|
Fox Renderfarm 2017 Achievements
|
CSFF
|
Julio Soto
|
boar 2017
|
Deep
|
SIGGRAPH Asia 2017
|
Chris Sun
|
Glass Cage
|
Making Life of Bri' n Chris
|
anthem studios
|
The Rookies
|
Peter Draper
|
Makuta VFX
|
Baahubali 2
|
CG Competition
|
enchantedmob
|
CG Studios
|
Academy Awards
|
CGVray
|
weeklycgchallenge
|
SketchUp
|
siggraph 2017
|
Chris Buchal
|
SIGGRAPH Asia
|
LightWave
|
Indigo Renderer
|
Rafael Chies
|
V-Ray RT
|
CPU Rendering
|
NVIDIA Iray
|
Chaos Group
|
OctaneRender
|
Redshift
|
STAR CORE
|
CICAF
|
VR
|
Mr. Hublot
|
Ribbit
|
GPU Rendering
|
Linux
|
Monkey Island
|
LuxRender
|
HPC
|
Render Farm
|
Life of Bri
|
WORLD LAB
|
Michael Wakelam
|
3D Rendering
|
Online Render Farm
|
Alibaba
|
Baahubali
|
VAX
|
Malaysia
|
2015 Hangzhou Computing Conference
|
Oscar
|
SIGGRAPH
|
CGTrader
|
Kunming Asia Animation Exhibition
|
Evermotion
|
RenderMan
|
Categories
---
Fox Renderfarm News
---
Fox Renderfarm Projects
---
Fox Renderfarm Lectures
---
CG Challenges
---
Top News
---
Blog
---
Fox News
---
Fox Talk
---
Trending
---
Recent News List
---
Disney Drops Official Trailer for 'Once Upon a Studio'
2023-09-29
---
VFX Breakdown of 'Transformers: Rise of the Beasts' by MPC
2023-09-26
---
Diwali Special Offer 2023 For Indian Friends
2023-09-25
---
Fox Renderfarm Now Supports 3ds Max 2024!
2023-09-22
---
Disney+ Drops Teaser Trailer for 'Percy Jackson and The Olympians'
2023-09-21
---
This Halloween! Join FGT3D Pumpkin Mage Challenge
2023-09-20
---
Revealing Adobe's Substance 3D Connector
2023-09-19
---
'Aquaman and the Lost Kingdom' Gets Official Trailer
2023-09-18
---
2023 추석 특별 이벤트, 한국 사용자만 적용!
2023-09-15
---
Partners
Medias