Fox Renderfarm Highlights in 2019
At the beginning of 2020, let's take an opportunity to look back at our journey in 2019.
First, it wouldn't be possible without the continuous support we get from all of you, for which we're deeply grateful and want to thank you!
Here are some of 2019's highlights.
=Fox Data=
Serving 3,000,000 end-users
Rendered 90+ films
Handled 5,000,000 computing tasks
Rendered 200,000,000 frames
=Fox Events=
March 15th, Shenzhen, Fox Renderfarm's CG Salon, 'To know the past, the present and the future of Japanese CG industry in 60 minutes'
Fox Renderfarm's CG Salon is set to build a communication platform for the CG industry. The speaker, including Mr. Luo Jun (CEO and founder of Pixeland Digital Production) and Mr. Tetsuya Ogawa (Corporate Planning Director of CGCG STUDIO Inc.), introduced the development of the CG industry in Japan and Asia.
April 13th, Shenzhen, SIGGRAPH 2018 Computer Animation Festival Electronic Theater (Shenzhen Tour)
The event was held by Fox Renderfarm and co-organized with ACM SIGGRAPH Shenzhen Chapter and Rong De Culture. As the leading cloud rendering platform, Fox Renderfarm always works closely with SIGGRAPH and promotes the development of CG and interactive technology.
April 29th, Hangzhou, Fox Renderfarm @ The 15th China International Animation Festival
Ben Cheung, Deputy General Manager of Fox Renderfarm, was invited to participate in the 15th China International Animation Festival – 2019 China Young Director Animation Pitch Contest & the Launch of Young Director Support Program, organized by Xihu District People's Government, Zhejiang Animation Industry Association and Wuhu Animator Space.
May 19th, Shenzhen, Fox Renderfarm's CG Salon, 'The beauty of CG Technology'
Fox Renderfarm's CG Salon, 'The beauty of CG Technology' was successfully held in Shenzhen. The event is co-organized with ACM SIGGRAPH Shenzhen Chapter and the International Chinese Association of Computer-Human Interaction(ICACHI). Dr. Jos Stam, Dr. LiWei (Chair of ICACHI), and Mr. Jelo Wang (CEO of FACEGOOD) were invited to share their CG insights and experiences with the audience.
July 28th - August 1st, Los Angeles, Fox Renderfarm @ SIGGRAPH 2019
SIGGRAPH 2019 was successfully held in Los Angeles, which appealed to researchers, artists, and professionals who live and breathe computer graphics and interactive techniques. Fox Renderfarm was honored to be one of the exhibitors and sponsors and showcased our fast and secure cloud rendering solutions and connected industry players from all around the world.
September 3rd - 6th, Malaysia, Fox Renderfarm @ Kre8tif! 2019
Fox Renderfarm participated in Kre8tif! 2019, an annual digital creative content industry event in Malaysia, aiming to spark innovation and exploration of major trends across the creative sector. We received a large number of CG enthusiasts and had good communications with them regarding our powerful cloud rendering service.
October 15th, Beijing, CG Tech Summit, 'Small Steps Get Us to Far Away Places Along the CG Journey'
The CG Tech Summit was successfully held in Beijing, aiming to promote the CG industry communication and creating opportunities for cooperation. The speakers including Mr. Justin Jiang Hui (Senior Producer), Mr. Harry Lam (PIXOMONDO VFX Supervisor), Mr. Huang Shuo (CEO of Dagong Technology), Mr. Jacky Ke Jiang (Independent Animation Director), and Mr. Peng Cheng (CEO of Ecoplants).
November 20th - 21st, India, Fox Renderfarm @ VFX Summit 2019
VFX Summit 2019, the country's largest VFX event hosted by Indiajoy, successfully held in Hyderabad, India. As one of the sponsors and exhibitors, Fox Renderfarm treasured very much the chance of exploring business opportunities and discussing industry insights in VFX Summit 2019.
December 1st, Shenzhen, CG Tech Summit
Several Senior TDs were invited to the CG Tech Summit held by Fox Renderfarm. They shared their experiences and insights in the tools development and pipeline management with CG enthusiasts.
=Fox Projects=
As for the film rendering, Ejen Ali: The Movie, BoBoiBoy Movie 2 and Upin & Ipin: Keris Siamang Tunggal, together are Malaysia's Top 3 local animated films, they all have chosen Fox Renderfarm, the TPN-accredited cloud render farm, as their exclusive cloud rendering partner.
Nezha, the Chinese animation film ranked as the NO. 1 at the China animation film box office, together with Wolf Warriors 2 and The Wandering Earth, ranking top 3 box office smashes in China, were all rendered with Fox Renderfarm.
=Fox Content Protection=
In September, Fox Renderfarm has successfully completed MPAA's Content Security Best Practices and officially become a TPN Trusted Partner.
Thank you for your support and love in 2019 and we'll do our best to make you proud in 2020! Professional and secure cloud rendering services will be provided for all the customers continually.
Wishing you an amazing 2020 with countless inspiration and happiness!
---
Fight COVID-19 With CG Art
The breaking out of COVID-19 is severely impacting all industries and disrupting the daily routines of individuals globally. For fighting against the virus, governments are calling on all of us to stay at home to stay safe.
During the quarantine period, the CG artists confront coronavirus in their creative ways. Fox Renderfarm collects some creative 3D rendering artworks and the inspirations behind. Let's have a look!
Artist: Valentine Panchin (Ukraine)
Caption: Well, it was a pretty funny joke going around the internet about how the virus is related to the brand name, and I decided to make my own take on it. But unfortunately, I wasn't first and later I realized that my idea wasn't original. I live in Ukraine and most of the day I work from home. Only in the third week, I started learning more stuff. So I've been pretty lazy.
I spend more time socializing online than ever before. Also, my work in the office has become remote and I split it into small portions during the day. So I may end up working at 10 pm. And on a regular basis, I stop at 6 pm. So I have less time to be creative.
Artist: Sai Dinesh Komanduri (India)
Caption: I was working on a project and took a little break from it. Because of this reason, I thought why not make an image on how the Virus might look in my image and just went on with the instincts.
The lifestyle has changed due to the lockdown, spending more time on PC than usual and sometimes it is getting frustrating just being in one place for longer periods. Toughest problem is like… Sitting in the same room for hours and not getting any ideas. Also, I'm a freelancer and I don't complain about it much.
Artist: Kyle Yeap (Malaysia)
Caption: My inspiration came from a naval mine, and I restored it with resistors. As for the COVID-19, I hope everyone can pay attention to this. It will explode at any time if people walk around.
Artist: Marien Singbo (Sweden)
Caption: I made it in CINEMA 4D with Redshift. My inspiration came from running out of toilet paper basically. I had to go on pilgrimage over 3 hours, through 4 stores here in London before I finally found some toilet paper. People have been hoarding even though the government & supply managers have reassured us that we will not run out of toilet paper anytime soon. My sister who has a 1-year-old baby has been unable to purchase baby wipes. It's all a bit disappointing and incredibly frustrating as it can easily be avoided.
I've also been very affected, at least my career plans. I had a freelance gig canceled. And I was also going to have an animation internship at a big studio in London as the last thing in my education. But it's been canceled/postponed for now.
As I will be graduating soon it's all a bit scary not knowing how the industry will recover from this and how I as a new person in the industry will be affected.
Artist: Alvaro Moreira (Brazil)
Caption: So the COVID art is about the Brazilian president who keeps denying that the virus can be dangerous to the population, he keeps saying stuff like "it's just the flu". The character is our president.
About my work life nowadays. I have been a freelancer since 2012 and I've been doing home office for 8 years now, so, in this aspect, it didn't change that much. The economy is the worst than ever in Brazil though so I can't get any jobs like I used to do here. I'm still working with some foreign studios though. Anyway, it's not that bad for me
Fox Renderfarm Team: creativity, humanity and love are what make us solid and strong that COVID-19 is never able to conquer. Please stay home, stay safe and stay creative! Fox Renderfarm is staying with you! By holding our hands together, victory will come very soon!
NOTE: Fox's Got Talent campaign keeps going. Welcome to share your artwork rendered with Fox Renderfarm and be our April winner! For more info https://www.fox**renderfarm.com/fox**-got-talent.html
---
FGT3D 'Easter Egg' Challenge Winners Announced
We are happy to announce the winners of the Fox's Got Talent 3D Challenge themed on 'Easter Egg'!
From Feb. 26th to Mar. 30th, we received several artworks from various countries. After three rounds of discussion and election by jury, three artworks were picked and would be awarded. Congrats to the winners and honorable candidates, but also to everyone who was taking part.
The prize covers fast and easy cloud rendering services provided by Fox Renderfarm and a huge amount of textures and models provided by texturebox.com. We will contact the winners during the next few days.
Now let's see who are the winners!
1st place - The Art of Easter Eggs
Surjendu Das will receive prizes:
Fox Renderfarm: $500 render coupon
Texture Box: Patreon membership x 3 months
Artists: Ritam Chatterjee & Surjendu Das
Artwork Name: The Art of Easter Eggs
Software and plugins used: 3ds Max 2019, Substance Painter, Vray Next, Photoshop
Caption: It has always been fun to explore our creative ideas, while we are at home. So I tried to portray the same idea through this artwork, where someone is being creative and painting the Easter Eggs in his own artistic styles while at home. And he is also feeling lucky to share his process with us.
2nd place - Easter Land
Sai Dinesh Komanduri will receive prizes:
Fox Renderfarm: $300 render coupon
Texture Box: Patreon membership x 2 months
Artist: Sai Dinesh Komanduri
Artwork Name: Easter Land
Software and plugins used: Blender, ArmorPaint and Photoshop
Caption: Bunny has painted the Eggs and went into the bunny house to get ready for Easter.
3rd place - Wrong Easter Egg
Maged Atef will receive prizes:
Fox Renderfarm: $200 render coupon
Texture Box: Patreon membership x 1 months
Artist: Maged Atef
Artwork name: Wrong Easter Egg
Software and plugins used: Blender, Zbrush, Substance Painter
Caption: Someone was surprised by this big egg, so they collected and painted it. To their surprise, it turns out to be a dinosaur's egg that just hatched, so they run for their life.
Honorable Mention - The Moment
Roy Bou Samra will receive prizes:
Fox Renderfarm: $100 render coupon
Artist: Roy Bou Samra
Artwork Name: The Moment
Software and plugins used: 3ds Max 2016, V-Ray 3.60.03, Photoshop CC 2017
Caption: The concept of this image is mainly related to the history of the Easter egg.
It started with Saint Mary Magdalene when she talked with Caesar about Jesus' resurrection.
She picked up a hen's egg from the dinner table to illustrate her point of resurrection but Caesar told her that it is impossible for a human being to return to life as it is impossible for the egg to turn red. At the moment, immediately the egg turned red in her hand. (The moment is represented in the picture when the egg started to turn red. That's why the name of the image is " The moment".
The Romans, Chinese, Egyptians and Persians all cherished the egg as a symbol of the universe. (They are symbolized by the egg pieces surrounding the main egg).
In this project, I tried to combine the present that we are living now (which is the black background in the picture), with the meaning of the Easter egg which gives us hope for the future ( in the black background there is no edges, no guidelines but there are two white spaces that represent hope).
Sponsors
Thanks to all the participants. We really appreciate your imagination and hard work. Meanwhile, A big thank you goes to our sponsors. Finally, we'd like to thank our jury revealing FGT3D 'Easter Egg' Challenge winners. Congrats to winners again!
Who're our next winners? We hope to see you in the next FGT3D challenge!
NOTE: Fox's Got Talent campaign keeps going. Welcome to share your artwork rendered with Fox Renderfarm and be our April winner! For more info https://www.fox**renderfarm.com/fox**-got-talent.html
---
Fox Renderfarm Has Your Back Against COVID-19
Dear friends,
How are things going?
As we all know, currently, planet Earth is shutting down, everywhere empty stadiums echo to absent crowds. Governments around the world are taking extraordinary measures to curb the novel coronavirus and alleviate its economic consequences. As of March 18th SARS-CoV-2, the virus behind COVID-19, had registered 134,000 infections outside China in 155 countries and regions. Politicians including Winston Peters, Deputy Prime Minister of New Zealand and Minister of Foreign Affairs and Nicholas Burns, former United States ambassador, have stressed that its impact would be as serious as World War II. It seems that the world is at a turning point that really needs all the world citizens to hold our hands and fight together.
(Image via Google)
In the darkest moment, Fox Renderfarm cares deeply about every staff and our friends worldwide. We've sent numerous masks to customers domestically and mailed packages of masks to European and Asian countries including Spain, India, Malaysia, etc, under the condition that we keep enough masks for our own staff.
Most of us are successfully getting back to the office with our masks on every working day after 1-month working from home. No matter during the quarantine session or in office now, our unaltered purpose is to keep the services available and accessible for you as easy as it was before the outbreak. So the machinery has been working non-stop, and our customer service, technical and business support team have been working dedicatedly since January 28th.
Besides wearing masks, everyone's temperature is tested twice a day and we are sprayed with disinfectant every time we enter the office area. The entire office building and any facility around are sterilized strictly and timely. Moreover, discussions and meetings are brought to video conferencing to keep a safe social distance.
We guarantee that online communication and remote working do no harm to your data security at all. As a TPN-accredited vendor, Fox Renderfarm is in compliance with the TPN standards and our NDA requirements. All your data, assets and information are accessed and transferred accordingly as usual, and it's definitely leakage-worry-free.
Shenzhen Rayvision Technology Co., Ltd. (Fox Renderfarm's company)
If you are having a tight deadline and crazy workloads, but working from home and your PC constantly crashing down cause you a headache in the rendering process, massive render nodes at Fox Renderfarm are at your fingertips. Plus, our 24/7 customer service and professional TD support are seeking better and better solutions for you. Fox Renderfarm spares no effort to help you minimize rendering disruption to your work, and we would love to overcome difficulties with our beloved partners and friends together.
Creativity, humanity and love are what make us solid and strong that COVID-19 is never able to conquer. Please stay home and stay safe! By holding our hands together, victory will come very soon!
Best regards,
Fox Renderfarm
Your Powerful Cloud Render Farm
---
Fox Renderfarm Desktop Client 5.0.7.1 Released!
Dear Fox Renderfarm users,
We are so excited to announce that the latest version of Fox Renderfarm Desktop Client is released!
In this latest version, there's a new way to submit jobs - Plugin Submit, which means you can submit your job directly from inside your 3D software, improving your workflow. Besides, you can also batch submit your jobs in Fox Renderfarm Desktop Client. You can choose the appropriate submission way according to your needs.
New way to submit: You can start your render job from inside 3ds Max or Maya.
Upload and download automatically: After the submission from inside your 3D software is completed, the rendering will automatically start and the rendered jobs will be automatically downloaded to a local folder as chosen.
Improve workflow: Streamline workflow, save your render time, make rendering faster and easier.
Download Now(Click here)
Ready For Windows

Supported Software:Maya 2015 64bit+ / 3ds Max 2014 64bit+

Here's the tutorial for plugin submit in Desktop Client 5.0.7.1

Installation and login
Download the latest Desktop Client.

Right-click the executable file, click "Run as administrator" to install the plugin program.
(Note: please click "Yes" on pop-up warning)
Double click the installed client and open the login page, you can select the platform in the list on the left.
3ds Max Job Submission Tutorial
Login Fox Renderfarm Desktop Client.

Submit a rendering job from inside 3ds Max by clicking 'Submit job' under Fox**renderfarm** menu in the menu bar.
Click the "Plugin config" button to configure the plugin version.
Note: By default, one job is submitted at a time. If you submit multiple jobs, check the "Activate Batch Render" to add multiple views.
Click "QuickCheck" to start the analysis, pop up analysis progress page. Click "Submit" to start uploading.
Note: The corresponding prompt will appear in case of any errors in the analysis results or warning thereof.
After the submission is completed, the rendering will automatically start and the rendered jobs will be automatically downloaded to a local folder as chosen.
Maya Job Submission Tutorial
Login Fox Renderfarm Desktop Client.

Submit a rendering job from inside Maya by clicking 'Submit job' under Fox**renderfarm** menu in the menu bar.
Click the "Plug-in config" button to configure the plugin version.
Click "QuickCheck" start analysis, pop up analysis progress page. Click "Submit" to start uploading.
Note: The corresponding prompt will appear in case of any error in the analysis results or warning thereof.
After the submission is completed, the rendering will automatically start and the rendered jobs will be automatically downloaded to a local folder as chosen.
Download it now and enjoy rendering with Fox Renderfarm!
---
Street Musician Reindeer Made in Blender: Sprinkle Some Fun in Character
Speaking of reindeer, your first impression might be the ones pulling the sledge for Santa. Whereas, artists set their imagination free in the CGBoost "Reindeer" challenge which is sponsored by the TPN-accredited cloud render farm, Fox Renderfarm.
Besides all the cute creatures made by the artists, there's one that the audience can't take their eyes off, a punk-style reindeer with one leg on the stool, playing his guitar and humming alone.
You must want to know who's the great mind behind, how he thought of the ideas making a street musician reindeer, what software and plugins he used, and how he made it possible step by step. Let's introduce the creator, Dante Resendez Delgado, 3rd prize winner in the challenge. And his exclusive interview with Fox Renderfarm shares more than just his creation process. Let's dive in and enjoy!
Dante Resendez Delgado
3D Artist
Fox Renderfarm: Hi, Dante! Thank you so much for accepting our interview. Could you please give a brief introduction about yourself?
Dante: Hello there, thanks for this interview, my name is Dante Resendez Delgado I call myself on social media "Mycro Tr Ct". I'm a Mexican 3D artist, born in Victoria city, and I live and work in Monterrey.
I have been working for about 10 years as a 3D artist, and for about 6 years working as a 2D digital artist, doing graphic design and illustration. Most of my artworks are for advertising.
In 2006, I had the opportunity to travel out of Mexico and live in Canada. Because I have the intention to learn 3D animation, that goal happened after two years when I went to Spain and learned 3D. It was a very difficult journey.
Since then, I have been working in 3D for advertising doing a mix of 2D and 3D.
Artworks by Dante
Fox Renderfarm: How do you feel about winning the 3rd prize in the CG Boost "Reindeer" Challenge?
Dante: So excited to win the challenge, I got the third place but I celebrated as I was winning the first prize. For me, getting that place was an honor, also having the chance to meet people who are better than me and have a strong background in the 3D world gives me more confidence.
Participating in challenges pushes my work in a better way. I learned to work faster and learned new techniques. In this case, I was working with particles for the first time in Blender and depth of field, also some hair fur, Quixel Mixer and Graswald.
Fox Renderfarm: The reindeer has a very strong characteristic. What's your inspiration for this picture of the cute reindeer?
Dante: My inspiration came from Vancouver, I've been there before and remembered my Granville walks listening to the music on the street where traveler musicians playing for tips and asking for changes to continue their traveling, some of them are really good ones, those rebel and free souls are really good inspiration topics.
Fox Renderfarm: We found the texture of the reindeer quite sophisticated, and different parts have a different texture. Could you tell us the creative process of the reindeer?
Dante: Yes I will. First, I had two words in my mind, do it simple and fast, I was only able to spend 6 days, no more than 8, because I have a full-time job. I could spend only nights, and Christmas vacation was coming. So I was making it easy on the planning, the idea, and also the production.
I wanted the reindeer to look like a stuffed toy. I went for square pattern textures to make a flannel shirt, and I found a good texture on google for free, that was for the shirt. For the skin, I used a normal map of a fabric texture I found on CCO textures and put in the node just to add volume. And also I used hair fur on the skin to help the texture look better. On the jeans, I did almost the same, but there I just corrected the color of the diffuse textures.
I did not complicate workflow because of the time, the most important thing for me was to have the color palette clear in my mind, that was the most important guide to lighting and texture as the scene for me.
Fox Renderfarm: The lighting merges cold and warm together.How did you set the lighting? And any ideas behind that?
Dante: Technically, I used 3 light areas and one point to support the backlight. Area lights let me have more control over the scene, easy to get contrast on areas. I also used a very easy HDRI on the strength I got from the HDRI heaven. In my setting renders, I used a volume scatter node connected to the world that let me blur the particles.
I like to spend time playing with lamps, just play and see, if I like what I see that's fine. For sure I'm always looking for good contrast and layers on the composition, also have in my mind what makes the sense on the character and the situation he is living on the scene. In this case, Reindeer is a nostalgic traveler character, a free soul who is going around the world with no worries. Some ideas came into my mind because my initial idea was to make a talented character who is discovered by a Santa Claus talent scout.
Fox Renderfarm: How long did it take to finish the artwork?
Dante: It took me 6 to no more than 8 nights after my job.
Fox Renderfarm: What software and plugins did you use?
Dante: I used Blender 2.81 rendered with Eevee, I also used Graswald and Quixel Mixer textures for the floor and background, and some color corrections in Photoshop.
Fox Renderfarm: When and how did you come up with the idea of entering the 3D industry?
Dante: I was sure to start when I was a little kid, and that was just the idea to work in something related to art and entertainment, like animation or movies. I liked to watch cartoons like Hanna Barbera, Popeye, Looney Tunes... I always like to draw cartoons and I grew up with all that inspiration.
Cartoons by Hanna Barbera (Image via IMDb)
Popeye the Sailor (Image via Google)
Looney Tunes (Image via Google)
Then I became a little older and I knew about a school called CalArts (California Institute of the Arts), then I found The Kubert School and VanArts (Vancouver Institute of Media Arts), they teach people how to draw comics and make animation movies. Wow!!! I remember sending letters written by hand in Spanish, asking for information when I was a teenager. But especially in 3D, it was when I saw Toy Story 1, that was the biggest inspiration and the first.
Toy Story 1 (Image via IMDb)
Fox Renderfarm: Could you share with us your education and work experience along the 3D journey?
Dante: For sure, I was studying 3D animation in Barcelona on IDEC, the university of Pompeu Fabra, they have a program and teach you animation and 3D. Students end up doing a short film, like preproduction and production, and you learn a lot from it. But for some people who don't know anything about 3D, if you are thinking about doing a short film in 3D, you have to be a very organized person and do a good planning, and there are more things to do if you wanna make it right and have good results, this is my personal opinion.
I was studying really hard but I had a very failed result with my final project. That put me in another direction, I started to do more hard work, study and discipline myself to practice and improve my skills.
Artworks made by Dante in 2009
Experience in work, well, I started working as an illustrator during my study in graphic design. After my graduation, I kept working in the same direction, and during my free time, I worked on my own projects. I have two projects published by Pictoplasma (Berlin, 2006). The Pictoplasma Encyclopedia Character and Rabbit Essence poster. I also had the opportunity to collaborate on projects, some of which won prizes around the world. I did the concept art for the image of a school of design in Saltillo Mexico called The Digital Invaders, and that won so many prizes, one of which in Cannes Lions.
Projects published by Pictoplasma
Concept Art for The Digital Invaders School
Fox Renderfarm: As an outstanding 3D artist, what do you do to keep yourself motivated and inspired?
Dante: Thanks for that. It is really difficult to keep yourself motivated because in many ways you are alone, people will say, your work is really good sometimes, other times don't. Actually, only you know where you wanna go with your work, and at the end, you have to be your own judge, how good you wanna be, what really matters is what you believe you can do, then you have to put action!!! And try to make good decisions, don't forget that one.
Surround yourself with people who go in the same direction and who will understand your ideas even if you don't talk with them like, maybe you just follow them on Instagram, that's good!!! Because they will show you constantly what they are doing and you can be motivated watching what they are doing. That's my experience.
Inspiration is everywhere if you wanna be a character designer you can be inspired in all kinds of art, like fashion, photography, architecture because everything has a sense and you can apply in your own work.
Fox Renderfarm: Any artwork or anyone that inspires you in the industry?
Dante: Tartakovsky!!! One of my favorites, I love his work in Samurai Jack!!! And what he tries to do in Popeye 3D movie, in comic art, Joe Madureira (Battle Chasers), I love his very unique style the same as Humberto Ramos (Crimson), Luis Vasquez (illustrator from Monterrey Mexico), and Juan Díaz Canales (Black Sad).
Left: Genndy Tartakovsky; Right: Samurai Jack
Left: Joe Madureira; Right: Battle Chasers
Left: Humberto Ramos; Right: Crimson
Illustrations by Luis Vasquez
Left: Juan Díaz Canales; Right: Black Sad
Talking just about the drawing style, shape and color palette. Brian Froud, Concept Artist for Dark Crystal, you have to see his work, it is amazing, Daniel Lara is one of my favorites on 3D, everyone in Blender community knows who is, those artists are the very first ones who have been inspiring me.
Left: Brian Froud; Right: The World of the Dark Crystal(Images via Wikipedia & Google)
"Hero" by Daniel M. Lara
Fox Renderfarm: Any other things you want to share with CG enthusiasts?
Dante: Thanks Fox Renderfarm for sponsoring me and for the interview, I hope it can inspire some CG enthusiasts, not much to say just never give up and keep on the road.
3D Render Challenge Ongoing: Shine your talents and win $500 Render Coupons, submit now!
---
新しいロゴのお知らせ:Fox Renderfarmはロゴマークをリニューアルしました
Fox Renderfarmは更なる成長・進化を遂げるために今回ロゴマークをリニューアルしました。これからも変わらぬご支援をお願い致します。
お客様の厚いご愛顧によりFox Renderfarmは2007年のサービスインから長年にわたって成長と発展を続けさせて頂いております。今回、更なるサービス向上を期して2020年1月10日に弊社ロゴのリニューアルをさせて頂きました。新しいロゴにはご信頼頂いておりますFox Renderfarmブランドの向上と皆様の明るい未来の意味が含まれています。
新しいロゴは、グラフィック部分とテキスト部分によって構成されています。 グラフィック部分はFox(キツネ)の尾を象徴的な意味合いで使用しており、「O=サークル」は私たちの和のアイデンティティと親しみやすさを表しています。テキストは現代的でスピーディーなイメージを持ったフォントとし、サービスの安定性と信頼性、クラウドレンダリングサービスの高速性を表しています。
オレンジは、Fox Renderfarmのブランドカラーです。 オレンジは暖かさと活力を表しており、お客様への感謝の気持ちも含まれています。
本日から、徐々に新しいロゴに切り替えて行く計画です。 同時に、ブログ等での新ロゴの使用も可能です。 新しいロゴとガイドはこちら(Fox Renderfarm Media Kit)からダウンロードお願い致します。
最後に、いつもごご利用頂きまして本当にありがとうございます。Fox**Renderfarm**は昨年米国TPN(Trusted Partner Network)の認定ベンダー資格を受けセキュリティ面でも万全を期しております。今後とも変わらぬご愛顧をよろしくお願いいたします。
---
Jensen HuangがGTC CHINA 2019の講演でRAYVISIONクラウドレンダリングにNVIDIA RTXのスーパーチャージを発表
今や国際的なイベントとなったNVIDIA GTC CHINA 2019は12月16日から19日に中国の蘇州で開催されました。最もホットなトピックである最新のコンピューティングによって提供される可能と最先端の現場での具体的で洞察に富んだ講演内容はトップクリエイターにダイレクトに訴求するものでした。
AI革命が業界を縦断してあらゆる分野に広がっていることから、NVIDIAの創設者兼CEOであるJensen Huangが12月18日のカンファレンスステージに登場し、NVIDIAプロダクトの大量導入によって得られる高速化のためのAI関連の最新のテクノロジーを披露しました。
蘇州で開催されたGPUテクノロジーカンファレンスに集まった6,000人以上の科学者、エンジニア、起業家に対する彼の基調講演では、AI展開の進歩と、自動車、ゲーム、ヘルスケア業界でのNVIDIAの取り組みに触れました。
Jensen Huang氏は「私たちはアインシュタイン、レオナルドダヴィンチス、ミケランジェロのためにコンピューターを構築します」、「これらのコンピューターは科学者、エンジニア、そして芸術家すべての皆様のために設計されているのです。」と通路にまで溢れた会場の全ての観客に向けて熱く語り掛けました。
さらに、Huang氏はRayvision INC.(Fox Renderfarmの運営会社)をアジア最大のクラウドレンダリングプラットフォームと紹介した上で、Rayvisionが近い将来NVIDIA RTX GPUを用いたより高速なレンダリングサービスを提供できるだろうとRayvisionのサービスロードマップを公表しました。例えば5,000 RTX GPUの最初のバッチは2020年にサービスインの予定ですが、これによりレンダリングのコスト効率が向上することが期待されます。計算上485時間のアニメーションレンダリングは39時間に短縮することができます。これは、ほぼ12倍速く、コストも7倍安くなります。
更にHuang氏は、あらゆる種類のAIサービスを実現できるテクノロジーが市場から強く求められているとした上で、NVIDIAが先週の水曜日にアップデートした新しい推論技術を採用したディープラーニングプラットフォームは、これらのサービスを実現する上での最速で最も効率的なものになるだろうと語っています。
これは、NVIDIAがGPUの並列処理を最適化するにあたって、コンピューティングスタック全体での作業、アルゴリズム、特定の垂直市場におけるエコシステムの専門知識を適用することで、驚異的な高速化を達成した最新の例です。
Huang氏は「GPUアクセラレーションは、ムーアの法則が破綻した現在、次なる高速コンピューティングを実現できる突破口になるだろう」と語っています。
NVIDIAの戦略的パートナーとして、弊社(Rayvision / Fox Renderfarm)はこのカンファレンスに参加させて頂いたことを光栄に思い感謝しております! RTX GPU、AI、5Gのテクノロジーによるドアを吹き飛ばすようなとてつもないパフォーマンスを近い将来Fox Renderfarmで是非体験して頂ければと思います。
リファレンス: https://blogs.nvidia.com/
---
'Tanhaji', Rendered with Fox Renderfarm, with a Worldwide Gross of US$49 Million Became the Highest-grossing Bollywood Film of 2020
Recently, a biographical period action film Tanhaji: The Unsung Warrior became one of the most popular movies in India.
Released on January 10, the box-office collection of the movie has been roaring since day one and became the highest-grossing Bollywood film of 2020 with a worldwide gross of US$49 million.
Tanhaji: The Unsung Warrior, directed by Om Raut, rendered with Fox Renderfarm, is a historical drama based on the life of Tanaji Malusare, a 17th-century Marathi military leader and founder of the Maratha Empire. The film depicts Tanhaji's attempts to recapture the Kondhana fortress once it passes on to the Mughal emperor Aurangzeb who transfers its control to his trusted guard Udaybhan Singh Rathore.
Tanhaji: The Unsung Warrior - Official Trailer
Tanhaji: The Unsung Warrior is praised as a visually stunning film. NY VFXWAALA, a visual effects studio in India, was the VFX partner of the movie. Incorporated in May 2015, NY VFXWAALA has won 14 awards for VFX including the 64th National Award for Shivaay and Asian Film Award (AFA) for BajiraoMastani, becoming the only Indian VFX house to have won the AFA award till date.
Despite many other new films being released, it seems that the blockbuster will remain strong in box office performance.
What's more, Fox Renderfarm will have an exclusive interview with NY VFXWAALA, talking about the stunning VFX in Tanhaji: The Unsung Warrior. Please stay tuned with us!
---
Fox Renderfarm Desktop Client Version 5.0.6.5 is Released!
Hello Fox Renderfarm user,
First, Thanks for using the leading render farm in the CG industry, Fox Renderfarm. The latest version of Fox Renderfarm Desktop Client is here!
Windows version download here
Linux version download here
Let's check out the new functions of version 5.0.6.5!
Allocate GPUs (cards)
Setting > General > Allocate GPUs (cards)
The default option of 'Allocate GPUs (cards)' was '2GTX 1080Ti', now you can add the option '1GTX 1080Ti' by contacting the customer service or business manager. After that, you can select the options to meet your needs. The setting is only effective for Maya and 3ds Max.
Download speed, packet loss, network latency were added in Line Speed Test
Setting > Network > Line > Run speed test
You can choose a suitable line according to the speed test result including Upload speed, Download speed, Packet loss, and Network latency.
Predict the upload and download time
When you are uploading or downloading jobs, double click the job, the remaining time will be shown in 'Running Log'.
Batch adjust jobs' priorities
Select multiple files> Right-click > Adjust job priority > Input value > OK
Holding down the CTRL key or the Shift key as you click a file, allows you to select more than one. Right-click the files, choose 'Adjust job priority', then you can batch adjust the jobs' priorities.
The number of concurrent Upload or Download files is adjustable
Setting > Network > Parallel > Input value
Logout and login the client again after switch engine.
Resubmit Timeout frames
Right-click the job > Resubmit > Timeout frames
It's more efficient to resubmit the timeout frames by clicking the 'Resubmit button Timeout frames, when the timeout job stopped.
Rights Management for Sub-account
Account > Sub-account Management > Edit > Switch on "Inherit administrator software configuration"
The sub-account can keep the same software configuration the master account saved. User needs to login to the web-client and set the right for sub-account.
Render Parameter Setting for Houdini
The new functions for Houdini users!
In Render Parameter Setting, newly added 'Separate Render Node to submit', check and you can create one job for each render node.
Then in 'Rendering settings' > 'Pre-test frames', you can set the number of 'Custom frame' based on your needs.
What's more, we've cut the prices to better meet your needs! Rendering prices go down, and the cheapest is as low as $0.036 per core hour. Recharge more and save more now!
For pricing details, please click here.
---
New Logo Announcement: Fox Renderfarm Unveils a New Look
Hello, dear friends! We are happy and proud to announce the launch of the new Fox Renderfarm logo as part of the ongoing evolution of our brand.
Fox Renderfarm has grown and evolved over the years with the endeavor of our devoted teams and the love and support from every one of you. At the beginning of 2020, we have altered our logo that reflects who we are and symbolize our brand culture and the bright future ahead.
Basically, the new logo consists of the graphic and text parts. The graphic - a figurative fox tail combined with the letter "O" extracted from "Fox" - shows our identity and friendliness. While the text is in solid font to deliver the reliability, and the moderate tilt represents the high speed and credibility of our cloud rendering services.
Orange is Fox Renderfarm's primary color. Besides the warmth and energy that orange stands for, it also expresses our relentless enthusiasm and love for our customers, partners and friends.
Starting today, you will see the new look everywhere. Meanwhile, our business partners are welcomed to use the new logo. The new logo and usage guidelines can be downloaded here.
Finally, Fox Renderfarm is so thankful for your trust and love, our friends. And we look forward to a better future together with you!
---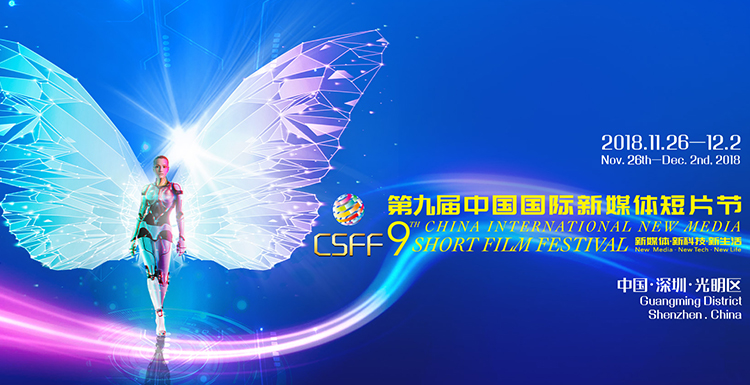 CSFF 9th | Fox Renderfarm & Future Goddess Are Waiting For You!
Find Resources? Find Projects? Find Cooperation? Looking for creativity, finding Bo Le, and seeking a swift horse... A variety of needs in one step!
Since 2010, China International New Media Short Film Festival has been held for eight consecutive years, providing a broad platform for creative exchange and resource exchange. The ninth short film festival will also arrive as scheduled from November 26th to December 2nd. This short film festival takes "New Media, New Technology, New Life" as the theme, and the "Future Goddess" with full of science and technology leads us to experience the progress of science and technology!
As in previous years, this year's short film festival market is still receiving much attention. In order to promote the cooperation of exhibitors' projects more effectively, the ninth short film festival trading market will be held in the form of "face-to-face meeting". More than 50 exhibitors from 12 countries and regions will gather together with more than 100 companies, including China Film Group, Rayvision Technology, Huaqiang Group and other companies and Turkish, Kyrgyzstan, Iran, Spain, New Zealand short film institutions, to build a communication platform for enterprises to create a good atmosphere of communication.
As the world's leading visual cloud computing service platform, Fox Renderfarm has participated in several short film festivals. In the 8th Short Film Festival, Fox Renderfarm not only provided support for the original works of Jin Peng's short film directors and creative short films of college students across the country, but also reached in-depth cooperation with the CSFF 8th.
After a year of unremitting efforts, Fox Renderfarm has also improved a lot in technology and services. In 2018, Fox Renderfarm splits the rendering client into two, the rendering of the film and the render farm are carried out independently, with significant synergies. The number of artists currently using Fox Renderfarm has exceeded 1 million, and Fox Renderfarm has a computing power of 500,000 cores per hour, ranking the top five in the world. In addition, Fox Renderfarm also launched the radium speed file transfer acceleration service to provide efficient cloud rendering for the industry while speeding up the transfer speed and greatly improving the efficiency of the industry!
In CSFF 9th, Fox Renderfarm will also attend the Opening and Closing Ceremonies and the Face-to-face Meeting of the trading market (Booth No. B09). We look forward to exchanges and learning with domestic and foreign companies and exhibitors, and continue to develop for the industry. Provide assistance.
---
Key Words
MILESTONES
|
Fox Renderfarm
|
Desktop Client
|
Blender
|
Bollywood films
|
Hum3D Contest
|
NVIDIA
|
Silkroad Digital Vision
|
Malaysian Animated Films
|
Indiajoy
|
Art Competitions
|
Architectural Visualization
|
CGarchitect Architectural 3Dawards
|
Best cloud rendering services
|
Render cloud
|
VFX
|
Upin & Ipin
|
Green Book
|
Fox Renderfarm Interview
|
Mission Mangal
|
Kre8tif!
|
Fox Renderfarm Mini Program
|
CG
|
CG Tech Summit Malaysia
|
Zhang Yimou
|
film works
|
cloud rendering
|
Golden Horse Award
|
Shadow
|
SIGGRAPH Asia 2018
|
Morrigan Flebotte
|
VWArtclub Annual *Contest
|
animation works
|
Asswad Mouhamad
|
IMax Studio
|
Boonie Bears
|
Renderosity
|
Gary S. Kennedy
|
Evermotion Challenge 2018
|
Brian Beaudry
|
Alita: Battle Angel
|
Bobby Bala
|
Mohit Sanchaniya
|
Katapix Media
|
Flying Car Productions
|
Razer
|
The Shipment
|
FoxRenderfarm
|
CG Tech Summit
|
Alpacalypse Productions
|
halloween
|
Hum3d Survial Car Challenge
|
Federico Ciuffolini
|
Ralf Sczepan
|
Iavor Trifonov
|
Clarisse
|
CGTS Malaysia
|
Isotropix
|
C4D
|
Tomasz Bednarz
|
V-Ray
|
Cinema 4D
|
MAXON
|
siggraph caf
|
Evermotion challenge 2017
|
CGTrader Space Competition
|
film of the year
|
Le Anh Nhan
|
Planet Unknown
|
Fox Renderfarm 2017 Achievements
|
CSFF
|
Julio Soto
|
boar 2017
|
Deep
|
SIGGRAPH Asia 2017
|
Chris Sun
|
Glass Cage
|
Fox Renderfarm
|
Making Life of Bri' n Chris
|
anthem studios
|
The Rookies
|
Peter Draper
|
Makuta VFX
|
Baahubali 2
|
CG Competition
|
enchantedmob
|
CG Studios
|
Academy Awards
|
CGVray
|
weeklycgchallenge
|
SketchUp
|
siggraph 2017
|
Chris Buchal
|
SIGGRAPH Asia
|
LightWave
|
Indigo Renderer
|
Rafael Chies
|
V-Ray RT
|
CPU Rendering
|
NVIDIA Iray
|
Chaos Group
|
OctaneRender
|
Redshift
|
STAR CORE
|
CICAF
|
VR
|
Mr. Hublot
|
Ribbit
|
GPU Rendering
|
Linux
|
Monkey Island
|
LuxRender
|
HPC
|
Render Farm
|
Life of Bri
|
WORLD LAB
|
Michael Wakelam
|
3D Rendering
|
Online Render Farm
|
Alibaba
|
Baahubali
|
阿里雲
|
VAX
|
Malaysia
|
Aliyun
|
2015 Hangzhou Computing Conference
|
Oscar
|
SIGGRAPH
|
CGTrader
|
Kunming Asia Animation Exhibition
|
Evermotion
|
RenderMan
|
Categories
---
Fox Renderfarm News
---
Fox Renderfarm Projects
---
Fox Renderfarm Lectures
---
CG Challenges
---
Top News
---
Blog
---
Fox News
---
Fox Talk
---
Trending
---
Recent News List
---
Call For Submissions: FGT3D 'Hero' Challenge
2020-07-08T06:31:02.293Z
---
Lomas Post, One of Mexico´s Top Ad Agencies, Won the May Winner of Fox's Got Talent
2020-07-06T06:39:14.836Z
---
SIGGRAPH Asia 2020 Goes Virtual
2020-07-03T11:18:09.554Z
---
How to Build a Realistic Character in Maya
2020-07-03T08:05:07.636Z
---
Call for Submissions: SIGGRAPH Asia 2020 Computer Animation Festival
2020-07-02T08:55:12.838Z
---
E-Meet Fox Renderfarm @ Annecy 2020 Online
2020-06-19T08:27:20.677Z
---
How to Build A Magnificent Space Carrier in UE4
2020-06-12T09:33:11.012Z
---
Creating a Magical Library Inspired by Harry Potter in 3ds Max
2020-05-25T08:00:01.021Z
---
Creating a Hyper Futuristic Robot Under an AI Generative System in Blender
2020-05-20T07:40:06.217Z
---
Partners
Medias