Watch This Short to Celebrate Diwali Festival with Mickey!
Disney Junior released a "Me & Mickey" short to celebrate the Indian festival, Diwali.!Watch This Short to Celebrate Diwali Festival with Mickey 1Image via Disney Junior"Me & Mickey" is a series of vlog-style video shorts launched by Disney Junior, starring Mickey Mouse, who invites preschoolers to laugh and play together about familiar everyday topics in their lives, as well as engage in small games and challenges. In this short , Mickey shares with the kids what Diwali is, how to celebrate it, and wishes everyone a happy Diwali!!Watch This Short to Celebrate Diwali Festival with Mickey coverImage via Disney JuniorWatch the video and celebrate Diwali with Mickey:Tips:!Diwali Special Offer 2022 For Indian Friends 1As an industry-leading cloud rendering service provider and render farm, Fox Renderfarm also provides a Diwali Special Offer for Indian users! दिवाली की हार्दिक शुभकामनाएं!Source: Disney Junior
---
The Making of "Kagura", A Photorealistic CG Animation Created by Kay John Yim
The making-of tutorial article of "Kagura" was wrote by Kay John Yim for Fox Renderfarm, which is a leading cloud rendering service provider and GPU & CPU render farm in the CG industry.This June, John brought us a tutorial on making "Ballerina". And this time, he shares another well-written article about how he made his new personal project "Kagura", which is also rendered with Fox Renderfarm, a powerful 3D animation render farm.!JohnKay John YimChartered Architect & CGI ArtistKay John Yim's personal site: https://johnyim.com/ArtStation: https://www.artstation.com/johnyimProject "Kagura" is a one-minute full CG animation, my second personal project to feature an animated photorealistic CG character.The project concept is a fantasized version of Kagura (神楽) - a type of Shinto ritual ceremonial dance in Japan. Traditionally, the dancer herself turns into a god during the performance - here depicted as the dancer's ballerina tutu dress transforming into a hakama as she dances on the floating stage, purifying spirits of nature.© Kay John YimThe article focuses primarily on shot 3 & 4 of project "Kagura", where I detail my design and technical process of the 4 main aspects below:1. The Architecture2. The Animation3. The Transformation4. RenderingSoftware I used include:- Rhino- Moment of Inspiration (MOI)- Cinema 4D (C4D)- Redshift (RS)- Character Creator (CC)- iClone- Marvelous Designer 11 (MD)- Houdini!kagura SHOT 1 still© Kay John Yim!kagura SHOT 3 still 5© Kay John Yim!kagura SHOT 4 still© Kay John Yim 1. THE ARCHITECTUREThe architecture is loosely based on Ookawaso Hotel's lobby in Fukushima Prefecture, Japan. !SCREENSHOT 1PureRef board for the projectIt was probably one of the most challenging interior spaces I have ever modeled, due to the following:a. Most photographs available online focus on the floating stage and thus were quite limited in showing the actual space;b. With no access to architectural drawings, I had to eye-ball all the measurements from photographs;c. The space does not conform to a single orthogonal grid, for instance, the stairs and the 1F walkway do not align with the columns.I first gauged the size of the space by the balustrade height - as a rule of thumb, balustrades are usually 1.1 meter tall (varies slightly depending on exterior vs. interior space and the country's building regulation). By estimation, the distance between columns is about 7.7 meters.!SCREENSHOT 2estimating measurements from photoLooking at the orientation of the floating stage and the columns, I assumed that the space was designed with 2 sets of grids - a construction grid that aligned with the columns (which structurally holds up the space) and a secondary grid diagonal to the construction grid (which serves only as a design grid).I drew up the construction grid uniformly (7.7 x 7.7 meters), and placed columns accordingly. Then I drew diagonal lines on top of the construction grid to get the secondary grid. This gave me a starting point for the floating stage as well as the 1F walkway.!GIF 1drawing up the grids, stairs and 1F walkwayA large portion of the architectural elements then instantly fell into place according to the grids I drew up. Having said that, the modeling process was not exactly straight-forward though. With the lack of references (especially for the corner details), I spent most of the time re-designing and tweaking wall panel sizes and wall stud positions to get to proportions that were aesthetically pleasing.!GIF 2most elements fell into place according to the grids!GIF 3modeling by gridI then exported the Rhino model to .3dm, opened up in MOI and exported again into FBX. Doing so gave me clean, quad meshes that I could easily edit and UV-map in C4D.!GIF 4 model turntablemodel turntableWhile the majority of the space took less than a week to model, I spent an additional month solely on fine-tuning the details, tweaking the lighting, and framing a composition that I was satisfied with.!GIF 5 render iterationsrender iterations!GIF 6 the final compositionthe final composition 2. THE ANIMATION 1) Character AnimationThe character animation was created based on mocap animation, which could be found on Reallusion Marketplace.I kept my animation workflow as simple as possible - in fact, I used exclusively "Set Speed" and "Edit Motion Layer" in iClone to get to the final character animation.First, I imported my CC character into iClone, applied the mocap animation onto the character (by drag & drop), and altered the speed with "Set Speed" to create a slow-motion look.!GIF 7 slowing down mocapslowing down mocap animation in iClone with "Set Speed"Note:Please see my previous article for CG Character creation: Ballerina: A CGI Fantasy Created by Kay John YimAltering the speed, however, exaggerated a lot of movement that looked distracting. Hence I played the character animation on loop and deleted keyframes that I found unnecessary.I then used "Edit Motion Layer" to lift up the arms and modify the finger positions.!SCREENSHOT 3edit motion layer 2) Garment prepOnce I got a decent character animation, I moved on to MD and CC to prepare the garments for animation/simulation.Cloth simulation in Marvelous Designer is extremely finicky - multiple layers of clothing too close together causes a lot of jittering, and that could take an infinite number of simulations to resolve. For the above reason, I separated the two sets of Marvelous Designer garments (ballet tutu & hakama) into 2 categories - Skintight vs Loose garments.The Skintight garments would be animated in CC & iClone, a technique most commonly used in game production. This technique excels in speed but falls short in simulating loose garment details compared to MD. The Skintight garments in this project included:a. ballet tutu leotardb. hakama inner layer!SCREENSHOT 4skintight garmentsThe remaining Loose garments would be simulated in MD:a. ballet tutu skirtb. hakama excluding inner layer!SCREENSHOT 5lose garmentsNote:Garment creation is beyond the scope of this article; I highly recommend Marvelous Designer's official YouTube channel for anyone getting started in MD: 3) Skintight Garment AnimationMy preparations for the garments in CC are as follows:a. export garment from MD to FBX as T-poseb. import FBX into CC by "Create Accessories"c. assigned "Skin Weight"d. export to iCloneThe skin-tight garment would then be automatically applied to the animated character in iClone.!GIF 8 ballet tutu leotard animation in icloneballet tutu leotard animation in iClone 4) Loose Garment SimulationIn general, MD simulates garment better using CPU (over GPU) when there are multiple layers of clothing. Having separated the tutu leotard from the tutu skirt in this particular case, I found GPU simulation actually gave a cleaner and faster simulation than using CPU alone.!GIF 9 ballet tutu skirt simulationballet tutu skirt simulationFor the hakama, I wanted to create a calm but otherworldly aesthetic, so I reduced the "gravity" under "simulation settings" to 0, and upped the "air damping" to 5. This resulted in a constantly floating sleeve and a clear silhouette throughout the animation.!GIF 10 hakama simulationhakama simulationWith all the garments animated and simulated, I exported all of them as separate Alembic files.The Character was exported as an animated FBX from iClone. 5) Post-simulation clean-up in HoudiniGarment simulated in MD could sometimes result in too many details or polygons with messy connectivity. The former I personally found distracting and the latter would cause problems down the line in C4D when used in combination with "Cloth Surface". I imported the Alembic files into Houdini and used "Attribute Blur" to smooth out the garment, eliminating extra wrinkles. 3. The Transformation 1) Setting up the CameraHaving imported the character FBX and all the Alembic files into C4D, I then move on to setting up my camera based on the character animation. This prevented me from spending extra time working on details that would not be visible in the final shot.I use "PSR" under "Constraint" to bind the camera's height position to the character's "neck" position - doing so stabilized the camera and avoided distracting movements. 2) Tutu Dress to HakamaThe transformation of the tutu dress into hakama was driven by a combination of "PolyFx" and animated Fields within C4D.!GIF 11 working with polyfxworking with "PolyFX" C4D's "PolyFx" breaks down objects by their polygons - any Mograph effectors assigned thereafter will then affect the object on a per-polygon basis rather than affecting the object itself as a whole.I assigned a "PolyFx", a "Random Effector", a "Plain Effector" and a "Spherical Field" to each of the following parts:- tutu leotard- tutu skirt- hakama sleeve- hakama top (outer layer)- hakama top (inner layer)- hakama bottomEach of the "Spherical Field"s was then bound to the character's skeleton "pelvis", specific steps detailed as follows:a. create a "PolyFx";b. group the "PolyFx" with the garment;c. assign a "Plain Effector" to the "PolyFx", set scale parameter to -1;d. assigned a "Spherical Field" to the "Plain Effector";e. assigned a "Random Effector" to the "PolyFx" and drag the same "Spherical Field" created in the above steps under the "Random Effector", set all rotation parameters to 360;f. create a Null;g. assign a "Constraint" to the Null;h. under Constraint check "PSR";i. search for "pelvis" in the Object Manager and drag it under the "PSR";j. place a "Spherical Field" under the Null;k. now the "Spherical Field" will move along with the character.With the "Spherical Field" bound to the character, I animated the sizes of the "Spherical Fields" and tweaked the timing to different garment parts to gradually scale down/scale up by their polygon divisions. !SCREENSHOT 6a breakdown of the animated ballet tutu dress under object managerNote:When in doubt type "SHIFT-C" then type in the Mograph or function you are looking for - I use "SHIFT-C" all the time in C4D.!GIF 12 garment part animation driven by polyfxgarment animation driven by "PolyFx" 3) Tutu Skirt to ButterflyIn addition to the garment transformation drive by "PolyFX", I added an extra layer of animation with a "Cloner" of animated butterflies - this created an illusion as if the tutu skirt disintegrated into a swarm of butterflies and flew away.I use an animated butterfly created by Travis David (download linked below) cloned onto the simulated tutu skirted, driven with a "Plain Effector" in scale to make them appear and disappear in flow with the "PolyFx" animation.!GIF 13 garment transformation with butterfly clonergarment transformation with butterfly "Cloner"For the final rendering, I added "Cloth Surface" and "Subdivision" to each garment part to break up the polygons into even smaller parts - this resulted in an illusion of the tutu dress being disintegrated and subsequently reintegrated into the hakama.Technically speaking, it was a relatively simple animation, the most challenging parts were timing and developing an aesthetic that flowed naturally with the character movement. The 10 seconds of transformation alone took me more than 2 months to get to the final version; I was constantly adjusting the Spherical Fields' animation through the plugin "Signal", rendering the viewport sequence, tweaking and re-rendering over and over again. "Cloth Surface" and "Subdivisions" are computationally expensive - each viewport frame took at least 2 minutes to process, totalling about 10 minutes per viewport sequence render.!GIF 14 iterationsiterations!GIF 15 final shot 3 breakdownfinal shot 3 breakdown 4. RENDERING 1) TexturingI kept my texturing workflow fairly simple - apart from the characters, I used Megascans material and foliage in the final renders. 2) Redshift Limitations & WorkaroundsThough Redshift is my favorite offline renderer for its unmatched rendering speed, there were a few limitations regarding Motion Blur and Cloner/Matrix that I had to workaround in preparation for the final rendering."Motion Blur" - "Deformation Blur" to be specific - contributes to the realism of CG animation. However, there is a known limitation of Redshift automatically disabling "Deformation Blur" on "PolyFX" objects. This would cause glitches (objects look as if they pass through each other) in the final render if "Deformation Blur" is turned on globally. While keeping global "Deformation Blur" on, I added a Redshift Object tag on every character and garment object and unchecked "Deformation Blur" on the RS object tags.On the other hand, while "Cloner" and "Matrix" both serve the same purpose of cloning objects, they differ in viewport feedback and rendering speed. Using "Cloner" has the advantage of "you-see-what-you-get" in the viewport, as opposed to using "Matrix" where you have to render out the frame to see the final result.Rendering-wise, "Matrix" has the advantage of being rendered by Redshift much more efficiently than "Cloner" - taking Shot 4 for instance, the final render duration per frame is 3 hours using exclusively "Cloner" as opposed to 2.5 hours using exclusively "Matrix".Hence, I used "Cloner" while working on the shot composition and used "Swap Cloner/Matrix" to replace all "Cloner" with "Matrix" for the final render.!SCREENSHOT 7"Cloner" viewport feedback!SCREENSHOT 8"Matrix" viewport feedback 3) Redshift EnvironmentI used Redshift Environment to give all the shots an atmospheric and mysterious look; it also helped to convey the depth of the scene, especially in a busy composition like Shot 4.The Redshift Environment's Volume Material was driven by two "Nulls" in height; a fake "Spot Light" directly above the dancing character and two "Area Lighting" from below the stage also contributed to the Redshift Environment.Note:Please see Redshift's official tutorial on driving Redshift Environment with "Nulls": 4) Redshift ProxiesHaving finalized the look of the shots, I exported as many objects as possible into Redshift Proxies for rendering efficiency. I used "Redshift Proxy Exporter" to batch export objects - this saved me a lot of time, especially when exporting foliage.Note:Redshift Proxy Exporter link: https://realaturtur.gumroad.com/l/rsproxyexporterc4dWith everything replaced as Redshift Proxies, this brought my final render time per frame from 2.5 hours down to 2 hours. 5. Conclusion"Kagura" is by far the most challenging personal project I have ever done, since I had little to no experience in motion graphics or character animation half a year ago. I learned along the way as I worked on projects "Kagura" and "Ballerina" all through trial and error, rendering out iterations after iterations throughout the past 6 months. With Reallusion and Fox Renderfarm's support, I eventually brought "Kagura" to live, and this has been the most rewarding project since I began my CGI journey.For any self-taught CG artist out there like myself, who is constantly struggling to up their quality and skill set, I would like to share a quote by American novelist Anne Lamott - the quote originally refers to writing but it deeply resonated with me as an artist:Creating art is like driving a car at night. "You can see only as far as your headlights, but you can make the whole trip that way." You don't have to see where you're going, you don't have to see your destination or everything you will pass along the way. You just have to see two or three feet ahead of you.
---
Ballerina: A CGI Fantasy Created by Kay John Yim
As an architect, Kay John Yim is busy with his daily work. But with his passion for CG art, he has taught himself more than 30 CG software and plug-ins in 2-3 years and has created many fantastic CG works in his spare time. His artworks are rich in detail, magnificent, delicate, and full of romantic imagination.!Collection of WorksJohn's recent works © Kay John Yim!JohnKay John YimChartered Architect & CGI ArtistJohn grew up in Hong Kong, and graduated from the University of Bath (UK) with a degree in Science/Architectural Studies. And he was an exchange student in Architecture at Delft University of Technology (Netherlands). After graduation, he studied architecture at the Architectural Association School of Architecture. He is currently an architect at Spink Partners, a well-known British architectural design firm.Kay John Yim's personal site: https://johnyim.com/ArtStation: https://www.artstation.com/johnyimThe making-of tutorial article of "Ballerina" was wrote by Kay John Yim for Fox Renderfarm, which is a leading cloud rendering service provider and GPU&CPU render farm:Project "Ballerina" is a 30-second full CG animation, my first personal project to feature an animated photorealistic CG character staged within a grand Baroque rotunda lounge.Ballerina © Kay John YimThe animation is a representation of my inner struggles in all artistic pursuits, both metaphorically and literally.Ballet, an art form widely known to have stringent standards of beauty and highly susceptible to public and self-criticism, is the metaphor of my daily professional and artistic practice. As an architect by day, I work on architectural visualizations, where every detail is being scrutinized by my colleagues, senior architects and clients. As an artist by night, I work on personal CG projects, of which I would do hundreds and up to thousands of iterations to get the perfect compositions and color schemes. No matter how proficient I become in my professional and artistic skills, the inner struggle never fades away.!FINAL RENDER STILL IMAGE 1Ballerina © Kay John YimThe project is also literally a technical struggle - every step of the CG character creation process was alien to me. When I started working on the project, I struggled to find a comprehensive guide for creating photorealistic character animation - almost every article or tutorial I came across were either too specialized or too impractical for an indie CG artist to follow.Through months of trial and error, I have since learned a lot about efficient character animation and rendering. This article is an intermediate guide for any indie artists like myself who want to take their CG art to the next level. As much as I would love to cater the guide for everyone, it is practically impossible to cover the nuts and bolts of every piece of software I use, hence I have included links to tutorials or resources wherever possible for beginners to follow along.!FINAL RENDER STILL IMAGE 2Ballerina © Kay John YimThe guide is divided into 4 main parts:- The Architecture- The Character- The Animation- RenderingSoftware I used include:- Rhino- Moment of Inspiration 4 (MOI)- Cinema4D (C4D)- Redshift (RS)- Character Creator 3 (CC3)- iClone- ZBrush & ZWrap- XNormal- Marvelous Designer 11 (MD)- Houdini 1. THE ARCHITECTUREMy primary software for architectural modeling is Rhino.There are many different ways to approach architectural modeling. Having used dozens of CAD and DCC software as an Architect, Rhino is arguably the best architectural modeling software for its accuracy and versatility. Rhino's main advantage over some other more popular DCCs like Cinema4D (C4D) or Houdini is its capability in handling very detailed curves in large quantities. As an Architect, every model I built always started with a curve, usually in the shape of a wall section, cornice or skirting section, swept along another curve of a plan. Rhino's command list might seem overwhelming at first, but I almost exclusively used a dozen of them to turn curves into 3D geometry:- Rebuild- Trim- Blend- Sweep- Extrude- Sweep 2 Rails- Flow Along Surface- Surface from Network of CurvesThe key to architectural modeling is to always use reference wherever possible. I always have PureRef open at the right bottom corner of my screen to make sure I model in correct proportions and scale. This usually includes actual photos and architectural drawings. For this particular project I used the Amalienburg Hunting Lounge in Munich as my primary reference for the architecture.!SCREENSHOT 1PureRef board for the projectI downloaded as many high-res references as possible, which included photos of different camera angles, different lighting and weather conditions. This gave me a wide range of details to work with, as well as a general idea of the space relative to human scale.While the architecture consisted of 3 parts - the rotunda, the hallway and the end wall - they were essentially the same module. Hence I initially modeled one wall module consisting of a mirror and a window, duplicated and bent along a circle to get the walls of the rotunda. !GIF 1Rhino modeling always begins with curves!GIF 2wall module duplicated and bent along a curveThe module was reused for both the hallway and the end wall to save time and (rendering) memory.Having built up a library of architectural profiles and ornaments over the past year, I was able to reuse and recycle profiles and ornaments for the modeling of the architecture.Ornament modeling could be a daunting task, but with a couple of ornaments modeled I simply duplicated and rearranged them geometrically to get unique shapes. !GIF 3Rhino ornament placementThe ceiling ornament for instance, was basically a single ornament that covered 1/8 of the dome surface, but radially duplicated 8 times to cover the entire ceiling. The same technique also applies to modeling of the chandelier.All the objects within Rhino were then assigned to different layers by material; this made material assignment a lot easier later on in C4D.assigning objects to layers by materialNotes:The best way to get familiar with Rhino navigation is to model small-scale objects. Simply Rhino has a great beginner's series in modeling a teapot in Rhino:I have posted a few WIP montages on my Youtube channel, while not meant to be tutorials, one should be able to get an overview of my modeling process:https://www.youtube.com/c/jyjohnyimA detailed Rhino tutorial for modeling ornaments:For anyone in a pinch, there are pre-built ornaments for purchase on 3D model stores like Textures.com; some ornament manufactures have free models available for download on Sketchfab and 3dsky. Exporting from Rhino to C4DAfter 4 days of architectural modeling, the Rhino model eventually consisted of 50% NURBS and 50% mesh. I used NURBS mostly for the primary architectural elements (walls, cornices, skirtings) and mesh for the ornaments.Rhino is primarily a NURBS (Non-Uniform Rational B-Splines) software; and although NURBS models are very accurate in representing curve and surface data, most render engines or DCCs do not support NURBS.For this reason I exported the NURBS and MESHES to .3dm and .FBX respectively, and used Moment of Inspiration (MOI) to convert the NURBS model to a mesh.MOI has the best NURBS to quad mesh conversion(over Rhino or any other DCCs) - it always gives a clean mesh that could then be easily edited or UV-mapped for rendering.exporting from MOI Importing into C4DImporting the FBX file into C4D was relatively straightforward, but there were a couple of things I paid attention to, notably the import settings, the model orientation and file unit, listed below in order of operation:1) open up a new project in C4D (project unit in cm);2) merge FBX;3) check "Geometry" and "Material" in the merge panel;4) change imported geometry orientation (P) by -90 degree in the Y-axis;5) use script "AT Group All Materials" to automatically organize Rhino materials into different groups.importing FBX exported from MOI!GIF 7importing FBX exported directly from RhinoI modeled half of the architecture in rhino and then mirrored it as an instance in C4D, since everything is symmetrical.!GIF 8C4D instance & mirroringThe floor (Versailles Parquet tiles) was modeled using photo-texturing method, most widely touted by CG artist Ian Hubert. I applied a Versailles Parquet tile photo as texture on a plane, then sliced up the plane with a "knife" tool to get the reflection roughness variations along the tile grouts. This allowed me to add subtle color and dirt variations with Curvature in Redshift.The floor tile was then placed under a Cloner to be duplicated and spanned over the entire floor.!GIF 9Cloning floor tilesNotes:C4D and Rhino use different Y and Z orientations, hence FBX directly exported from Rhino has to be rotated in C4D.Download link for "AT Group all materials" script: http://www.architwister.com/portfolio/c4d-script-group-materials/Ian Hubert's Youtube Channel has a lot of useful and efficient CG techniques, photo-texturing being one of the most popular:https://www.youtube.com/c/mrdodobird/videos Architectural Shading (Cinema4D + Redshift)Since I grouped all the meshes by materials in advance, assigning materials was just as simple as dragging and dropping to the material groups as cubic maps or Tri-planar maps.I used Textures.com, Greyscalegorilla's EMC material pack and Quixel Megascans as base materials for all my shaders.For ACES to work correctly within Redshift, every texture has to be manually assigned to the correct color space in the RS Texture Node; generally diffuse/albedo maps belong to "sRGB", and the rest (roughness, displacement, normal maps) belong to "Raw".My architectural shaders were mostly a 50/50 mix of photo texture and "dirt" texture to give an extra hint of realism.!SCREENSHOT 2RS Shader Graph of the wall material 2. THE CHARACTERThe base character was created in Character Creator 3 (CC3) with Ultimate Morphs and SkinGen plugins - both of which were very artist friendly with self-explanatory parameters. Ultimate Morphs provided precise slider controls to every bone and muscle size of the character, while SkinGen gave a wide range of presets for skin color, skin texture detail and makeup.I also used CC3's Hair Builder to apply a game-ready hair mesh to my character.!GIF 10CC3 morphing & Hair Builder Face TexturingFace was the one of the most important parts of the CG character that required extra attention. The best workflow I found to add photorealistic detail was the "Killer workflow" using Texturing XYZ's VFace model and Zwrap.VFACE is a collection of state-of-the-art photogrammetry human head models produced by Texturing XYZ; every VFACE comes with 16K of photoscanned skin textures, displacement and utility maps; Zwrap is a ZBrush plugin that allows one to automatically fit a pre-existing topology to a custom model.The "Killer workflow" essentially matches the VFACE mesh shape to the CC3 head model; using the Killer workflow, I was able to bake all the VFACE details down to the CC3 head model once the 2 mesh shapes are matched up.My adaptation of the "Killer workflow" can be broken down as follow:1) export T-posed character from CC3 to C4D;2) delete all polygons except the head of the CC3 character;3) export both CC3 head model and VFACE model to ZBrush;4) use MOVE/Smooth brush to maneuverer VFACE model to fit as closely as possible to the CC3 head model;5) launch ZWRAP, click and match as many points as possible, notably around the nose, eyes, mouth and ears;6) let ZWRAP process the matched up points;7) ZWRARP should then be able to output a VFACE model that matches perfectly to the CC3 head model;8) feed both models into XNormal and bake the VFACE textures to the CC3 head model.!GIF 11matching points of VFACE (left) & CC3 HEADS (right) in ZWRAPNotes:Full "Killer Workflow" Tutorial on Textureing.XYZ's official Youtube channel:I recommend save the matching points in ZWRAP before processing.I also recommend baking all the VFACE maps individually in XNormal as they are very high-res and could crash XNormal when baked in batch. Skin Shading (Cinema4D + Redshift)Once I had the XYZ texture maps ready, I then exported the rest of the character texture maps from CC3.After that, I imported the character into C4D, and converted all the materials to Redshift materials.At the time of writing, Redshift unfortunately did not yet support Randomwalk SSS (a very realistic and physically accurate subsurface scattering model found in other renderers like Arnold), hence required a lot more tweaking when it came to rendering skin.The 3 levels of subsurface scattering were driven by a single diffuse material with different "Color Correct" settings. !SCREENSHOT 3RS Shader Graph of "Leg" materialThe head shader was a mix of both the CC3 textures and VFACE textures; the VFACE multichannel displacement was blended with the "microskin" CC3 displacements map.!SCREENSHOT 4RS Shader Graph of "Head" material!GIF 12Character look-dev!SCREENSHOT 5close-up render of the characterA "Redshift Object" was applied to the character to enable displacement - only then would the VFACE displacements show up in render.Note:Skin shading is one of the most advanced aspects in rendering. Linked below one of the most helpful tutorial for Redshift Skin shading: Hair ShadingHaving experimented with grooming using C4D Ornatrix, Maya Xgen and Houdini, I decided that using the baked hair mesh from CC3 for project "Ballerina" was leaps and bounds more efficient down the line.I use a Redshift "glass" material with CC3 hair textures maps fed into the "reflection" and "refraction" color slots, as hair (in real life) reacts to light like tiny glass tubes.Note:For anyone interested in taking the CC3 hair to the next level of realism, CGcircuit has a great vellum tutorial dedicated to hair generation and simulation.!GIF 13early test of CC3 mesh hair to hair geometry conversion in Houdini 3. THE ANIMATION Character Animation (iClone)I then exported the CC3 Character to iClone for animation.I considered a couple of ways to approach realistic character animation, these included:1) using off-the-shelf mocap data (Mixamo, Reallusion Actorcore);2) comissioning a mocap studio to do bespoke mocap animation;3) using a mocap suit (e.g. Rokoko or Xsens) for custom mocap animation;4) old-school keyframing.Having experimented with various off-the-shelf mocap data, I found Mixamo mocaps to be way too generic, most of which look very robotic; Reallusion Actorcore had some very realistic motions, but I could not find exactly what I needed for the project.With no budget and (my) very specific character motion requirements, option 2 and 3 were out of the picture. This led me to old-school keyframing.First I screen-captured videos of ballet performances and laid them out frame by frame in PureRef. I then overlaid the PureRef reference (in half opacity) over iClone, and adjusted every character joint to match my reference using "Edit Motion Layer".!GIF 14Pose 1Pose 2!GIF 16final character animationThe animated characters were then exported to Alembic files.NOTE:While my final project concept depicted ballerinas in slow motion, my original idea was actually to keyframe a 20-second ballet dance, which I very quickly realized to be bad idea for a number of reasons:1) in slow motion a lot of frames could be interpolated, but real time motion involved a lot of unique frames and hence required a lot more tweaking;2) subsequently more unique frames meant more rendering problems (flickering, tessellation issues etc.).!GIF 17early test render of my original ideaConsidering this as my first character animation project, I came to the conclusion of doing a slow-motion style sequence instead - 2 unique poses with 160 frames of motion each. Garment SimulationCloth simulation was by far the most challenging part of the project.The two major cloth simulation/solvers that I considered were Marvelous Designer (MD) and Houdini Vellum.While Houdini Vellum was much more versatile and more reliable than Marvelous Designer, I personally found it to be way too slow and therefore impractical without a farm (one frame of cloth simulation could take up to 3 minutes in Houdini Vellum vs. 30 seconds in Marvelous Designer on a Threadripper PRO 3955WX with 128GBs ram).Cloth simulation in MD, while generally a lot quicker to setup than Houdini vellum, was not as straightforward as I imagined.Simulated garments in MD always came with some form of glitches; this included cloth jittering, piercing through character or just complete dislocations. Below are some of the settings I tweaked to minimize glitches:1) using "Tack" to attach parts of the garment to the character;2) increasing cloth "Density" and "Air Damping" to prevent garment from moving too fast and subsequently move out of place;3) simulate parts of the garment in isolation - though not physically accurate, allowed me to iterate and debug a lot quicker.I also reduced "Gravity" in addition to the above tweaks to achieve a slow-motion look.!SCREENSHOT 7MD Simulation Settings!GIF 18MD simulationNote:Due to the license agreement of a sewing pattern I used, I am not able to share screenshots of my garment creation process. However the official Marvelous Designer Youtube channel has a lot of garment modeling livestreams which I find to be the most helpful resource for learning MD:Alternatively there are a lot of readily available 3D garment online (notably on Marvelous Designer's official site or Artstation Marketplace) which I used as a basis for a lot of my projects.MD is extremely prone to crashing, there is also a bug in both MD10 and MD11 that prevents saving of simulated garments 90% of the time, so always export simulated garment as Alembic files rather than relying on MD to save the simulation. Simulation Clean-upAfter dozens of simulations, I would then import the MD exported Alembic files into Houdini, where I did a lot of manual cleanups, this included:1) manually fixing collided cloth and character with "Soft Transform";2) reducing simulation glitches with "Attribute Blur";3) blending together preferable simulations from different alembic files with "Time Blend".!GIF 19cleaning up simulated cloth in Houdini with "Soft Transform"There are two tutorials that explain the Houdini cloth cleanup process in great detail, which I watched on a loop while working on the project:Cloth Production in Houdini:https://www.cgcircuit.com/tutorial/houdini-cloth-in-productionHoudini Vellum Creature Setup:https://www.cgcircuit.com/tutorial/houdini-vellum-creature-setupThe cleaned-up cloth simulation was then exported as Alembic to C4D. Alternative to Garment SimulationFor anyone frustrated by the impractical Houdini Vellum cloth simulation times and MD glitches, an alternative would be to literally attach the garment to the character's skin in CC3 - a technique most commonly found in game production.attaching garment to character in CC3While this is a great time-saver alternative, garment created in CC3 lacks realistic cloth movements and wrinkles; I recommend only using this method for objects tightly attached to the character (shoes) or only as a last resort for garment if MD cloth simulation keeps failing.Note:Linked below Reallusion's official guide for creating game-ready garments:https://manual.reallusion.com/Character_Creator_3/ENU/3/Content/Character_Creator_3/3/08_Cloth/Creating_Custom_Clothes_OBJ.htm Garment Baking and ShadingOnce I was done with cloth simulation in MD and clean-up in Houdini, I imported the Alembic file into C4D.MD Alembic files always show up in C4D as one alembic object without any selection sets; this makes material assigning impossible.This was where C4D baking came to play - a process I used for converting the Alembic file into C4D object with PLA (Point Level Animation):1) drag the alembic object into C4D timeline;2) go to "Functions";3) "Bake Objects";4) check "PLA";5) then bake.Going through the steps above I was able to get a baked down C4D object that I could easily select polygons and assign multiple materials using selection sets.I then exported an OBJ file from MD with materials, imported into C4D and dragged the selection sets directly onto the baked down garment object. This eliminated the need to manually reassign materials in C4D.I used a blend of linen texture maps (from Quixel Megascans Bridge) and Redshift Car Shader to emulate sequins fabric (think "blink") found in a lot of professional ballet tutu dresses.!SCREENSHOT 8close-up render of the fabric materialNote: Youtube Travis Davis has a tutorial demonstrating the exact procedures:WARNING: do not use AO or Curvature nodes for the simulated garment materials (or any animated object), as they could potentially produce glitches in final renders. 4. RENDERING Lighting & EnvironmentAlthough I tried to keep my lighting as minimal as possible, project "Ballerina" inevitably required a lot of tinkering due to the nighttime setting.The nighttime HDRI did not provide sufficient ambient light to the interior space, and the chandelier bulbs were way too dim as the primary light source. Ultimately I placed an invisible spot light under the center chandelier and used a fake spot light that only affected all the architectural ornaments. The fake light provided an extra level of bounce light that gave just the right amount of illumination without ruining the moody atmosphere.I also added a "Redshift Environment" controlled in Z axis multiplied with "Maxon Noise" to give more depth to the scene. Exterior-wise, I scattered 2 variations of Dogwood Trees with C4D "Matrix" in the surrounding area. They were lit from ground up in the scene to give extra depth.In summary lighting of the scene includes:1) Dome light (nighttime HDRI) x 12) chandelier (mesh lights) x 33) Spot Light (center) x 14) exterior Area Lights x 45) fake Area Light positioned under chandelier (includes architectural ornaments only)!SCREENSHOT 9RS lightsNotes:Redshift has a very good tutorial on Youtube on controlling the Redshift Environment:The trees were generated with SpeedTree.Lighting takes a lot of consistent practice to master; apart from my daily CG practice, I spent a lot of time watching b-rolls/breakdowns of movies - for instance I took a lot of inspiration from Roger Deakin's lighting and cinematography, as well as Wes Anderson's frame composition and color combinations. Camera MovementsAll my camera movements were very subtle. This included dolly, camera roll and panning shots, all driven with Greyscalegorilla's C4D plugin Signal.I personally prefer using Signal for its non-destructive nature, but old-school key-framing would work just fine for similar camera movements.!SCREENSHOT 10Signal Graph Draft RendersOnce I had the character animations, cloth simulations and camera movements ready, I began to do low-res test renders to make sure that I would not get any surprises during the final renders, this included:1) flipbook (openGL) renders to ensure the timing of the animations were optimal;2) low-res low-sample full sequence renders to ensure there were no glitches;3) full-res (2K) high-sample still renders with AOVs (diffuse, reflection, refraction, volume) to check what contributed to the prevalent noise if any;4) submitting test render to Fox Renderfarm to ensure the final renders matched up with my local renders.This process lasted over 2 months with iterations and iterations of renders and corrections.!GIF 21close-up shot I!GIF 22close-up shot II!GIF 23final shot Final Renders & DenoisingI used a relatively high-sample render setting for the final renders, as interior scenes in Redshift were generally prone to noise.!SCREENSHOT 11!SCREENSHOT 12!SCREENSHOT 13!SCREENSHOT 14RS final render settingsI also had motion blur and bokeh turned on for the final renders - in general motion blurs and bokehs look better (more physically accurate) in-render compared to motion blurs and bokehs added via compositing.Half of the final 2K sequence was rendered on a local workstation, while the rest was rendered on Fox Renderfarm, totalling about 6840 hours of render time on dual RTX 3090 machines.I used Neat Video for denoising the final shot, whereas the closeup shots were denoised using Single Altus (in Redshift).Note:Always turn "Random Noise Pattern" off under Redshift "Unified Sampling" when using "Altus Single" for denoising. Redshift Rendering GI TrickRedshift's GI Irradiance Cache calculation could be quite costly; my final renders for instance have an average of 5 minutes of GI Irradiance Caching time for each frame.In Vray there was an option in the IR/LC setting named "use camera path", designed specifically for scenes where the camera would move through a still scene. Once "use camera path" was enabled Vray would then only calculate one frame of GI cache for an entire sequence.There is a Redshift Forum post written by Andrian that explains how he was able to replicate the same function in Redshift.Borrowing a page from Vray, I use the following motion blur settings to calculate the first frame of Irradiance Cache:!SCREENSHOT 13RS rendering GI trick motion blur settingThe one Irradiance Cache is then used to render the entire sequence. Two shots of the project were rendered using one single GI cache, resulting in a 10% faster render time overall.NOTE:The GI trick only applies to shots with very little motion; when applied to the 2 closeup shots of project "Ballerina" for example, I got light patches and ghosting on the character skin. ConclusionHaving spent months working on the project, I have gained an appreciation for traditional character animators - I never realized the amount of effort involved in crafting character animations, and the subtlety of details required to bring convincing CG characters to live.Though I would not consider myself to be a character artist, I personally think Character Animations are really powerful in making CG environments relatable, and therefore would still be an essential part of my personal CG pursuit moving forward.
---
ウィッシュ・ドラゴンから最大のウィッシュを見出す
「そのウィッシュを大声で言え!」ほとんどの人が子供の頃「ドラゴンボール」を見たことがあるが、主人公の孫悟空は、願いが叶えられる7つの「ドラゴンボール」を集めるために、世界を旅するというストーリーだ。!Speak out your wish2021年公開されたCGアニメのコメディ映画『ウィッシュ・ドラゴン』では、7つのドラゴンボールを集めなくても、ピンクの毛むくじゃらのドラゴンを手に入れることできる!Fox Renderfarmでレンダリングされた『ウィッシュ・ドラゴン』は、2021年1月15日に中国で劇場公開され、年内にはNetflixで海外公開される予定だ。Chris Appelhansが脚本と監督を手がけ、ジャッキー・チェンが主演を務めるこの映画は、大きな夢を持ちながらも経済的には恵まれていない大学生のディンと、皮肉屋だが願いを叶える力を持つドラゴンのロン(ジャッキー・チェン)が2人で、ディンの行方不明になった幼なじみを探すために、現代の上海で行った冒険物語となっている。!Wish Dragon!Wish Dragon!Wish Dragon!Wish Dragon1月19日、Fox Renderfarmは、SNSで「ファンへのウィッシュ・ドラゴン無料チケット」プレゼントキャンペーンを開催した。多くの方が、この作品への愛と期待を込めたコメントを残した。 目を引くチャイナ-要素『ウィッシュ・ドラゴン』における中国要素は、多くの中国人観客の心を打つ。また、世界中の観客に中国を紹介する内容にもなっている。監督のChris Eberhansさんは幼少の頃、上海で性格の似た同い年の友達に出会ったそうだ。そのため、Chris Eberhans監督は幼少期の思い出を映画の中に取り入れようと、背景を中国の上海に設定したという。石庫門、南浦大橋、東方明珠ラジオ&テレビ塔のほか、柔らかくてかわいいドラゴンや急須のデザインには、中国の伝統文化の特徴を全面的に出している。また、ドラゴンはエビ味のチップスが大好きで、テレビや飛行機、エアコンなど、見たこともないものには興味津々だ。!Wish Dragon!Wish Dragon!Wish Dragon!Wish Dragon 300万本の毛を持つピンクのドラゴン中国要素だけでなく、ピンクのドラゴンにもかなり印象的だった。しかし、この役を作るにあたって、クリエイティブ・チームは数多くの困難と挑戦を乗り越えてきたのだという。1つは、実際に参照できるものがないため、最終姿を決めるにあたって、アニメーションチームはドラゴンの全原画や近年のアニメーション作品をすべて参照したそうだ。ドラゴンの動きをより俊敏かつ優雅に見せるため、モデリングやリギング中に300万本の毛を入れ、体に1000以上のコントローラーを作り上げている。おかげでドラゴンは柔軟に動けるだけでなく、自身を四角や丸などの形に変えることもできるのだ。そのほか、ジャッキー・チェンの吹き替えや武術のシーンも、この映画の見所となっている。Fox Renderfarmは、ウィッシュ・ドラゴンのクラウドレンダリングパートナーとして、CG業界向けに高品質のクラウドレンダリングサービスを提供し続けている。Fox Renderfarmは、技術の進化を遂げ続けていくとともに、『ウィッシュ・ドラゴン』のように、中国要素を取り入れた作品がこれからも中国の伝統文化や物語を世界中に向けて発信することを願うばかりである。!Wish Dragon映画『ウィッシュ・ドラゴン』はただ今公開中!ご家族や大切な方と一緒に願いを見つけましょう!!Wish Dragon参考http://www.xinhuanet.com/ent/2021-01/19/c_1126997486.htm
---
Interview with Adam Belfer, Founder/COO of Cartuna, Which Made the Amazing SpongeBob Portal Chase Series Come True
Fox Renderfarm, as the world-leading cloud rendering services provider, is super thrilled to support the SpongeBob Portal Chase animated series, which is made by Cartuna, an award-winning full-service animation studio producing world-class content for television, feature films, music videos, shorts, and commercials.!SpongeBob Portal Space Series!SpongeBob Portal Space SeriesMr. Adam Belfer, Founder/COO of Cartuna, had an exclusive interview with us, in which he shared how his team has made this amazing series come true. Moreover, Adam talked about how Cartuna has progressed into a multi-content creation studio with an impressive portfolio. Fox Renderfarm: Hi Adam, thank you so much for accepting our interview! Could you give us a brief introduction? Adam: My name is Adam Belfer and I'm one of the founders of Cartuna, an animation studio based in Brooklyn, New York. !Adam Belfer - Cartuna Fox Renderfarm: Congratulation on the new SpongeBob animation? How did you come with the idea of making this series? How many episodes will you deliver in total?Adam: This was an idea that was started by producers at Nickelodeon. They had made a few episodes in 2D but wanted to increase the production quality and create something in 3D. The idea was to create a new villain – a slug monster – who steals all the slime that powers Nickelodeon. It's up to a group of characters from various Nickelodeon cartoons to band together and beat the slug. Along the way, they meet other popular characters from other Nickelodeon cartoons while they navigate through different video game worlds. !SpongeBob Fox Renderfarm: What software and plugins did you use for making this series? How long did it take to make each episode?Adam: We mainly use Maya to make the 3D animation, Substance Painter for texturing, Redshift for render engine. We also use plugin Studio Library to efficiently key animation. It took us about 7 months to complete all of the episodes. On average, it would take us more than one month to produce one episode.!SpongeBob Fox Renderfarm: Could you share with us the pipeline of the creation? Adam: At the beginning, it starts with storyboards and everything else will be based on that. After completing the pre-production, we move into CG production which includes modeling, texturing, rigging, previs, animation, lighting, rendering, and compositing. We also have a lot of 2D fx which is composed during the very last stage. !Pre-production - SpongeBob Fox Renderfarm: What are the most unforgettable scenes to you in this Spongebob series?Adam: The final episode (episode 6) is the best. The whole series builds into a climax. The showdown between our heroes and the villain is well worth the payoff. It's the most artistically ambitious and the most exciting and action-packed. Seeing all the characters we met along the way team up to have one final fight scene was very rewarding. !Final Boss!SpongeBob - The Final Boss Fox Renderfarm: What's the most difficult part of making this series? How did Cartuna solve it?Adam: Creating an entirely 3D production remotely was an interesting challenge. File sharing and communication became very important as we were not able to be in one location due to the pandemic. Having tools like Slack for communication, Google Drive for file sharing, and Fox Renderfarm for rendering all were essential to make this series run smoothly. !SpongeBob Fox Renderfarm: In creating the Spongebob animation series, did Cartuna do anything to optimize the productivity and efficiency of the cooperation among your team?Adam: We have built several pipeline tools specifically in Maya, so while we are working on it, some of the repetitive but time-consuming jobs can be resolved by a simple button, which makes the 3D production much more efficient. We also build certain naming rules and workflow for our production, so every single file can be organized well and easily accessed by the artists.!SpongeBob - 3D Production Fox Renderfarm: Could you introduce Cartuna to us? How many members are there in Cartuna?Adam: There is 6 full-time staff at Cartuna. We are unique in that most of our studio is made up of producers, writers and editors. For each production we have a rotating group of artists based on the style of the project. For example, on Portal Chase we had 30 artists. This included directors, storyboard artists, modeler/texturing artists, 2D animators, 3D animators, lighters, compositors, sound designers and more. Fox Renderfarm: How did you and your team constantly form the unique visual style and keep it uniform in all your works?Adam: We had a concept artist start before anyone else. Our art director / director made sure to do their research and development before the rest of the art team started. From there, the background designers and modelers, as well as the 2D FX artists all contributed to the unique look – putting their own personal style to make something one-of-a-kind that all meshed together into one uniform style. https://www.youtube.com/watch?v=3Er9IwxBrZENormani's 2019 VMA performance of "Motivation" © Cartuna Fox Renderfarm: Cartuna has a very contentful portfolio both original and branded ones. What is the most unforgettable project that you have created respectively (original and branded)?Adam: Cartuna started as a studio that produced exclusively original projects. Facebook Watch bought one of these first shows, Human Kind Of. It was a project made in-house and the series order validated what we were building. That project was later nominated for best Animated Television Production at the Annie Award and lost to BoJack Horseman (it was also in competition with Bob's Burgers, Big Mouth and others). To even be in the same class as those shows was awesome. !Human Kind OfHuman Kind Of (Watch Full Series)The branded piece we love the most, besides Portal Chase, is our SpongeBob 360 piece. It was amazing to figure out how to build the pipeline for that project and it was our first time working with SpongeBob which was an iconic cartoon for us all growing up. Go 360° Inside the Krusty Krab! Fox Renderfarm: Any new steps?Adam: We're pitching some original shows and we hope to get one sold next year. And we're doing a bunch of awesome client work – including a new SpongeBob 360 video (and hopefully more Portal Chase in the future too). Fox Renderfarm: How did you encounter CG? Could you share with us your education and career experience?Adam: The majority of my animation career has been working in 2D animation, so it's been a relatively new path working in CG. Before building an animation studio, my background was in marketing, digital communication and PR – and I had a liberal arts education. I've always had a passion for cartoons and building things, so working with my brother we formed Cartuna and have been happily making animation for 6 years. https://www.youtube.com/watch?v=l7OqPcPaxbYLil Nas X's 2019 VMA Performance of "Panini" Fox Renderfarm: From your resume on LinkedIn, we found that you were working on law, why did you make the change and choose the CG industry?Adam: I entertained the idea of law when I was in school, but ultimately found that type of education too rigid and not as creative. I come from an entrepreneurial family so I always wanted to start my own business. I wouldn't say we're exclusively in the CG business now, but more broadly in the animation industry. We try to distinguish ourselves as a studio by not having a set house style, so CG has been something we're happily learning and enjoying making more projects in that art form. https://vimeo.com/350853814Under Covers (A Stop Motion Animated Film) Fox Renderfarm: Any artwork or artist inspires you the most?Adam: Van Gogh's Irises inspired me the most. While Van Gogh was living in the asylum, he created the piece from nature in the asylum's garden. All of the Irises in the painting are blue. There's only one in the corner which is white. In my opinion, it represents Van Gogh's uniqueness and difference among the art style of the artists at the time. It may also tell Van Gogh's loneliness and eagerness to be understood. The painting really touches me. Being an artist, we all want to be unique in a certain way, but also want to be accepted in the world and understood by some people who will recognize you.!Irises © Vincent van GoghIrises © Vincent van Gogh Fox Renderfarm: How do you feel about the cloud rendering services provided by Fox Renderfarm? Adam: The Fox Renderfarm team was always willing to work with us and meet our needs. The output was professional-grade and the prices were affordable. We have tried out a few different services, and we felt Fox Renderfarm best suited our needs for this project. Fox Renderfarm: Anything else you want to share with CG enthusiasts?Adam: In addition to Portal Chase, check out our project My Squishy Little Dumplings (also with Nickelodeon). We're constantly growing our CG Portfolio and excited to take on more in 2022. If any CG artists are looking for work, we're always willing to collaborate!Let's Get It Popping! (Music Video) | My Squishy Little Dumplings
---
Discovering The Greatest Wish Of All In Wish Dragon
"Speak out your wish!"Most of us watched the anime series Dragon Ball in their childhood. The protagonist, Son Goku, explores the world in search of the seven orbs known as the Dragon Balls, which summon a wish-granting dragon when gathered.!Speak out your wishBut in Wish Dragon, a 2021 computer-animated comedy film, we can make a wish and get a pink hairy dragon without gathering seven dragon balls!Rendered with Fox Renderfarm, Wish Dragon was theatrically released in China on January 15, 2021, and will be released on Netflix internationally later in the year.The film was written and directed by Chris Appelhans, starring Jackie Chan, telling the story of Din, a working-class college student with big dreams but small means, and Long (Jackie Chan), a cynical but all-powerful dragon capable of granting wishes, set off on a hilarious adventure through modern day Shanghai in pursuit of Din's long-lost childhood friend.!Wish Dragon!Wish Dragon!Wish Dragon!Wish DragonOn January 19th, Fox Renderfarm launched a Giveaway, Free Tickets of Wish Dragon For Fans, on social media platforms. Many followers left comments below expressing their love and expectations for the film. Eye-catching Chinese ElementsThe Chinese elements in Wish Dragon have struck a chord with many Chinese audiences and introduces China to the audiences around the world as well.The Director Chris Eberhans met a bosom friend of the same age in Shanghai when he was a child, who had similar personalities. Therefore, the Director places his childhood memories in the film and sets the background in Shanghai, China.In addition to the Shikumen, Nanpu Bridge, Oriental Pearl Radio & TV Tower, the design of the soft and cute dragon and the teapot are full of features of Chinese traditional culture. Besides, the dragon loves eating shrimp crackers and is curious about TV, airplanes and air conditioners and other things never seen before.!Wish Dragon!Wish Dragon!Wish Dragon!Wish Dragon A Pink Dragon With 3 Million HairsNot only the eye-catching Chinese elements, but the pink dragon also impressed the audiences. However, the creative team faced lots of difficulties and challenges while making the role. For one thing, there is no actual reference. Before the final figure was determined, the animation team looked through all the original images of the dragon and the animation works of recent years. In order to make the dragon move more agile and elegant, the team has groomed 3 million fur and created more than 1,000 controllers on its body while modeling and rigging. Hence, in addition to being able to move flexibly, the dragon can also change its shape into a square, round, and other shapes. Besides, Jackie Chan's dubbing and the martial art scenes also make the film more attractive. As the cloud rendering partner of Wish Dragon, Fox Renderfarm is committed to providing high-quality cloud rendering services and solutions for the CG industry. While continuously optimizing technical services, Fox Renderfarm hopes that there are more works with exquisite Chinese elements like Wish Dragon, sharing traditional Chinese culture and stories with audiences around the world!!Wish DragonWish Dragon is in theaters now! Go and discover the greatest wish of all with your families and beloved ones!!Wish DragonReferenceshttp://www.xinhuanet.com/ent/2021-01/19/c_1126997486.htm
---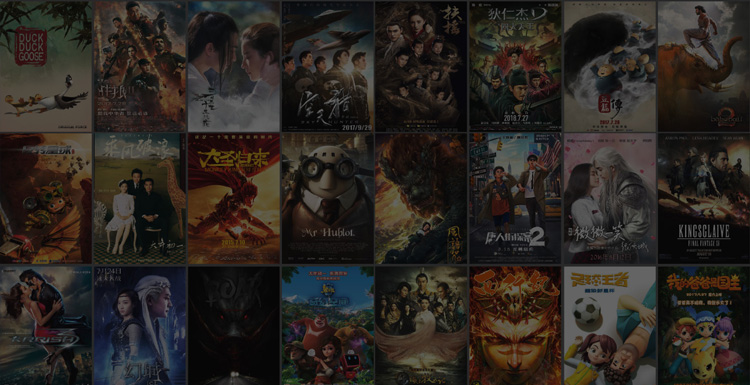 Render Farm on Film and Animation Works 2018
There are still 18 days from the end of 2018. This year, Fox Renderfarm has achieved a good goal in film and animation works rendering. Below is a collection video of some of the animations and film works that we participated in.The names of the works played in the video are:- Shadow- Detective Dee: The Four Heavenly Kings- Legend of Fu Yao- Detective Chinatown II- Wolf Warrior 2- Ten great III of peach blossom- Baahubali: The Beginning- L.O.R.D (Legend of Ravaging Dynasties)- The Wind Guardians- Monkey Magic- Duck Duck Goose- Boonie Bears: The Big Shrink- Fights Break Sphere- Boonie Bears: Entangled WorldsThe above is just a list of some of the works we have rendered until 2018. If you want to know more details, you can visit our Customer page. As the largest render farm in Asia, we are constantly being recognized by our customers. More and more users are using our render farm, which gives us a good evaluation of our services and platforms.Here's our evaluation at SIGGRAPH Vancouver 2018, one of the interview participants who used a number of render farms for multiple companies in the cloud rendering industry, if you don't know how to choose which render farm to cooperate, you can see the following video for your reference:Fox Renderfarm has always focused on the cloud rendering services of film and video, we are good at summing up the real needs of users, and constantly follow the footsteps of users to improve our products, in order to give users a better cloud rendering service.Fox Renderfam's render farm currently supports GPU and CPU rendering, a company that is rare in the cloud rendering industry to support both services. At the same time, we have thousands of rendering nodes, users can upload and render in real-time. This is also the advantage that we are different from others, and one of the reasons why many users like to use us.We know that many enterprises encounter many headaches in the transmission of large files, such as video, the transmission speed is too slow, and the file transmission process is afraid of interception, loss and other accidents. Also, it is cost a lot of time when the file transfer process be interrupted, that means you should transfer again.In response to the above problems, we have developed a large file transfer tool for users to choose, using a second to increase the transmission speed by 100 times. Moreover, our own render farm also has the application of this technology, which ensures that users can quickly complete the uploading of the work to be rendered and download, which greatly saves time.
---
Key Words
3D Tool
|
Trailer
|
Fox Renderfarm Promotion
|
Cloud Rendering Farm
|
Annecy Festival
|
MILESTONES
|
Fox Renderfarm
|
Desktop Client
|
Blender
|
Bollywood films
|
Hum3D Contest
|
NVIDIA
|
Silkroad Digital Vision
|
Malaysian Animated Films
|
Indiajoy
|
Art Competitions
|
Architectural Visualization
|
CGarchitect Architectural 3Dawards
|
Best cloud rendering services
|
Render cloud
|
VFX
|
Upin & Ipin
|
Green Book
|
Fox Renderfarm Interview
|
Mission Mangal
|
Kre8tif!
|
Fox Renderfarm Mini Program
|
CG
|
CG Tech Summit Malaysia
|
film works
|
cloud rendering
|
Golden Horse Award
|
Shadow
|
SIGGRAPH Asia 2018
|
Morrigan Flebotte
|
VWArtclub Annual *Contest
|
Asswad Mouhamad
|
animation works
|
IMax Studio
|
Boonie Bears
|
Renderosity
|
Gary S. Kennedy
|
Evermotion Challenge 2018
|
Brian Beaudry
|
Bobby Bala
|
Mohit Sanchaniya
|
Katapix Media
|
Flying Car Productions
|
Razer
|
The Shipment
|
FoxRenderfarm
|
CG Tech Summit
|
Alpacalypse Productions
|
halloween
|
Hum3d Survial Car Challenge
|
Federico Ciuffolini
|
Ralf Sczepan
|
Iavor Trifonov
|
Clarisse
|
CGTS Malaysia
|
Isotropix
|
C4D
|
Tomasz Bednarz
|
V-Ray
|
Cinema 4D
|
MAXON
|
siggraph caf
|
Evermotion challenge 2017
|
CGTrader Space Competition
|
film of the year
|
Le Anh Nhan
|
Planet Unknown
|
Fox Renderfarm 2017 Achievements
|
CSFF
|
Julio Soto
|
boar 2017
|
Deep
|
SIGGRAPH Asia 2017
|
Chris Sun
|
Glass Cage
|
Making Life of Bri' n Chris
|
anthem studios
|
The Rookies
|
Peter Draper
|
Makuta VFX
|
Baahubali 2
|
CG Competition
|
enchantedmob
|
CG Studios
|
Academy Awards
|
CGVray
|
weeklycgchallenge
|
SketchUp
|
siggraph 2017
|
Chris Buchal
|
SIGGRAPH Asia
|
LightWave
|
Indigo Renderer
|
Rafael Chies
|
V-Ray RT
|
CPU Rendering
|
NVIDIA Iray
|
Chaos Group
|
OctaneRender
|
Redshift
|
STAR CORE
|
CICAF
|
VR
|
Mr. Hublot
|
Ribbit
|
GPU Rendering
|
Linux
|
Monkey Island
|
LuxRender
|
HPC
|
Render Farm
|
Life of Bri
|
WORLD LAB
|
Michael Wakelam
|
3D Rendering
|
Online Render Farm
|
Alibaba
|
Baahubali
|
Malaysia
|
VAX
|
2015 Hangzhou Computing Conference
|
Oscar
|
SIGGRAPH
|
CGTrader
|
Kunming Asia Animation Exhibition
|
Evermotion
|
RenderMan
|
Categories
---
Fox Renderfarm News
---
Fox Renderfarm Projects
---
Fox Renderfarm Lectures
---
CG Challenges
---
Top News
---
Blog
---
Fox News
---
Fox Talk
---
Trending
---
Recent News List
---
SIGGRAPH Asia 2022 컴퓨터 애니메이션 페스티벌에서 애니메이션의 흥미로운 미래를 미리 볼 수 있습니다
2022-12-05
---
Preview the exciting future of animation at SIGGRAPH Asia 2022's Computer Animation Festival
2022-12-02
---
Netflix Drops Official Teaser for "My Dad The Bounty Hunter"
2022-12-01
---
Fox Renderfarm Suporta Miarmy Agora!
2022-11-30
---
폭스 렌더팜은 이제 Miarmy을 지원합니다!
2022-11-30
---
'Puss in Boots: The Last Wish' Will Hit Theaters Soon!
2022-11-29
---
Disney and Pixar's Teaser Trailer for Elemental is Out!
2022-11-28
---
Fox Renderfarm Supports Miarmy Now!
2022-11-25
---
Film Submission of Annecy Festival 2023 Is Open Now
2022-11-24
---
Partners
Medias