Discovering The Greatest Wish Of All In Wish Dragon
"Speak out your wish!"
Most of us watched the anime series Dragon Ball in their childhood. The protagonist, Son Goku, explores the world in search of the seven orbs known as the Dragon Balls, which summon a wish-granting dragon when gathered.
But in Wish Dragon, a 2021 computer-animated comedy film, we can make a wish and get a pink hairy dragon without gathering seven dragon balls!
Rendered with Fox Renderfarm, Wish Dragon was theatrically released in China on January 15, 2021, and will be released on Netflix internationally later in the year.
The film was written and directed by Chris Appelhans, starring Jackie Chan, telling the story of Din, a working-class college student with big dreams but small means, and Long (Jackie Chan), a cynical but all-powerful dragon capable of granting wishes, set off on a hilarious adventure through modern day Shanghai in pursuit of Din's long-lost childhood friend.
On January 19th, Fox Renderfarm launched a Giveaway, Free Tickets of Wish Dragon For Fans, on social media platforms. Many followers left comments below expressing their love and expectations for the film.
Eye-catching Chinese Elements
The Chinese elements in Wish Dragon have struck a chord with many Chinese audiences and introduces China to the audiences around the world as well.
The Director Chris Eberhans met a bosom friend of the same age in Shanghai when he was a child, who had similar personalities. Therefore, the Director places his childhood memories in the film and sets the background in Shanghai, China.
In addition to the Shikumen, Nanpu Bridge, Oriental Pearl Radio & TV Tower, the design of the soft and cute dragon and the teapot are full of features of Chinese traditional culture. Besides, the dragon loves eating shrimp crackers and is curious about TV, airplanes and air conditioners and other things never seen before.
A Pink Dragon With 3 Million Hairs
Not only the eye-catching Chinese elements, but the pink dragon also impressed the audiences. However, the creative team faced lots of difficulties and challenges while making the role. For one thing, there is no actual reference. Before the final figure was determined, the animation team looked through all the original images of the dragon and the animation works of recent years. In order to make the dragon move more agile and elegant, the team has groomed 3 million fur and created more than 1,000 controllers on its body while modeling and rigging. Hence, in addition to being able to move flexibly, the dragon can also change its shape into a square, round, and other shapes. Besides, Jackie Chan's dubbing and the martial art scenes also make the film more attractive.
As the cloud rendering partner of Wish Dragon, Fox Renderfarm is committed to providing high-quality cloud rendering services and solutions for the CG industry. While continuously optimizing technical services, Fox Renderfarm hopes that there are more works with exquisite Chinese elements like Wish Dragon, sharing traditional Chinese culture and stories with audiences around the world!
Wish Dragon is in theaters now! Go and discover the greatest wish of all with your families and beloved ones!
References
_1126997486.htm
---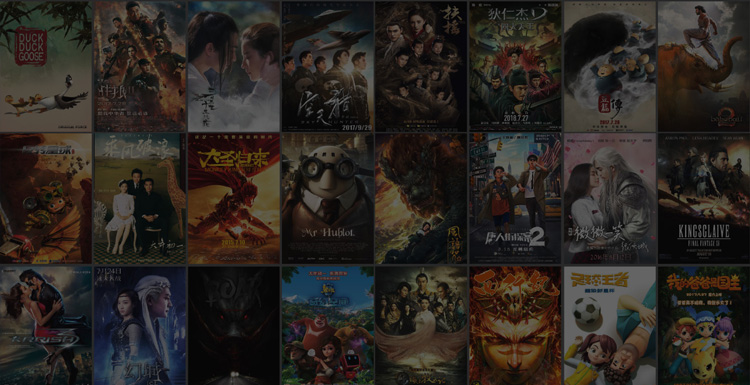 Render Farm on Film and Animation Works 2018
There are still 18 days from the end of 2018. This year, Fox Renderfarm has achieved a good goal in film and animation works rendering. Below is a collection video of some of the animations and film works that we participated in.
The names of the works played in the video are:
Shadow
Detective Dee: The Four Heavenly Kings
Legend of Fu Yao
Detective Chinatown II
Wolf Warrior 2
Ten great III of peach blossom
Baahubali: The Beginning
L.O.R.D (Legend of Ravaging Dynasties)
The Wind Guardians
Monkey Magic
Duck Duck Goose
Boonie Bears: The Big Shrink
Fights Break Sphere
Boonie Bears: Entangled Worlds
The above is just a list of some of the works we have rendered until 2018. If you want to know more details, you can visit our Customer page. As the largest render farm in Asia, we are constantly being recognized by our customers. More and more users are using our render farm, which gives us a good evaluation of our services and platforms.
Here's our evaluation at SIGGRAPH Vancouver 2018, one of the interview participants who used a number of render farms for multiple companies in the cloud rendering industry, if you don't know how to choose which render farm to cooperate, you can see the following video for your reference:
Fox Renderfarm has always focused on the cloud rendering services of film and video, we are good at summing up the real needs of users, and constantly follow the footsteps of users to improve our products, in order to give users a better cloud rendering service.
Fox Renderfam's render farm currently supports GPU and CPU rendering, a company that is rare in the cloud rendering industry to support both services. At the same time, we have thousands of rendering nodes, users can upload and render in real-time. This is also the advantage that we are different from others, and one of the reasons why many users like to use us.
We know that many enterprises encounter many headaches in the transmission of large files, such as video, the transmission speed is too slow, and the file transmission process is afraid of interception, loss and other accidents. Also, it is cost a lot of time when the file transfer process be interrupted, that means you should transfer again.
In response to the above problems, we have developed a large file transfer tool for users to choose, using a second to increase the transmission speed by 100 times. Moreover, our own render farm also has the application of this technology, which ensures that users can quickly complete the uploading of the work to be rendered and download, which greatly saves time.
---
Key Words
MILESTONES
|
Fox Renderfarm
|
Desktop Client
|
Blender
|
Bollywood films
|
Hum3D Contest
|
NVIDIA
|
Silkroad Digital Vision
|
Malaysian Animated Films
|
Indiajoy
|
Art Competitions
|
Architectural Visualization
|
CGarchitect Architectural 3Dawards
|
Best cloud rendering services
|
Render cloud
|
VFX
|
Upin & Ipin
|
Green Book
|
Fox Renderfarm Interview
|
Mission Mangal
|
Kre8tif!
|
Fox Renderfarm Mini Program
|
CG
|
CG Tech Summit Malaysia
|
Zhang Yimou
|
film works
|
cloud rendering
|
Golden Horse Award
|
Shadow
|
SIGGRAPH Asia 2018
|
Morrigan Flebotte
|
VWArtclub Annual *Contest
|
animation works
|
Asswad Mouhamad
|
IMax Studio
|
Boonie Bears
|
Renderosity
|
Gary S. Kennedy
|
Evermotion Challenge 2018
|
Brian Beaudry
|
Alita: Battle Angel
|
Bobby Bala
|
Mohit Sanchaniya
|
Katapix Media
|
Flying Car Productions
|
Razer
|
The Shipment
|
FoxRenderfarm
|
CG Tech Summit
|
Alpacalypse Productions
|
halloween
|
Hum3d Survial Car Challenge
|
Federico Ciuffolini
|
Ralf Sczepan
|
Iavor Trifonov
|
Clarisse
|
CGTS Malaysia
|
Isotropix
|
C4D
|
Tomasz Bednarz
|
V-Ray
|
Cinema 4D
|
MAXON
|
siggraph caf
|
Evermotion challenge 2017
|
CGTrader Space Competition
|
film of the year
|
Le Anh Nhan
|
Planet Unknown
|
Fox Renderfarm 2017 Achievements
|
CSFF
|
Julio Soto
|
boar 2017
|
Deep
|
SIGGRAPH Asia 2017
|
Chris Sun
|
Glass Cage
|
Fox Renderfarm
|
Making Life of Bri' n Chris
|
anthem studios
|
The Rookies
|
Peter Draper
|
Makuta VFX
|
Baahubali 2
|
CG Competition
|
enchantedmob
|
CG Studios
|
Academy Awards
|
CGVray
|
weeklycgchallenge
|
SketchUp
|
siggraph 2017
|
Chris Buchal
|
SIGGRAPH Asia
|
LightWave
|
Indigo Renderer
|
Rafael Chies
|
V-Ray RT
|
CPU Rendering
|
NVIDIA Iray
|
Chaos Group
|
OctaneRender
|
Redshift
|
STAR CORE
|
CICAF
|
VR
|
Mr. Hublot
|
Ribbit
|
GPU Rendering
|
Linux
|
Monkey Island
|
LuxRender
|
HPC
|
Render Farm
|
Life of Bri
|
WORLD LAB
|
Michael Wakelam
|
3D Rendering
|
Online Render Farm
|
Alibaba
|
Baahubali
|
阿里雲
|
Malaysia
|
VAX
|
Aliyun
|
2015 Hangzhou Computing Conference
|
Oscar
|
SIGGRAPH
|
CGTrader
|
Kunming Asia Animation Exhibition
|
Evermotion
|
RenderMan
|
Categories
---
Fox Renderfarm News
---
Fox Renderfarm Projects
---
Fox Renderfarm Lectures
---
CG Challenges
---
Top News
---
Blog
---
Fox News
---
Fox Talk
---
Trending
---
Recent News List
---
Exploring New Worlds: Introducing Ken Nguyen and His 22 Years of CG Journey
2021-04-26
---
Fox Renderfarm Supports Anima® Now!
2021-04-22
---
The Rebirth of the Phoenix: Introducing 3D Artist and Entrepreneur, Reinaldo Handaya
2021-04-19
---
Evergreen Program: Fuel the Community with Vigor and Vitality
2021-04-16
---
'Deer King': How to Create Powerful Deers in Blender
2021-04-15
---
「レンダリング」と「クラウドレンダリング」は何でしょうか?
2021-04-14
---
Creating Memorable Animations: Introducing Kukari Animation Studio
2021-04-13
---
Discovering New Things With Innocence and Euphoria in 3D World
2021-04-09
---
How to Make a Planet Explorer With ZBrush
2021-04-09
---
Partners
Medias