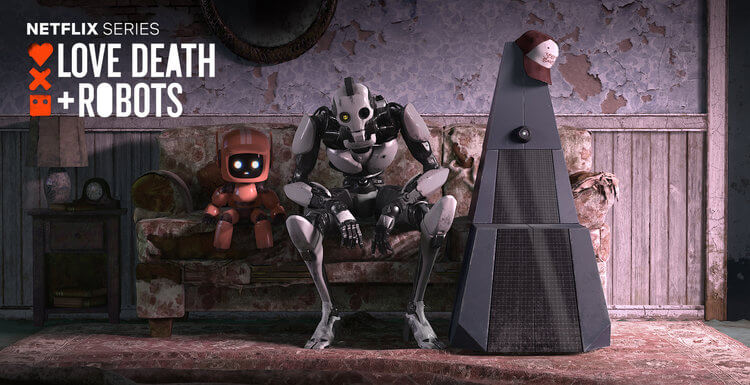 Interview With Blow Studio, One Of The Animation Producers Of Netflix's Love, Death & Robots
Fox Renderfarm News | Fox Renderfarm Projects | Top News | Trending | Fox News | Fox Talk
Love, Death & Robots, is an American adult animated anthology web television series on Netflix, consists of 18 stand-alone episodes, all under 20 minutes long and all produced by different casts and crews. Now, Fox Renderfarm is so happy to have an interview with Blow Studio, the animation producer of "Three Robots" in Netflix's Love, Death & Robots, and honorable to provide cloud rendering services for "Three Robots". Here is the interview regarding "Three Robots" between Blow Studio and Fox Renderfarm.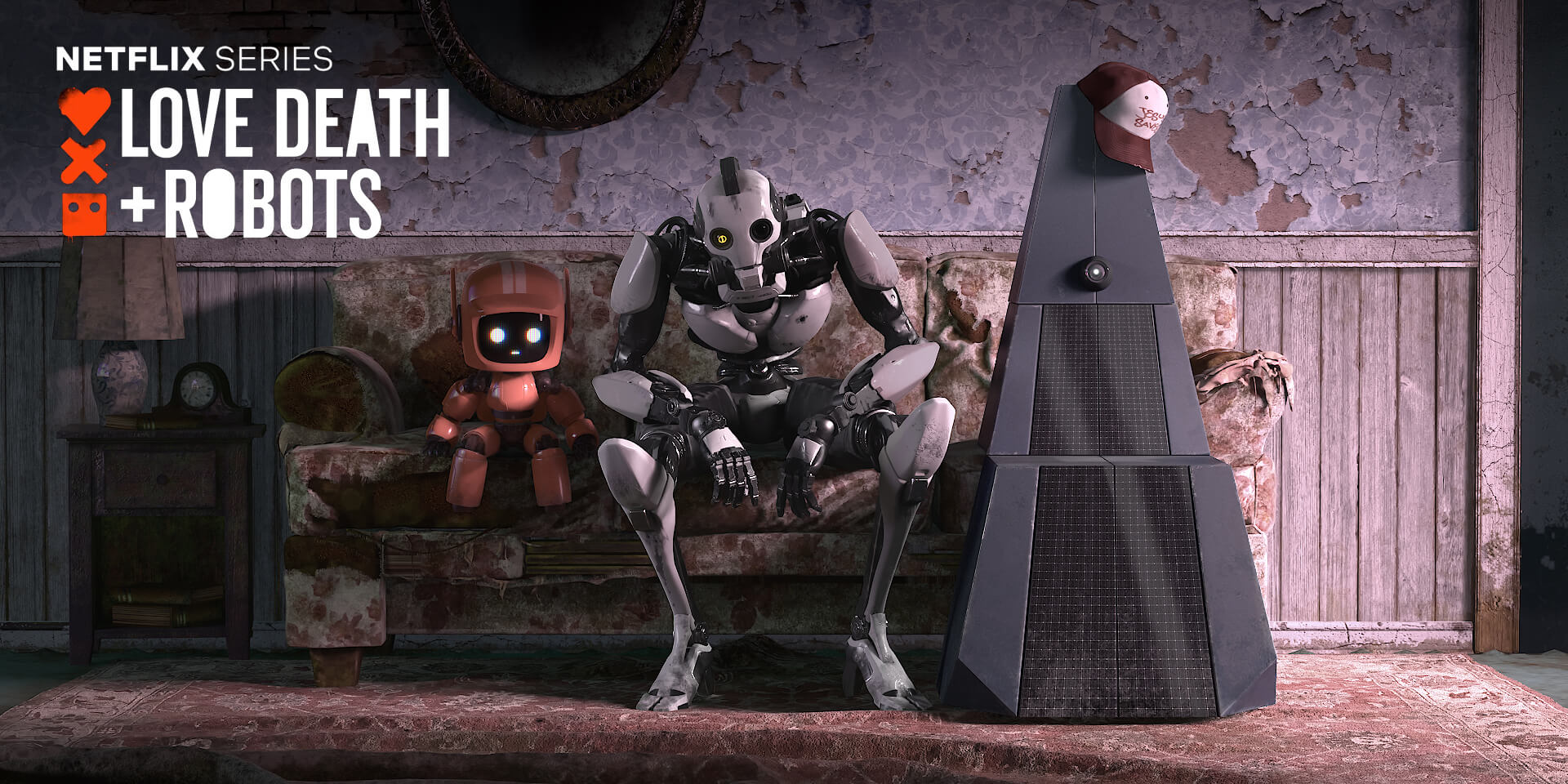 Fox Renderfarm: We noticed that you provide production services for commercials, TV shows, short films, and many other formats related to animation, so can you please give us a brief overview of Blow Studio?
Blow Studio: Blow Studio is an animation and VFX production company formed in 2011. We provide production services for commercials, series, short films, and many other formats related to animation. In addition, we are always looking for personal projects to push our limits.
We have worked on projects for brands such as: Netflix, Chanel, River Island, Johny Walker, MTV, Izze, Axe, Rdio, Sanex, Vimeo and others.
Fox Renderfarm: Which part is the most important in production of this project?
Blow Studio: All production stages are important. Every step must have an even quality so the final product is balanced. Considering the type of story, if we had to choose a fundamental area of this episode that required a greater effort from us, I think we would choose animation.
Fox Renderfarm: Can you share with us the challenges in the production of this short film?
Blow Studio: The animation was a challenge because we had to animate about 120 shots mixing styles. We had to invest a lot of effort in this area in order to take forward the project
Another challenge I would like to highlight is the making of a realistic talking cat. Modeling, shading, rig, animation, hair...everything required the highest quality to make this character credible. The cat was the most complicated character of this episode and we are very proud of the result.
Fox Renderfarm: How do you like this short film? Which part do you think is the most interesting?
Blow Studio: Three Robots is the most important project we have made at Blow Studio. We love the story, the tone and the visual design. If we had to choose one sequence, maybe it would be the abandoned house. It's a very funny part, with a delicious animation and hilarious lines. Also, here is when we meet the cat, a character that will be the key at the end of the story.
Fox Renderfarm: What do you think of Netflix's animated series* Love, Death & Robots*?
Blow Studio: We are fans of "Love, Death & Robots" and we are completely into adult animation. Before the series, back in 2017 we release a short film called "Alleycats", and it goes in the same tone of "Love, Death & Robots". This is a short film where we did what we wanted to: ninja cats slicing their heads through the alleys of the city with a dark vengeance background reflected in the story. So yes, this is the kind of things we love to do.
We needed someone to stand for this kind of animation, and Netflix did the bet. We just hope they continue investing in this type of content because it looks that it's something people was asking for.
Fox Renderfarm: Which episode do you like the most in season 1 of Love, Death & Robots? Why?
Blow Studio: All episodes have a very high level of quality and something to highlight, so it's very difficult to choose just one. But if we had to, we will surely choose "Three Robots" because making it was very satisfying and it is like our little baby.
Fox Renderfarm: Speaking of rendering, please tell us more about your overall experience with Fox Renderfarm?
Blow Studio: It was a pleasant surprise to work with Fox Renderfarm. We had to outsource some parts of the render in order to deliver on time and Fox Renderfarm allowed us to meet our deadline. Sure we will work again with them if we need to.
Fox Renderfarm: In closing, is there any interesting behind scene story you would like to share with us?
Blow Studio: Thanks to 'Three Robots' now we are cat experts. We had to do a very laborious study of them to reach this quality, and we really don't know how much hours we had to spend watching references for animation, the hair, the anatomy, the behavior of the skin, etc.
And we just wanted to say that it has been an adventure and an honor to be part of the production team of this amazing project along with the best CG studios today.
Fox Renderfarm: Thank Blow Studio for taking time in this interview, looking forward to seeing more and more wonderful works produced by Blow Studio.
Key Words
Cloud Rendering Farm
|
Annecy Festival
|
MILESTONES
|
Fox Renderfarm
|
Desktop Client
|
Blender
|
Bollywood films
|
Hum3D Contest
|
NVIDIA
|
Silkroad Digital Vision
|
Malaysian Animated Films
|
Indiajoy
|
Art Competitions
|
Architectural Visualization
|
CGarchitect Architectural 3Dawards
|
Best cloud rendering services
|
Render cloud
|
VFX
|
Upin & Ipin
|
Green Book
|
Fox Renderfarm Interview
|
Mission Mangal
|
Kre8tif!
|
Fox Renderfarm Mini Program
|
CG
|
CG Tech Summit Malaysia
|
film works
|
cloud rendering
|
Golden Horse Award
|
Shadow
|
SIGGRAPH Asia 2018
|
Morrigan Flebotte
|
VWArtclub Annual *Contest
|
Asswad Mouhamad
|
animation works
|
IMax Studio
|
Boonie Bears
|
Renderosity
|
Gary S. Kennedy
|
Evermotion Challenge 2018
|
Brian Beaudry
|
Alita: Battle Angel
|
Bobby Bala
|
Mohit Sanchaniya
|
Katapix Media
|
Flying Car Productions
|
Razer
|
The Shipment
|
FoxRenderfarm
|
CG Tech Summit
|
Alpacalypse Productions
|
halloween
|
Hum3d Survial Car Challenge
|
Federico Ciuffolini
|
Ralf Sczepan
|
Iavor Trifonov
|
Clarisse
|
CGTS Malaysia
|
Isotropix
|
C4D
|
Tomasz Bednarz
|
V-Ray
|
Cinema 4D
|
MAXON
|
siggraph caf
|
Evermotion challenge 2017
|
CGTrader Space Competition
|
film of the year
|
Le Anh Nhan
|
Planet Unknown
|
Fox Renderfarm 2017 Achievements
|
CSFF
|
Julio Soto
|
boar 2017
|
Deep
|
SIGGRAPH Asia 2017
|
Chris Sun
|
Glass Cage
|
Making Life of Bri' n Chris
|
anthem studios
|
The Rookies
|
Peter Draper
|
Makuta VFX
|
Baahubali 2
|
CG Competition
|
enchantedmob
|
CG Studios
|
Academy Awards
|
CGVray
|
weeklycgchallenge
|
SketchUp
|
siggraph 2017
|
Chris Buchal
|
SIGGRAPH Asia
|
LightWave
|
Indigo Renderer
|
Rafael Chies
|
V-Ray RT
|
CPU Rendering
|
NVIDIA Iray
|
Chaos Group
|
OctaneRender
|
Redshift
|
STAR CORE
|
CICAF
|
VR
|
Mr. Hublot
|
Ribbit
|
GPU Rendering
|
Linux
|
Monkey Island
|
LuxRender
|
HPC
|
Render Farm
|
Life of Bri
|
WORLD LAB
|
Michael Wakelam
|
3D Rendering
|
Online Render Farm
|
Alibaba
|
Baahubali
|
阿里雲
|
Malaysia
|
VAX
|
Aliyun
|
2015 Hangzhou Computing Conference
|
Oscar
|
SIGGRAPH
|
CGTrader
|
Kunming Asia Animation Exhibition
|
Evermotion
|
RenderMan
|
Categories
---
Fox Renderfarm News
---
Fox Renderfarm Projects
---
Fox Renderfarm Lectures
---
CG Challenges
---
Top News
---
Blog
---
Fox News
---
Fox Talk
---
Trending
---
Recent News List
---
Fox Renderfarm, 2022년 연간 TPN 평가 프로세스 완료
2022-06-21
---
Ballerina: A CGI Fantasy Created by Kay John Yim
2022-06-15
---
시그라프 아시아 2022 컴튜터 아니매이션 페스티벌, 출품작 등록 시작
2022-06-08
---
ウィッシュ・ドラゴンから最大のウィッシュを見出す
2022-06-02
---
Zync Render 사용자가 알아두어야 두 가지 중요한 사항
2022-05-30
---
Call for Submissions: SIGGRAPH Asia 2022 Computer Animation Festival
2022-05-25
---
Zync Renderユーザーが知っておきたい2つの重要なこと
2022-05-17
---
Fox Renderfarm Evergreen Program in 2022
2022-04-29
---
Revealing Mitosis Process with Cinema 4D
2022-04-15
---
Partners