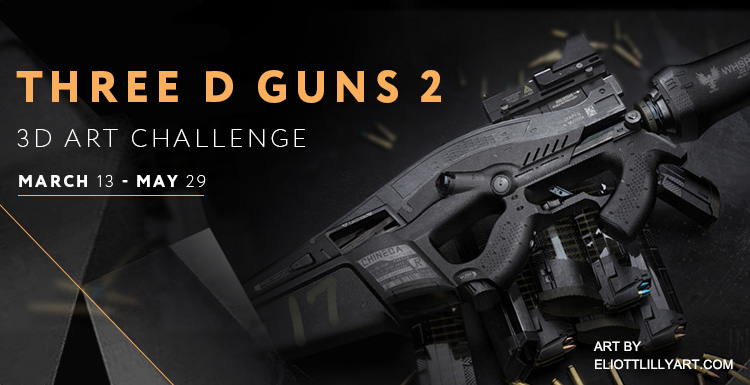 Three D Guns 2 Competition Winners Announcement!
Fox Renderfarm News | CG Challenges | Fox News | Trending
Hum3D Contest | FoxRenderfarm
On June 12, 2019, Hum3D's "Three D Guns 2" Competition, which also sponsored by the leading render farm service provider - Fox Renderfarm, announced the final list of winners. All the works in this competition are gun-themed 3D artworks. The competition attracted a large number of game artists, character designers, and weapon fans.
Fox Renderfarm was honorable to be one of the judges, and had the chance to choose a work for the special prize - Fox Renderfarm Team Choice. All the entries are creative and pluralistic, congratulations to everyone. Here are the excellent award-winning works.
First place: Porcelain 1911 by Yi Sun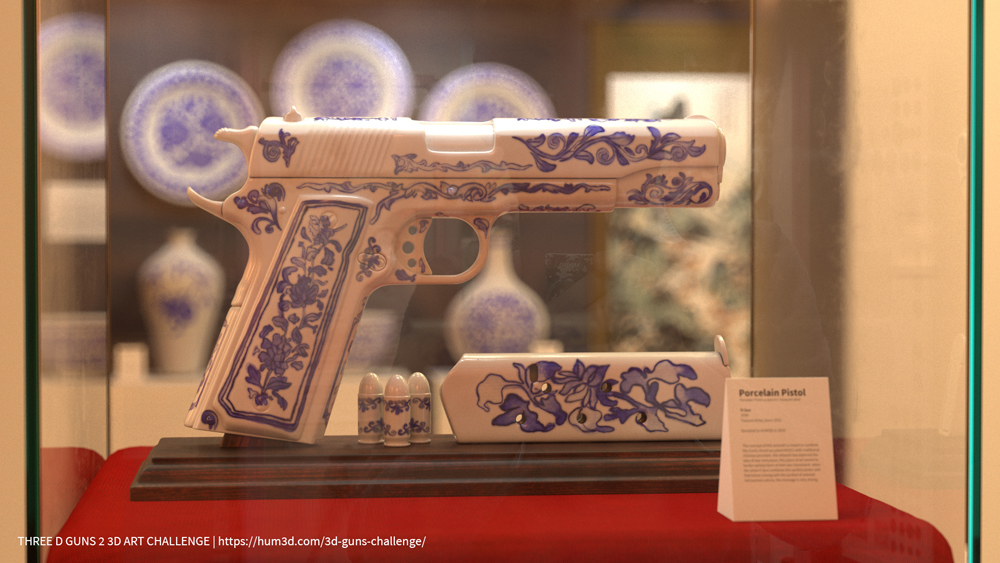 What the jury says:
Jeremie Noguer: "Original idea and flawless execution".
Yurii Lebediev: "I love it! When I look at this render I remember feeling when I held porcelain mini figurines of animals of my granny. This is so nice and so good done!"
Zacharias Reinhardt: "What a combination! Combining a hard and deadly weapon with something filigree as porcelain. The shape and materials with all the painted details, totally sells it".
Dominik Capodieci: "Interesting idea and nice shading and lighting".
Tom Grimes: "I have a soft-spot for juxtapositions, putting two things together that would never normally be found together. A porcelain gun! With beautiful patterning just like on the fine China that only gets used on Sundays. Almost surreal!"
Remi Arquier: "I love the concept and the detailing – a lot of work went into taking this outside the box".
Second place: Under Cover Paranoia by Nicolas Berger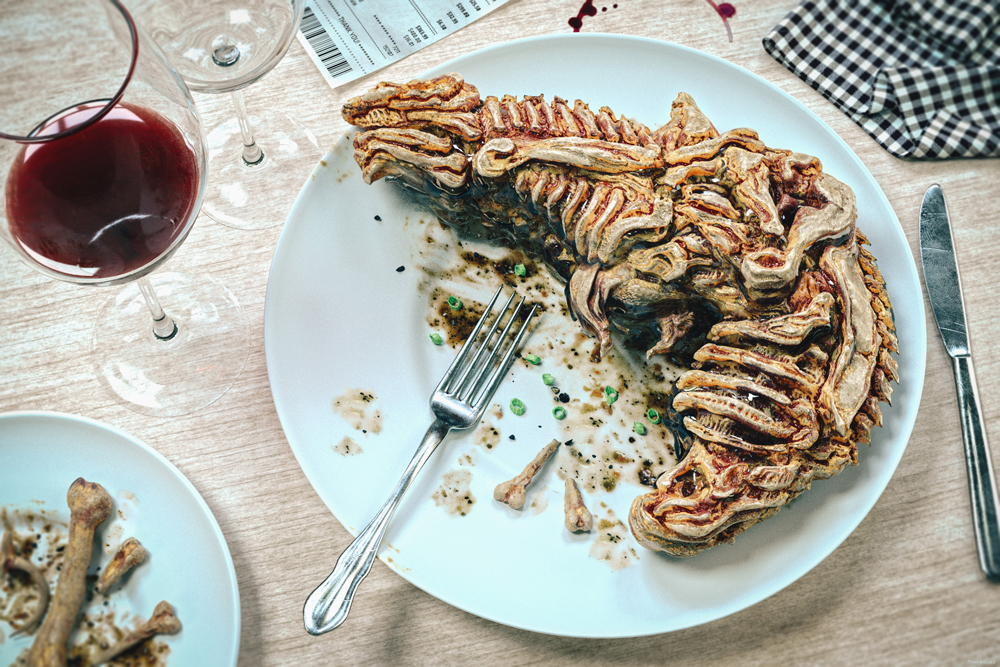 What the jury says:
Yurii Lebediev: "Absolutely unique 'gun'! Very nice render! Enormous attention to details!"
Zacharias Reinhardt: "This is probably the most disgusting weapon I have ever seen, but that is what it makes so great! The weapon design is great (in a weird way) and looks like it is straight out of an alien movie. The image is technically well executed and I especially like all the tiny realistic details. Now I know hat will haunt me in my nightmares ;)"
Remi Arquier: "You don't see much Cronenberg fan art these days, and this one stood out in concept and execution".
Third place: The Stopper by Kimmo Kaunela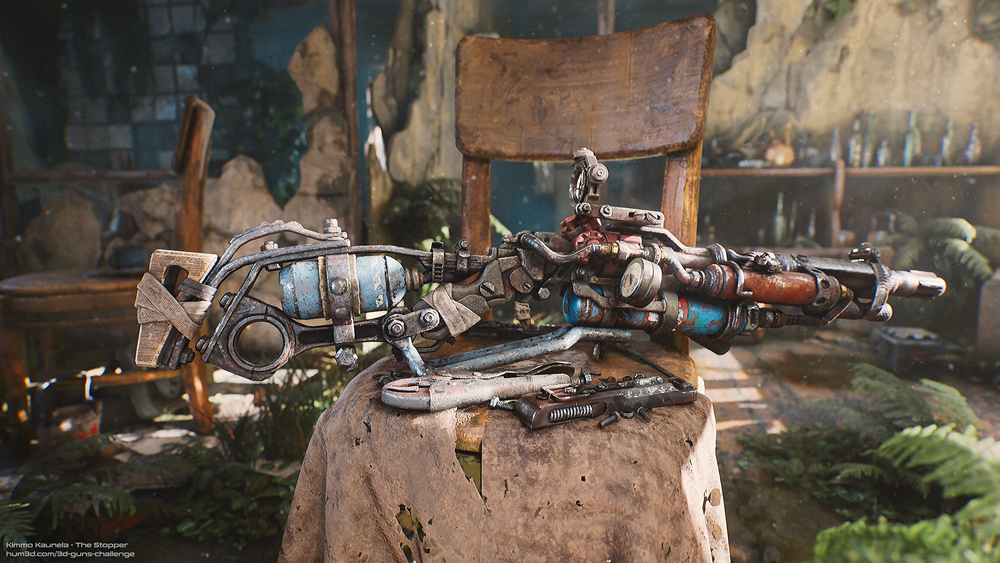 What the jury says:
Arseniy Korablev (Teya Conceptor): "My favorite artwork in the competition. This nomination is needed at least to highlight such authors. Beautiful colors, interesting weapon. I want to pick up it and run with it :) The only thing that bothers me is a slightly blurry render, possibly due to DOF, antialiasing or image interpolation settings".
Jeremie Noguer: "The slight stylization works well, lighting and environment are on point".
Deuce Bennett: "I'm a sucker for post-apocalyptic, kitbash, and steampunk. This weapon tells me a story, and I love it".
Special prize from Fox Renderfarm: Decimator MK1 by Malchus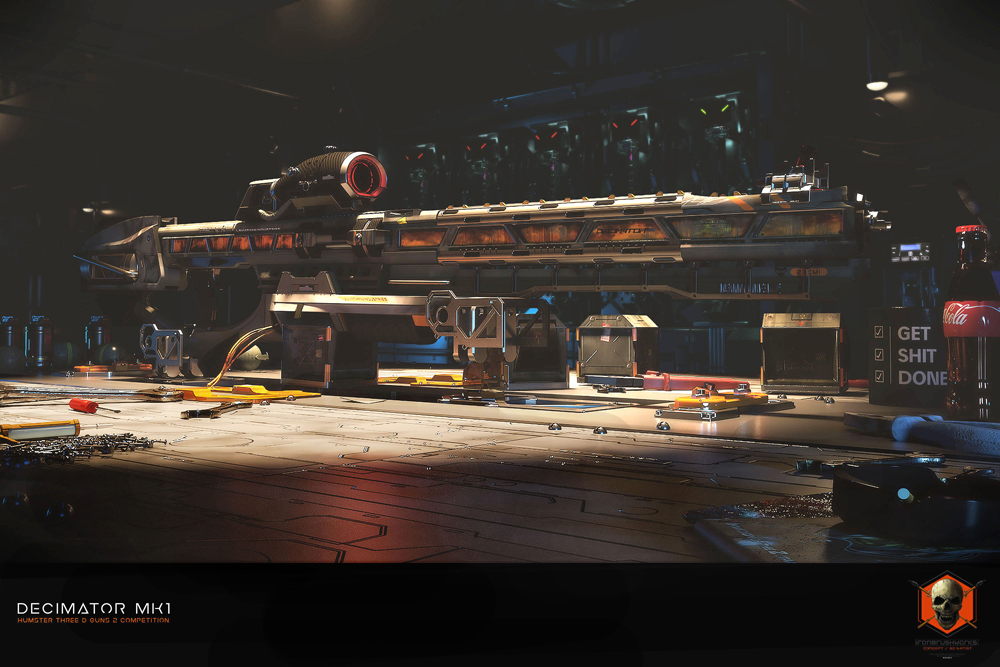 What Fox Renderfarm says:
"Great lighting, overall atmosphere is good, warm and cool colors contrast highlights the theme, so that viewers would instantly focus on the main object at first glance. The gun is perfectly blended into the picture, but still manages to stand out. Model, texture and lighting, overall is perfect".
Congratulations to all the award-winning artists and Fox Renderfarm hope to help more 3D artists to create their masterpieces.
To check out all of the fantastic winning entries, as well as some special Team Choice mentions, visit Hum3D's blog post here.
https://hum3d.com/blog/3d-guns-winners/
Key Words
MILESTONES
|
Fox Renderfarm
|
Desktop Client
|
Blender
|
Bollywood films
|
Hum3D Contest
|
NVIDIA
|
Silkroad Digital Vision
|
Malaysian Animated Films
|
Indiajoy
|
Art Competitions
|
Architectural Visualization
|
CGarchitect Architectural 3Dawards
|
Best cloud rendering services
|
Render cloud
|
VFX
|
Upin & Ipin
|
Green Book
|
Fox Renderfarm Interview
|
Mission Mangal
|
Kre8tif!
|
Fox Renderfarm Mini Program
|
CG
|
CG Tech Summit Malaysia
|
Zhang Yimou
|
film works
|
cloud rendering
|
Golden Horse Award
|
Shadow
|
SIGGRAPH Asia 2018
|
Morrigan Flebotte
|
VWArtclub Annual *Contest
|
animation works
|
Asswad Mouhamad
|
IMax Studio
|
Boonie Bears
|
Renderosity
|
Gary S. Kennedy
|
Evermotion Challenge 2018
|
Brian Beaudry
|
Alita: Battle Angel
|
Bobby Bala
|
Mohit Sanchaniya
|
Katapix Media
|
Flying Car Productions
|
Razer
|
The Shipment
|
FoxRenderfarm
|
CG Tech Summit
|
Alpacalypse Productions
|
halloween
|
Hum3d Survial Car Challenge
|
Federico Ciuffolini
|
Ralf Sczepan
|
Iavor Trifonov
|
Clarisse
|
CGTS Malaysia
|
Isotropix
|
C4D
|
Tomasz Bednarz
|
V-Ray
|
Cinema 4D
|
MAXON
|
siggraph caf
|
Evermotion challenge 2017
|
CGTrader Space Competition
|
film of the year
|
Le Anh Nhan
|
Planet Unknown
|
Fox Renderfarm 2017 Achievements
|
CSFF
|
Julio Soto
|
boar 2017
|
Deep
|
SIGGRAPH Asia 2017
|
Chris Sun
|
Glass Cage
|
Fox Renderfarm
|
Making Life of Bri' n Chris
|
anthem studios
|
The Rookies
|
Peter Draper
|
Makuta VFX
|
Baahubali 2
|
CG Competition
|
enchantedmob
|
CG Studios
|
Academy Awards
|
CGVray
|
weeklycgchallenge
|
SketchUp
|
siggraph 2017
|
Chris Buchal
|
SIGGRAPH Asia
|
LightWave
|
Indigo Renderer
|
Rafael Chies
|
V-Ray RT
|
CPU Rendering
|
NVIDIA Iray
|
Chaos Group
|
OctaneRender
|
Redshift
|
STAR CORE
|
CICAF
|
VR
|
Mr. Hublot
|
Ribbit
|
GPU Rendering
|
Linux
|
Monkey Island
|
LuxRender
|
HPC
|
Render Farm
|
Life of Bri
|
WORLD LAB
|
Michael Wakelam
|
3D Rendering
|
Online Render Farm
|
Alibaba
|
Baahubali
|
阿里雲
|
VAX
|
Malaysia
|
Aliyun
|
2015 Hangzhou Computing Conference
|
Oscar
|
SIGGRAPH
|
CGTrader
|
Kunming Asia Animation Exhibition
|
Evermotion
|
RenderMan
|
Categories
---
Fox Renderfarm News
---
Fox Renderfarm Projects
---
Fox Renderfarm Lectures
---
CG Challenges
---
Top News
---
Blog
---
Fox News
---
Fox Talk
---
Trending
---
Recent News List
---
Creating A Simple But Powerful Santa in 3ds Max
2021-03-05T06:46:03.710Z
---
Making a Cartoon-style Heavy Metal Santa with ZBrush and Maya
2021-03-04T07:02:12.821Z
---
GPUレンダリング—利点は何ですか?
2021-03-03T10:42:21.046Z
---
CPUレンダリング—利点は何ですか?
2021-03-02T10:31:00.077Z
---
How to Create a Hail Phoenix with Cinema 4D and ZBrush
2021-02-24T10:37:07.225Z
---
How To Create A Nostalgic Alfa Romeo Racing Car With 3ds Max
2021-02-20T03:42:11.587Z
---
How To Create A Realistic Doomsday in 3ds Max
2021-02-18T03:11:54.732Z
---
How to Use 3ds Max to Create A Photorealistic Car Render Giving Fairytale Mood
2021-02-15T07:51:48.077Z
---
Tribute To Bravehearts In My Own 2020: Introducing 3D Artist, Reyaz Alankandy
2021-02-10T08:36:35.315Z
---
Partners