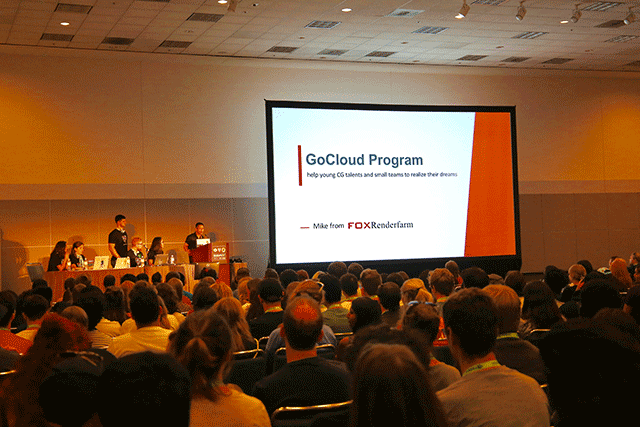 Fox Renderfarm in SIGGRAPH 2017, We Are More Than An Exhibitor
As the largest and most influential annual conference and exhibition in computer graphics and interactive techniques, SIGGRAPH 2017 is popularly ongoing (30th July – 3rd August). As one of the most popular render farms in the exhibition, and honorably invited as the speaker of SIGGRAPH 2017 conference, Fox Renderfarm is holding hands with SIGGRAPH and having several deep cooperations this time.
"CG in Asia"Speech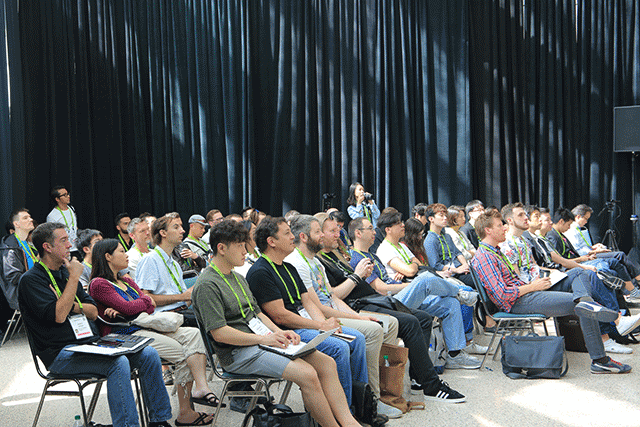 Benjamin Cheung, the VP of Fox Renderfarm, was invited by SIGGRAPH International Resources Committee to be a speaker for the subject of "CG in Asia". Ben shared the development of CG industry with speakers from Digital Idea in Korea, SQUARE ENIX, CG-ARTS Society and OLM Digital in Japan. Ben focused on the topic of current situation and development of Chinese film industry, and made a point that China has huge potentials in film industry.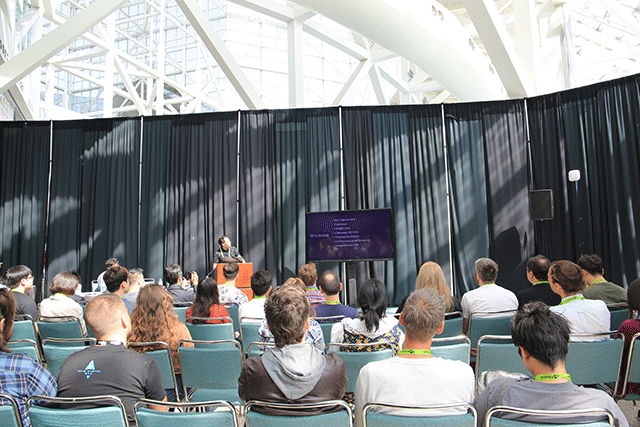 "SIGGRAPH Student Volunteer Program"Conference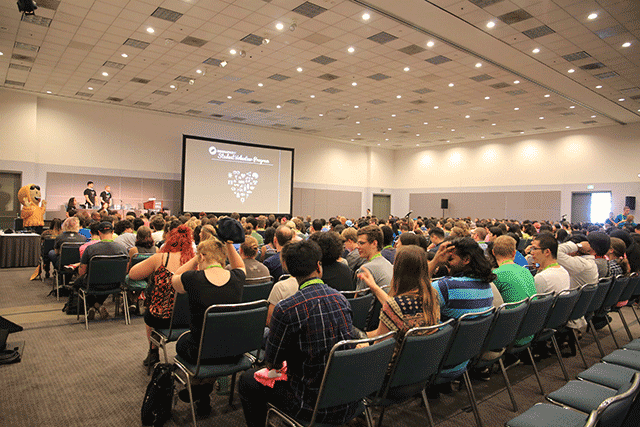 Mike, the marketing director of Fox Renderfarm, was also invited to present in the conference of "SIGGRAPH 2017 Student Volunteer Program", Mike introduced Fox Renderfarm and explained how powerful the rendering ability is, as well as the GoCloud Program which aims to help potential CG students, creative small teams and charity groups to realize their dreams.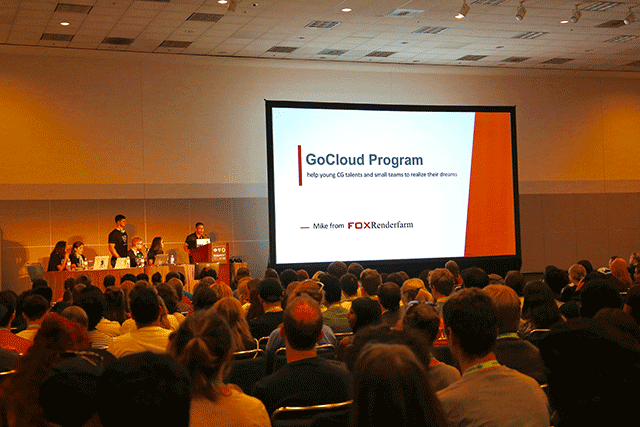 At the end of the speech, Mike even revealed an amazing news, it is about a self-developed online platform ( Vivue: http://www.vivue.io ) which is designed to help directors, producers, artists, designers, managers and media groups to save huge time on video collaboration. The Vivue is currently available on webpage and iOS App.
Officially Authorized to Distribute SIGGRAPH Collectible Pixel Toys
Fox Renderfarm is officially authorized by SIGGRAPH to distribute the limited number of collectible bobble head Pixel toys at the SIGGRAPH 2017 conference and exhibition. These keepsakes will not be available for sale, but will be given away in a variety of ways throughout the conference and exhibition, including at Fox Renderfarm booth 243. Besides, there are a lot of other gifts available for visitors by playing the dart game on Fox Renderfarm's booth.
The confidence of SIGGRAPH for Fox Renderfarm's leading position in render farm industry along with the outstanding contribution, is the most important reason that SIGGRAPH decides to start such deep cooperations with Fox Renderfarm. And Fox Renderfarm really appreciated the awesome opportunity to present themselves in front of so many international 3d animation and VFX production companies. Let's take hand by hand to help enhance the development of CG industry.
Key Words
Cloud Rendering Farm
|
Annecy Festival
|
MILESTONES
|
Fox Renderfarm
|
Desktop Client
|
Blender
|
Bollywood films
|
Hum3D Contest
|
NVIDIA
|
Silkroad Digital Vision
|
Malaysian Animated Films
|
Indiajoy
|
Art Competitions
|
Architectural Visualization
|
CGarchitect Architectural 3Dawards
|
Best cloud rendering services
|
Render cloud
|
VFX
|
Upin & Ipin
|
Green Book
|
Fox Renderfarm Interview
|
Mission Mangal
|
Kre8tif!
|
Fox Renderfarm Mini Program
|
CG
|
CG Tech Summit Malaysia
|
film works
|
cloud rendering
|
Golden Horse Award
|
Shadow
|
SIGGRAPH Asia 2018
|
Morrigan Flebotte
|
VWArtclub Annual *Contest
|
Asswad Mouhamad
|
animation works
|
IMax Studio
|
Boonie Bears
|
Renderosity
|
Gary S. Kennedy
|
Evermotion Challenge 2018
|
Brian Beaudry
|
Alita: Battle Angel
|
Bobby Bala
|
Mohit Sanchaniya
|
Katapix Media
|
Flying Car Productions
|
Razer
|
The Shipment
|
FoxRenderfarm
|
CG Tech Summit
|
Alpacalypse Productions
|
halloween
|
Hum3d Survial Car Challenge
|
Federico Ciuffolini
|
Ralf Sczepan
|
Iavor Trifonov
|
Clarisse
|
CGTS Malaysia
|
Isotropix
|
C4D
|
Tomasz Bednarz
|
V-Ray
|
Cinema 4D
|
MAXON
|
siggraph caf
|
Evermotion challenge 2017
|
CGTrader Space Competition
|
film of the year
|
Le Anh Nhan
|
Planet Unknown
|
Fox Renderfarm 2017 Achievements
|
CSFF
|
Julio Soto
|
boar 2017
|
Deep
|
SIGGRAPH Asia 2017
|
Chris Sun
|
Glass Cage
|
Making Life of Bri' n Chris
|
anthem studios
|
The Rookies
|
Peter Draper
|
Makuta VFX
|
Baahubali 2
|
CG Competition
|
enchantedmob
|
CG Studios
|
Academy Awards
|
CGVray
|
weeklycgchallenge
|
SketchUp
|
siggraph 2017
|
Chris Buchal
|
SIGGRAPH Asia
|
LightWave
|
Indigo Renderer
|
Rafael Chies
|
V-Ray RT
|
CPU Rendering
|
NVIDIA Iray
|
Chaos Group
|
OctaneRender
|
Redshift
|
STAR CORE
|
CICAF
|
VR
|
Mr. Hublot
|
Ribbit
|
GPU Rendering
|
Linux
|
Monkey Island
|
LuxRender
|
HPC
|
Render Farm
|
Life of Bri
|
WORLD LAB
|
Michael Wakelam
|
3D Rendering
|
Online Render Farm
|
Alibaba
|
Baahubali
|
阿里雲
|
Malaysia
|
VAX
|
Aliyun
|
2015 Hangzhou Computing Conference
|
Oscar
|
SIGGRAPH
|
CGTrader
|
Kunming Asia Animation Exhibition
|
Evermotion
|
RenderMan
|
Categories
---
Fox Renderfarm News
---
Fox Renderfarm Projects
---
Fox Renderfarm Lectures
---
CG Challenges
---
Top News
---
Blog
---
Fox News
---
Fox Talk
---
Trending
---
Recent News List
---
Fox Renderfarm, 2022년 연간 TPN 평가 프로세스 완료
2022-06-21
---
Ballerina: A CGI Fantasy Created by Kay John Yim
2022-06-15
---
시그라프 아시아 2022 컴튜터 아니매이션 페스티벌, 출품작 등록 시작
2022-06-08
---
ウィッシュ・ドラゴンから最大のウィッシュを見出す
2022-06-02
---
Zync Render 사용자가 알아두어야 두 가지 중요한 사항
2022-05-30
---
Call for Submissions: SIGGRAPH Asia 2022 Computer Animation Festival
2022-05-25
---
Zync Renderユーザーが知っておきたい2つの重要なこと
2022-05-17
---
Fox Renderfarm Evergreen Program in 2022
2022-04-29
---
Revealing Mitosis Process with Cinema 4D
2022-04-15
---
Partners