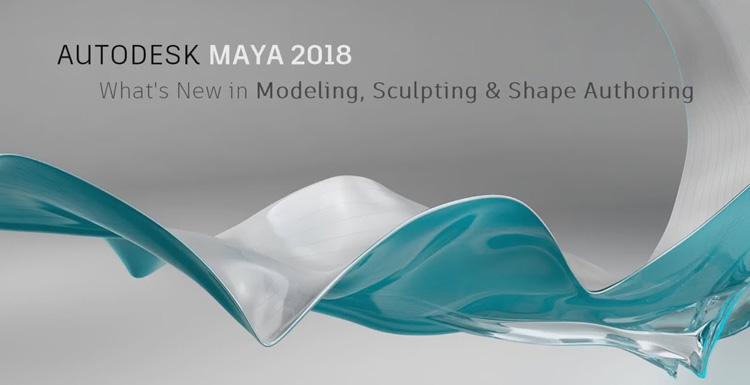 The Usage of Maya 2018 Attribute Spread Sheet
Prior to the Maya 2016, it is automatically created a layer selection (Create Layer Override) when opening or closing object properties in bulk. But since Maya added the Render Setup layering settings, the automatic creation of layer selection features has disappeared for the layered approach of older versions of Legacy Render Layers. This is confuse many people who don't know the existence of the Create Override for Selected feature. Today, the best cloud rendering service provider, Fox Renderfarm, will tell you that if the automatic layer selection disappears, how to use the Attribute Spread Sheet tool. For example, I want to make a layer selection of the object's Primary Visibility property. Step 1: Select the object you want to make the layer selection and open Maya's Attribute Spread Sheet tool. Step 2: Select the Primary Visibility property in the Attribute Spread Sheet. Step 3: Click Layer - Create Override for Selected in the upper menu bar. Step 4: Change on to 0 (off). Step 5: Check the Primary Visibility under the Object Properties and you will find that it made the layer selection automatically. However, the best CPU&GPU render farm, Fox Renderfarm want to note that, in fact, the previous version of this feature is also available, but the Maya automatically created the layer selection in the previous version, and now you need to manually click it.
---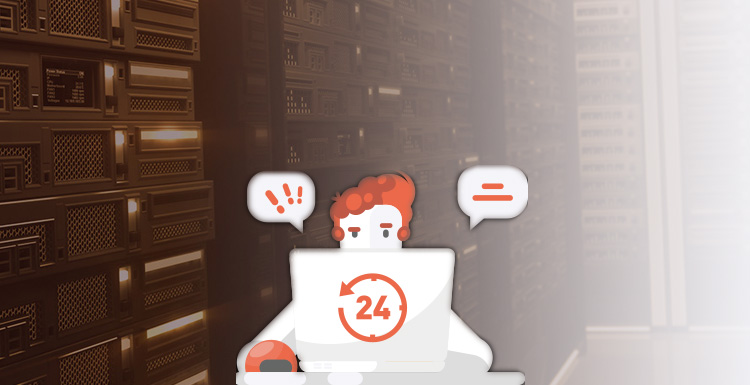 RAYVISION Provides 24 Hour Support for Their Clients
Having developed smart processes for specialized service flow and customized rendering solutions, RayVision has invested in all the functions and systems of cloud rendering which makes things smooth and easy for the clients. Additionally, RayVision now provides a 24-hour support for its clients to help and guide them through all the processes of rendering. RayVision's service team comprises of experienced individuals in computer generated imagery and graphics. The team members come from different parts of the globe, converging to the vision of providing high-end cloud rendering services through a highly reliable CG rendering platform. Support engineers of the Fox Renderfarm provide round the clock assistance to customers through the Skype Dialogue. Companies and businesses that are new to RayVision can also go through their Introductory Video Tutorial to get the basic idea about the various processes involved. Moreover, tutorial videos are also provided to everyone regarding the two rendering methods used by RayVision: Web rendering and client submission rendering. RayVision processes more than 20 million+ celluloid film frames each year with a vast support of software and rendering platforms. An employee commented, "Our team pays a lot of attention to understanding the requirements of various projects that we get. Our processes ensure that we know exactly what our clients want. Our hard work is reflected by our success stories: Mr. Hublot, a short 3D animated film that we rendered and provided our technical expertise for; won the Best Animated Short Film award at 2014 Oscars. Apart from that, the highest grossing Bollywood film, Krrish 3 was taken up as a great challenge by our team." An official representative of RayVision further explained, "Amalgamating CG graphics in animations or films is not an easy task. It requires good communication across all channels and especially when it comes to rendering, clients want to make sure at every step that the product will meet their expectations. Therefore, it became necessary to make our customer support team readily available at all times for our clients." About the Company: Ray Vision was formed in 2010, and was the first company to offer a cloud rendering platform to customers. In fact, the company is known to have pioneered "self service cloud rendering". The internet technology company specializes in cluster rendering, parallel computing technology, and provides the computing services needed for cloud rendering. Some of the company's reputable customers include DreamWorks, SKG, Magic, and American Industrial Light.
---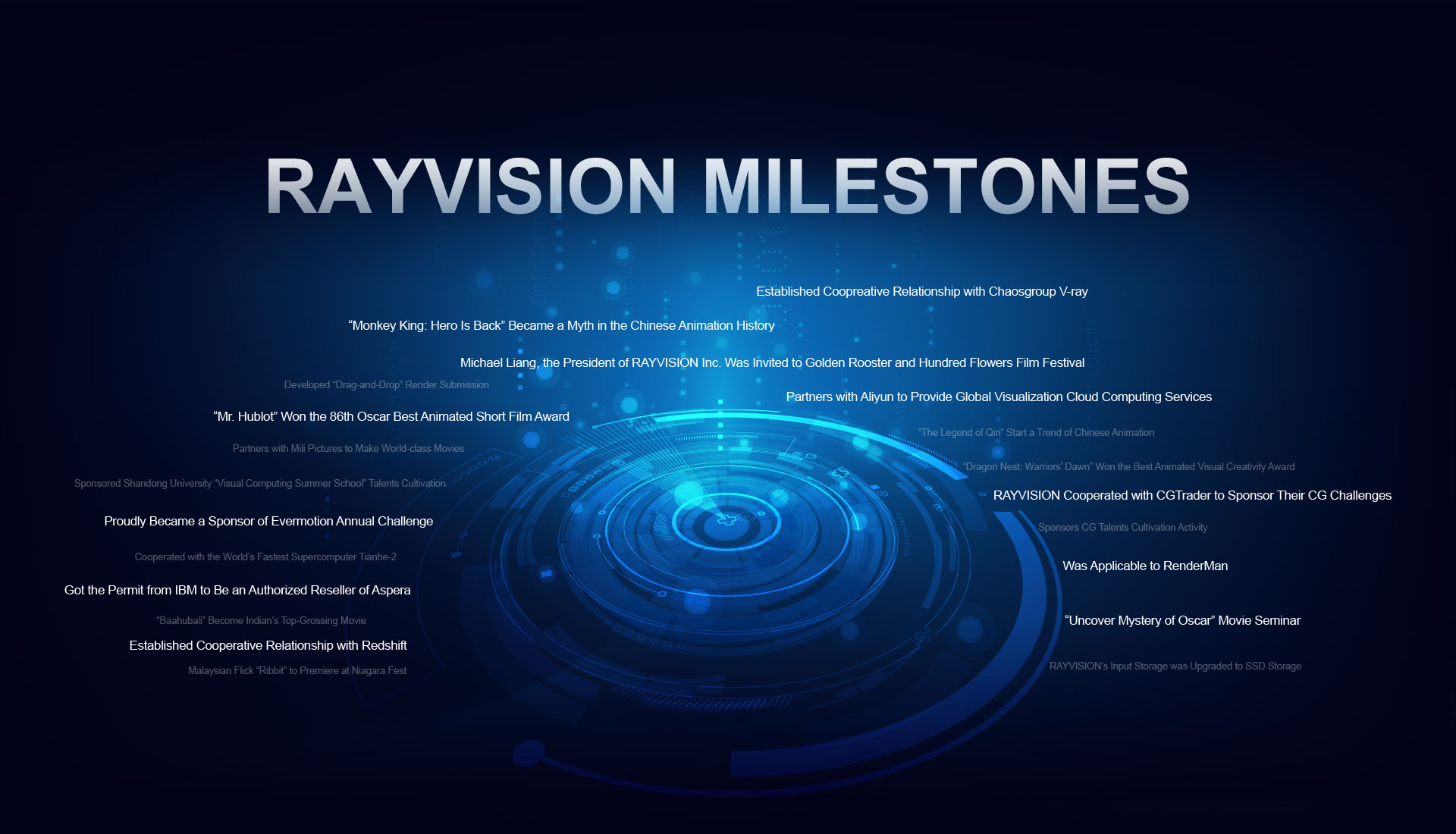 RAYVISION MILESTONES
Aspera's software moves the world's data at maximum speed, regardless of file size, transfer distance or network conditions. At the heart of our solutions is our patented FASP® transport technology – a breakthrough transfer protocol that leverages existing WAN infrastructure and commodity hardware to achieve speeds that are up to hundreds of times faster than FTP and HTTP. Supporting deployments on premise or on the public, private and hybrid cloud platforms, and covering a wide range of server, desktop and mobile operating systems, Aspera software delivers end-to-end security, 100% reliability and exceptional bandwidth control. On December 29th, RAYVISION was authorized by IBM to be the reseller of Aspera.10/12/2015 RAYVISION Established Cooperative Relationship with Redshift RAYVISION established a cooperative relationship with Redshift development team. Redshift is the world's first render engine fully based on GPU computing. RAYVISION got the permit from Redshift to provide GPU rendering service and to be an agent to sell Redshift renderer.09/12/2015 RAYVISION Was Applicable to RenderMan RenderMan is widely used in producing top-level moving images because of its extremely high quality and speed. It's an essential rendering solution used in high level fields such as animation and film VFX. And besides the Pixar and Disney, many other famous production companies such as ILM and Sony are also using the RenderMan as one of the final solutions for rendering. On December 9th, RAYVISION was applicable to RenderMan.30/11/2015 RAYVISION Proudly Became a Sponsor of Evermotion Annual Challenge Founded in 1998, Evermotion is a famous 3D model resource network in global CG industry. Evermotion creates and develops products that help CG artists with their 3d visualizations by speeding up their workflow and increasing their quality of output. As one of the world's leading cloud render farm, RAYVISION (Fox Renderfarm) sponsored so many world-class challenges. This time, RAYVISION (Fox Renderfarm) proudly became a sponsor of Evermotion annual challenge.18/09/2015 "Baahubali - The Beginning" Become Indian's Top-Grossing Movie As 2015 India's top budget film, the historical Indian epic blockbuster "Baahubali - The Beginning" become Indian's top-grossing movie. This movie was directed by renowned Indian director S.S. Rajamouli, co-starring Prabhas and Rana Daggubati. Baahubali's CGI visual effects were collaborated with a local company Makuta VFX. RAYVISION (Fox Renderfarm) was tasked with the responsibility of rendering the movie. RAYVISION (Fox Renderfarm) as rendering expert and probably one of the world's largest render farms are eager to work with any production houses to produce top quality special effects as well as animations.20/08/2015 RAYVISION Cooperated with the World's Fastest Supercomputer Tianhe-2 Tianhe-2 developed by the National University of Defense Technology is the fastest supercomputer in the world. A group of computer scientists and engineers who twice a year release the "Top500" list of fastest supercomputers measured the Tianhe-2 at 33.9 petaflops (quadrillions of calculations per second). That's nearly twice as fast as the Titan, which was relegated to the second spot on the list. RAYVISION partners with Tianhe-2 National Supercomputing Center in GuangZhou to provide better cloud rendering service.20/07/2015 RAYVISION Sponsored Shandong University "Visual Computing Summer School" Talents Cultivation Shandong University Visual Computing Summer School was opened on July 20th, 2015 in Qindao, Shandong, sponsored by RAYVISION (Fox Renderfarm) and other companies. More than 20 world-famous Visual Computing experts were invited to give lectures on general theory and development of Visual Computing, which can be compared with the SIGGRAPH Conference. Baoquan Chen, the president of SIGGRAPH Asia 2014, acted as the principal of the Visual Computing Summer School. Michael Liang, the president of RAYVISION, delivered a speech at the conference and gave his best wishes to the attendees.10/07/2015 "Monkey King: Hero Is Back" Became a Myth in the Chinese Animation History In the era that Chinese animations are easy to become box office flop, the animated film rendered by RAYVISION survived and become a hit. As a backstage hero of Oscar Best Animated Short Film "Mr. Hublot", RAYVISION rendered abundant magnificent Chinese Animation, such as "Dragon Nest: Warriors' Dawn", "The Legend of Qin", "10,000 Years Later", "Robb Rabbit", "Three Pigs and the Lamp". "Monkey King: Hero Is Back" is the most outstanding animated film that becomes a massive hit and a myth in the history of Chinese Animation.16/06/2015 Mili Pictures Partners with RAYVISION Inc. to Make World-class Movies During Shanghai International Film Festival, Mili Pictures held a press conference announcing Mili Pictures officially teamed up with RAYVISION to form a strategic partnership. In the future 3 years, Mili Pictures will partner with RAYVISION to make 12 world-class movies to enter the international market.01/06/2015 RAYVISION Developed "Drag-and-Drop" Render Submission RAYVISION's highly praised Fox Renderfarm cloud render farm released a new generation of rendering platform. Instead of traditional web submission method, it was improved to "Drag-and-Drop" submission. You can get thousands of computing nodes from RAYVISION with only one second, and through API you can easily and seamlessly connect with present work environment pipeline, which realized fully-automated rendering.01/05/2015 RAYVISION Established Coopreative Relationship with Chaosgroup V-ray Chaosgroup is the developer of famous V-ray renderer. They have a large number of users in China. In 2011, RAYVISION has become V-ray's official authorized render farm. This time, RAYVISION and Chaosgroup reached a long-term cooperation agreement.28/04/2015 Aliyun Partners with RAYVISION Inc. to Provide Global Visualization Cloud Computing Services On April 28th, 2015, Simon Hu, president of Aliyun Computing Co., LTD and Michael Liang, president of RAYVISION Inc., held a press conference in Alibaba's Hangzhou headquarter announcing Aliyun officially teamed up with RAYVISION to form a global strategic partnership to provide global visual cloud computing services. Many honorable guests attended the press conference and gave praised speeches such as Michael Liang, the president of RAYVISION Inc., Zhang Qiang, the CEO of Alibaba Pictures Group Limited, Mr. Laurent Witz, the director of "Mr. Hublot" who won the Academy Award for Best Animated Short Film at the 86th Academy Awards, Nickson Fong, the winner of lifetime Academy Award for Scientific and Technical Awards in 2013 as well as representatives from famous VFX and animation studios.24/04/2015 "Uncover Mystery of Oscar" Movie Seminar Was Held in Beijing Film Academy "Uncover Mystery of Oscar" Movie seminar was held in Beijing Film Academy on April 24th, 2015. It was jointly organized by Beijing Film Academy, China Film Industry Research Institute and RAYVISION. Many experts in entertainment industry attended this seminar. Laurent Witz (the director of Mr. Hublot) and Nickson Fong (Oscar winner for Technical Achievement) uncovered mystery of Oscar and discussed the creation of Oscar works from director's perspective and movie technology.06/03/2015 RAYVISION's Input Storage Was Upgraded to SSD Storage RAYVISION's storage server was upgraded to expensive SSD storage, with which there is no pressure for RAYVISION's rendering platform, even if hundreds of thousands of machines are rendering a huge amount of files at the same time. It completely solved the problem of network io rendering storage, improved rendering efficiency further, and reduced the probability of frame lost.20/02/2015 RAYVISION Cooperated with CGTrader to Sponsor Their CG Challenges CGTrader is the highest growing, hippest and happening 3D model market on the Internet. It's 230,000+ model library will serve all of your needs. Human faces, medical equipment, interior details, stylized characters and more are available. As for now, RAYVISION (Fox Renderfarm) has sponsored 6 CGTrader Challenges: 3D SciFi Challenge, CG Flora & Fauna Challenge, CG Game Characters Challenge, First Model Challenge, Science/Medical Challenge and CG Wildlife Challenge.27/09/2014 Michael Liang, the President of RAYVISION Inc. Was Invited to Golden Rooster and Hundred Flowers Film Festival The 23th Golden Rooster and Hundred Flowers Film Festival was held in Lanzhou province, China, from September 24th to 27th in 2014. Reputed as China's top film gala, the annual China Golden Rooster and Hundred Flowers Film Festival has the longest history and greatest influence. It launches a series of cultural activities every year, including the appraisal of awards, the exhibition of Chinese and foreign new films, the academic seminars, the film trade fair, international cultural exchanges and entertainment performances. The festival is best known for its focus on academic fields, the extensive participation of the masses, and the unfixed host city. Michael Liang, the President of RAYVISION Inc. was invited to Golden Rooster and Hundred Flowers Film Festival and delivered a speech on the China Film Industry Development & Financial Investment Summit Forum.08/08/2014 "The Legend of Qin" Start a Trend of Chinese Animation "The Legend of Qin" produced by Sparkly Key Animation Studio is a motivated 3D animated film. The animation was adapted from a Taiwanese novel. Since its creation, it has attracted so many young Chinese audiences. RAYVISION provide the cloud render service for this animation. It takes 8 months with over 6000 scenes and 300 to 400 machines.31/07/2014 "Dragon Nest: Warriors' Dawn" Won the Best Animated Visual Creativity Award Adapted from a popular online game, "Dragon Nest: Warriors' Dawn" was released on July 31st, 2014. This animated film was directed by Song Yuefeng, rendered by RAYVISION, and produced by Mili Pictures and NASDAQ:GAME. The story and plot were designed by Bill Borden. It is a big-budget animated film with the features of epic, fantasy, adventure and war. "Dragon Nest: Warriors' Dawn" won the Best Animated Visual Creativity Award in Canadian International Film Festival.29/07/2014 RAYVISION Sponsors CG Talents Cultivation Activity In order to educate and discover talent in CG industry, RAYVISION sponsors CG talents cultivation activity of SILKROAD EDU. RAYVISION provides coupons and cloud render farm courses for the outstanding students. Besides, RAYVISION's cloud render technical team for 86th Oscar Best Animated Short Film will deliver lectures to these students face to face, and introduce the world's most advanced cloud rendering technology to the future CG talents.23/06/2014 Malaysian Flick "Ribbit" to Premiere at Niagara Fest Malaysian Flick "Ribbit" to Premiere at Niagara Fest. The rendering part of this cartoon movie has been done by Fox Renderfarm which belongs to RAYVISION Inc. Canada's Niagara Integrated Film Festival (NIFF) is taking place June 19-22, showcasing a hand-picked selection of films around the world. One of the premieres that will be featured at the event is the global debut of Malaysian animated film "Ribbit" from KRU International's Kartun Studios. "Ribbit" won the Best Family Film Award at NIFF.03/03/2014 "Mr. Hublot" Won the 86th Oscar Best Animated Short Film Award "Mr. Hublot" is a Luxembourg/France co-produced 11 min animated film won the 2014 Oscar for Best Animated Short Film. Produced, written and directed by Mr. Laurent Witz and co-directed by Alexandre Espigares. Designed by sculptor Stephane Halleux, the story is set in a realistic world that is a combination of steam punk and a bizarre futuristic world. As "Mr. Hublot" rendering partner behind the scenes, RAYVISION (Fox Renderfarm) participated in the whole rendering process.
---
Octane for Cinema 4D Tutorials: Making Cups and Grapes (1)
Fox Renderfarm, a powerful but affordable cloud render farm, shared this article from 3D artist Qixi is a cup and grape made by Octane for Cinema 4D. This article analyzes the scene's modeling and rendering.First of all, this is not an original project. The 3D artist refers to the conceptual diagram above, and he wants to restore the glass in the picture. Then we shared how to make them work with Cinema 4D and Octane renderer, and shared the production process of the glass filled with grapes in the concept map. ReferenceThe difficulty of the glass in the concept map is divided into three points:1. Round glass notch2. The middle of the cup handle is a six-diamond structure3. Rendering of the diamond-shaped bump material of the cup body ModelingFirst, put the concept map into Cinema 4D as a reference. Use the cylinder to create the part of the glass cup handle. You can adjust the overall shape first and then add the subdivision adjustment.!Octane for Cinema 4D Tutorial Making Cups and Grapes 2To adjust the details of the bottom of the cup, you need to first seal the bottom of the cup to make a slightly convex shape.!Octane for Cinema 4D Tutorial Making Cups and Grapes 3The glass is transparent, but its structure is very complicated. In particular, there will be some subtle changes in the shape of the interface, and it is necessary to constantly subdivide and observe the structural changes and continuous modifications. The structure of the model itself must be achieved, and the final effect will be more realistic.!Octane for Cinema 4D Tutorial Making Cups and Grapes 4Next, the part of the cup body is made in the same way as above. Special attention should be paid to the position where the cup mouth is recessed. If you want a sharper edge, you need to add a line to the edge to ensure that the shape is maintained after subdivision.!Octane for Cinema 4D Tutorial Making Cups and Grapes 5In order to make the structure of the six diamonds more obvious, the position of the handle is increased by adding lines on both sides of the rhomboid to maintain the shape. The other lines need to be treated with this additional line.!Octane for Cinema 4D Tutorial Making Cups and Grapes 6The diamond-shaped convex surface of the cup body is not well controlled if the model is made directly. So prepare to use the texture to make the diamond convex surface, you need to do UV before texture. UV uses another production called Unfold3D, which is very fast and convenient and can improve work efficiency.!Octane for Cinema 4D Tutorial Making Cups and Grapes 7However, if the diamond-shaped convex surface is simply drawn using Photoshop, the effect will not be too good. So I decided to make a model of the diamond-shaped convex surface and then baked the bump texture to use in the diamond-shaped texture part.!Octane for Cinema 4D Tutorial Making Cups and Grapes 8The rhombus gives a white material and adjusts the effect after adding lights. The white areas are convex and the black areas are concave. Export this texture to Photoshop. The next step is to use the glass texture of the Octane renderer to link the previous map to the Displacement Maps and put it on the cup for testing. The effect is closer to the concept map.!Octane for Cinema 4D Tutorial Making Cups and Grapes 9Create a flat surface to place the cup on, and use the basic texture of the Octane renderer to add wood grain material. But now the background light is excessive, but the reflection of the cup body is not strong enough.!Octane for Cinema 4D Tutorial Making Cups and Grapes 10Add an area light to make the reflection brighter, and change a slightly darker HDIR to highlight the main body of the cup. After adjustment, it is already closer to the concept map.!Octane for Cinema 4D Tutorial Making Cups and Grapes 11
---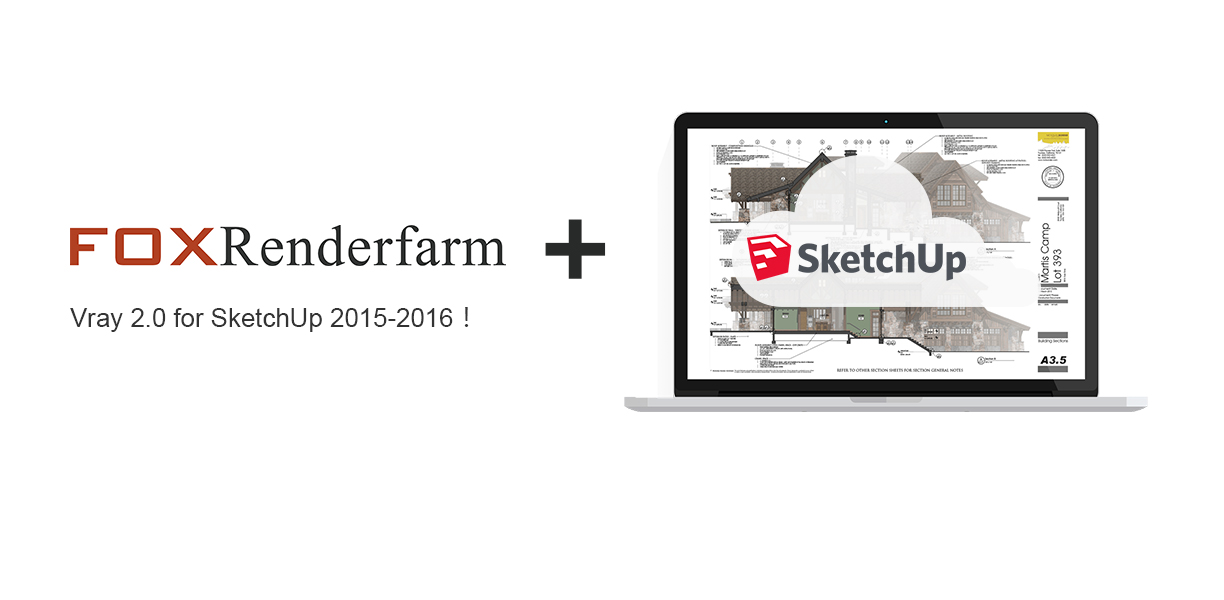 The FoxRenderfarm Cloud Rendering for SketchUp Launched
As we all know, SketchUp is a popular and outstanding software for 3D architectural designing, it is called the "pencil" in CG designing industry for the reason of its extremely easy using feature. With Sketchup, the designers can easily and quickly visualize their conceptions.And now, we are proud of declaring that Fox Renderfarm has supported Vray 2.0 for SketchUp 2015-2016. You can freely choose multi machine sequence for rendering to save more time, so that you can devote yourself to the unlimited creative designing with limited energy and time. Besides that, you can also freely choose the needed scenes to render with just a few simple clicks when submitting jobs.Well, here are the features supported by Fox Renderfarm cloud rendering as below: 1.Support multisequencing rendering 2.Support freely choosing scenes 3.Support enabling pipeline settings by force 4.Support full path rendering 5.Support Vray renderer 6.Support SketchUp 2015 and SketchUp 2016 7.Support non-ABCD driver path 8.Support loading photon rendered task 9.Support choosing the resolution, input and formatAt last, here are some artwork created with Vray for SketchUp as below, enjoy yourself!
---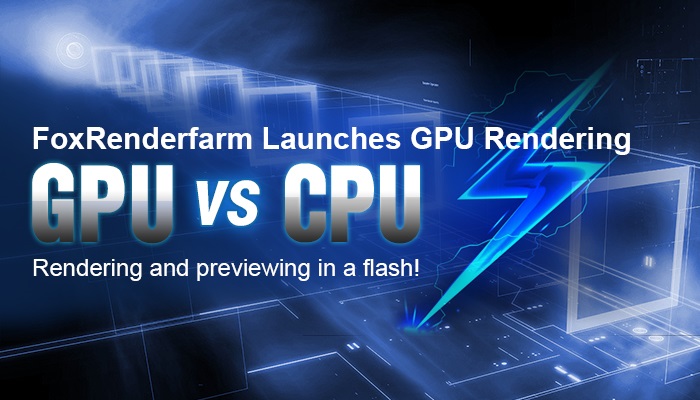 Fox Renderfarm Launches GPU Rendering
Rendering and previewing in a flash! The craze for Marvel's superhero movie Deadpool swept over the world.As the first full CGI realistic human feature film in Asia, Legend of Ravaging Dynasties dominated the headlines once the trailer came out.These two movies were rendered with GPU rendering engines.Obviously, GPU computing card and GPU rendering engines are gradually used in film production. It is a good start!Now, as the leading render farm in the industry, Fox Renderfarm launches GPU rendering. Let's start free trial with Fox Renderfarm's GPU rendering. Let's get it started! What's the differences between GPU and CPU? A simple way to understand the difference between a CPU and GPU is to compare how they process tasks. A CPU consists of a few cores optimized for sequential serial processing, while a GPU has a massively parallel architecture consisting of thousands of smaller, more efficient cores designed for handling multiple tasks simultaneously. Adam Savage and Jamie Hyneman made a painting demonstration to show the difference between CPU and GPU: Mythbusters Demo GPU versus CPU What's the advantage of GPU Rendering ?In the field of graphics rendering, not only films and animations, but also CG art, GPU with its computing ability and architecture specially designed for graphics acceleration provides the users with a more efficient rendering solution, namely the GPU rendering solution. GPU rendering has great advantage of fast speed and low cost. Moreover, GPU rendering becomes more and more available now, lots of works with high quality rendered with GPU has come out. GPU rendering tends to be popular with users at home and abroad.Thinking of the CPU as the manager of a factory, thoughtfully making tough decisions. GPU, on the other hand, is more like an entire group of workers at the factory. While they can't do the same type of computing, they can handle many, many more tasks at once without becoming overwhelmed. Many rendering tasks are the kind of repetitive, brute-force functions GPUs are good at. Plus, you can stack several GPUs into one computer. This all means GPU systems can often render much, much faster!There is also a huge advantage that comes along in CG production. GPU rendering is so fast it can often provide real-time feedback while working. No more going to get a cup of coffee while your preview render chugs away. You can see material and lighting changes happen before your eyes.GPU Renderer 1.Redshift is the world's first fully GPU-accelerated, biased renderer and it is also the most popular GPU renderer. Redshift uses approximation and interpolation techniques to achieve noise-free results with relatively few samples, making it much faster than unbiased rendering. From rendering effects, Redshift can reach the highest level of GPU rendering, and render high quality movie-level images.2.Blender Cycles is Blender's ray-trace based and unbiased rendering engine that offers stunning ultra-realistic rendering. Cycles can be used as part of Blender and as stand-alone, making it a perfect solution for massive rendering on clusters or at cloud providers.3.NVIDIA Iray is a highly interactive and intuitive, physically based rendering solution. NVIDIA Iray rendering simulates real world lighting and practical material definitions so that anyone can interactively design and create the most complex of scenes. Iray provides multiple rendering modes addressing a spectrum of use cases requiring realtime and interactive feedback to physically based, photorealistic visualizations.4.OctaneRender is the world's first and fastest GPU-accelerated, unbiased, physically correct renderer. It means that Octane uses the graphics card in your computer to render photo-realistic images super fast. With Octane's parallel compute capabilities, you can create stunning works in a fraction of the time.5.V-Ray RT (Real-Time) is Chaos Group's interactive rendering engine that can utilize both CPU and GPU hardware acceleration to see updates to rendered images in real time as objects, lights, and materials are edited within the scene.6.Indigo Renderer is an unbiased, physically based and photorealistic renderer which simulates the physics of light to achieve near-perfect image realism. With an advanced physical camera model, a super-realistic materials system and the ability to simulate complex lighting situations through Metropolis Light Transport, Indigo Renderer is capable of producing the highest levels of realism demanded by architectural and product visualization.7.LuxRender is a physically based and unbiased rendering engine. Based on state of the art algorithms, LuxRender simulates the flow of light according to physical equations, thus producing realistic images of photographic quality. GPU Computing Card Parameter Table Now Fox Renderfarm is applicable to Redshift for Maya and Blender Cycles. There are more than 100 pieces of NVIDIA Tesla M40 cards in Fox Renderfarm cluster, each server has 128G system memory with two M40 computing cards. Welcome to Fox Renderfarm to experience the super fast GPU cloud rendering!
---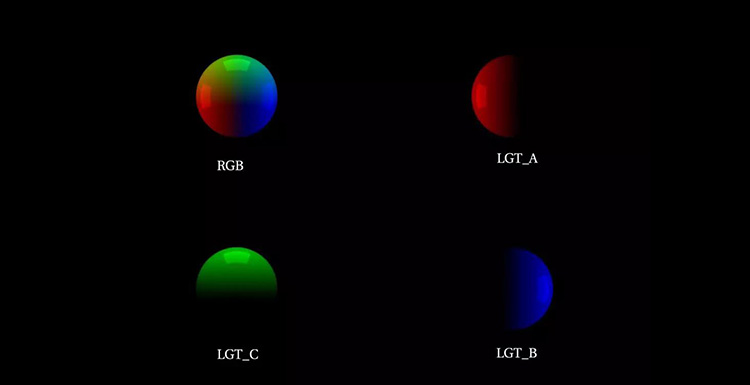 The Method to Make LightGroup of Arnold 5.1
A friend asked me before, how to make LightGroup in Arnold 5.1 version, because with LightGroup, we do not need to divide the Light Render Layer.   The method of Arnold 5.1's LightGroup is not the same as the previous version. I remember that the LightGroup property was added to the light at the beginning. This method only works for the alshader's shader, and then the light property bar is added in the AOV Light Group column, add LightGroup1 by ourselves in the AOV attribute, and apply theL.'LightGroup' command. After the Arnold 5.1 version, it was found that this method has failed. Even if you add the L.'LightGroup command to AOV, still not working. Next, let me talk about how Arnold 5.1 makes LightGroup.  The first step is to create a light. In the AOV Light Group property column of the light, give it a name that you want of this LightGroup, I name it LGT_A here.     The second step is to add the RGBA (cloud rendering note that, it is must in uppercase) channel to the AOV channel. Why should we add the RGBA channel? Because I found that only the RGBA channel has its Light Group List property bar showing its effect. If you add a LightGroup channel, you will find that this property is in the closed state, and this RGBA must be uppercase, quite fucking. Then enter the RGBA channel properties and select the LightGroup you added to the Light Group List option. My scene made 3lights, so there are three.    LightGroup appears after the rendering below.   Here is the rendering of render farm test:  
---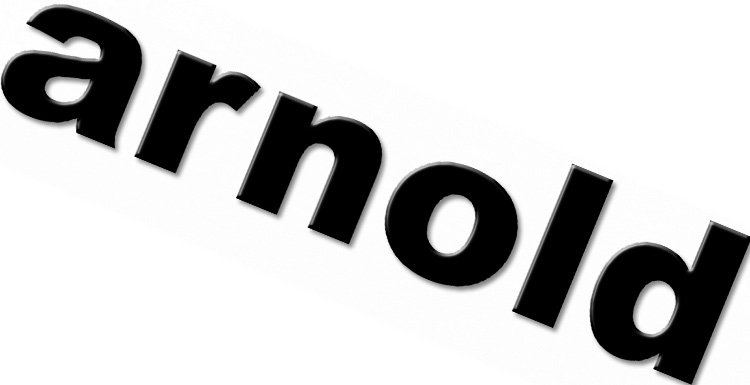 Arnold Render Farm | Fox Render Farm
Fox Renderfarm is a global technology company specialized in cloud computing services for rendering in entertainment industry. We supports most popular 3D software, renderers and plugins all over the world, like 3ds Max, Maya, Cinema 4D, SketchUp, Blender, LightWave, V-Ray, Redshift, Corona, and more. Supported internal and external plugins for 3ds Max, Maya, or Cinema 4D are integrated to our Arnold support. GPU & CPU rendering are both available in arnold render farm. Fox Renderfarm fire up thousands of rendering nodes instantly, high availability, no waiting necessary, easy to use, refers to MPAA security standards, also a flexible render farm pricing for you. The more reason you choose us in arnold render farm are below: - The partner of Oscar winning production teams. - With Hollywood level production experience for years. - 24/7 Live customer care & technical support. - Response time: 10-15 mins. - Contact available via Skype/Email .- As low as $0.04 per core hour - Volume discounts available up to 60%. Fox Renderfarm has an outstanding team with over 20 years' experience in CG industry. Team members are from Disney, Lucasfilm, Dreamworks, Sony, etc. With professional services and industry-leading innovations, they serve leading special effects companies and animation studios from over 50 countries and regions, including two Oscar winners. In 2015, Fox Renderfarm formed a global strategic partnership with Aliyun (Alibaba Cloud Computing) to provide global visual cloud computing services. Get $20 free trial to register and rendering your artwork online now!
---
Interview with Alpacalypse Productions for Film VFX
Harvey Li is one of the members of Alpacalypse Productions who just released their new VFX video ELSA (Frozen) vs. ZUKO (The Last AIrbender), which is an awesome real life fight VFX videos. And Fox Renderfarm is so honored to help render this video and got the chance to have a short interview with Harvey. Here comes the interview details as below.Fox Renderfarm: Hi Harvey, would you please give a brief introduction about yourself and your studio Alpacalypse Productions?Alpacalypse Productions: We're a small Studio in Canada that consist of 4 friends passionate in visual storytelling. We mostly make content for entertainment and YouTube for a wide range of audiences. We are also mainly a post-production house focusing on Visual Effects for TV and films shot in Edmonton.Fox Renderfarm: Great, so how did you guys get together and come out the idea of forming this studio?Alpacalypse Productions: We all went to the same school together, but we first wanted to make a studio focused on storytelling, VFX, Entertainment, and a place to develop our ideas, which was more rare in our city. Soon we were able to gain a following online. As we grow, we are starting to focus more on post production and Visual effects. We each had different skills and wanted to combine them into Alpacalypse. As we grow our content and quality is getting better.Fox Renderfarm: Did you guys get any awards for your previous works?Alpacalypse Productions: Some of the favorite genre of films we like to produce are horror films, and have won an award for Best Horror Film at the Edmonton Short Film Festival.Fox Renderfarm: That's pretty awesome, congratulations! While why chose the characters ELSA and ZUKO to for this video? What's the meaning behind it?Alpacalypse Productions: We first wanted to develop the idea of "Elsa vs Sub Zero" from Mortal Kombat games, but we thought about how it would look on screen and thought it would look much cooler with Zuko and instead went with Fire vs Ice. It is a tale of two opposing forces, Fire vs Ice, and East meets West. Avatar: The Last Airbender uses a lot of traditional Kung Fu in the fighting styles, and in Frozen, Elsa is a traditional European princess. In the video, Zuko is a trained martial artist, but also confident. We wanted to show that Elsa was still able to land the last hit on Zuko through hope and not giving up – which is a classic theme in Disney movies. In a future episode, we wanted to show that Elsa was able to win because she was also trained to fight by Mulan, who was escaping Zuko.Fox Renderfarm: Terrific! We could definitely better understand your video after such detailed explanantion. But what's the biggest challenges and technical problems you met when creating ELSA VS ZUKO?Alpacalypse Productions: The biggest problem for us was we were very new to 3D modeling and rendering. At first we had other people on the team, but unfortunately because of family issues, they were unable to continue the project. So we had to learn it all by ourselves within a few months and then to composite on to the footage. On set, the Camera actually broke, and there was an issue of the movie being recorded the wrong frame rates. So that was hard to try and match 3D animation, and 2 different frame rates into one movie. It was a huge headache that set us back many months. On the actual shoot, we choreographed the fight indoors and we thought we were ready, but when we went to shoot it out on a frozen lake, it was maybe -35C to -40C with windchill, and it was very difficult and slippery to film.Fox Renderfarm: Indeed tons of tought problems for you, but anyway, you guys finally made it. Besides the difficulties, anything interesting that you would like to share with us?Alpacalypse Productions: The music in the video actually is custom scored by our friend Shawn X.G. We wanted the music to be a "fight" as well, as elements from the themes of Frozen and Avatar fight to take over each other. Shawn used both traditional Chinese instruments for Zuko's themes and mixed them with the Frozen themes.Fox Renderfarm: So brilliant you guys! What software and renderers you used for this video?Alpacalypse Productions: We used After Effects to composite all the effects and Premiere Pro to edit. The 3D modeling was all done in Maya and rendered through Arnold.Fox Renderfarm: Since you rendered this video by using Fox Renderfarm, what's your idea for our cloud rendering service?Alpacalypse Productions: I really enjoy Fox Renderfarm, before Fox, we were looking at many other render farms, but they either didn't offer as many render options, or there was no customer service available. Being new to a renderfarm, when I found Fox I was immediately able to get help from Skype almost any time. They were always very friendly and helpful, and guided me through a process that was new to me. I wasn't able to find this anywhere else and was very frustrated, so I was very happy when I found Fox.Fox Renderfarm: That's really a huge compliment for us, and we are so glad that we could help. OK, if we ask you to choose one favorite work from all of your studio works, which one you will pick? Why?Alpacalypse Productions: I think we would pick Star Wars vs Skyrim. We kept it more simple and we were able to do more fighting. I think it was the perfect balance without too much visual effects, or too little. We over complicated Elsa vs Zuko and so it took a lot of time and effort to make it compared to Star Wars vs Skyrim.Fox Renderfarm: You guys did really great on this job! Anything you can share with us about your next video?Alpacalypse Productions: Yes! We're hoping to shoot an episode with Disney's version of Mulan training Elsa as a prequel to Elsa vs Zuko. There have been a lot of questions of how Elsa could win against a better trained Zuko, so we wanted to show where Elsa learned to fight.Fox Renderfarm: Wow, we are already expecting the new video : ) So any advice or experience you can share with those who also want to do the stunning visual effects?Alpacalypse Productions: My biggest advice is learn as much as you can, even if you're not good at everything, knowing a little bit can go a long way with communicating with a team and solving problems. And ALWAYS have a backup plan. Something will always go wrong, and it helps to be prepared.Fox Renderfarm: It could definitely help both the beginners and professionals. Last question, do you have anything else would like to say or add?Alpacalypse Productions: A huge thanks to Fox Renderfarm for guiding us through the render process when we were still learning. Elsa vs Zuko was a really difficult, but fun project to work on and we hope our hard work paid off and everyone that watches the video enjoys!Fox Renderfarm: It's truly our pleasure, hope we can have more cooperation in the near future, and please feel free to introduce us to those who might need our service.If you would like to watch more VFX videos from Alpacalypse Productions, visit their YouTube channel and enjoy yourself.
---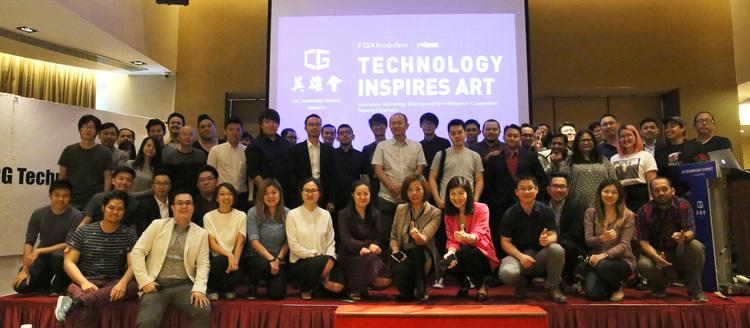 Fox Renderfarm "Technology Inspires Art" CG Technology Summit (Malaysia) 2018
Abstract: Powerful cooperation for better complementarity and CG industry development With the present rapid development of the CG production industry and the intensification of globalized labor division and cooperation, international cooperation has been encouraged gradually. In 2016, Malaysia's creative industries (including animation, games, etc.) had an export quota of 1.17 billion MYR. As one of the largest cloud render farms in the world, Fox Renderfarm serves the world's leading film and television companies' animation production, especially with companies in Malaysia. Fox Renderfarm's powerful cloud computing skills have provided high-quality cloud rendering support for many well-known films, reducing costs and increasing output, serve as the facilitation of in promoting the development and cooperation of the CG industry between China and Malaysia.On April 19th, 2018, the "Technology Inspires Art"- CG Tech Summit (Animation Technology Sharing and Sino-Malaysian Cooperation Signing Ceremony) organized and hosted by Fox Renderfarm was successfully held at the Renaissance Kuala Lumpur Hotel. The event brought technical knowledge to the CG expert from both China and Malaysia. It also helped boosting the depth of cooperation between the two countries.It is reported that Fox Renderfarm, as the world's leading visual cloud computing platform, covers more than 50 countries and regions in the world. At the same time, Fox Renderfarm has participated in and rendered many well-known domestic and foreign films, mainly including: "Mr. Hublot" which won the Academy Award for Best Animated Short at the 86th Academy Awards; "Wolf Warrior 2" which broke the Chinese box office record at 5.6 Billion Chinese Yuan; "Baahubali", the best-selling Indian film in history; "Monkey King: Hero is Back" which recorded nearly 1 Billion Chinese Yuan Chinese box office; "Duck Duck Goose" animation which its production level is comparable to Hollywood's; "Boonie Bear" series that broke the record of China's animated movie box office; "Detective Chinatown 2" that broke China's first-week box office records and etc.Guests attending the summit included: Janice Lim-Head of Animation in Malaysia Digital Economy Corporation (MDEC), Shuai Peng-VP of Film Division in Original Force, Ling Chen-Business division production director in Original Force. Yanjuan Liu –Deputy General Manager of Fantawild, and Mike Zheng-Fox Renderfarm Marketing Director and CG Technology Summit founder, and Les'Copaque Production (Tuan Haji Burhanuddin Md.Radzi), SA (Goh & Raymond), Animamundi Studio (Chun Chong Leong), Wau Animation (Usamah Zaid & Mohd Faiz), Pixelline (Chris & Way) and other chief executives of top production company in Malaysia are among the attendees.Janice Lim, Animation Director of the Malaysian Digital Economic Development Bureau, addressed the summit and gave a brief introduction to Malaysia's current animation industry development. She said that the exchange and cooperation between the animation industry of China and Malaysia will jointly promote the economic development of the two countries. At the same time, she also hopes that Fox Renderfarm, as the leading visual cloud computing platform in the CG industry, can organize more activities to provide learning and communication opportunities for the animation industry elites of both countries and jointly promote the development of the industry.At the same time, Fox Renderfarm VP Wangcheng Xiao and Marketing Director Mike Zheng introduced the current status of Fox Renderfarm's development, the future strategic layout, and the original intention and significance of launching the CG Tech Summit. In the past quarter, Fox Renderfarm's home-made movie box office accounted for one-third of the box office of domestic cinemas in the same period, and together with SIGGRAPH CAF and its Shenzhen branch, successfully hosted the first SIGGRAPH animation tour exhibition in China. Technical Seminar. The success of the CG Tech Summit is of great significance. As the sponsor of the CG Tech Summit, Mr. Mike Zheng hopes that more industry leaders will participate and create more value for the industry.At the summit, Fox Renderfarm teamed up with the leading Chinese animation production company, Original Force and Fantawild, to bring together a series of technical expertise sharing for Malaysian industry elites. They also conducted on-site interactions, to exchange and discuss in-depth animation production techniques and experiences.Original Force CG Division Production Director-Ling Chen"From Motion Capture to CG Production Process"The " L.O.R.D: Legend of Ravaging Dynasties ", which was produced and published by Original Force, is China's first full-reality CG animation film and has created a brand new movie type in the Chinese film industry. When the film was first released, the audiences can not stop but give thumbs up to its high quality CG technology. At the summit, Ling Chen, CG Division Production Director in Original Force, took " L.O.R.D: Legend of Ravaging Dynasties "season one and two as examples to compare processing and management of motion capture data, layout documentation's publication of motion capture data and the management of synthesis documentation, in order to explain the process from motion capture to CG production in details.Original Force Film Division VP-Shuai Peng"Film Rendering Difficulties of Original Force"Original Force is the leader in China's digital production industry, focusing on providing excellent video and game content production services for the global digital entertainment industry. Shuai Peng gave a comprehensive introduction to the development of Original force and her deep cooperation with Fox Renderfarm over the years. At the same time, the film and television production works that Original Force involved were among the examples shared and an in-depth analysis was made on the difficulties that the team had faced and endured in the animation technology.Fantawild Deputy General Manager-Yanjuan Liu"Boonie Bears Animated Series Film Technology Development Process"The Boonie Bears animated series is a key project created by Fantawild. From "Boonie Bears: To The Rescue!" in 2014, "Boonie Bears: Mystical Winter" in 2015, "Boonie Bears: The Big Top Secret" in 2016, "Boonie Bears: Entangled Worlds" in 2017 to "Boonie Bears: The Big Shrink" released in the 2018 Chinese New Year period. The production level of the above five films has increased year by year, with a total of nearly 2 Billion Chinese Yuan at the box office. Yanjuan Liu took the development of five films as an example to deeply analyze the key factors of success, stressing the importance of the storyline, and the significance of the combination of technology and art to film and television production.At the summit, senior executives from Malaysia's top animation companies also actively interacted with guests and conducted in-depth discussions and exchanges on business cooperation and technical production.The "Technology Inspires Art"-CG Tech Summit sponsored by Fox Renderfarm not only brings the cutting-edge CG technology and the most practical successful case experience to the industry, but also provides an exchange and learning opportunities for the animation industry elites between the two countries. At the same time, the signing of cooperation between China and Malaysian mainstream production companies is also conducive to the promotion of complementarity and division of labor between the two countries and their strong cooperation to jointly promote the development of the CG industry in Malaysia and the creative industries in Malaysia.
---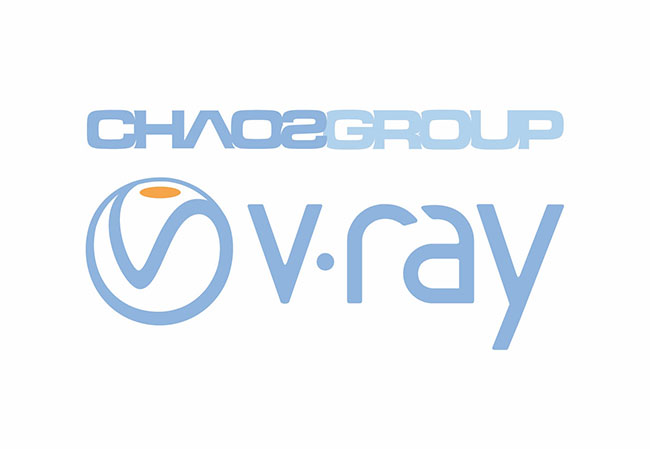 Interview with Iavor Trifonov from Chaosgroup for the Future Cooperation
2018 must be a big year for Fox Renderfarm, we sincerely hope to cooperate with more 3d software and renderer companines as much as we can, that's why we communicate with them so positively and discuss about the future cooperations and benefits for both parties. Here is the detail interview with Iavor Trifonov from Chaos Group as below:Iavor Trifonov,Vice-President Cloud & IntegrationsChaos GroupFox Renderfarm:  Since the establishment of V-Ray in 1997, the growth and global presence of V-Ray has gained attention from various industries, especially CG industry. Tell us more about V-Ray's global influence and users usage worldwide.Chaos Group: From the very beginning, our goal has been to help people visualize anything and everything. And this means more than just pushing the technology. V-Ray is a result of listening to and working with artists and designers directly. It's important to really understand the daily challenges creatives face and see what we can do with our development to help, and move rendering forward. Today, V-Ray is prominent in multiple industries worldwide. V-Ray's Academy Award-winning rendering technology is still developed with the same goal of helping artists and designers.Fox Renderfarm: Share with us about V-Ray's current brand awareness and situation in China.Chaos Group: V-Ray is very popular in the architectural visualization industry in China, but people probably aren't as familiar with our company name — Chaos Group. There are many resources online for learning V-Ray, and the V-Ray community is very supportive. Our main developers are also very involved online since we take feedback very seriously. The new V-Ray Next for 3ds Max beta is the latest example of how we listen to our customers, and work to provide features that save time and hopefully make your life a little easier.Fox Renderfarm:  Share with us regarding the product development strategy and promotion in the near future?Chaos Group: At the moment, our key development revolves around the completely upgraded and optimized rendering inside of V-Ray Next. We've already got a few blog posts actually that highlight some of the new features of V-Ray Next and there are more articles in the works. You'll also see us at events worldwide and this year we're excited to host our very own special event dedicated to artists and developers - Total Chaos.Fox Renderfarm:  How about your thoughts on cloud rendering service and how it can benefit CG artists?Chaos Group: Cloud rendering is something that gives the smallest studios the same firepower that big studios have enjoyed for some time now. Anyone's computer can be a supercomputer, thanks to the ease and power of cloud computing. Deadlines are inescapable in a studio environment, and having access to rendering in the cloud can take a lot of pressure off. Plus you don't have to worry about large hardware expenses, not to mention maintenance. This also frees up computers for design work, and costs related to cloud rendering are easily tracked and can be billed by the job.Fox Renderfarm:  How can Chaos Group work with Fox Renderfarm and what are the benefits that Chaos Group can offer to Fox Renderfarm's customers?Chaosgroup: Fox Renderfarm is one of Chaos Group's main render farm partners in China as well as in Asia. As an authorized partner, Fox Renderfarm receives dedicated support from Chaos Group both in terms of account management and technical optimization expertise. This allows Fox to react quickly when helping customers and resolve even the most complex workflow issues with the help of Chaos Group's developers.Moreover, Chaos Group and Fox are also looking to partner on initiatives related to the educational institutions in China which will lead to opening excellent opportunities to thousands of Chinese students interested in becoming V-Ray professionals. Boosting the awareness of V-Ray among Chinese users from as early stage in their professional careers as possible together with expanding the availability of Chaos Group's products across China is at the very core of the partnership between both companies. We're excited to have such a strong partner in China and we look forward to helping the CG industry in China with Fox Renderfarm.Fox Renderfarm:  Originally started as Atmos Blender, then the first release of V-Ray for 3ds Max in 2002. Up to date, various mainstream 3D software is well-supported by V-Ray. V-Ray has been around with us for almost 21 years! Tell us about the new features and highlights of V-Ray that we can look forward to in 2018?Chaosgroup: We don't want to reveal too much yet, but we're very excited about the V-Ray for Unreal beta which just recently started. We'll have more big news in regards to other V-Ray Next products in the near future to share with you as well!(Check our interview with MAXON and Isotropix if you are interested.)
---
Interview with Isotropix About the Cooperation with Fox Renderfarm
Just finished the interview with MAXON, Fox Renderfarm is so glad to announce our cooperation with Isotropix in 2018, we also start an interview with them regarding the Isotropix's future development along with the how the cooperation between Fox Renderfarm and Isotropix could benefit both users. Please check the detail interview as below:Fox Renderfarm: Since the first version Clarisse released in 2012, more and more CG artists and studios are familiar with Isotropix, tell us a little about your company.Isotropix: Isotropix is a global, fast growing company specialized in developing high-end professional graphics software for the VFX and animation industry. Founded in 2011, the company grew fairly quickly, and our team is now composed of about 40 passionate and talented people! Back in 2012, when we announced our flagship product Clarisse, there was a lot of excitement but we had to face huge challenges. It's always difficult to introduce a new paradigm shift, especially in a market that hasn't changed much in 20 years, and it took us a few years to be recognized as the player we are today in the Industry. Today we're very proud that Clarisse is being used in production by world leading studios such as DNEG, Industrial Light & Magic, WETA Digital or DreamWorks Animation as well as mid-sized to small CG studios of all around the world! Lately, Clarisse has been rendering the amazing VFX of feature films such as Star Wars The Force Awakens/The Last Jedi, Star Trek Beyond and more recently Wonder Woman, Dunkirk, Valerian, Blade Runner 2049 as well as many TV-series like The Young Pope, American Gods, Black Sails, Black Mirror and Altered Carbon.Fox Renderfarm: Share with us about Clarisse current brand awareness and situation in China.Isotropix: Today, our customers are mostly located in the Western market. We have only a few customers in China. However, Clarisse has already been adopted by studios such as Oriental Dreamworks and Base FX which used Clarisse on several feature films including Star Trek Beyond, The Great Wall or Captain America: Civil War. We're really excited and looking forward to the next few years to expand our position in this market.Fox Renderfarm: Share with us regarding the product development strategy and promotion in the near future?Isotropix: Many artists still don't know how Clarisse can revolutionize their workflow: it's a new software that introduces a paradigm shift allowing users to work interactively on their final images. To make sure that users understand Clarisse's true power, we need to help them think a bit out of the box. This is why we are releasing more and more customer stories and tons of free tutorial materials so that everyone can truly understand the revolution Clarisse offers. You can find all these learning resources on our website and I strongly invite you to discover our latest Behind the scenes video: Blade Runner at DNEG as they recently won this year's Best VFX Oscar!Fox Renderfarm: How about your thoughts about cloud rendering service and how it can benefit CG artists?Isotropix: Using a cloud rendering service has a real transformative effect on the CG industry, it gives access to a huge amount of rendering power while being very flexible. It's a time and money saver for artists and studios that can scale up their immediate needs super quickly without requiring physical machines.Fox Renderfarm: How can Isotropix work with Fox Renderfarm and what benefits that Isotropix can offer to Fox Renderfarm's customers?Isotropix: We're thrilled to partner with the Fox Renderfarm team! It's great to see that Clarisse is now part of their offer. Fox RenderFarm is a very serious company owning a large number of render nodes. It gives our customers a lot a flexibility as Fox RenderFarm provides them with a quick and easy access to a huge rendering power!Fox Renderfarm: Share with us about the new features and highlights of the latest released Clarisse 3.6.Isotropix: Clarisse 3.6 is a great release: it comes with a new shadow catcher, an outline shader, a powerful feature called shading variables and a real-time denoiser! With the new Shadow Catcher background plates can easily receive shadows and color bleeding of CG elements in scenes, simplifying greatly live action integration. 3.6 also introduces a new Light Path Expression (LPE) unoccluded event to extract diffuse, reflection and transmission occlusions in custom LPEs. In addition, this release brings a new outline subpixel filter which allows to render high quality edges and silhouettes from 3D scenes to easily create great non-photorealistic images such as blueprints or cel-shading style renderings. The all-new Shading Variables is a must have feature to streamline any look-development pipeline! Users can now create and share true material templates across multiple objects in projects to simplify the management of their scenes. Instead of duplicating whole material networks, users can directly specialize and drive them by defining Shading Variable values at shading group, geometry or shading layer levels. It's really powerful! Finally, Clarisse 3.6 integrates the new NVIDIA Optix AI-driven denoiser technology to denoise interactive renders in real-time as well as final renders. It's a real game-changing feature as it saves render times while allowing artists to make creative decisions faster than ever! You can check out our website to learn more about our latest release: 3dot6.isotropix.com and try it for free by downloading our Clarisse Personal Learning Edition at: try.isotropix.com
---
Recommended reading
---
How to Render High-quality Images in Blender
2020-03-09
---
How to render large scenes with Redshift in Cinema 4D
2019-10-15
---
Arnold\ V-Ray\ Octane\ Conora\ RedShift, Which Is The Best 3D Renderer?
2019-04-15
---
Why V-Ray Render is Black in SketchUp And How To Fix it?
2019-05-07
---
How to Reduce Noise in Corona Renderer - Corona Denoising (2022 Updated)
2019-05-15
---
How the Redshift Proxy Renders the Subdivision
2018-12-28
---
What is the difference between pre-rendering and real-time rendering?
2020-09-08
---
Blender vs Maya vs Cinema 4D, Which One Is The Best 3D Software?
2020-01-16
---
Partners